I took a bite of the charcuterie, closed my eyes, and felt it melt in my mouth. Just hours before, I had met the charcuterie's sister and her little piglets at the farm where they grow all their food. Rest in peace, but how much more farm to table can you get?
Canada is celebrating its 150th anniversary this year, and we're excited to start exploring more of our greater backyard including all of North America. To start, we spent a few days in Victoria, the capital of British Columbia, and we may have come back several pounds heavier.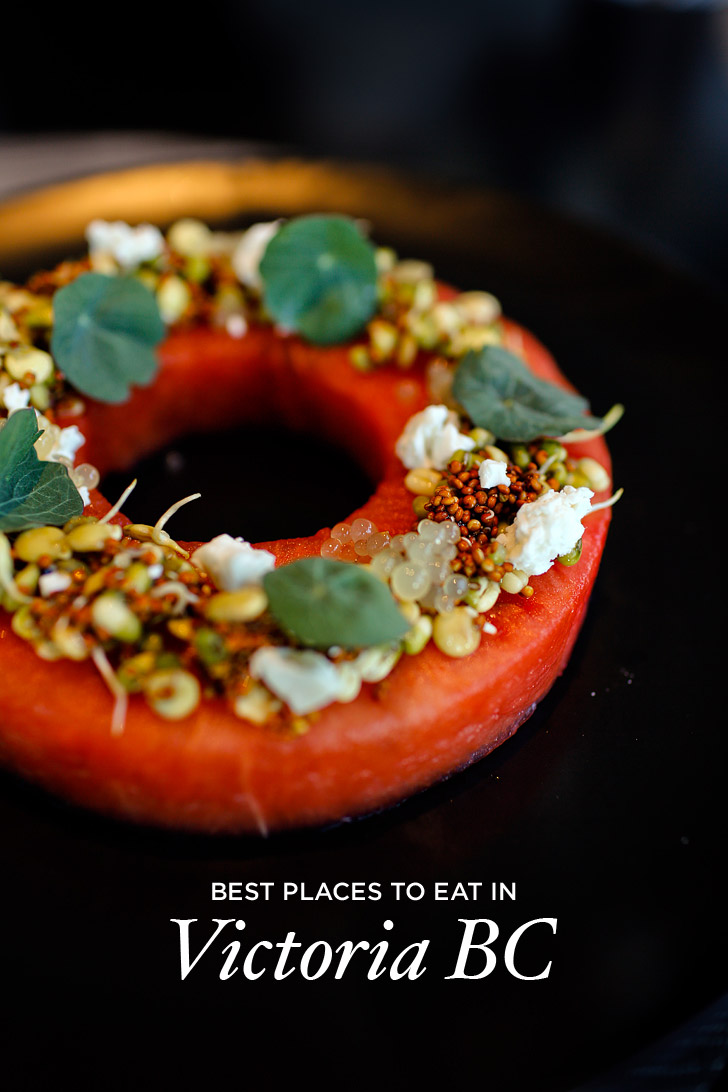 So grateful to Destination Canada and Tourism Victoria for hosting our trip. Our meals were complimentary at 10 Acres Kitchen, Aura, Roost, and Vista 18, but as always all opinions are our own. This post may contain affiliate links, where we receive a small commission on sales of the products that are linked at no additional cost to you. Read our full disclosure for more info. Thank you for supporting the brands that make Local Adventurer possible.
Last Updated: August 17, 2020
Victoria is a beautiful city located on Vancouver Island that blends the old and new. You can find amazing architecture and old-world traditions. If you prefer soaking in some sun, there are plenty of outdoor activities too, but we'll save that for a later post. Pair that with some of the mildest climate in Canada, the beautiful Pacific Ocean views, and the Olympic Mountains as the backdrop, it's easy to see why visitors flock to this west coast city.
We were surprised by the culinary scene. We're no stranger to the farm to table movement living in Portland, but this was the first time we visited the farms where the food is sourced before sitting down for our meals. Not everyone who lives in Portland asks about their chicken's name.
Best Places to Eat in Victoria BC
9100 E Saanich Rd, North Saanich, BC V8L 1H5, Canada, map
At Roost, you can enjoy farm to table food right at the farm. After taking a quick tour, we sat down to enjoy a delicious meal at the bistro. They get a constant flow of traffic, and you can tell it's a local favorite.
I ordered the spinach and pear salad, and I've never had a salad taste so crisp. Be sure to try the duck pizza though. I'm usually not a huge fan of duck, but as soon as I got a taste of our friend Karens' duck pizza, I instantly regretted my life's decisions.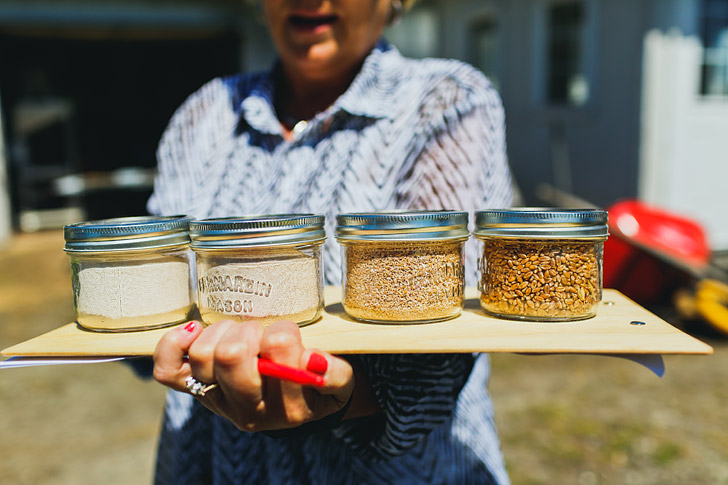 611 Courtney St, Victoria, BC V8W 1W8, Canada, map
10 Acres Farms supplies food to 3 different restaurants. We got an exclusive tour (they plan to do public tours in the future) then headed to 10 Acres Kitchen for a meal. Not sure if it's a result of visiting the farm, but everything tasted so fresh. Did I already mention how much we loved the charcuterie?
3 Fan Tan Alley #101, Victoria, BC V8W 1W3, Canada, map
This Italian bakery is as authentic as it gets. We chatted with the owner as he told us that he tries to make everything like they do in Italy. Alora! He said that sometimes people don't like it, but that's okay because he wants them to have a real taste of Italy. I wanted to stay all day eat his pastries and practice my Italian with him.
*Currently closed but may reopen.*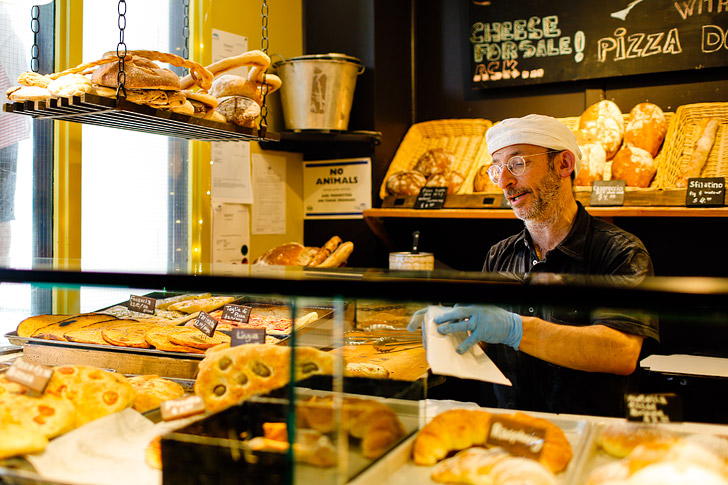 We visited twice to do a tea tasting, once on the first day, and then on the Eat Drink Pedal tour with the Pedaler. You can tell right off the bat that Charity, the owner, is very passionate about tea and we learned so much from our tasting. We even bought some of their Taiwanese teas as gifts for friends and family back home. Be sure to try their cold brews if it's hot out.
We've had our fair share of macarons in other big cities, but we fell in love with their savory macarons. If you like goat cheese, the goat cheese and fig is a must. But the watermelon is the most photogenic don't you think?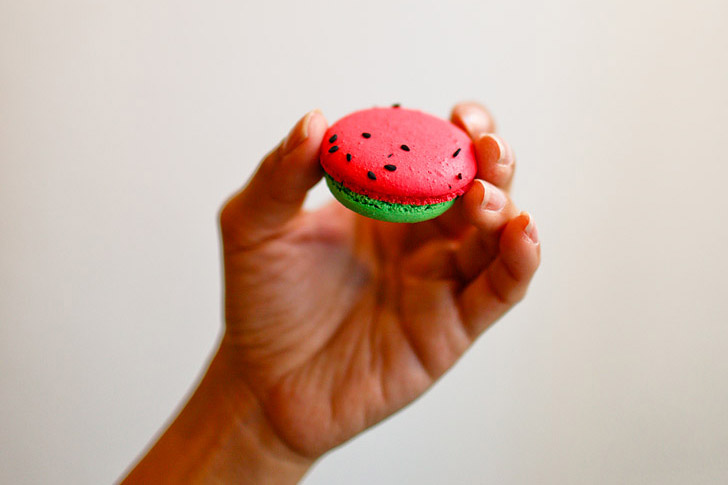 680 Montreal St, Victoria, BC V8V 1Z8, Canada, map
Since we were staying at the Inn at Laurel Point, we had to check out the restaurant in the hotel. Hotel restaurants can be hit or miss, but Aura serves up beautifully plated dishes that taste just as good as they look. It was a nice fine dining experience.
A favorite of mine was the watermelon and sprout salad appetizer (pictured in the title image) and everyone at the table was so enamored with the cheese plate that we talked about it all week. In addition, you get a great view of the inner harbour.
740 Burdett Ave, Victoria, BC V8W 1B2, Canada, map
If you want to enjoy the city along with your food (get the oysters), have dinner at Vista 18. It's a great place to see the city during sunset and they also host live jazz music.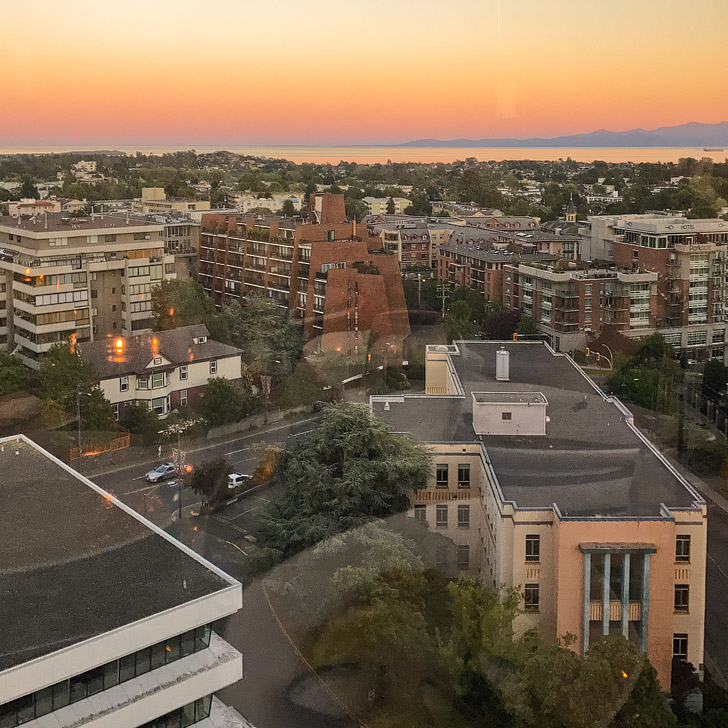 1115 N Park St #2, Victoria, BC V8T 1C7, Canada, map
They had unique ice cream flavors and ice cream sandwiches right in downtown Victoria.
1890 Mills Rd, Sidney, BC V8L 5W5, Canada, map
We loved Laura's positive attitude and the story behind how she turned a struggling Christmas tree farm into what it is now. You have to try the Douglas Fir essence and fruit infused vinegar. You can actually put the vinegar in an ice cream machine and make a shrub ice cream!
3 Fan Tan Alley #102, Victoria, BC V8W 3G9, Canada, map
Cute chocolate shop right outside of Fan Tan Alley that's vegan, organic, fair-trade, and gluten-free. Also, they make all their chocolate on site for your viewing pleasure. Yum!
805 Fort St, Victoria, BC V8W 1H6, Canada, map
They serve a unique blend of Indian and Seafood dishes that is definitely worth stopping by for. They also have great vegetarian options.
2200 Keating Cross Rd C, Saanichton, BC V8M 2A6, Canada, map
This was a unique brewery is run by a husband and wife team. Michael uses his science background, a doctorate in microbiology and biochemistry, to make amazing craft beer. Also, check out the art work on the bottles because they've won awards for their art. It's nice to see that some of them are actually geared towards women.
These are many places we didn't get a chance to try, but I'm sure we will be back. We got recommendations from friends, blogs, and other listicle sites, and we cross-referenced them with Yelp and TripAdvisor to see that they have at least 4 out of 5 stars.
We usually order our food bucket lists by neighborhood, but since Victoria is only 7.5 square miles, we figure, you can easily navigate around. Also, you can check the map at the bottom to see what's closest to where you're staying.
Map to Help You Get Around
Are these enough options for you? Let us know if there's another spot we need to check out.
Do the Eat Drink Cycle tour with the Pedaler, and you can knock off many food spots. Don't forget to save your appetite and pace yourself, because there is a lot of food.
The airport is 30-45 minutes away from Victoria, and YYJ Shuttle provides easy transportation to and from the city.
Once you're in the city, you can explore a lot of it on foot! It's one of the most walkable cities in Canada and is the Cycling Capital of Canada.
During our visit, we stayed at the Inn at Laurel Point. The beautiful property sits right on the harbor and is a short walk from downtown and fisherman's wharf. We loved how convenient it was to walk everywhere.
Inn at Laurel Point
680 Montreal Street
Victoria, BC V8V 1Z8
The city is pretty casual, but it helps to have a dressier set of clothes. Jacob has been wearing these Bluff Works pants with a blazer for when he needs to dress up his outfit. They're great for travel because they are wrinkle-free and they've designed it just for us travelers with plenty of pockets (zippered and secret ones too) plus other features.
Which of these spots do you want to try? Anything else we need to add to the list?
Did you enjoy this post? Pin it for later
SEE MORE CITY FOOD GUIDES
"Discovery consists not of seeking new lands but in seeing with new eyes" – M. Proust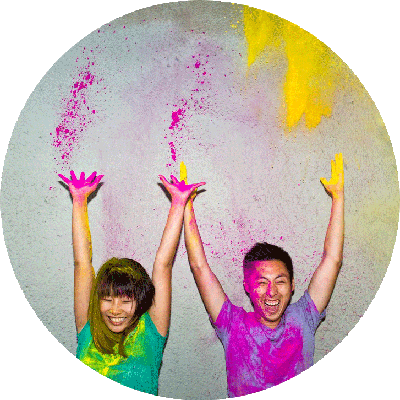 Esther and Jacob are the founders of Local Adventurer, which is one of the top 5 travel blogs in the US. They believe that adventure can be found both near and far and hope to inspire others to explore locally. They explore a new city in depth every year and currently base themselves in Las Vegas.