What we love most about living in Oregon is that within an hour outside the city, the outdoor adventures are endless! During the snowy months, it opens up so many winter activities too like skiing and snowshoeing. I've always wanted to try ice climbing too. Anyone else?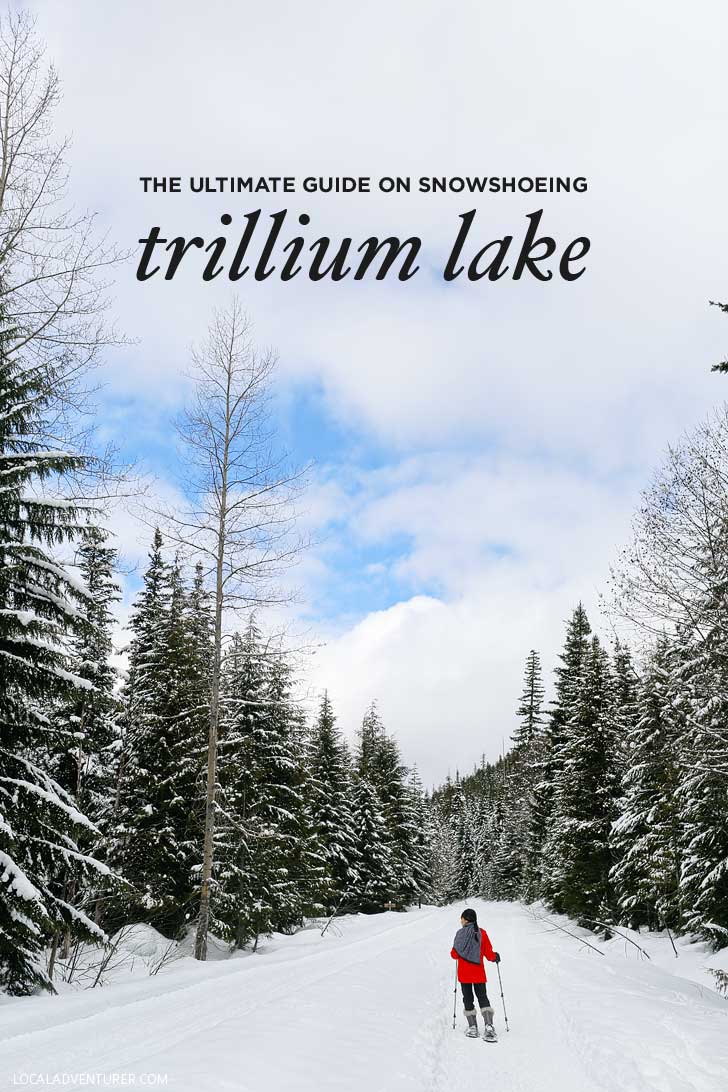 Pin
If you've never tried snowshoeing, it's not as intimidating as you might think. If you can hike, you can snowshoe. To get comfortable in our new snowshoes, we looked for some easy snowshoe hikes and found that Trillium Lake was a popular one for beginners.
TRILLIUM LAKE SNOWSHOE HIKE
Difficulty: Beginner
Total Distance: 4.5 mi or 3.6 mi
Trail Type: Loop or Out & Back
Elevation Gain: 230 ft
Trail Condition: Groomed
Trail Uses: Snowshoeing or X-Country Skiing
Day-use/Parking Pass Required: Sno-Park Parking Permit
DIRECTIONS FOR SNOWSHOEING TRILLIUM LAKE
The parking lot is right off of the road just past Government Camp on Highway 26. Once you arrive, park your car in the large lot and head to the trailhead.
The hike itself is relatively easy. The hardest part comes right at the beginning where there's a large but steady hill down, which we totally didn't notice until we had to hike back up. Everything is well marked and it's a highly used trail so you will see people you can ask if you are ever unsure.
At the first major fork, we stayed left all the way to the lake. This is the best view if you want Mt. Hood in the background. Since we were with friends who did the trail before, we decided to just head back the same way we came in rather than doing the full loop. You get the same view around the full loop. With the time we spent enjoying the views and taking photos at the snow-covered lake, we spent roughly 3 hours there.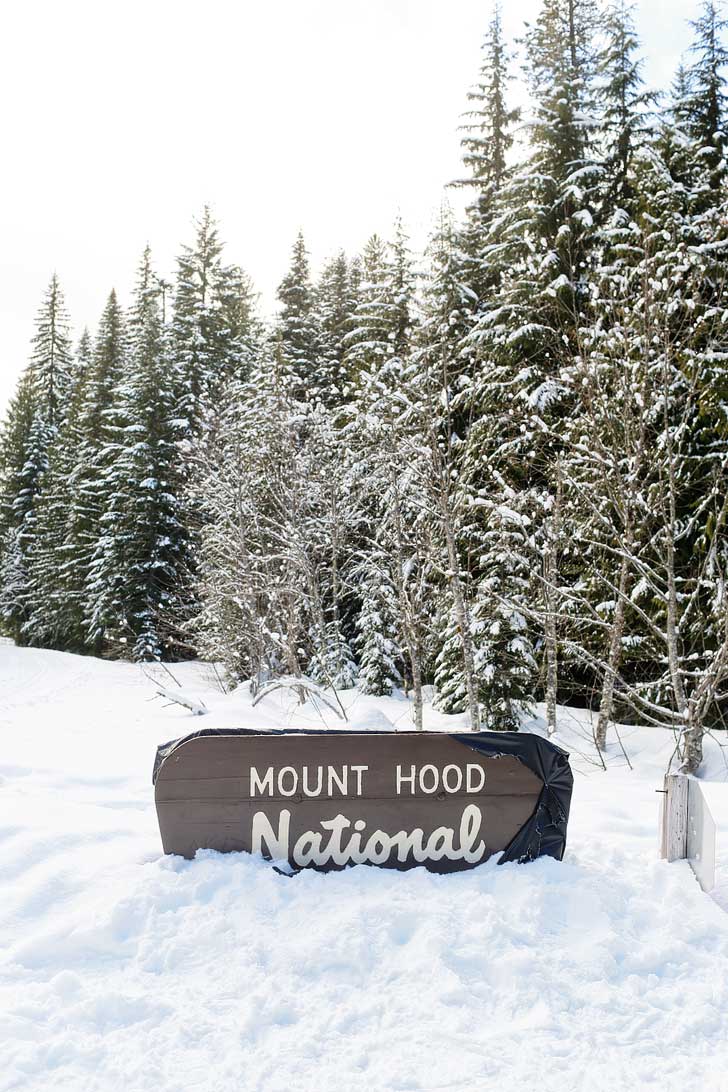 Pin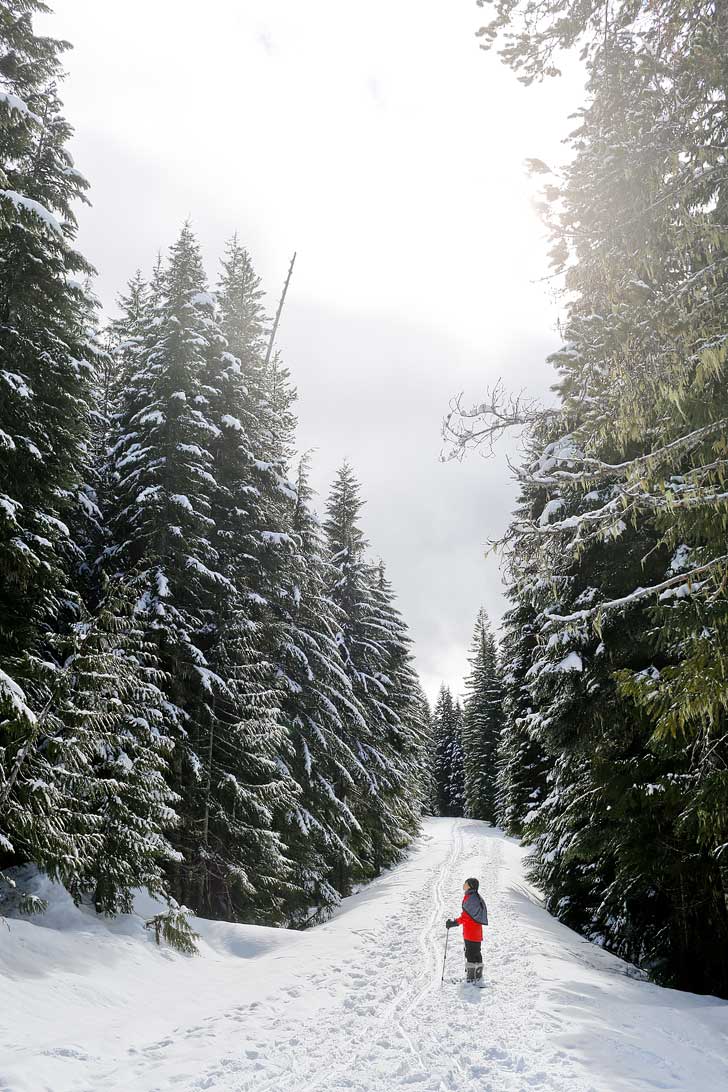 Pin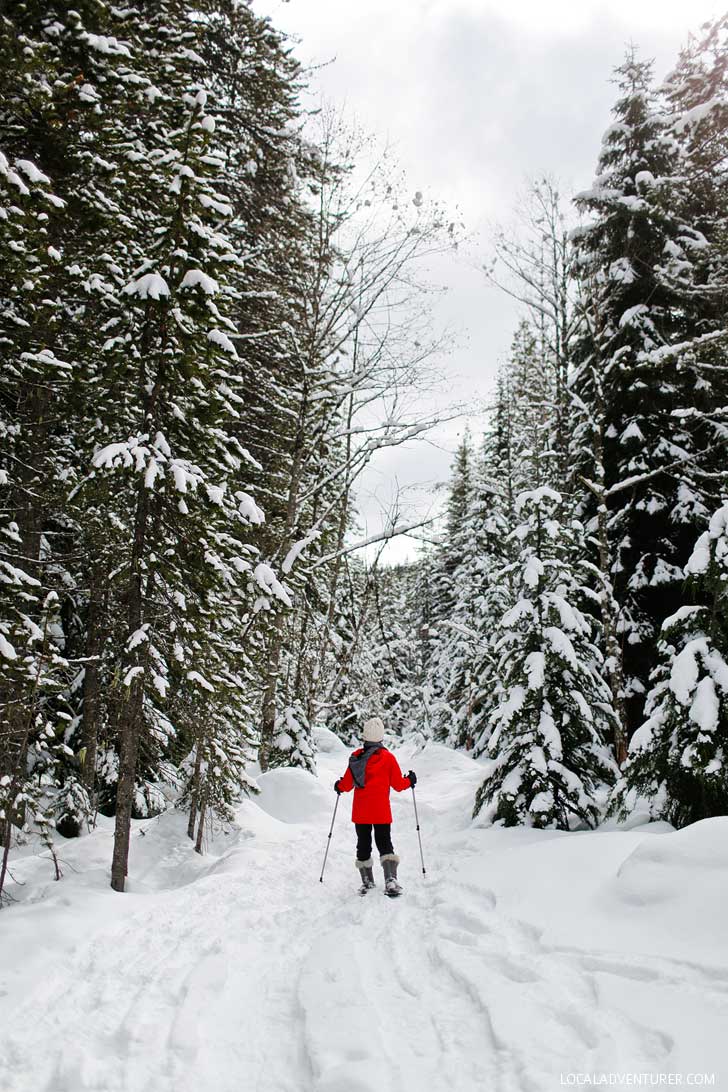 Pin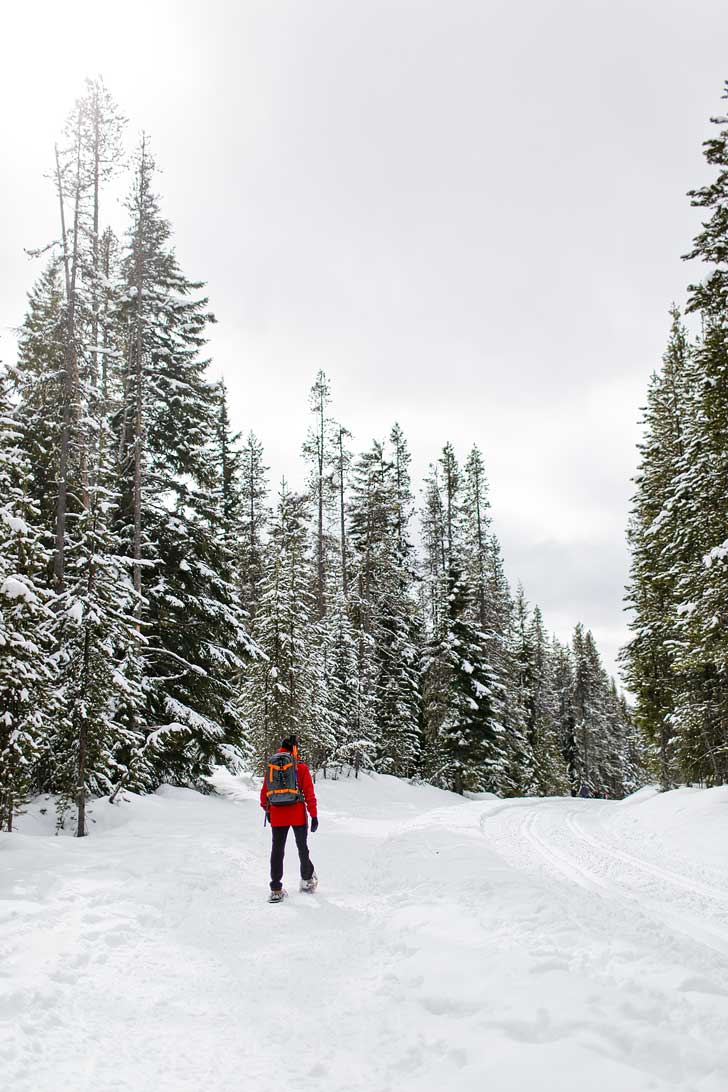 Pin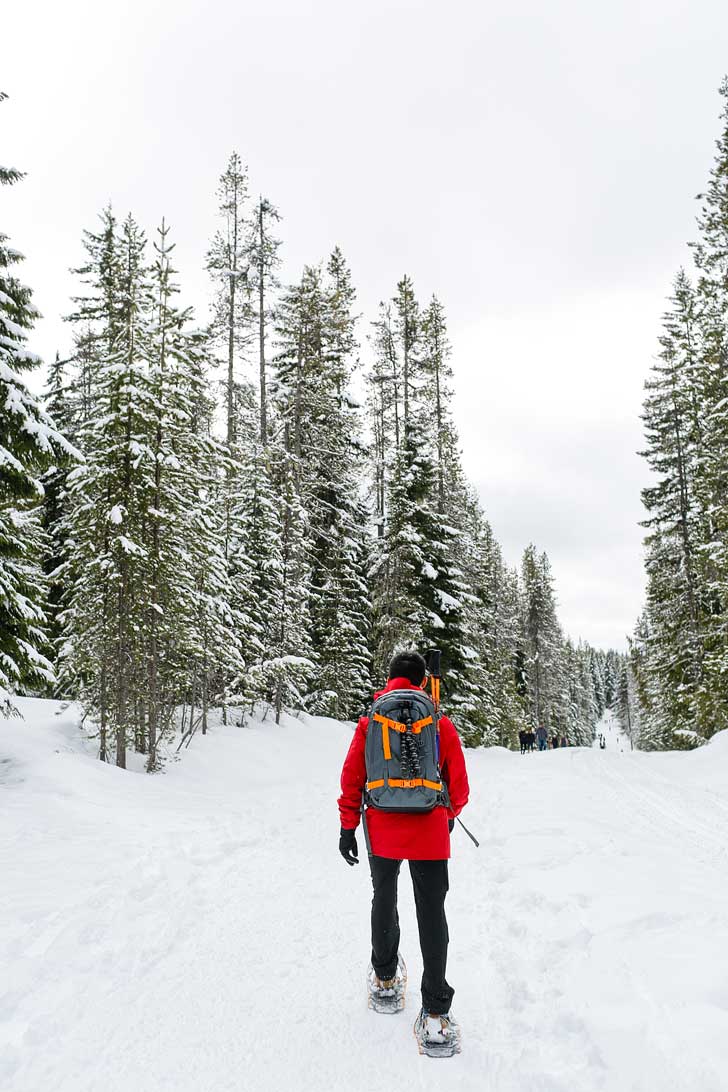 Pin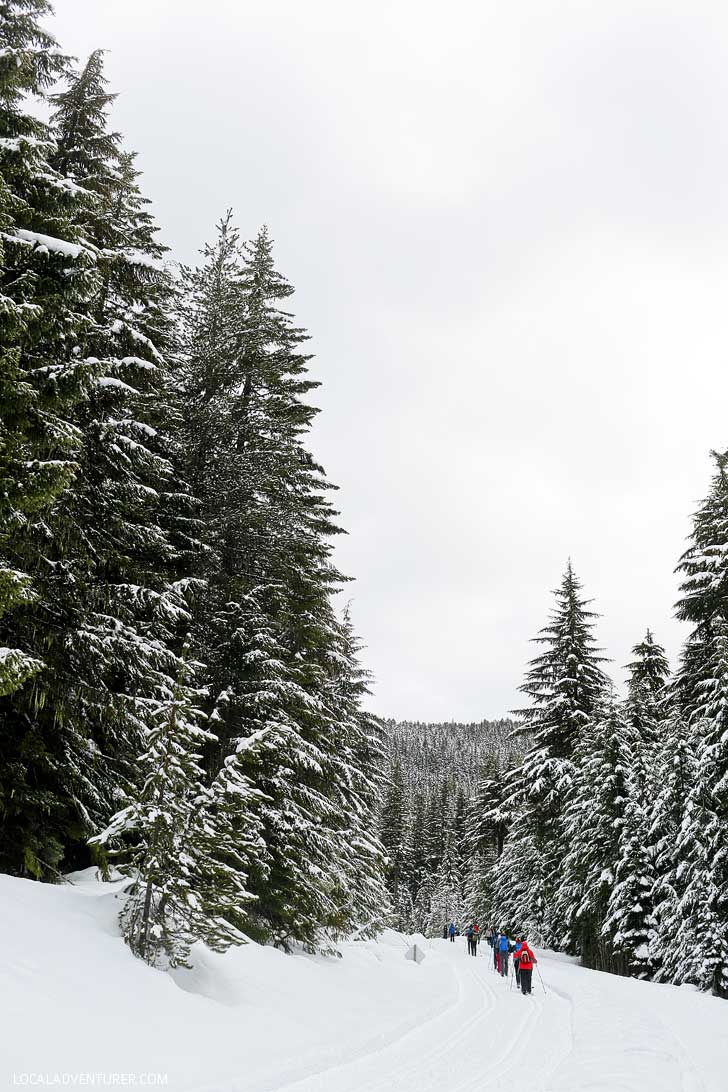 Pin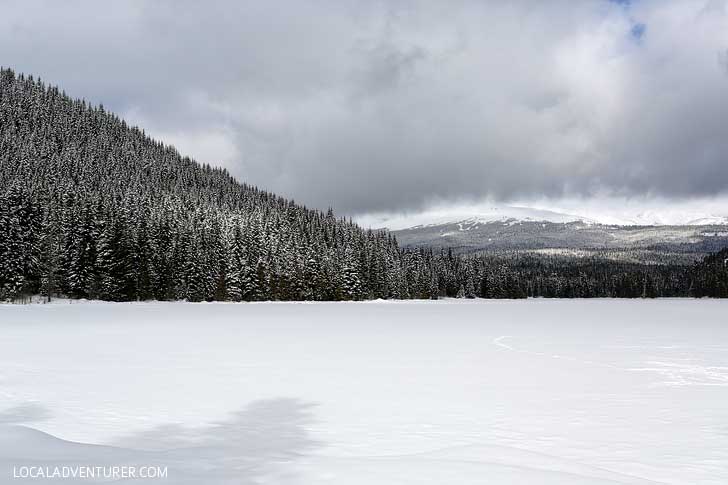 Pin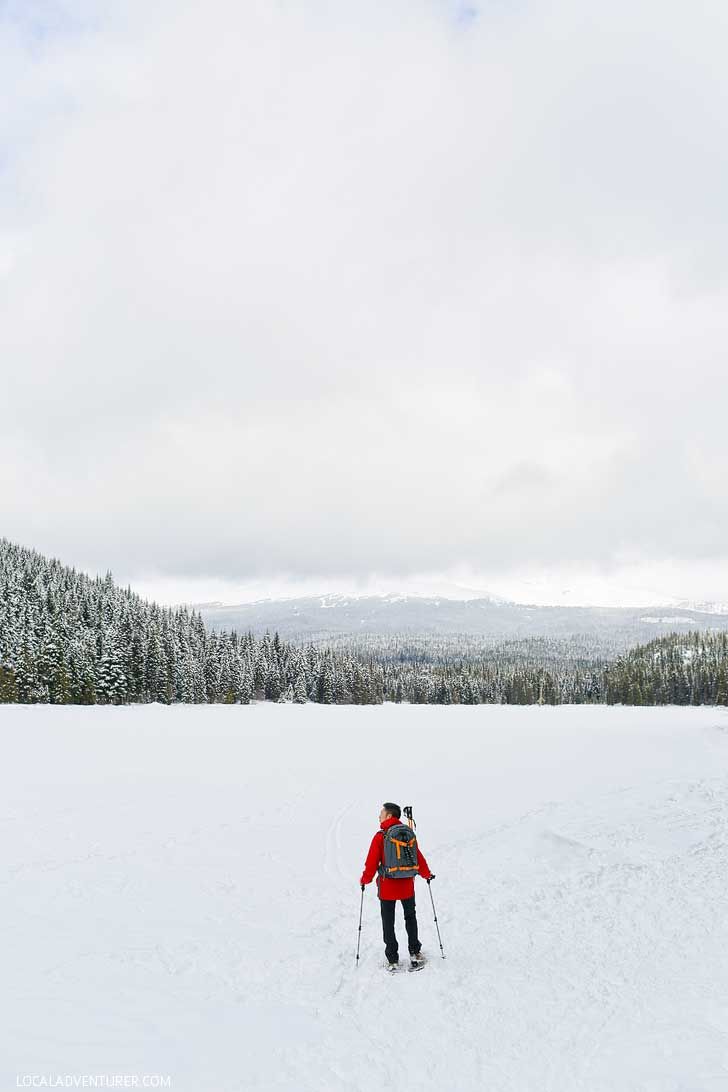 Pin
It's a great beginner snowshoeing spot and gives the area a completely different feel when everything is covered in snow. Definitely be sure to go back in the summer too to get views like this.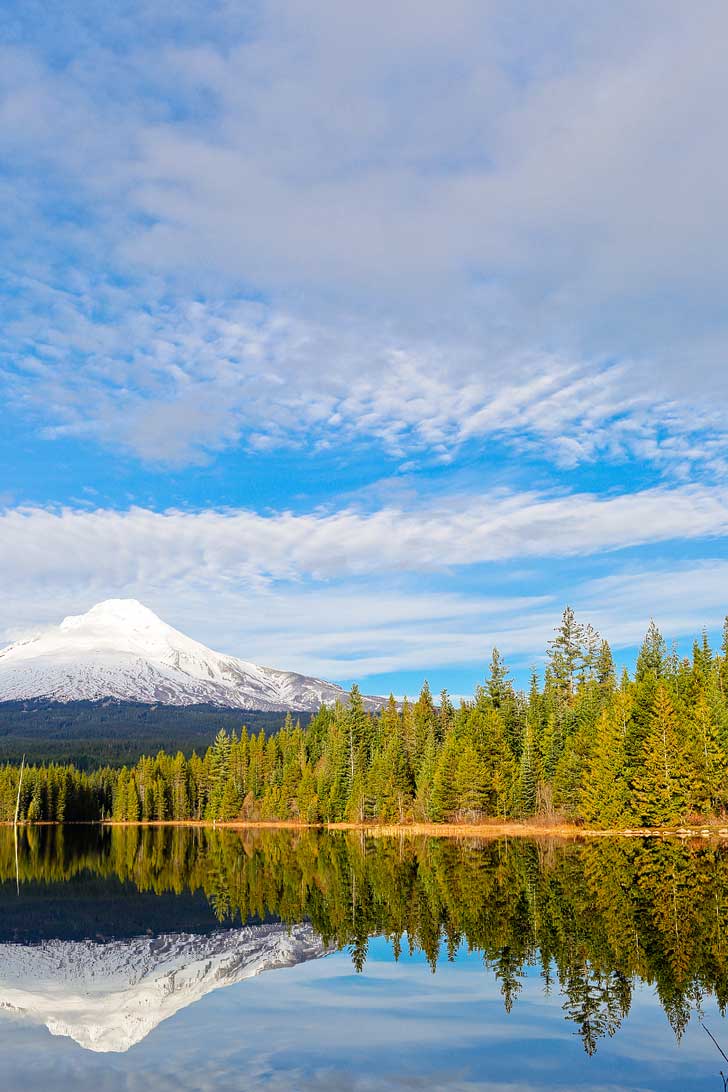 Pin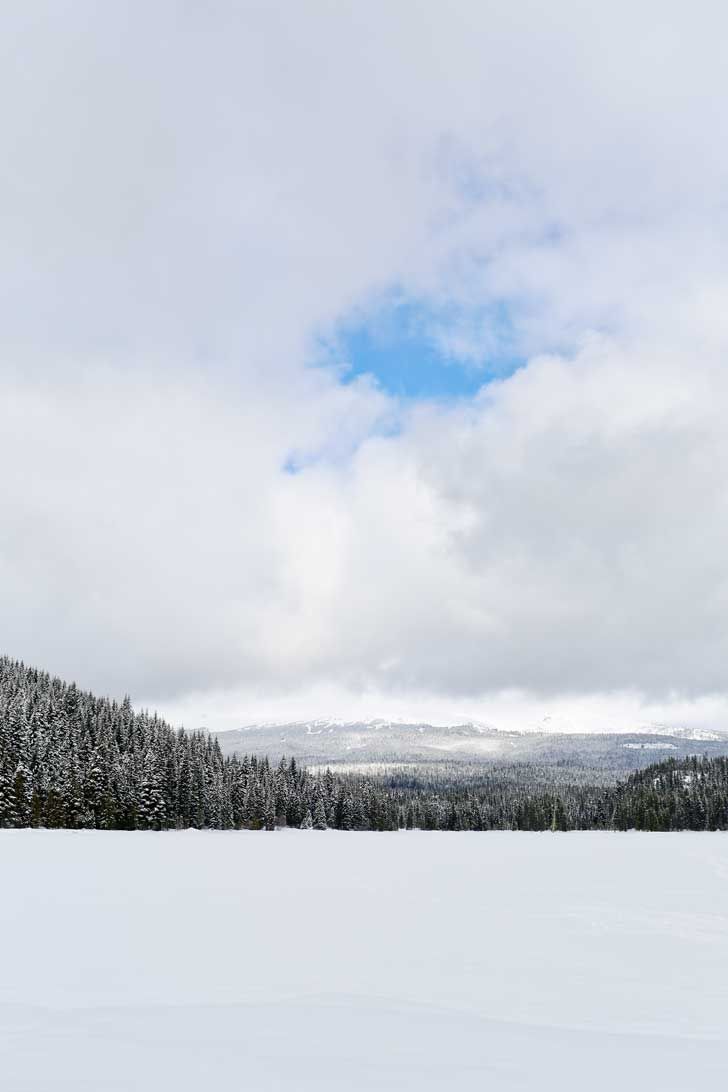 Pin
WHAT TO PACK
HOW TO PICK OUT YOUR SNOWSHOES
Although you can get into a lot more detail, most snowshoes fall into 3 categories: flat terrain, rolling terrain and mountain terrain.
Flat Terrain Snowshoes (His + Hers) are best for beginners. They are designed for easy walking on flat or slightly rolling terrain. There usually isn't as much traction on these and they are great for families or casual snowshoers.
Rolling Terrain Snowshoes (His + Hers) are best for hikers and backpackers. The design of these help for hiking on rolling hills to steep terrain off the beaten path. These usually have more traction built in and better bindings. These are the best all around if you plan on getting more into snowshoeing. We went with these since it wasn't much more than the beginner ones.
Mountain Terrain Snowshoes (His + Hers) are best for advanced hikers, mountaineers and backcountry snowboarders. These are built for icy and steep terrains and can withstand harsh conditions.
Again, you can get into much more detail about specific features of each snowshoe, but this should give you an idea of where to start. If you have any specific questions, feel free to leave us a comment below!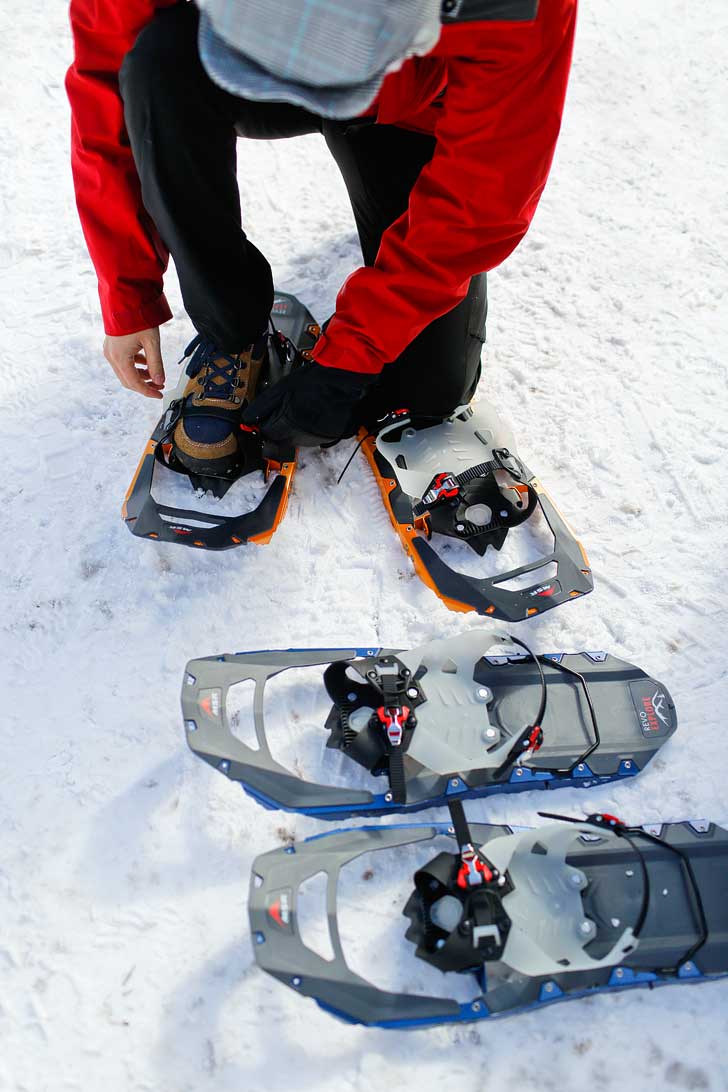 Pin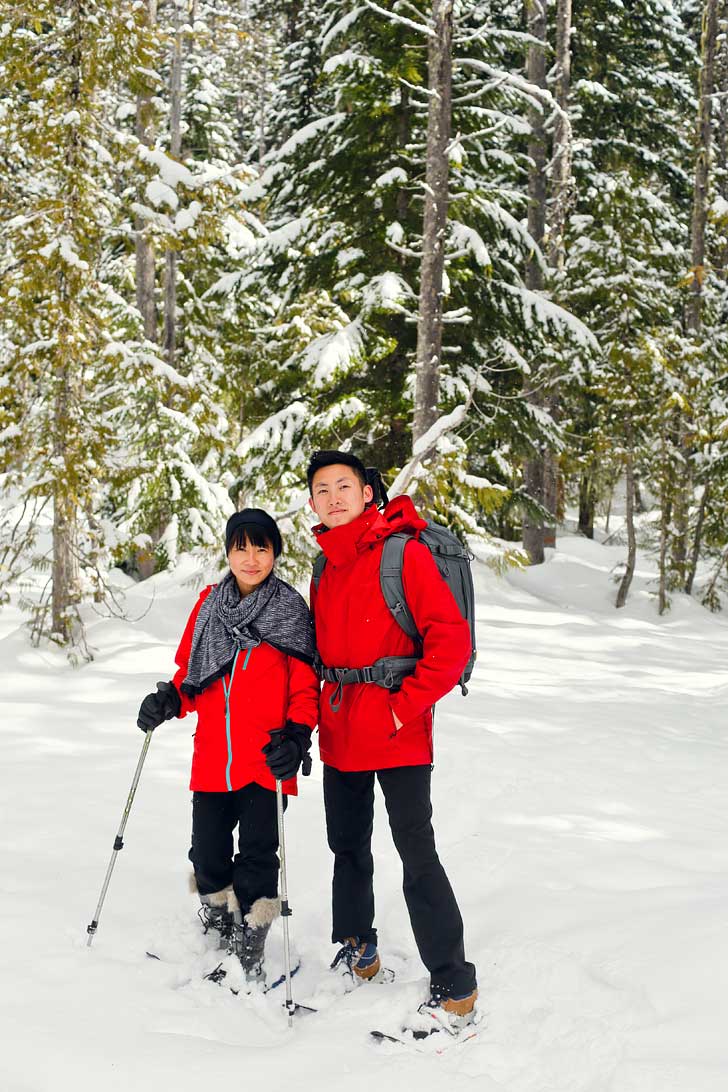 Pin
Pro Tips on the Snowshoe Hike
Layers are better than just having a heavy coat. It can get warm as you hike so you may want to take off a layer or two, but once you're sitting or resting, it can get chilly again.
Weather can change quickly, so it's good to be prepared with warm, waterproof clothes.
Check road conditions before heading up there. Roads were clear for us, but they can be icy/snowy and require 4 wheel drive, chains, or both.
The Oregon State Parks parking permit does not work here. You have to get a separate Sno-Park Parking Permit in the winter.
If you're hoping to see Mt Hood with the reflection in the lake, you'll need to go after all the snow has melted.
Try not to cross into the cross-country skier side. They need their tracks and trampling on them can make it difficult for them.
If you're looking for other good beginner snowshoe hikes, check out Frog Lake, White River Sno-Park and the Tilly Jane District at Cooper Spur on the north side of Mt Hood.
Have you tried snowshoeing? Where were your favorite spots?
Did you enjoy this post? We'd love for you to pin it!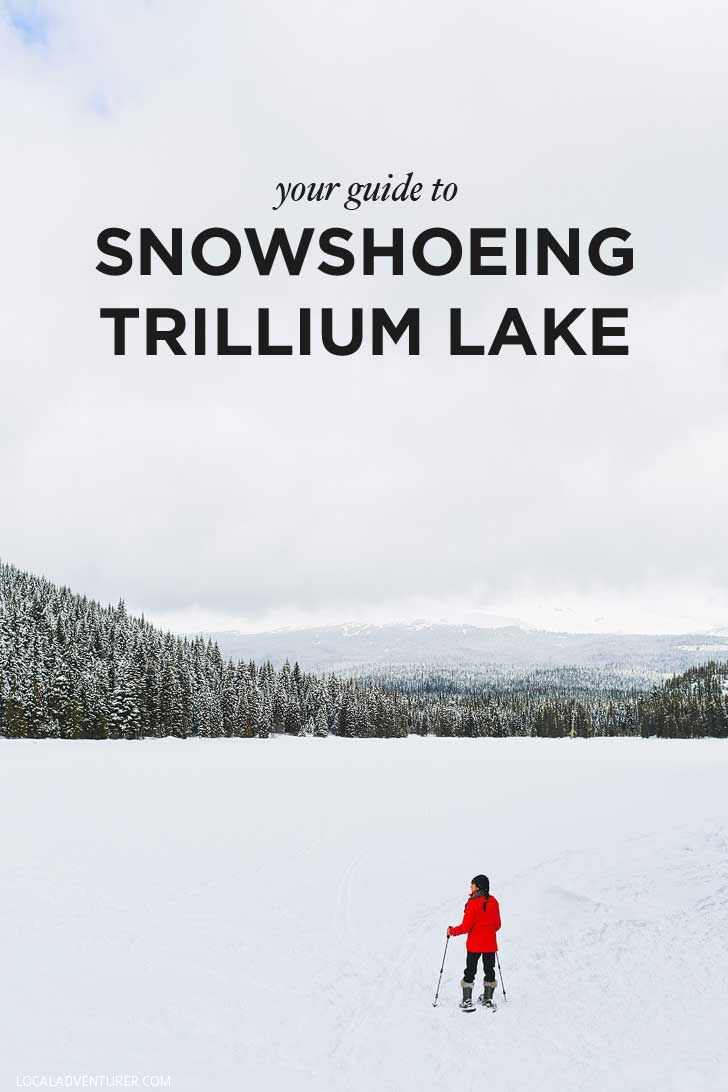 Pin
Pin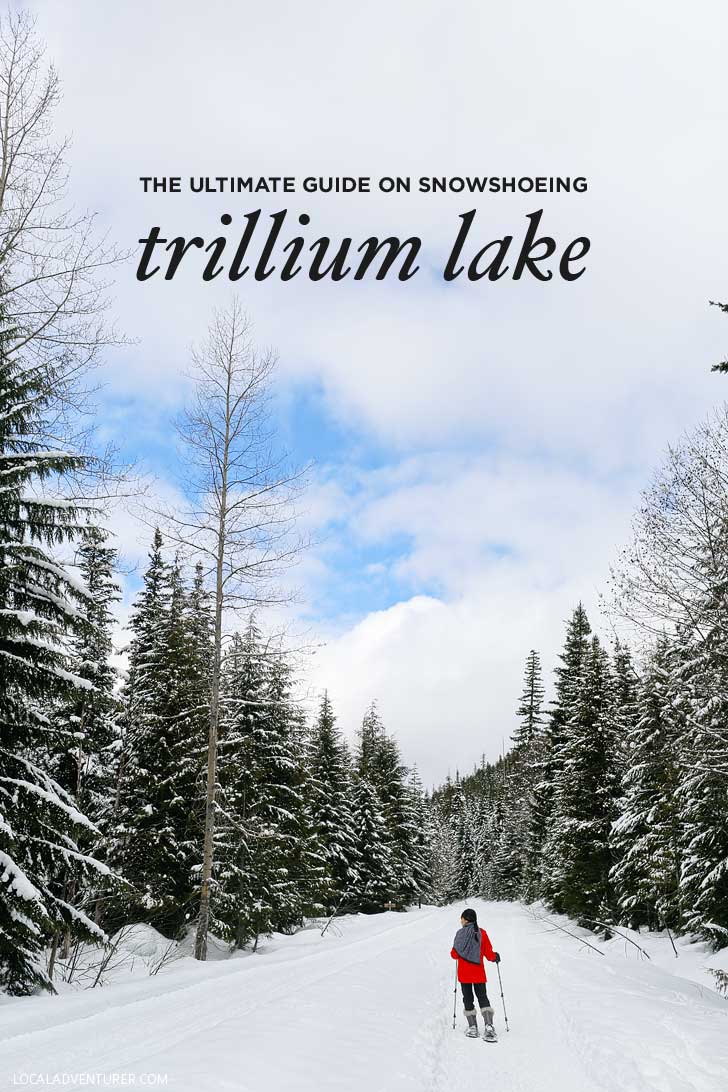 Pin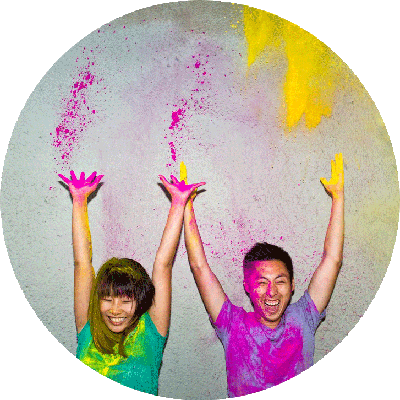 Pin
ESTHER + JACOB
Esther and Jacob are the founders of Local Adventurer, which is one of the top 50 travel blogs in the world. They believe that adventure can be found both near and far and hope to inspire others to explore locally. They move to a new city every year and currently live in Portland, Oregon.