Want to explore Eastern Oregon? Don't miss these spots!
Eastern Oregon blew us away. It felt like the Iceland of America combined with the wild west. After our epic road trip down the Oregon Coast, we were itching to explore another area of Oregon. Since we weren't familiar with Eastern Oregon, we had a similar plan on tackling the ultimate Eastern Oregon road trip in one week.
The car came to a slow halt as we sat in disbelief. We had already spent the first day carefully driving our poorly equipped sedan on primitive, rocky roads, but now we faced the hardest obstacle so far. A giant pool of water covered the road from end to end.
Backtracking would cost us many extra hours of driving, and going forward potentially meant we'd have to be rescued. There was no one else in sight! After getting a closer look, we found an edge of the pool that was shallower, and we slowly maneuvered the car forward. Little known to us, we would be coming up on some of our favorite photo spots from the trip!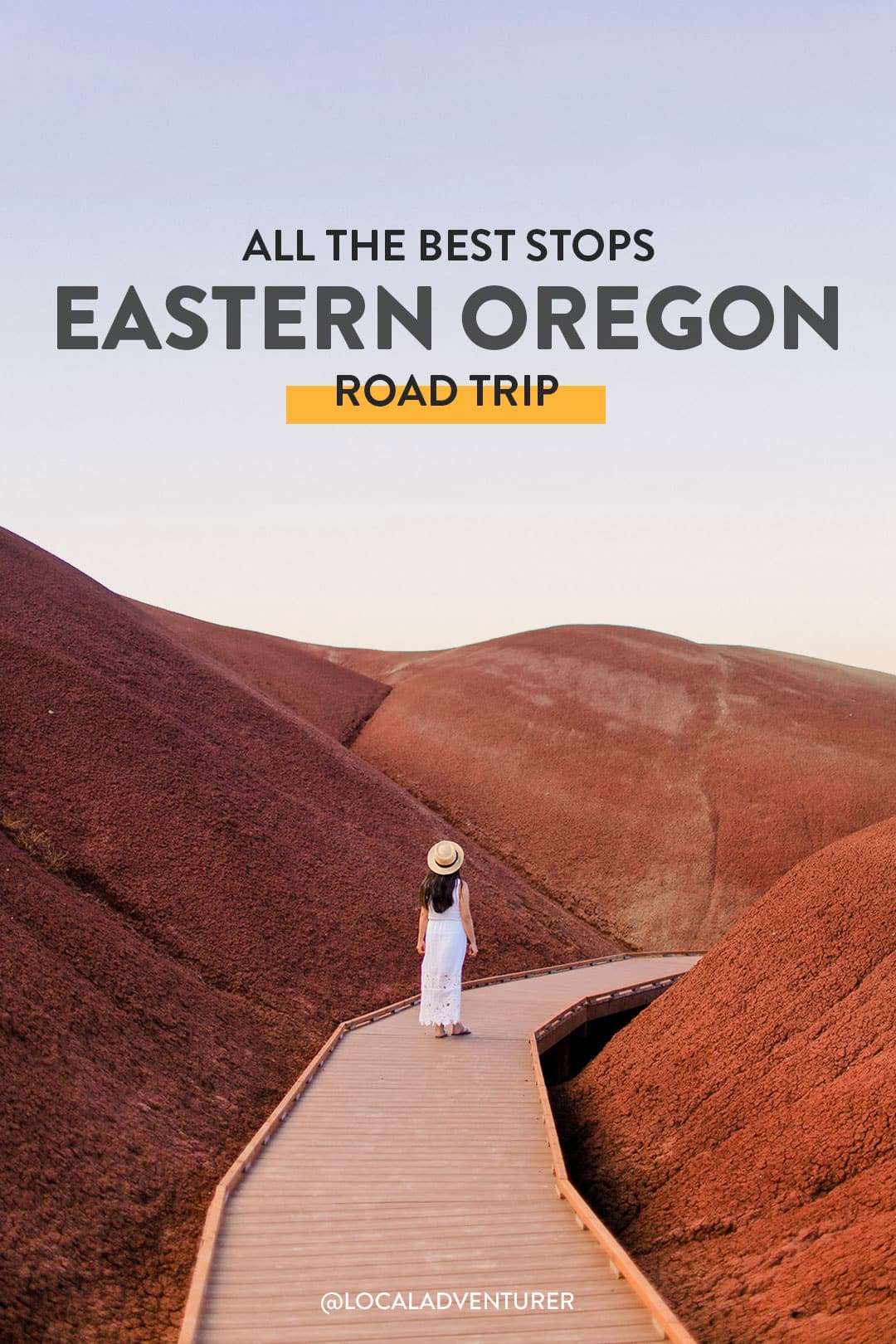 This post is brought to you in partnership with Travel Oregon and Eastern Oregon. All opinions are our own. This post may contain affiliate links, where we receive a small commission on sales of the products that are linked at no additional cost to you. Read our full disclosure for more info. Thank you for supporting the brands that make Local Adventurer possible.
Last Updated: November 27, 2023
The ultimate Eastern Oregon Road Trip
Let me start off by saying, we DO NOT recommend trying to explore all of Eastern Oregon in one week. Eastern Oregon is truly a beautiful and rugged place, and we found so many hidden gems, but we regret spending so much time in the car getting from place to place.
Don't forget to read all the tips at the bottom. This part of Oregon is not the easiest part to navigate through, but luckily, you can learn from our mistakes!
Main Regions of Eastern Oregon
Eastern Oregon can be broken up into four main regions. You should spend at least a week in the larger regions, whereas you can get away with spending a few days in other areas.
John Day River Territory is home to the Painted Hills. Find beautiful landscapes, ancient fossils, and friendly towns.
Southeast Oregon is made up of the high desert country, rolling hills, and surreal landscapes. There are moments that feel like you've left the planet.
Northeast Oregon covers Hells Canyon and the Wallowas. Huge mountains and deep canyons make this a spectacular place to explore.
Oregon's Rugged Country takes you through the Blue Mountains and back to the Columbia River.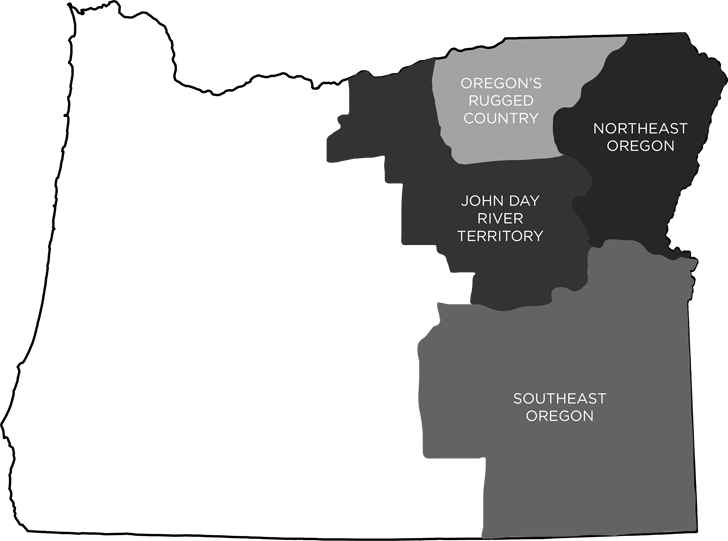 John Day River Territory
This region is anchored by the John Day River but is best known for the Painted Hills, a popular photography spot. As one of the nation's longest free-flowing river systems, you'll find amazing scenery and recreational experiences, like whitewater rafting, hunting, fishing, fossil hunting, stargazing, horseback riding, and more.
We only spent 1 day in this region. We saw all three units of John Day Fossils Bed National Monument. It was doable but 6-7 hours that day starting in Portland. We also didn't get to enjoy any of the longer hikes at the Clarno and Sheep Rock units and simply stopped to snap a few photos.
Recommended Length of Stay: 2-3 Days
See More: The Ultimate Guide to the Painted Hills Oregon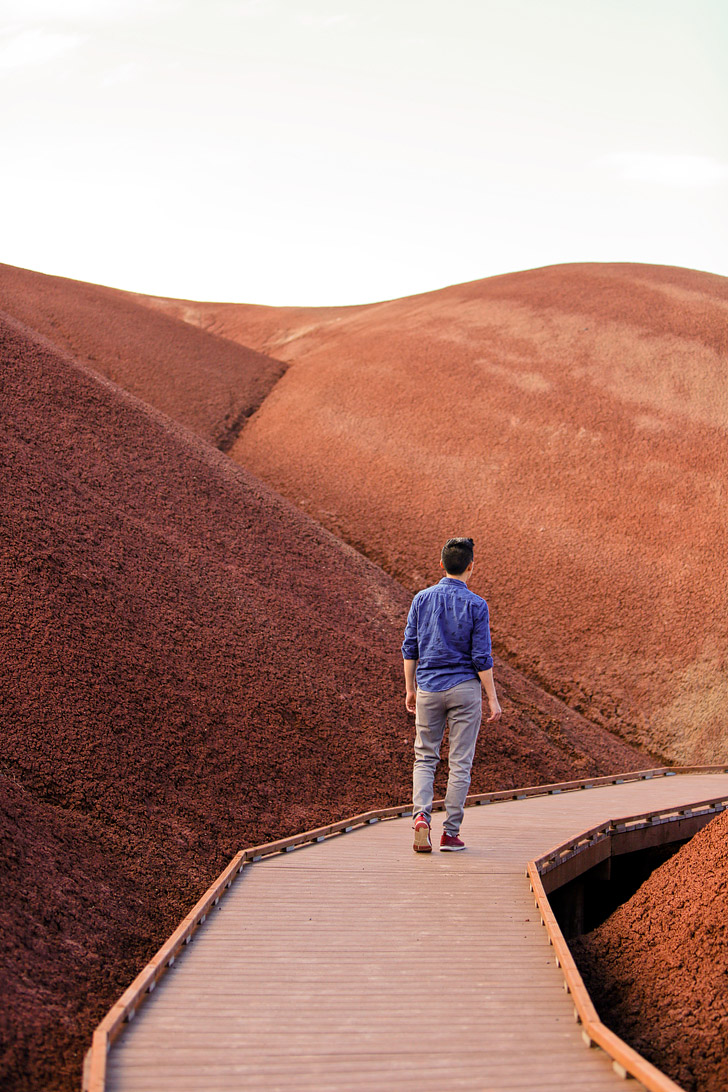 Southeast Oregon
Southeast Oregon doesn't look or feel like the Oregon we're used to at all. We found ourselves in awe of the unique landscapes found in this region. It's also home to a ton of ranches, and driving around feels like you're in the wild west with landscapes similar to Norway and Iceland.
We spent two days in Southeast Oregon, and it was definitely our favorite area on this trip. As you can see on the above map, it's a massive area to cover. We spent one day driving over 10 hours just to see as much as possible.
Recommended Length of Stay: 7-9 Days
See More: Alvord Desert Oregon – What You Need to Know Before You Go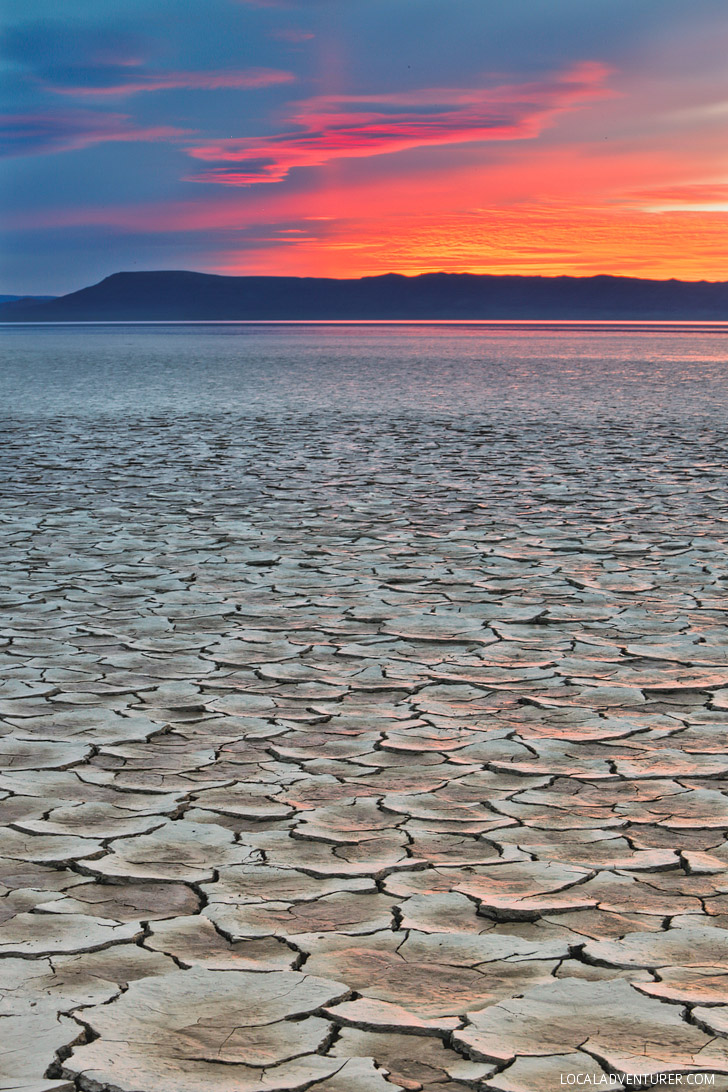 Things to Eat, See, and Do
Pete French Round Barn State Heritage Site – quick stop
Alvord Desert + Hot Springs (full post)
Steens Mountains (roads don't open until July)
Pillars of Rome – easy spot to drive by
Jordan Craters – careful following GPS! It took us through private land where we had to turn around. The proper turn off is on I-95 8 miles north of Jordan Valley.
Leslie Gulch
Succor Creek State Natural Area
Lake Owyhee State Park
Bert's Growler Garage in Ontario – try their steak pita. So good!
Second & Vine Bistro in Ontario
Where to Stay: Historic Hotel Diamond – they serve a community dinner each night that is delicious! Search for hotels in Ontario – there are a ton of options and it gives you a great home base if you want to be in a larger city with amenities.
Northeast Oregon
The landscape changes once again heading into Northeast Oregon. You see the Wallowa mountain range, deep canyons, and rivers. You can drive the five officially designated scenic routes in this area, including the Hells Canyon All-American Road. Did you know that Hells Canyon is the deepest canyon in North America? It has a max depth of 7,993 ft (2,436 m) vs the Grand Canyon at 6093 ft.
We spent 3 days here and barely scratched the surface. The Wallowas are beautiful, but we underestimated how wild it is! There wasn't much information online, and because we didn't bring any guidebooks, we were unprepared to navigate unmarked trails in the Eagle Cap Wilderness Area. Lesson learned! Bring a map and guidebook.
Recommended Length of Stay: 7-9 Days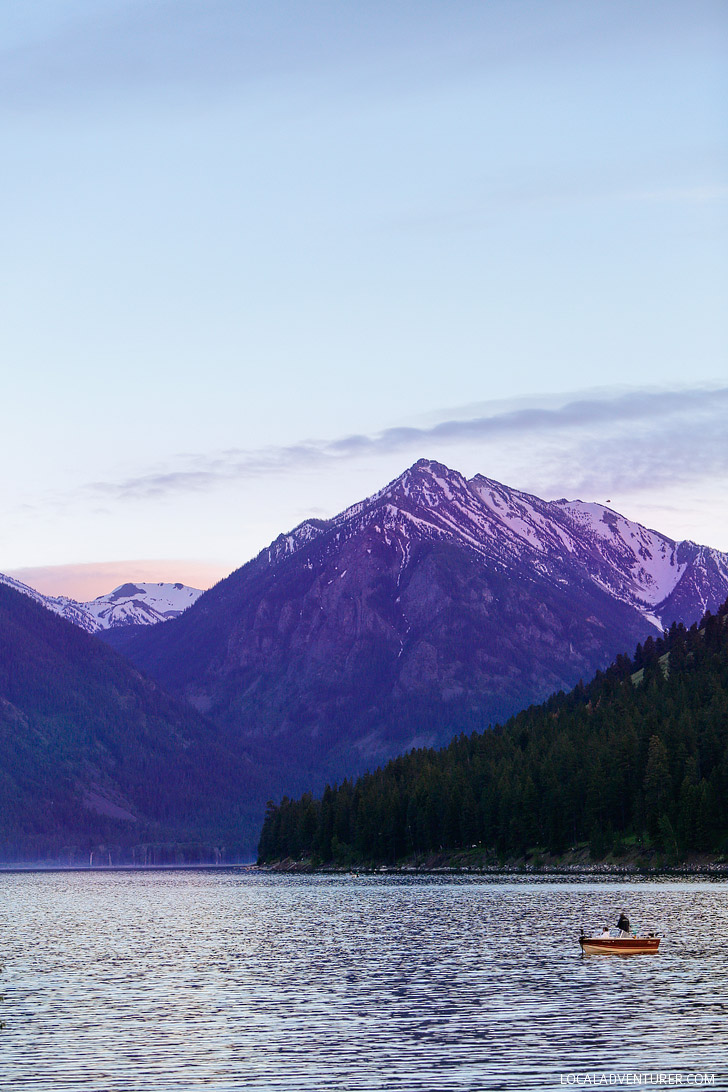 Things to Eat, See, and Do
Hells Canyon Dam + Hells Canyon Creek Visitor Center (on the border of Oregon and Idaho) – a great look from the river level. There are some great pullouts on the way here too for photos.
Hells Canyon Overlook – short turn out that lets you see the canyon from the top. The wildflowers are pretty, but you can't see the canyon well because of the depth.
Eagle Cap Wilderness (the Wallowas) – full guide coming soon! There are a ton of hikes out here. It's more a backpacker's paradise since there aren't as many amazing day hikes. Falls Creek Falls is a short one we did.
Wallowa Lake (the Wallowas) – more crowded area with a lot of family activities. It looks amazing when the water is still. You get a perfect reflection of the mountains.
Terminal Gravity (Enterprise)
Arrowhead Chocolates (Joseph)
Stein Distillery (Joseph)
Embers Brew House (Joseph)
Where to Stay: Cornucopia Lodge has beautiful tucked away cabins in the woods. We saw so much wildlife here. It's a great home base on the southern side of the Wallowas. Belle Pepper's B&B is just a block away from downtown Joseph. This is a great spot to use as home base to explore the north side of the Wallowas. Search for other Joseph hotels.
Oregon's Rugged Country
Bordered by the beautiful Blue Mountains and Columbia River, this area is home to farmers, ranchers, and cowboys. There are some great cities to visit along the way or you can enjoy the scenery as you pass through features that the pioneers of the Oregon Trail first saw.
We didn't spend much time in this area since we were so exhausted from driving, but we had previously made trips out.
Recommended Length of Stay: 3-4 Days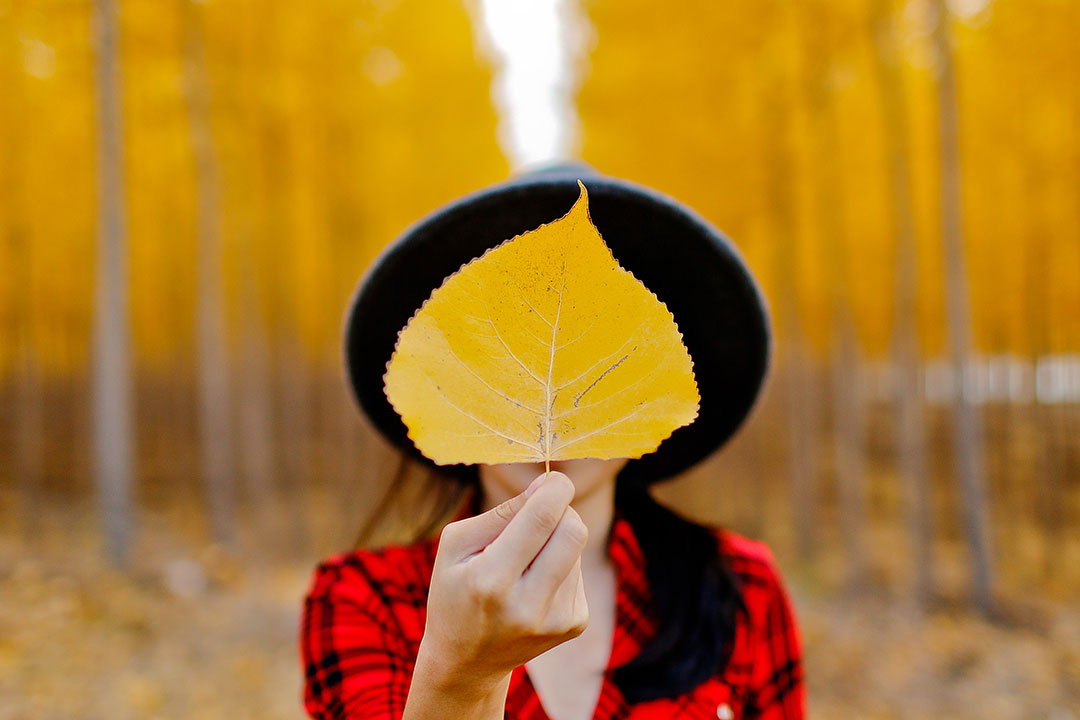 Things to Eat, See, and Do
Map to Help You Get Around
Essential Tips
Before your trip, visit TripCheck to see weather conditions and make sure roads are open.
Do yourself a favor and get a 4 wheel drive vehicle. We made it in our Nissan Altima, but there were some really hairy situations and we had to drive uber slow. A 4 wheel drive will make the trip more comfortable, quicker, and less stressful.
Fill up your tank any chance you get. Gas stations can be far and few between, and if you're driving during late hours, most of them will be closed.
If you're using Google Maps, pull up directions when you have a connection and don't close the app. That way, you can still have it pinpoint where you are even when you lose connection.
Don't trust your GPS. Google Maps took us down a few wrong paths. It was still helpful to have but use some common sense and verify with another map. If you think the road doesn't look right, ask around (if you can find someone.. the area was really empty) or turn back.
For the Wallowas, bring a map, compass, and most hikers we met had this book.
Between the Wallowas and Portland, the Wallowa river wayside doesn't have much of a view but is a great spot to have lunch on their picnic tables or get a quick bathroom break in.
What to Pack
Road Map: You won't always have cell coverage. Our Rand McNally came in really handy.
Bring bug spray or bug wipes. The mosquitoes ate us alive, especially near Diamond Craters and Diamond. I think at one point, I had 100 on my leg that I kept swatting away but wouldn't move. They are hungry and do not mess around.
Hiking Shoes are always handy in such diverse terrain. These are our favorite!
Bathing Suit if you're going to soak in the hot springs.
Have you been to any of these Eastern Oregon regions? Which would you visit first?
Did you enjoy this post? Pin it for later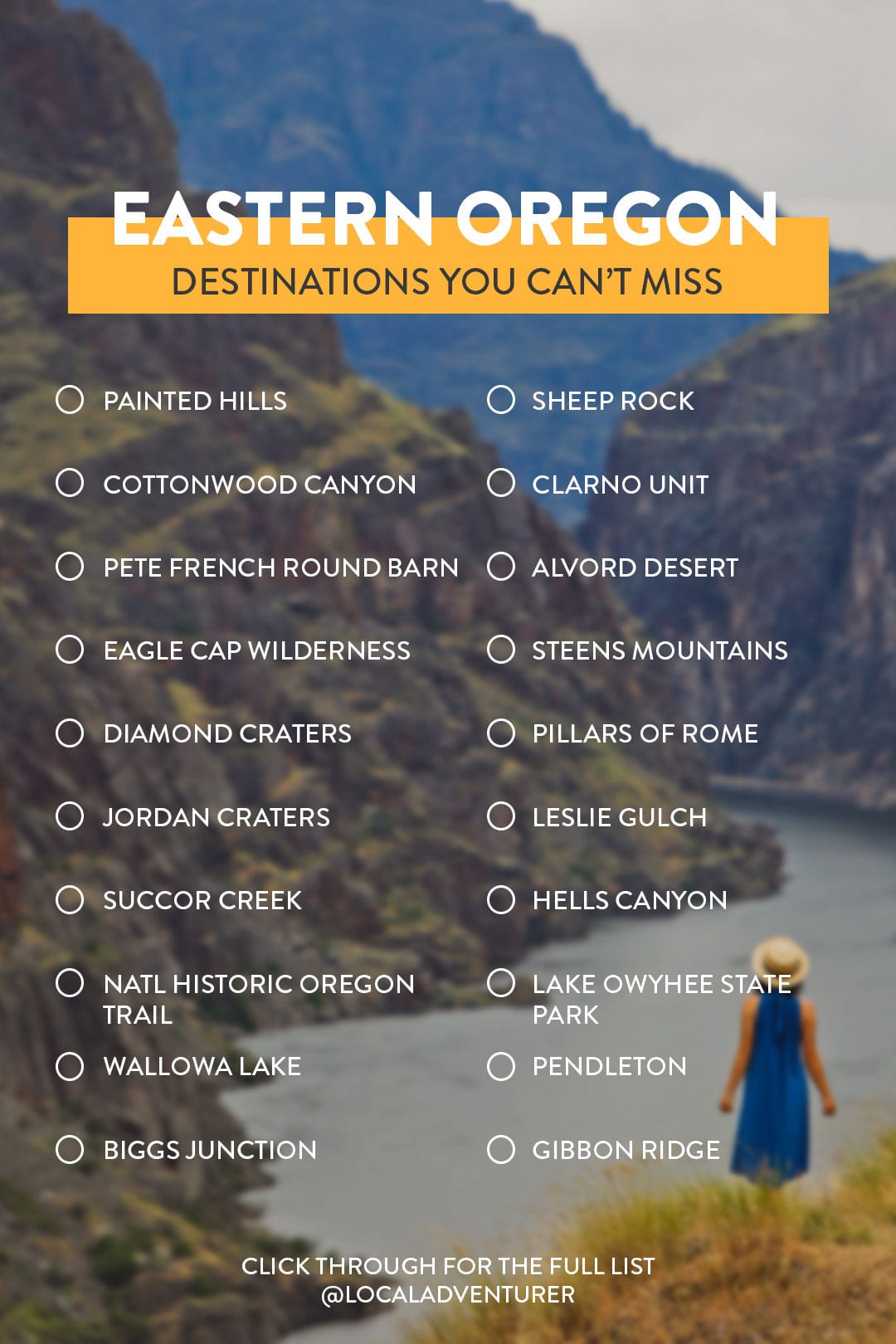 SEE MORE Epic Road Trip Guides
⟡⟡⟡⟡⟡
"Discovery consists not of seeking new lands but in seeing with new eyes" – M. Proust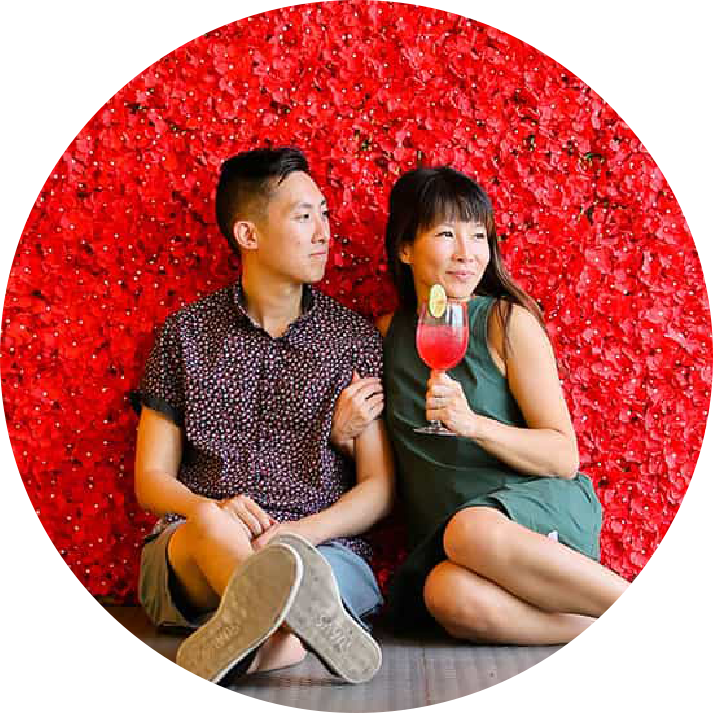 Esther + Jacob
Esther and Jacob are the founders of Local Adventurer, one of the top 5 travel blogs in the US. They believe that adventure can be found near and far and hope to inspire others to explore locally. They explore a new city in depth every year and currently base themselves in Las Vegas.
Follow on Instagram (E + J), YouTube, TikTok, and Pinterest.