After wading, scrambling, shimmying, and squeezing our way through the Zebra Slot Canyons in Utah this past weekend, we started to think about what other amazing and beautiful canyons in the US are worth exploring.
This post may contain affiliate links, where we receive a small commission on sales of the products that are linked at no additional cost to you. All opinions are always our own. Read our full disclosure for more info. Thank you for supporting the brands that make Local Adventurer possible.
Last Updated: Apil 13, 2020
11 Breathtaking Canyons in the US to Explore
We've visited all but the ones in Hawaii and Buckskin Gulch (this is a hike that's been on our bucket list for a while), and we can't wait to go out and explore them. In the meantime, these are the ones we highly recommend you visit.
This is probably the most popular slot canyon for photographers and tourists alike. Antelope is made up of Upper and Lower Antelope, and it can only be visited with a permit and guide. We've been to the lower canyons multiple times, which is the less crowded of the two.
If you're making the trip from Las Vegas, we highly recommend Max Tours.
2. Nine Mile Canyon, Utah
Named after the creek that runs through it, Nine Mile Canyon is 40 miles long and home to thousands of petroglyphs and pictographs.
This is not your typical canyon because it's filled with hoodoos or pillars of rock. It has the highest concentration of hoodoos, which makes for some of the most photogenic landscapes.
Zion National Park offers spectacular views, amazing hikes, and can be reached via its two major roads. It's a great place to visit for anyone as it offers a wide range of ways to experience the canyon, including scenic views from the road and hiking through them.
It's most well known for Horseshoe Bend but offers a lot to explore in its 1.2 million-acre national park. If you're up for a challenging hike, we highly recommend Reflection Canyon. It's by far one of our favorite spots in the park and quiet.
Owned by the Navajo Nation, you can view Canyon De Chelly from the rim or visit the canyon floor when accompanied by a park ranger or Navajo guide. Spider Rock, which is a 750-foot sandstone spire, is it's most recognized feature.
7. Buckskin Gulch, Paria Canyon, Utah
Buckskin Gulch is the deepest slot canyon in the Southwest United States. It's within the Paria Canyon-Vermilion Cliffs Wilderness, a highly regulated area that requires permits for day hikes and only allowing 20 overnight permits every day! Our friend recently did this epic hike, and we can't wait to get our hands on permits too.
This is one of the most popular spots to visit in Bend National Park. You can hike, paddle the river, or just enjoy the beautiful scenery. When we were there, there were multiple photoshoots happening, including a wedding shoot.
Known as the "Grand Canyon of Texas," Palo Duro Canyon is the second largest canyon in the United States. It is 120 miles long with depths up to 997 feet.
You can't make this list without including the granddaddy of all canyons. The Grand Canyon is one of the largest and longest canyons in the world and one of the 7 Natural Wonders of the World.
It can be explored in so many ways. You can drive up to viewpoints, do a helicopter tour, white-water raft down the Colorado River, or even walk out onto a glass bridge. The rim-to-rim hike has also made our list of 25 Best Hikes in the World.
11. Waimea Canyon, Hawaii, USA
Holding the title for the largest canyon in the Pacific, Waimea Canyon makes its home on the island of Kauai. It's 10 miles long, 1 mile wide, and 3,600 feet deep.
Also making its home in the Paria Canyon-Vermilion Cliffs Wilderness Area and more specifically the Coyote Buttes North Area, "The Wave" offers a surreal look into what Mother Nature can do. It's nearly impossible to get a permit since only 20 people are allowed in a day.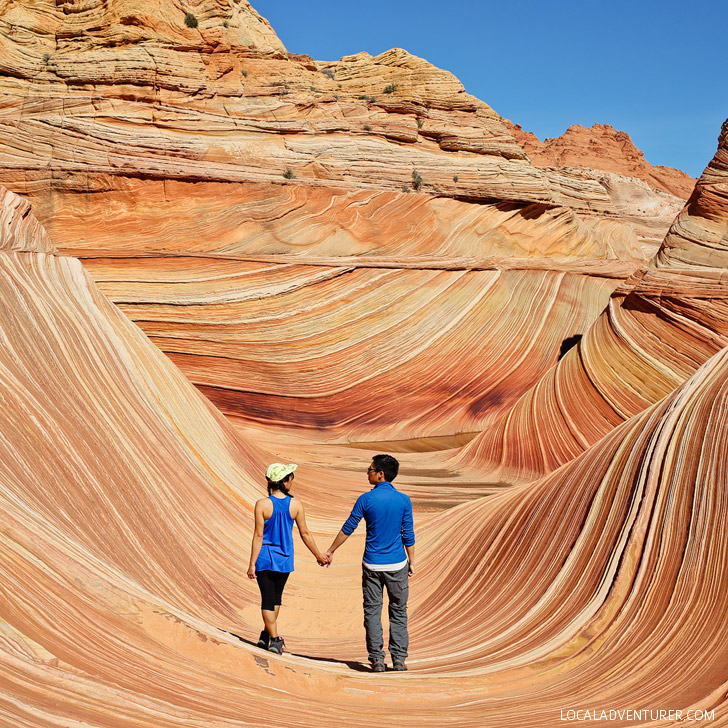 Alabama – Dismals, Little River
Arizona – Marble, Sabino, Salt River, Walnut
California – Golden and Mosaic and Natural Bridge and Titus in Death Valley, Grand Canyon of the Tuolumne in Yosemite, Kings Canyon, 
Colorado – Black Canyon of the Gunnison, Gates of Lodore, Glenwood, Monument in Colorado National Monument, Royal Gorge, Ruby (also UT)
Georgia – Tallulah Gorge
Idaho – Hell's Canyon (also OR, WA)
Kentucky – Red River Gorge
Maine – Ripogenus Gorge
Montana – Bad Rock, Bighorn (also in WY)
Nevada – Echo, Red Rock
New Hampshire – Flume Gorge
New Mexico – Chaco, Rio Grande Gorge
NY – Ausable Chasm, Genesee River Gorge, Niagara Gorge
North Carolina – Linville Gorge
Oregon – Columbia River Gorge (also WA)
Pennsylvania – Lehigh River Gorge, Pine Creek Gorge
Tennessee – Big South Fork of the Cumberland River Gorge (also in KY) 
Texas – Boquillas and Mariscal in Big Bend NP, McKittrick in Guadalupe Mountains NP
Utah – Bluejohn, Canyonlands National Park, Cateract, Desolation, Flaming Gorge (also WY), Grand Staircase Escalante, Fremont River, Horseshoe, Logan, Provo, San Rafael River Gorge, Virgin River Gorge (also AZ), Westwater
Vermont – Quechee Gorge
Virginia – Breaks (also KY), James River Gorge
Washington – Moses Coulee, Grand Coulee
West Virginia – New River Gorge
Wyoming – Grand Canyon of the Yellowstone, Wind River
Puerto Rico – Saint Christopher's
What's the Difference between a canyon vs gorge
They can be used interchangeably. Canyon is a more widely used term in the US and gorge is more widely used in Europe. I always thought a gorge needed to have a river flowing through it, but it turns out they can go either way.
What to Pack for Your Hike
How many of these canyons in the US have you visited? Can you think of any others we should check out?
Did you enjoy this post? Pin it for later
"Discovery consists not of seeking new lands but in seeing with new eyes" – M. Proust
Esther and Jacob are the founders of Local Adventurer, which is one of the top 5 travel blogs in the US. They believe that adventure can be found both near and far and hope to inspire others to explore locally. They explore a new city in depth every year and currently base themselves in Las Vegas.