Valley of Fire State Park is one of our favorite day trips from Las Vegas. We've taken most of our visitors here since it's less than an hour away.
Even though we've gone so many times (5 times just this past year), we still love being able to explore beyond all the popular spots. Since blowing up on Instagram, the number of visitors at the park have skyrocketed. To help you plan your trip, here are the best things to do in Valley of Fire and our best tips for avoiding the crowds.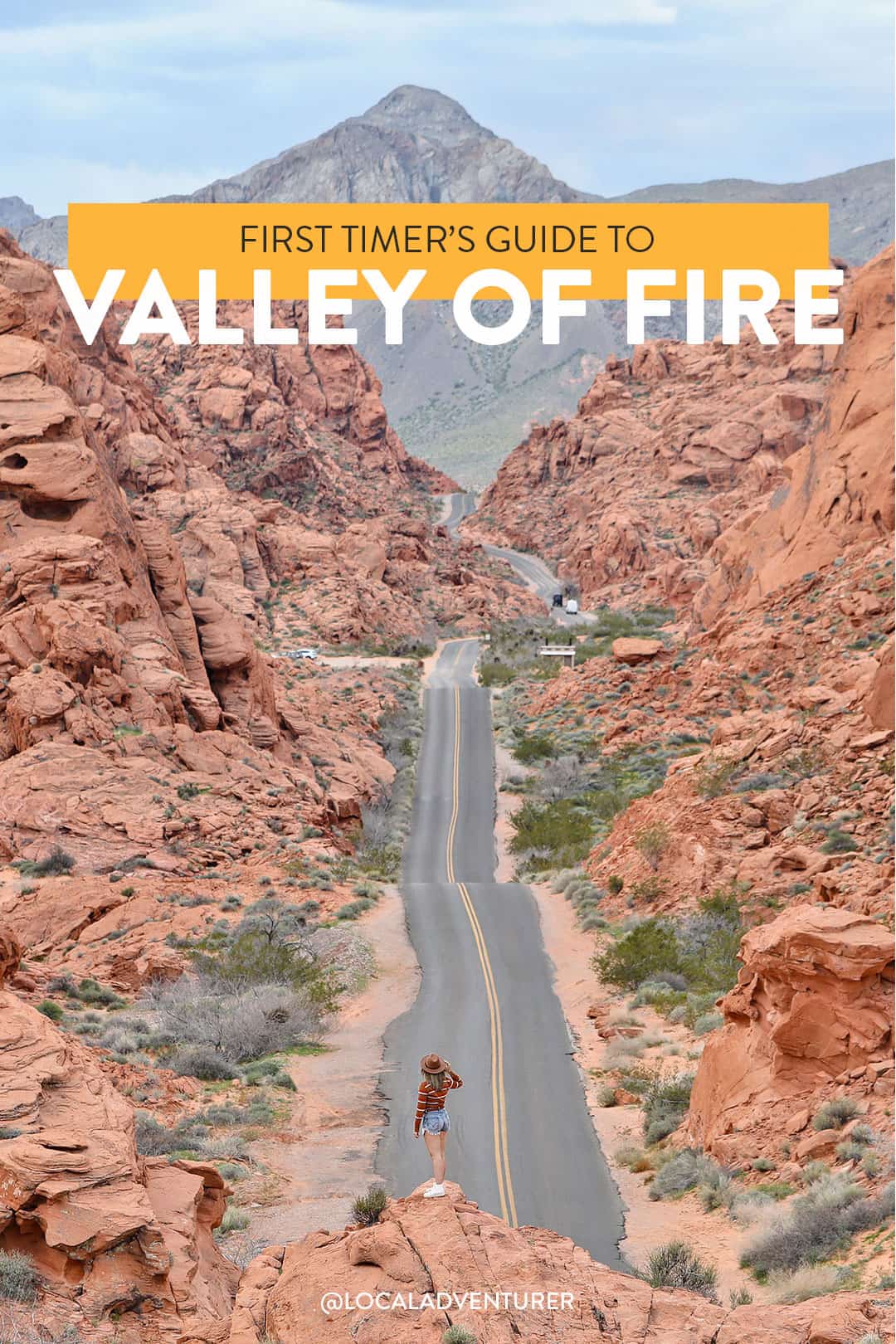 All opinions are always our own. This post may contain affiliate links, where we receive a small commission on sales of the products that are linked at no additional cost to you. All opinions are always our own. Read our full disclosure for more info. Thank you for supporting the brands that make Local Adventurer possible.
Last Updated: November 2, 2022
What You Need to Know About the Valley of Fire
In this post, we're going to cover everything you need to know to help you plan the perfect trip. Even if you've been before, we hope to share some insight into the park you may not have known about.
What You Need to Know Before You Go
Hours: The park is open daily from sunrise to sunset. There is 24-hour access to campgrounds. Rangers drive through the park to make sure everyone is out.
The Entrance Fee is $15 per vehicle for day-use ($10 if you have a Nevada ID). If you plan on buying an annual pass ($75), let them know at the fee station, and they'll direct you to the Visitor Center.
Valley of Fire is a state park, so the America is Beautiful pass will not apply.
The Visitor Center is located halfway between the east and west entrance on the Valley of Fire Hwy. If you plan on seeing the main sites, you'll have to pass by it. It's open daily from 9 am to 4:30 pm.
Pets are allowed but must be on a leash at all times. They are not allowed in the Visitor Center.
The closest gas station is right at the exit off of I-15. Fill up if you're worried about running out of gas.
Cell coverage is limited. We typically assume we won't get service, but there are wifi plans available in the park. We'll let you know if we test it.
Bathrooms: There are pit toilets throughout the park, but the Visitor Center has the best flush toilets. We always stop by before any hike.
Shaded picnic areas with restrooms are located at Atlatl Rock, Seven Sisters, the Cabins, near Mouse's Tank Trailhead, and White Domes.
Bring lots of water, especially when it's miserably hot in the summer. If you plan on going in the Fall, Winter, or Spring, bring layers because temperatures will drop as the sun goes down.

Bring your own snacks

. There is a small gift shop at the Visitor Center where you can pick up snacks and drinks, but it's best to bring everything you need.
Drones are not allowed in the park.
Rock climbing is limited to specific areas of the park. Stop by the Visitor Center to find out more.
15 Incredible Things to do in Valley of Fire
Our first hike in the park was the Fire Wave. It's easily one of the most popular hikes in the Valley of Fire. It's similar to the Wave in Arizona but much more accessible.
The hike is 1.5 miles roundtrip and takes you to a rock formation that looks like a wave or swirled ice cream. The beginning of the trail is easy to follow. Once you reach the rocks, look for trail markers to keep you on track.
Pro Tip: It gets crowded at the wave, so be courteous to others who want to take photos. If you're hanging out, avoid sitting on the wave itself. We almost saw a fight break out because a group sat on it for an hour. Trust me, the view from across the Fire Wave is pretty much the same as it is on top of it.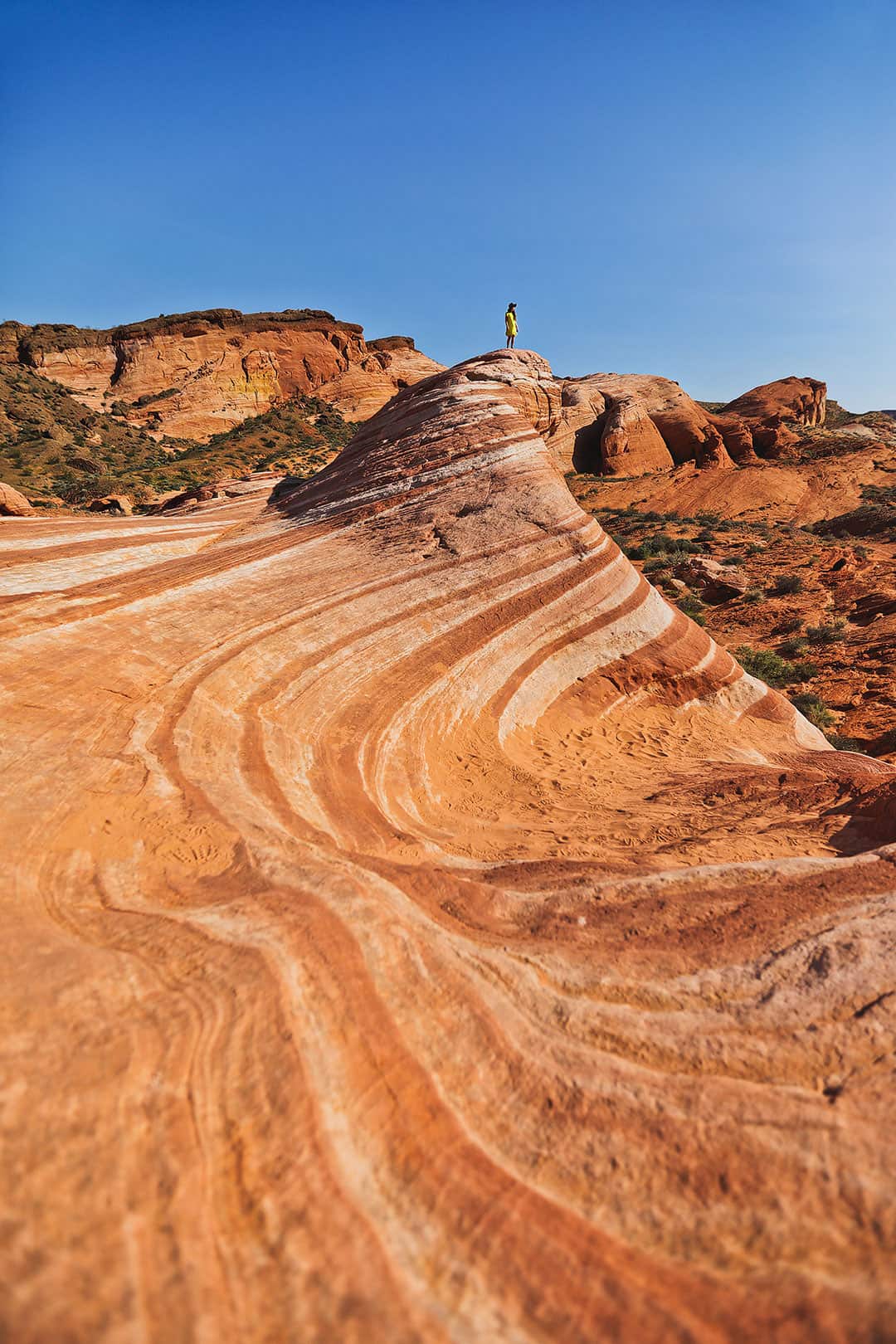 Elephant Rock is a beautiful rock formation that looks like an elephant! It's located right next to the east entrance of the park. There is a small parking lot just east of Elephant Rock, and then you can follow the short trail there.
I took the photo below in 2015 when the park wasn't as popular as it is today. Now, there are signs near Elephant Rock saying don't climb it. We saw several people climbing it, but I imagine it didn't get nearly as much foot traffic as it does now.
Pro Tip: You can stop by Elephant Rock anytime of the day since this portion of the park isn't gated off. We've stopped by to do some astrophotography here.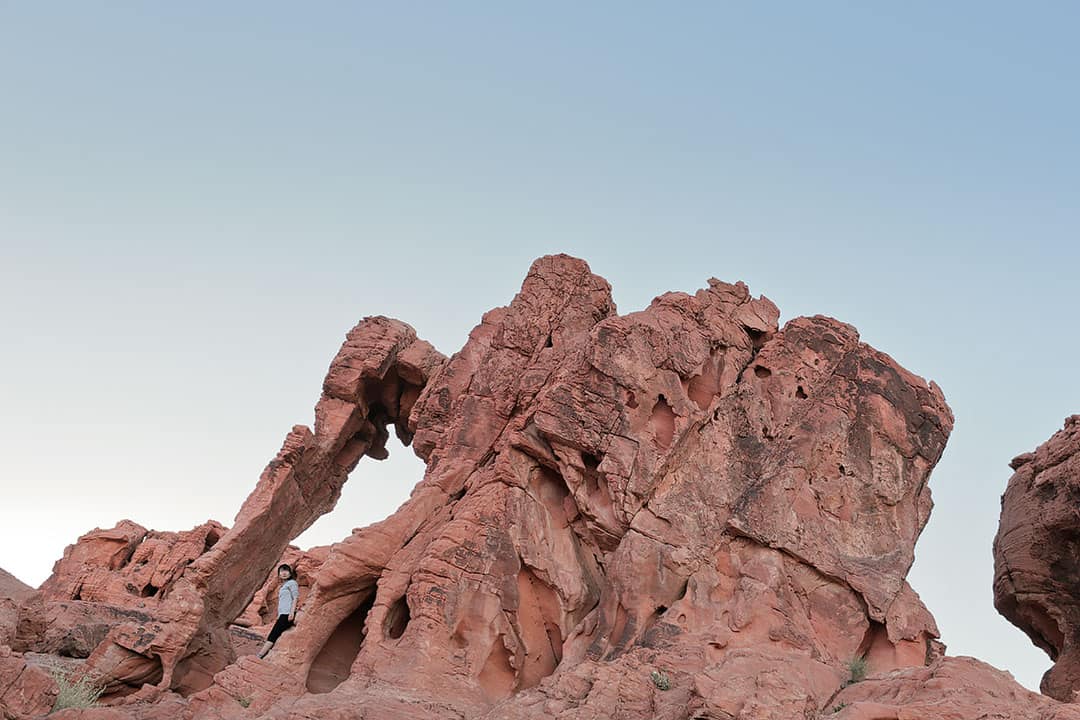 The Beehives are one of the first notable rock features you'll see driving in the west entrance of the park. Just off the main road, is a cluster of rocks that look like massive beehives. It can be a quick stop, and typically you'll find people crawling all over the rocks.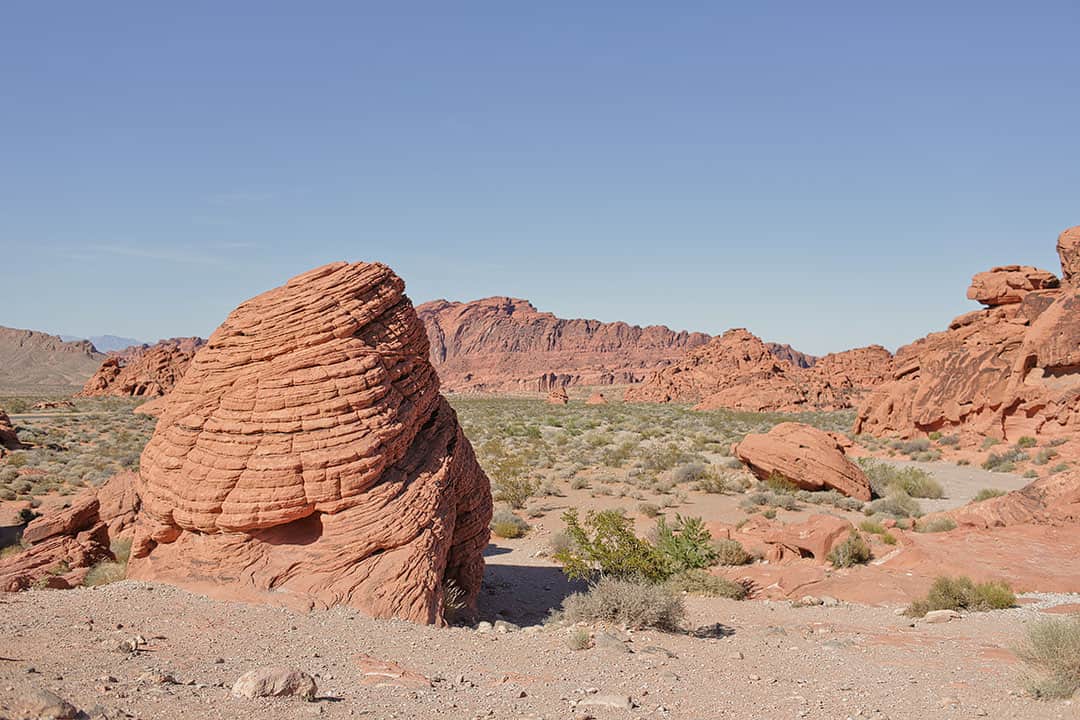 Mouse's Tank is a natural bowl in the rock where water collects after rainfall. A short half-mile round trip hike takes you to this basin, and you can even find petroglyphs along the way.
Fun Fact: This spot is named after a Southern Paiute Indian renegade named Little Mouse who hid in the Valley of Fire after being accused of killing two prospectors in the 1890s.
5. Rainbow Vista + Fire Canyon Overlook
On our most recent visit, we explored the Rainbow Vista trail. We didn't head to the end, but we did scramble up the hill to get a birds-eye view of the canyon. We had chatted with a few people heading back from the hike, and they said this view was the highlight.
Pro Tip: The trail starts out obvious through a canyon but then opens up to a field. This is where we veered left and scrambled up the hill for the view.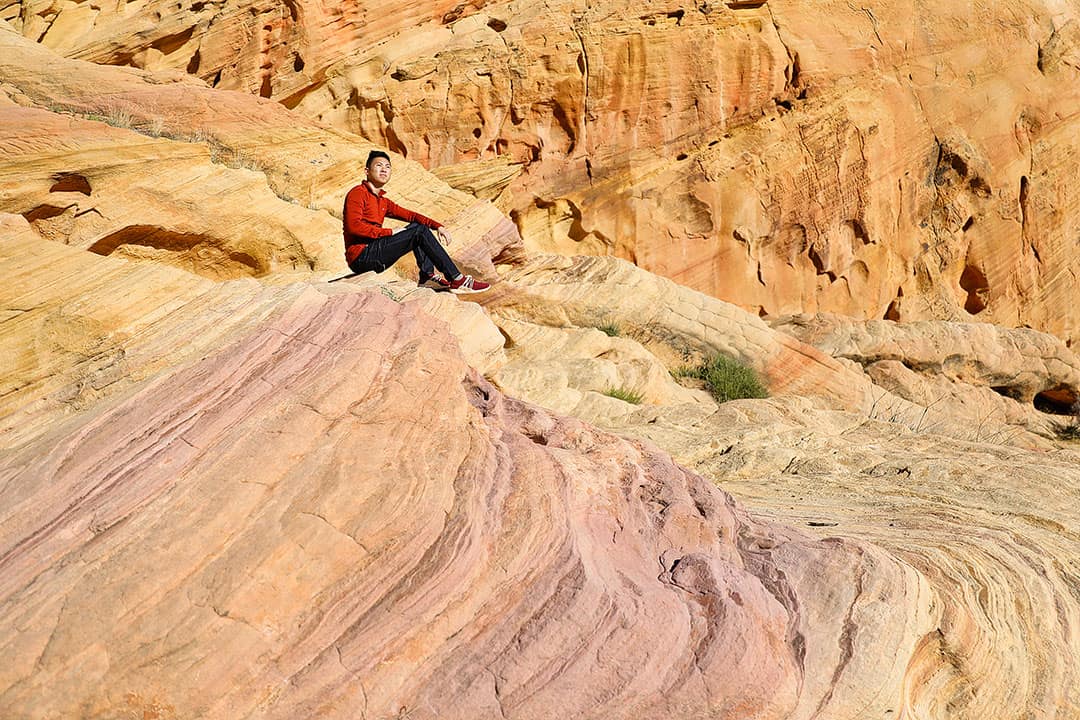 A small unmarked trail off of Mouse's Tank Road takes you to a narrow pink canyon. The canyon isn't very tall, so a lot of photographers crop out the top of it, so that it can appear taller.
You can also climb above the canyon right at the mouth of Pink Canyon to find more pink rock formations and get a different view of the area.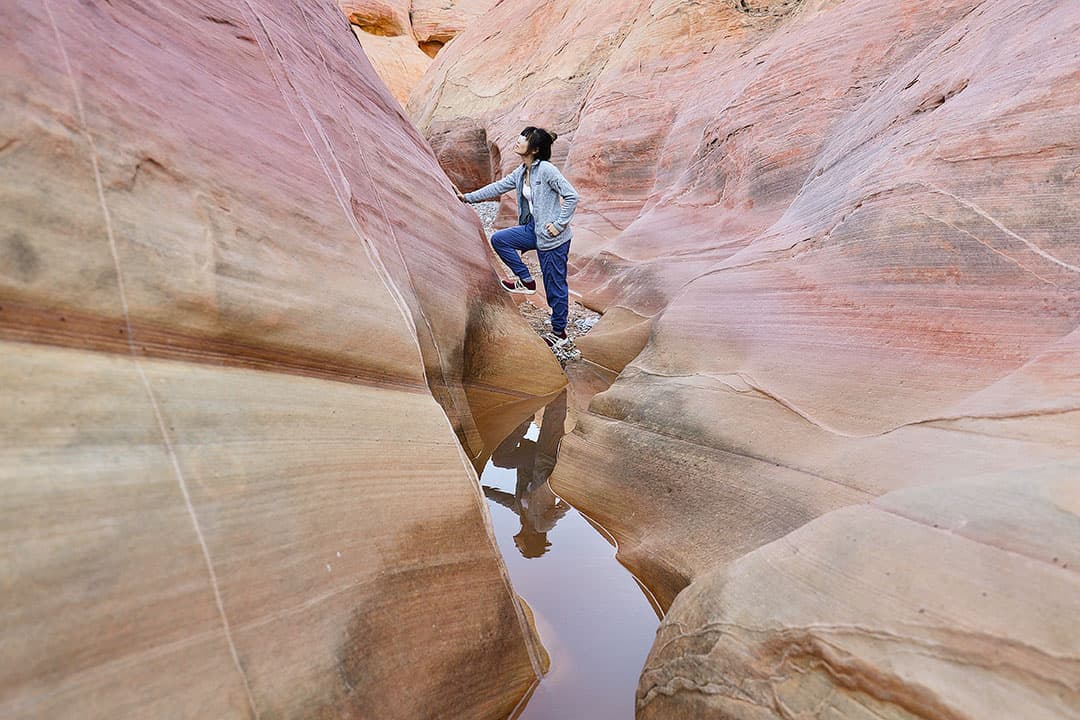 The one-mile long White Domes hike is a nice loop that gives you a little taste of everything. You'll see beautiful desert views, slot canyons, windows, caves, and even a historic movie site.
There are plenty of spots where you can sit and enjoy the landscapes too.
Fun Fact: Grab a copy of The Professionals and watch it before your visit to see if you recognize any of the spots. This movie was responsible for developing the road to White Domes.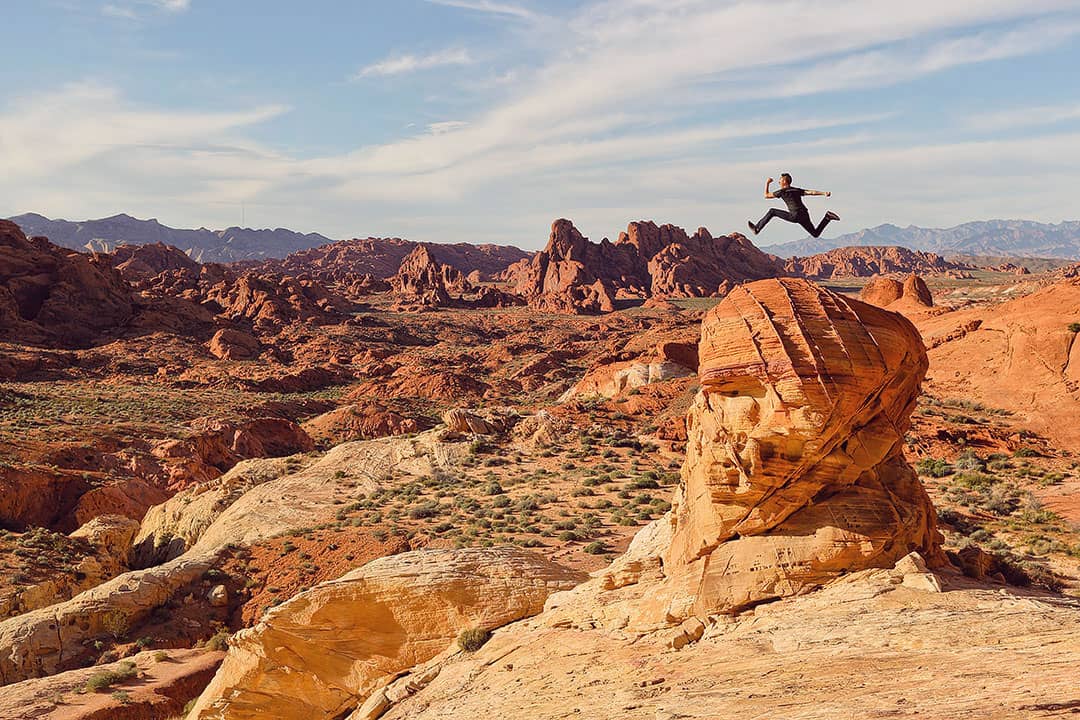 The Seven Sisters  are a group of seven huge boulders that seem to stand alone in the desert. It's a great spot to picnic and or have a wedding at their wedding site!
This has always been a drive-by spot for us, but next time we're going to pack a picnic.
Atlatl Rock is named after a device used for launching a spear, and you can find them depicted in the ancient petroglyphs here.. It's also the location of a 43-site campground.
Arch Rock is an easy five minute stop, and honestly, it's underwhelming if you're expecting to see a sizable arch. It's so hard to tell the scale from photos. We shot our arch photos with this telephoto lens.
Regardless, it doesn't take much time to see it, and if you decide to spend more time here, we really enjoyed exploring the surrounding areas. We even found a small cave.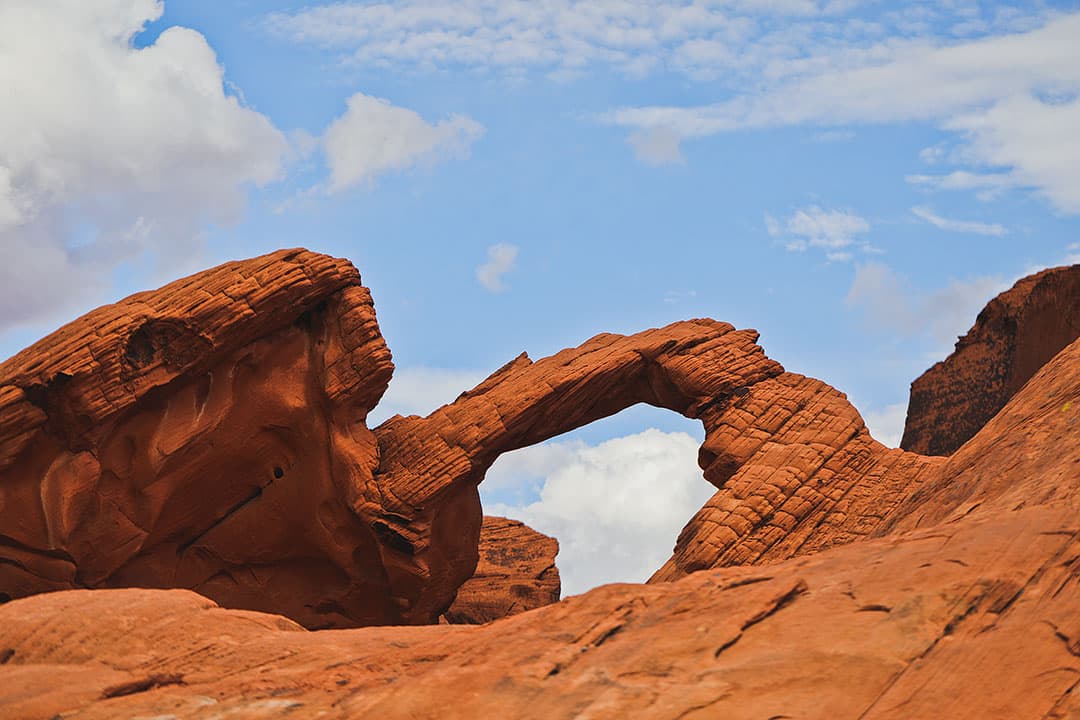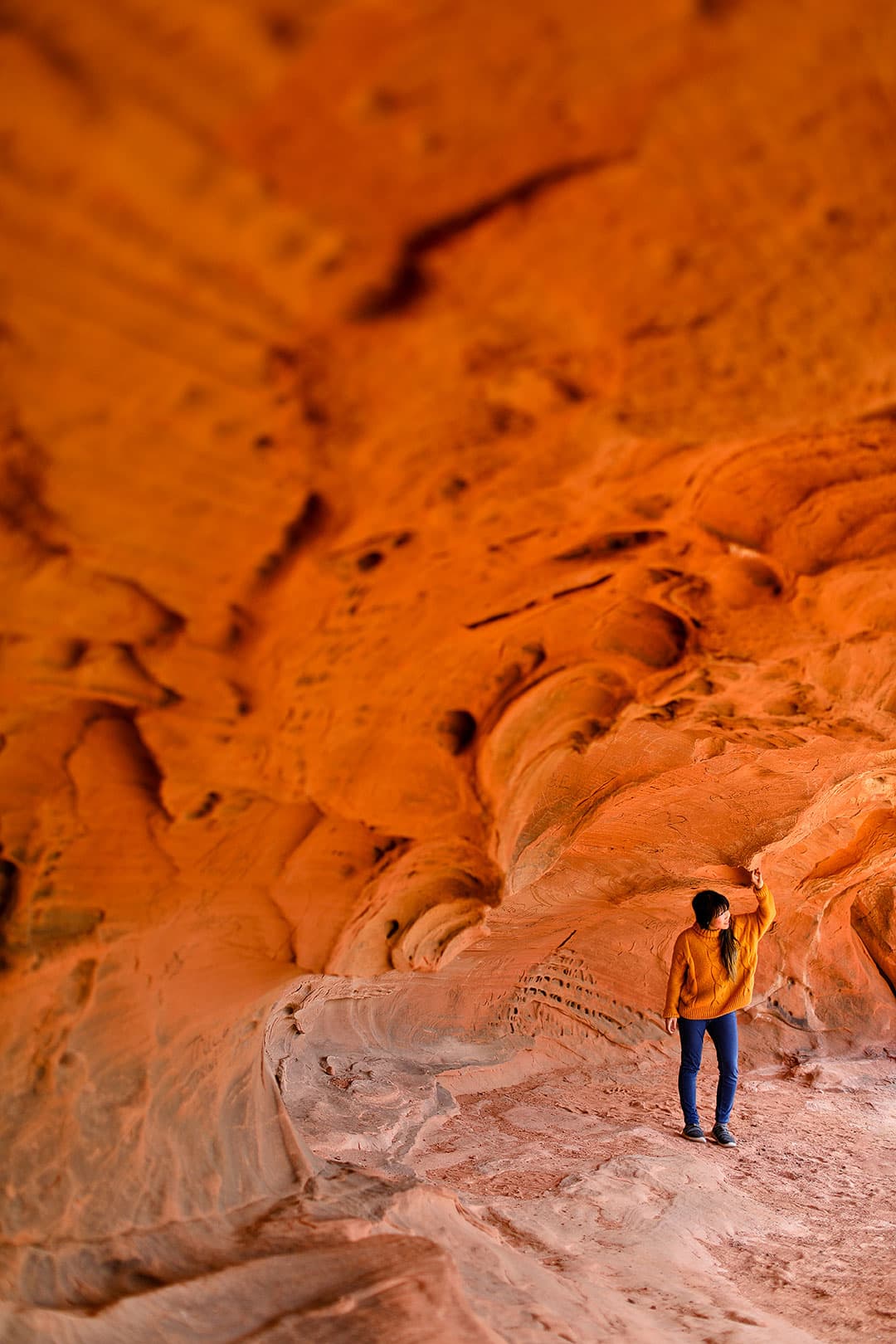 11. Fire Cave / Windstone Arch
This is another unmarked spot that's popular among photographers. Like Arch Rock, when we were looking for it, we were expecting to find a bigger arch. We found that the cave is just large enough to comfortably fit a small to medium-sized human.
Pro Tip: If you hope to find this spot, make sure it's marked on our map and you download the map to use offline.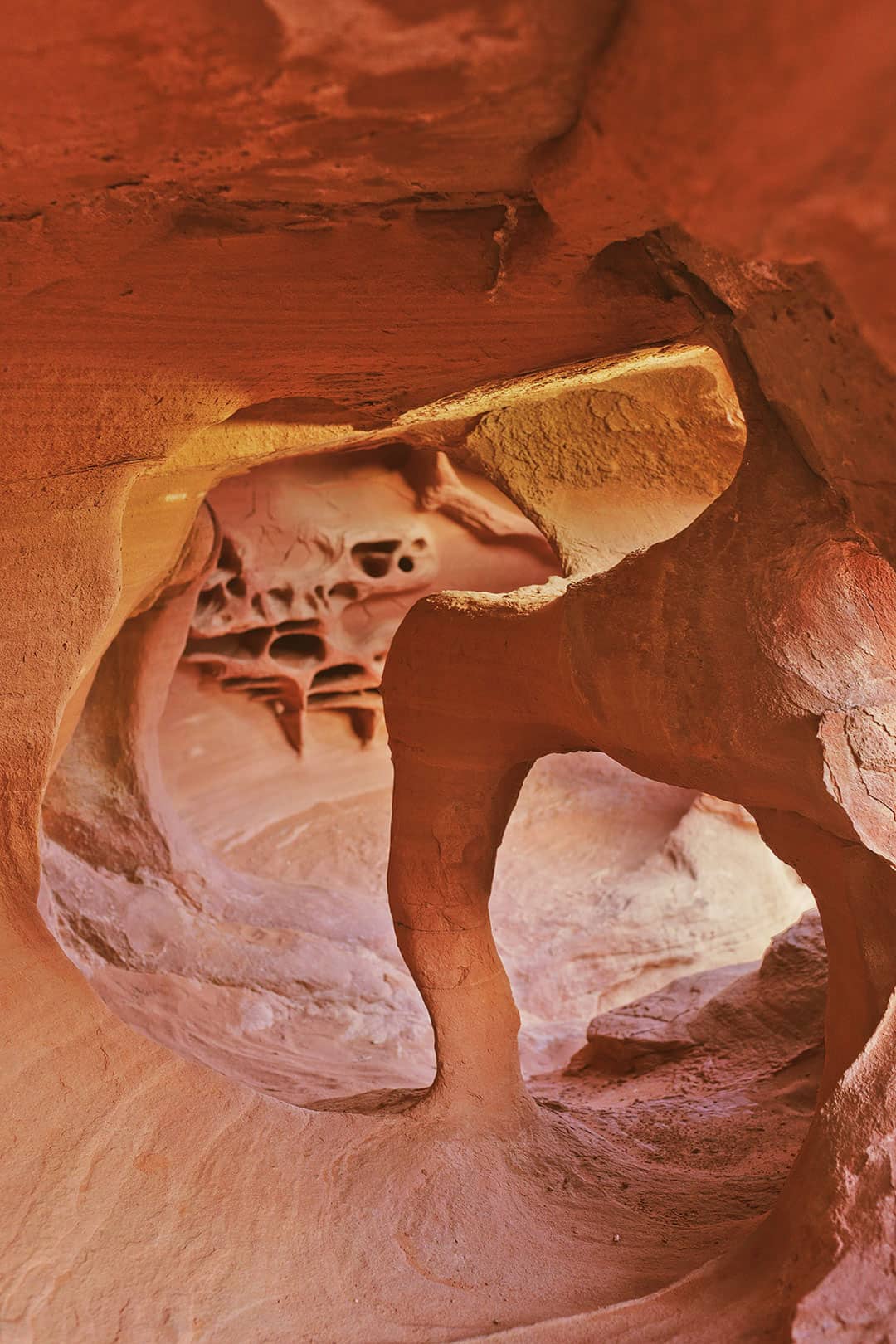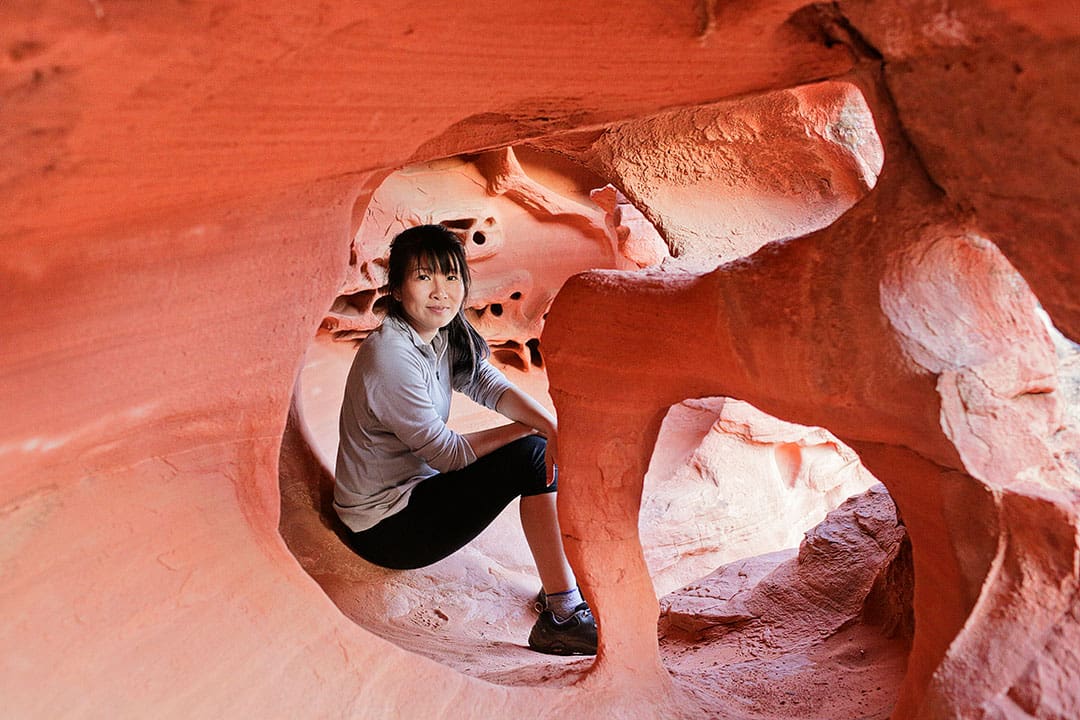 12. Mouse's Tank Road (The Scenic Drive)
This is the main road that stretches from the Visitor Center to White Domes, but the highlight of the road is right at the beginning where it winds through the beautiful red rocks. It's one of those Instagram shots that everyone takes.
If you drive down to White Domes and back, you'll also find several great vantage points for road shots. Please be responsible and don't traffic. This is the main road in and out of the park.
Pro Tip: The best place to park is just before Rainbow Vista. If you drive to the Rainbow Vista parking lot, then turn around, there is a pull out on the side of the road just as you head back into the valley.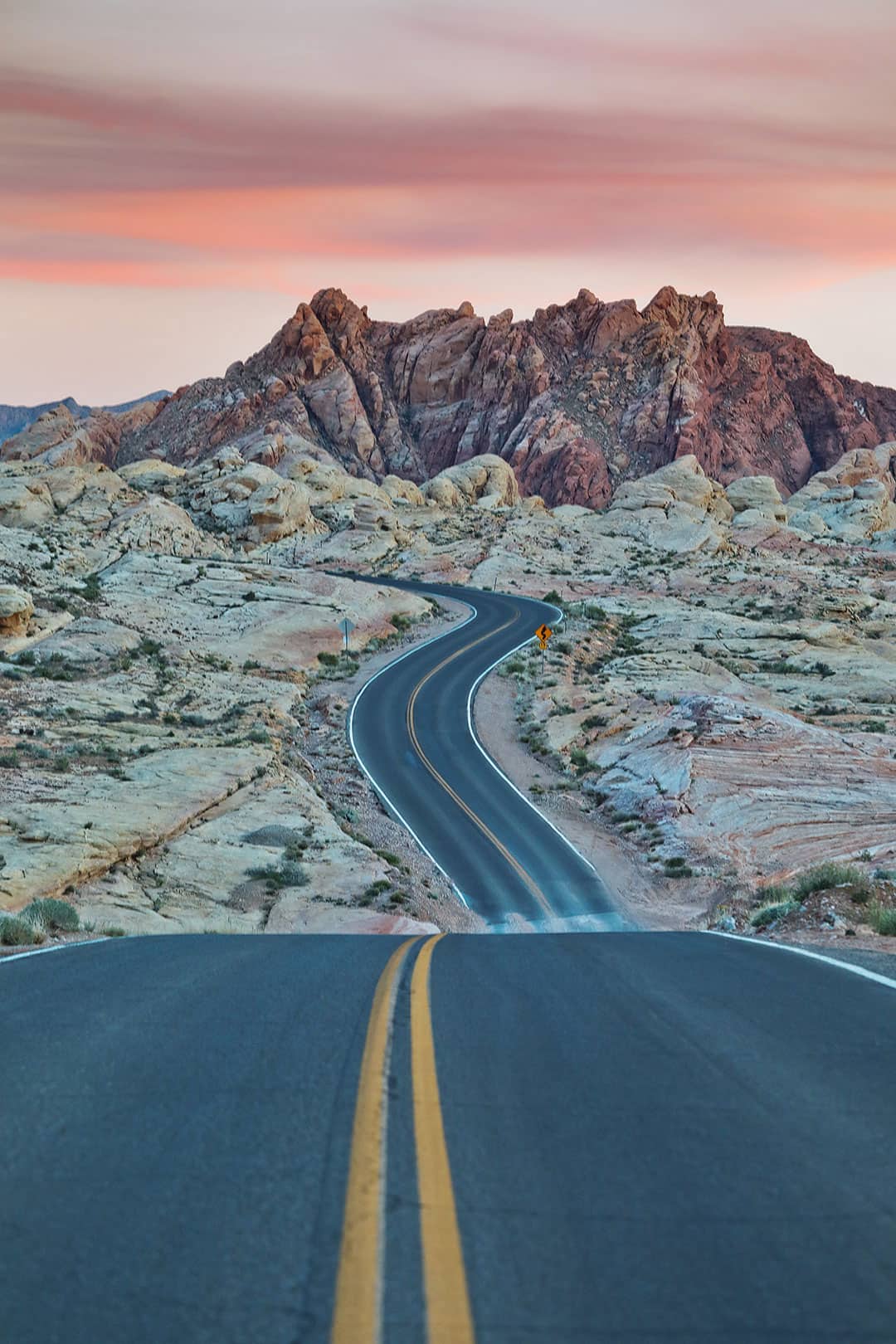 When you stop by the Visitor Center, be sure to take the very short hike the viewpoint of Balanced Rock. It's one of the famous rock formations and easy to get to! It might be hard to see in the photo below, but Balanced Rock is smack dab in the center.
Pro Tip: The best place to park is just before Rainbow Vista. If you drive to the Rainbow Vista parking lot, then turn around, there is a pull out on the side of the road just as you head back into the valley.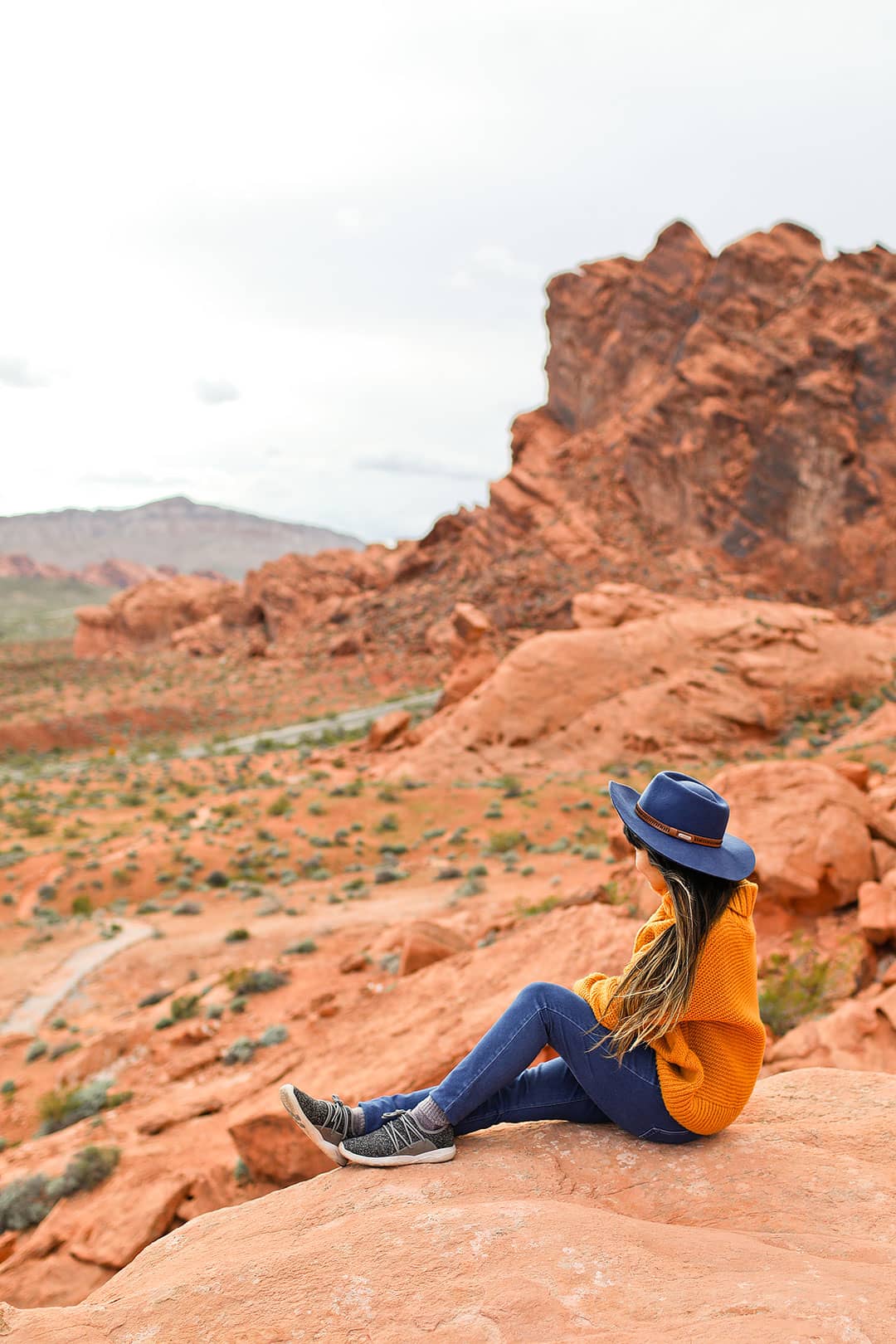 14. Fire Canyon / Silica Dome
We haven't explored this part of the part yet but plan to on our next visit. For whatever reason, we've always overlooked the road that leads to Fire Canyon until our most recent visit. It has canyons and great showcases of the white and red rocks contrasting with each other.
Did you know you can find petrified wood in Valley of Fire State Park? It's often overlooked but there is a small loop where you can see the colorful tree trunks laying closed to the road.
Pro Tip: The best place to park is just before Rainbow Vista. If you drive to the Rainbow Vista parking lot, then turn around, there is a pull out on the side of the road just as you head back into the valley.
Map to Help You Get Around
Where is Valley of Fire Located?
The Valley of Fire State Park is located about one hour northeast of Las Vegas. It's very much considered a Las Vegas attraction since it's close enough to get to for an afternoon. We've driven out there just to catch sunset a few times.
If possible, avoid visiting the Valley of Fire during the summer. Not only is it ridiculously hot, but it also tends to be the most crowded. How people can handle the 100+ degree heat, I will never know.
The rest of the year, it's much nicer. We prefer spring and fall since you have long enough days and reasonable temperatures.
Getting to Valley of Fire
There isn't any public transportation going out to Valley of Fire. There are some tour options:
For the best experience, we highly recommend renting a car and having a DIY itinerary.
The drive is easy to follow. From Las Vegas, head north on I-15 to exit 75. There are signs for Valley of Fire for the exit. Once you exit, you'll drive an additional half-hour on a small two-way road that will take you to the pay station of the park.
If you're closer to Henderson, there is another route that takes you through Lake Mead National Recreation Area. This route takes longer because the roads are windier and the speed limit is lower, but it happens to be the more scenic of the two. You also have to drive past Lake Mead pay stations, which is a steep price just for driving through. If you have a National Park Annual Pass like us, then you don't have to worry about it. This route takes you to the east entrance next to Elephant Rock. We typically take this route during traffic hours.
About Valley of Fire / Why is it Called Valley of Fire?
The Valley of Fire is named after its 40,000 aces of bright red Aztec sandstone, which was formed from shifting sand dunes millions of years ago. It's truly remarkable because the outcrops of these brilliant rocks seem to come out of nowhere while the rest of the desert landscape is flat made of a muted gray and tan limestone. 
It is Nevada's oldest state park and was even designated a National Natural Landmark in 1968.
More Guides for Las Vegas
If you're spending a few days in Las Vegas, here are more guides for you to check out:
More State Parks and National Parks Nearby
Las Vegas is an amazing home base for the outdoors. These are all the state parks and national parks nearby.
Old Las Vegas Mormon Fort SHP, Las Vegas
Valley of Fire State Park (48.5 mi NE, 55 min, map)
Cathedral Gorge State Park (167 mi NE, 2 h 40 min, map)
Beaver Dam State Park (189 mi NE, 3 h 25 min, map)
Spring Valley State Park (197 mi NE, 3 h 20 min, map)
Echo Canyon State Park (181 mi NE, 3 h, map)
Providence Mountains SRA, CA (112 mi, 2 h 10 min, map)
Gunlock State Park, UT (120 mi NE, 2 h, map)
Snow Canyon State Park, UT(128 mi NE, 2 h, map)
Sand Hollow State Park, UT (133 mi NE, 2 h 5 min, map)
Quail Creek State Park, UT (131 mi NE, 2 h, map)
Where to Stay When Visiting Valley of Fire
Since Valley of Fire is so close to Vegas, it's easy to stay in town and visit for the day. As an alternative, you can camp inside the park, which we'll talk more about below. If you plan on staying in Las Vegas, check the map below for the best places to stay.
Campgrounds and Camping in Valley of Fire
There are two campgrounds inside Valley of Fire State Park with a total of 72 units. Campsites all have shaded tables, grills, and access to water and restrooms. A dump station and showers are also available.
All campsites are first-come-first-served, and there is a camping limit of 14 days in a 30-day period. RV sites are also available with power and water hookups.
Fees are as follow:
$25 per night for regular sites ($20 for Nevada residents)
$30 per night for sites with utility hook ups
For larger groups, there are three group areas that can accommodate up to 45 people each. These are available by reservation only via phone (702-397-2088).
Free Camping on BLM
West of the park, there is BLM land where you can camp for free. There are only 5 campsites at this location and no services besides a fire pit. Keep in mind that you have to drive on gravel road to reach these sites.
Have you been to the Valley of Fire State Park? What was your favorite part of the park?
Did you enjoy this post? Pin it for later
See More National Park Guides
"Discovery consists not of seeking new lands but in seeing with new eyes" – M. Proust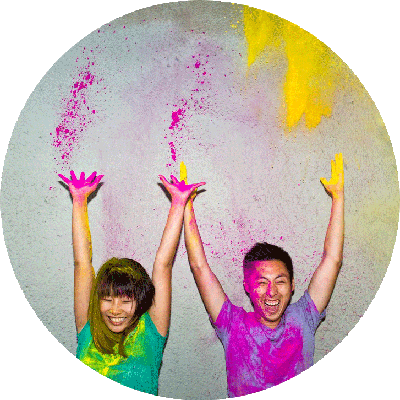 Esther and Jacob are the founders of Local Adventurer, which is one of the top 5 travel blogs in the US. They believe that adventure can be found both near and far and hope to inspire others to explore locally. They explore a new city in depth every year and currently base themselves in Las Vegas.