How many of these things have you done in Nevada?
Having grown up in Atlanta where the landscape is full of rolling hills and greenery, I would have never pictured myself loving the desert so much. You may not know this about Las Vegas, but off the Strip, it's actually the perfect launching off point to the Great Outdoors.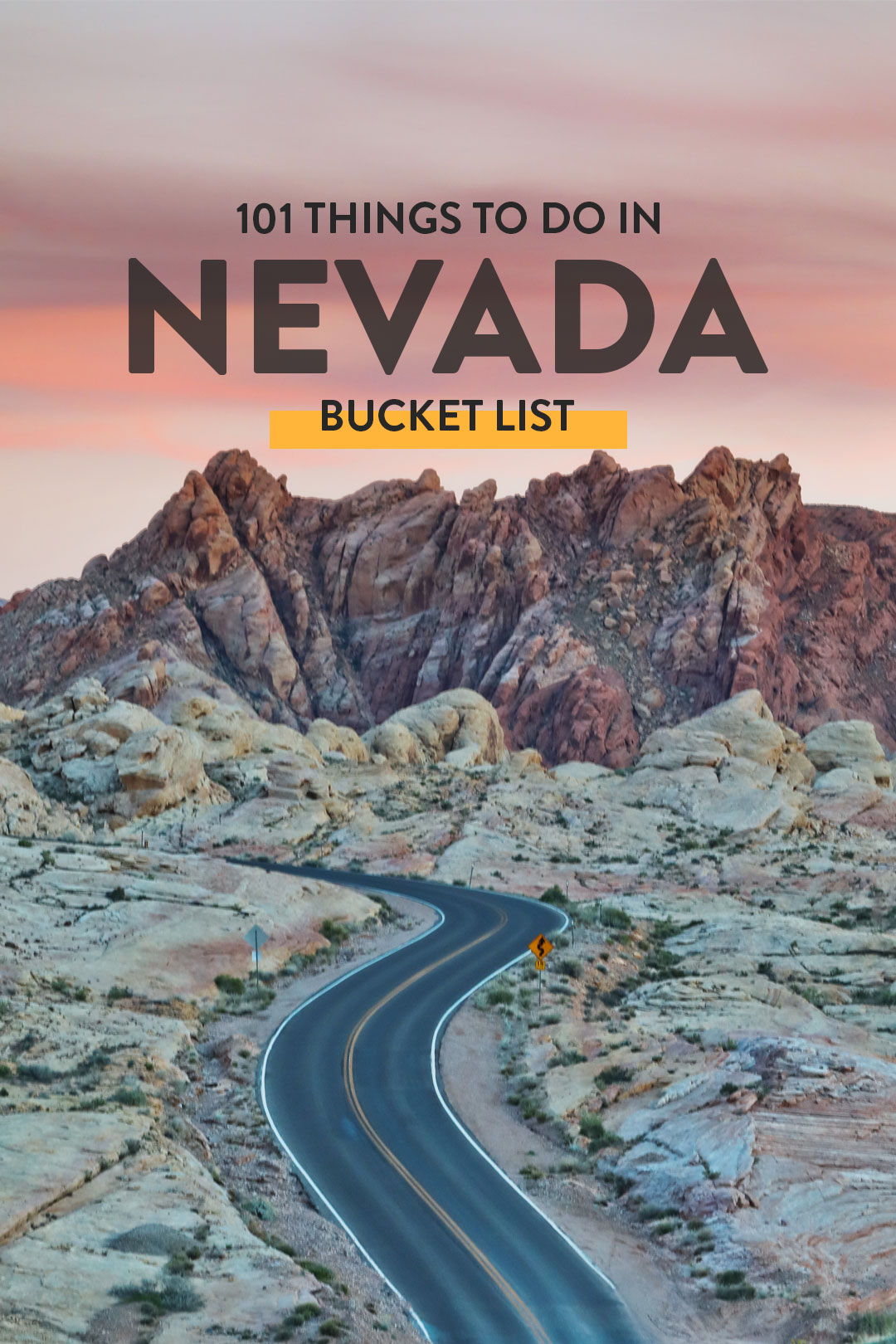 This post may contain affiliate links, where we receive a small commission on sales of the products that are linked at no additional cost to you. All opinions are always our own. Read our full disclosure for more info. Thank you for supporting the brands that make Local Adventurer possible.
Last Updated: August 29, 2023
The Ultimate Nevada Bucket List – 101 Things to Do in Nevada
Did you know there are more hot springs in Nevada than any other state? You can also find brilliant red rocks, twisted bristlecone pines, snow-capped mountains, and crystal-clear waters. The landscape changes so much from top to bottom. To help you explore more of our home state, we put together a list of 101 things to do in Nevada.
Click each link to find out more about each destination or activity.
Las Vegas
1.
Fly a plane in a jet and get hours towards a pilot's license.
2.
The gardens are dressed to the nines for all the seasons.
3.

Bellagio Fountains
You get a free fountain show. See the times here.
4.

Berlin Wall Urinal
You can piss on part of the Berlin wall. Well, at least the men can. It's in the Main Street Station Hotel men's bathroom.
7.
Watch the 12.5 million light show on the canopy above.
8.
World's tallest observation wheel. Happy half hour includes open bar.
9.
Learn about mob history in a fun interactive museum.
10.
Learn the history of the Nevada Test Site at this Smithsonian affiliate museum.
11.
Though many of our friends found it disappointing, you won't find it anywhere else. Just know going in that it's small and has a strict photography policy.
12.

Old Las Vegas Mormon Fort
State park with the first building ever built in Las Vegas.
13.
Over 200 old school pinball machines.
14.
Amazing hiking and climbing just 20 minutes from the Strip.
15.

The Simpsons House
IRL version of the house in the Simpsons. Since the 1997 promotion, it's been repainted and sold as a private residence.
16.
Most adrenaline pumping activity on the Strip.
17.

Tule Springs Fossil Beds
18.
If you didn't ride them in Venice, here's the next best thing at the Venetian (see the guide).
19.

Welcome to Las Vegas Sign
Get in line for the quintessential Vegas shot.
20.

Ice Skate on the Rooftop of Cosmopolitan
21.

Hand of Faith
With all the glitz and glamor of Vegas, the world's largest gold nugget is underwhelming but anywhere else it would be huge.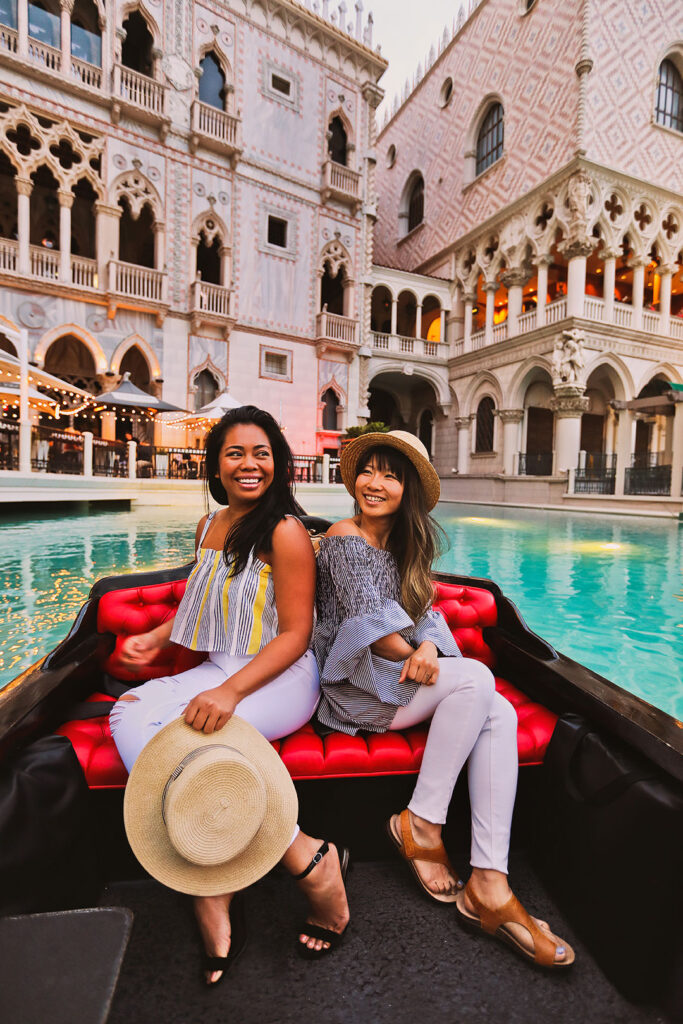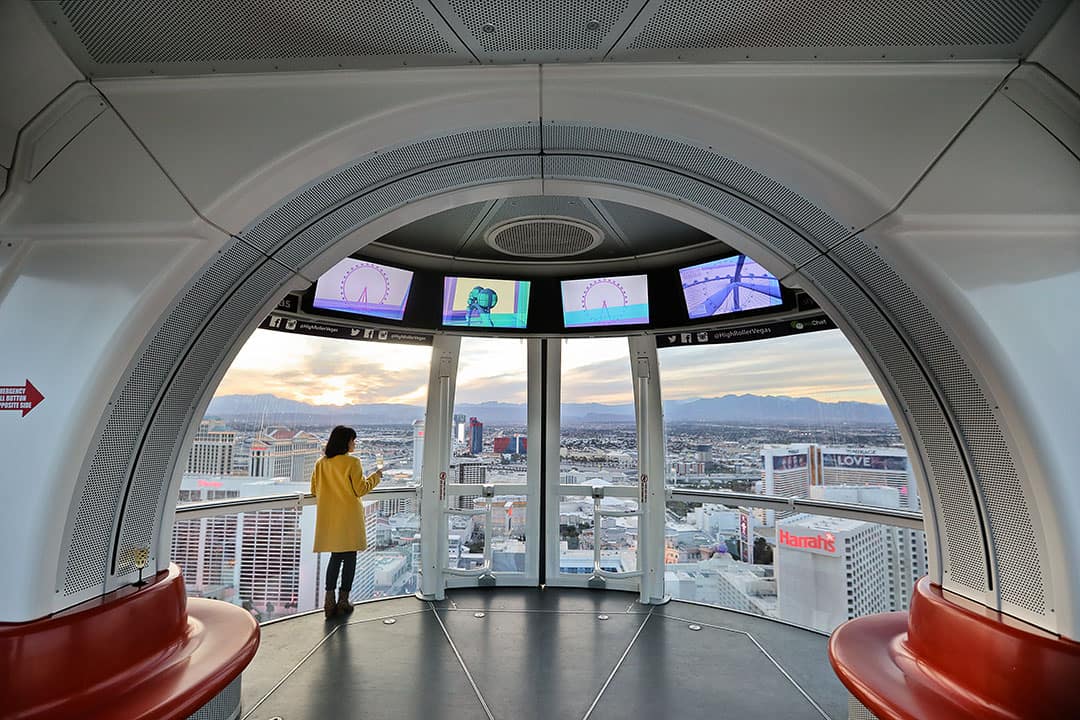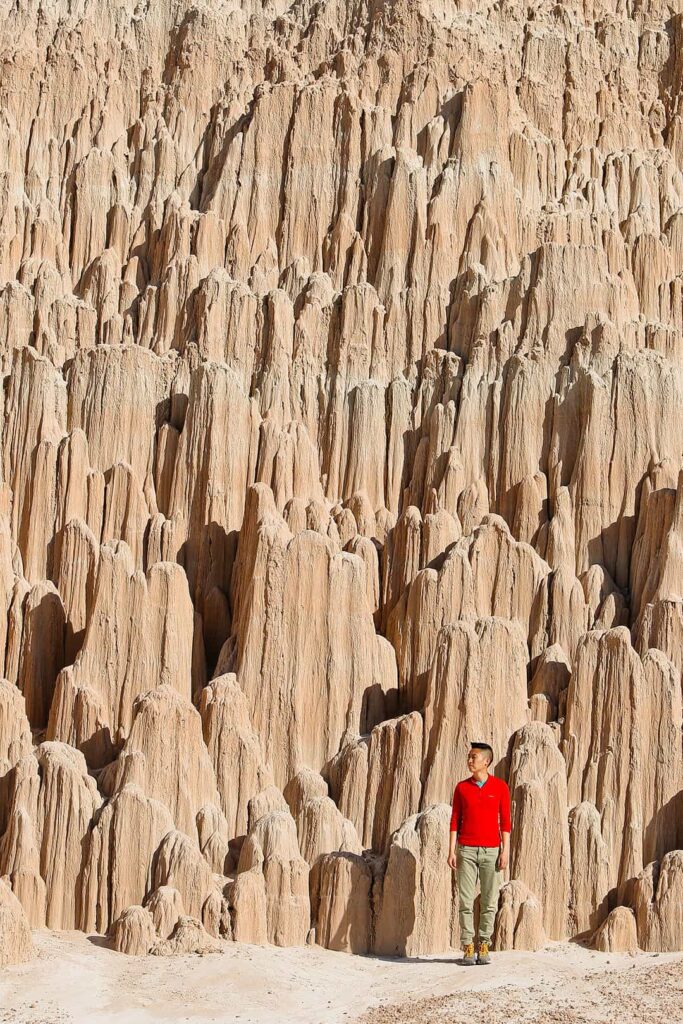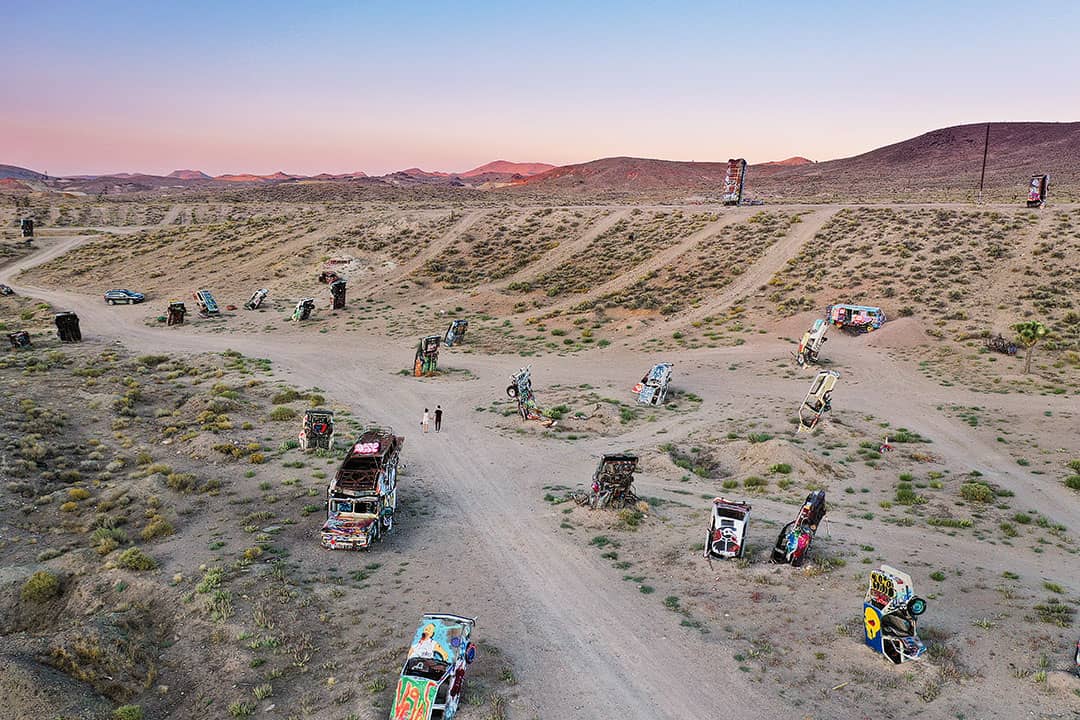 North Central Nevada
47.
Soak in one of two historic bathhouses. Good introduction to hot springs.
49.
They grow over 40 varieties of lavendar.
50.
Great place for fishing since they stock rainbow trout and are home to German brown trout.
51.
Explore the ruins of Fort Churchill, which was built in 1861 to provide protection for Pony Express mail runs and early settlers.
52.
An important archaeological site with basalt boulders covered with petroglyphs.
53.
Off-grid retreat center and hot springs in the Nevada high desert.
54.
Don't miss the Bristlecone pines and the Lehman Caves. You can hike Wheeler peak, the second highest peak in Nevada.
55.
A self-claimed micronation located in Dayton, NV.
56.
You can do all the typical activities like UTVing on these dunes, but what's unique about these sand dunes is that they sing (up to 105 decibels).
57.
Watch out for wild burrows. Also the more natural pools had some living creatures in it. I didn't want to look.
58.
A three-story stone tower located near Austin, Nevada.
59.

Loneliest Hwy in America
AKA US Route 50. Sure, you will see some cars, but they are few and far between.
60.
Ovens from the late 1800s. Seems like a great spot for astrophotography if we go back.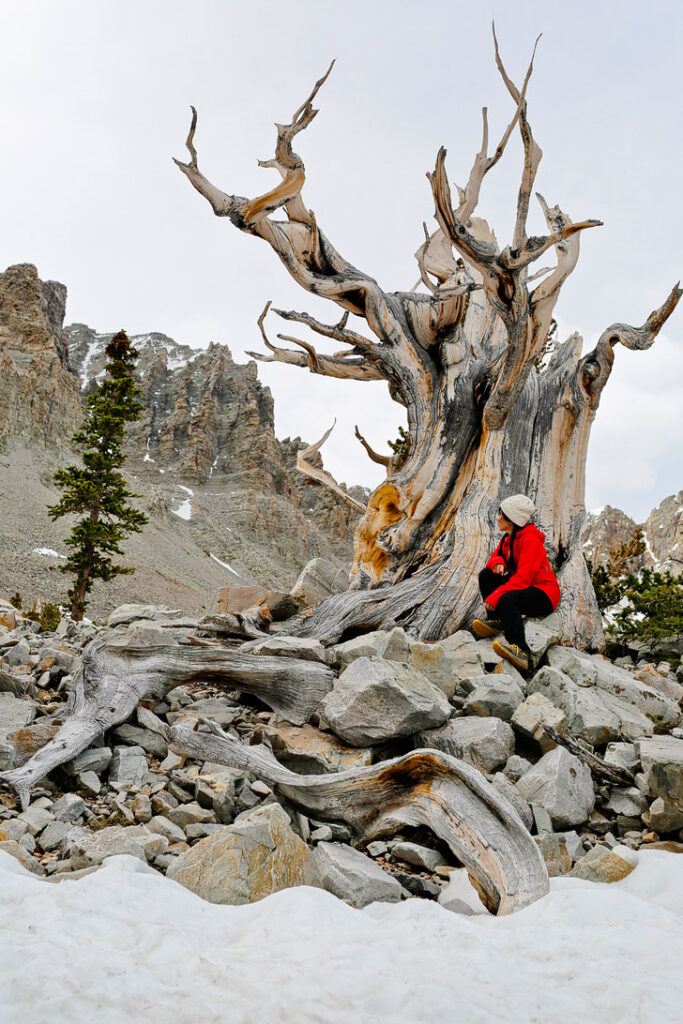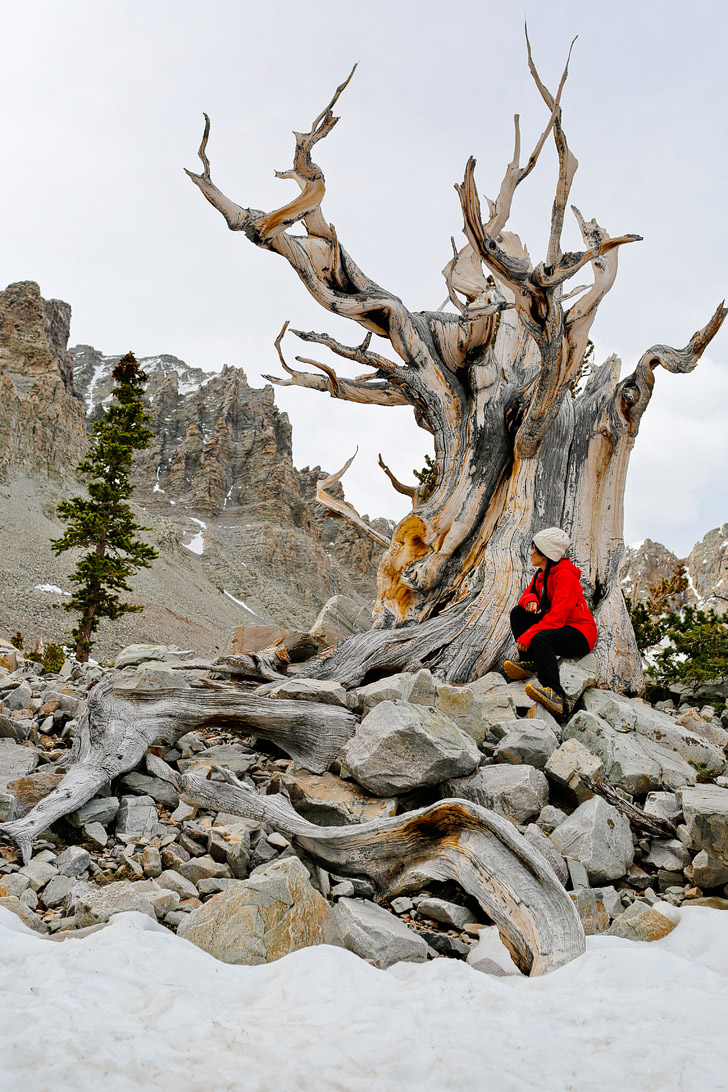 North Nevada – Cowboy Country
61.

Bishop Creek Hot Springs
Also known as the 12 Mile Hot Springs, there is a primitive concrete pool 40 meet long and 3 feet deep.
62.

Black Rock Hot Springs
There are 4 well known hot springs here.
63.
A festival all about experimenting with art and community. Their ten principles: radical inclusion, radical self-reliance, radical self-expression, communal effort, civic responsibility, gifting, decommodification, participation, immediacy, and leave no trace.
64.
Very hot natural hot spring located in a ditch.
65.

Dyke Hot Springs
A couple of bathtubs on a hillside.
66.

Elko
Western Folklife Center hosts the annual National Cowboy Poetry Gathering.
67.
Once unaccessible to the public, but now they run tours.
68.
Go horseback-riding and stay at a ranch.
69.

Kyle Hot Springs
Primitive concreate pool tub and two plastic tubs on private property.
70.

Paradise Valley Hot Springs
Undeveloped hot spring with a large plastic tub.
71.
Mine your own precious stones. It's best known for their black fire opal.
72.

The Rubies
Lamoille Canyon in the Ruby Mountains is great for hiking to alpine lakes and wildflower season.
73.
Wildlife rehabilitative center providing permanent placement for animals in need.
74.

Smith Creek Valley Hot Springs
A large cattle trough, bathtub, and bubbling natural pool.
75.
Keep an eye out for wild burros and coyotes.
76.
A Nevada Historical landmark housing a bunch of art sculptures assembled by Frank Van Zant.
77.

Trego Hot Springs
Soft mud bottomed pool to soak in.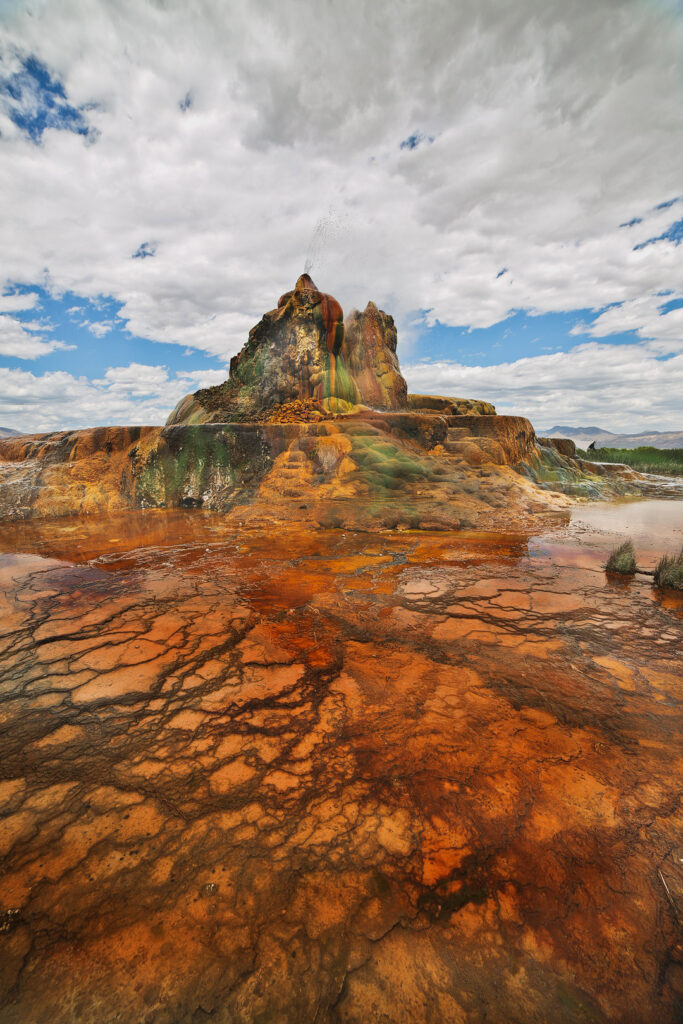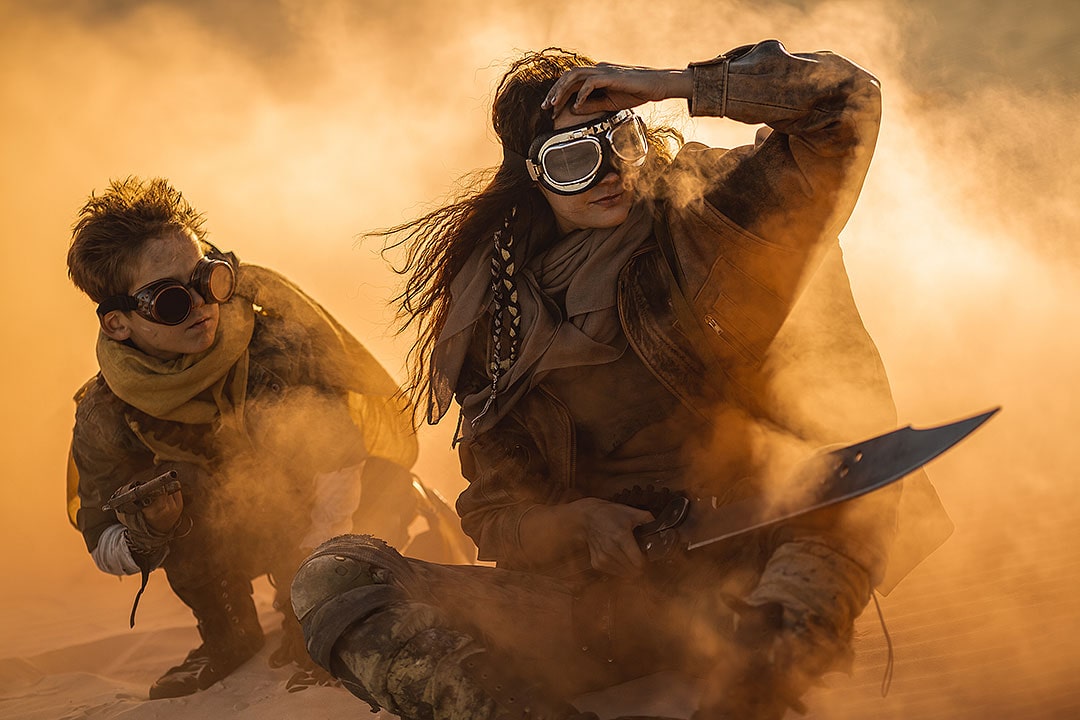 Northwestern Nevada
78.

Carson City
The capital of Nevada. Relax in Carson Hot Springs, visit the Nevada State Museum, and Nevada State Railroad Museum.
79.
See wild stallions, go on a glider ride in the top spot in the US, or drink at the oldest bar in Nevada.
80.

Lake Tahoe
Enjoy the crystal clear water at one of the most beautiful lakes. Sand Harbor and Lake Tahoe Nevada State Parks are great launching off points.
81.
Check out the recreation of the original 1851 trading post that was Nevada's first permanent, non-native settlement.
82.
Popular fishing area and important to the Paiute Indian tribe.
83.

Reno
Attend the Reno Balloon Race, the largest free hot air balloon event. It takes place in early Sept. Visit the National Automobile Museum.
84.
Full-service hot spring and spa.
85.

Virginia City
Named one of the most haunted cities in the US. Don't miss the ghosts at Washoe Club and the International Camel and Ostrich Races.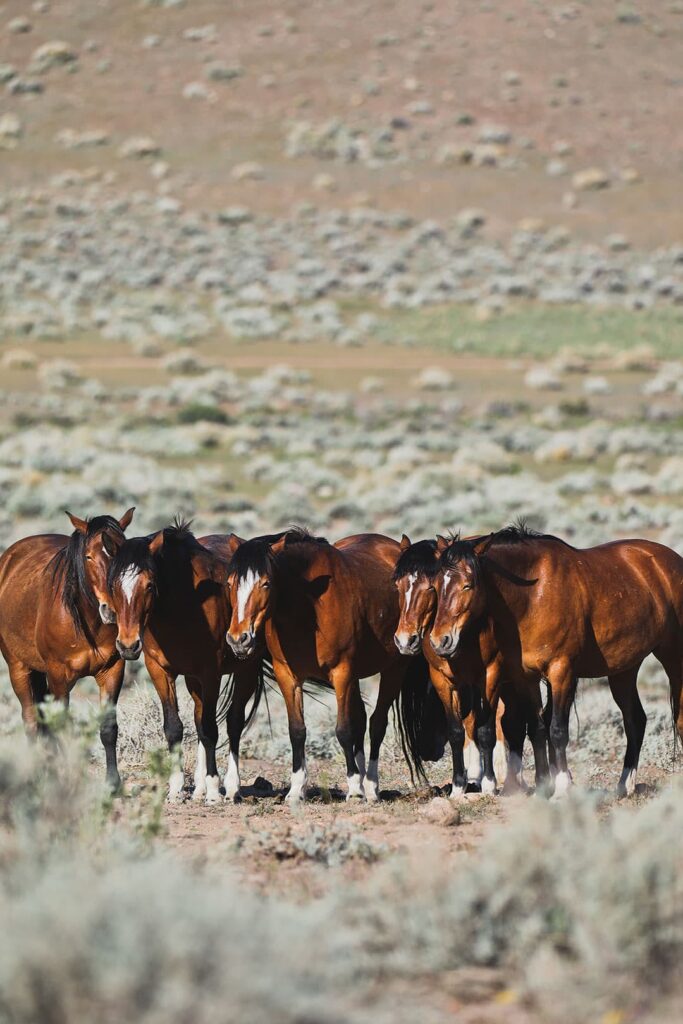 Southern Nevada
86.
One of the largest geographical sculptures in the world.
87.
Remote and rugged area with red sandstone, canyons, and mountains.
88.
Our favorite hot springs hike with fun scrambling and rope sections.
89.
The most famous dam in the U.S.
90.
America's largest national recreation area where you can hike, swim, cycle, camp, and fish.
92.
Also known as devil's Fire and Hobgoblin's Playground with crazy formations.
93.
Great spot to cool off from Vegas summers. Can climb here all summer and ski in the winter.
94.
Slot canyons, unique geological forms, and great views of Lake Mead.
95.
Try the burger and meet some friendly ghosts.
97.

Sedan Crater
The largest manmade crater.
98.
Historic ranch house, hiking, and outdoor theatre under the stars.
100.
Cool rock formations and petroglyphs. Also great for wildflowers in spring. 4×4 recommended.
101.

Seven Magic Mountains
Art installation that has become a popular Instagram spot.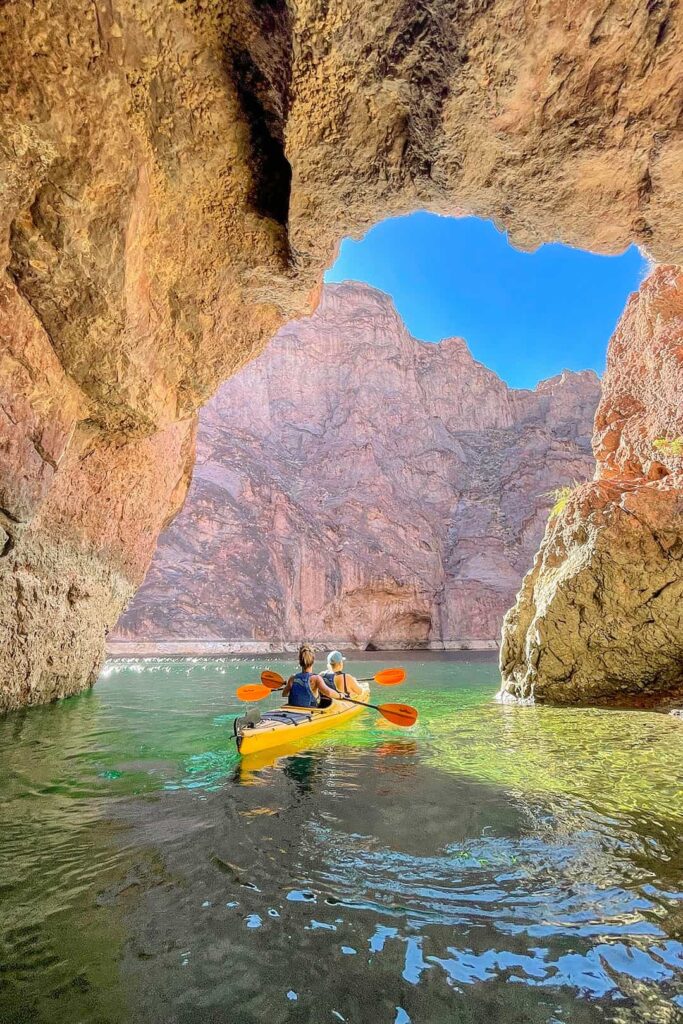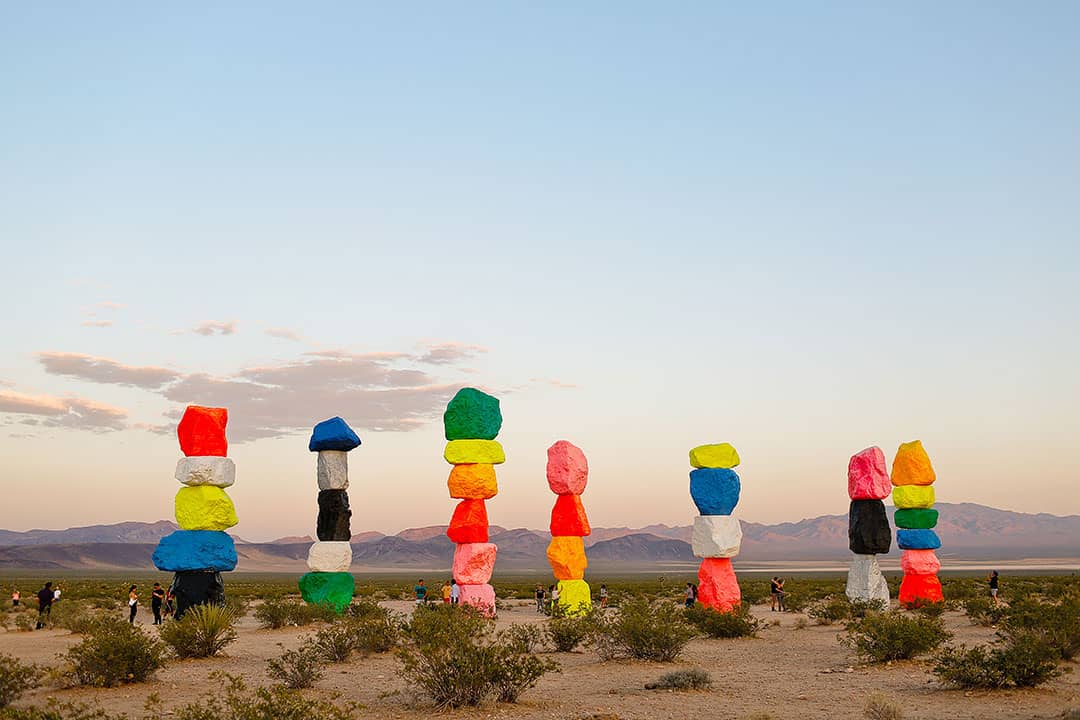 101 Places to Visit in Nevada Map
Essential Tips for Nevada First Time Visitors
When to Visit: Although there are parts of the state that are cooler in the summer, for the most part, it's hot. Fall through spring is a great time to visit for milder weather. With that said, there are places like Great Basin National Park that is harder to access in the winter so plan accordingly.
Airports: The McCarran International Airport in Las Vegas and Reno-Tahoe International Airport are by far the largest airports in the state. Vegas is a good launching point for southern Nevada, SoCal, Death Valley, and Southern Utah. Reno is a good airport for the Northern half of the state and Lake Tahoe.
How to Get Around: Nevada is a driving state with limited options for public transportation. If you're planning outdoor adventures, pick up something with 4-wheel drive and higher clearance. Click here for the best prices on rental cars.
Parking is easy to find. If you're in the city or on the Strip, you'll have to pay for parking in most places. Otherwise, free parking is easy to find for the rest of the state.
Pack plenty of sunscreen and water on your adventures. The sun is no joke and will give you a beating.
Dress in layers. Temperatures will drop in the evenings plus when it's really hot, most indoor spots blast their AC.
Epic Road Trips in Nevada
Burner Byway
Cowboy Corridor
Death Valley Rally
Free-Range Art Highway
Lake Tahoe Loop
Neon to Nature
Rubies Route
Best Places to Stay in Nevada
How many of these places have you been to? How many are on your USA bucket list?
Did you enjoy this post? Pin it for later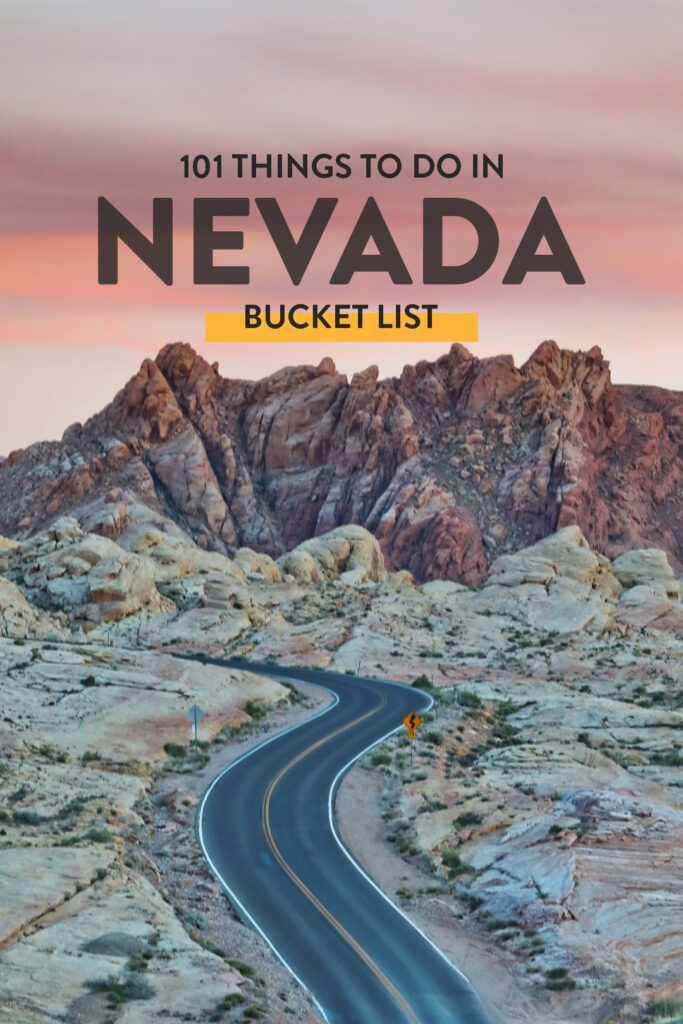 SEE MORE LAS VEGAS GUIDES
⟡⟡⟡⟡⟡
"Discovery consists not of seeking new lands but in seeing with new eyes" – M. Proust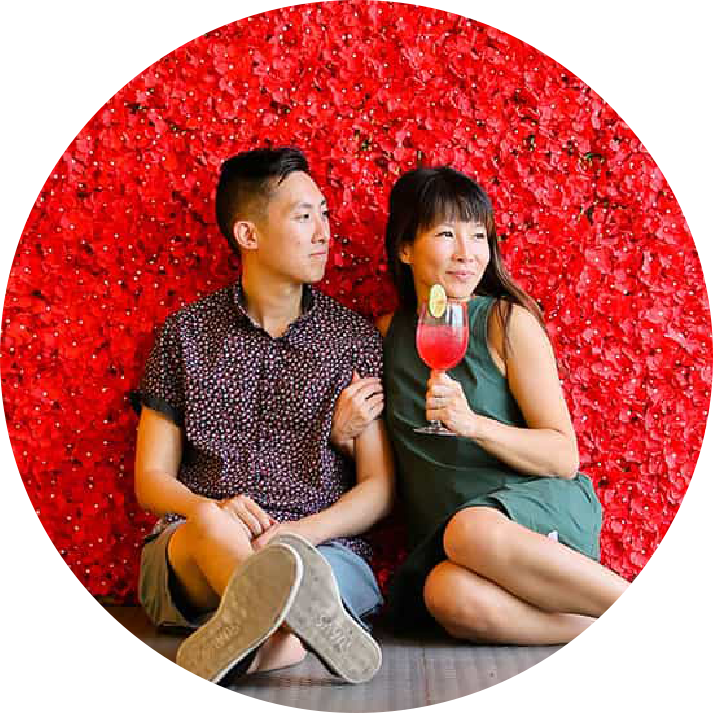 Esther + Jacob
Esther and Jacob are the founders of Local Adventurer, one of the top 5 travel blogs in the US. They believe that adventure can be found near and far and hope to inspire others to explore locally. They explore a new city in depth every year and currently base themselves in Las Vegas.
Follow on Instagram (E + J), YouTube, TikTok, and Pinterest.