Want to visit the Fly Geyser? Here's everything you need to know.
During our road trip through Nevada last year, we wanted to visit Fly Geyser, but it wasn't possible because it was on private property. When Travel Nevada reached out to us about doing a trip that included a visit to Fly Geyser, we knew we had to fly back west.
The property has dealt with trespassers for years and they have a lot of measures to keep track of anyone coming onto the land uninvited. I even heard that they will shoot you with their shotgun. Luckily, in 2016, Burning Man Project purchased the Fly Ranch property, where Fly Geyser resides, and ever since they've started letting the public visit again through guided nature walks.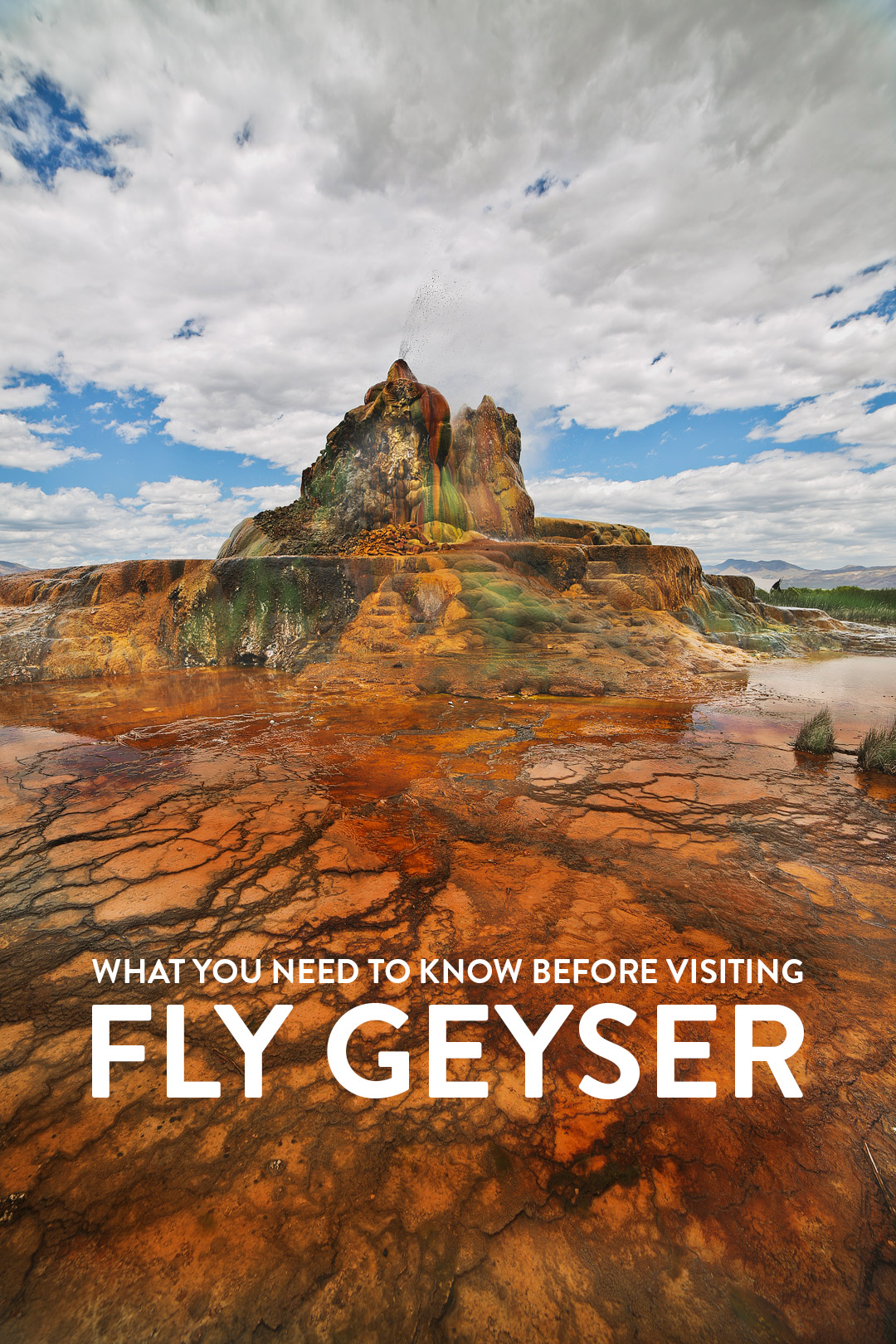 This post may contain affiliate links, where we receive a small commission on sales of the products that are linked at no additional cost to you. All opinions are always our own. Read our full disclosure for more info. Thank you for supporting the brands that make Local Adventurer possible.
Last Updated: November 22, 2023
What You Need to Know Before Visiting Fly Geyser
We've put together this guide to help you plan your visit!
Booking a Tour at Fly Geyser Nevada
The Friends of Black Rock-High Rock (FBRHR) are the ones that lead the guided nature walks. They currently run 1 tour a day on Friday, Saturday, and Sunday at 9 AM and 1 PM. Since space is limited, we highly recommend you book your tour as soon as possible. They release the tickets 4 weeks in advance, and the day you want may be sold out.
Tickets for the tour are donation-based, where all the proceeds go to support Fly Ranch and FBRHR. You must pay a $40 retainer on your credit card to reserve your place. After the visit, you have the option of donating all of it or asking for a full or partial refund.
If you are a no show, they accept the full amount as a donation.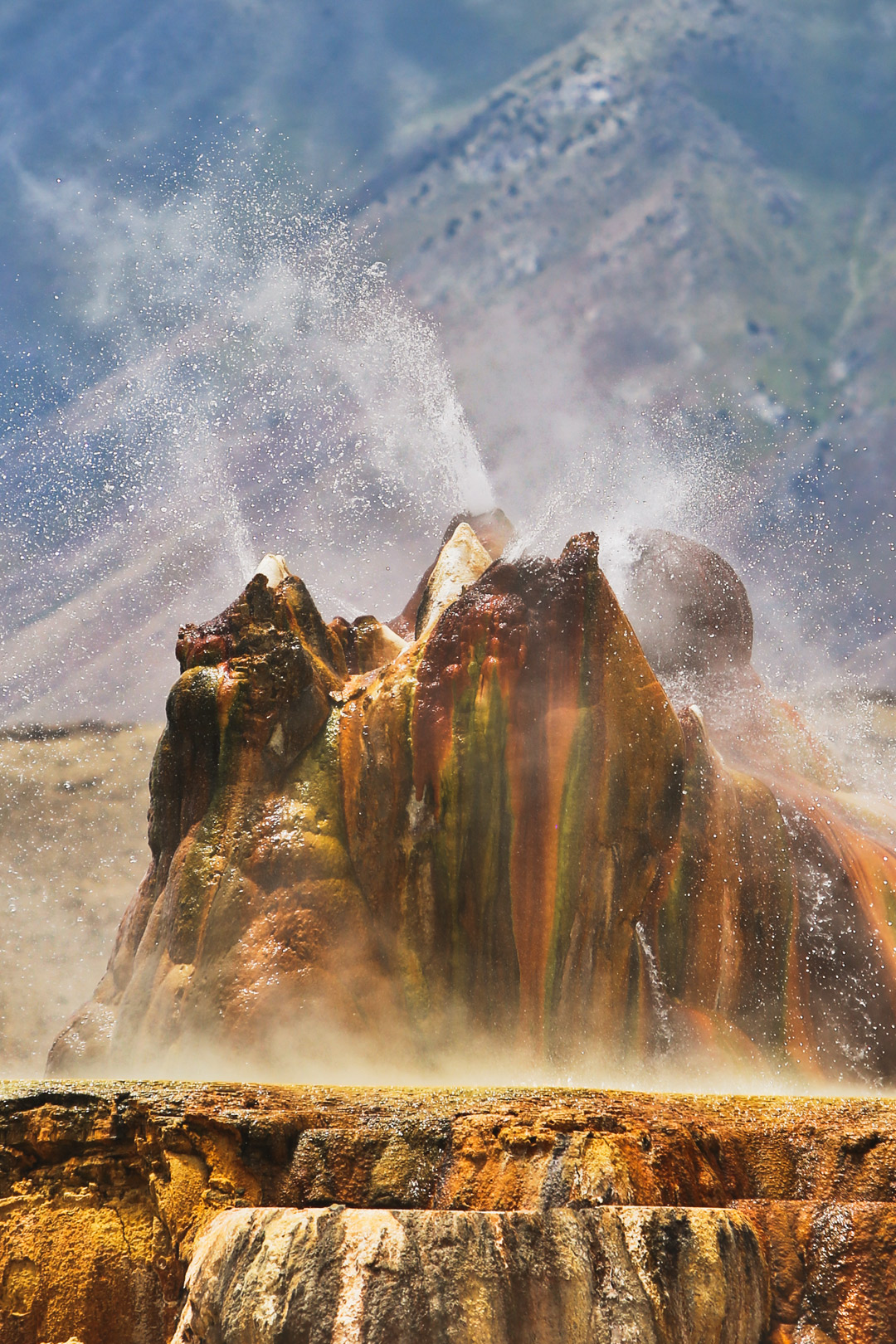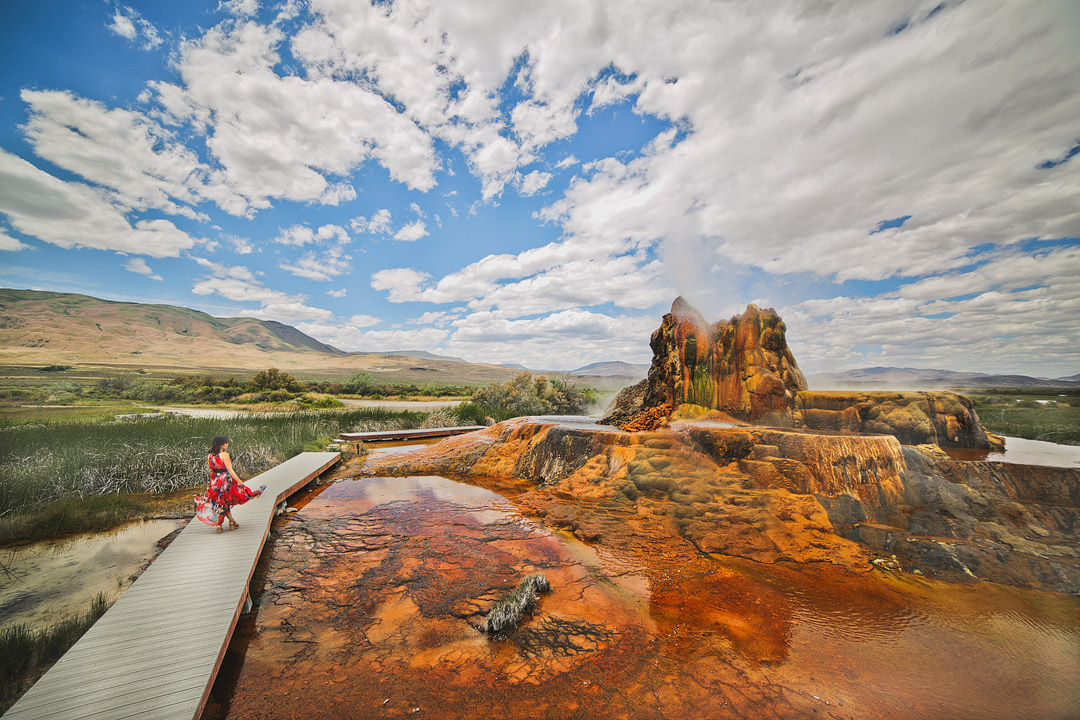 The Experience
The tour lasts 3 hours and starts at the Friends of Black Rock-High Rock's Visitor Center Store. They oversee 1.3 million acres of land and are one of the best resources for the area. Even if you don't plan on visiting Fly Geyser, you should stop by to find out information about the Playa or any other parts of the desert.
Pro Tip: The FBRHR Visitor Center has the last flushing toilet, so use it. You can also use a porta-potty near Fly Geyser at the beginning or end of the tour. They had toilet paper but no hand sanitizer when we were there, but we also like to bring these with us in case. Also, you will have little to no cell phone reception, so get your last wifi fix at the FBRHR Visitor Center.
After meeting, you carpool over the Fly Ranch. It takes roughly 30 minutes to drive there. During the tour, they tell you more about the 3,800-acre property, the landscape, and how the Burning Man Project plans to use it. You learn about the flora, fauna, and natural resources, and the tour at the glorious Fly Geyser.
You walk through some tall grass before you arrive at the tent next to Fly Geyser. A few of the people in our group found ticks crawling on their clothes or in their shoes. According to the FBRHR, it hasn't happened very much since they started doing tours, we just happened to be extra unlucky.
This geothermal geyser is constantly spraying water five feet in the air, depositing minerals, which then results in the growth of multi-colored algae on the terraces. That means you can visit multiple times and it will continue to change.
Pro Tip: Beware of ticks and check each other during and after!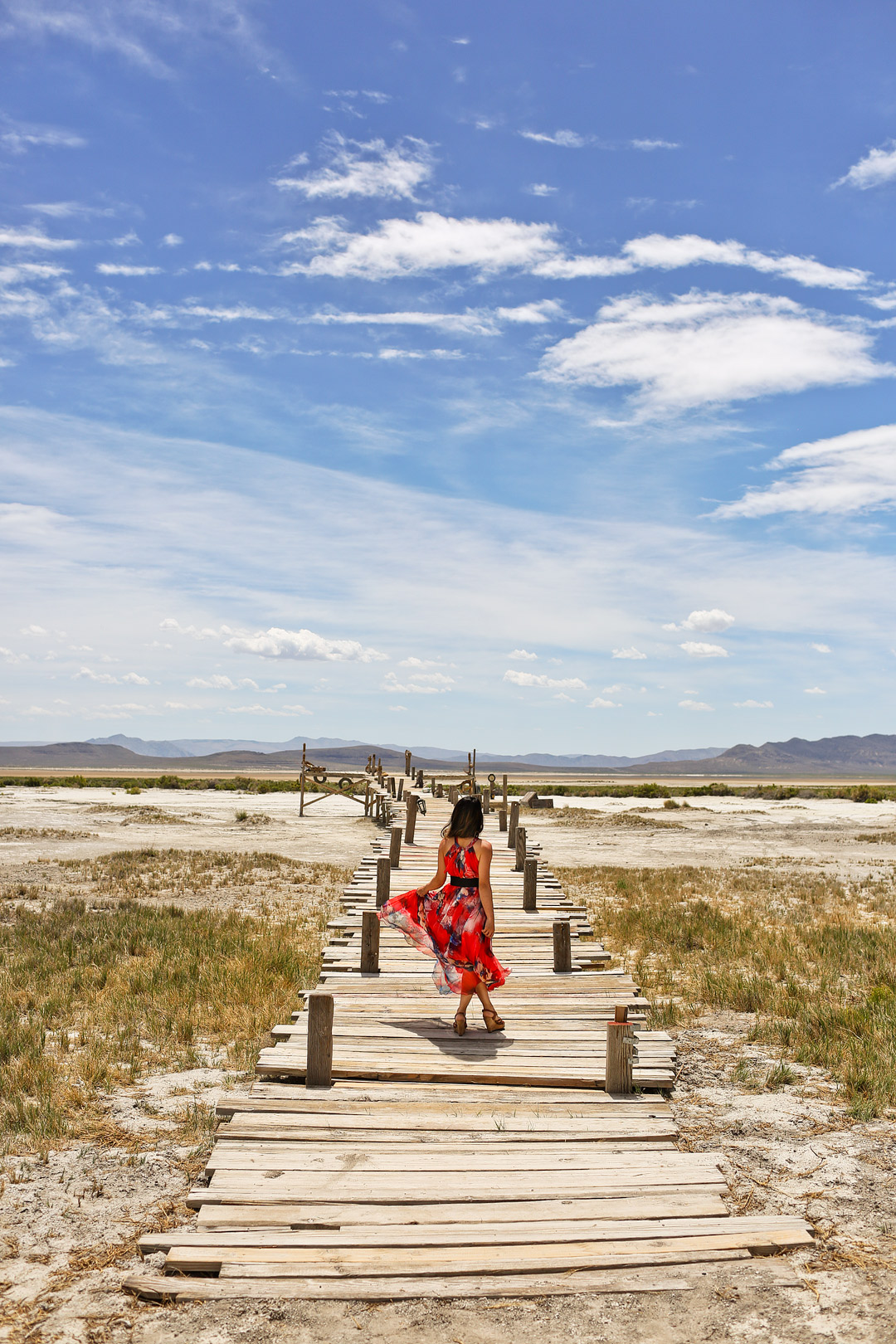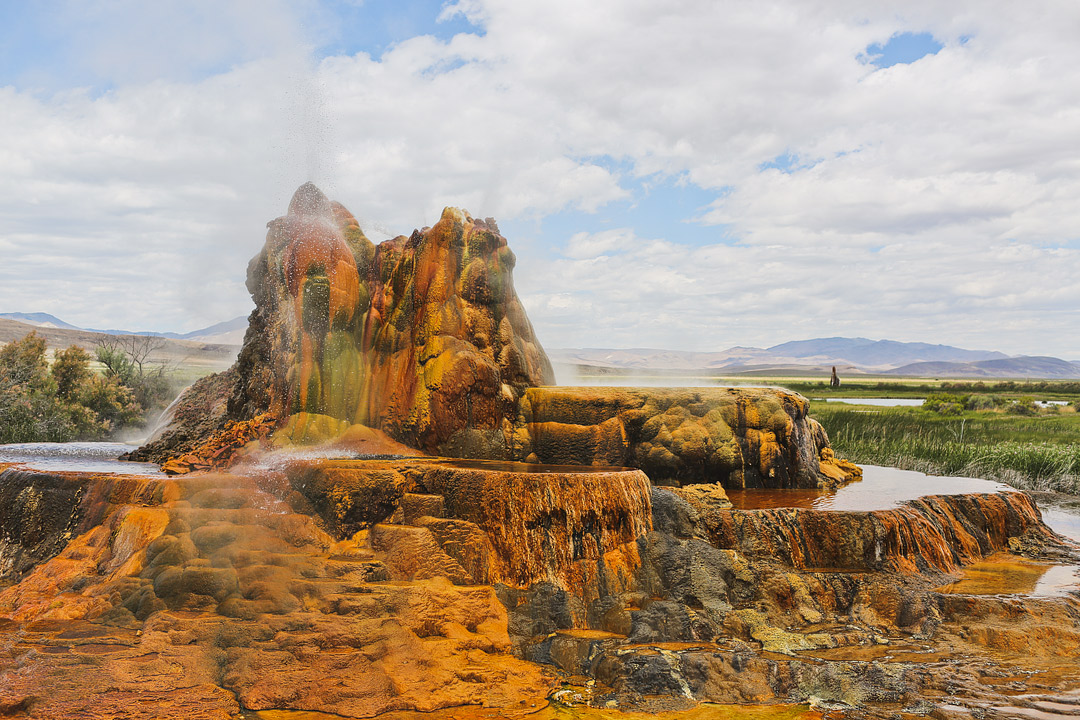 When to Visit
Avoid the summer months (mid-June to mid-August) if possible. It gets extremely hot and there are more bugs out. Also, there are less ticks.
Also, unless you are attending Burning Man, avoid going during those dates. On the busiest days, the 2-hour drive from Reno can turn into an 8-hour drive.
Photography, Photo Tours, + Tips
Keep in mind that they ask you to put away your phone and cameras during the tour. They do this so that you can enjoy the property and connect with the land as you explore. It's also for your safety! You will be traversing different landscapes and need to watch where you are stepping. Once you arrive at the Fly Geyser, you can take your photos there.
The first thing we saw on the tour was an art installation called the Pier by Matthew Shultz, which made its debut at Burning Man in 2011 and came back to Burning Man in 2012 with a ship. The boardwalk was beautifully set against a dry lake bed.
Photography Tours + Tips
As a photographer, the current nature walk definitely doesn't leave you with a ton of time to shoot, but it is currently the only option. We had a chance to chat with the FBRHR Executive Director and they plan to put together a photography specific tour in the future. Check their site for the most up-to-date info.
This is the gear we packed:
See More: We Found the Best Camera Backpack of All Time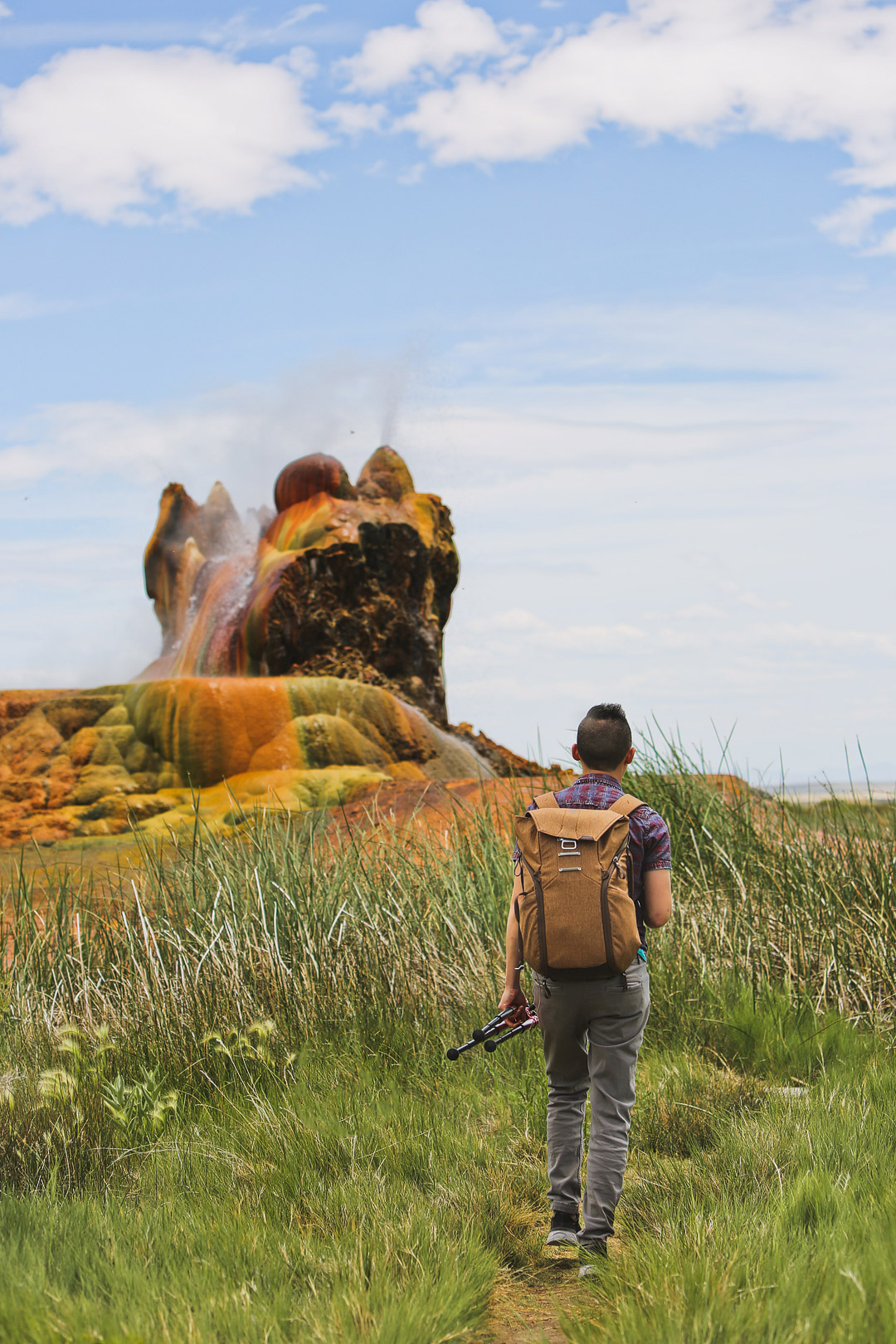 Soaking in the Hot Springs
Fly Ranch has roughly 100 pools on the property with a couple of dozen springs. Some of them are as small as dinner plates, and others are the size of big swimming pools.
In the past, locals would sneak onto the property to soak in the hot springs. Right now, they are not allowing the public to soak for insurance and liability reasons. They are also doing studies of the ecosystem to be sure that they can protect it long-term. They eventually hope to have a system to allow people to soak, so keep an eye out for an update.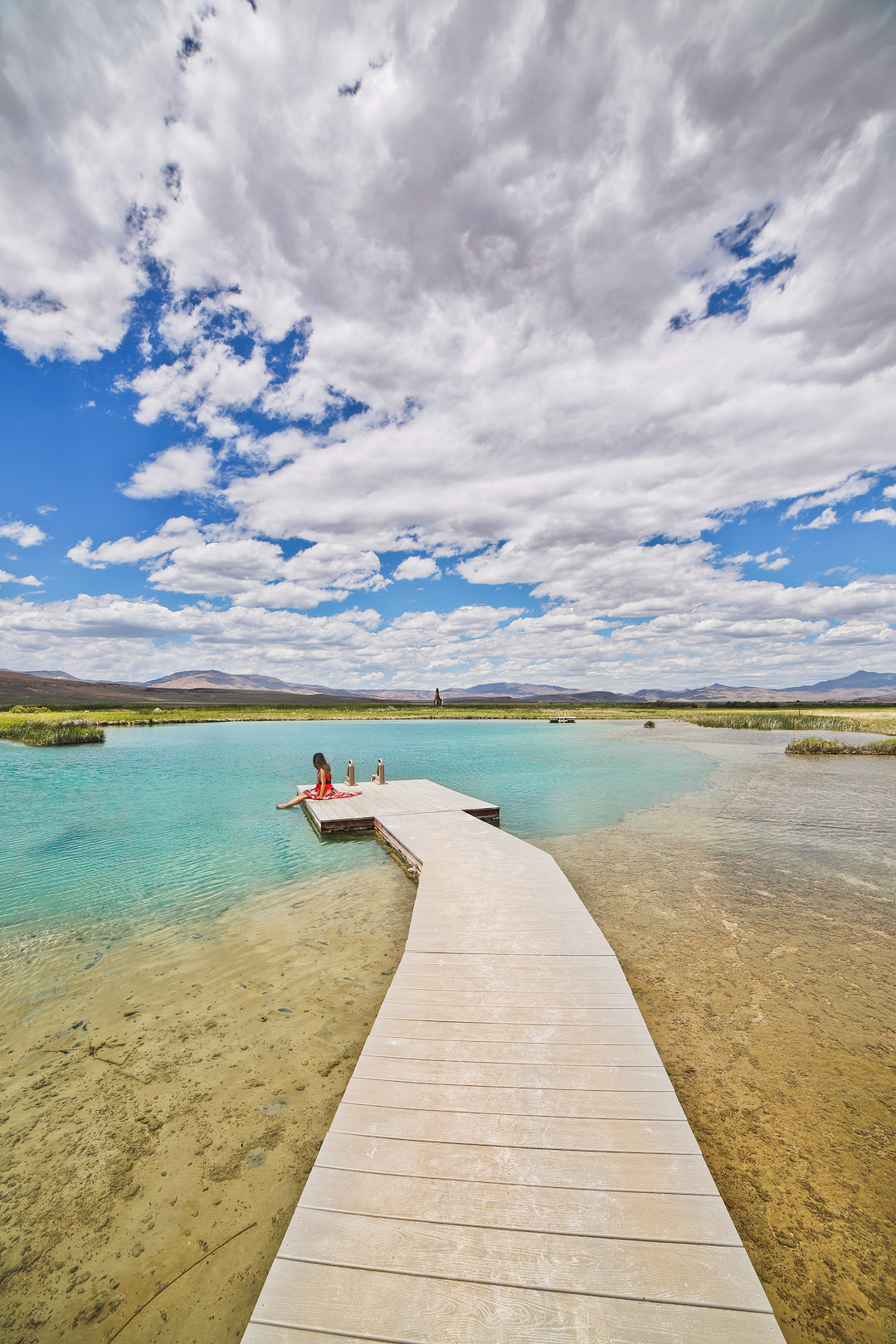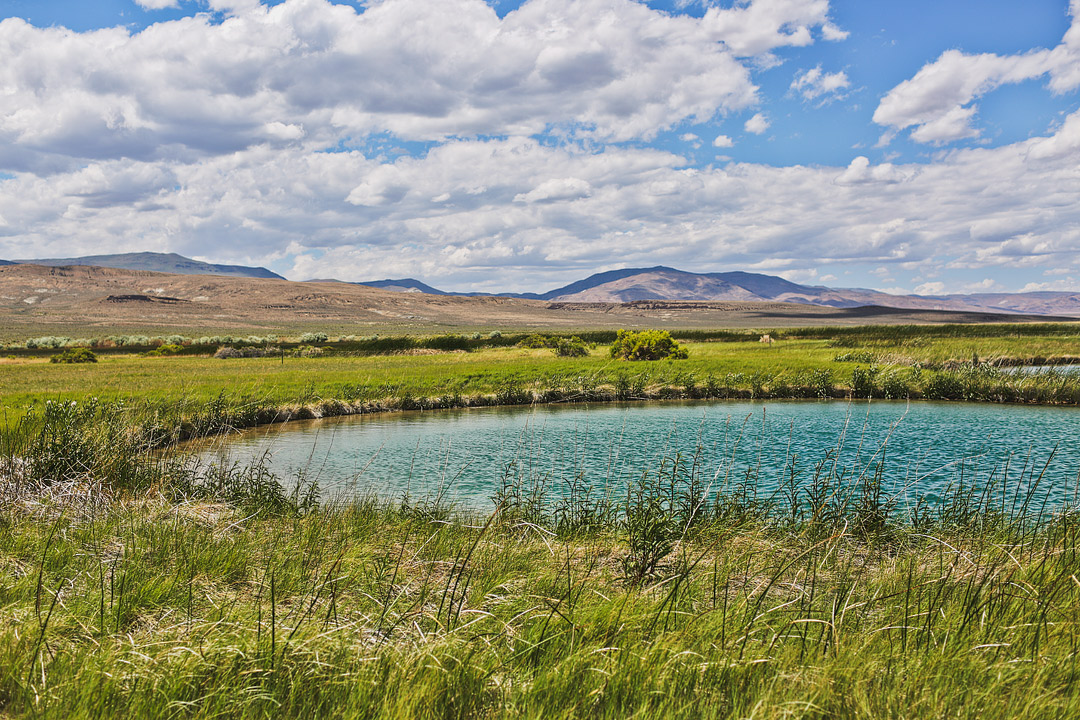 How it FOrmed and Why it Looks Different Now
The Fly Geyser was a happy accident, but it's not the only geyser on the property. The first geyser was found roughly 100 years ago. A well was drilled in hopes to make the desert usable for farming, but as they drilled, they hit the geothermal boiling water, which didn't work for farming so they left it alone. Over time, a calcium carbonate cone formed.
In 1964, a geothermic energy company was looking for hot water and drilled a test site close by. Unfortunately, it wasn't hot enough, so they re-sealed the well. Fortunately for us, the seal didn't hold and the new geyser, what we know as Fly Geyser, ended up stealing the first geyser's water pressure. The original still trickles but is mostly dry now, and the second one has grown significantly over the last 50 years.
If you look up older photos of Fly Geyser, you'll see that there used to be three district spouts. They actually used to call it Three Sisters. At some point, people thought that it would be a good idea to use the geyser for target practice. Unfortunately, after shooting it up, it changed the shape of the geyser to what it looks like now. It's still beautiful, but that's why it's important to protect this natural feature.
How You Can Help
Fly Ranch is continuously working on giving the public opportunities to get involved. From time to time, they allow camping on the property in exchange for helping taking care of the land. FBRHR will also be looking for more volunteers to lead nature walks. To learn more, click here.
If you're on the tour, pack out what you pack in. Help be a good steward to the land and take anything you brought in with you, including any trash you create. If you have time, pick up anything else you see to leave it better than you found it.
Where to Stay
Visiting Fly Ranch is an easy day trip from Reno. It's also part of the Burner Byway, which traces the path that annual burners make every August for Burning Man. We made a couple stops along this route, and if you want to build a whole trip around it, you can check out their three-day suggested itinerary here.
If you're looking to camp, this map is a good resource for BLM land. The FBRHR recommends camping where Black Rock City normally is off of Soldier Meadow Road. If you are camping, be sure to bring 1 gallon of water per person per day.
What to Pack
The tour runs rain or shine. Also, remember you are in the desert. Daytime temperatures can get very high and nighttime will get cold. Keep hydrated and dress appropriately. Because you are walking through some taller grass, the FBRHR recommends wearing pants and closed-toed shoes.
You can even pick up some supplies in the FBRHR Visitor Center (drinks, snacks, emergency supplies etc), but it's best to bring any supplies you need with you.
Have you heard of the Fly Geyser?
Did you enjoy this post? Pin it for later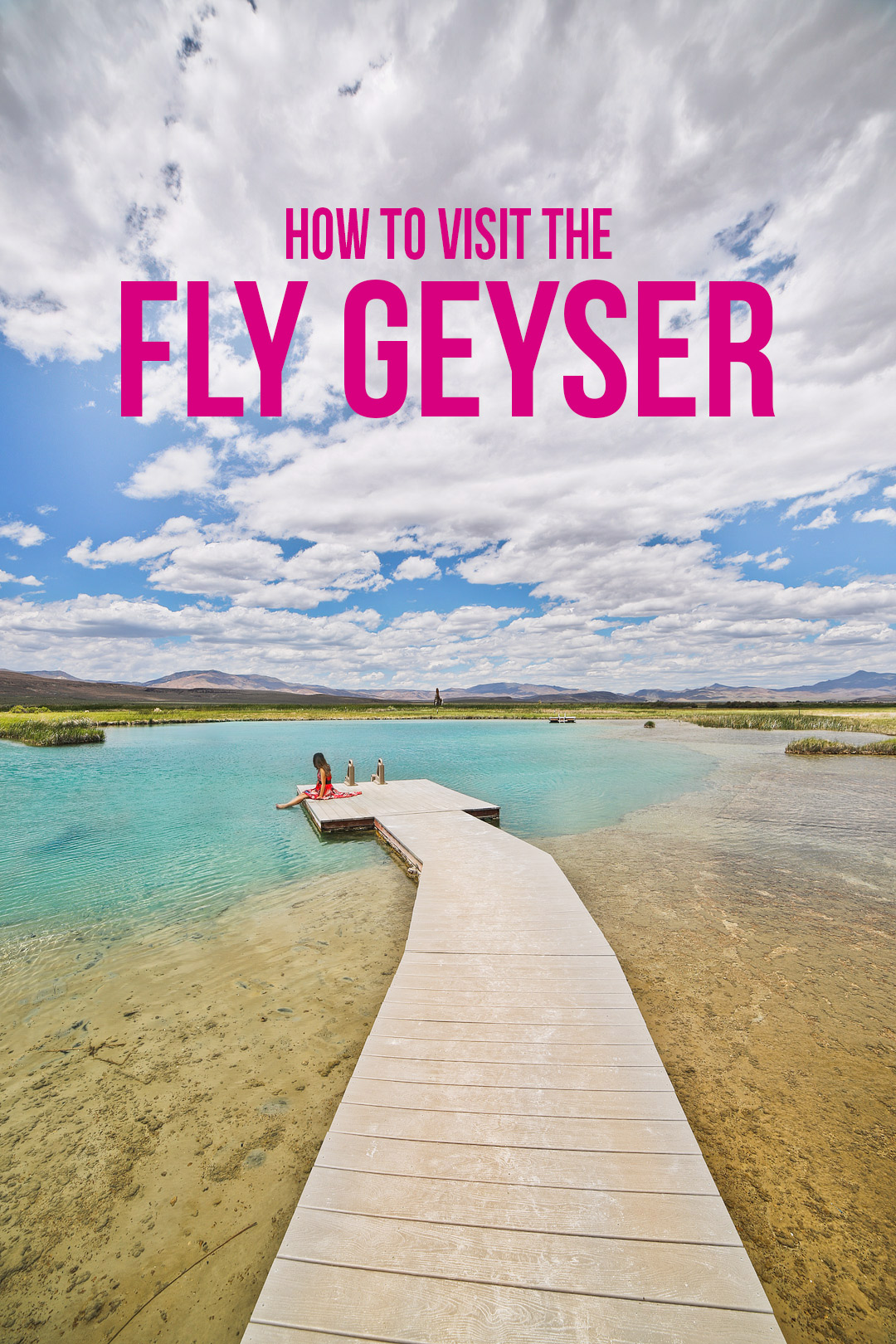 SEE MORE NATIONAL PARK GUIDES
⟡⟡⟡⟡⟡
"Discovery consists not of seeking new lands but in seeing with new eyes" – M. Proust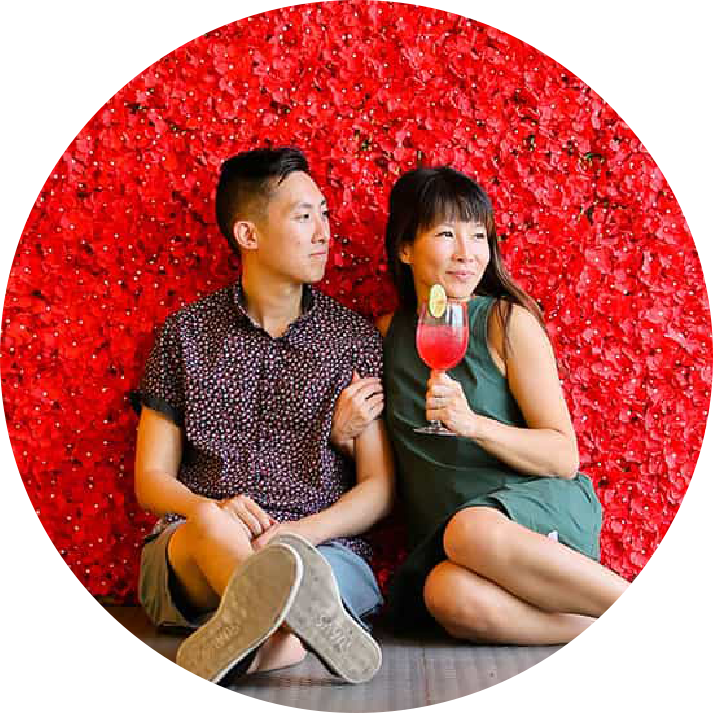 Esther + Jacob
Esther and Jacob are the founders of Local Adventurer, one of the top 5 travel blogs in the US. They believe that adventure can be found near and far and hope to inspire others to explore locally. They explore a new city in depth every year and currently base themselves in Las Vegas.
Follow on Instagram (E + J), YouTube, TikTok, and Pinterest.