Whether you're looking for proof of life beyond earth or for a quirky adventure, the Extraterrestrial Highway is a great road trip close to Las Vegas that you should add to your bucket list. 
For locals, this is a great, quick getaway that's safe and easy to socially distance when you're ready to travel.
We're always down to see some weird roadside attractions, so after the stay-at-home directives were lifted, ET Highway was our first local adventure.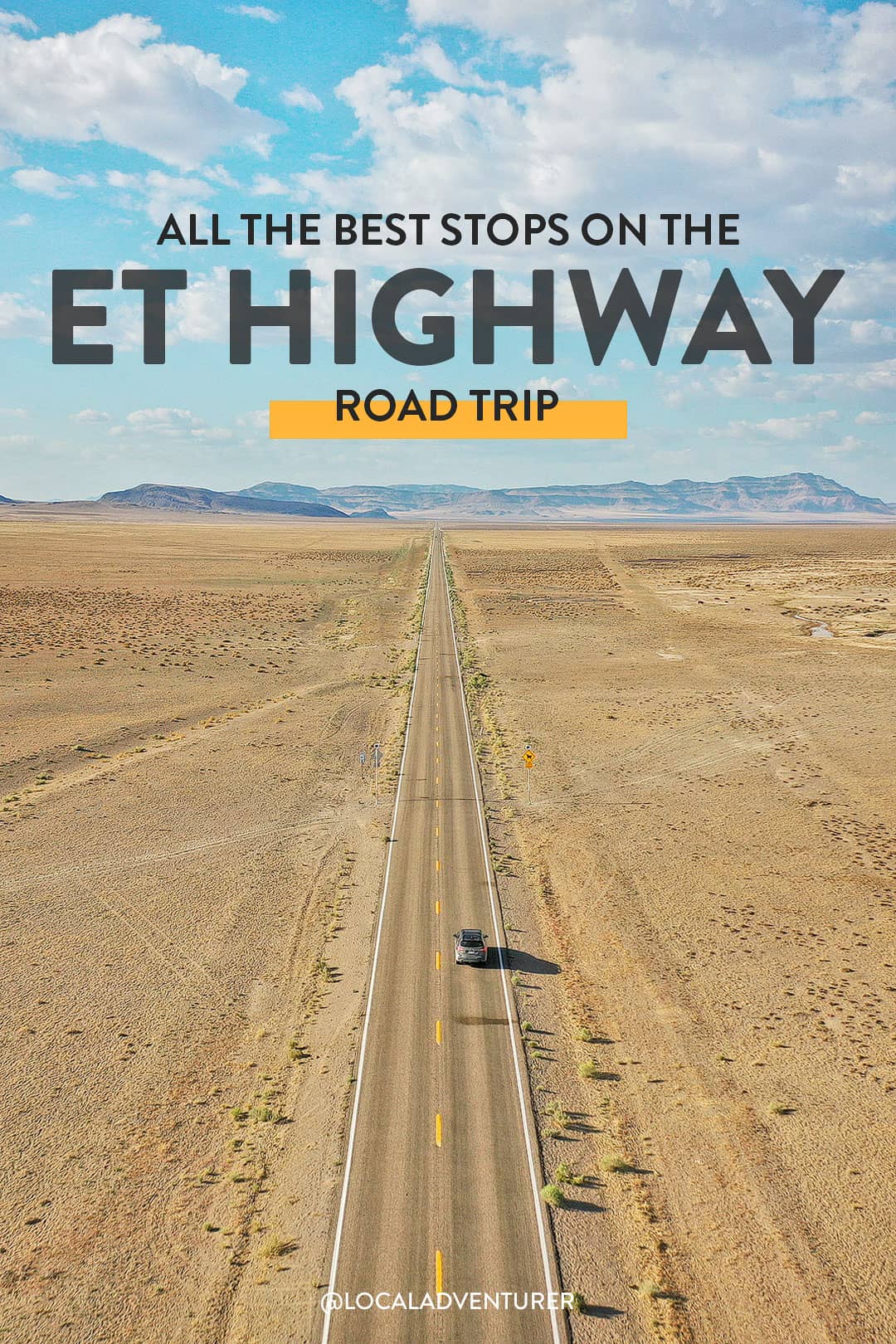 A big thank you to Travel Nevada for sponsoring this post. All opinions are always our own. This post may contain affiliate links, where we receive a small commission on sales of the products that are linked at no additional cost to you. Read our full disclosure for more info. Thank you for supporting the brands that make Local Adventurer possible.
Last Updated: December 21, 2020
Everything You Need to Know About the Extraterrestrial Highway
After spending all day driving and checking out different spots along the ET Highway, we have tips and recommendations for anyone interested in going. If we did the trip again, we would make a few changes to tailor it to what we're interested in.
Note: With the ongoing situation with pandemic constantly changing, it's always best to check current hours and regulations before you visit. 
As always, don't forget to wear a mask, socially distance, and travel safely. Travel Nevada has some great resources to help you plan your trip and how to travel responsibly, and you can find the most up-to-date safe travel guidance.
What is the Extraterrestrial Highway
The Extraterrestrial Highway runs 98 miles along Route 375. You'll be driving right next to the Nevada Test and Training Range, which is where the infamous Area 51 is located. Along the way, you'll find spots dedicated to alien lifeforms, a ton of open desert, and maybe a glimpse of some UFOs in the skies.
Why is it called the Extraterrestrial Highway? 
Twentieth Century Fox is responsible for that. The area had already been known for paranormal activity and alien sightings, so in 1996, to help promote the movie Independence Day, an official public dedication ceremony was held in Rachel, Nevada to dub the highway's new name.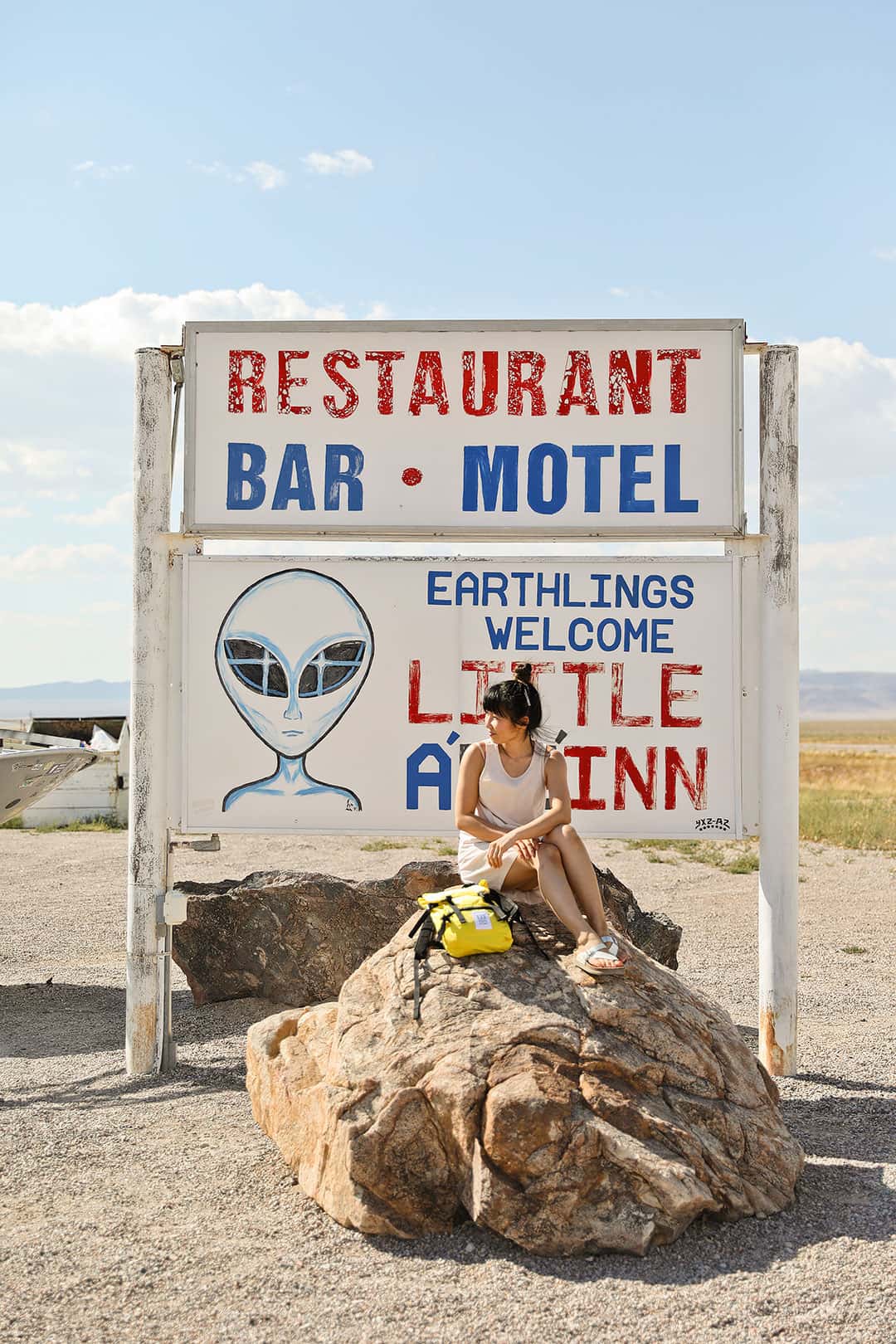 Directions & What Route to Take
Our guide takes you to the ET Highway from Las Vegas where you'll be traveling east to west. If you happen to be coming from the west, just flip the guide.
Directions: Getting to the Extraterrestrial Highway is easy. From Las Vegas, head north I-15 N. Continue onto U.S. 93 and follow that for roughly 107 miles. You'll see ET Fresh Jerky on your right, which is the start of the highway.
Address for the Starting Point: 12600 US-93, Hiko, NV 89017, map
Routes to Take: If you're only doing the ET Highway from Las Vegas, I recommend turning around once you reach Rachel, NV, and coming back the same way. It will save you a lot of time driving through the desert landscapes.
The great thing about this trip though, is that you can add it to other classic Nevada Road Trips. If you have a few days and plan on visiting Great Basin National Park, you can take a short detour onto the ET Highway on your way up the Great Basin Highway.
You can also add on the portions of the Free-Range Art Highway to create a big loop from Las Vegas (or head up to Reno). We don't have a guide on that trip yet but check out Travel Nevada for everything you need to know.
I've listed out notable stops on each of these routes below.
How Long Does the Drive Take: You can make it up to Rachel, NV in 2 hours and 15 minutes, so it's an easy day trip if you just want to do the ET Highway. But if you're going to make the trip up there anyway, check out some of the other road trips to see what you're interested in and making it an overnight getaway.
Best Stops on the Extraterrestrial Highway
Detour On the Way to ET Highway
Mile Post 32, US-93, Alamo, NV 89001, map
Just before arriving at the first stop, you'll drive through the Pahranagat National Wildlife Refuge.
We didn't make a stop here because we had our schedule already in place, but it's a great spot if you enjoy birding. Thousands of migratory birds stop here and there are a few trails and pull-offs to explore.
If you're trying to get a peek at Area 51, you can summit Tikaboo Peak which gives a view of Groom Lake from 26 miles away. It's one of the only places where you can legally see the base. Keep in mind that you need a 4WD vehicle to get there, otherwise the 1.2-mile one-way hike will turn into close to 25 miles.
Alamo is a small town right past Pahranagat and a good spot to get gas if you're low. Remember that you'll be driving long stretches with nowhere to fill up. During our first big Nevada road trip, we stayed at A Cowboys Dream Bed and Breakfast in Alamo, which is still one of our favorite spots to stay in Nevada.
Pro Tip: We started with a full tank in Las Vegas in our Subaru Ascent and made it over to Tonopah before we needed gas again.
12600 US-93, Hiko, NV 89017, map
The first stop on your journey into the unknown is ET Fresh Jerky, where they sell all types of jerky (even the invisible kind). We can never resist picking up some jerky on a road trip.
We stopped in to use the restroom, browse the gifts, and picked up some jerky for the rest of our trip. The jerky reminded us of Alien Jerky, where we used to stop all the time during our drives between LA and Vegas.
Be sure to check out the different articles they have posted on the walls about UFO sightings, and if you have any questions about your trip, the cashier is more than happy to give his opinions. Before leaving, we snapped a few photos by the massive mural outside.
Note: They normally have samples as well but have put a pause on that for the safety of visitors.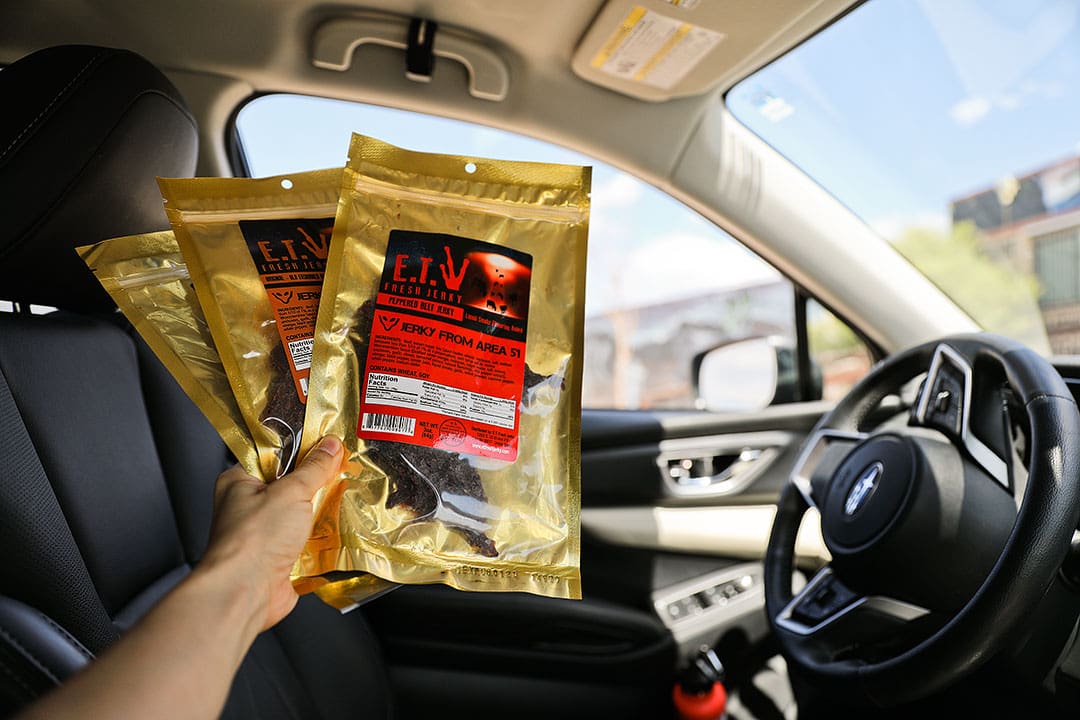 2. Extraterrestrial Highway Sign
37.5329378,-115.2367352, map
As you leave the jerky shop, you'll get off U.S. 93 and drive down the road straight across from the shop. Shortly after the road will split, and you'll veer left onto Route 375 but don't zoom past the fork. Pull off and you'll find the sign marking the Extraterrestrial Highway.
It's a fun photo op to help you remember your journey and there are a few picnic tables under large trees if you want to hang out longer.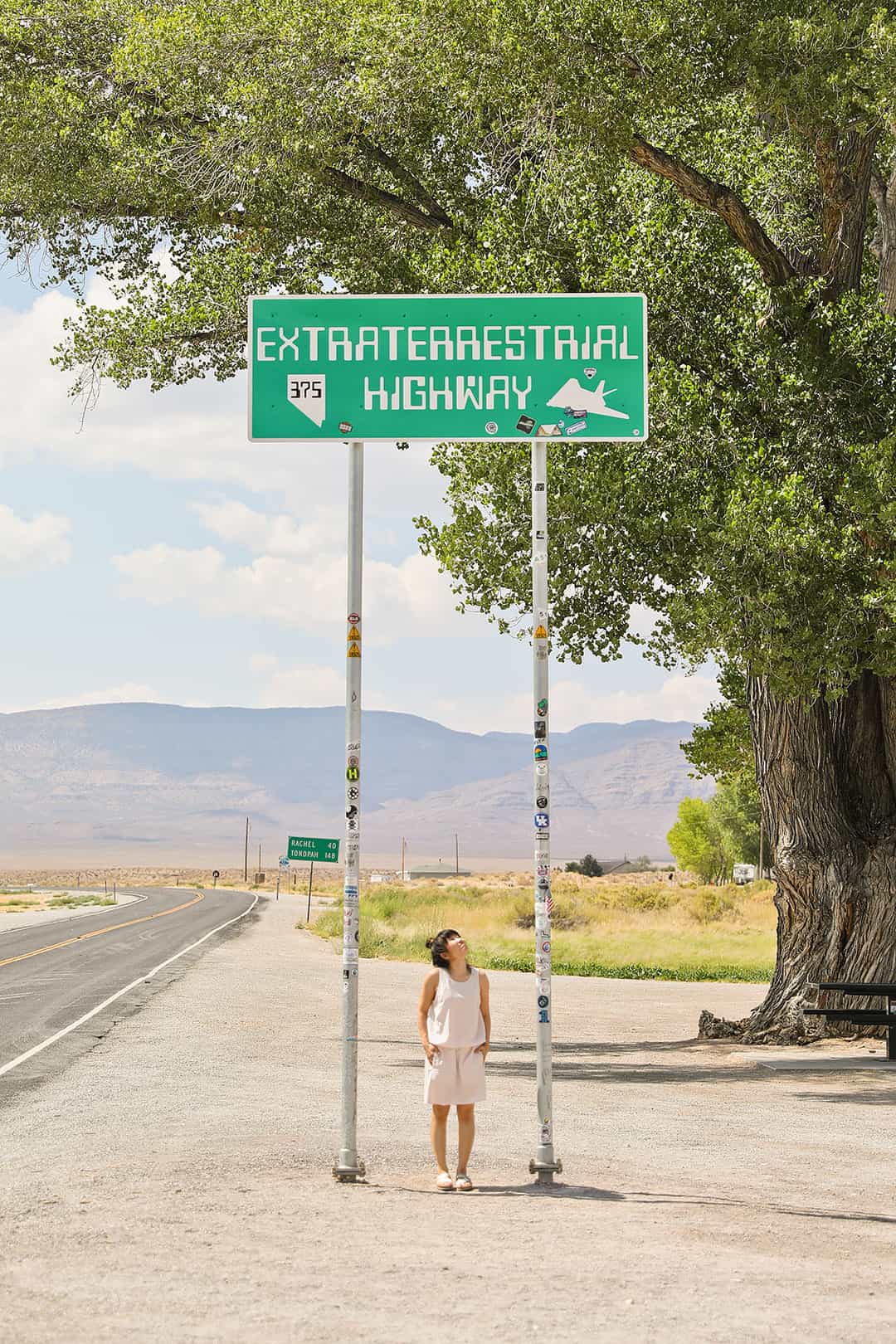 100 NV-375, Hiko, NV 89017, map 
The next stop is hard to miss because a massive silver alien is there to greet you at the entrance.
The Alien Research Center is a bit misleading in name since it's more of a souvenir shop than a research facility, but it's still a fun to browse and get a photo opp.
They have a huge selection of Area 51, UFO, and alien-related books, t-shirts, gifts, and more. I enjoyed looking through all the pop culture references to everything space-related and the steampunk stuff was really cool.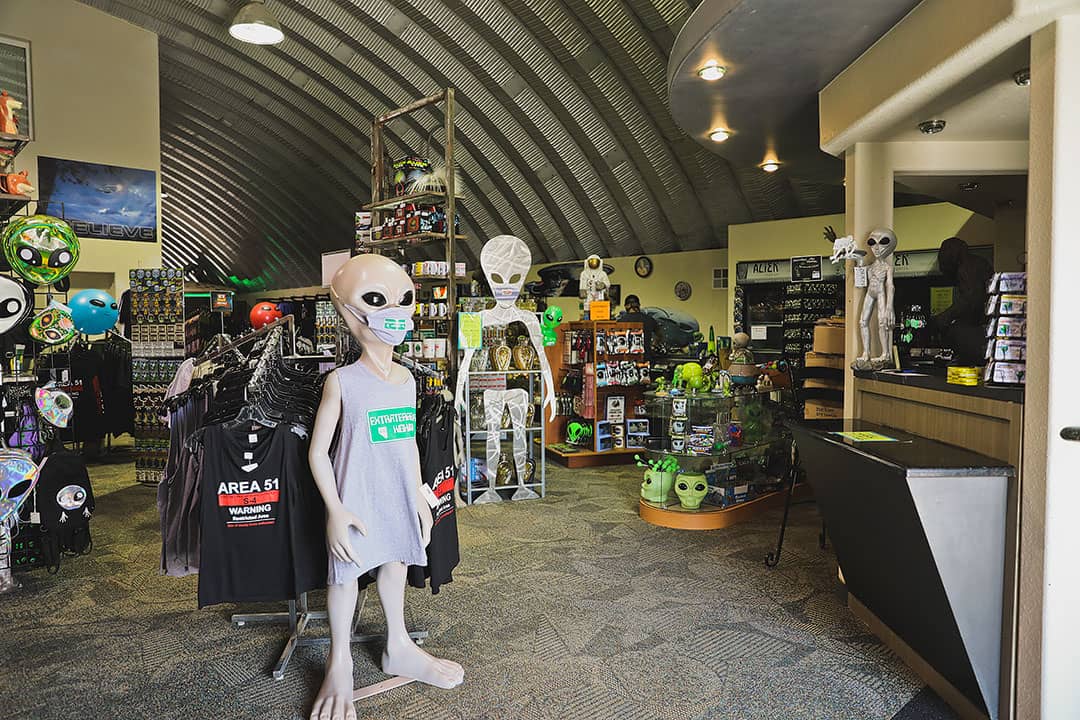 37.475603,-115.5604715, map 
If you've never heard of the Black Mailbox, it's a lone mailbox with no home or owner in sight. Over the years it has become a popular meeting spot. People who are looking for anything extraterrestrial will bring gifts and letters in hopes that aliens will check it.
In reality, it's owned by rancher Steve Medlin. At one point it. was taken down either from theft or because the owner was tired of the vandalism.
He even added a smaller mailbox labeled 'aliens', but even with that, people still vandalize it and have even stolen it. Luckily, during our visit, it was there filled with all kinds of random beverages, photos, and even money.
Note: Please, please, please be respectful and don't vandalize the mailbox so other alien lovers can enjoy it in the future.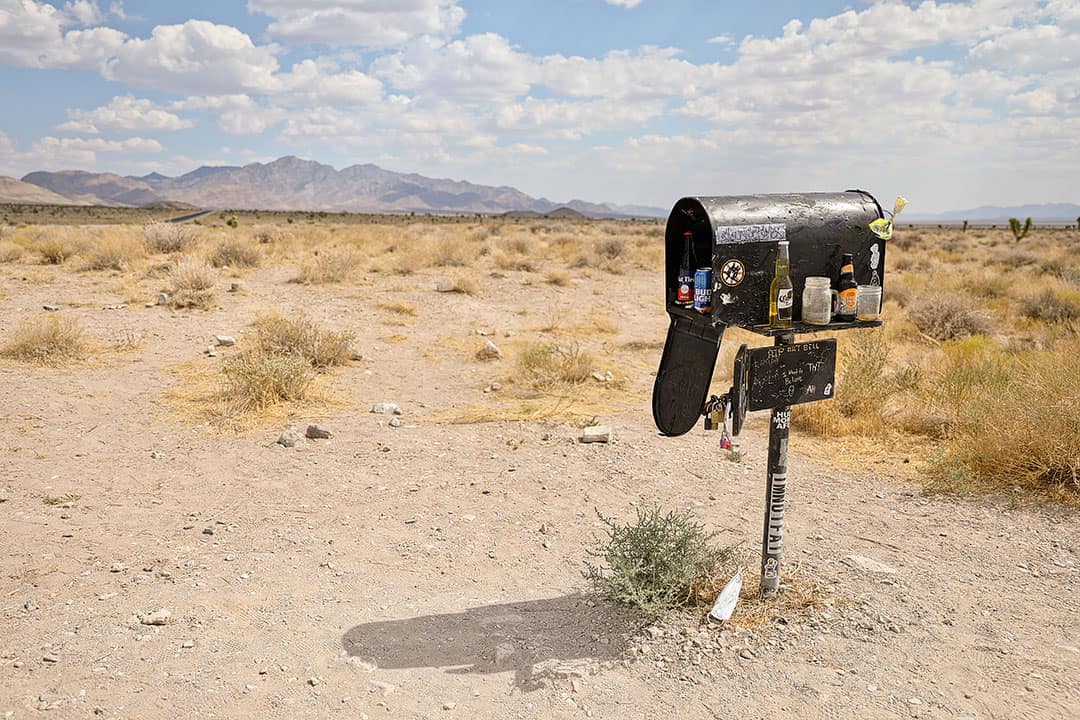 37.634403, -115.719644, map 
First of all, Area 51 is an active military site and trespassing is illegal. Just need to put it out there that we don't condone any illegal activity. With that said, we did want to see a popular site amongst alien chasers.
The back gate for Area 51 is located near Rachel, NV. Just before arriving in town, there is an unmarked road to the left (use the coordinates listed). Follow this dirt road from roughly 9 miles and it becomes paved again. Then you'll drive for another mile or so and reach the gate.
Again, this is not somewhere to mess around. I'm pretty sure if you flew a drone it would get shot down ASAP. We were a little freaked out even driving near the entrance. But if you just want to sneak a peek at the gate from a respectful distance, I don't see why there should be issues.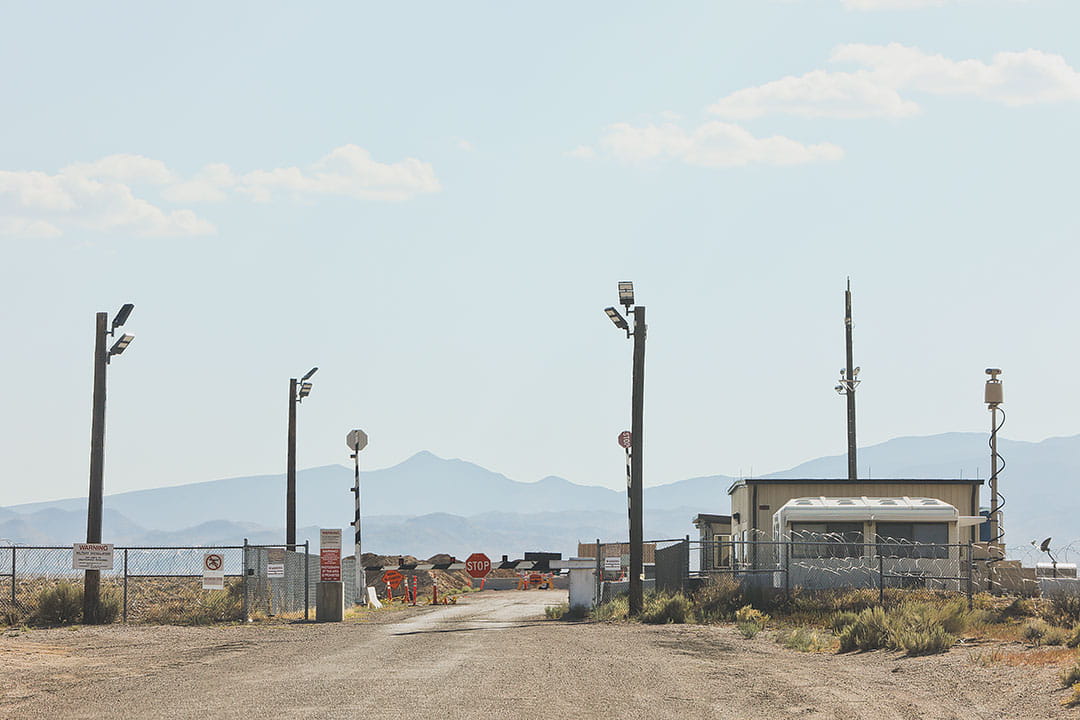 6. Little A'Le'Inn & Rachel, NV
9631 Old Mill Rd, Alamo, NV 89001, map 
Rachel, Nevada is the closest town to Area 51 so naturally, it has gained popularity amongst UFO spotters. The main spot in town is the Little A'Le'Inn, a motel, bar, and grill.
We planned a lunch stop here to try their Alien Burgers and check out other photo ops. Inside, the walls are covered with stories about UFO sightings and they have gifts and souvenirs as well.
After trying the alien-themed burgers ourselves, we realized our palettes definitely differ from what extraterrestrials enjoy eating. In the future, we'll probably pack a lunch or load up on more jerky.
Right outside, you'll find a time capsule put in during the Independence Day / Extraterrestrial Highway renaming ceremony.
Local Tip: This is the last official stop on the Extraterrestrial Highway. If you drive to the end of Route 375, you'll find another similar ET Highway sign. If you don't plan on checking out any other spots, head back to Vegas or check out some other spots further north (see below).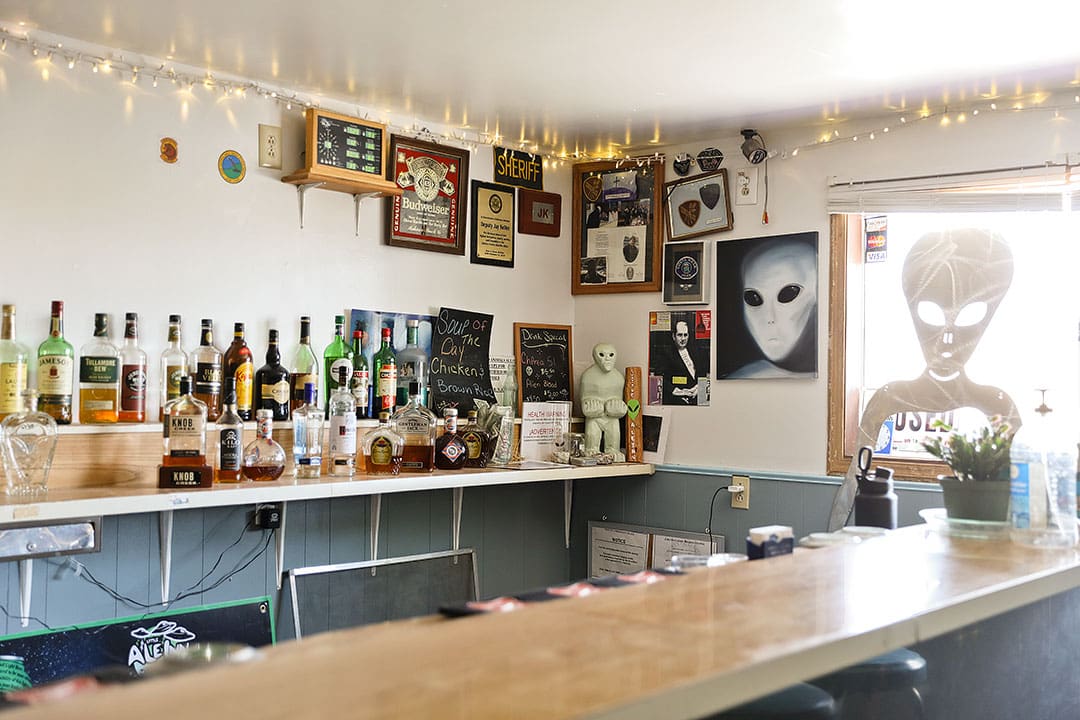 7. Second Extraterrestrial Highway Sign
38.190917, -116.369778, map 
This is the sign at the other end of the highway, but there isn't much else in between. You can decide for yourself if the sign is worth the extra drive.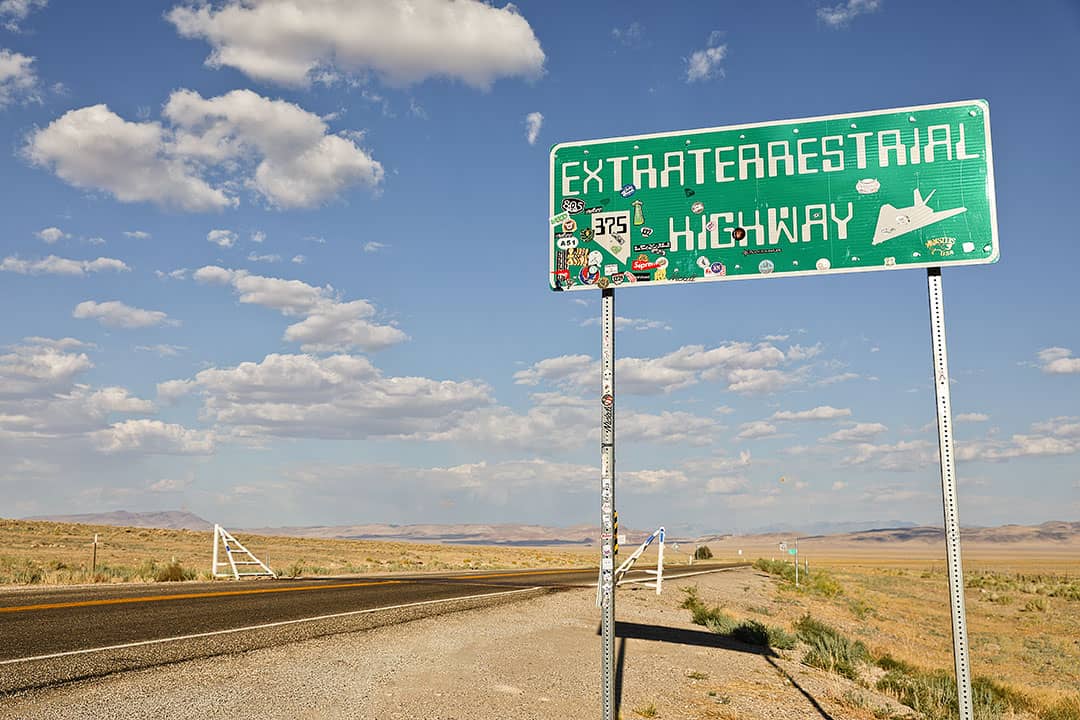 Beyond the Extraterrestrial Highway
As I mentioned above, since you made it this far, why not explore some other areas. Here are a few notable spots.
Option 1: Great Basin Highway
After arriving in Rachel, you can backtrack to U.S. 93 and continue up the Great Basin Highway.
Cathedral Gorge State Park – One of our favorite hidden gems in Nevada with beautiful rock formations and "slot canyons".
Ward Charcoal Ovens State History Park – A great spot for photography and astrophotography.
Great Basin National Park – Lehman Caves, Bristlecone Pines, and Wheeler Peak, the second tallest peak in Nevada.
Option 2: Free-Range Art Highway
Continue to the end of Route 275 then drive to Tonopah where you can loop back to Vegas.
Tonopah – Old mining town with a brewery, Stargazing Park, the famous Clown Motel, a mining museum and more.
International Car Forest of the Last Church – Image a junkyard of cars but make it art. This was a super cool stop with tons of photo ops.
Eddie World – A gas station and amazing candy shop in Beatty where we like to load up on beaucoup candy. My favorite that I can't find anywhere else is the strawberry Chamoy chili sour belts.
Rhyolite Ghost Town – Outdoor art exhibit best known for its plaster ghosts.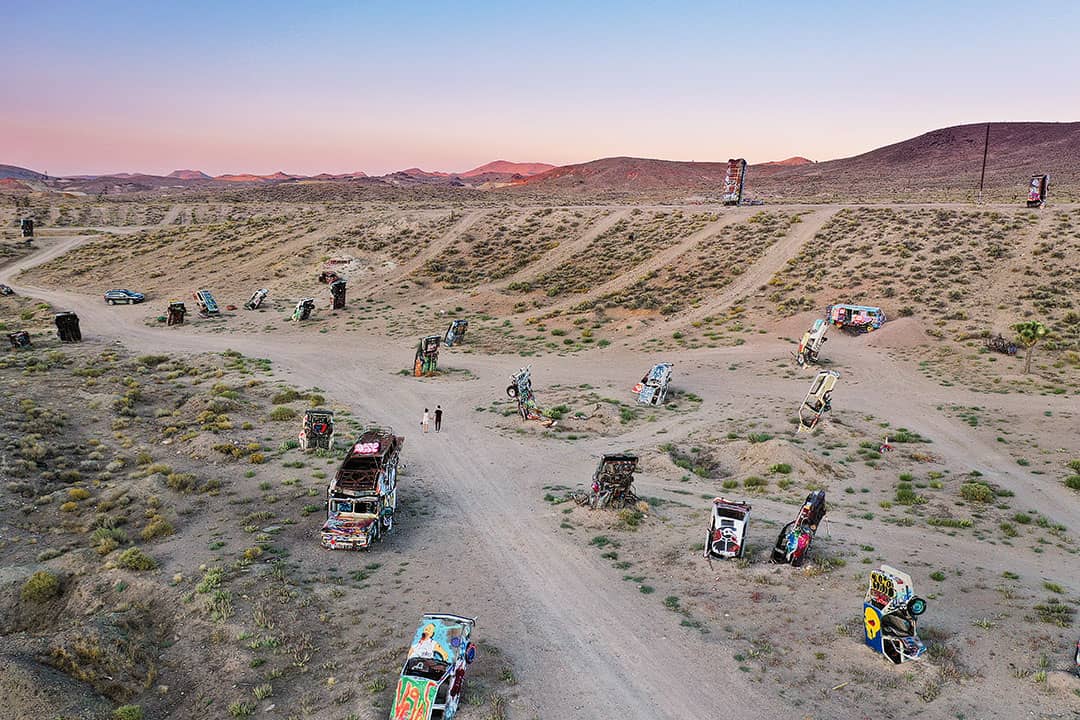 Map of Extraterrestrial Highway Attractions
Essential Tips on Driving the ET Highway
More Resources. If you want to read up on more about traveling in Nevada, get other road trip ideas, or read a different perspective on the ET Highway, check out Travel Nevada's site here. They do an amazing job of giving sample itineraries and recommending different stops along each route. We love that they've put together 10 different themed road trips throughout the state (we've done 7 out of the 10 so far!). You can even request a free guide and map on their site!
Fill up on gas. Remember that Alamo is the last spot to get gas until you Tonopah (if you're doing the full loop). Whenever we road trip through the desert, our rule of thumb is to fill up when you can so we don't run into any issues.
Check local rules and regulations before visiting. Remember that we not only want to travel safely, but we want to respect and protect the local communities.
Bring plenty of water with you. Remember that if you're traveling during the summer, it's hot! If you visit any other time of year, bring layers as temperatures can get cool in the evening.
Bring your own snacks and food, especially if you have any dietary restrictions. There aren't a ton of food options along the ET Highway. 
Having an Emergency Car Kit is always smart on any road trip. We also like bringing these in case we have to pee! The desert doesn't give you great cover. haha
Sunblock is always a good idea even if you spend most of the time in the car.
Cell service can be spotty, bring a map or download offline google maps.
What would be your top priority if you did the Extraterrestrial Highway road trip?
Did you enjoy this post? Pin it for later
See More Epic Road Trip Guides
"Discovery consists not of seeking new lands but in seeing with new eyes" – M. Proust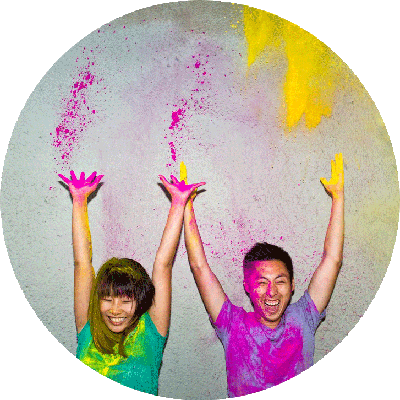 Esther and Jacob are the founders of Local Adventurer, which is one of the top 5 travel blogs in the US. They believe that adventure can be found both near and far and hope to inspire others to explore locally. They explore a new city in depth every year and currently base themselves in Las Vegas.