These are our top things to do in Cathedral Gorge State Park, our favorite hidden gem in Nevada.
I turned the corner and found the walls in front of me curve tightly to the left. I turned left, then right, and then stopped. A sliver of light peeked through the top as I navigate through the maze.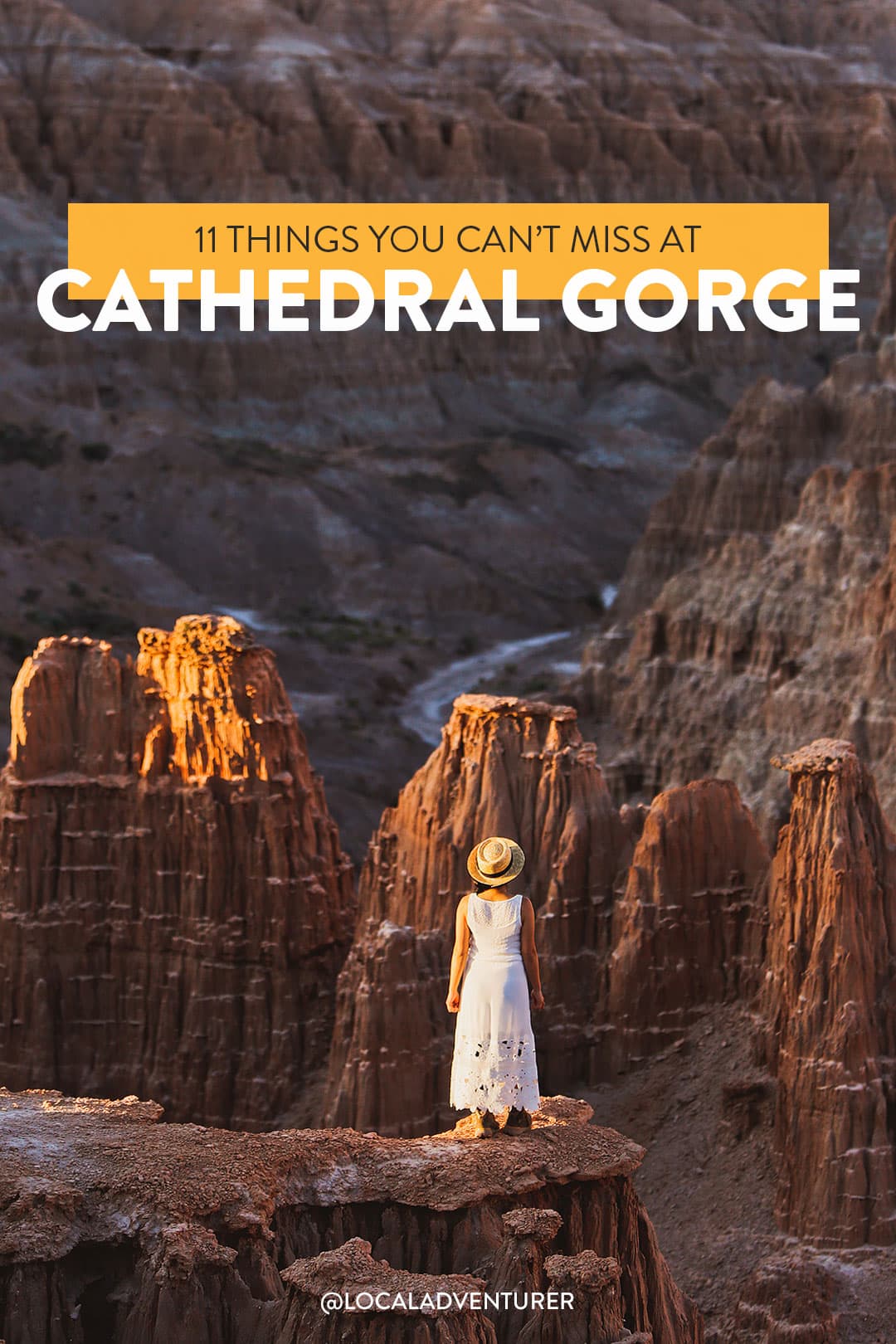 This post may contain affiliate links, where we receive a small commission on sales of the products that are linked at no additional cost to you. All opinions are always our own. Read our full disclosure for more info. Thank you for supporting the brands that make Local Adventurer possible.
Last Updated: July 1, 2020
During our road trip through Nevada, Cathedral Gorge State Park was one of our favorite stops. The landscape is absolutely stunning, and it truly feels like you're walking around on an alien planet. The best part is that it's a hidden gem. We only saw a couple of other people the entire time we were there. There are walking trails, spires, caves or slot canyon-like formations, and more.
All Nevada State Parks are open for day use. As always, avoid crowded areas, social distance, wear a mask, and recreate close to home.
11 Awe Inspiring Things to do in Cathedral Gorge State Park Nevada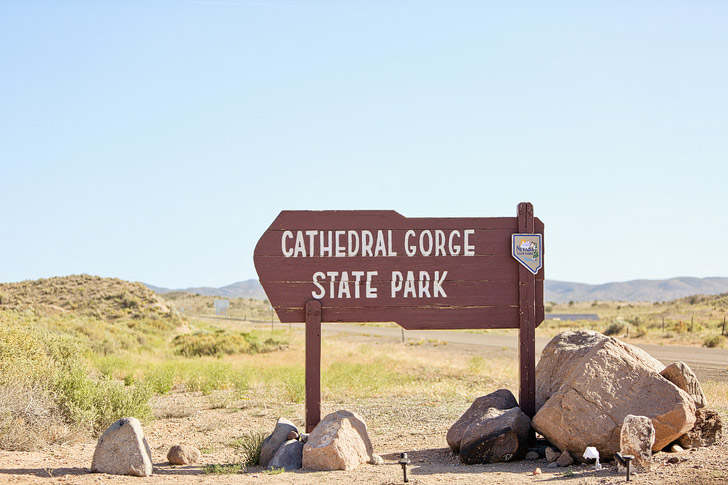 1. Cathedral Gorge Visitor Center
Stop by the visitor center to find out more about the park and put together a gameplan for your time there. Rangers always know the best parts of the park.
2. Bullionville Cemetery Trail
This short 0.4-mile trail starts right near the visitor center that takes you to a cemetery that's been around since the 1800s.
If you only do one hike in the park, do the Miller Point Trail. This 2-mile out-and-back hike starts at the Caves Area parking lot and takes you through a canyon. Towards the end, there is a tall steel staircase that takes you to an incredible overlook.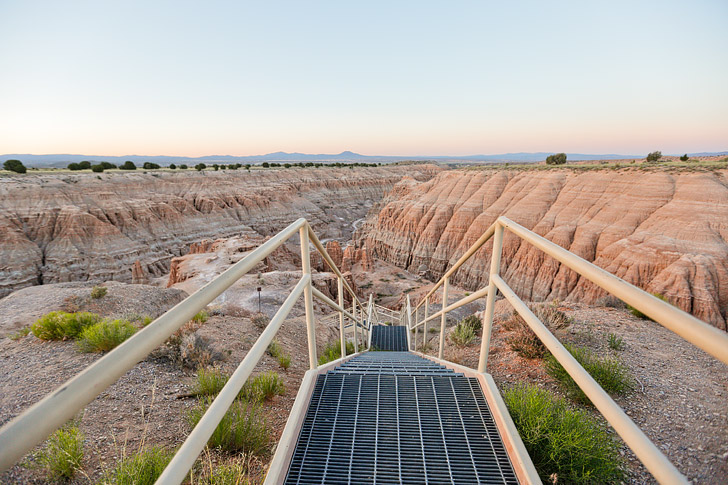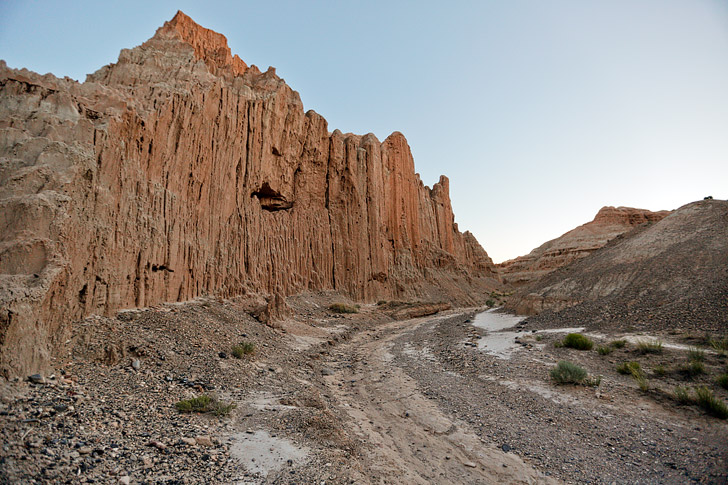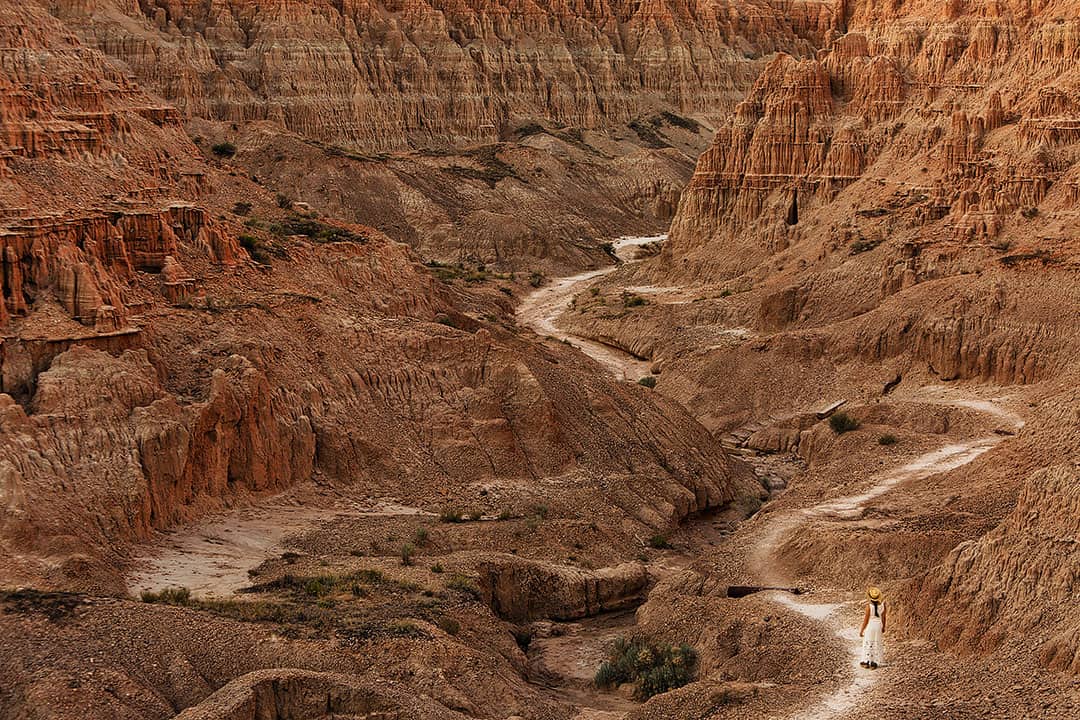 The 4-mile Juniper Draw Loop (some trail maps say 3.6) is the longest trail in the park. If you're looking for the most diversity in landscape, this is the hike for you.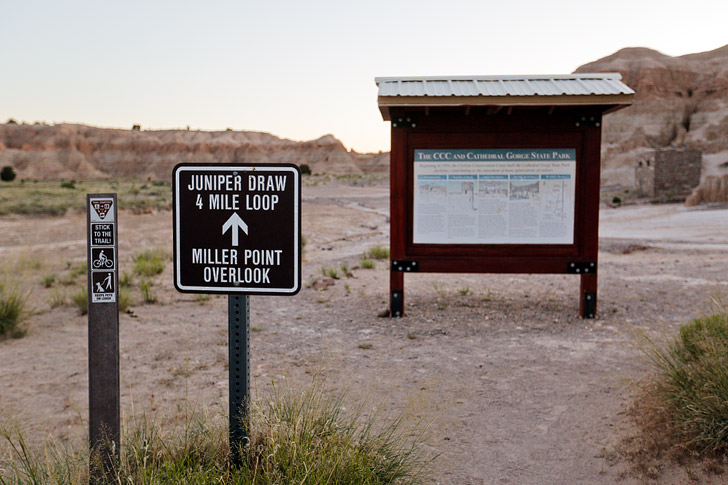 This 1.6-mile out-and-back hike is the easiest hike for those looking for panoramic views.
The 0.5-mile nature loop trail takes you from the Caves Area parking lot to the camping area and back. It's a great way to see the basin and walk up to beautiful formations.
Although they are called caves because some sections don't receive direct sunlight, they look more like slot canyons. We spent the most time in Cathedral Caves because it was the closest cave coming back from the Miller Point Overlook. While you explore the caves, be sure to look up as well! You'll quickly realize how deep you are.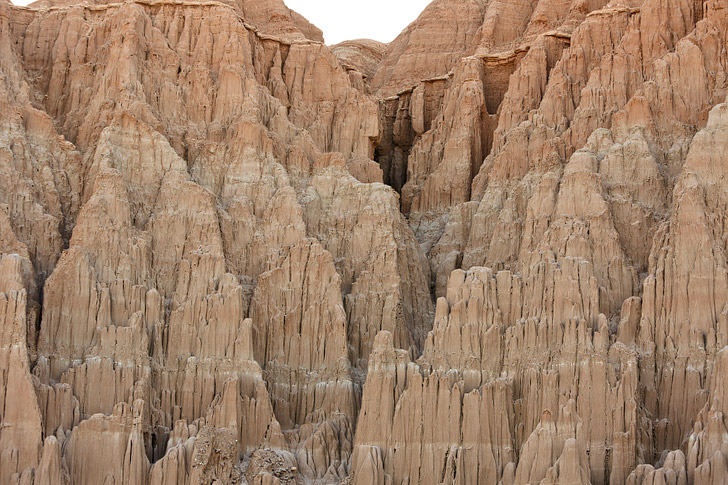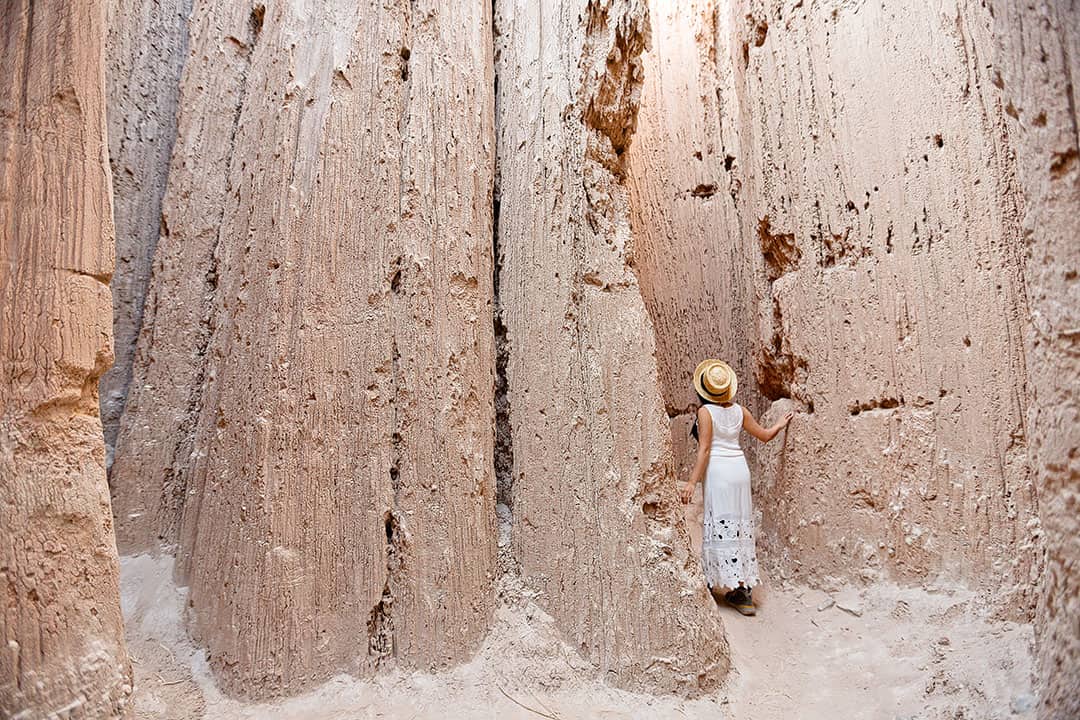 Each cave is worth exploring as they take you through unique and winding paths.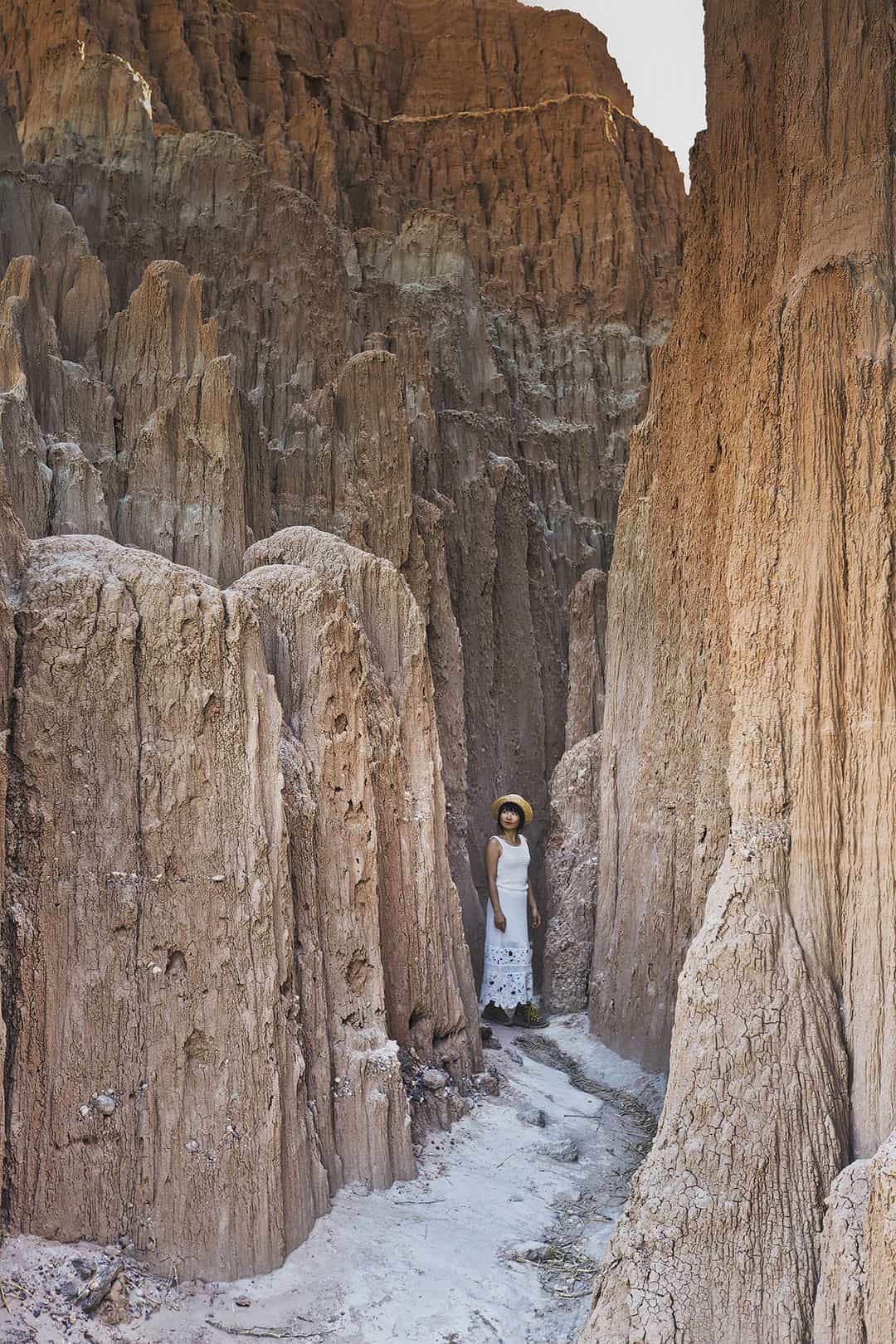 We didn't have a specific cave that we liked more than the others but spent the least amount of time in Moon Caves because they all started to look similar. You should definitely try to explore all three if you have the time, but if you can't they're all beautiful on the inside and outside (the entrance like the photo below).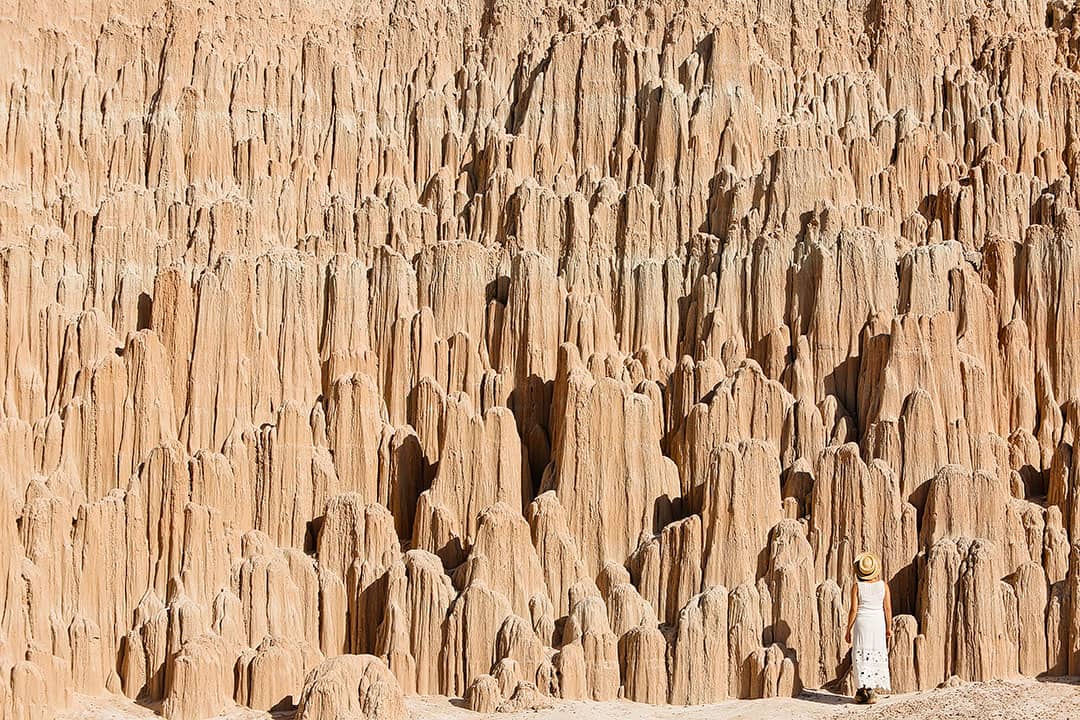 Originally built in the 1930s, this water tower is no longer in use, but still makes for some great photos.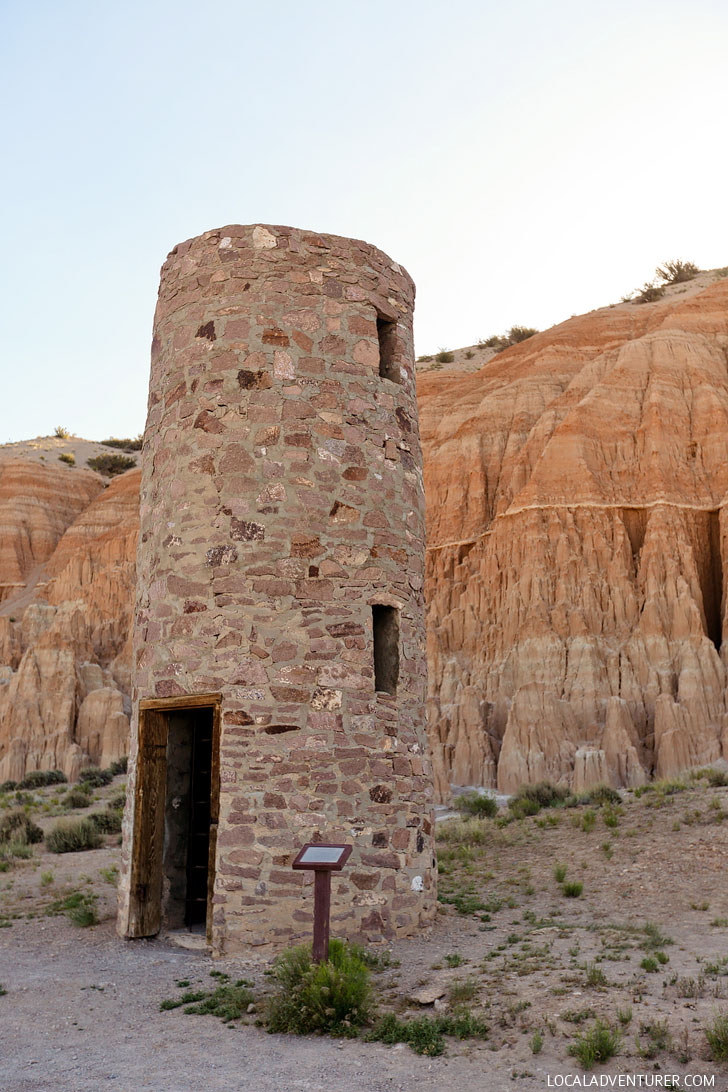 11. C.C.C. Day Use Picnic Area
These facilities were built in the 1930s and are still in use today. You can see the original stone restrooms nearby, but if you need to actually go, use the newer ones nearby.
During the Pliocene Era (almost 1 million years ago), most of the area used to be covered by a freshwater lake. The beautiful colors of the canyons are remnants of that lakebed. As the water began to drain, erosion exposed portions of the sediment and gravel. Rainwater and snow continued to split tiny cracks into larger gullies and canyons.
In the nineteenth century, Cathedral Gorge was known as Cathedral Gulch, and it was a popular spot for local picnickers. When you visit, it's easy to see why with such beautiful and unique backdrops.
It eventually became one of the four original Nevada state parks created in 1935, and members of the Civilian Conservation Corps built picnicking facilities.
Hours: Open seven days a week, 365 days a year.
The Visitor Center is open from 9 a.m. to 4:30 p.m. daily. It is located at the park entrance off U.S. 93. The visitor center is closed holidays during the winter.
Day use entrance fee: $5.00 per vehicle
All photos above were taken with a Canon 5D Mark III (full body DSLR) + 35mm or 70-200mm lens.
We arrived just after sunrise for our photos.
During high noon on a clear day, the caves are a great place to escape when the light isn't looking great.
The area can be dusty, which is the enemy of camera gear, so we like a backpack that allows us to access everything without putting it on the ground.
Essential Tips for Cathedral Gorge State Park
Best Time to Visit: Spring and Fall and the ideal times to visit. You can also visit during the winter, although days are much shorter and you need to be aware of road conditions. We don't recommend visiting in the summer since it is extremely hot and there is limited shade.
If you start your day early, you can see everything in the park in one day, but it's also nice to camp and take your time exploring each area. Plus, that means more sunrises and sunsets to photograph.
Be careful when you hike. The ground is soft and can crumble if you're near the edge of a cliff. There are also holes in the ground so watch your step to ensure you don't trip.
Bring sturdy shoes. We're wearing Danners, our current favorite hiking boots. A dress and hiking boots are just my style. 
You won't find many amenities nearby so be sure you bring extra food and water.
If you are exploring more Nevada parks, your day pass gives you access to all of them during that same day.
If you plan on visiting multiple throughout the year, consider getting an annual pass. The All Access Permit is $200 and covers entrance, camping, and boating fees. The Annual Entrance Permit is $75 and covers entrance fees only.
There are 22 sites in the on-site campground. Each has a table, grill, and shade ramada. Electric hookups are also available if you are RVing. Water and flush restrooms with showers are available year-round.
No reservations can be made and camping is limited to 14 days in a 30-day period.
Camping Fees: $15 per night (additional $10 per night for hookups)
Simplified Map of the Area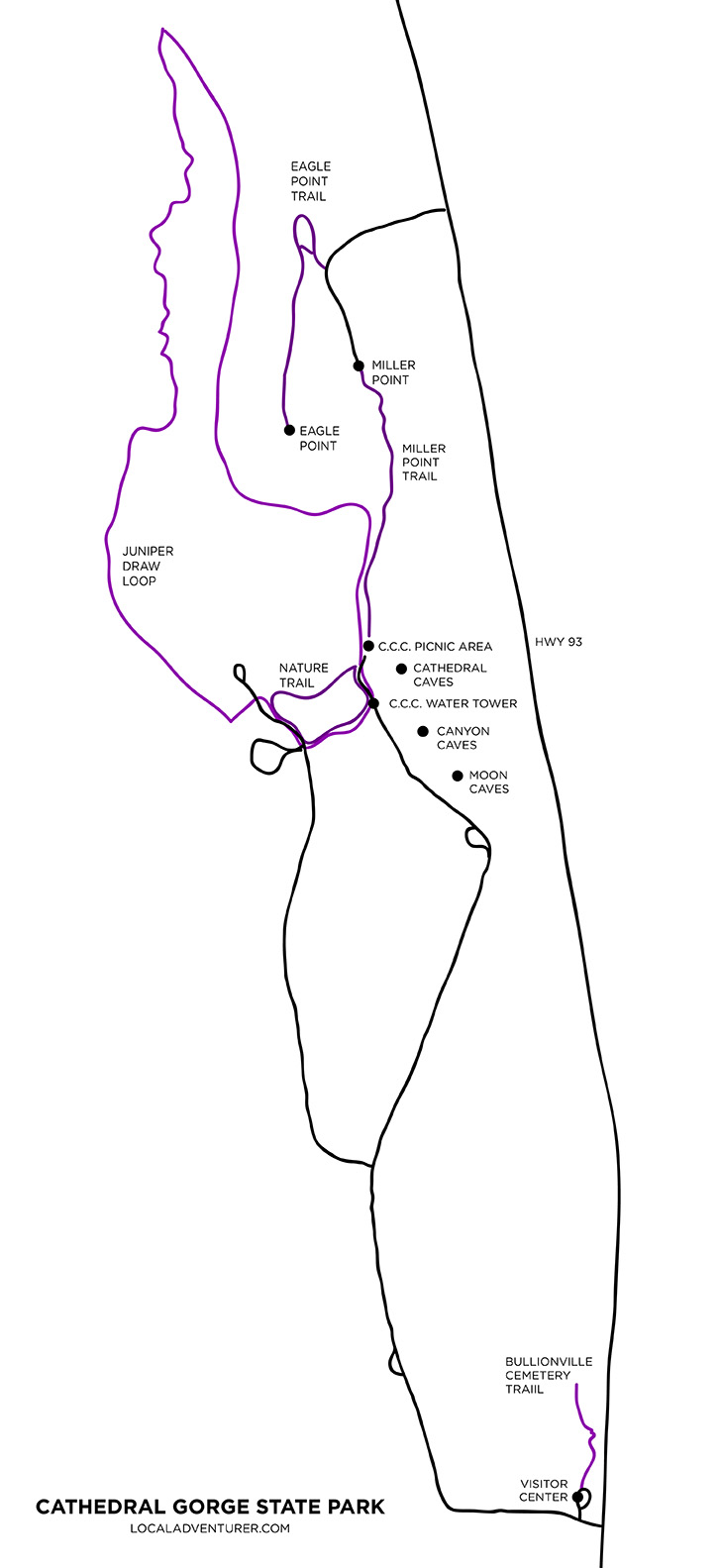 Have you visited Cathedral Gorge State Park? What was your favorite part of the park?
Did you enjoy this post? Pin it for later
"Discovery consists not of seeking new lands but in seeing with new eyes" – M. Proust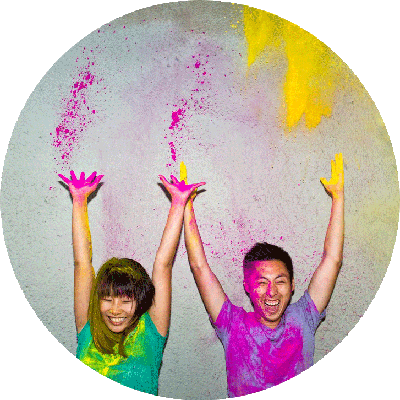 Esther and Jacob are the founders of Local Adventurer, which is one of the top 5 travel blogs in the US. They believe that adventure can be found both near and far and hope to inspire others to explore locally. They explore a new city in depth every year and currently base themselves in Las Vegas.