Did you know there are hot springs near Vegas? Here is one of our faves.
Gold Strike Hot Springs is easily our favorite hike in Vegas so far (although since we did Arizona Hot Springs, we like that one better)! It has beautiful scenery, some fun scrambling, and you're rewarded with natural hot springs where you can relax and take a dip. Roughly 40 minutes from the strip, the trailhead is in between Boulder City and Hoover Dam.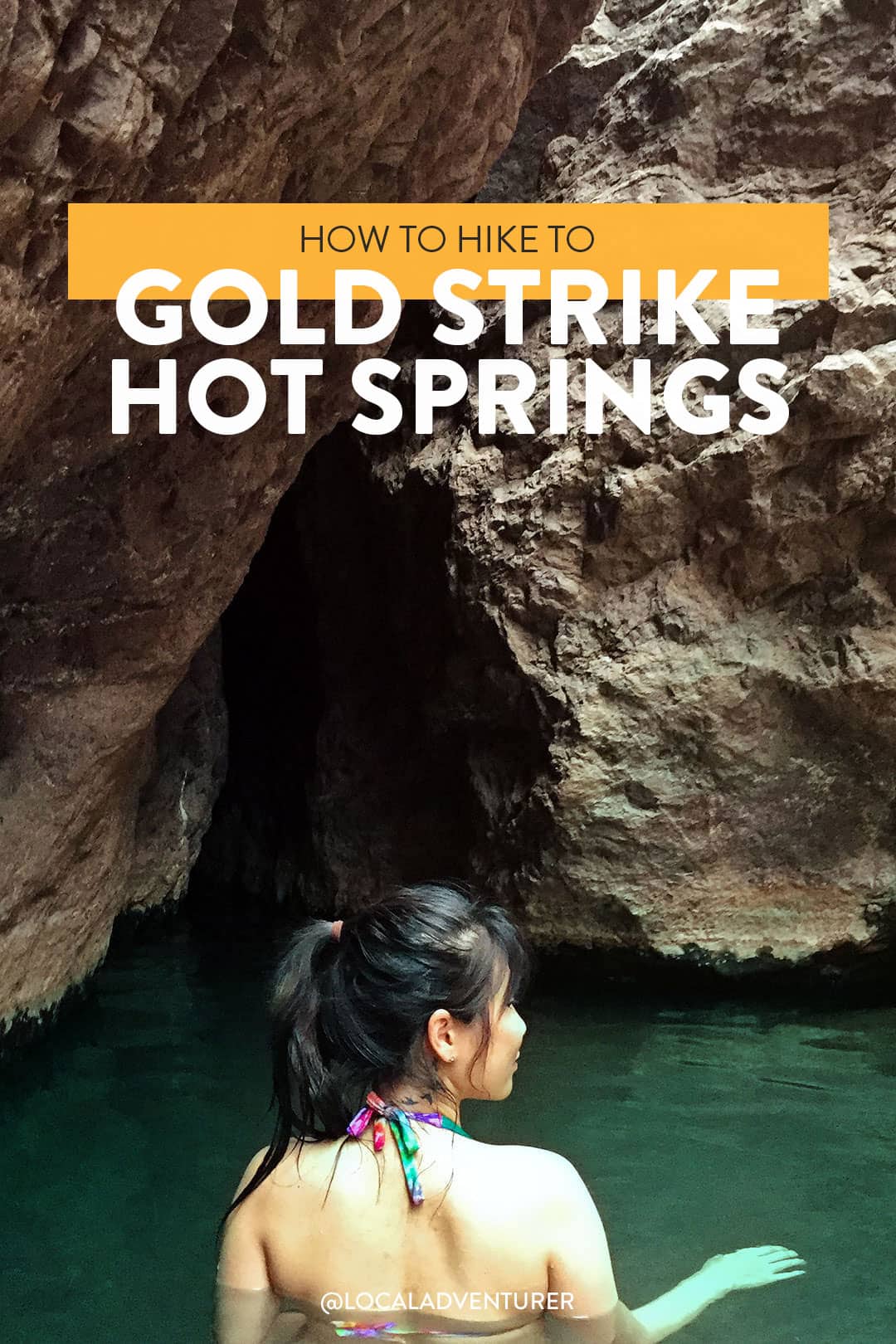 This post may contain affiliate links, where we receive a small commission on sales of the products that are linked at no additional cost to you. All opinions are always our own. Read our full disclosure for more info. Thank you for supporting the brands that make Local Adventurer possible.
Last Updated: October 29, 2023
About Gold Strike Hot Springs
6-mile out and back, difficult, over 1450 feet elevation change
Gold Strike Hot Springs (also known as Goldstrike Hot Springs, Nevada Hot Springs, and Gold Strike Canyon Hot Springs) is a unique 6-mile hike to hot springs near the Hoover Dam. The hot springs are the highlight, but the hike is also an adventure in itself involving some class 3 scrambling and using ropes to help you up and down large boulders.
It is a very popular hike that gets crowded. The best way to avoid people is to go early, start before sunrise and go during the week.
Check out the alltrails map here.
How hot is the Gold Strike Hot Springs?
Where the water emerges from the cliffs, the water starts at temps of 109°F. Near the first waterfall on the trail where there is a sand and gravel-bottomed rock pool, the water is usually 100°F. Temps get cooler as you get further away from the source.
How much time does it take to hike to Gold Strike Hot Springs?
Since this hike can go slow depending on your comfort level on scrambling. To be safe, most websites recommend 3-4 hours each way, meaning a total of 6-8 hours, not including time to soak. When we did the hike, we only went to the second pool and left rather than making it all the way down to the river. At that time, we hadn't started rock climbing and had limited scrambling experience. We were able to make it to the first pool and back in 3-4 hours.
Is the Gold Strike Hot Springs Trail still open?
Because of the extreme heat, the trail is closed from May 15 to September 30.
See Related: The Best Things to Do at Lake Mead National Park
What You Need to Know Before You Go
Beware of brain-eating amoeba (Naegleria fowleri), a risk in thermal pools. Do not put your head in the water since it travels up your nasal passage and can cause fatal infections.
Flash floods can happen since portions of the hike are narrow. If you think it might rain, reschedule the hike for another day.
Snakes and rattlesnakes can be found along the trail, especially when warm. We saw a snake when we hiked it.
Pack lots of water (these are our favorite water bottles) and wear sunscreen. Sunstroke and dehydration have led to rescues and even some fatalities on this hike. Do not underestimate it, and be sure you are prepared.
The time zone may change back and forth since the hot springs are near the Nevada-Arizona border. Arizona doesn't observe daylight savings, so in the summer, the time is the same, but in the winter, there is an hour difference.
If you aren't comfortable pulling your own weight, try a different hike, like Arizona Hot Springs. You will need to climb up boulders with the help of ropes.
You need closed-toed shoes for this hike since you will be scrambling.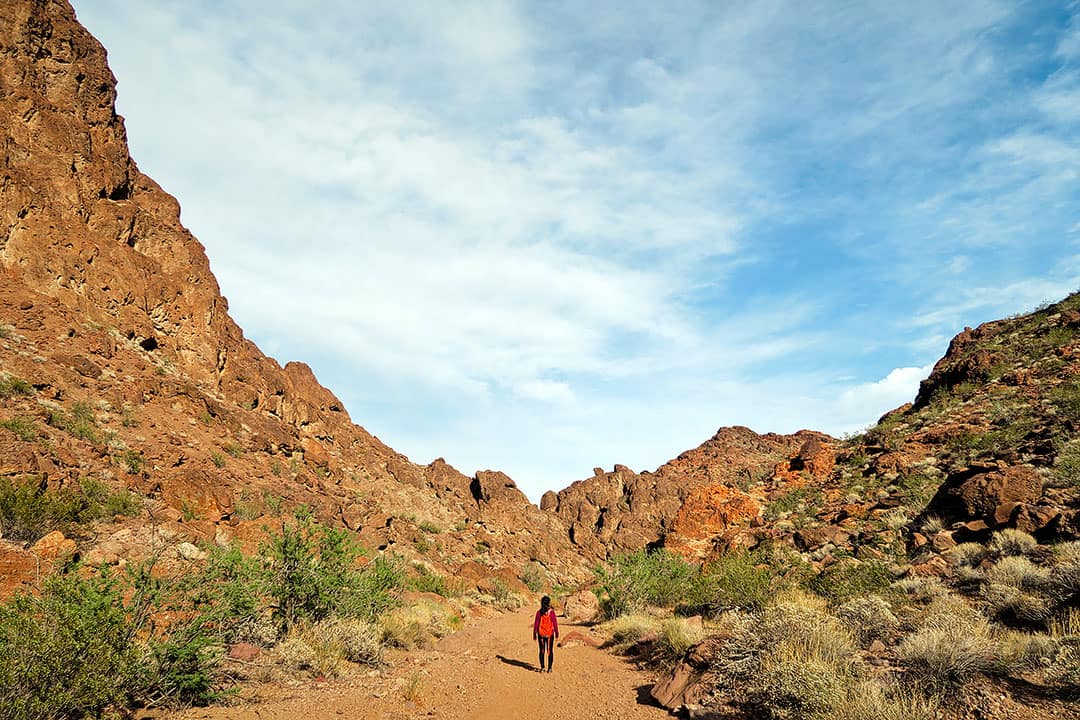 Where is Gold Strike Hot Springs
Gold Strike Hot Springs is located on the Colorado River close to Hoover Dam. Although you can access it by kayaking up the river, most people access the hot springs via a 3-mile (6-mile round trip) hike.
How to Gold Strike Hot Springs
Most people access the Hot Springs via the 6-mile round-trip hike. It makes it a full-day adventure with scrambling, canyons, waterfalls, and the option to hop in the river.
You can also kayak upriver from Willow Beach, although it is a long paddle. There is no launch permit fee, and you can rent kayaks at Willow Beach. It's highly recommended to make reservations during holidays and weekends.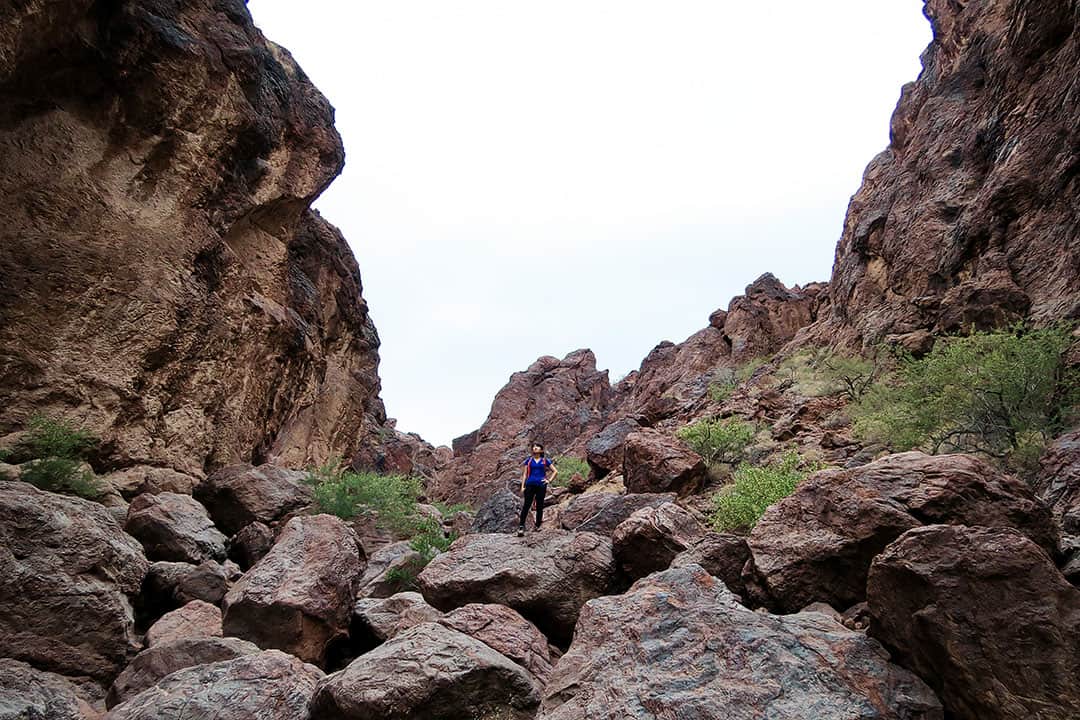 Where is the Trailhead
The trailhead for Gold Strike Hot Springs is easy to find. It's just off Highway 93 before the Hoover Dam Mike O'Callaghan Pat Tillman Memorial Bridge. There is free parking too.
Gold Strike Hot Springs Trailhead Coordinates: 36.0062823,-114.7759282 (map)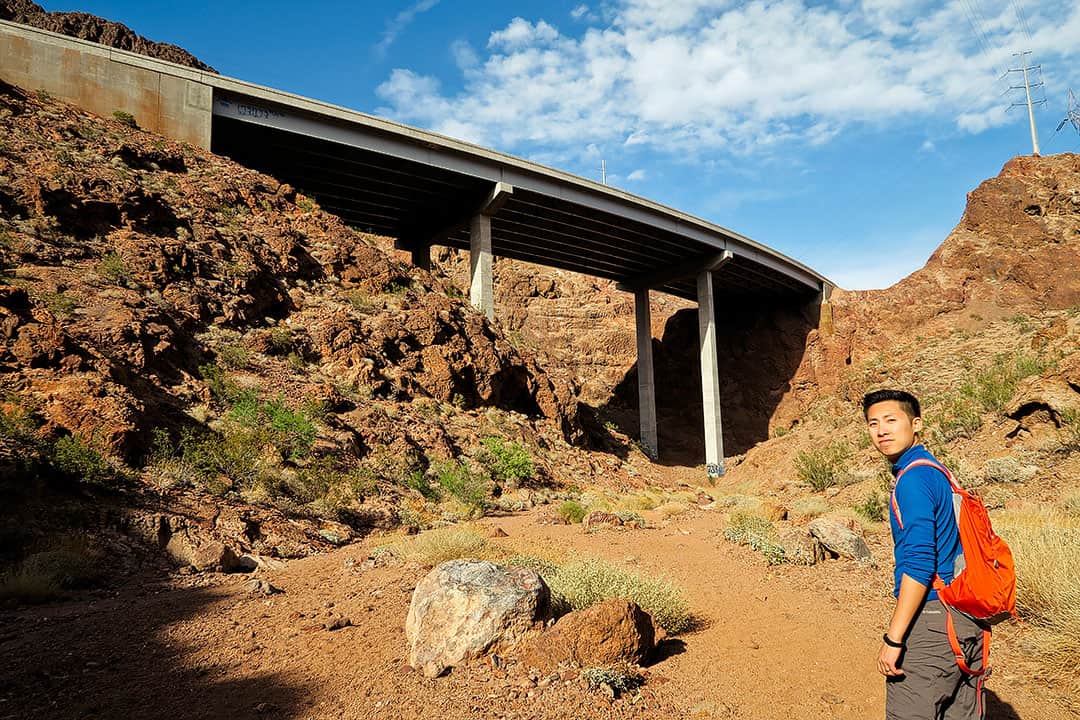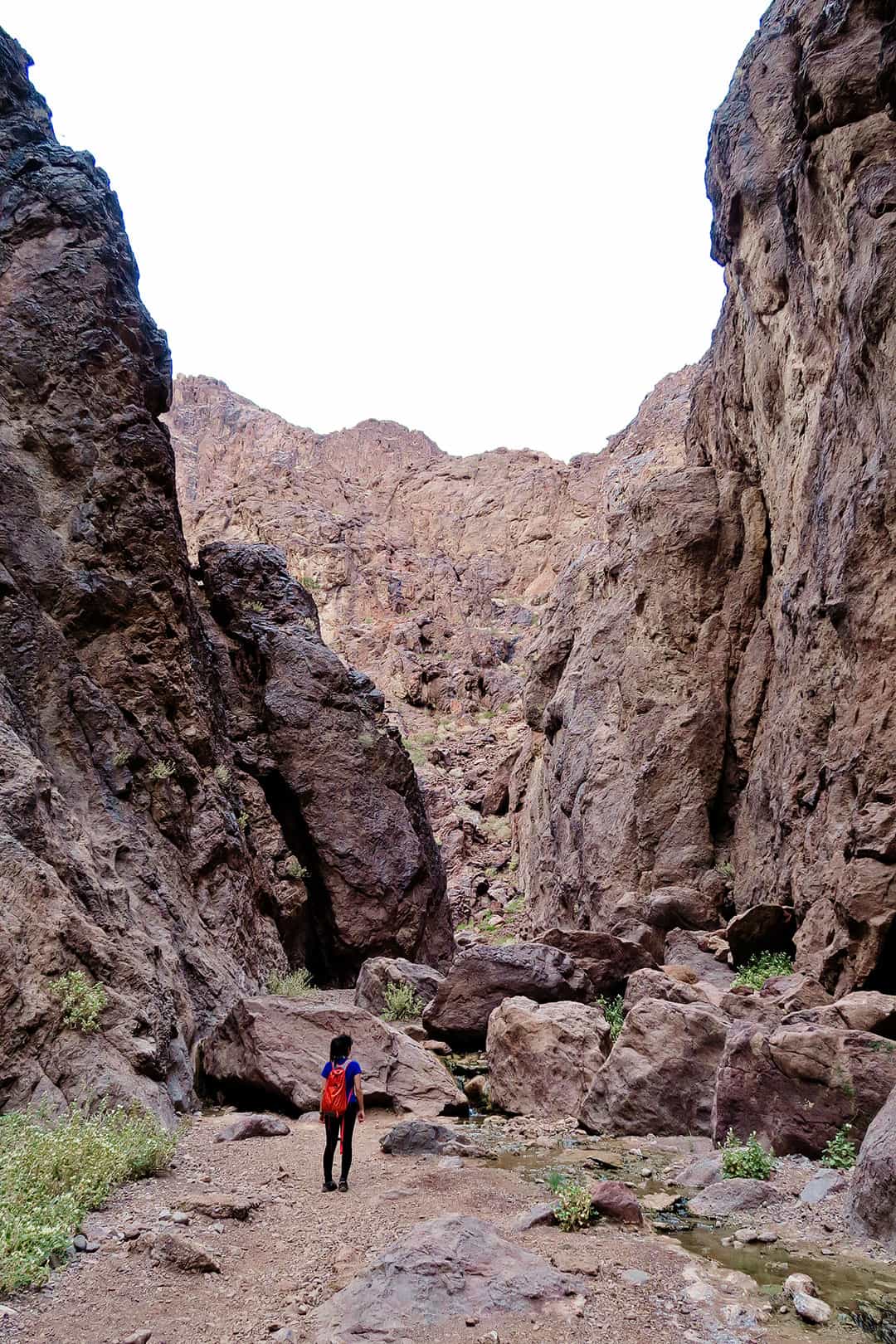 The Trail
The beginning of the trail is relatively easy. It runs about 1.5 miles and took us roughly 40 minutes. You start by walking under the highway, passing a deteriorated car, and there is even a white cooler where people leave extra water (although when we went, there was just garbage inside). During this portion of the hike, it's mostly gravel and sand on the ground.
Towards the end of this section, boulders will start to appear that you have to scramble over. Keep your eye out for spray-painted markers that keep you on the trail.
We found mice and a California kingsnake hiding in the boulders!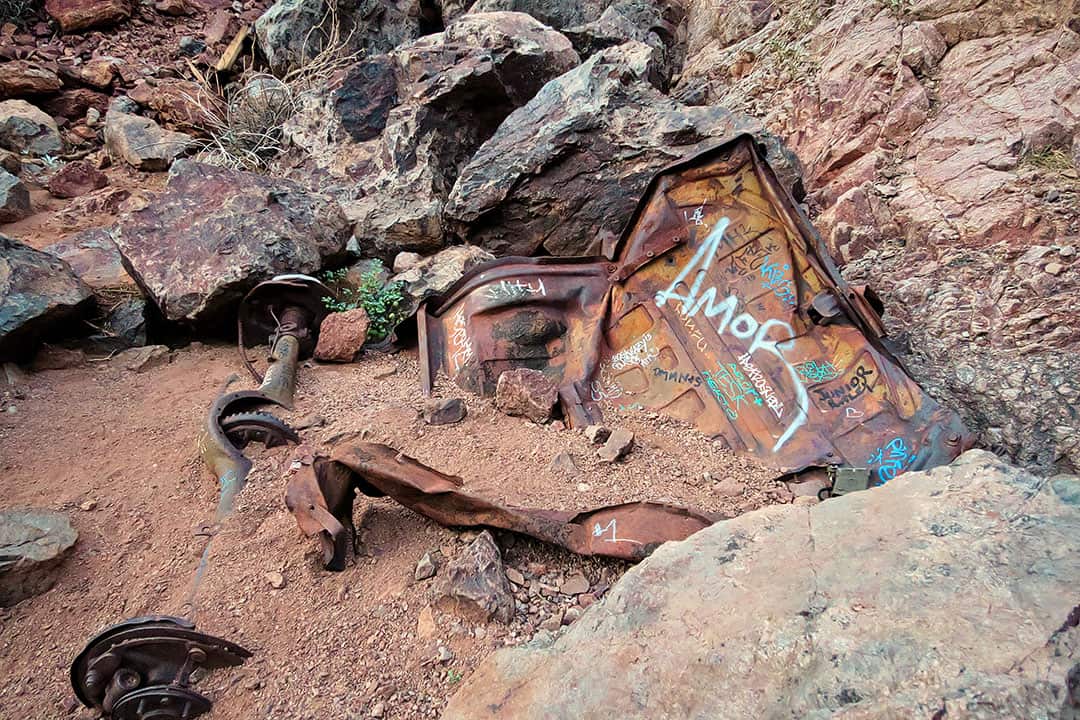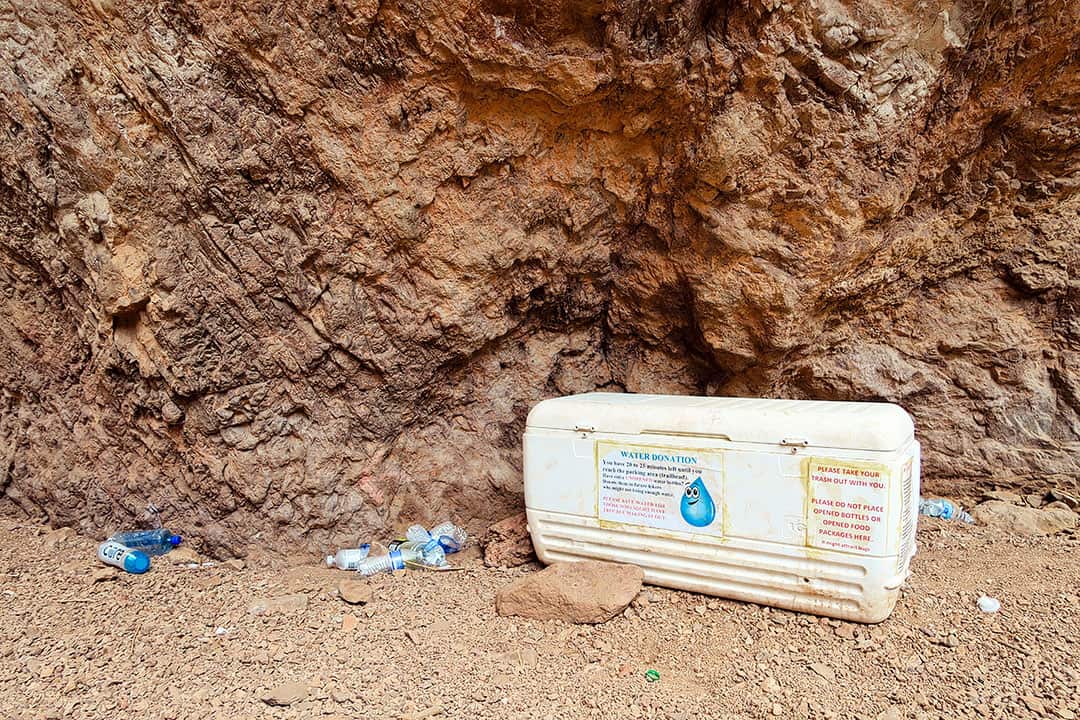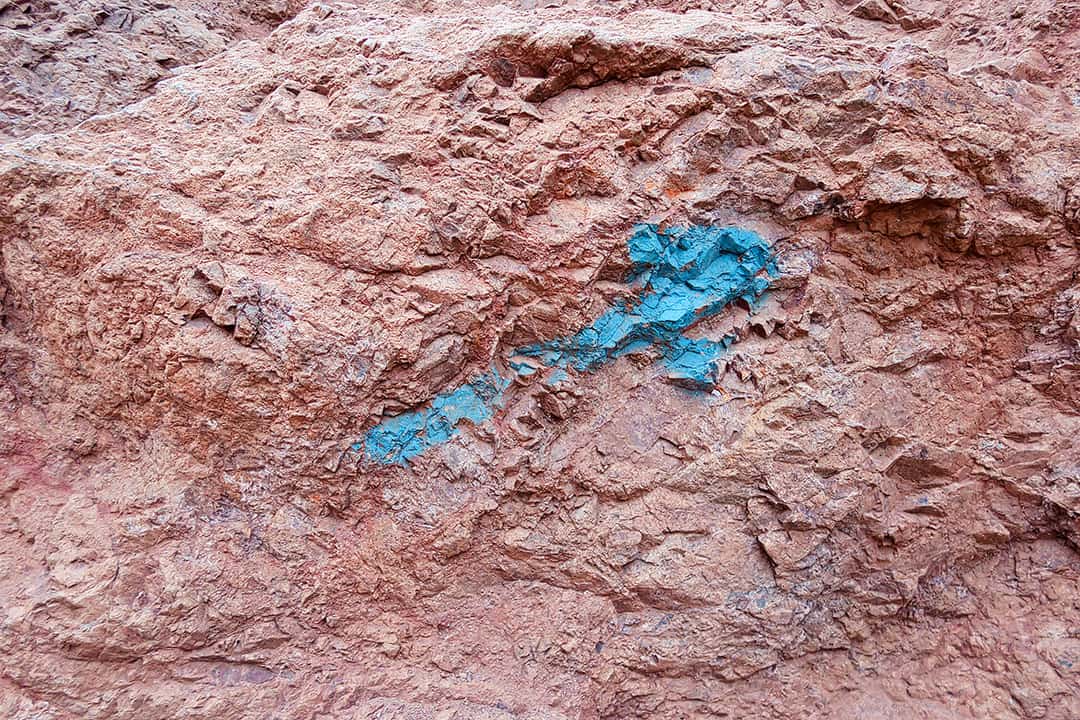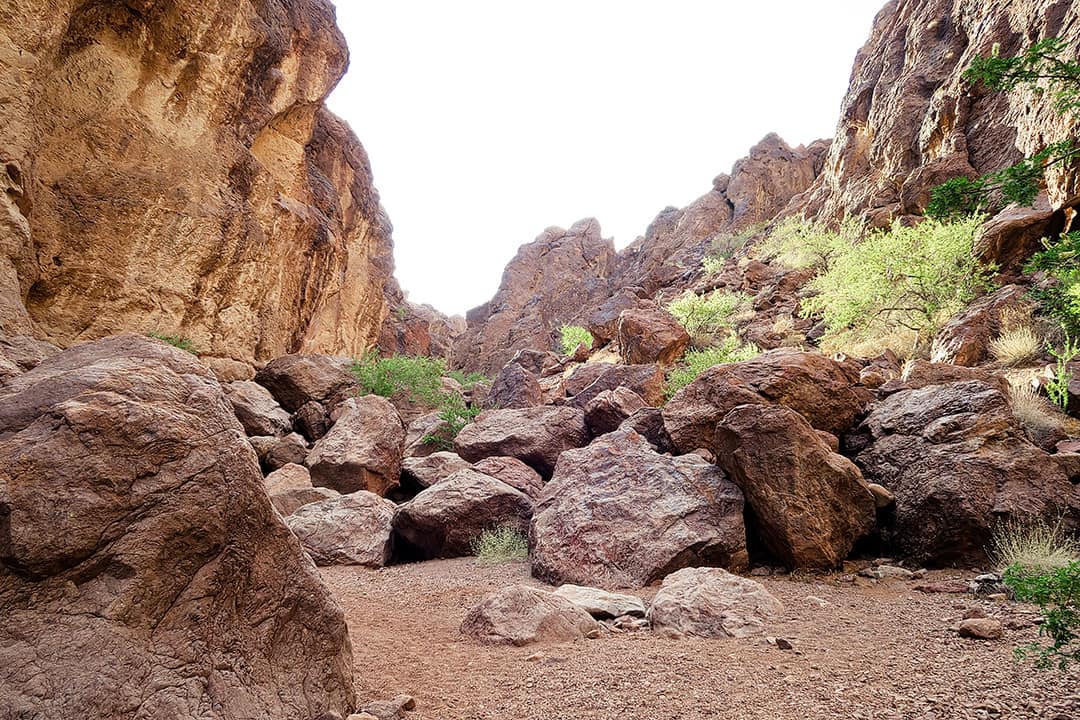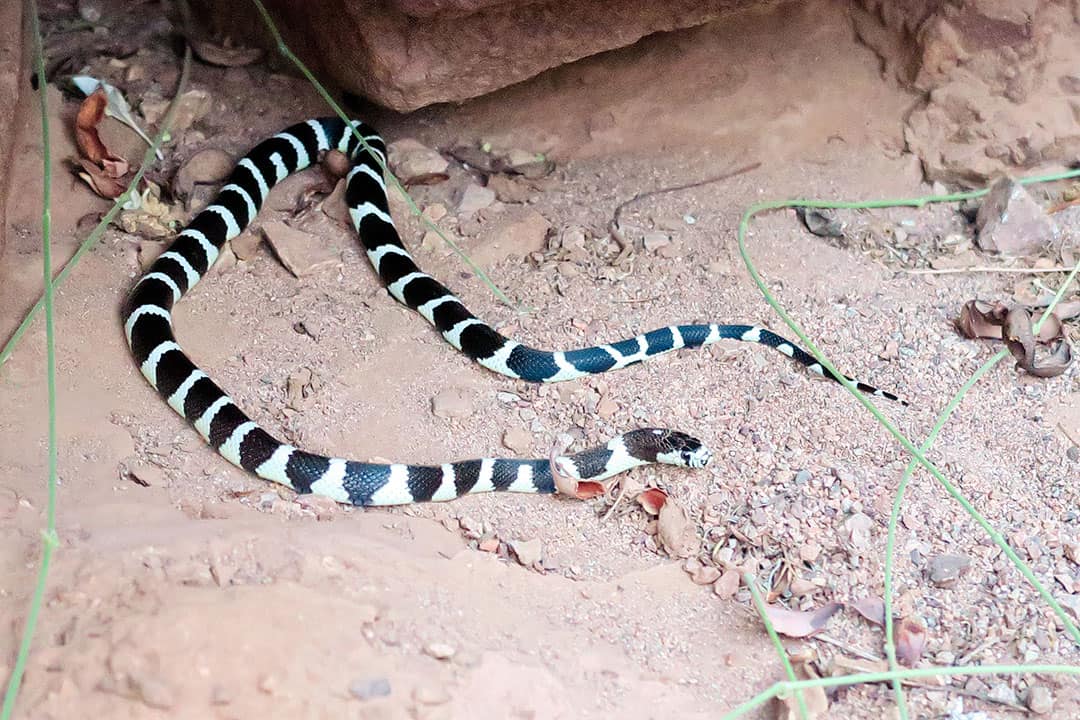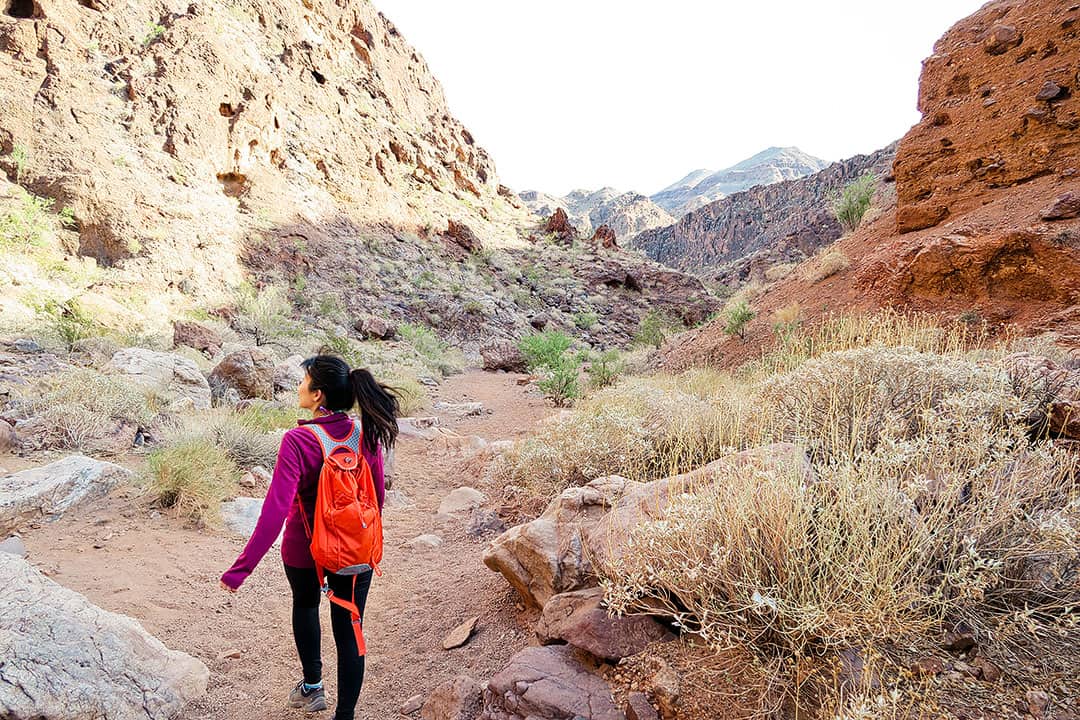 Scrambling Section
This is where it gets fun (or tricky). Eight rope descents take you the rest of the way to the hot springs and river. When we did the hike, we'd never rock climbed and had limited experience scrambling, but we could make it down with no issues.
Just be sure to watch your step since the rock is slippery, and rely on the rope to help give you leverage. It helps to go down backward so you can lean back and use the rope better.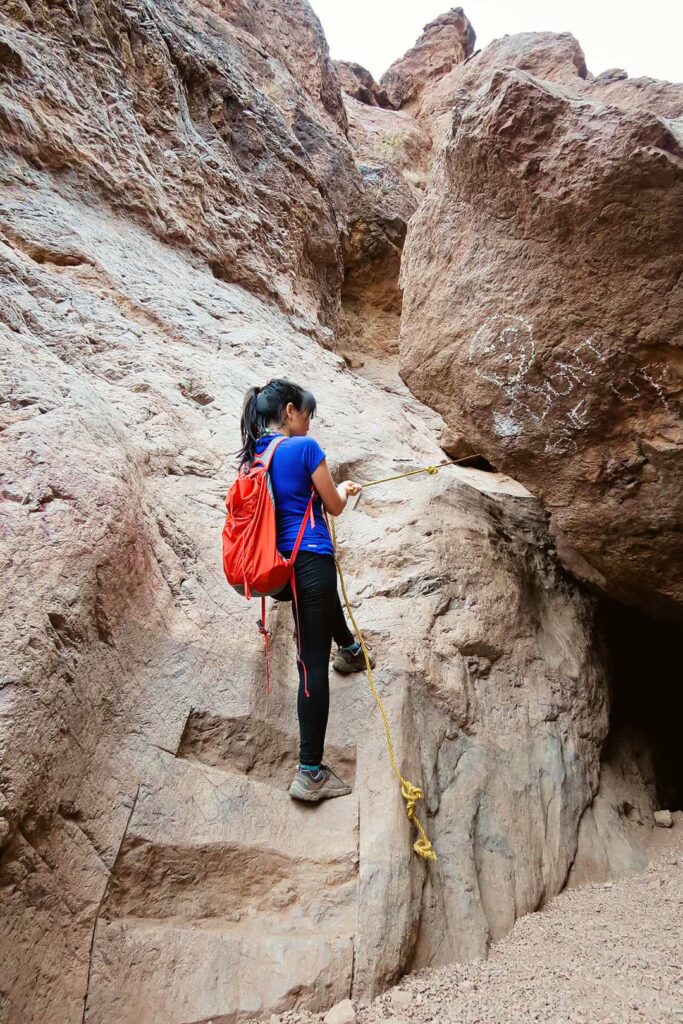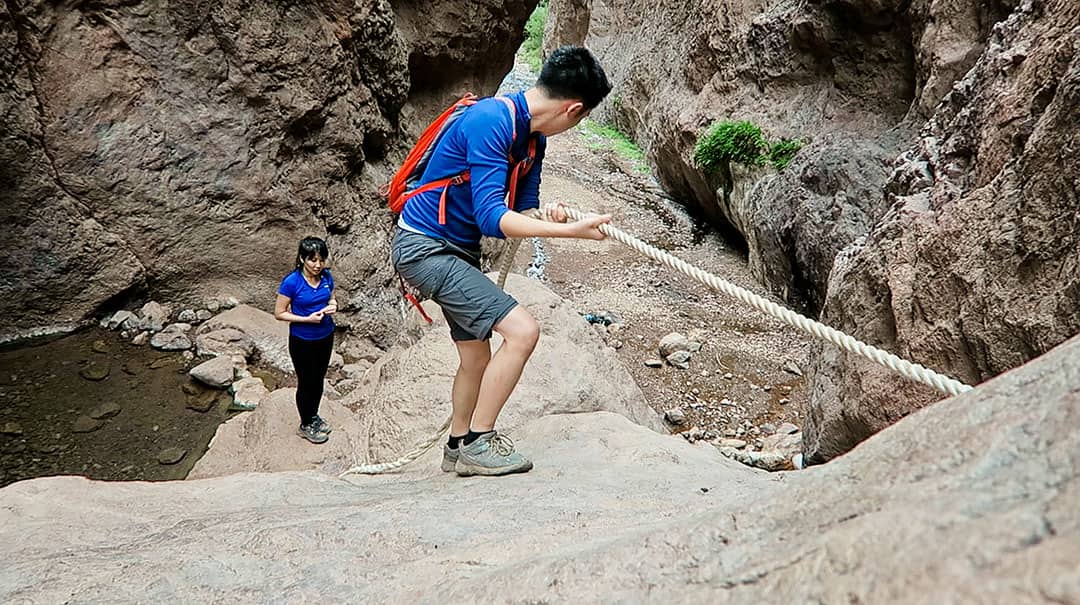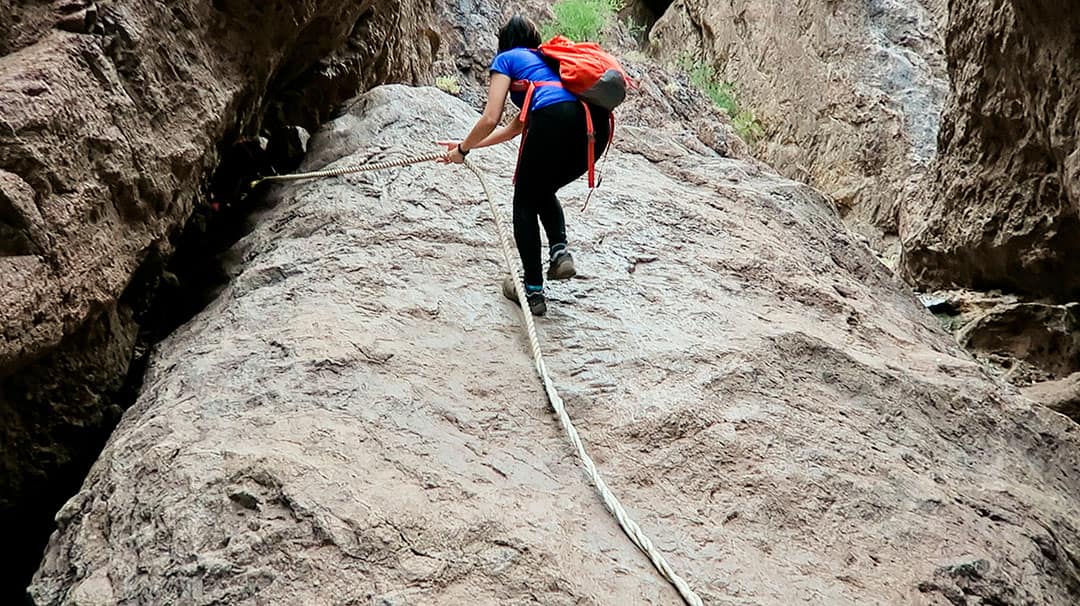 Arriving at the Hot Springs
There are three main hot springs along the hike. The first is sometimes dried up depending on the time of year. The second spring, where we stopped, is called the Cave of Wonders. If you continue further down the trail, the third and most popular hot spring is just beyond a few small waterfalls.
The river is another quarter mile down from the last hot spring. You can go for a cool dip, but be aware that the water levels and currents can change rapidly.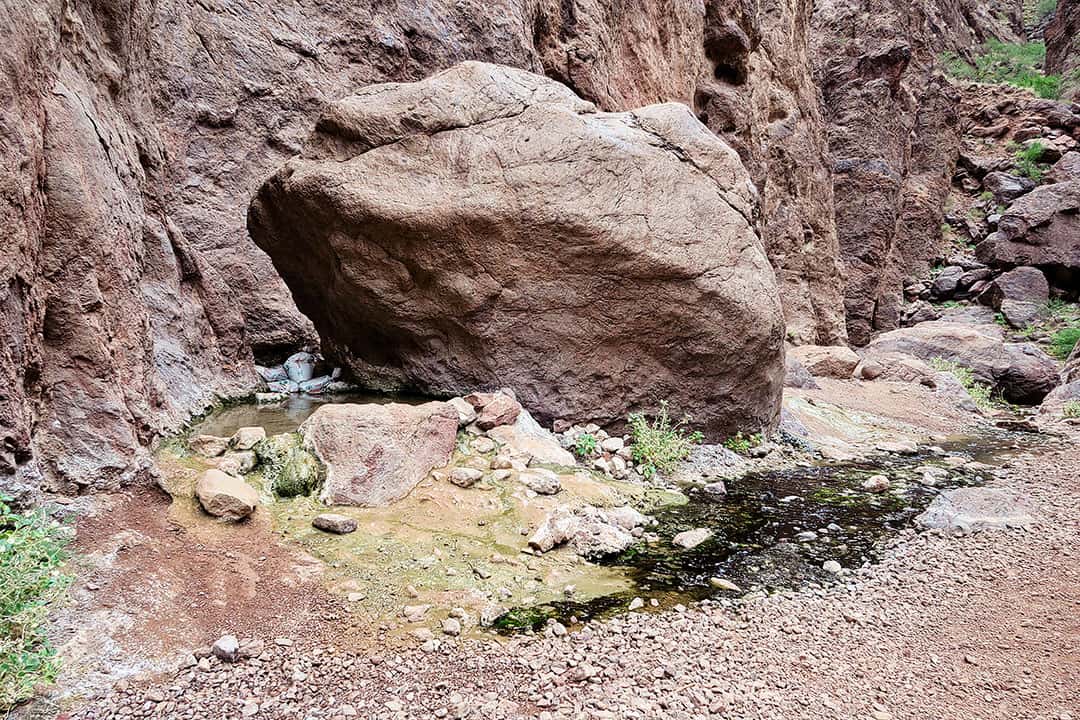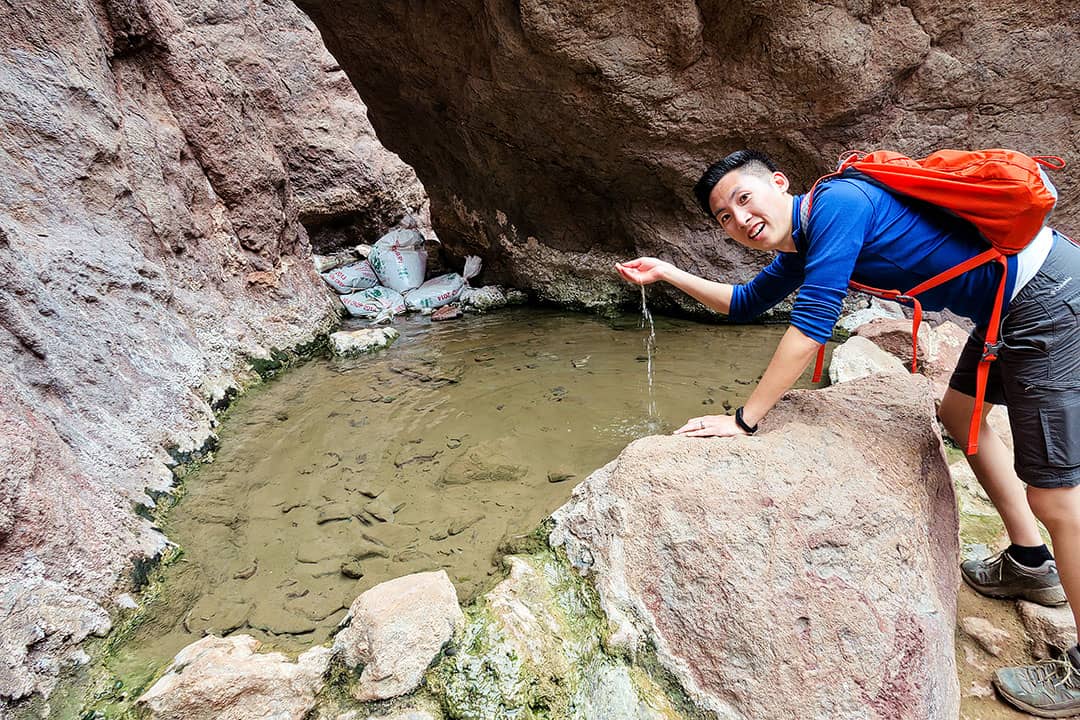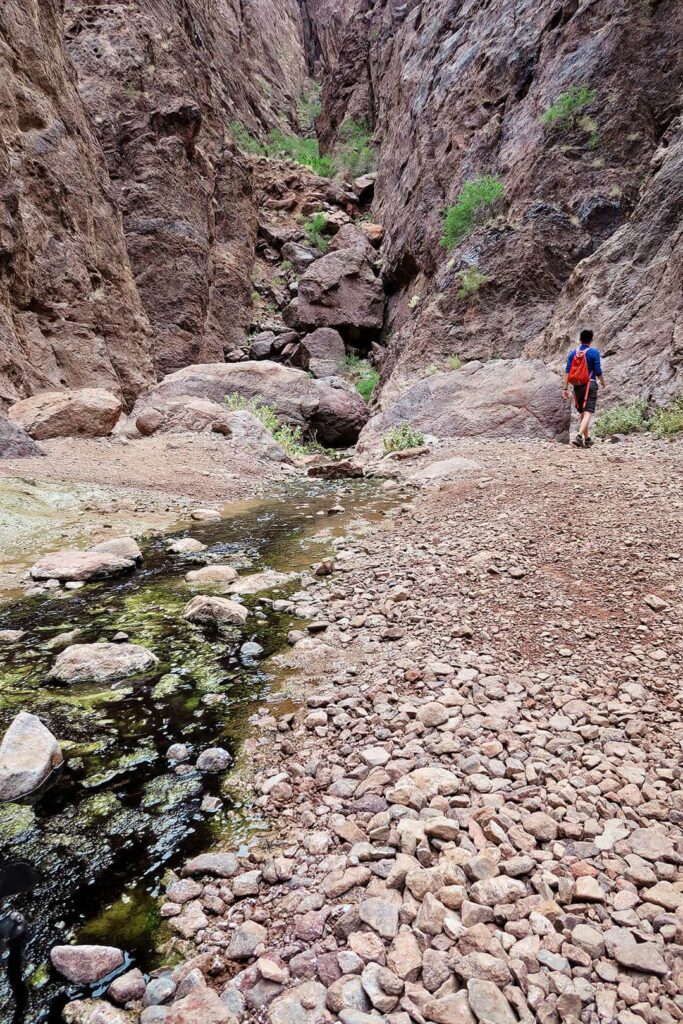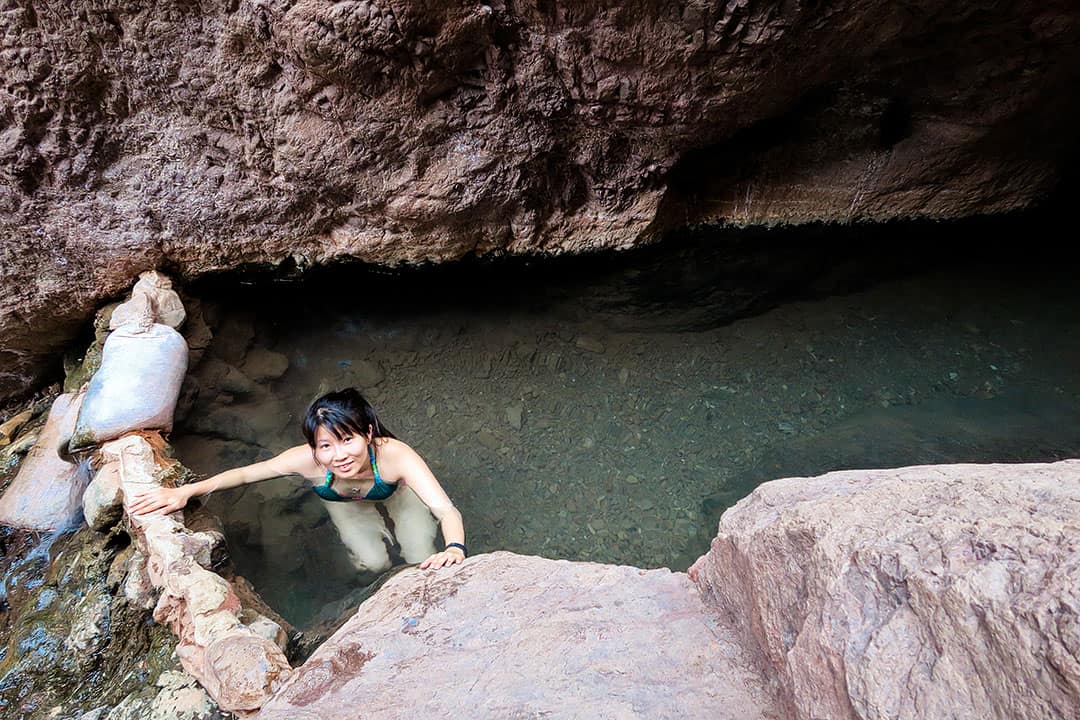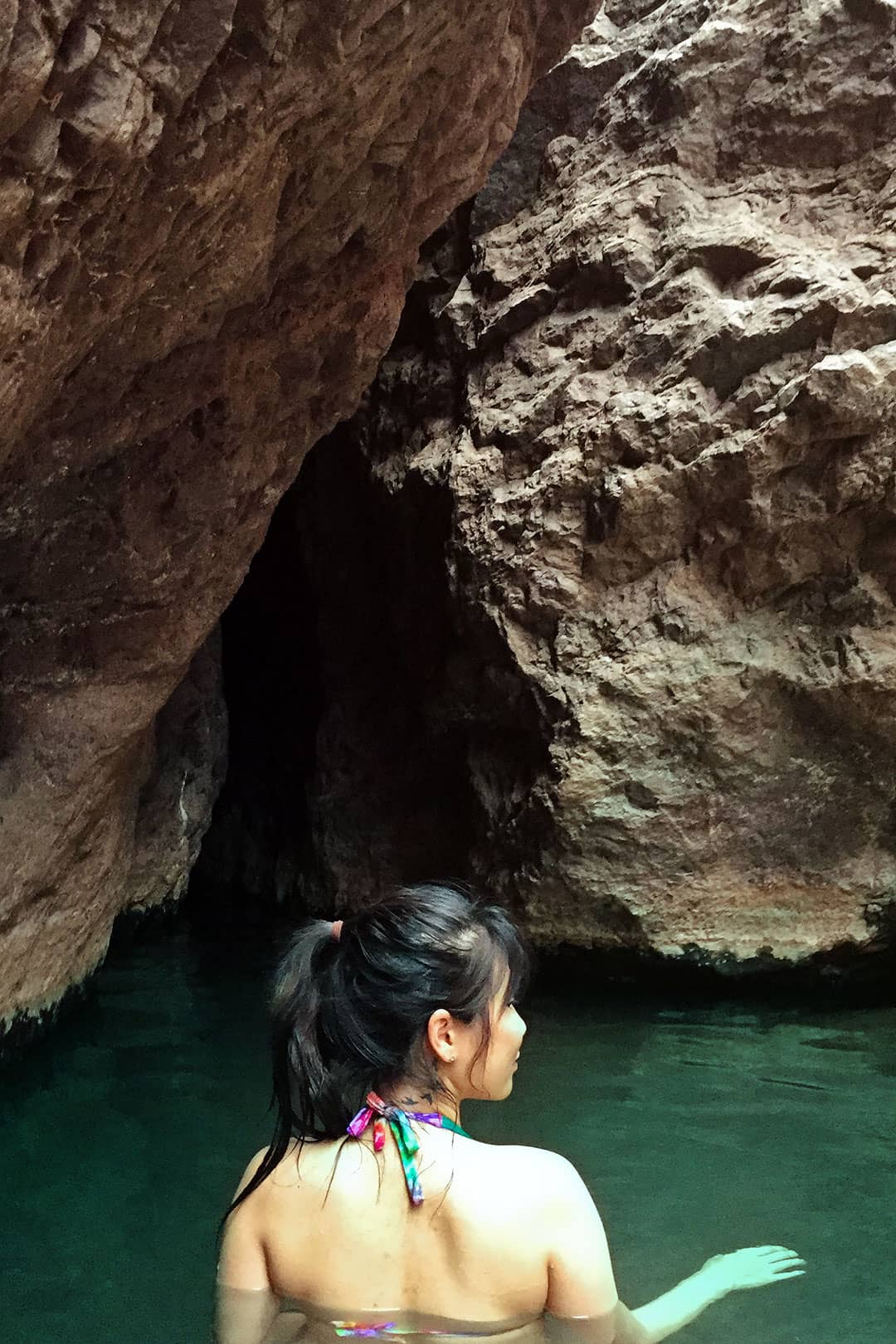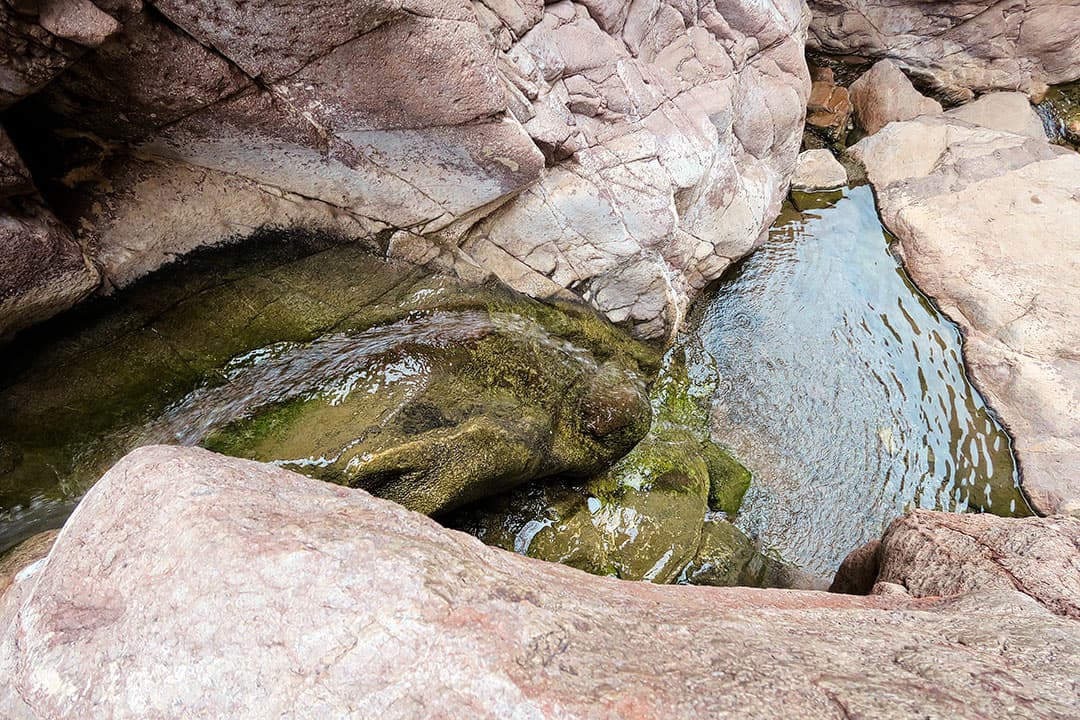 Gold Strike Hot Springs Vlog
Tips for Hiking to Gold Strike Hot Springs
Have shoes with good traction to help you when you're scrambling. These are our go-to.
When using the ropes, it's easier to go down backward.
Give yourself more time than you think you'll need. It's better to get out with extra time rather than get stranded in the dark.
Have a headlamp with you just in case you need it.
Download AllTrails+ if you want to have access to the maps offline.
Beware of Naegleria fowleri (aka brain-eating amoeba) infection, although rare. It most commonly enters via the nasal passage, so avoid getting water in your nose or putting your head underwater.
Do not hike if rain is expected. Flash floods can happen.
Watch out for snakes! We only saw a California Kingsnake (not poisonous), but we've seen rattlesnakes nearby.
Bring plenty of water (our favorite travel water bottles), at least 2L in warmer weather. We hiked in early May around sunset. It was 75 degrees F and mostly cloudy, and we shared 1L. We should have brought more water since we were dehydrated at the end.
Leave no trace. Please, please, please, take out what you bring in. We were disappointed with the amount of garbage lying around the trail.
Weekends and holidays are busy.
Don't hike alone, and let someone know where you're headed and when you're expected home.
Check out the nearby hike to Arizona Hot Springs.
Best Places to Stay Near Gold Strike Hot Springs
Have you been to Gold Strike Hot Springs? Which other hot springs do we need to check out?
Did you enjoy this post? Pin it for later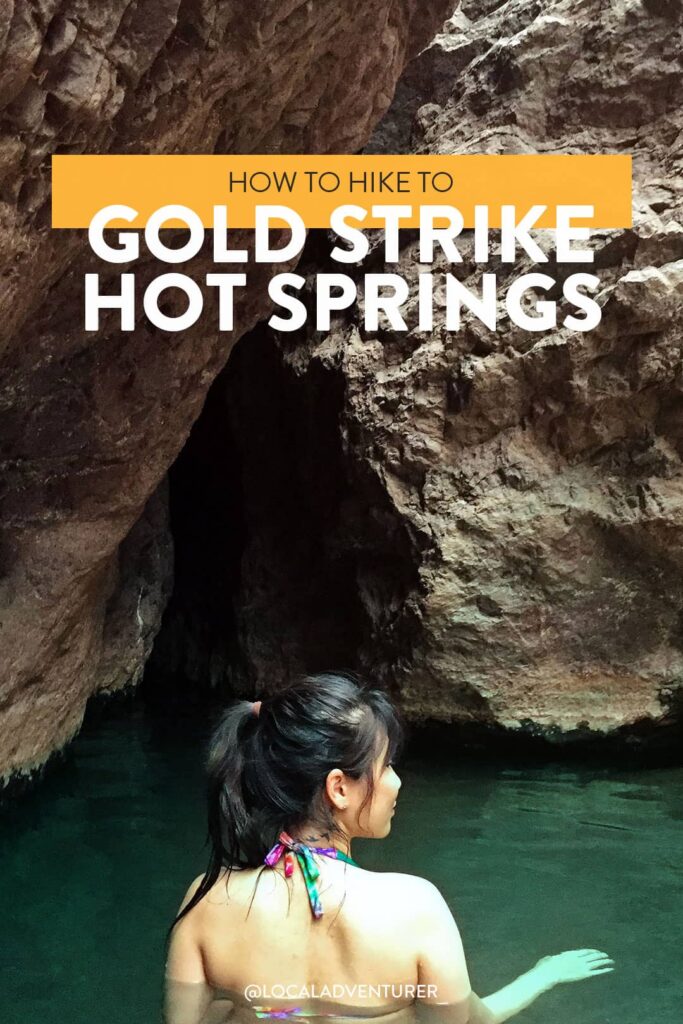 SEE MORE LAS VEGAS GUIDES
⟡⟡⟡⟡⟡
"Discovery consists not of seeking new lands but in seeing with new eyes" – M. Proust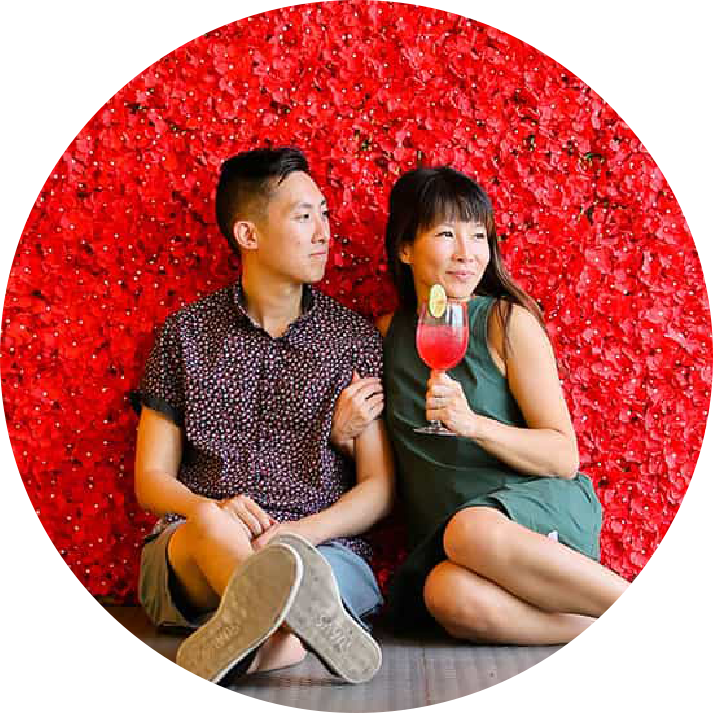 Esther + Jacob
Esther and Jacob are the founders of Local Adventurer, one of the top 5 travel blogs in the US. They believe that adventure can be found near and far and hope to inspire others to explore locally. They explore a new city in depth every year and currently base themselves in Las Vegas.
Follow on Instagram (E + J), YouTube, TikTok, and Pinterest.