The Las Vegas Neon Museum is one of the most popular attractions and photography spots in Las Vegas. People also call it the Neon Boneyard since it's where all the old vintage neon signs go to RIP.
Neon is a dying art since it's much cheaper and easier to make things with LED. The city even installed an LED sign outside, which they do not claim to be part of the actual neon museum.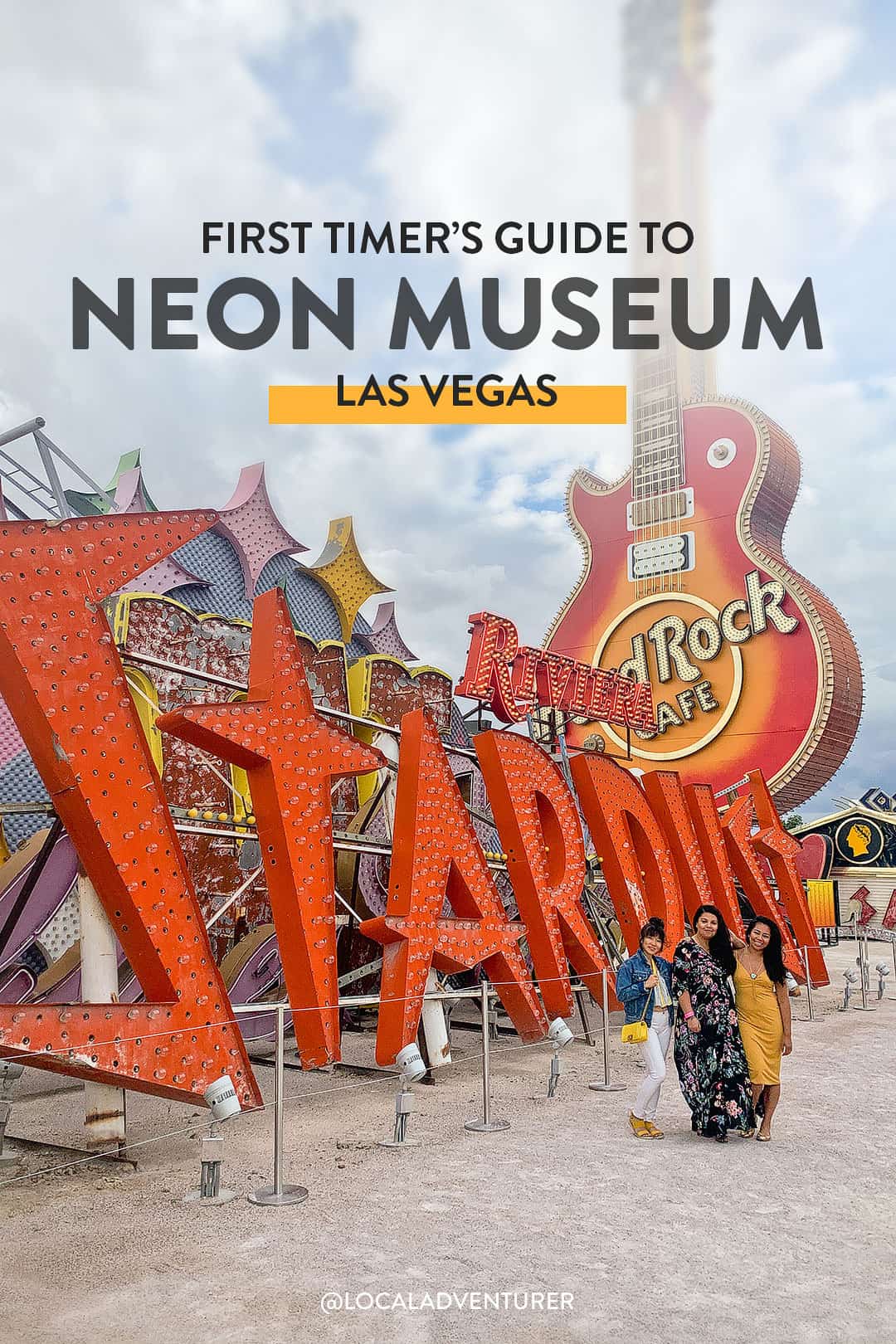 This post may contain affiliate links, where we receive a small commission on sales of the products that are linked at no additional cost to you. All opinions are always our own. Read our full disclosure for more info. Thank you for supporting the brands that make Local Adventurer possible.
Last Updated: May 25, 2021
Everything You Need to Know before visiting the Neon Museum
The museum was founded in 1996, and it focuses on collecting, preserving, studying, and exhibiting iconic Las Vegas signs.
It's a great spot to visit to get a taste of old Vegas and a popular spot for photography, whether it's influencers or wedding and engagement photoshoots. Keep in mind they have strict rules that we'll cover below.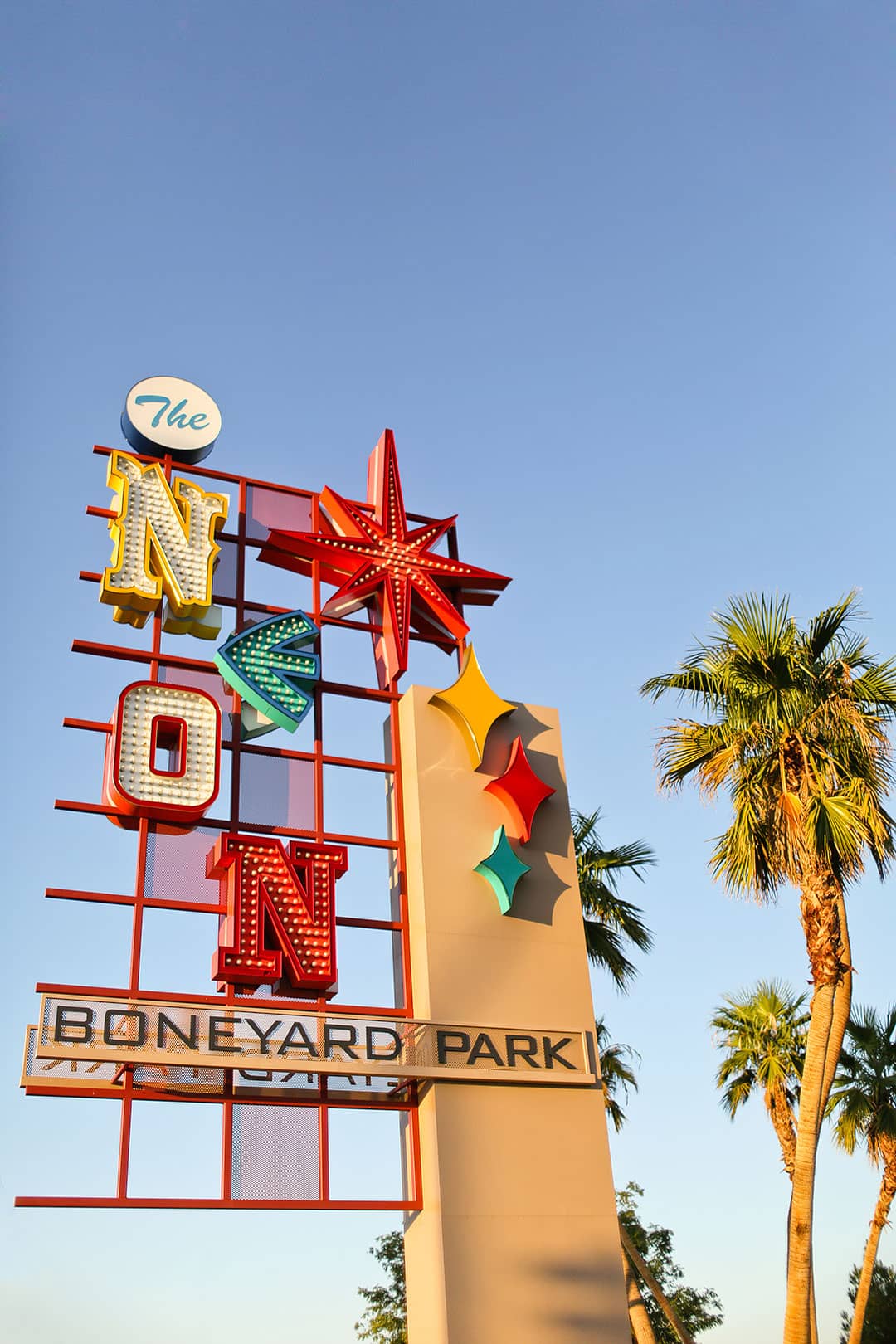 Neon Museum Address and Hours
770 Las Vegas Boulevard North
Las Vegas, NV 89101
(702) 387-6366
Neon Museum Hours:
The museum is currently open from 3-11 PM on most days.
Neon Museum Ticket Prices
There are a few different ticket options for your visit to the Neon Museum.
General Admission (3-6 PM): $20 / $16 for Locals (hour-long experience)
Guided Tours (7-10 PM): $28 / $24 for Locals (45 minute tour)
Brilliant! (8-10:30 PM): $23 / $19 for Locals (25 minute show)
Portrait Hour / Photo Walk (appt only): $50 / $35 for Locals
We've done both a guided tour in the evening where the neon signs are lit up and general admission in the daytime.
General admission allows you to free roam for an hour and take photos only with your phone, so I'd recommend that over anything else.
I would only recommend the guided tour or evening general admission if you're more there to see the signs and learn about the art of neon.
We went 5 years ago when DSLRs were still allowed, but it was still challenging to shoot. You weren't really allowed to stray from the tour.
Filming and Photography at the Neon Museum
You are allowed to take personal photos as long as you don't disrupt the tours and operations. With regular tickets, you can't bring a camera besides your phone.
If you want to shoot with a camera or shoot for editorial purposes, you must have a reservation. They typically ask for a two-week notice and will send you any prices involved based on what you want to do (prices start at $200). A reservation can be made here.
They have Photo Walks and Portrait Hour as well, which is much more affordable. This is where up to 15 hobby photographers can wander the museum with their gear and take photos. These photos are for personal use only. The cost of these photo walks and portrait hour is $50 ($35 for locals).
If you're on a tour, you are not allowed to bring a tripod nor is there even time to set one up because you have to stay with the group.
How is Parking at the Neon Museum?
Free parking is available next to the Neon Museum on McWilliams Ave.
Can I bring my own food and water?
Can I bring a backpack or large bag?
No backpacks or large bags.
The museum is outdoors so dress appropriately for the weather.
They do their best to catch you up, but if you're more than 15 minutes late, you may forfeit your place.
Are tours ever canceled due to weather?
Yes, if the weather is really bad, they will cancel the tours. They rarely cancel for rain.
There are currently 24 signs that light up! The others were lit by LED lights that change colors.
Are pets allowed at the Neon Museum?
They only allow service animals at the museum.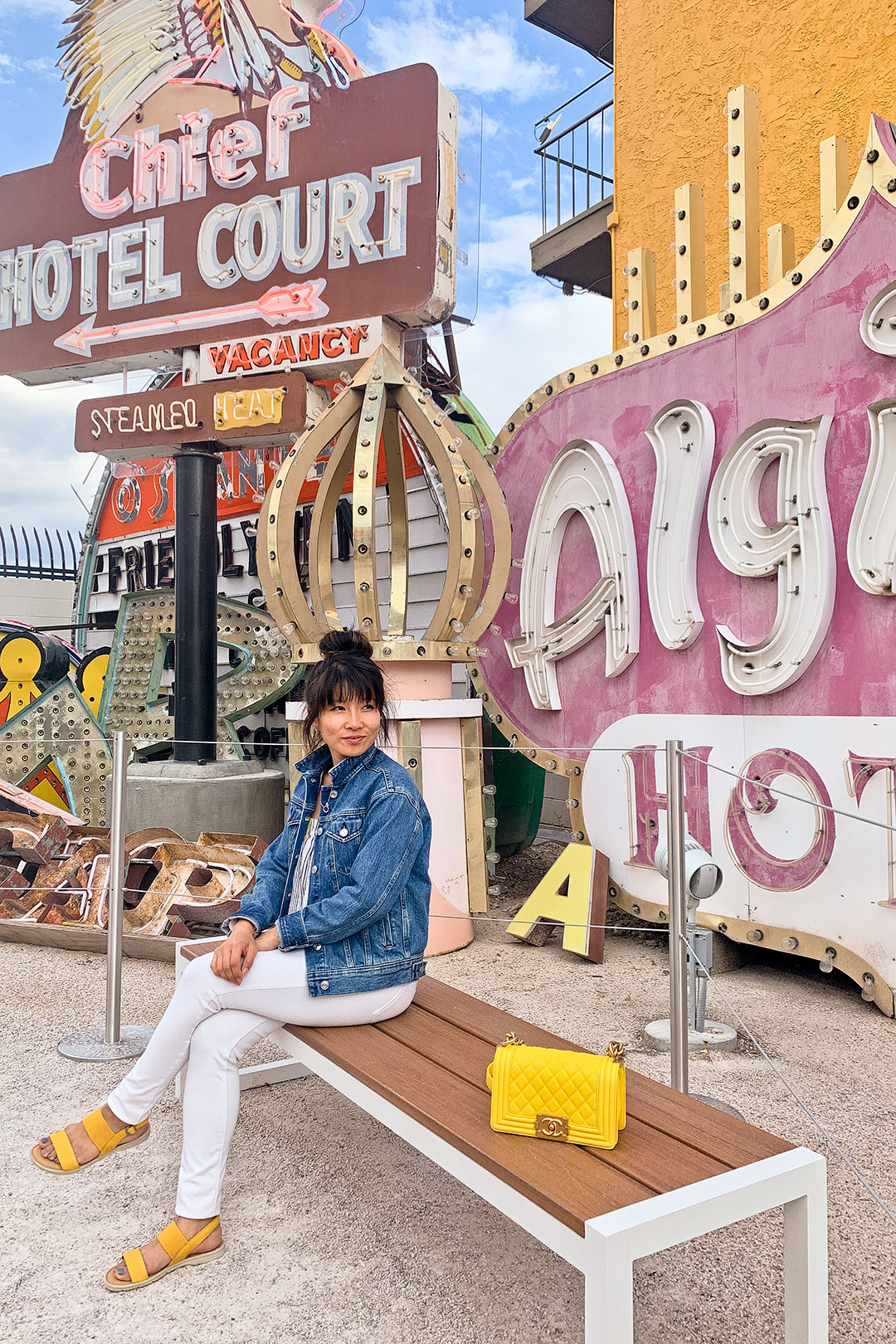 Photography Tips for the Las Vegas Neon Museum
If you want to be in the photos, we highly suggest general admission during the day or right before sunset. I was pretty much shooting at ISO 1600-2000 the entire time.
If you're on a tour, bring a wide-angle lens since you can't free roam. I could have used my 16-35mm lens instead of my 35 mm on a full-frame body. You are only allowed to bring 1 body and 1 lens, so make it count!
Have you been to the Las Vegas Neon Museum? What was your experience like?
Did you enjoy this post? Pin it for later
"Discovery consists not of seeking new lands but in seeing with new eyes" – M. Proust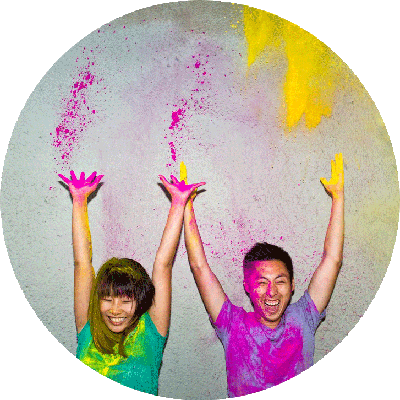 Esther and Jacob are the founders of Local Adventurer, which is one of the top 5 travel blogs in the US. They believe that adventure can be found both near and far and hope to inspire others to explore locally. They explore a new city in depth every year and currently base themselves in Las Vegas.