First time at the Bellagio Conservatory Botanical Gardens? Here's what you need to know.
The Bellagio Conservatory & Botanical Gardens is one of the iconic Vegas things to do on the Strip. We visit every season when they change their decor, and then again when we have visitors (and we get them a LOT. For some reason, people love visiting Vegas more than NY, CA, and OR combined).
Since we've been taking so many photos and videos of their seasonal displays, we decided to share them all in one place, along with our best local tips.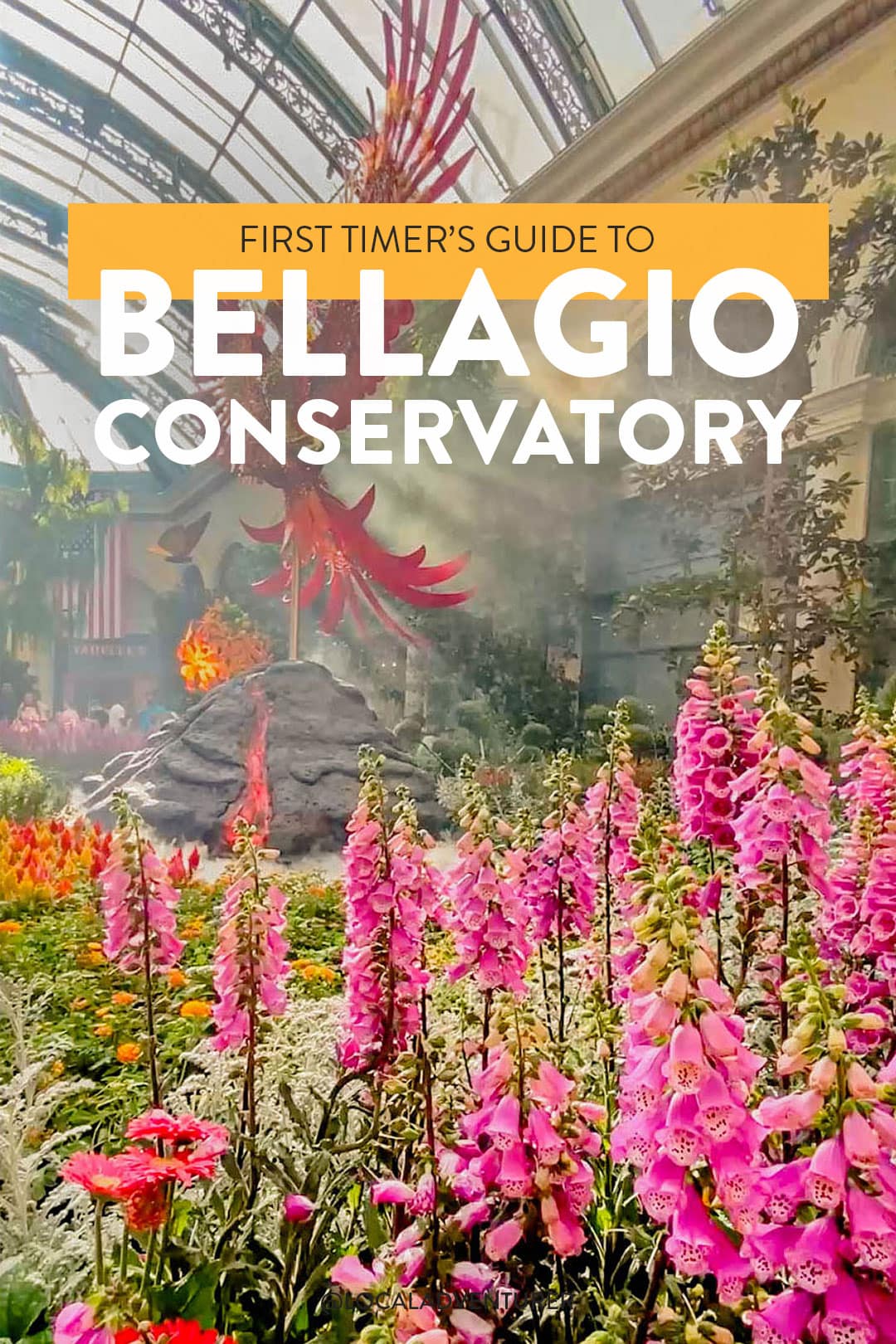 This post may contain affiliate links, where we receive a small commission on sales of the products that are linked at no additional cost to you. All opinions are always our own. Read our full disclosure for more info. Thank you for supporting the brands that make Local Adventurer possible.
Last Updated: September 26, 2023
About the Bellagio Conservatory & Botanical Gardens
The Bellagio Conservatory transforms the 14,000-square-foot space into a new imaginary world each season. I'm always impressed by how they keep all these plants alive and beautiful when I struggle with the few I have.
Bellagio has 120 gardeners alone, and then you add in the designers, engineers, and electricians, and you have a massive team.
How often does Bellagio Conservatory change?
The Horticulture and Engineering teams work on these massive displays five times a year. They also replant and repurpose the living plant materials as much as possible.
2023-2024 SEASONS
Harvest: September 16, 2023 to November 14, 2023
Holiday: November 11, 2023 to January 6, 2024
What are the DARK DAYS at the Bellagio Conservatory?
These are the days they are closed while switching to the new installations.
November 5-10, 2023
HOURS
The Bellagio Conservatory & Botanical Gardens are open 24/7 (outside of the dark days).
How much does Bellagio Garden cost? Is Bellagio Conservatory free?
It is free to enter the Bellagio Conservatory and Botanical Gardens.
See Related: 25 Free Things to Do in Las Vegas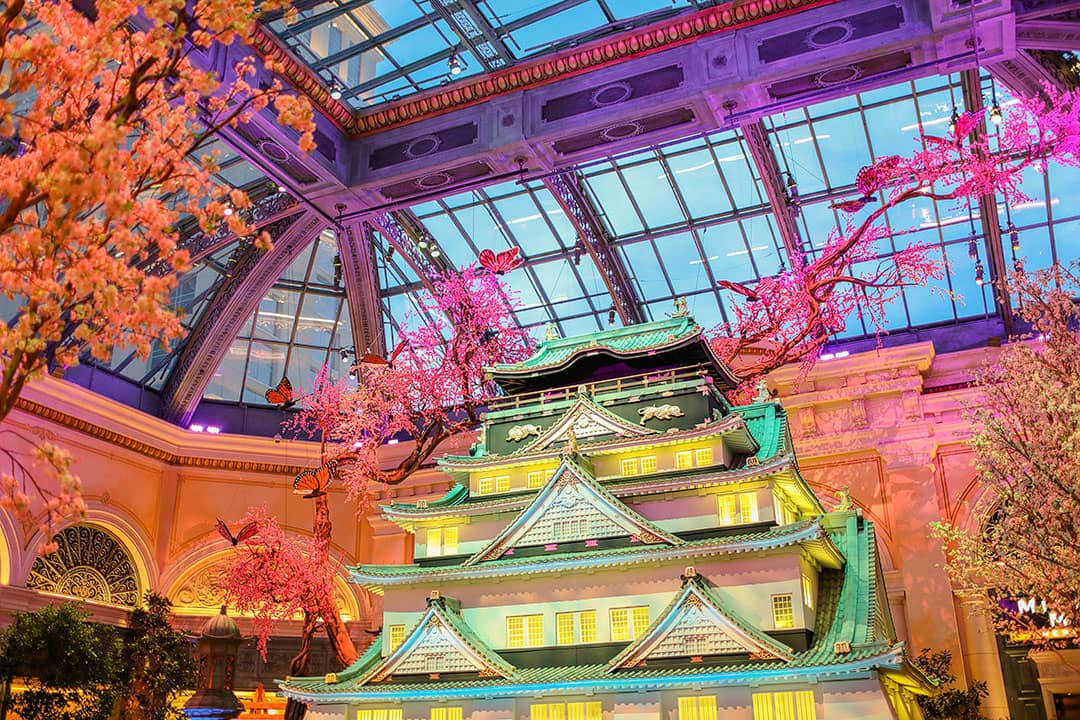 Where is the Bellagio Conservatory & Botanical Gardens?
The Bellagio Conservatory & Botanical Gardens is easy to find. The lobby and front desk will be to your left as you go through the main entrance. You'll pass under the Chihuly glass art sculpture on the ceiling and keep going straight. There will be an opening in front of you marked by a vast 50-foot glass ceiling. That entire area is the Bellagio Conservatory & Botanical Gardens.
Bellagio Hotel & Casino Address:
3600 S Las Vegas Blvd
Las Vegas, NV 89109 (map)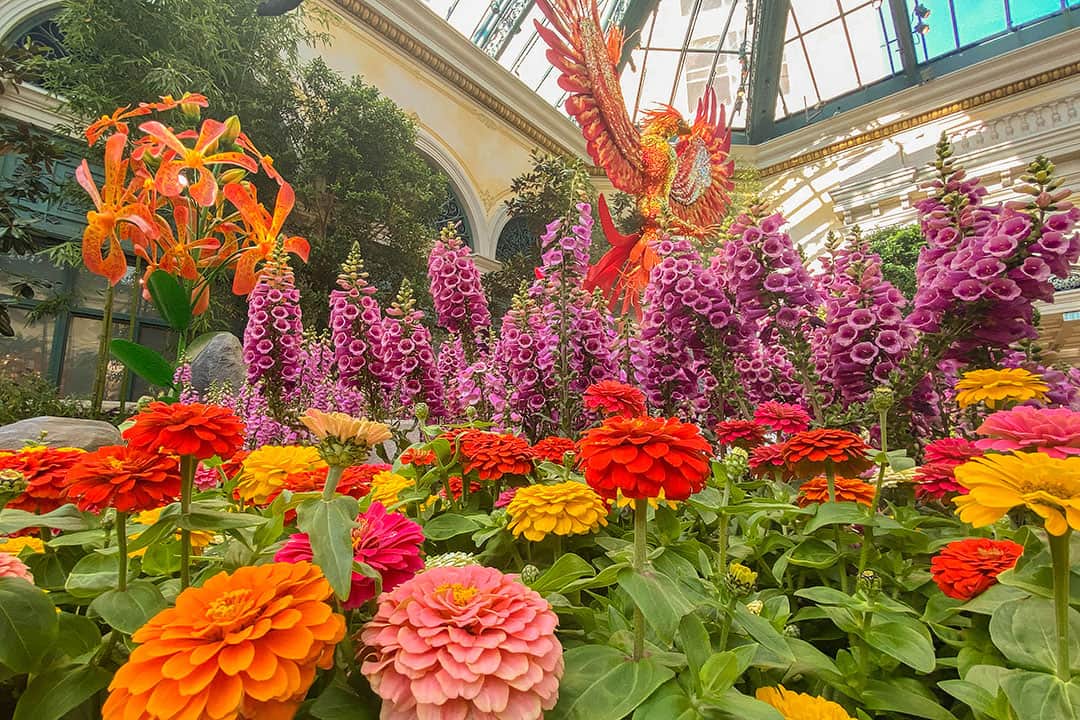 Recent Installations
Fall / Harvest Installation 2023 – Enchantment: THe Magic of Fall
September 16 to November 4, 2023
The 2023 features a journey through storybook scenes. Each display is filled with playful creatures and beautiful floral creations. You'll find an enchanting workshop where fairies work, an oversized Monarch butterfly, a giant crescent moon, and even a 25-foot-tall fairy.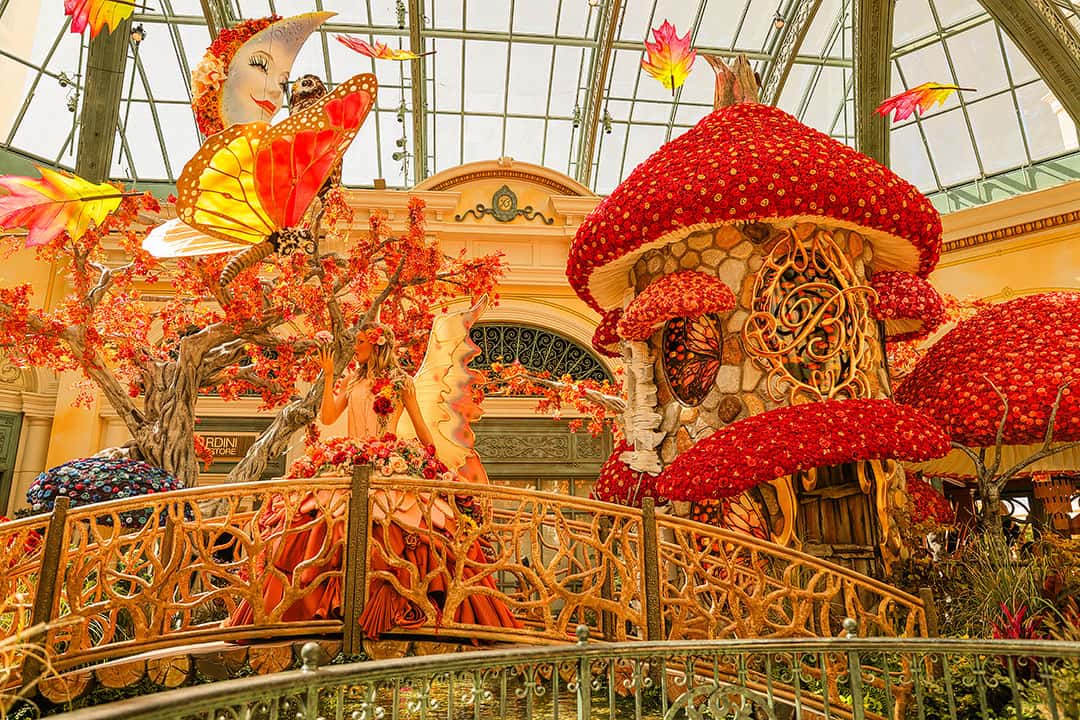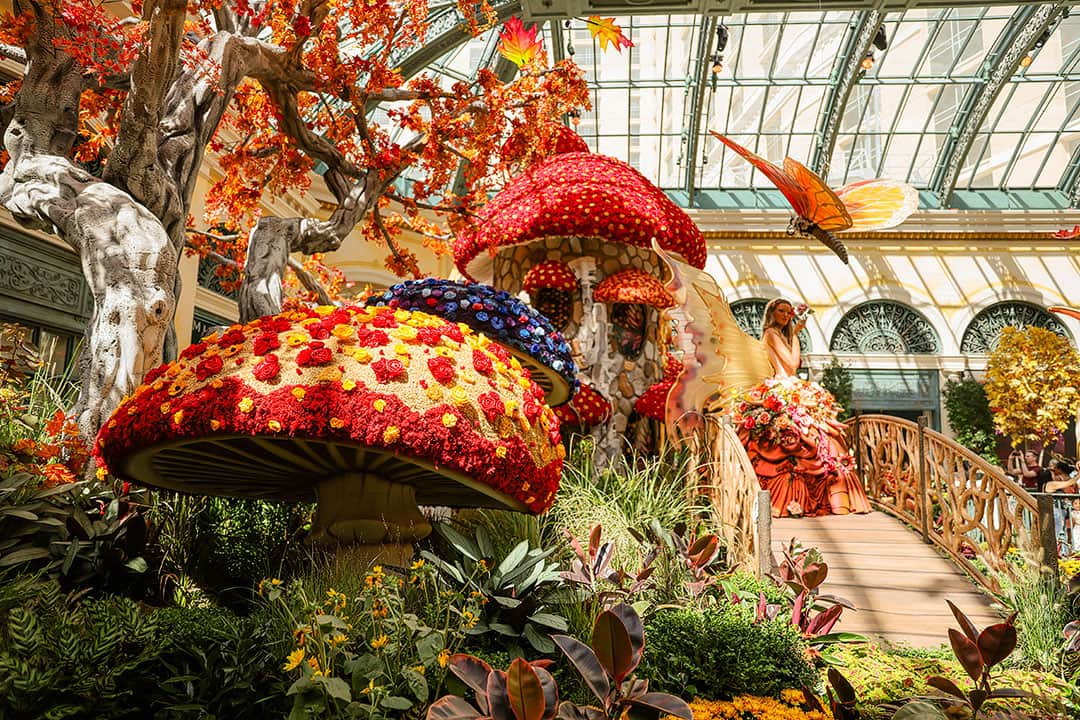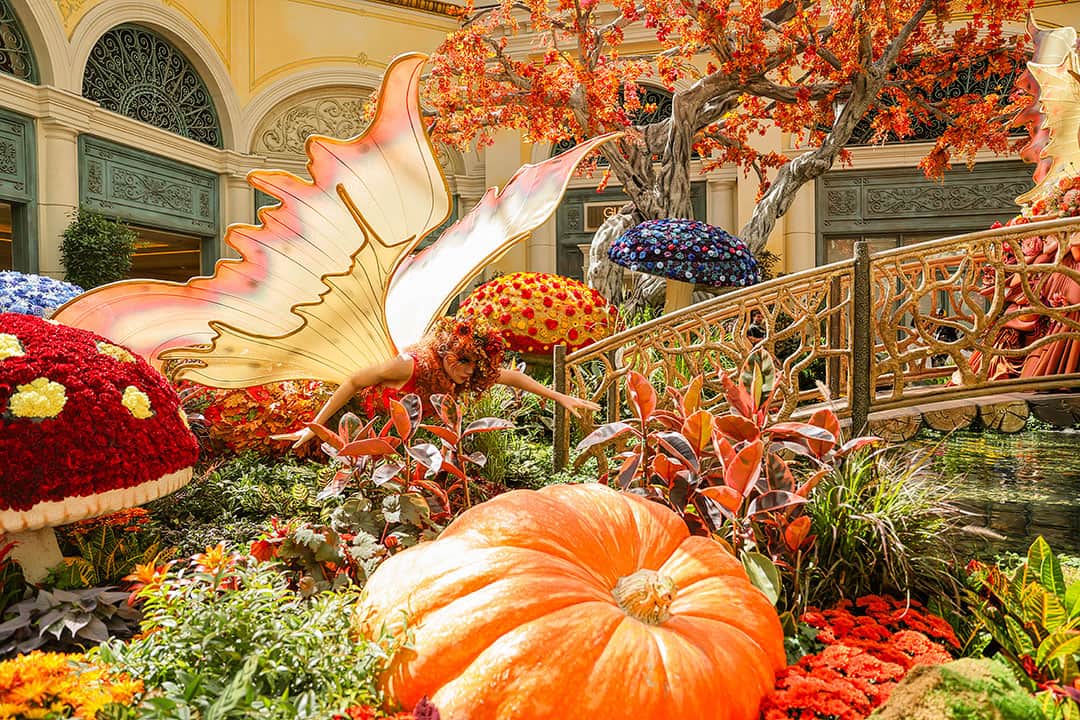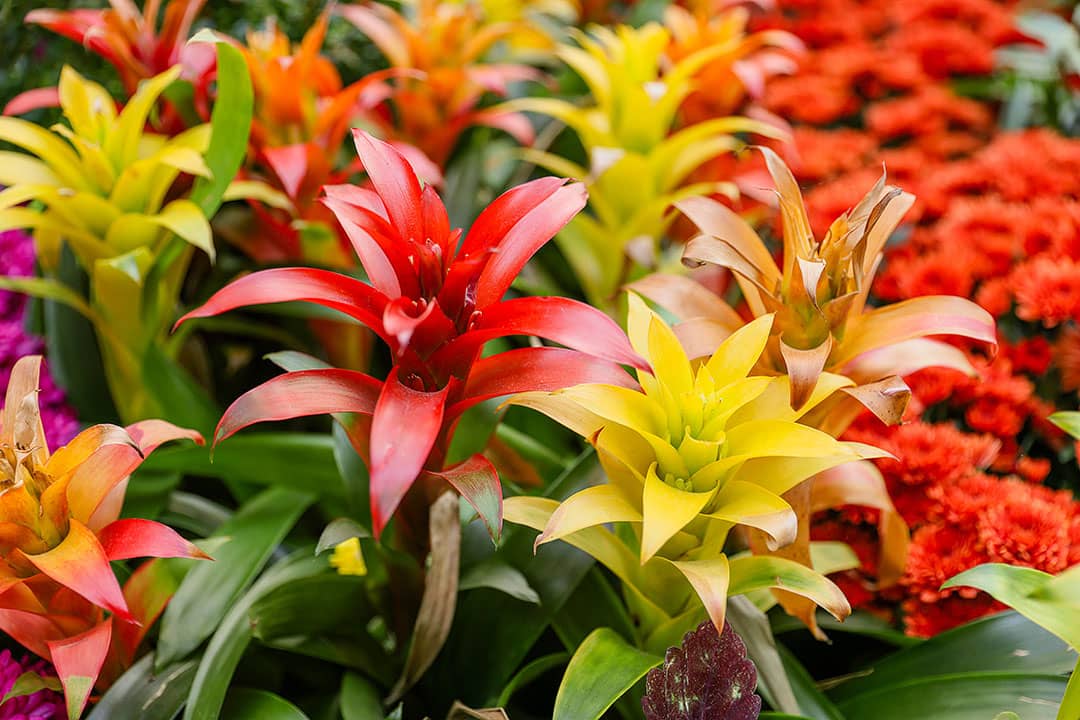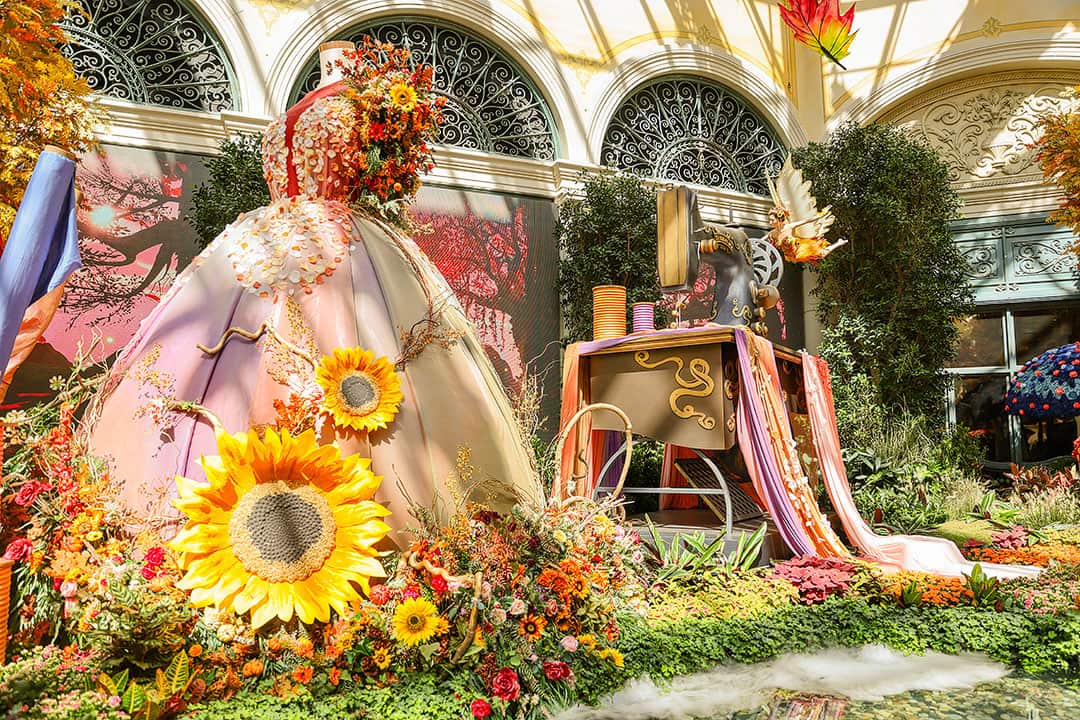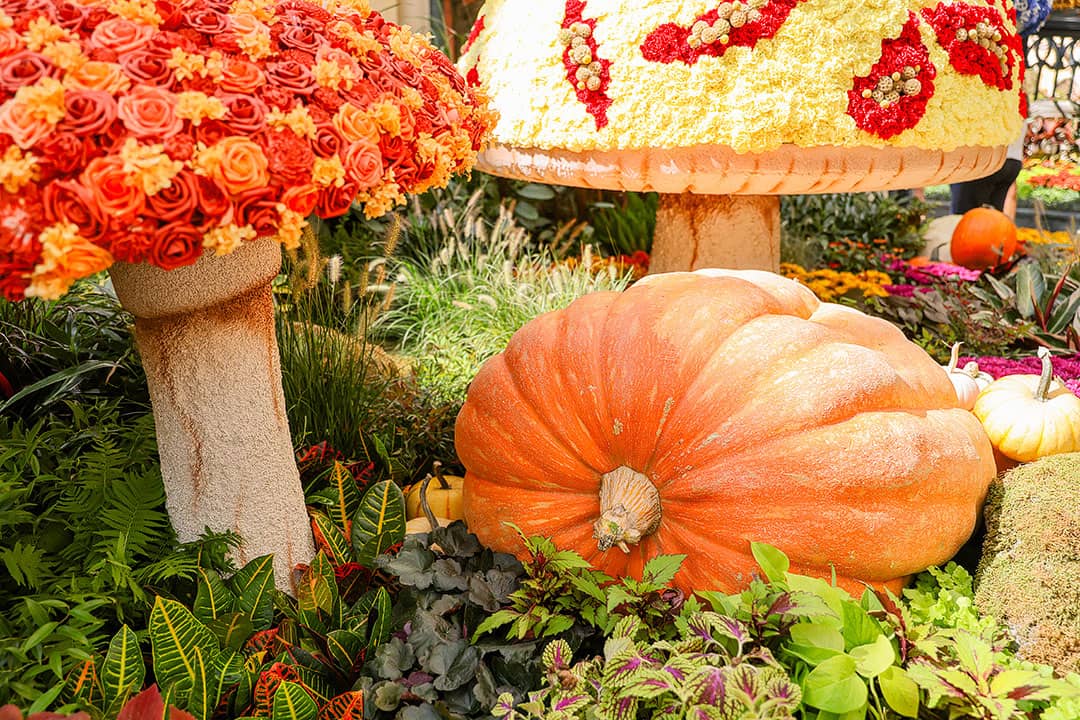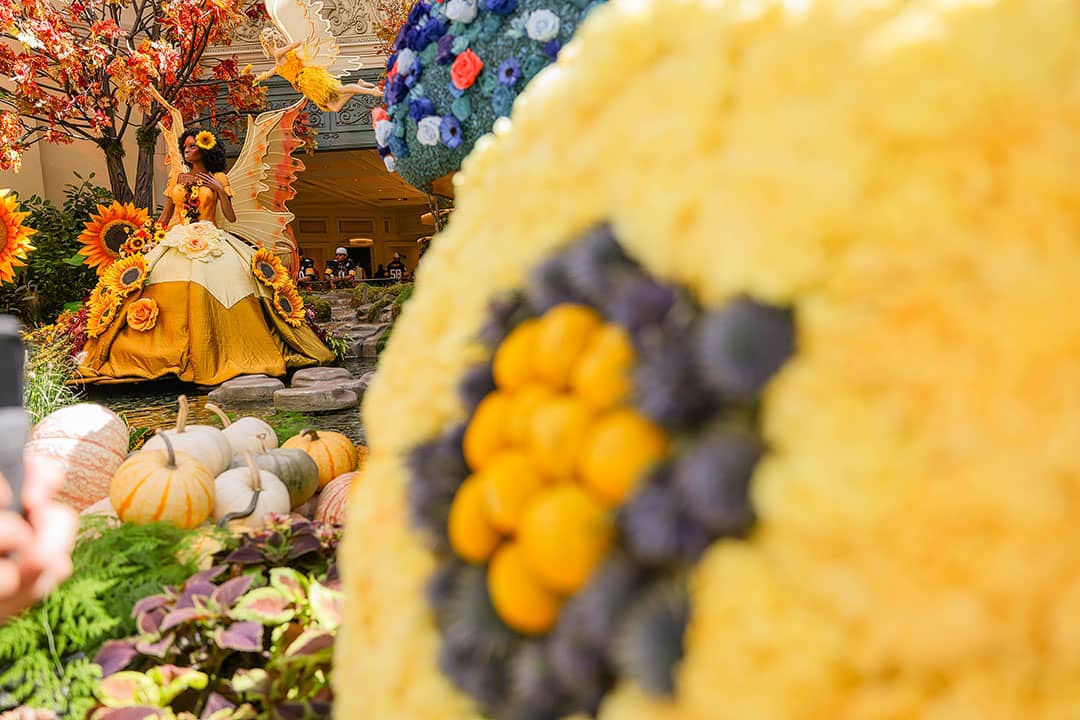 Summer Installation 2023 – The Grandeur of Nature
May 27 to September 9, 2023
The 2023 Summer Display, also known as The Grandeur of Nature, is the perfect place to be this season to escape the heat. It features a stunning array of flowers and plants and a 28-foot-tall sculpture of Mother Nature's hands. The display is a celebration of the beauty and diversity of nature, and it is open to the public through September 9.
By the numbers:
20,000 preserved roses make up the flowers held by hands in West Bed
15,000 succulents on East Bed succulent wall
11,541 potted plants and flowers
10,800 purple and white blooming branches on wisteria trees
2,000 fresh carnations in pansy flowers under hummingbird (30,000 total across the display)
2,000 black and white ostrich and rooster feathers on butterflies
1,100 pounds of moss
80 artists, horticulturists, and engineers used to create the summer display
28-foot-tall sculpture of the hands of Mother Nature in West Bed
23-foot-tall mythological-like figure in North Bed
18-foot-tall ethereal goddess in South Bed
11 butterflies throughout the display
2 hummingbirds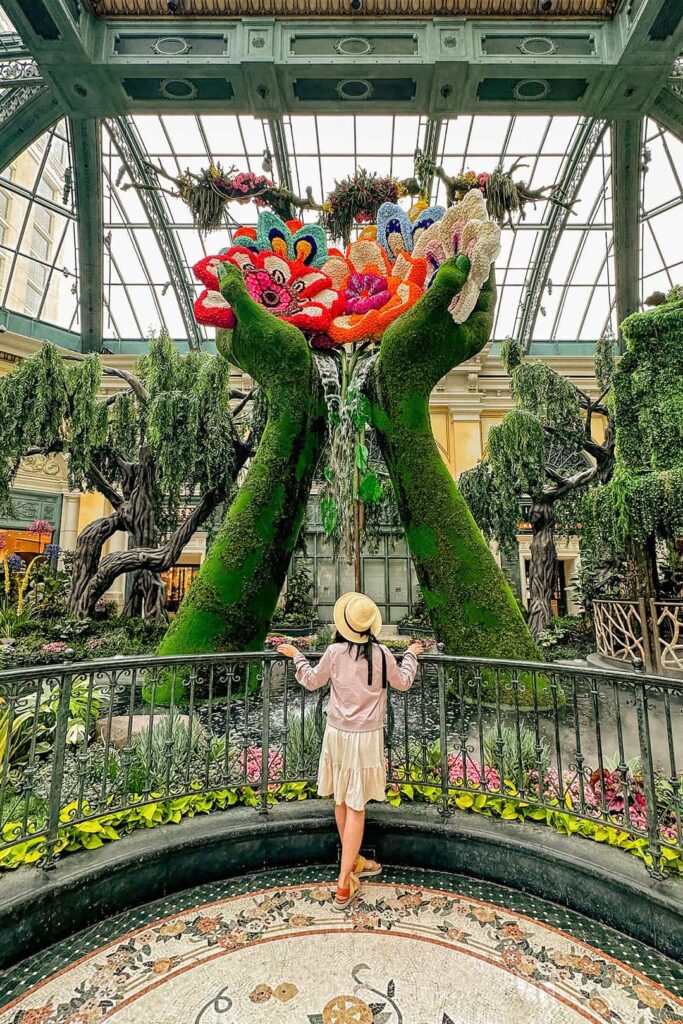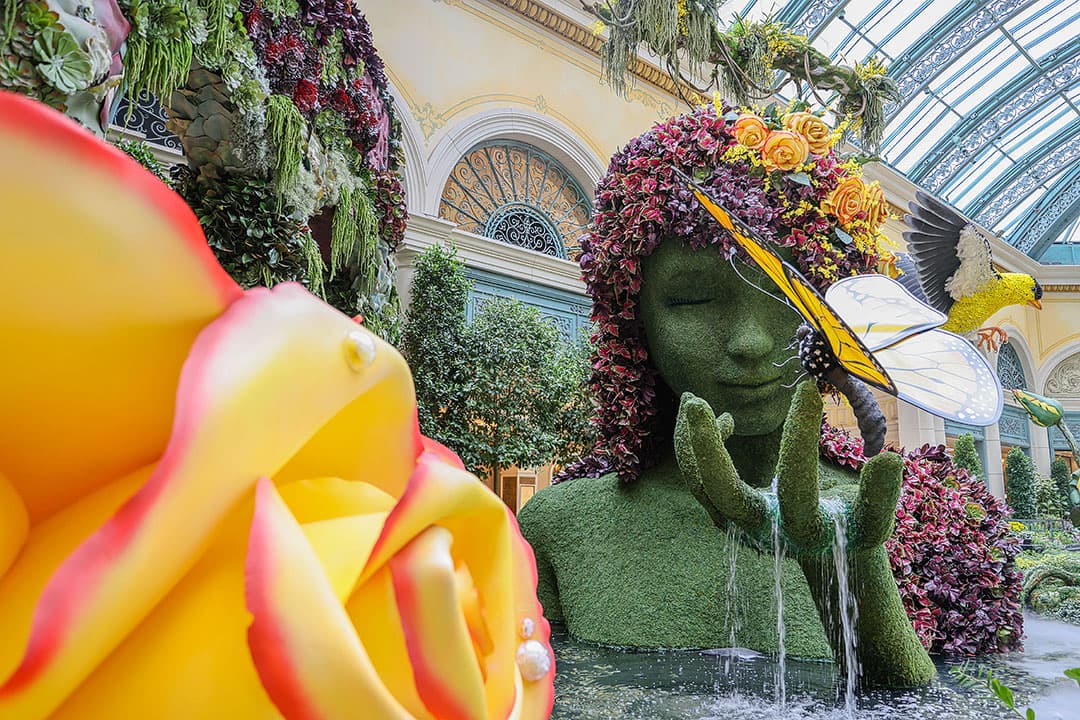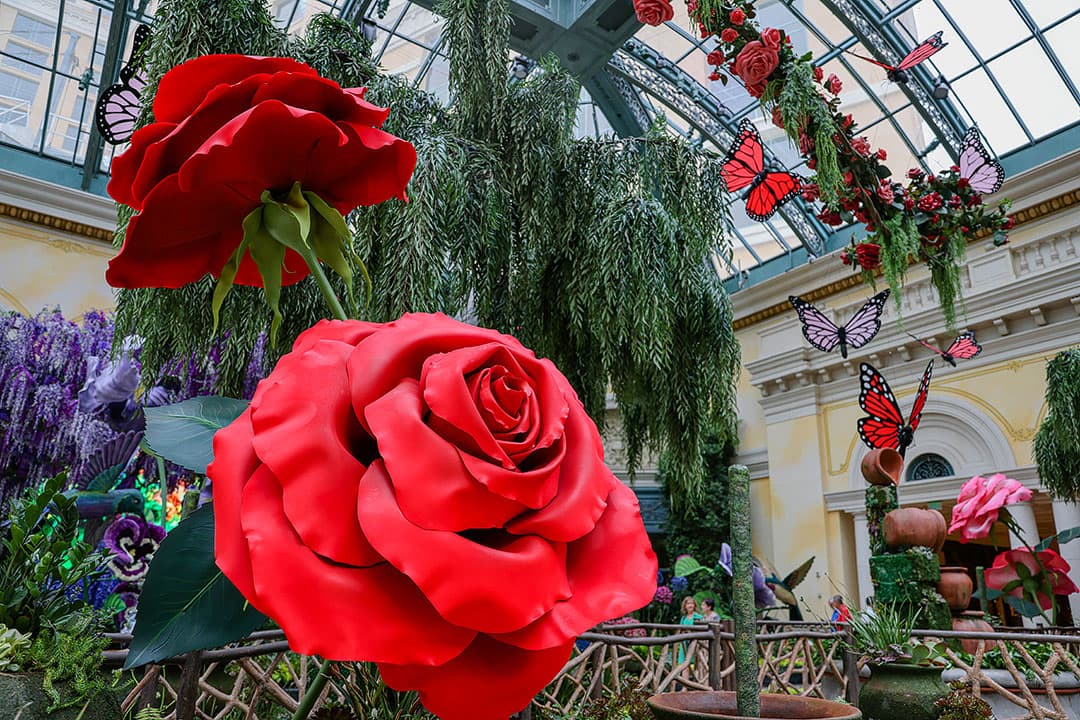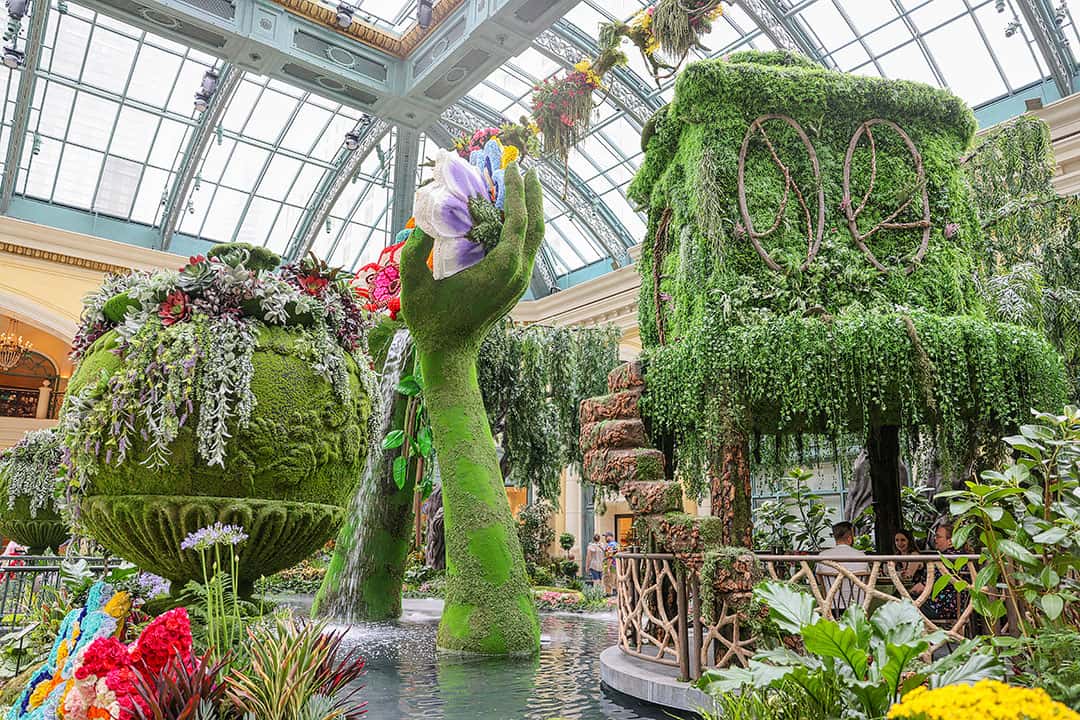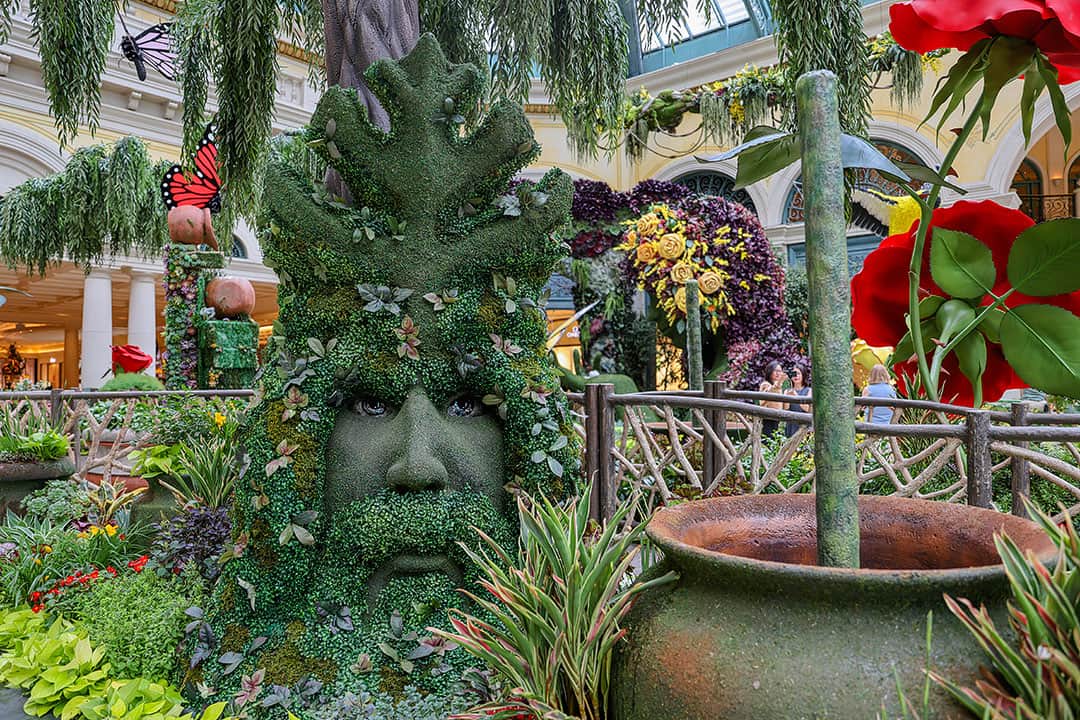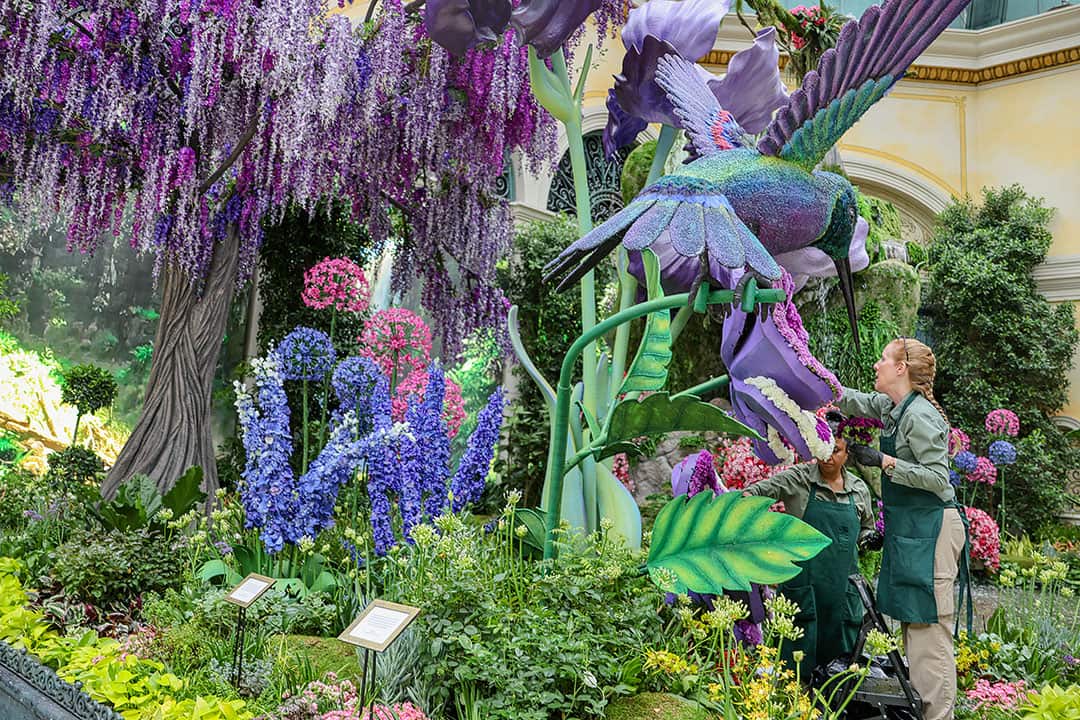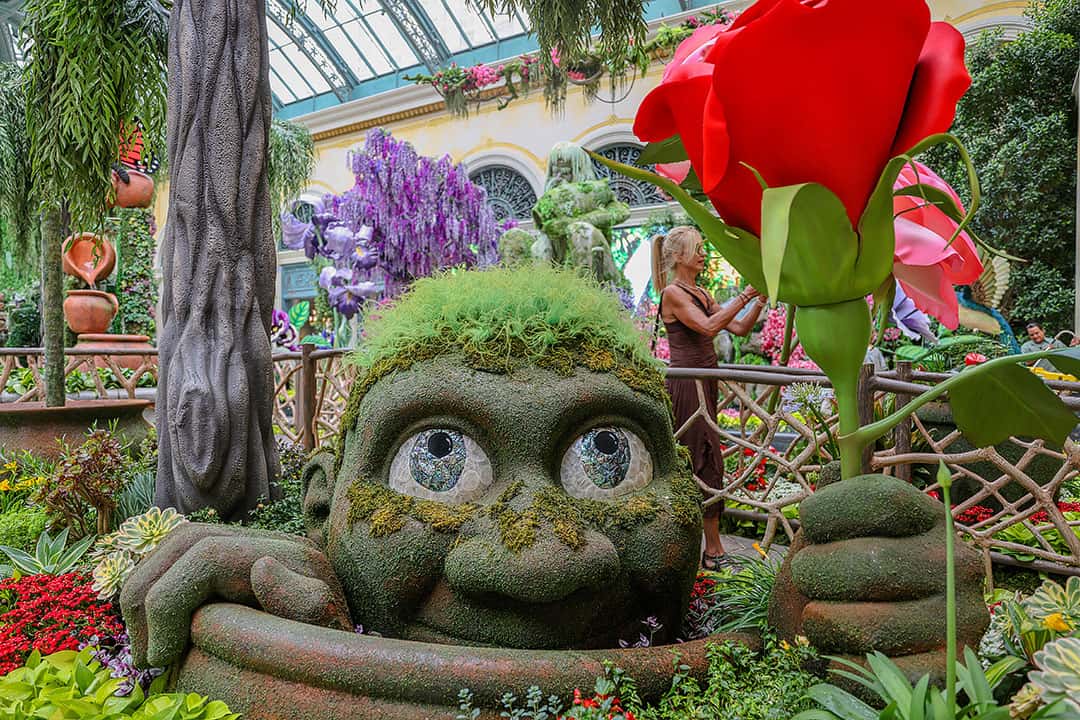 Spring Installation 2023 – Garden of Love
March 11 to May 20, 2023
The 2023 Spring display, also known as the Garden of Love, is the perfect place to be this season. With over 11,000 stunning plants and flowers on display, the Bellagio Gardens will transport you to a magical springtime wonderland. The pièce de résistance is the Tunnel of Love! This massive heart-shaped tunnel measures 20 feet tall and 20 feet across at its widest points.
By the numbers:
125,000: Individual spring blooms in floral garlands
24,000: Roses on the "Tunnel of Love" heart arches
11,541: Potted plants and flowers
8,000: Pounds of the South Bed marble gazebo
7,800: Purple and white blooming branches on the wisteria trees
5,200: Square footage of boxwood hedging in the spring display
3,000: Hand-applied feathers on the peacock
320: Orange and citrus fruit in the North Bed trees
80: Artists, horticulturists, and engineers created the spring display
25: Bellagio "B" letters in the display
16 feet: Height of twin cherub sculptures
2: Colossal swans
1: Dream boat with a champagne presentation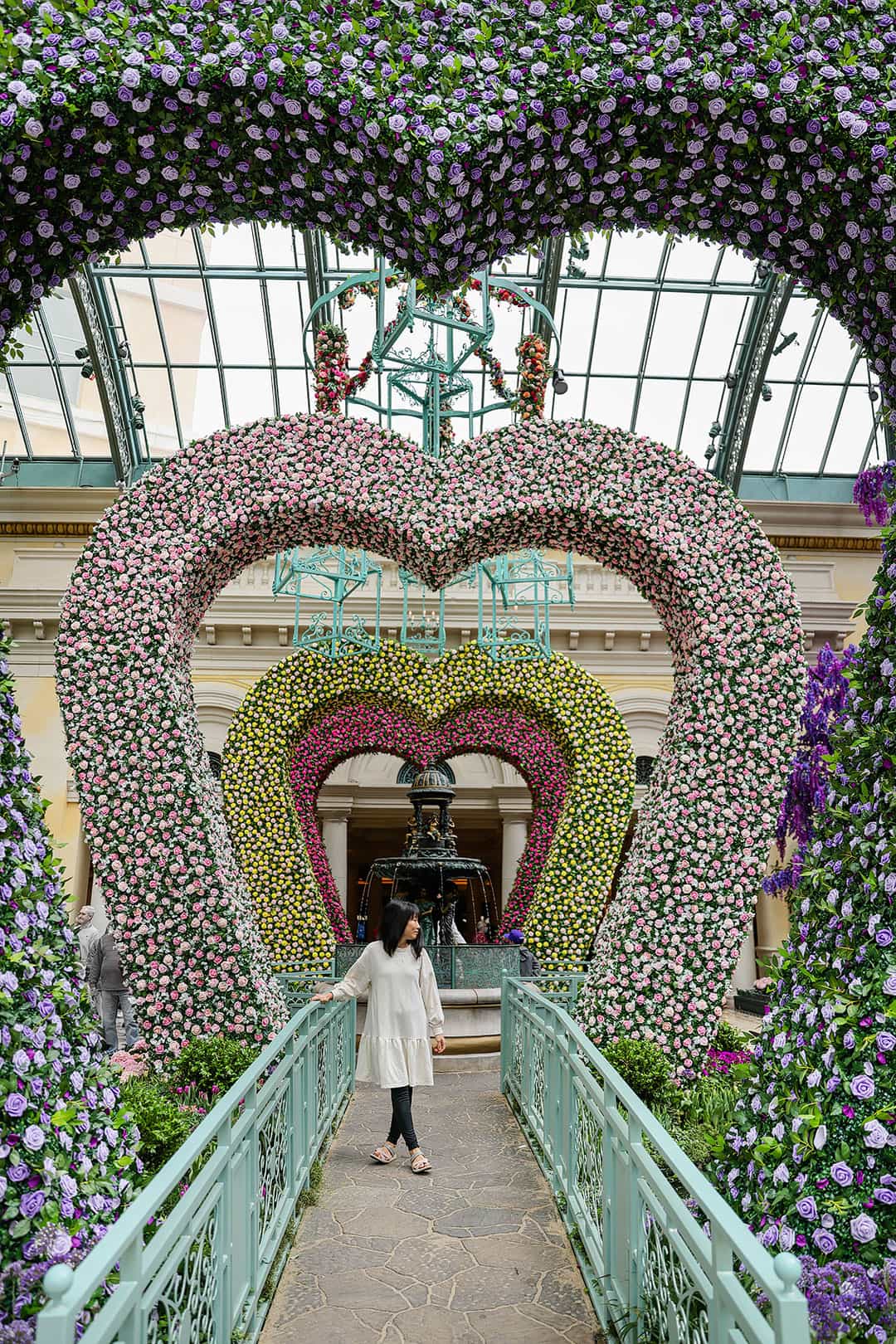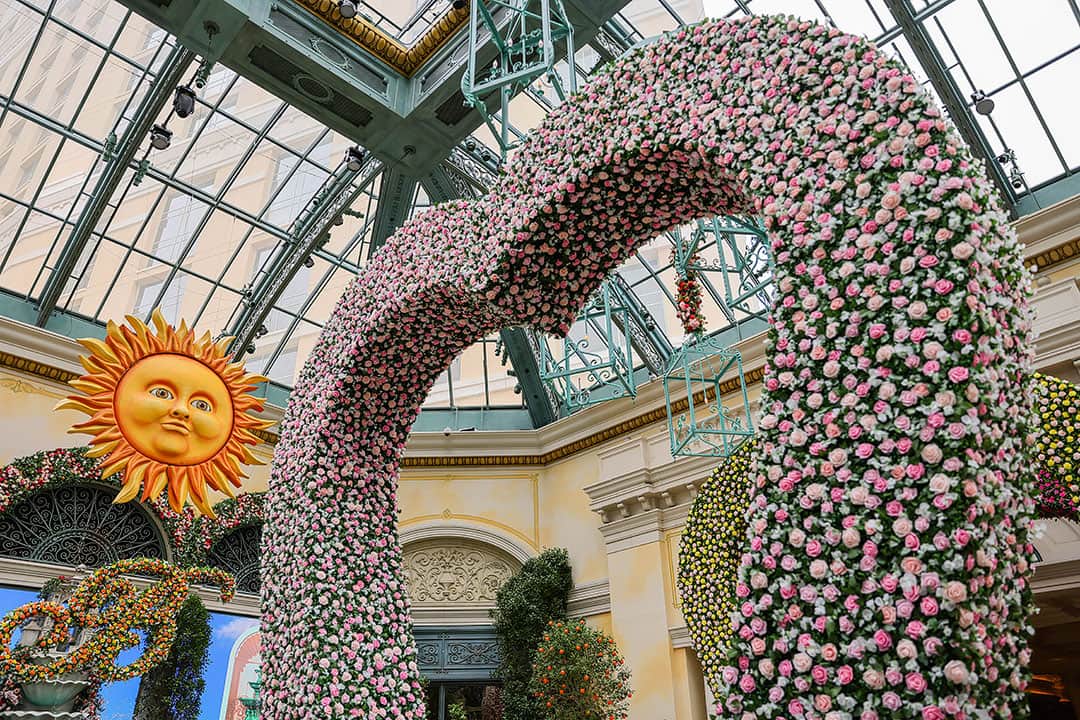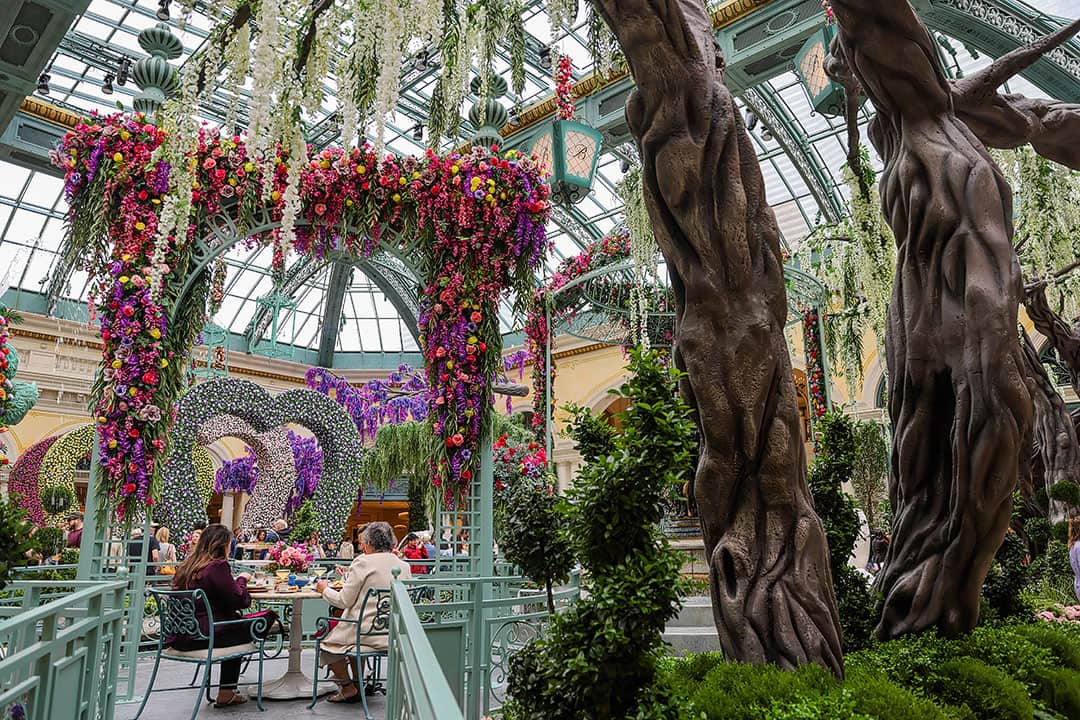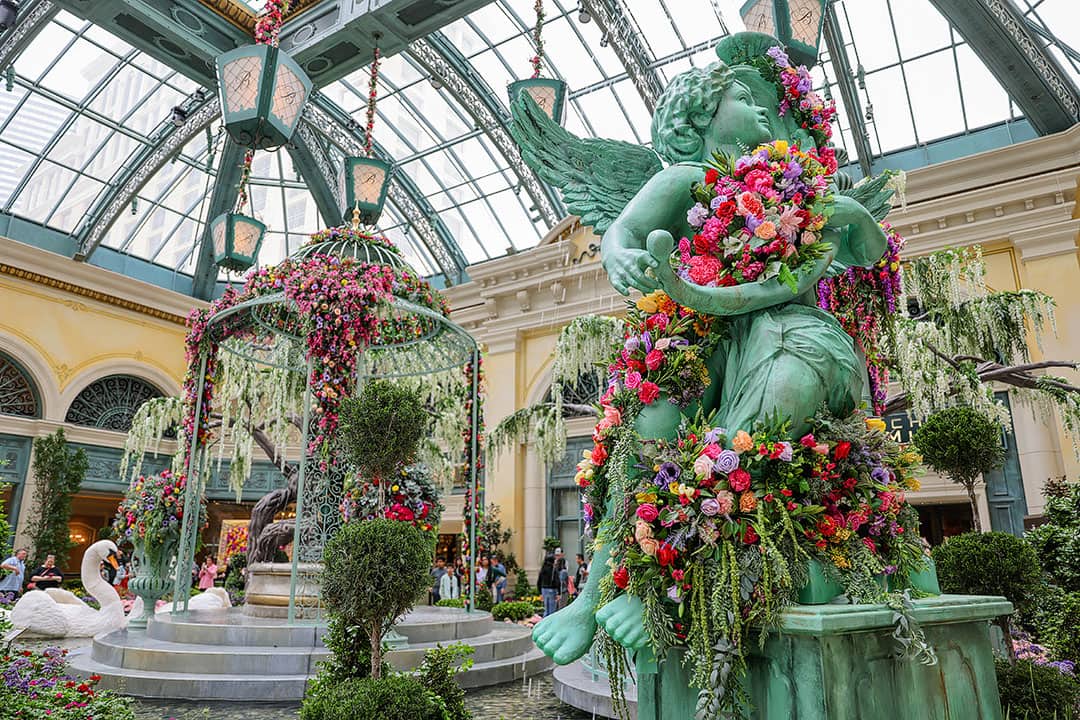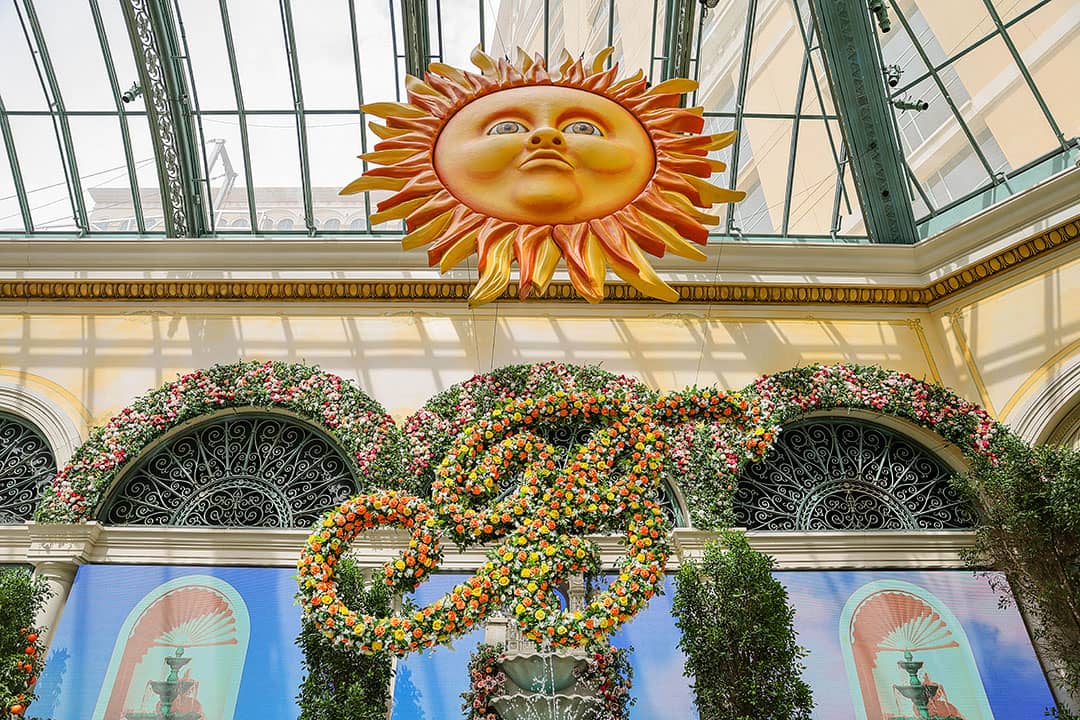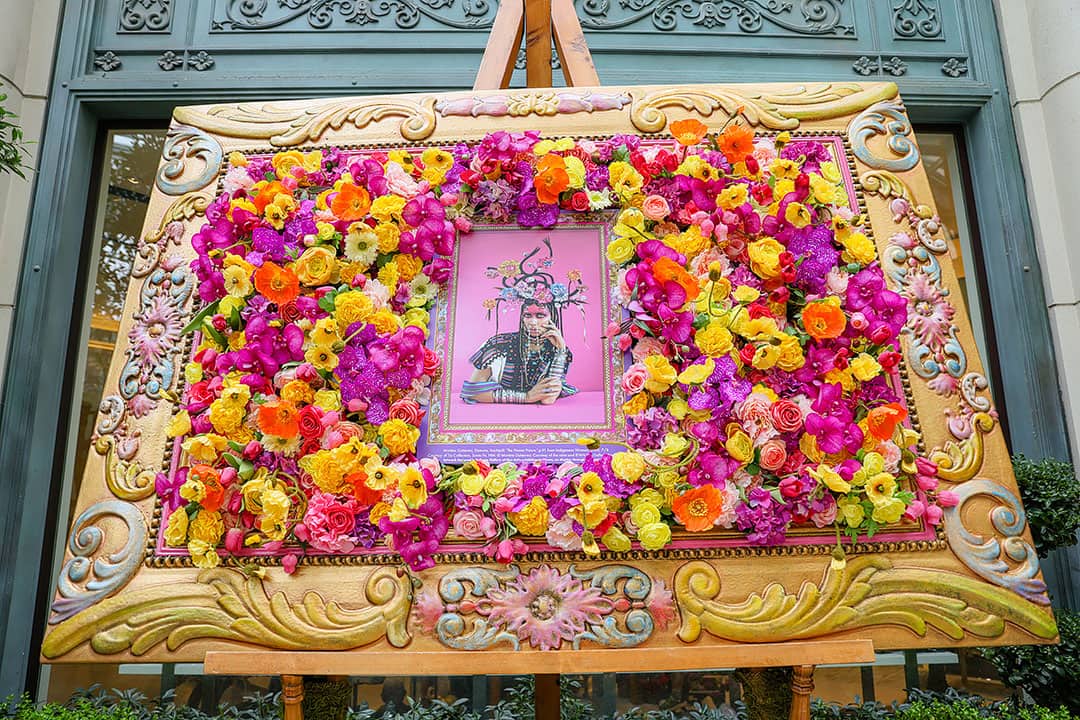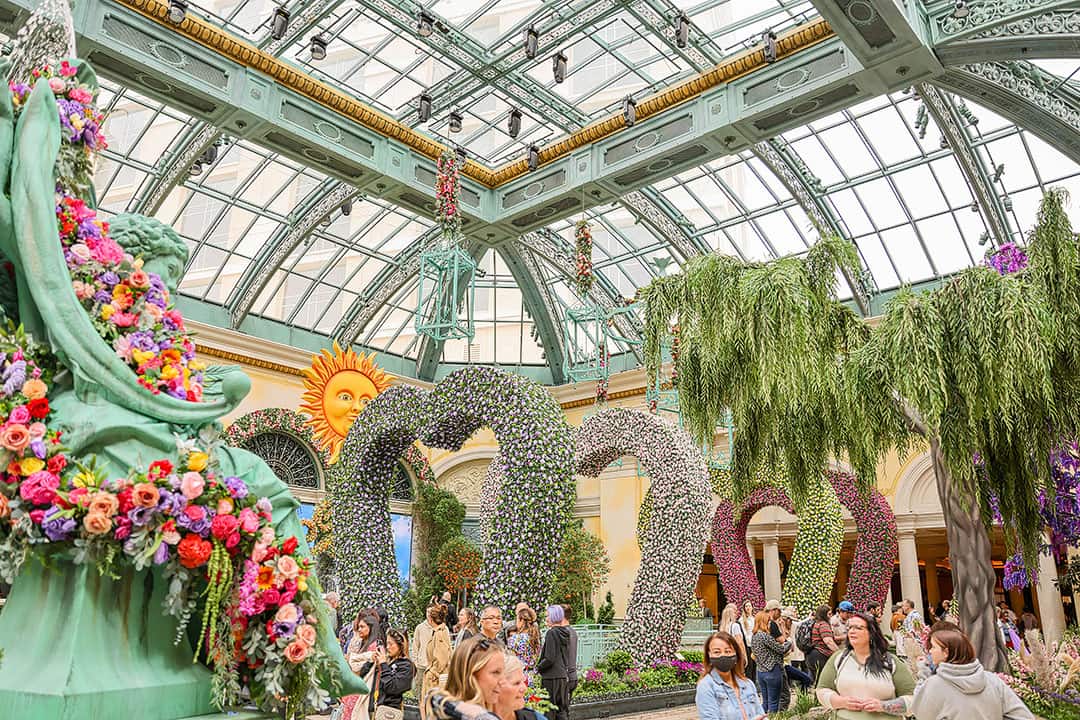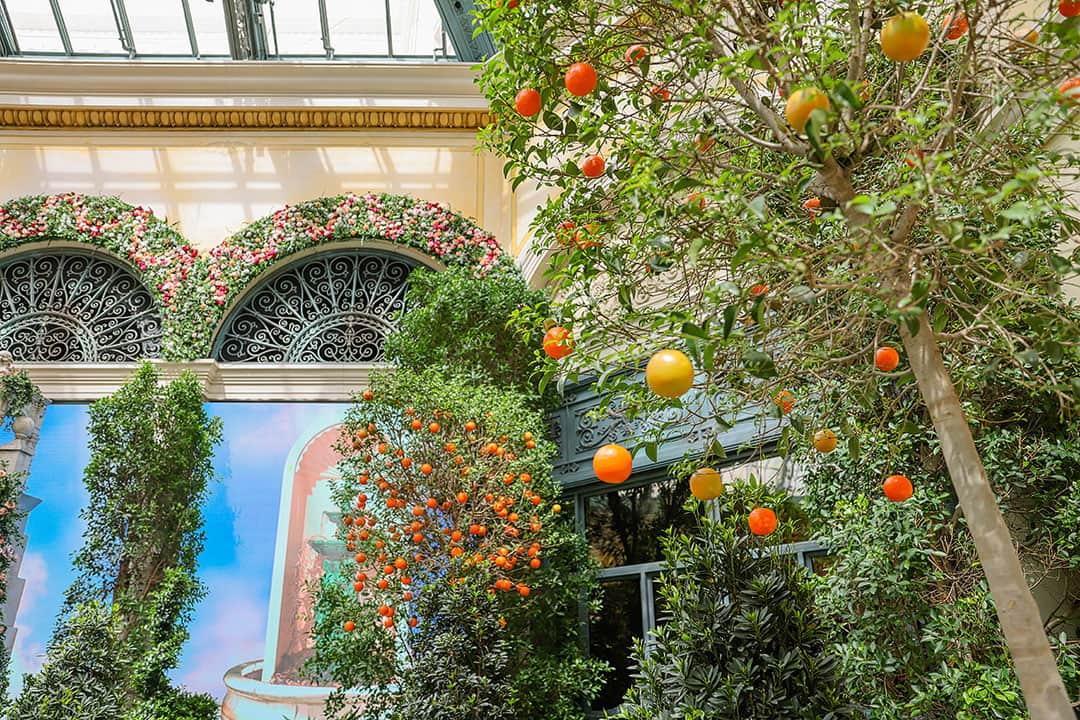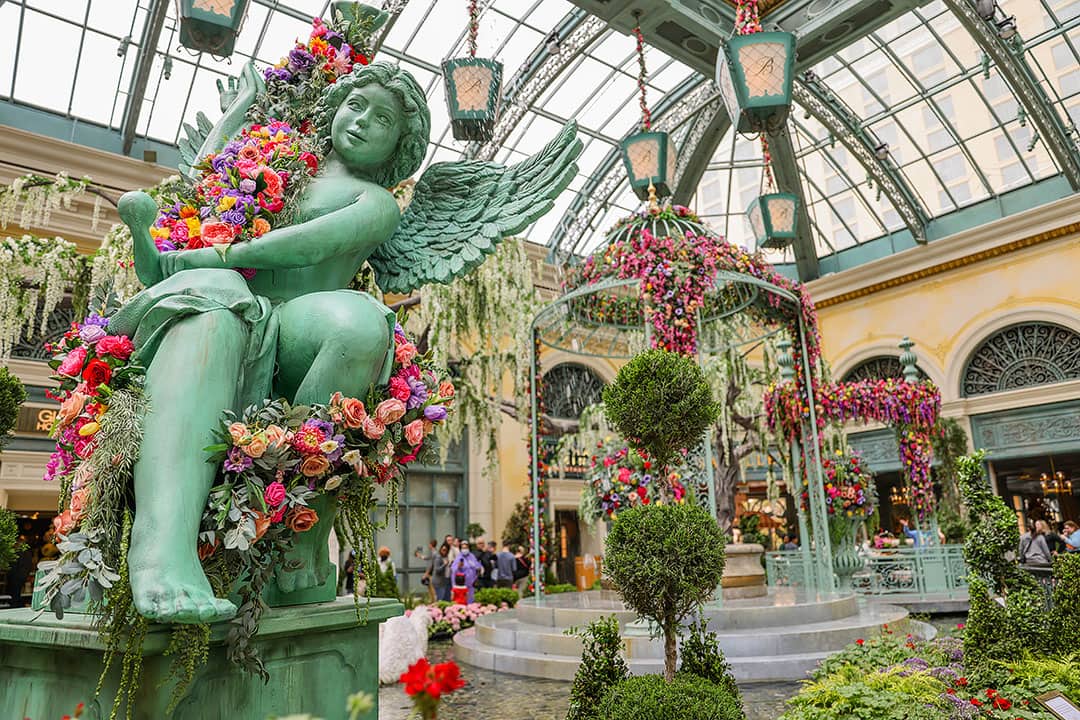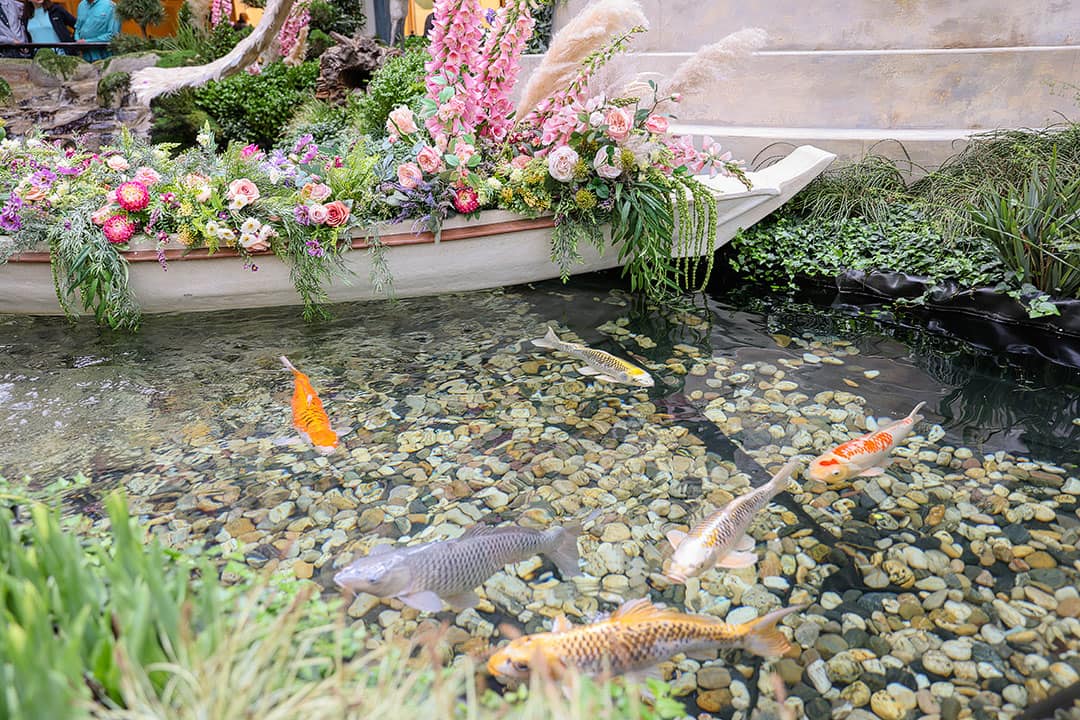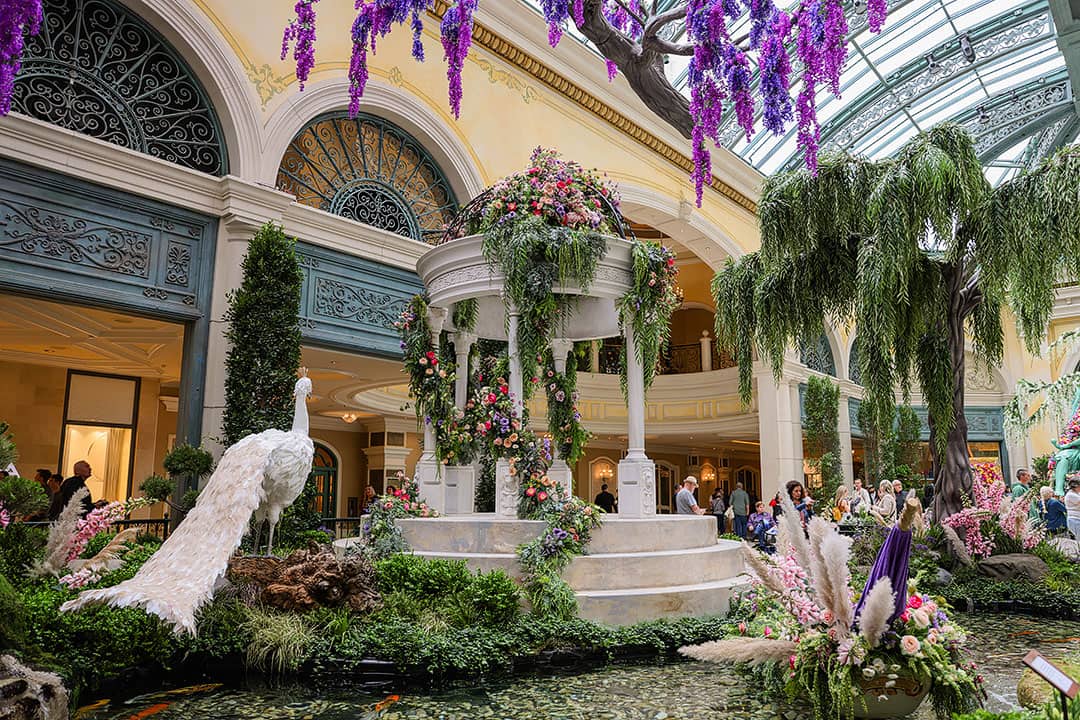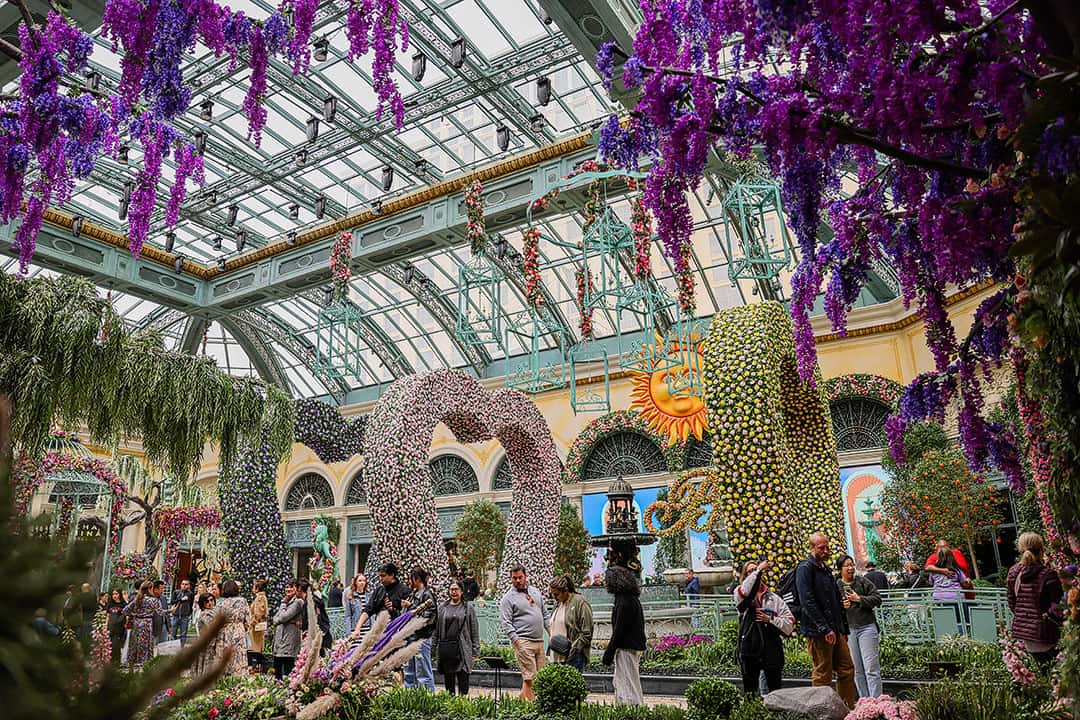 January 10 to March 4, 2023
The 2023 Lunar New Year display is called 'Year of the Rabbit' and features a massive 32-foot high medallion, a huge glowing moon, and more. They focused on creating a beautiful space of tranquility and cultural enlightenment. Learn more by reading the placards throughout the exhibit.
By the numbers:
45,600: Flowers used to create the topiary children throughout the show
10,000: Jewels on the Year of the Rabbit Medallion
6,500: Plants on display throughout the exhibit
1,065: Cherry blossom branches on the South Bed tree
88: I-Ching coins on the gold money tree
70: Koi fish in the North and South Beds, some second and third-generation fish that were born in the Conservatory
56: Cloisonne-style cherry blossoms
32 feet: Height of the Year of the Rabbit Medallion
14 feet: Diameter of the Jade Rabbit Moon
17 feet: Height of Caishen, God of Wealth
12: Number of rabbit representations in the display
4: Number of hanging jade talismans created with 3D printers
4: Ding Vessels
2: Red-crown cranes made of botanical materials
1: Birdcage with live zebra finches
1: Book of Knowledge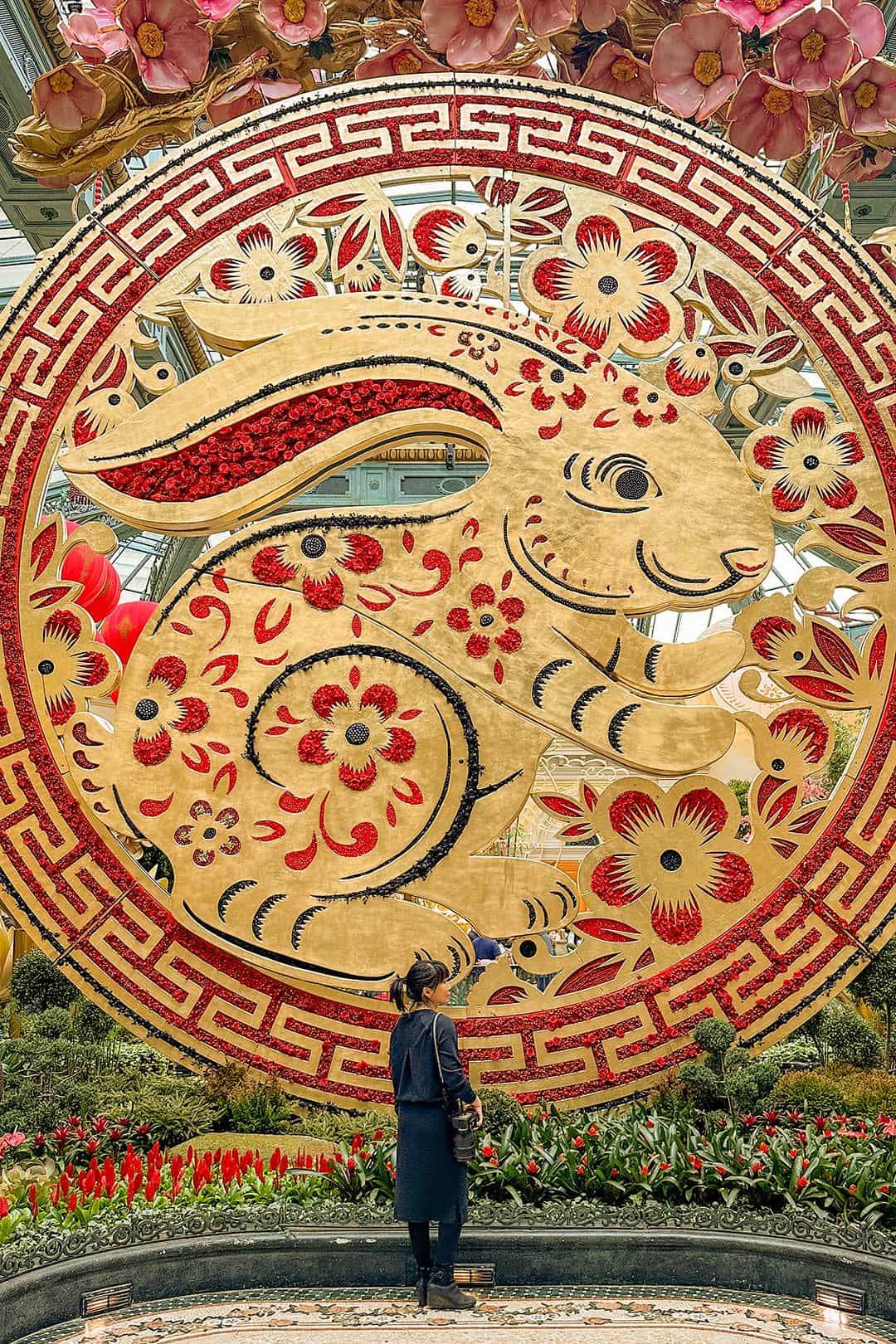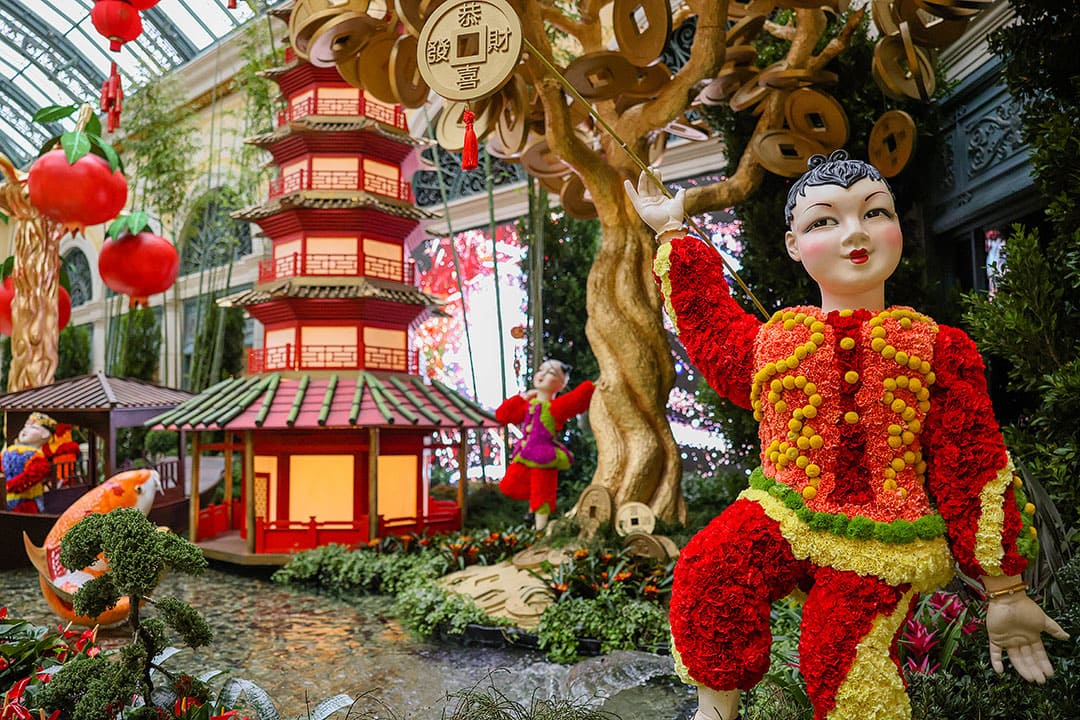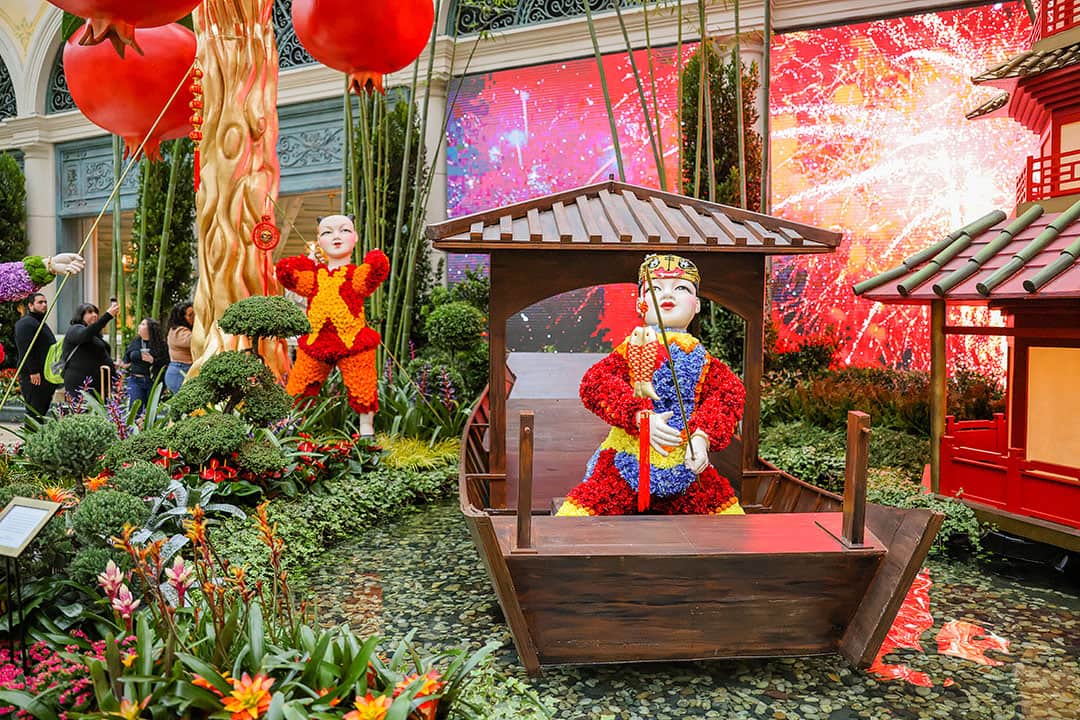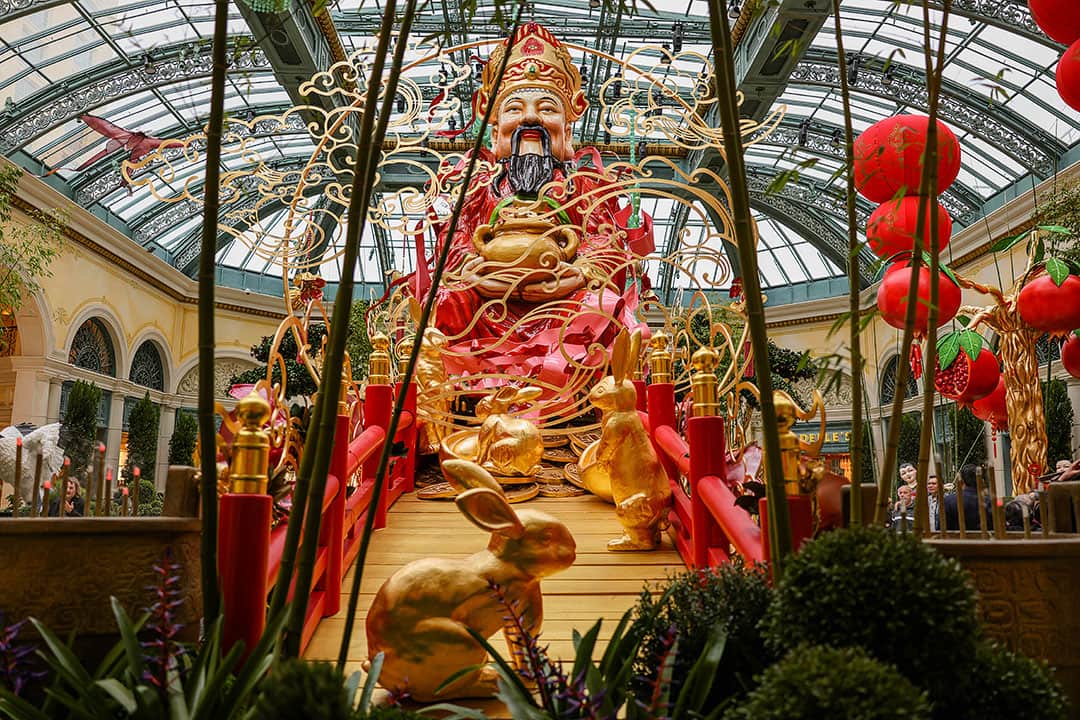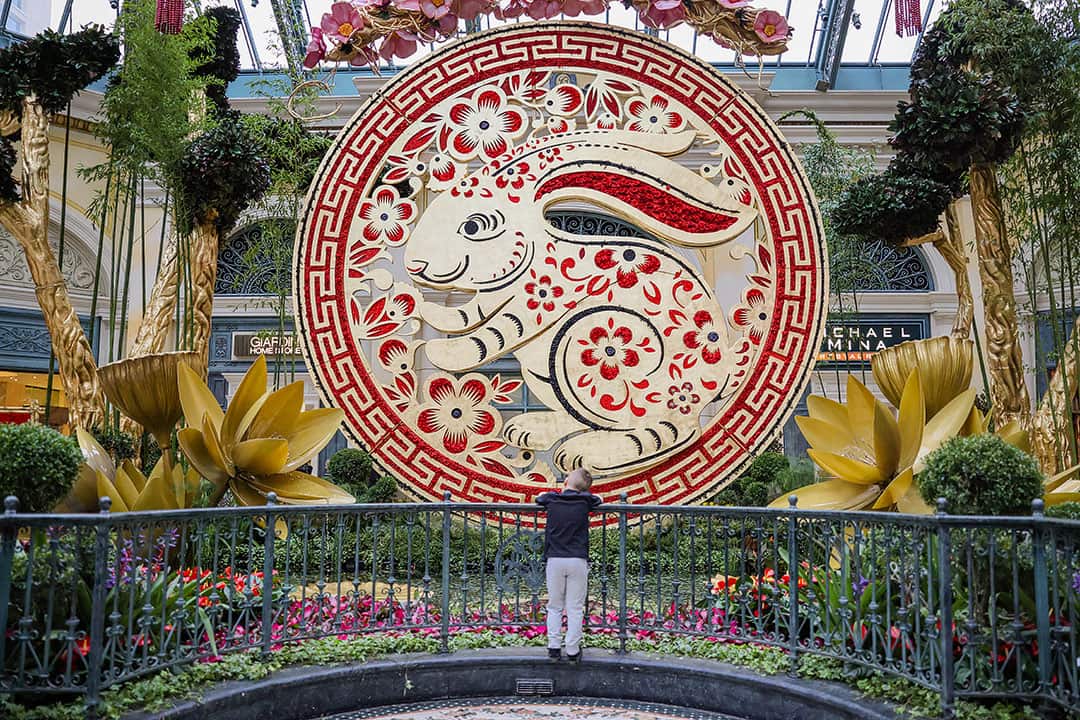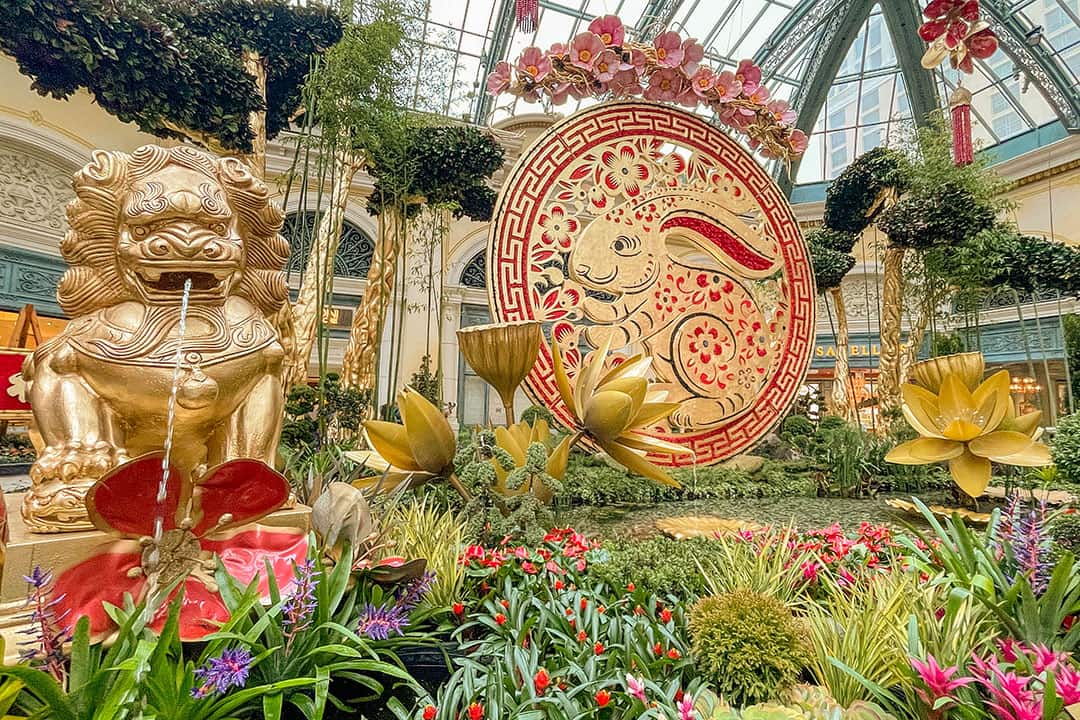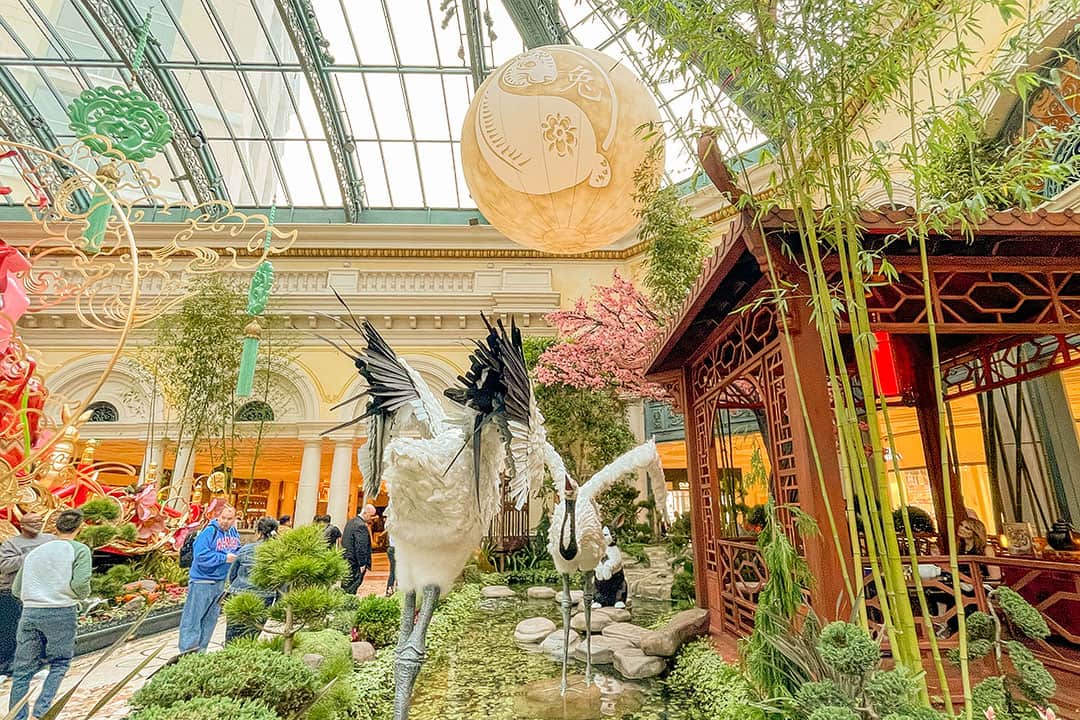 November 19, 2022 to January 1, 2023
The 2022 winter display is called 'Gingerbread Dreams, A Holiday Confection.' It features a 42-foot-tall fir tree with 10,000 lights and 8,700 ornaments and a life-sized gingerbread-style cottage.
By the numbers:
140,000: Number of Poinsettias throughout the display
110,000: Total number of energy-efficient light bulbs on all trees
15,000: Total number of gingerbread men throughout the display
13,250: Number of white carnations
10,000: Number of energy-efficient lights on the 42′ holiday tree
8,700: Number of ornaments on the holiday tree
4,800: Total hand-applied preserved roses on all four giant Poinsettias
2,000: Number of peppermints used throughout the display
800: Pounds of faux white frosting used on the gingerbread cottage
500: Number of chocolate hearts on the East Bed gingerbread cottage
80: Number of team members who bring the display to life
41: Number of fresh-cut white fir trees in the display
25 Feet: Height of the gingerbread cottage in the East Bed
18: Number of giant gingerbread and mirror snowflakes
14 Feet: Height of Nutcracker soldiers rotating on drums
6: Number of days to complete the change out
6: Number of Bellagio elves
5: Number of Coca-Cola Bears
4: Number of nutcracker soldiers
3: Number of pastry treats on display in the South Bed: Present, Bear, Tiered Cake
1: Gingerbread cottage made by the Bellagio Pastry team with real gingerbread & treats in the North Bed
See the reel.
See Related: Christmas at the Bellagio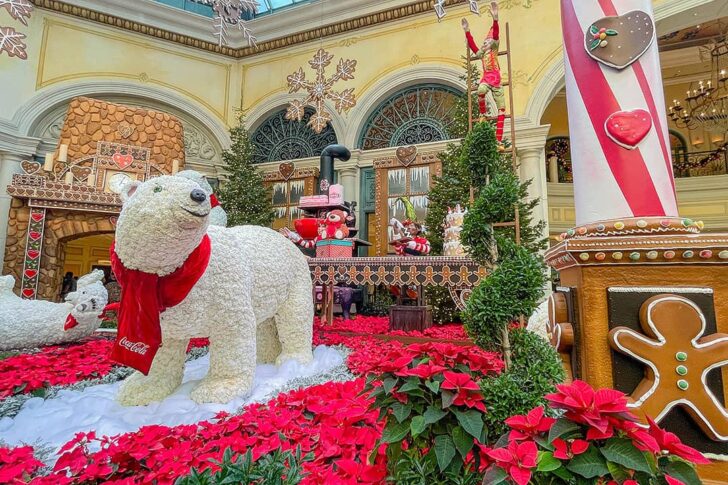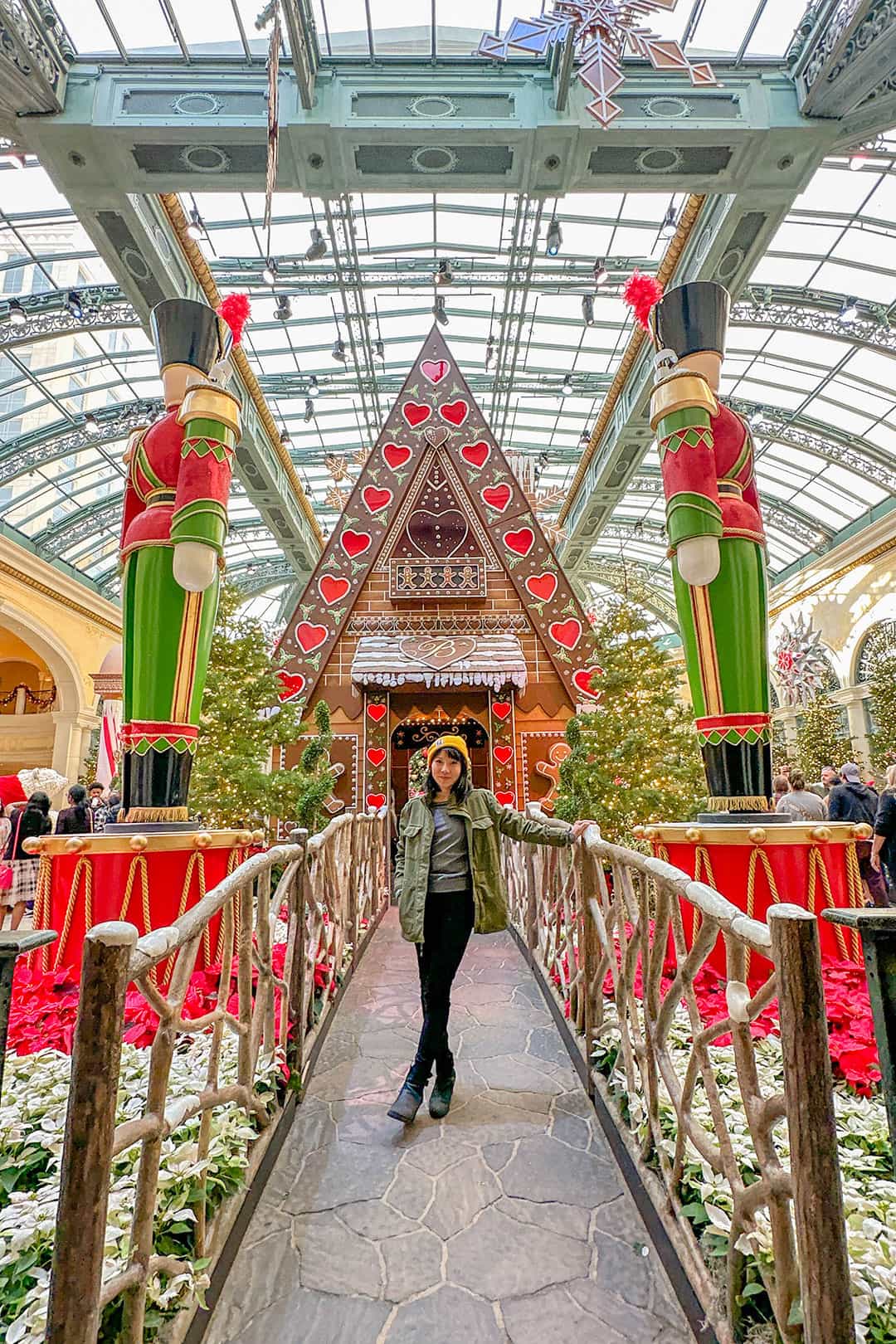 Past Installations
Here are the past installations we loved.
Fall / Harvest Installation 2023 – Artfully Autumn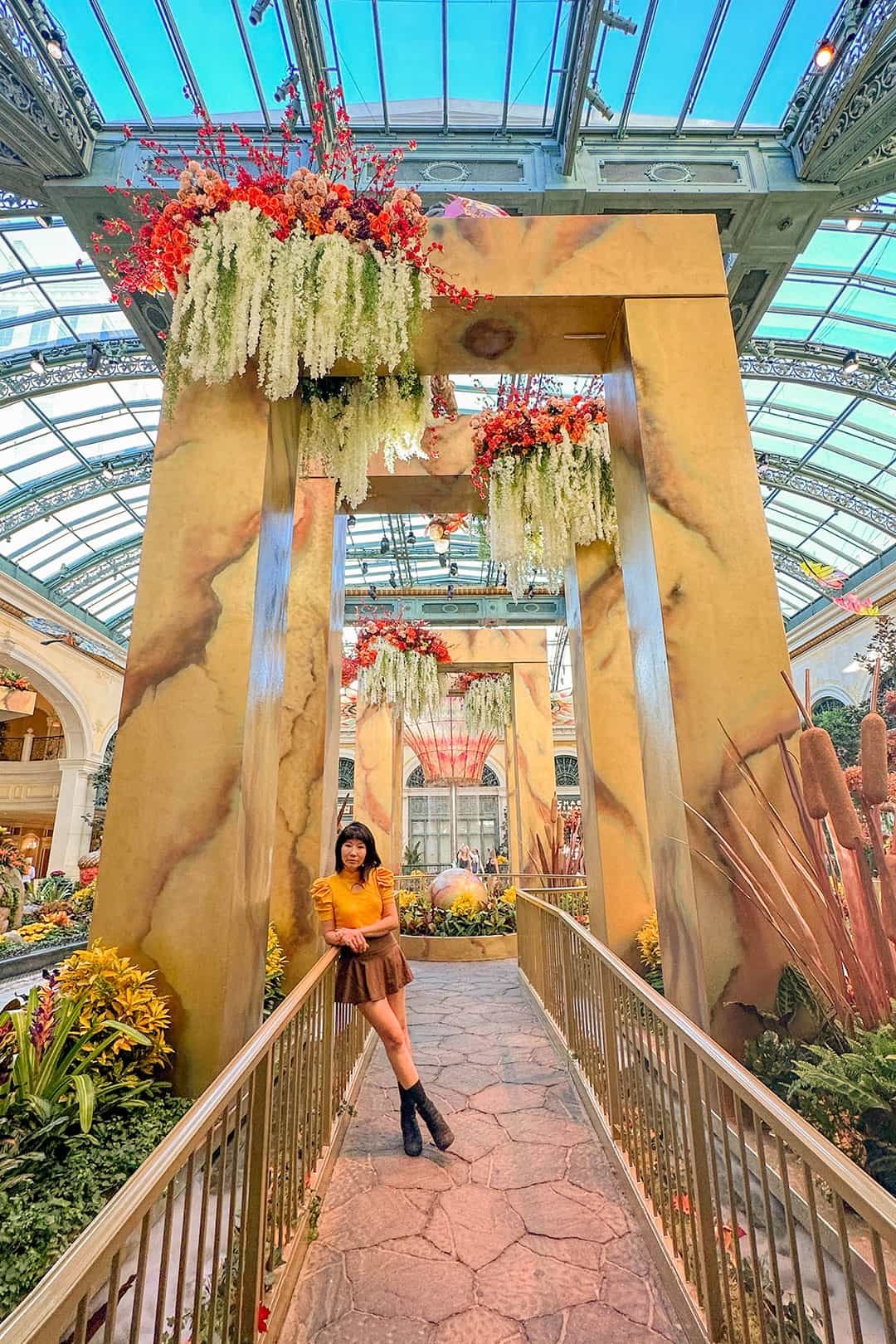 Summer Installation 2022 – Jungle of Dreams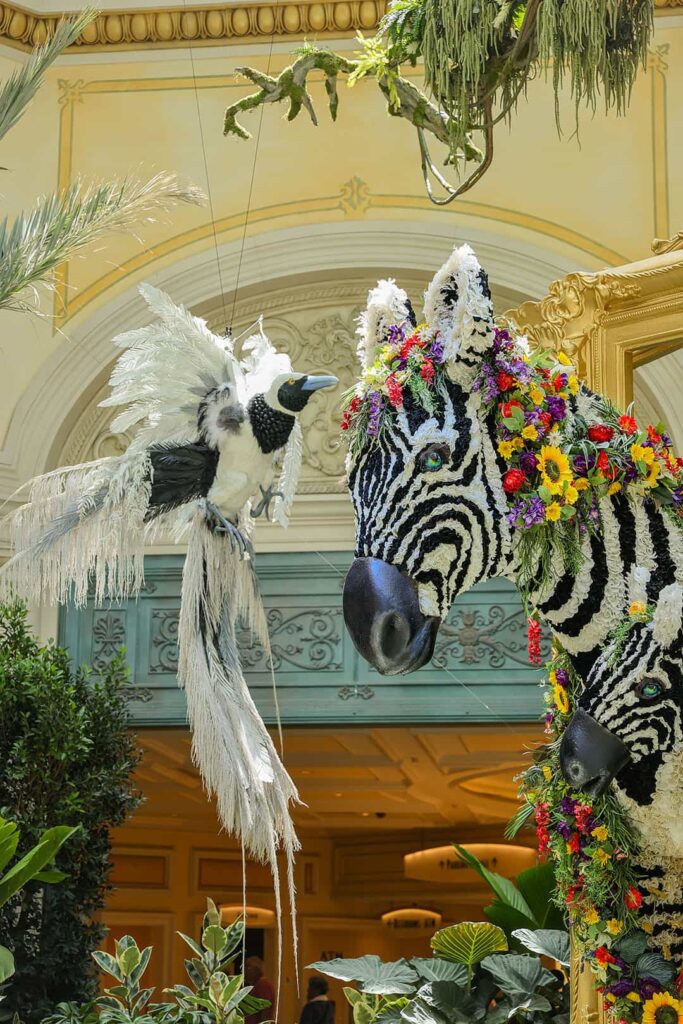 Spring Installation 2022 – Flight of Fancy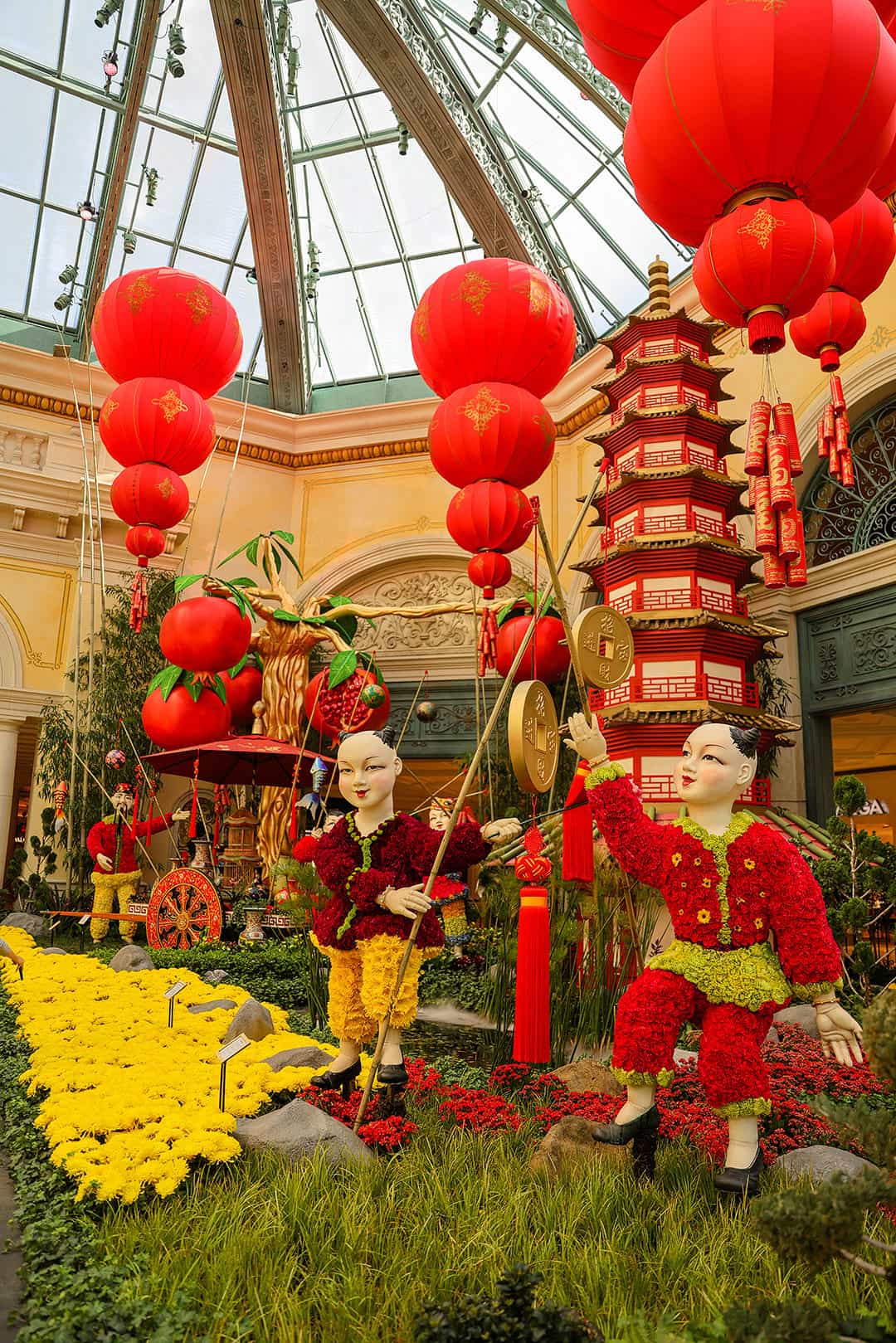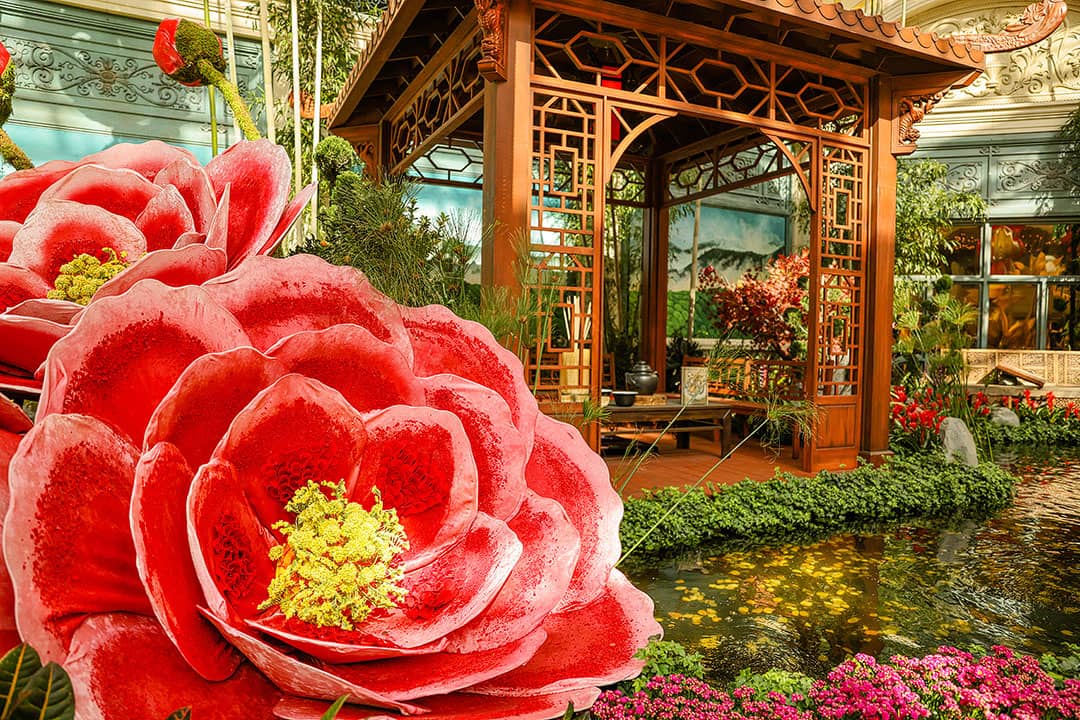 Winter 2022 – Holiday Time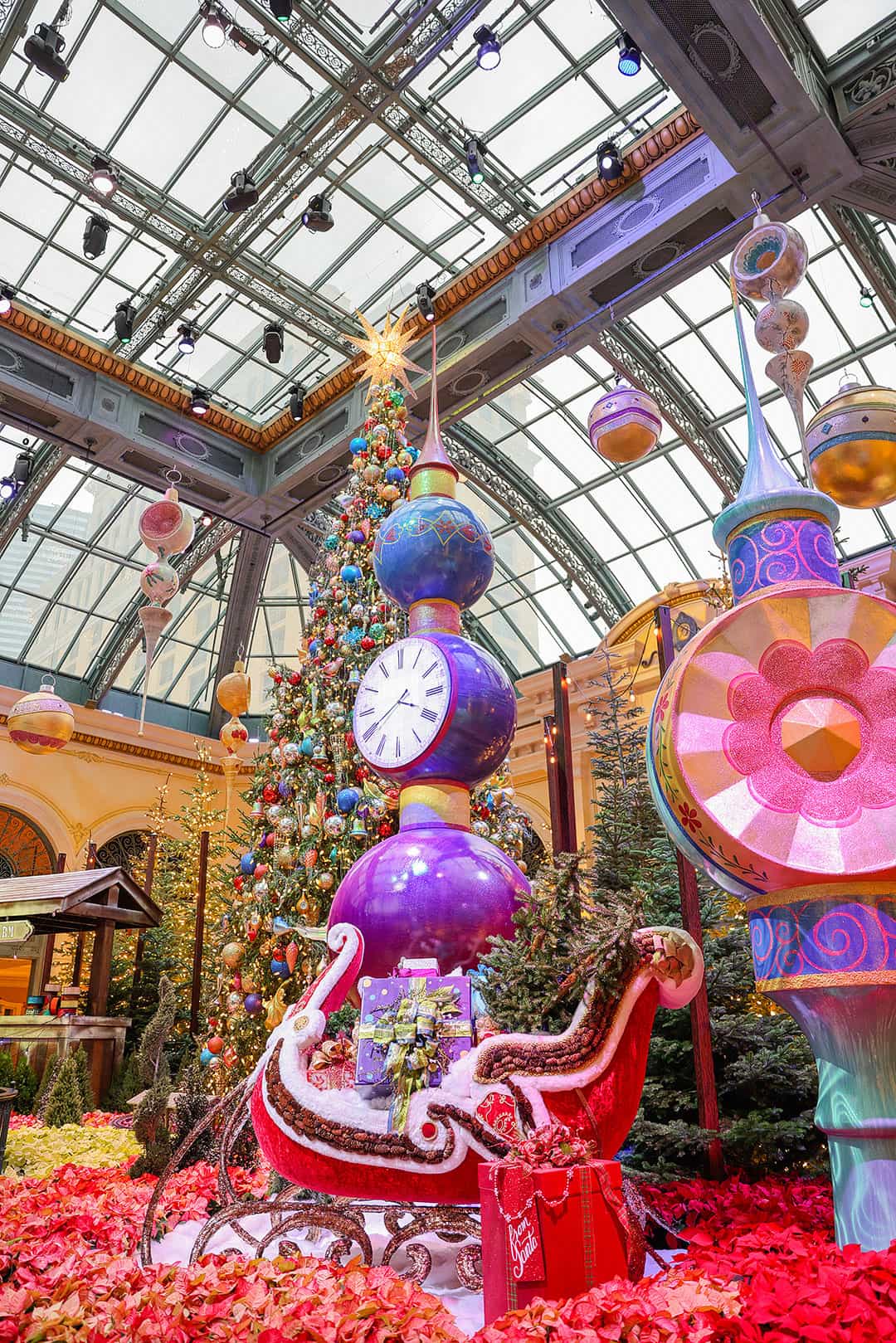 Fall 2021 – Deeper Into the Woods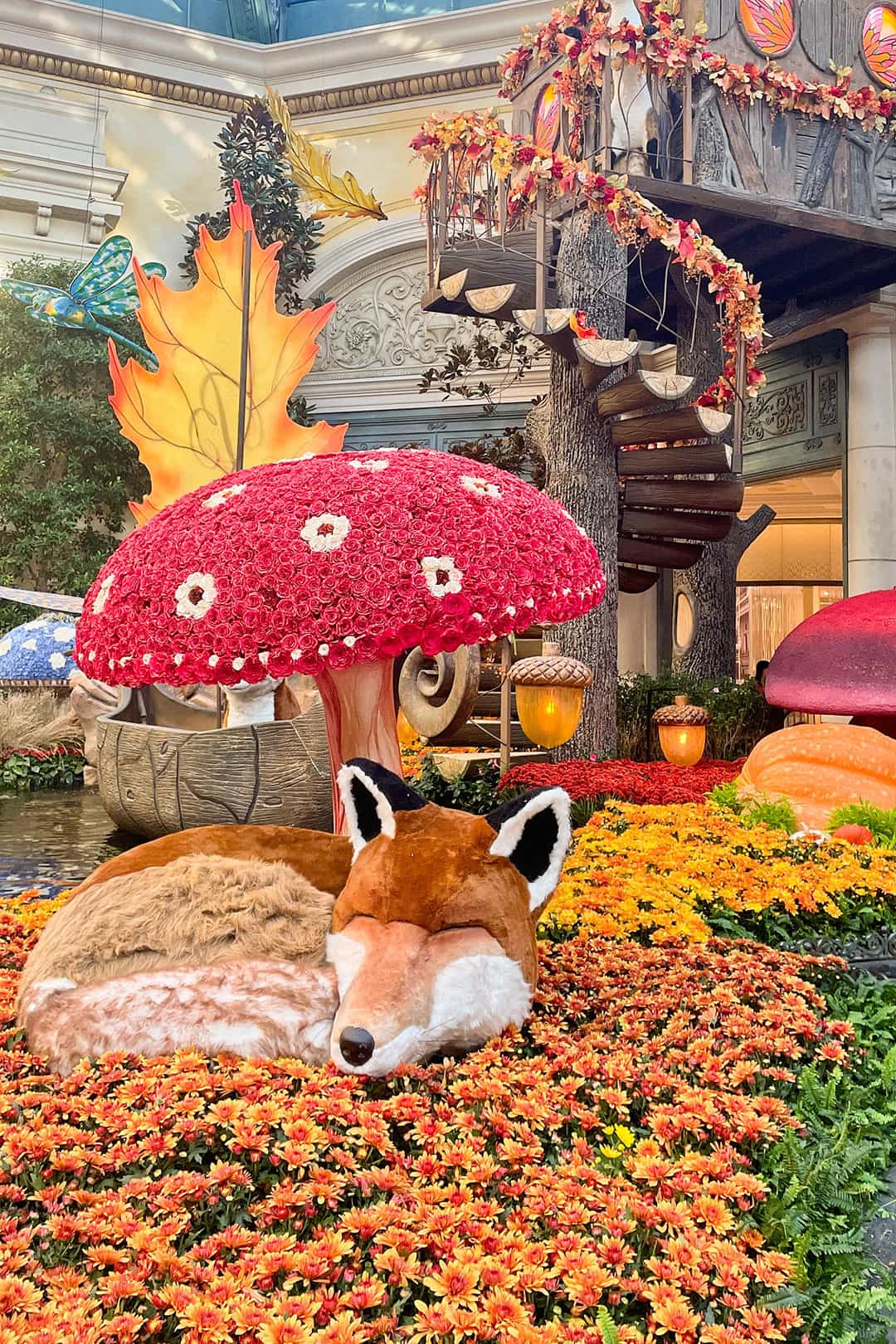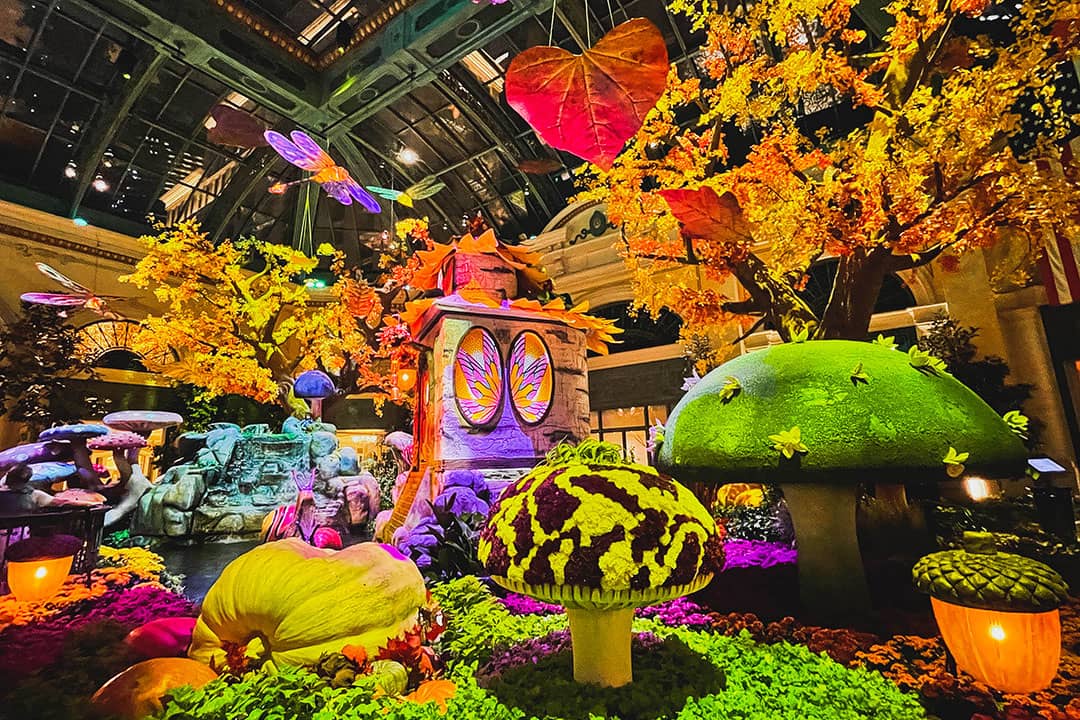 Summer 2021 – Eco: A Season of Earthly Awareness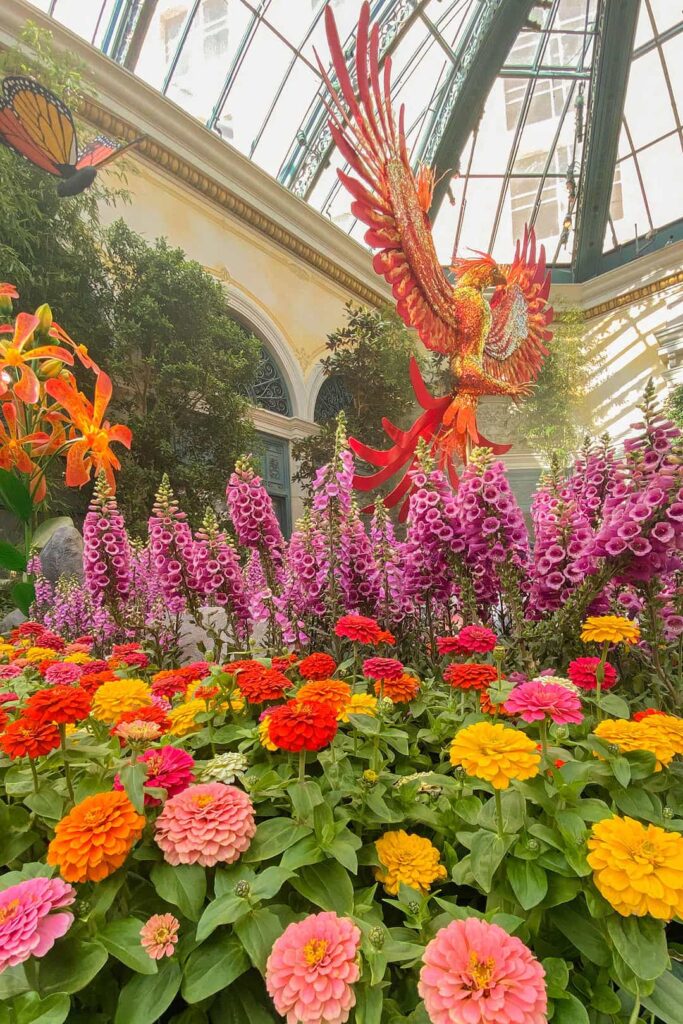 Spring 2021 – Springtime Celebrations Around the World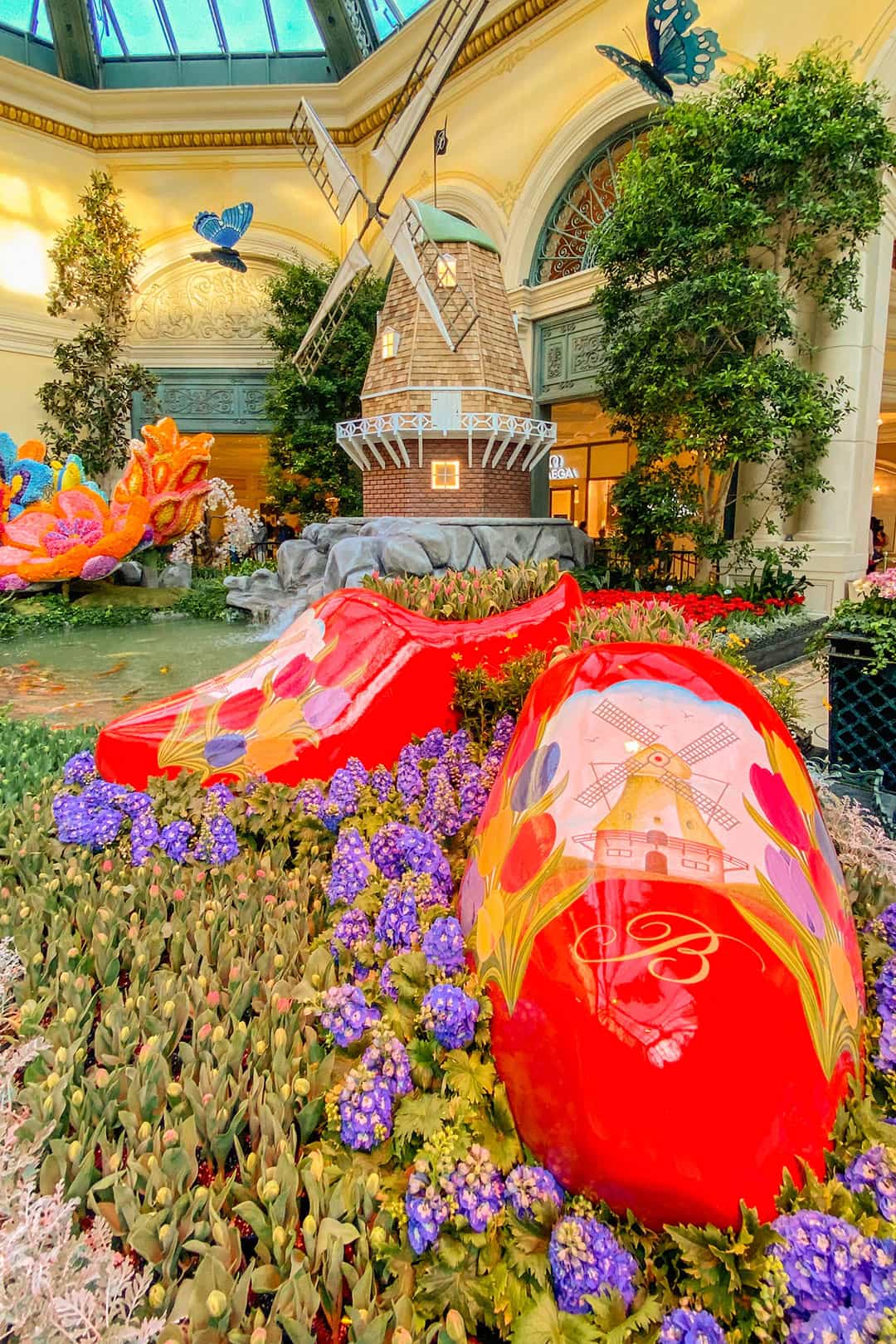 Lunar New Year 2021 – A Season of Love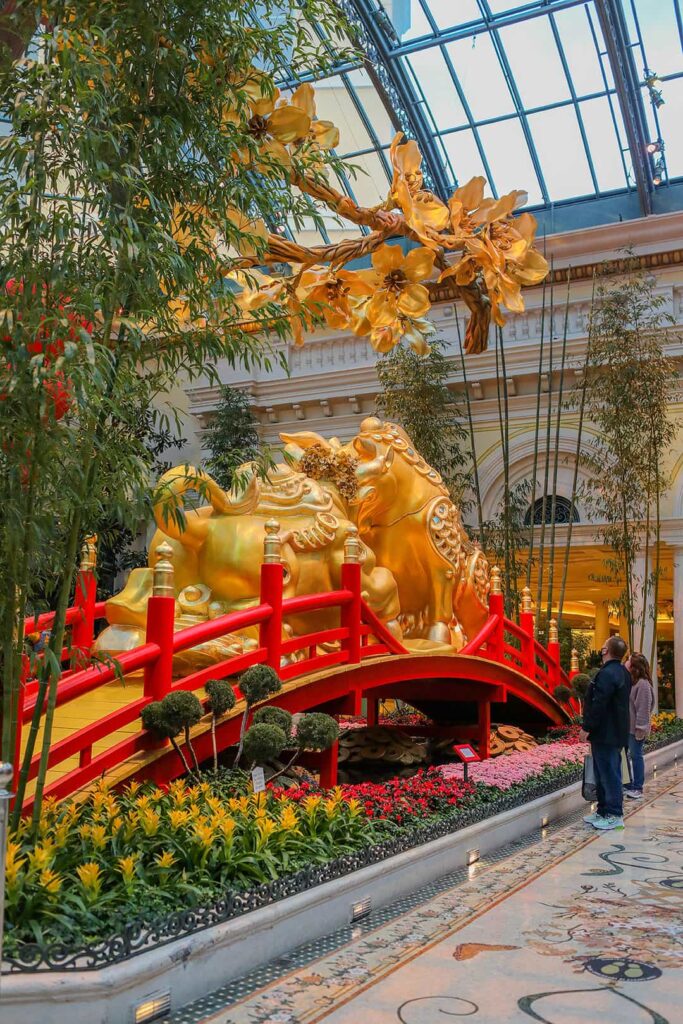 Winter / Christmas 2020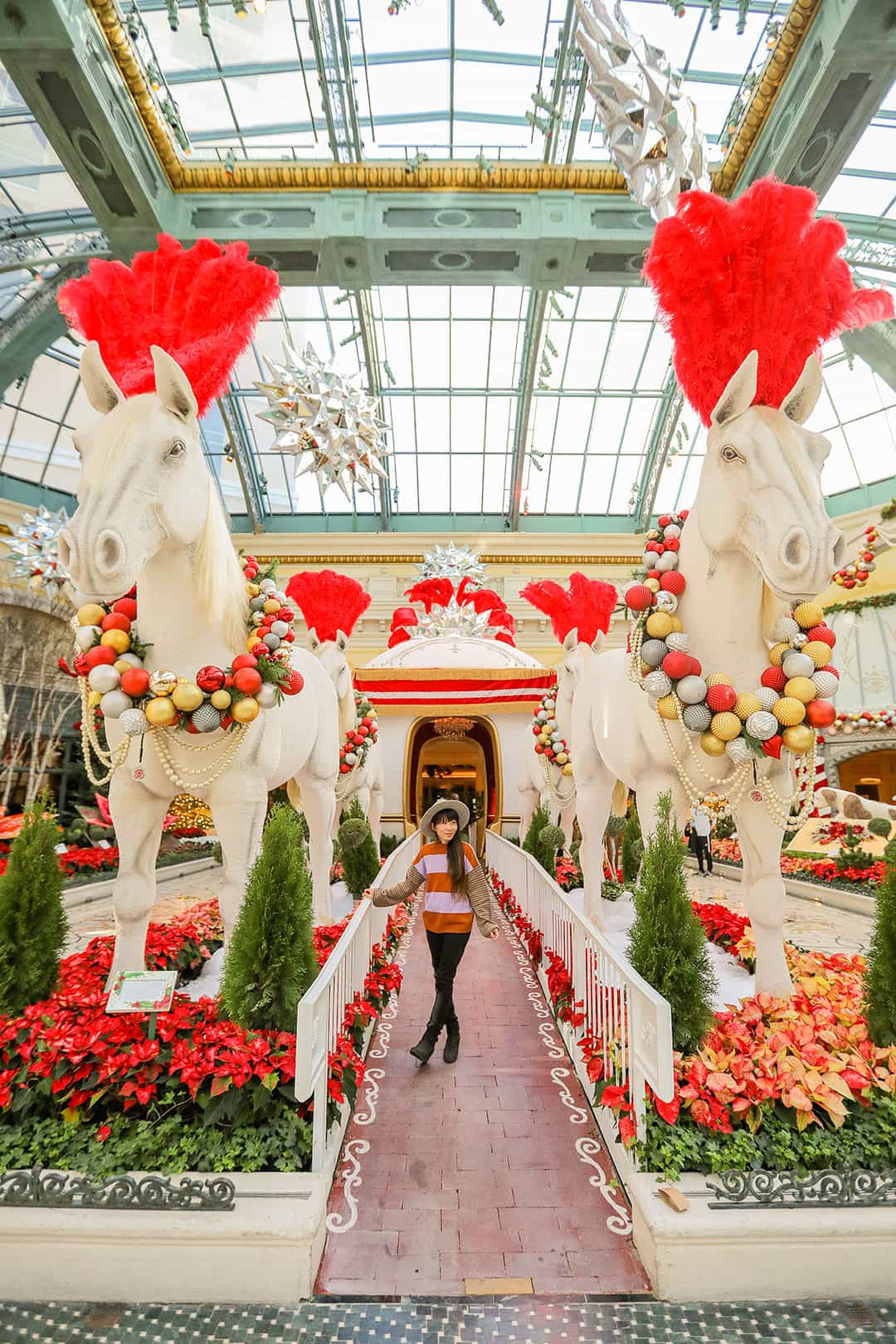 Chinese New Year 2020 – The Year of the Rat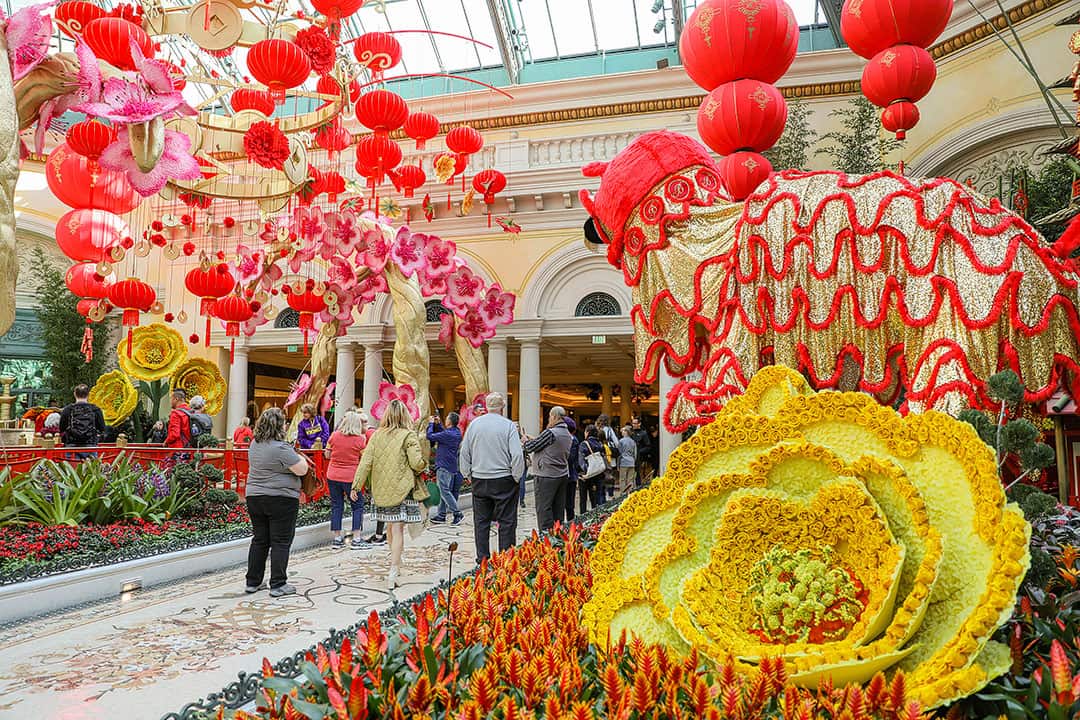 Spring 2019 – Japanese Spring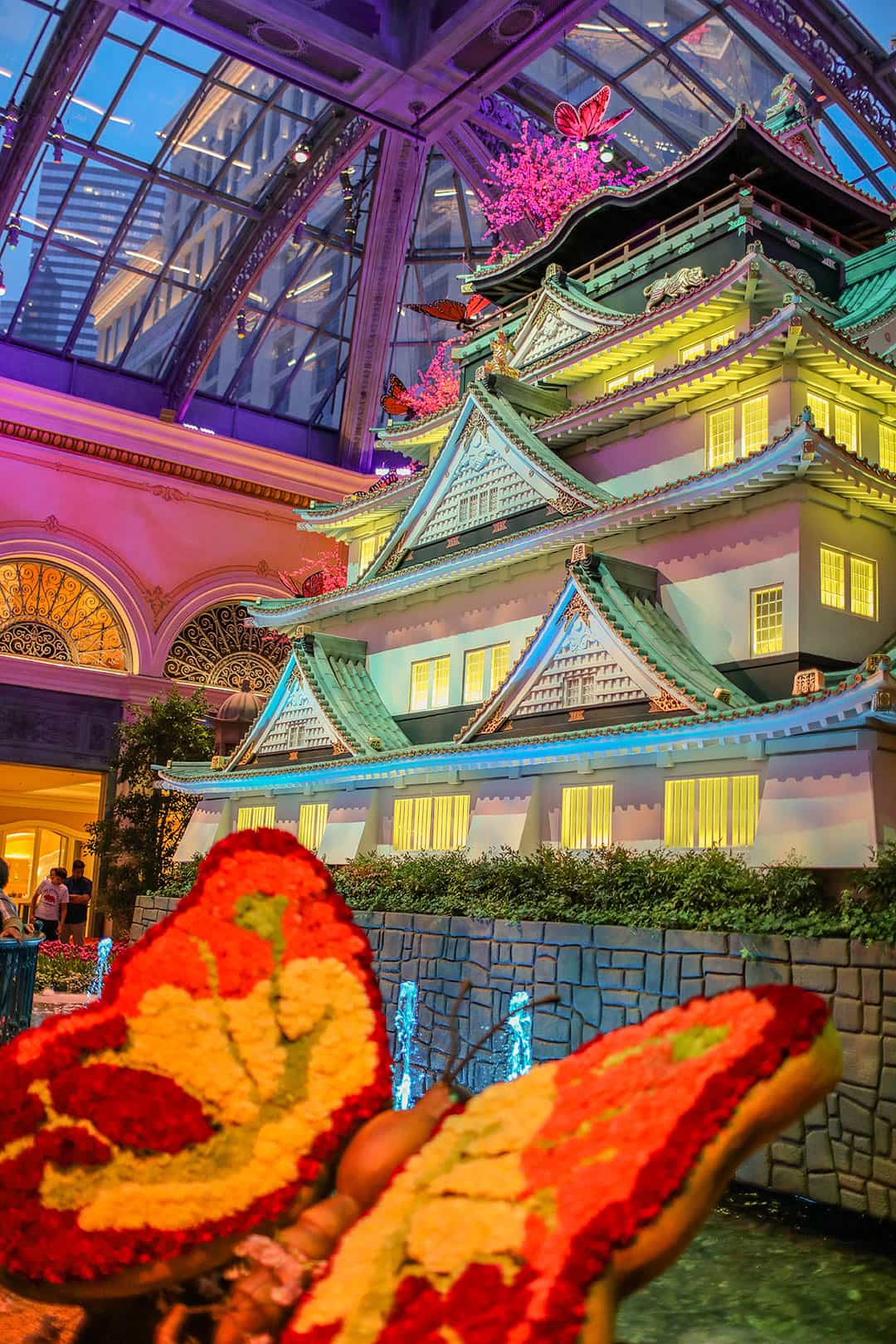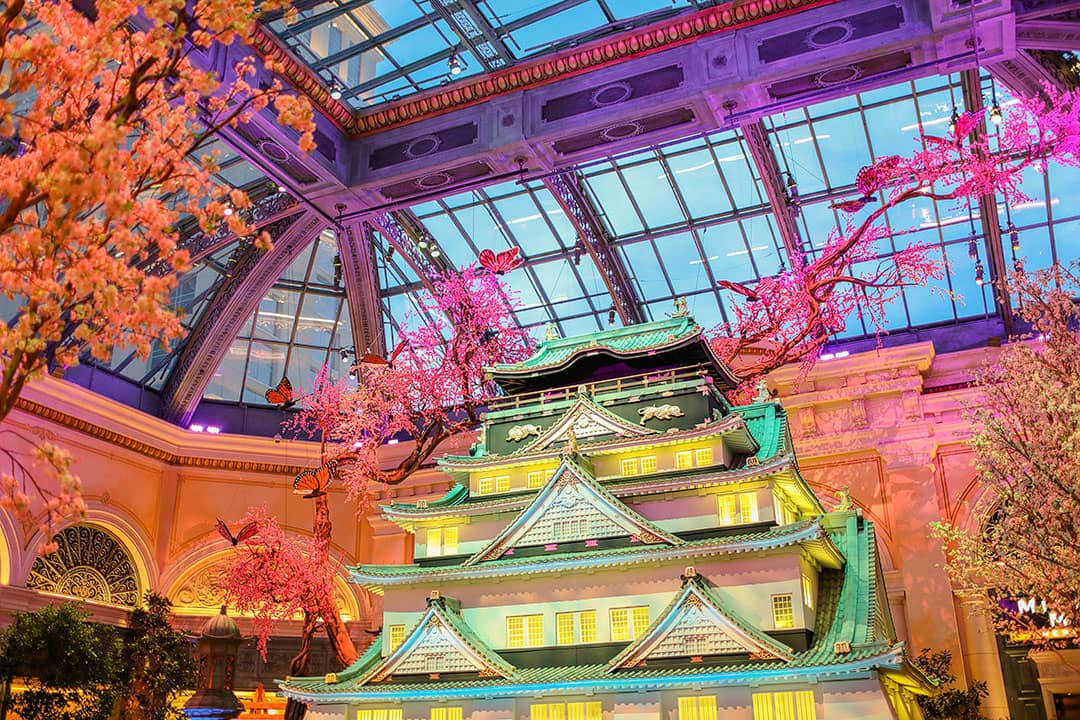 Lunar New Year 2019 – Year of the Pig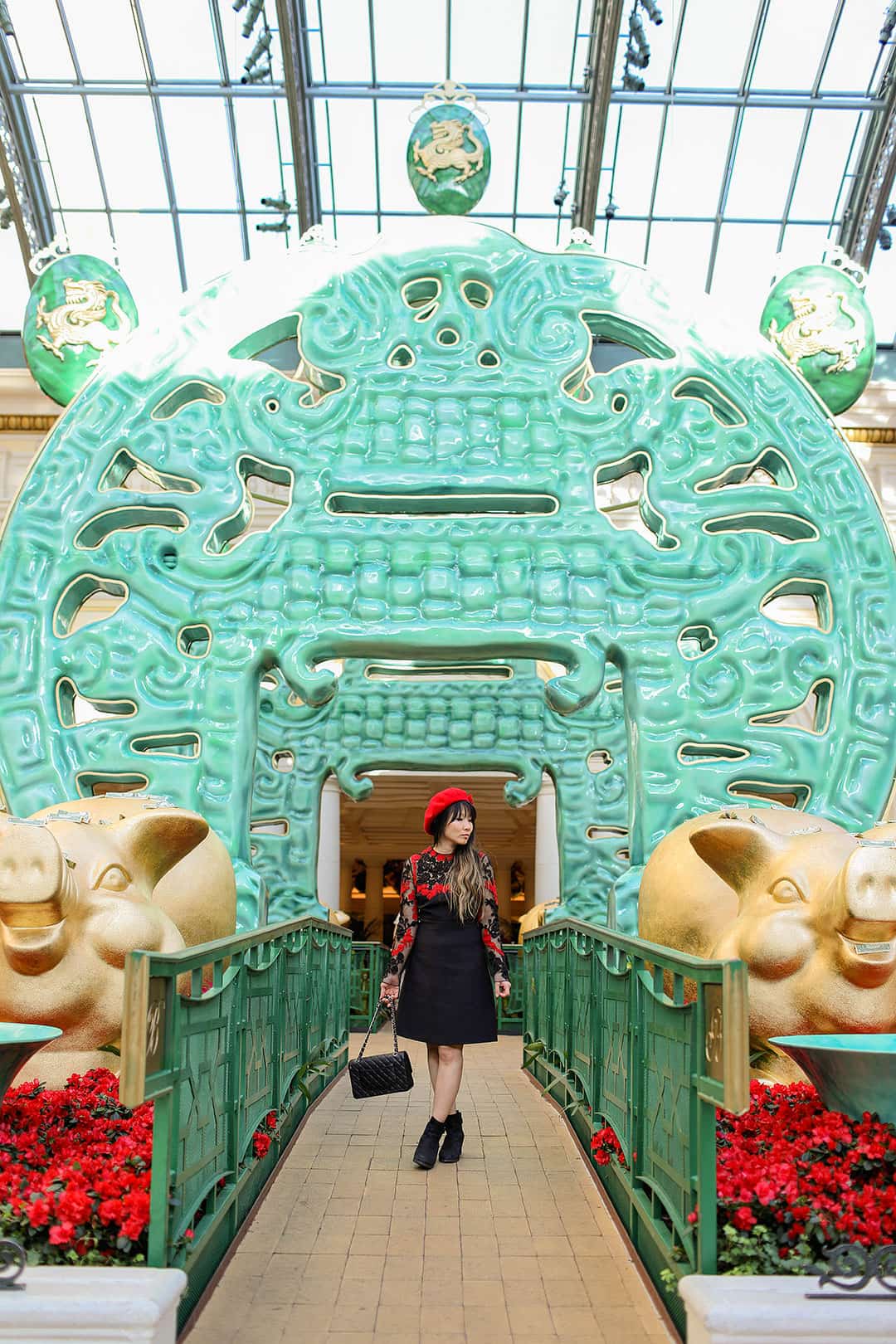 Winter / Christmas 2014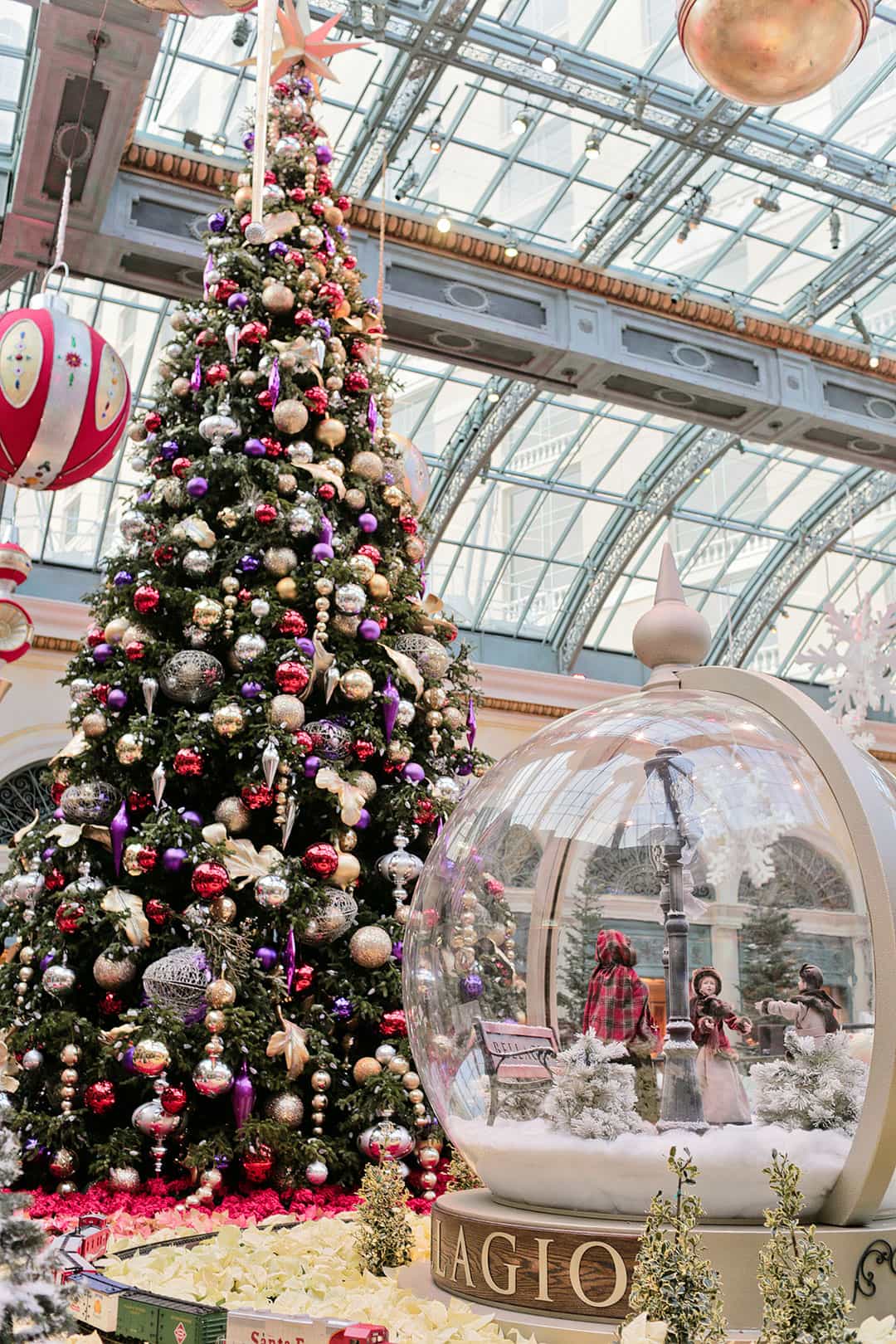 Summer 2014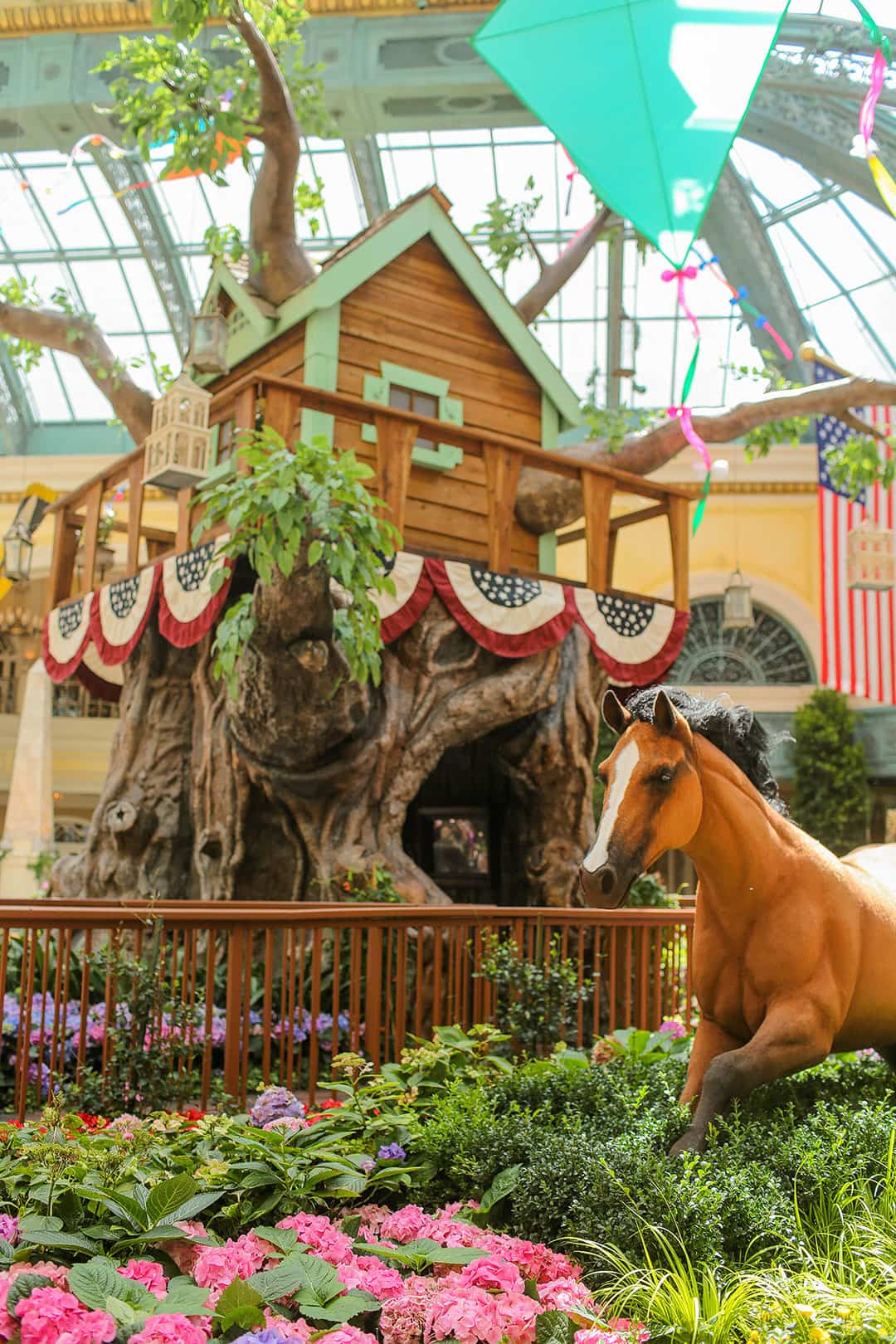 Summer 2007
This was the first time I stepped foot inside Bellagio Conservatory Botanical Gardens. I had only brought my long portrait lens, so close-up shots it is!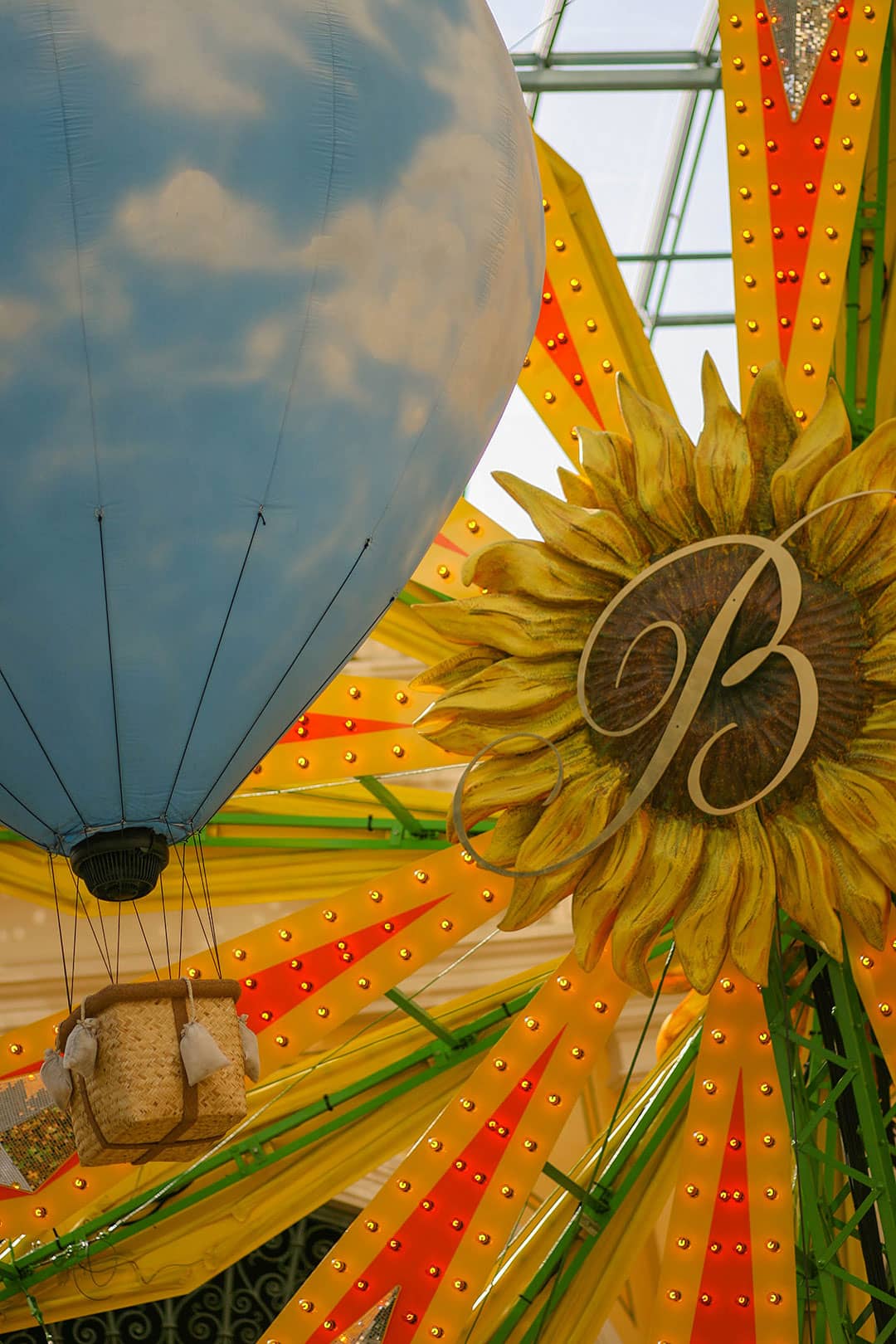 Tips for First-Time Visitors
The gardens can get quite crowded. The best time to visit is early morning when most people are still asleep.
Some installations look completely different during the day (natural light) and night (all lit up).
The exhibits are big. A wide lens is needed to capture the scale of everything.
The Giardini Garden Store, just around the corner, sells unique garden-themed gifts.
FAQ
How many gardens are in the Bellagio? There is one botanical garden.
Who owns the Bellagio? The Blackstone Group
SEE MORE LAS VEGAS GUIDES
⟡⟡⟡⟡⟡
"Discovery consists not of seeking new lands but in seeing with new eyes" – M. Proust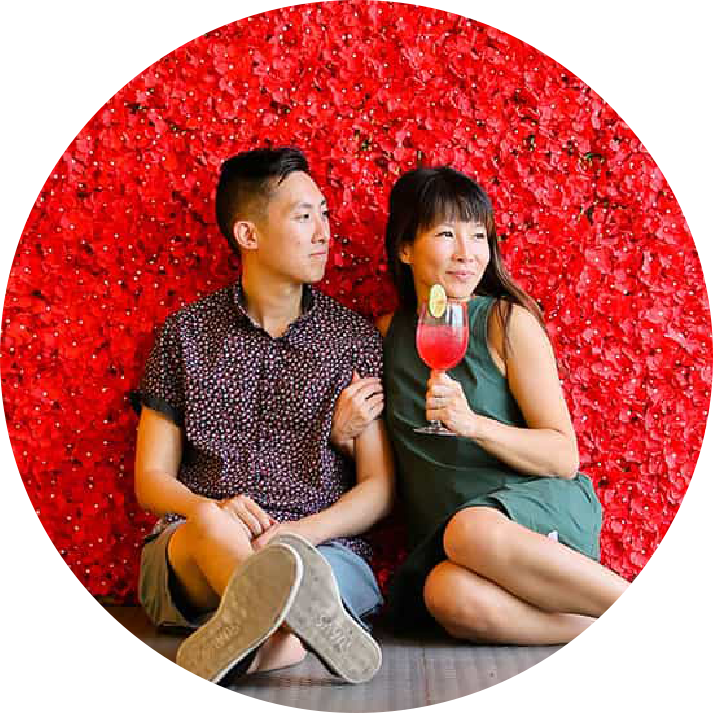 Esther + Jacob
Esther and Jacob are the founders of Local Adventurer, one of the top 5 travel blogs in the US. They believe that adventure can be found near and far and hope to inspire others to explore locally. They explore a new city in depth every year and currently base themselves in Las Vegas.
Follow on Instagram (E + J), YouTube, TikTok, and Pinterest.