We absolutely love exploring the Utah national parks. Part of the reason we moved back to Las Vegas this year is because it makes Southern Utah so accessible. Did you know Zion is only 2.5 hours away from Vegas?
Utah has 5 major National Parks and many other National Park Units. Although we've been to all of the Mighty 5, there's so much we still have yet to see. You could probably spend a lifetime exploring the parks, and we're excited for this next season of road trips!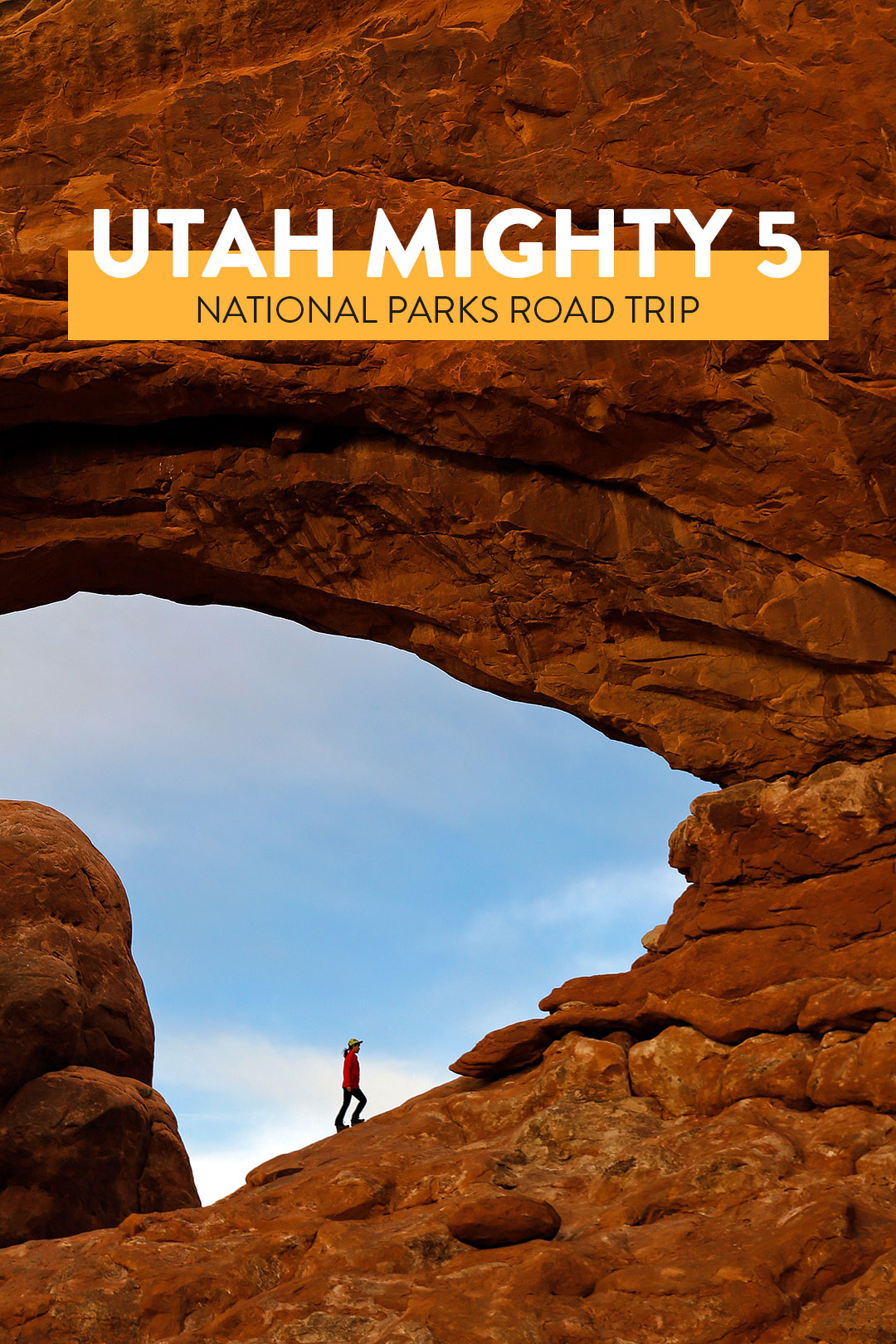 This post may contain affiliate links, where we receive a small commission on sales of the products that are linked at no additional cost to you. All opinions are always our own. Read our full disclosure for more info. Thank you for supporting the brands that make Local Adventurer possible.
Last Updated: May 13, 2019
The Mighty 5 Utah National Parks Road Trip
Closest Major Airport to the Mighty 5
Las Vegas (LVS) to Zion National Park (160 mi NE / 2 h 30 min drive, map)
Salt Lake City (SLC) to Arches National Park (230 mi SE / 3 h 30 min drive, map)
Smaller Regional Airports
These don't have as many direct flights, but if you don't mind the layovers, these are some options that will get you a little closer.
St George (SGU) to Zion (45 mi NE / 1 h drive, map) – closed May 29 to Sep 29, 2019
Cedar City (CDC) to Zion (60 mi S / 1 h drive, map)
Grand Junction (GJT) to Arches (110 mi SW / 1 h 30. min drive, map)
Moab (CNY) to Arches (14 mi SE / 15 min drive, map)
1101 Zion Mount Carmel Hwy, Hurricane, 84737, map
Zion National Park has amazing hikes taking you to the top of massive sandstone cliffs, along weeping walls, and through narrow slot canyons. There's a wide range of difficulties when hiking here. Even though you get to see a lot of highlights from the scenic drive, the most beautiful parts have to be explored on foot. 
Pro Tip: Zion has become incredibly popular and since everyone goes to the valley, it gets ridiculously crowded. Consider going during the week, doing a sunrise or night hike, or checking out some lesser trafficked trails like Observation Point or Hidden Canyon Trail. The Narrows top down hike also has no people on the first day and then you meet up with the day hikers on your second day.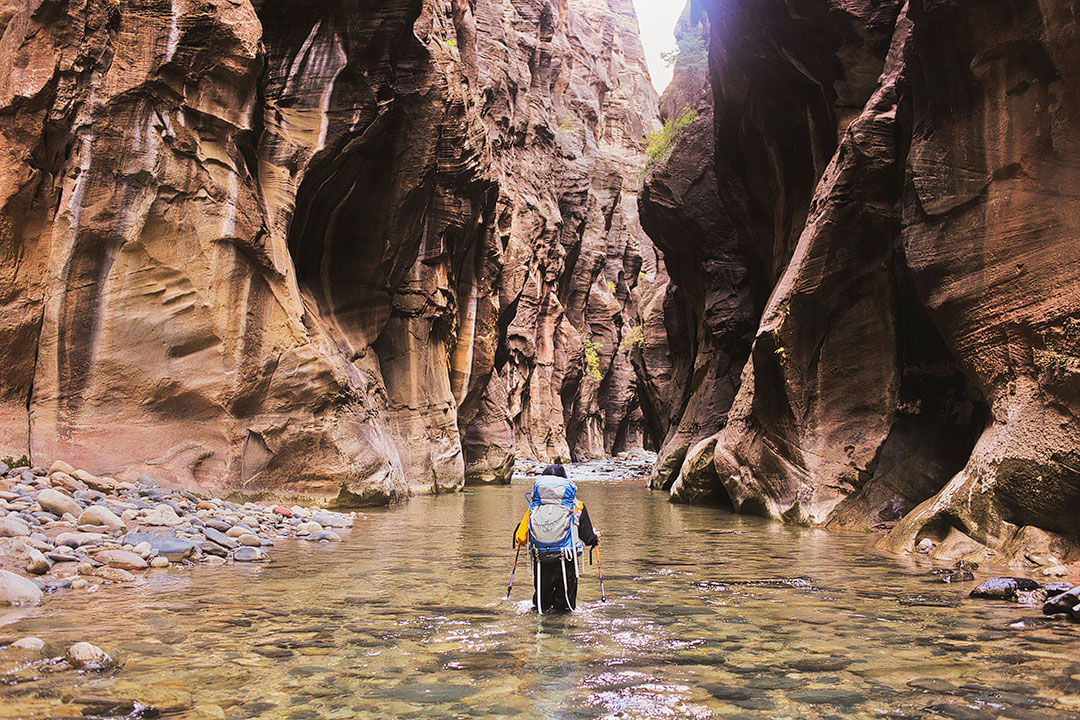 Bryce Canyon is made up of multiple amphitheaters and bowls carved into the edge of a high plateau. Amidst these amphitheaters are irregular rock columns called hoodoos.
Bryce has the largest concentration of hoodoos found anywhere on Earth. This park is relatively small and you can cover a lot in a day. If you only have a few hours, you can do the short scenic drive and pull out to the different viewpoints. Otherwise, you can hike to see the hoodoos up close.
Pro Tip: If you've already been, try visiting closer to winter to see the hoodoos covered in snow.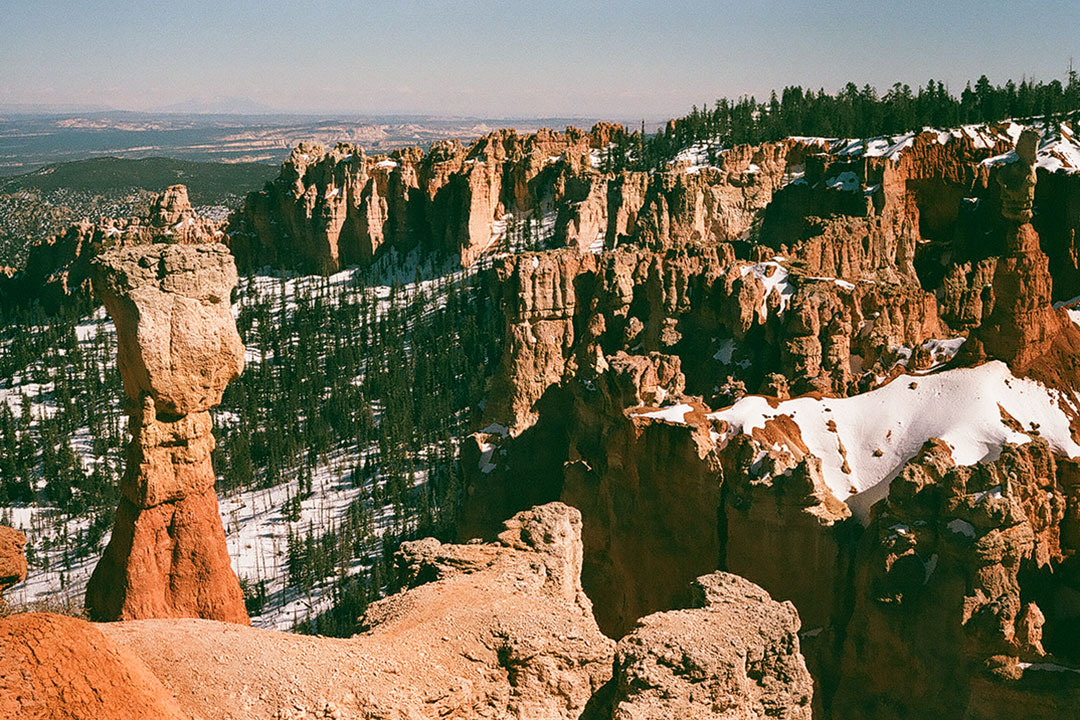 3. Capitol Reef National Park
UT-24, Torrey, 84775, map
We've only explored a small portion of Capitol Reef and definitely want to go back. This national park has 140 miles of roads, 150 miles of hiking trails, and even an orchard where you can pick and eat fruits in season.
Local Tip: There's a lot of distance to cover throughout the park so come with a full tank of gas.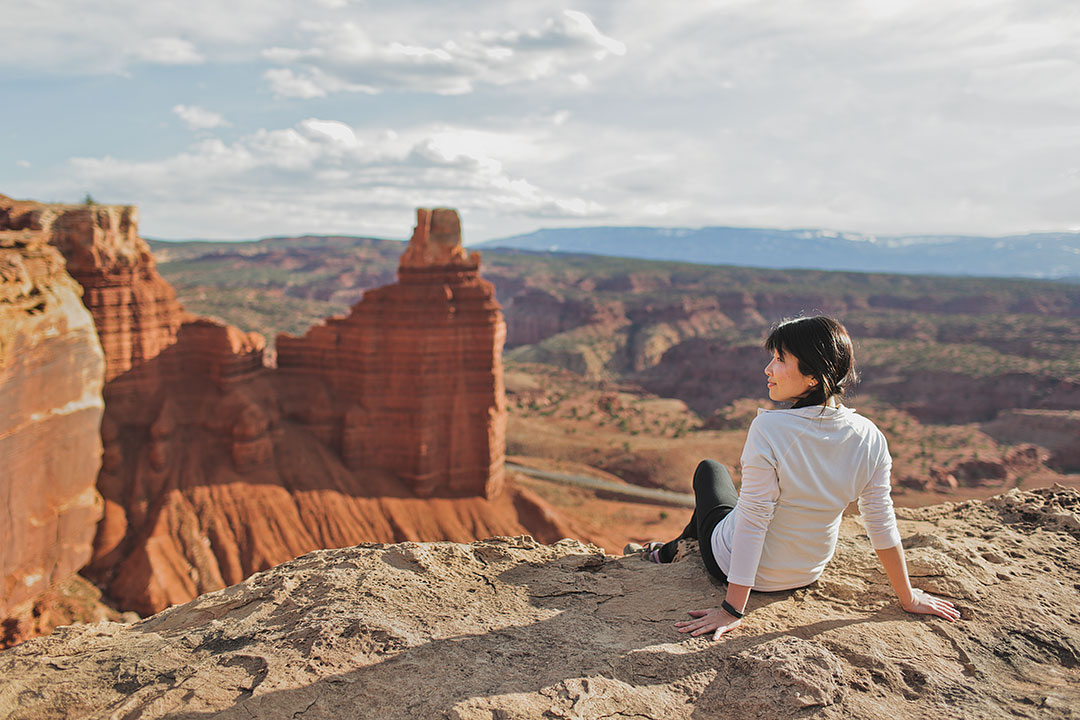 4. Canyonlands National Park
Grand View Point Rd, Moab, 84532, map
Canyonlands National Park covers a massive 337,598 acres of land. There are canyons, mesas, buttes, arches, spires, and more. The park has 4 distinct sections: Island in the Sky, The Needles, The Maze, and Horseshoe Canyon. Island in the sky is the most accessible and what most people see, and the Maze is the most remote area.
We didn't have the best weather when we visited and had fog cover most of the landscape when we arrived, so we'll need to make a trip back soon.
Pro Tip: Some of the best spots in the park require off-road driving.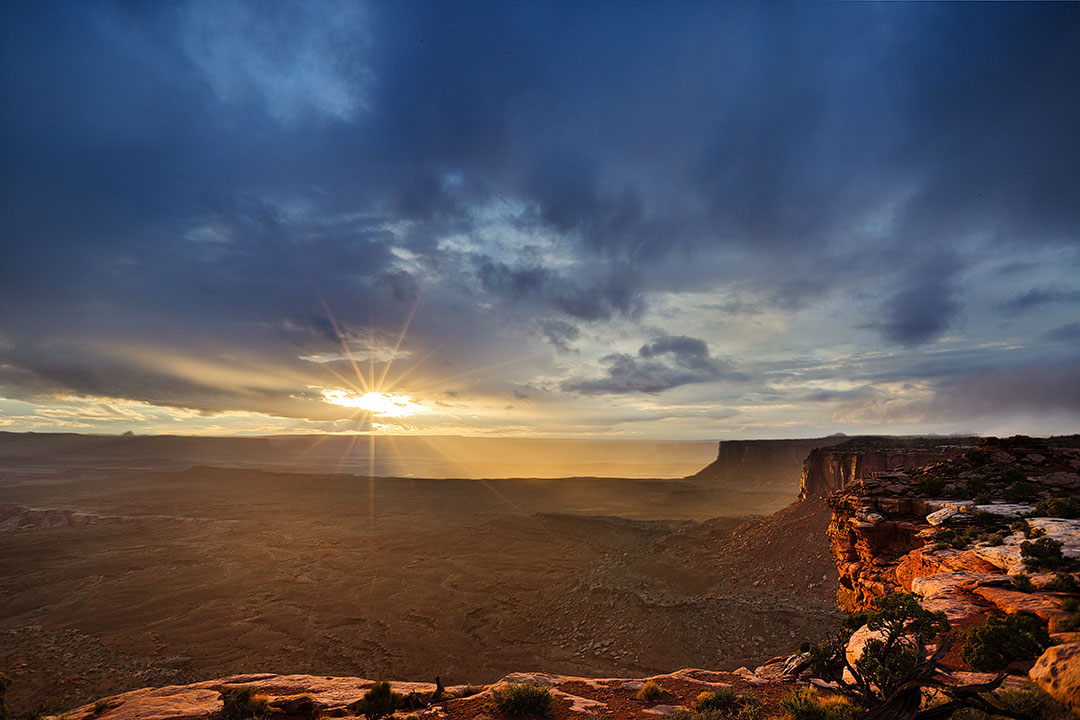 Arches Entrance Rd, Moab, 84532, map
Arches National park has over 2,000 natural stones arches. You can see the best arches from the scenic drive or from short hikes, but those who want to get out for longer hikes have plenty of options too. Our favorite hike so far was the Devil's Garden hike; it had so many arches to see along the way. It might seem like a long hike, but we saw some retired hikers that smoked us on the trail.
Pro Tip: If you're looking for something unique to do, sign up for a Ranger-Led Fiery Furnace Hike. Spots fill up in advance, so it's recommended you book online sooner than later.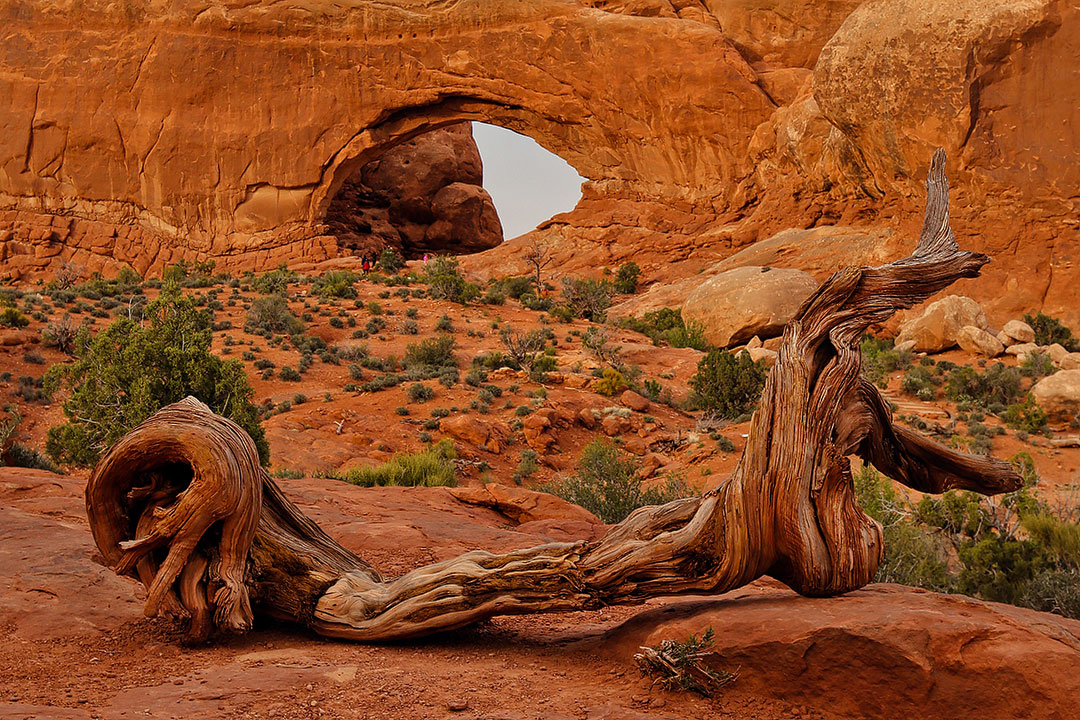 All National Park Units in Utah
Canyonlands National Park
Capitol Reef National Park
 Cedar Breaks National Monument
Glen Canyon National Recreation Area (also in Arizona)
 Golden Spike National Historic Site
 Natural Bridges National Monument
 Rainbow Bridge National Monument (by boat only)
Timpanogos Cave National Monument
Utah Road Trip Itinerary for 7 Days
Arrive in Las Vegas and drive to Zion National Park (2.5 h drive)
All Day at Zion National Park
Drive to Bryce National Park (1 h 20 min drive), then drive to Capitol Reef National Park (2 h drive)
Explore Capitol Reef National Park
Drive to Moab (2 h 10 min drive) and explore Canyonlands National Park (30 min drive)
All Day at Arches National Park (10 min drive from Moab)
Sunrise at Arches National Park then drive back to Las Vegas (6 h 30 min drive). We don't mind doing the long drives, but you can also break up the drive by visiting Cedar Breaks National Monument, Snow Canyon State Park, or St George.
Detours near Utah National Parks
Essential Tips for Your Utah Road Trip
Pick up an America the Beautiful National Parks Pass to save money if you visit more than one within a year and support the parks we love.
Bring plenty of water and have extra in the summer. It's recommended that you carry at least 1 gallon a person per day. These are our go to water bottles: insulating, light, & a reservoir. You can fill them up with ice too, if you want it to stay cold.
It's good to have layers with you regardless of the time of day. Sometimes you want to cover up skin from direct sunlight, other times, the temperature dips significantly at night.
Bring a sunhat & sunscreen. Be sure to reapply throughout the day.
Daypack (Camera / Lightweight)
What to Pack for Your Utah Road Trip
Best Places to Stay in Utah
Have you visited all of the Mighty 5? Which one was your favorite?
Did you enjoy this post? Pin it for later
See More National Park Guides
"Discovery consists not of seeking new lands but in seeing with new eyes" – M. Proust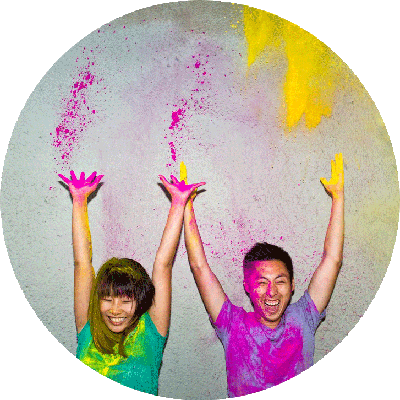 Esther and Jacob are the founders of Local Adventurer, which is one of the top 5 travel blogs in the US. They believe that adventure can be found both near and far and hope to inspire others to explore locally. They explore a new city in depth every year and currently base themselves in Las Vegas.