The gates opened and we heard cheering as people slowly filed their way in. After passing the gate, everyone headed with urgency towards the back of the park. Since we're adults at a conference, we opted to power walk and tried to contain ourselves from going on a mad sprint.
Disney characters waved and there were food stations with a sampling of food from each land, but we couldn't let them distract us.
After blowing through the other lands, the crowd's pace slowed as we approached the life-sized X-Wing. Moments later, Chewbacca let out a wail as he struggled with the giant cables. We had made it to Batuu.
A big thank you to Disney and IPW for hosting our visit. All opinions are always our own. This post may contain affiliate links, where we receive a small commission on sales of the products that are linked at no additional cost to you. Read our full disclosure for more info. Thank you for supporting the brands that make Local Adventurer possible.
Last Updated: June 5, 2019
The New Disney Star Wars Land - What You Need to Know Before You Go
Let me start off by saying that our experience of Star Wars Galaxy's Edge was not the norm. During the IPW conference, Disney shut down Disneyland park to give the 6000 attendees an exclusive look at the park. We had Main Street U.S.A, Adventureland, Frontierland, New Orleans Square, Critter Country, and Star Wars: Galaxy's Edge all to ourselves.
Needless to say, the majority of the group rushed to see Star Wars first. We were within the first few hundred in the park and didn't waste any time getting to Galaxy's Edge.
Afterwards, we chatted with a bunch of the cast members, locals who frequent the park, and as many Disney reps as possible to gather any info we could to pass along.
when does star wars land open?
These are the important dates to remember.
May 31st, 2019 – Star Wars: Galaxy's Edge is open to the public. Well… sort of. Between 5/31 and 6/23 you need a reservation to enter the land. No official numbers have been released on how many spots they are allowing each day, but it's very limited. The exception to the reservation, is if you are staying at a Disney owned hotel. They will provide you with a reservation during your stay.
Jun 24, 2019 – This is when it's open to everyone else without a reservation. They expect the park to be at full capacity, and entrance to Galaxy's Edge isn't guaranteed. If you're lucky enough to make it in, they are limiting your time to four hours. You'll be able to queue virtually through their app so you can spend time at the rest of the park.
Entering Star Wars Land at Disneyland
There are three entrances to Star Wars: Galaxy's Edge. We were all routed towards the West entrance near Critter County. From here, you pass by the entrance of the unopened attraction, get a view of the X-Wing as you enter.
The South and East entrance are close together. The South comes up along the West side of Big Thunder, and takes you the Droid Depot. The East entrance comes from Fantasy Land and brings you to the Milk Stand and First Order Cargo.
No matter what entrance you come through, you're immediately immersed in the land and all the cast members add to that by always staying in character. Star Wars: Galaxy's Edge transports you to the planet of Batuu where you'll explore the Black Spire Outpost.
Pro Tip: Talk to the locals of Batuu. To get you started on Batuuese, here are a. few phrases:
"Bright suns" – good morning
"Rising moons" – good evening
"May the spires keep you" or "Til the Spires" – goodbye
Refreshers – restrooms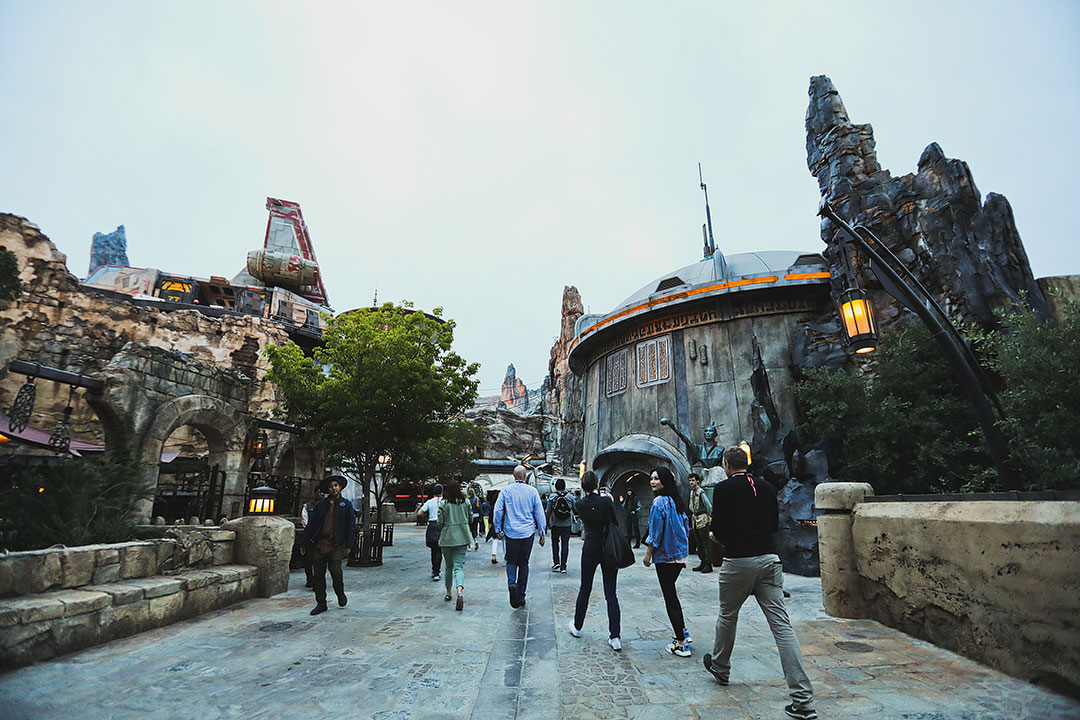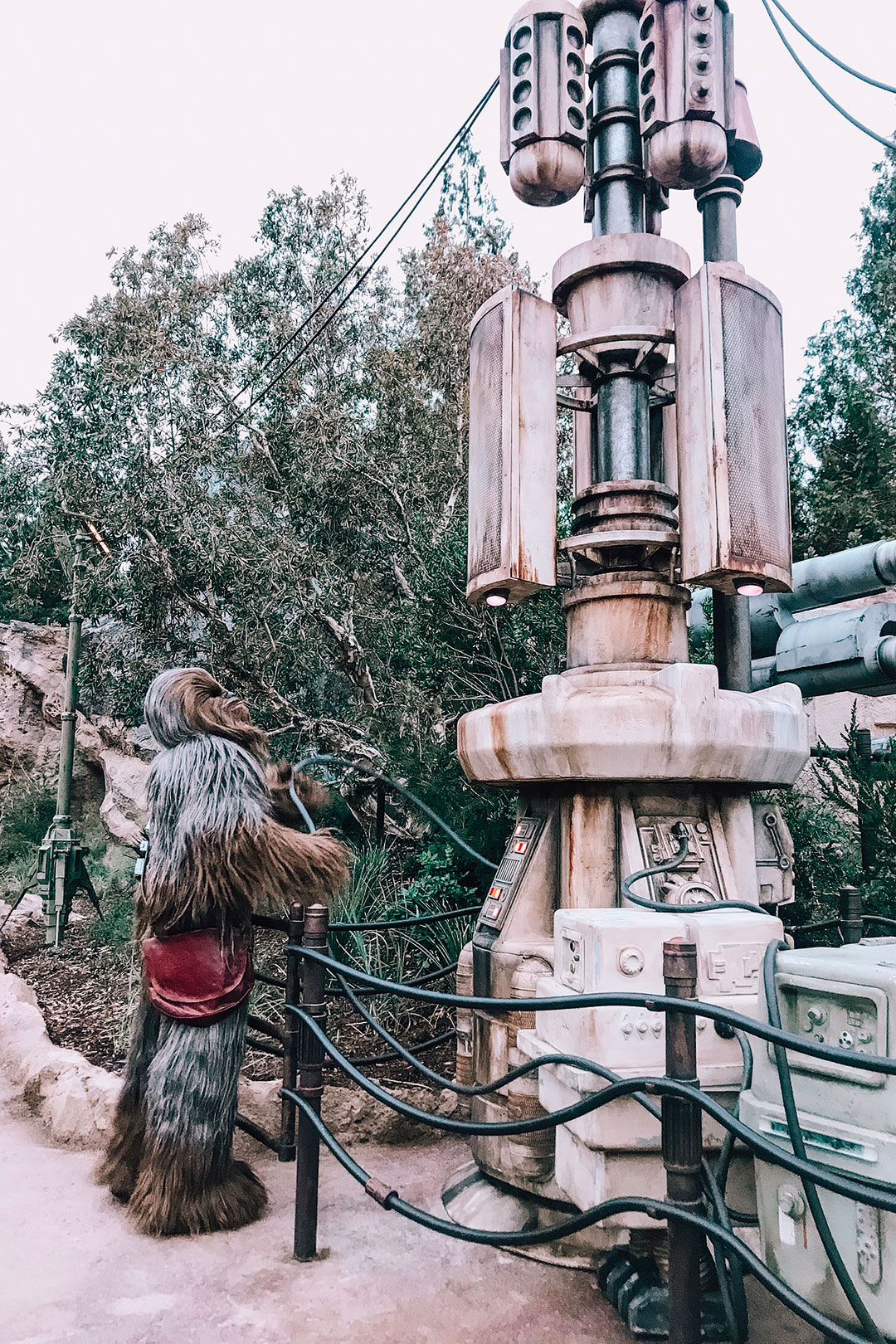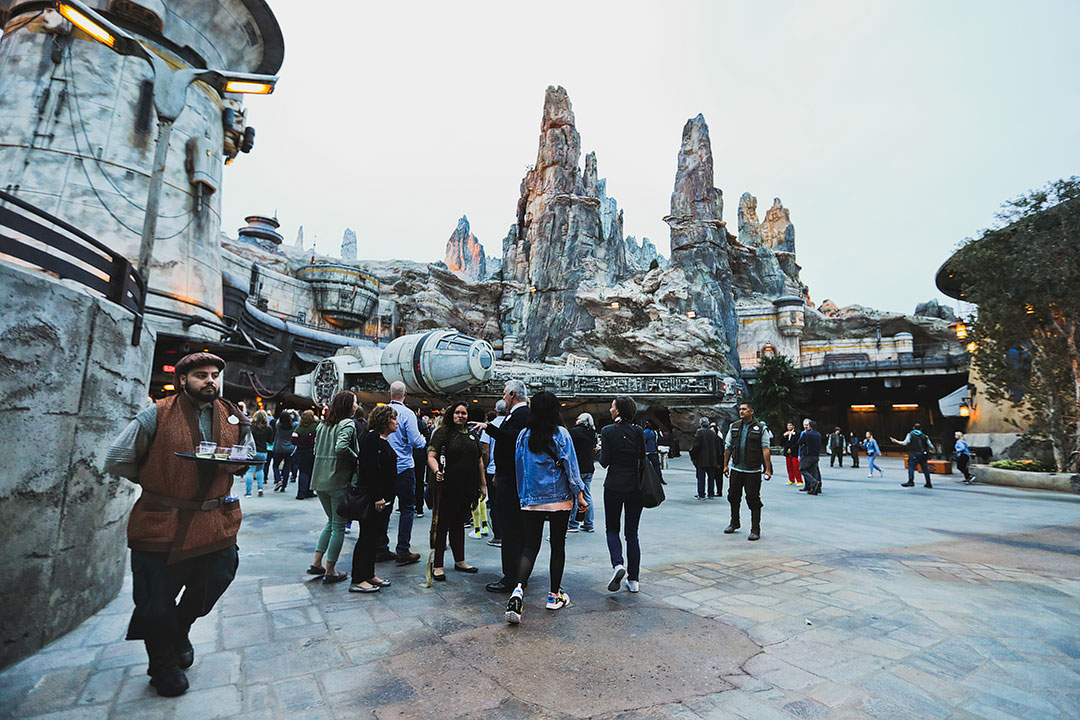 There are two main attractions at Star Wars: Galaxy's Edge. The first is the Millennium Falcon: Smugglers Run. The second, Star Wars: Rise of the Resistance, is not open yet. Besides that, Oga's Cantina , Savi's Workshop – Handbuilt Lightsabers, and the Droid Depot have a big draw. You can also try blue and green milk at the Milk Stand, or pick up food and goodies at the marketplaces.
The attention to detail is absolutely mind-blowing. So even when you're walking around, keep your eye out for the little things others might miss.
Millennium Falcon: Smuggler's Run Star Wars Ride
This is currently the biggest attraction and most memorable experience in Star Wars: Galaxy's Edge. Before entering, you're met with a full size replica of the Millennium Falcon. The line will take you along the backside of the Falcon and you'll even get a peek of it from the second floor.
After the first section of the line, you enter a room where Hondo Ohnaka greets you and gives you the run down of why you're there. The animatronics on Hondo look incredible! Afterwards, you're put into groups of 6 and wait your turn in the Falcon's Chess Room. We only waited 10-15 minutes to get up to this point and honestly lost track of time after that because we were geeking out and taking a bunch of photos.
The group you join has three different roles: pilots, gunners, and engineers. When they group you, they hand out the cards at random, but if you know people in your group, you can trade before starting the ride.
Pilots: One controls horizontal movement and the other controls vertical movements
Gunners: Each person controls the Falcon's guns
Engineer: Fixes the ship and performs other misc tasks
I was a pilot and Esther was a gunner. The pilot is the most involved role since you have to steer the ship and mash buttons as instructed. I was the right pilot controlling the vertical movements and I also got the chance to put the Falcon into light speed. The gunners have buttons on the side that they mash when shooting. Neither of us did the engineer job but it looked similar. The most fun job is the pilot since you have the most to do.
The ride is a simulator ride plus a video game tutorial. Hondo gives you instructions throughout the ride and buttons light up to signal what you're supposed to do. As a team, your job is to execute the commands as best as you can. Our team didn't do so well… but we had fun! 
Local Tip: There will be no fast passes for this ride so be prepared for a long wait.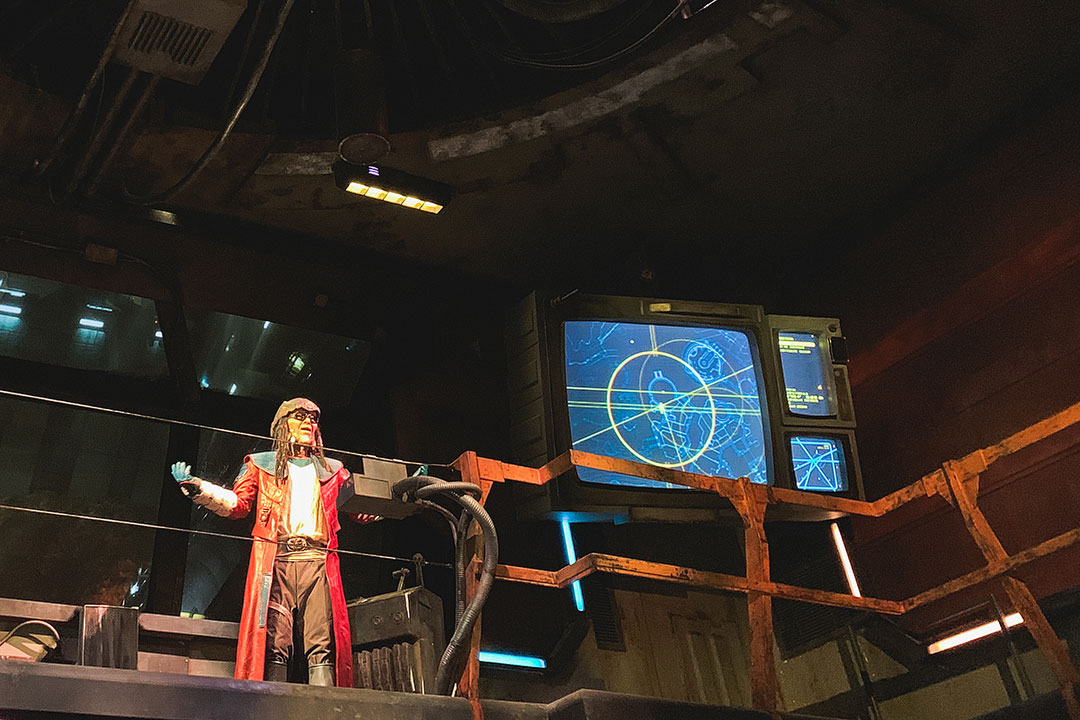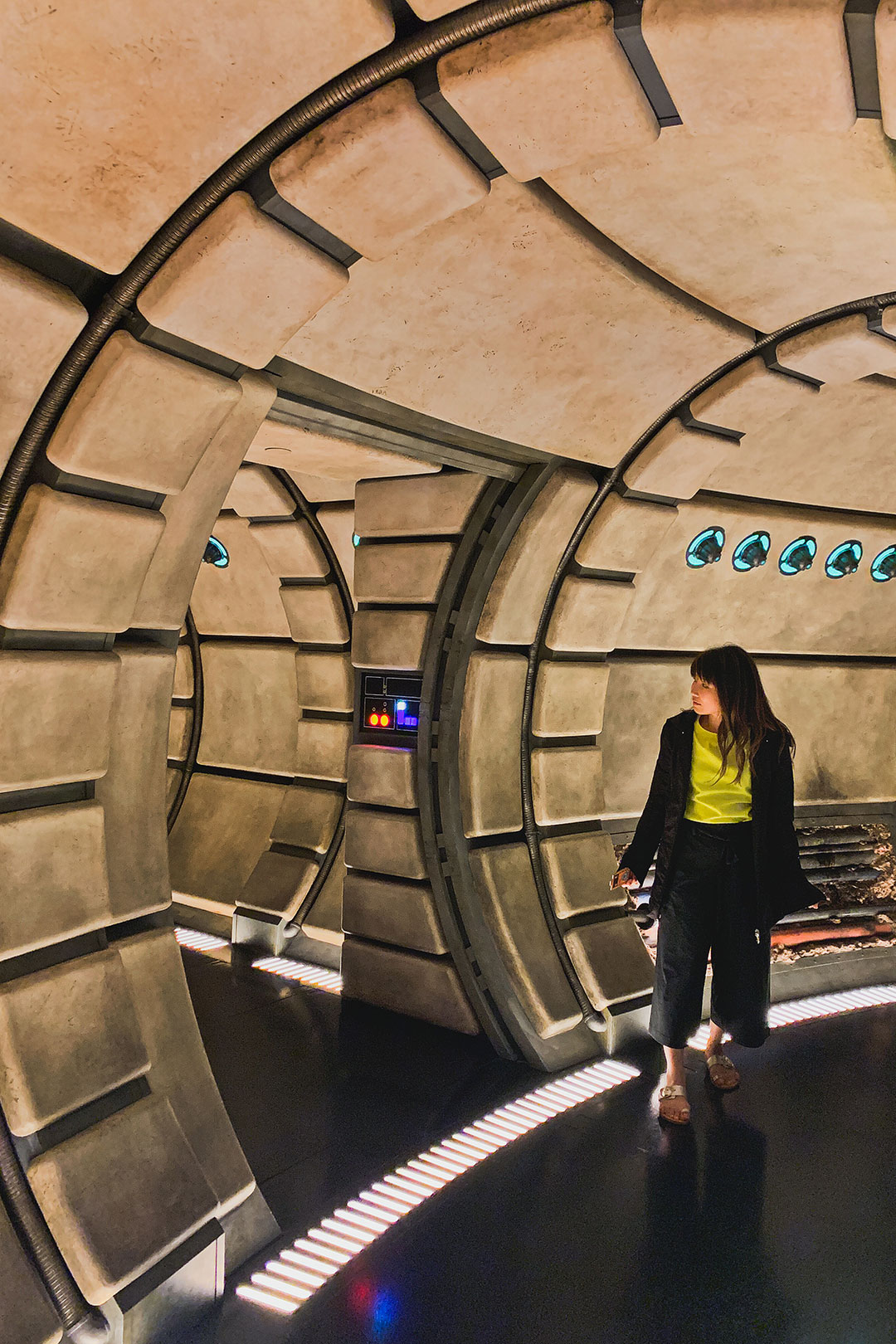 Star Wars Cantina (Oga's Cantina)
Oga's Cantina wasn't open during our visit. We were able to see the interior, but they weren't serving drinks, which was such a bummer! On the plus side, we got a chance to see the interior without waiting a couple of hours.
Normally, they have drinks that range from $7 – $42. I've seen photos of the drinks, and they truly look out of this world. After talking with one of the locals at the bar, they told us that the wait to get inside has been roughly 2 hours. Once you get in, there's a 45 minute limit for any of the booths or standing tables. The bar technically doesn't have a limit, but they've been cycling people in and out after about an hour.
We'll be back to try the drinks later. In the meantime, if you have any photos of your experience, send them our way. Drinks will be the same at both locations. Here's a sampling of what they have on their menu (how many references do you get?):
Drinks with Alcohol
Bespin Fizz
Bloody Rancor
Dagobah Slug Slinger
Fuzzy Tauntaun
Jedi Mind Trick
Jet Juice
The Outer Rim
Spriran Caf
T-16 Skyhopper
Yub Nub
Non-Alcoholic Drinks
Black Spire Brew
Blue Bantha
Carbon Freeze
Cliff Dweller
Hyperdrive Punch It!
Jabba Juice
Moogan Tea
Tarine Tea
Local Tip: Enjoy the Droid DJ. He was relocated from the previous Star Tours ride.
Build Your Own Star Wars Droid at Droid Depot OR Lightsaber at Savi's Workshop
There are two main interactive shops at Star Wars: Galaxy's Edge. The first is the Droid Depot, where you can custom build your own droid (R-series or BB-series) starting at $100. The decor in the depot is really cool. There are conveyor belts of droid parts running along the wall and ceiling. The droids that you build will interact with elements in the land and your behavior. You can even purchase additional programming chips and accessories to add abilities to your droid. There are pre-made droids you can purchase too. Even if you decide not to purchase a droid, you can still see the process and watch other people make theirs. There's also a life size R2D2 that you can take a photo with (and purchase).
Around the corner from the Droid Depot is an unmarked check in station where you can build your own lightsaber at Savi's Workshop for $200. Under the guise of a scrap shop, you can only enter if you purchase a lightsaber. We didn't do it and Jacob is still kicking himself for it. Especially since there was no wait, and on regular days, the wait can be 2+ hours. During the experience, you pick one of four options:
Peace Justice (modeled after Jedi from the Republic era)
Power Control (Sith)
Elemental Nature (harnesses the elements)
Defense (shrouded in mystery)
Each builder can bring one guest in with them. The saber comes with a carrying case and 31 inch blade.
Local Tip: If you ask around for where the lightsaber workshop is, cast members will remind you to keep your voice down. The First Order roams the grounds looking for any one with the Resistance, so you don't want to give away who you are.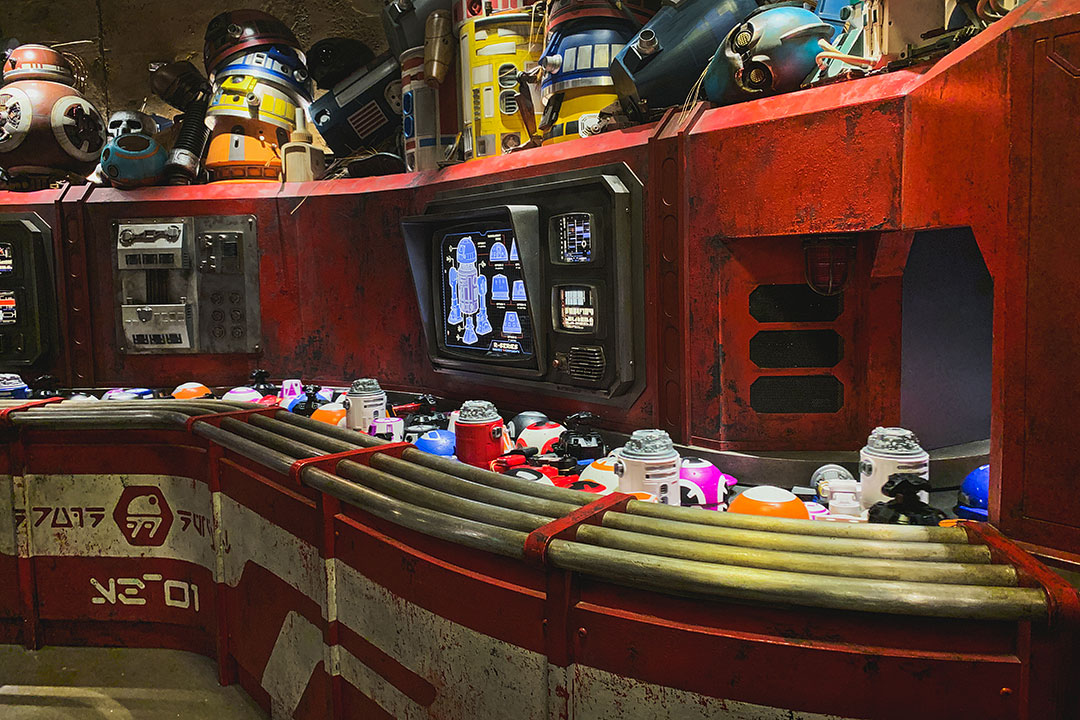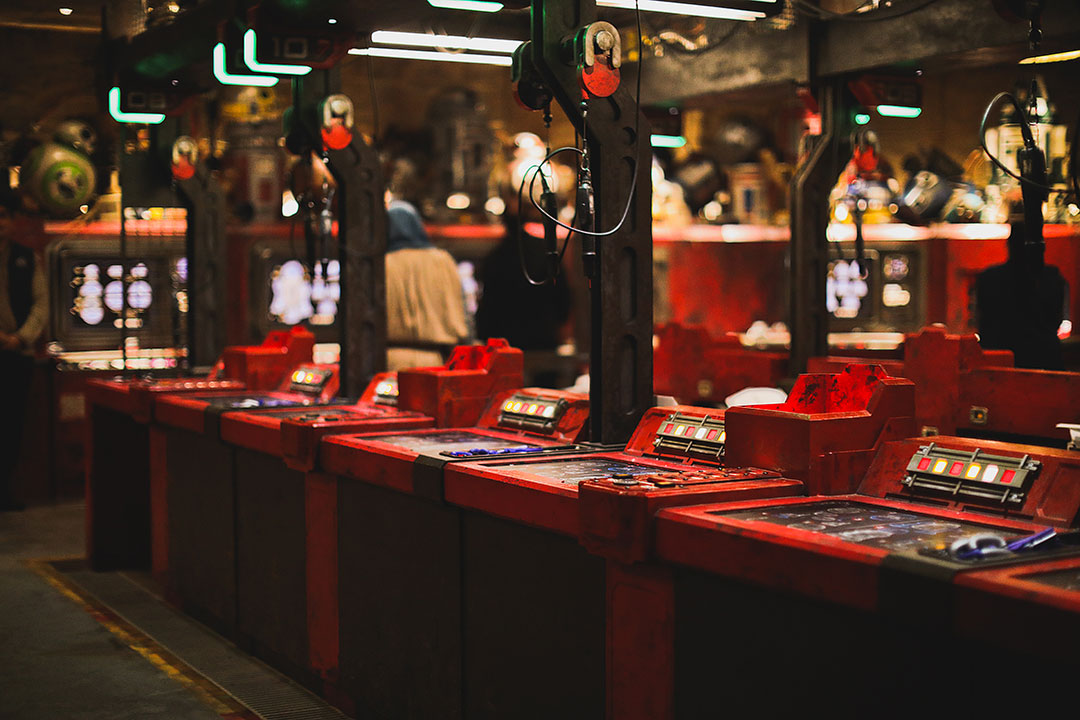 Beyond those main attractions, there other plenty of other nooks and crannies to explore in Batuu. Even if you don't plan on buying anything, you should still walk around to see all the different shops.
For food, Oga's Cantina will be the biggest attraction, but check out these other spots as well:
Kat Saka's Kettle – sweet and savory snack made with popcorn
Ronto Roasters – grilled sausage and roasted pork wraps
Chef Strono "Cookie" Tuggs – exotic dishes (nicer dishes)
Milk Stand – green & blue milk
There are several shops to check out. The hard part is deciding what you want to bring home.
The Market

Resistance Supply – resistance themed items
Creature Stall – exotic creatures (puppets)
Toydarian Toymaker – artisanal toys and games
Black Spire Outfitters – get a robe or other local garb
Jewels of Bith – local goods and trinkets

Black Spire Outpost

Dok-ondar's Den of Antiquities – collectable items
First Order Cargo – first order themed gear
Pro Tip : Browse through the shops before deciding what you want to buy
Download the Play Disney Parks App
We were so excited to get photos and check out the land, that we missed out on using the app at Star Wars: Galaxy's Edge. After arriving to planet Batuu, the app turns into the Star Wars: Datapad where you get to find easter eggs within the land. You can interact with droids, scan crates, and translate the alien languages seen throughout Batuu. You'll even collect digital rewards, like ship schematics, star maps, and more. This is something we'll try next time.
John Williams created original music for Galaxy's Edge.
Orlando's Galaxy's Edge is exactly the same as Disneyland's. The only difference is that they face different directions.
Orlando's location is scheduled to open in August.
We've heard rumors that Star Wars: Rise of the Resistance is supposed to open at both locations in August, although because it's so technologically advanced, there may be delays.
What to Pack for Your Disneyland Visit
Anaheim Packing House (2 mi N, 10 min drive, map)
Knott's Berry Farm (6.8 mi NW, map)
Los Angeles (26.6 mi NW, map)
Have you visited Star Wars Galaxy's Edge? What did you think? Any other tips we're missing?
Did you enjoy this post? Pin it for later
SEE MORE CITY BUCKET LISTS
"Discovery consists not of seeking new lands but in seeing with new eyes" – M. Proust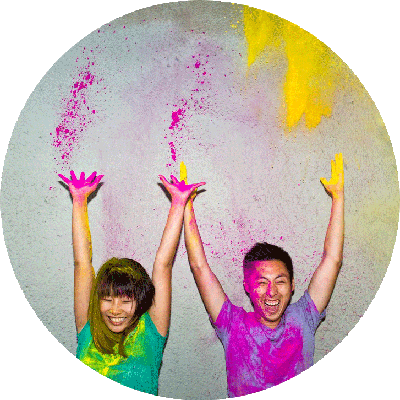 Esther and Jacob are the founders of Local Adventurer, which is one of the top 5 travel blogs in the US. They believe that adventure can be found both near and far and hope to inspire others to explore locally. They explore a new city in depth every year and currently base themselves in Las Vegas