Summer is the perfect season for hats, and these are the best packable sun hats for travel.
I recently started becoming more of a hat person, and I almost feel naked without them. It certainly doesn't feel like my outfit is complete without one now.
Sunscreen isn't enough to protect you from harmful UVA and UVB rays. Since staying indoors isn't really an option for us (we love the outdoors), the next best thing is to wear a hat. They keep you cool in the sun and they're one of the easiest accessories.
Last Updated: June 18, 2020
7 Best Packable Sun Hats for Travel
I LOVE big sun hats. I used to think I was too petite to wear them, but I just don't care anymore. They keep my face out of the sun and keep me looking more stylish than usual. My only hangup is that they're so wide and can get in the way when I'm the one behind the camera. But they're perfect for relaxing at the beach or pool or just anytime you don't have to take a gazillion photos.
It easily made our cruise packing list. Did you know that many of them roll up nicely for packing? Get those kinds, because there's nothing more annoying than having to carry a hat separately. I got this one for myself, and another one for mom so she can wear it while gardening.
UPF 50
Packable construction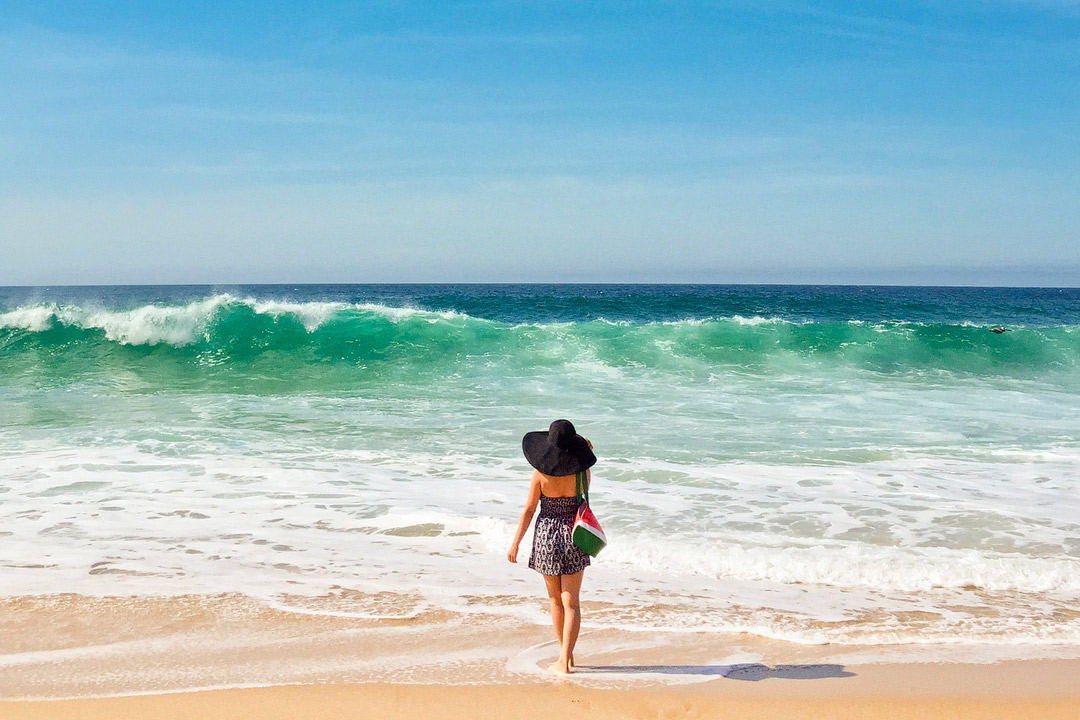 I love traveling with boater hats. This is the one I got recently (it was on sale) since it was even more packable than the straw boater hat I used to wear.
Plenty of travel bloggers travel with these classic panama hats. Did you know that there's a difference between panama hats and fedoras? At first glance they look the same in shape, but fedoras are typically made out of felt or wool. People still refer to them as straw fedoras though.

I never imagined I'd wear one of these, but after Jacob wore it hiking the Inca Trail, I actually got jealous of his hat. I love that it's convertible and tuck away
UPF 50+
Ultralight
Moisture-wicking technology
Packable construction
I'll admit this isn't the sexiest hat, but this one is for pure practicality. Since we do a fair amount of hiking, a sun hat is a must. It's built to give you circulation while giving you plenty of protection from the sun (UPF 50). It's also the most lightweight out of all the options and packable.
Packable construction
Sweat-wicking
UPF 50
Vent for breathability
These reversible hats give you a two in one. There are so many patterns and colors available. When it's flipped it's plain black, so you can have a more fun side and a toned down side depending on your outfit.
Though this isn't a typical summer hat, it can be worn year-round since it's breathable and lightweight. I love how versatile it is for trips and how it has the perfect amount of pop for photos without being obnoxiously bright.
More Packable Sun Hats for Travel
Personalized wide brim hats with wanderlusty sayings on it. I never got into them myself.
Straw Visor – It's a win for functionality. It rolls up and gives you the most breathability since the top is wide open. We used to joke that when we got older we would embrace the visors, but I'm at a ripe age and can't get myself to do it.
Baseball Cap (not as crushable, but more compact)
Luxury – Eugenia Kim Hemp Straw Fedora
What to Look for in a Sun Hat
Sun Protection – if you want the extra sun protection, make sure you look at the UPF ratings.
Brim Size – If you're going to be outside in the sun, it's better to go with a wide brim hat that ensures your whole face is covered.
Activity – If you're going on a hike, you might want to consider something lightweight and something that doesn't get in the way. If you're going boating or it's a windy day, you might consider a hat with a chin strap.
Color – We love having a variety of hats, but most recently we started buying more lighter colored hats so that it doesn't blend into the background when we're taking travel photos.
What types of hats do you like wearing?
What do you have in your summer essentials?