Looking for a way to challenge yourself and conquer your fear of heights? Here are the scariest hikes in the world.
Anyone who knows us knows that we have a fear of heights. I'm talking, leg shakin', nonsense talkin', pants peein' (okay, we may not pee our pants, but we sure feel like it) fear of heights. We hate the idea that fear can hold us back from a good adventure, so we've been pushing ourselves to conquer chip away at those fears.
Fearlessness is not the same as the absence of fear. The fearless person is well aware of the fear she faces. The fear, though, becomes a compass, not a barrier. It becomes a way to know what to do next, not an evil demon to be extinguished. When we deny our fear, we make it stronger… Acknowledging fear and moving on is a very different approach, one that permits it to exist without strengthening it. Life without fear doesn't last very long–you'll be run over by a bus (or a boss) before you know it. The fearless person, on the other hand, sees the world as it is (fear included) and then makes smart (and brave) decisions. – Seth Godin
Last Updated: October 21, 2022
15 SCARIEST HIKES IN THE WORLD
1. Mount HuaShan, Huayin, China
Distance: Varies depending on the summit
Time: All Day
Best Time to Go: April to October
My legs turn to jelly just looking at this hike. This hike makes everyone's list of the most dangerous hikes in the world and for a good reason. Besides steep staircases and vertical ascents, the plank trail is made of wooden platforms bolted to the mountainside.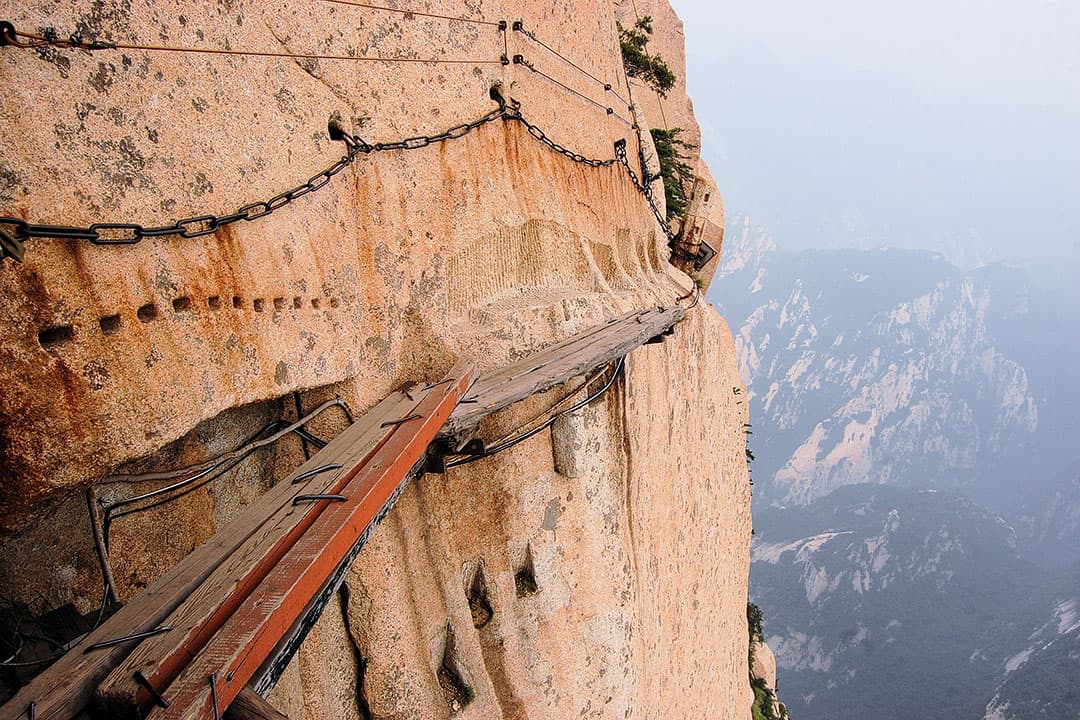 2. El Caminito del Rey (The King's Pathway), El Chorro, Spain
Distance: 4.8 Miles
Time: 4-5 Hours
Best Time to Go: Year Round
This hike comprises a three-foot-wide walkway that is barely attached to a sheer cliff. There are potions with big gaps and parts where you even have to do some low-level rock climbing. The one comfort is that there is a safety wire running along the path that can be clipped into.
UPDATE: They recently underwent a huge renovation and reopened to the public in March 2015 with a much safer and accessible walkway.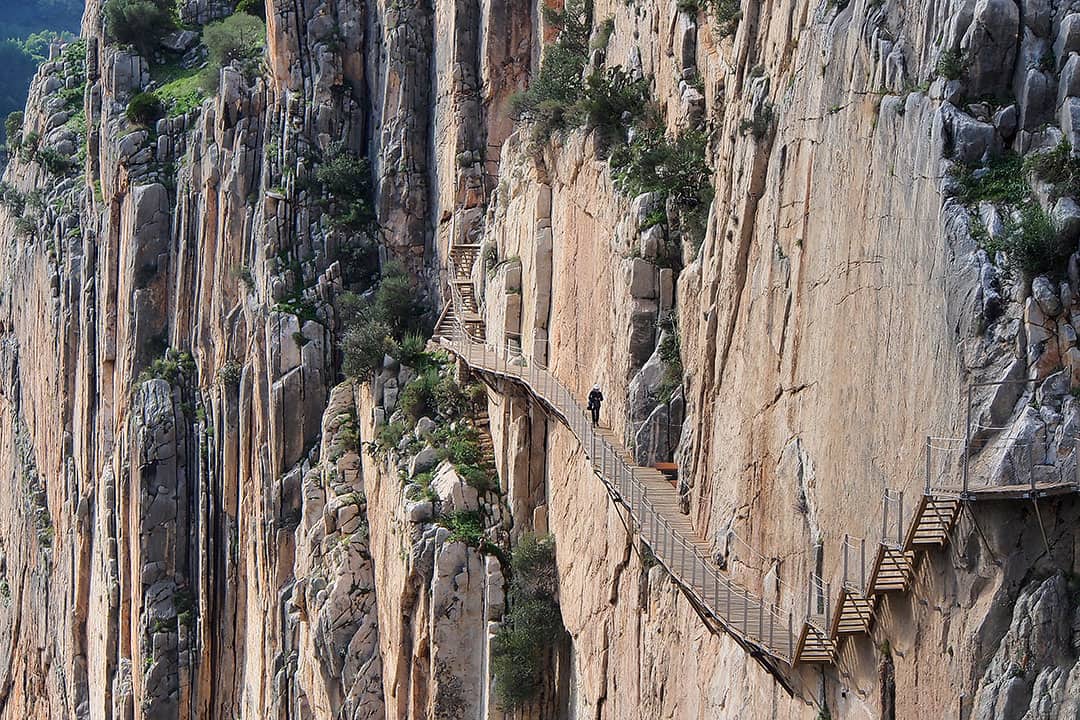 3. Kjerag, Forsand, Rogaland, Norway
Distance: 6.2 Miles
Time: 5 Hours
Best Time to Go: June to September
This mountain in Norway is home to Kjeragbolten, a stone wedged between two rocks that make for some crazy looking photos!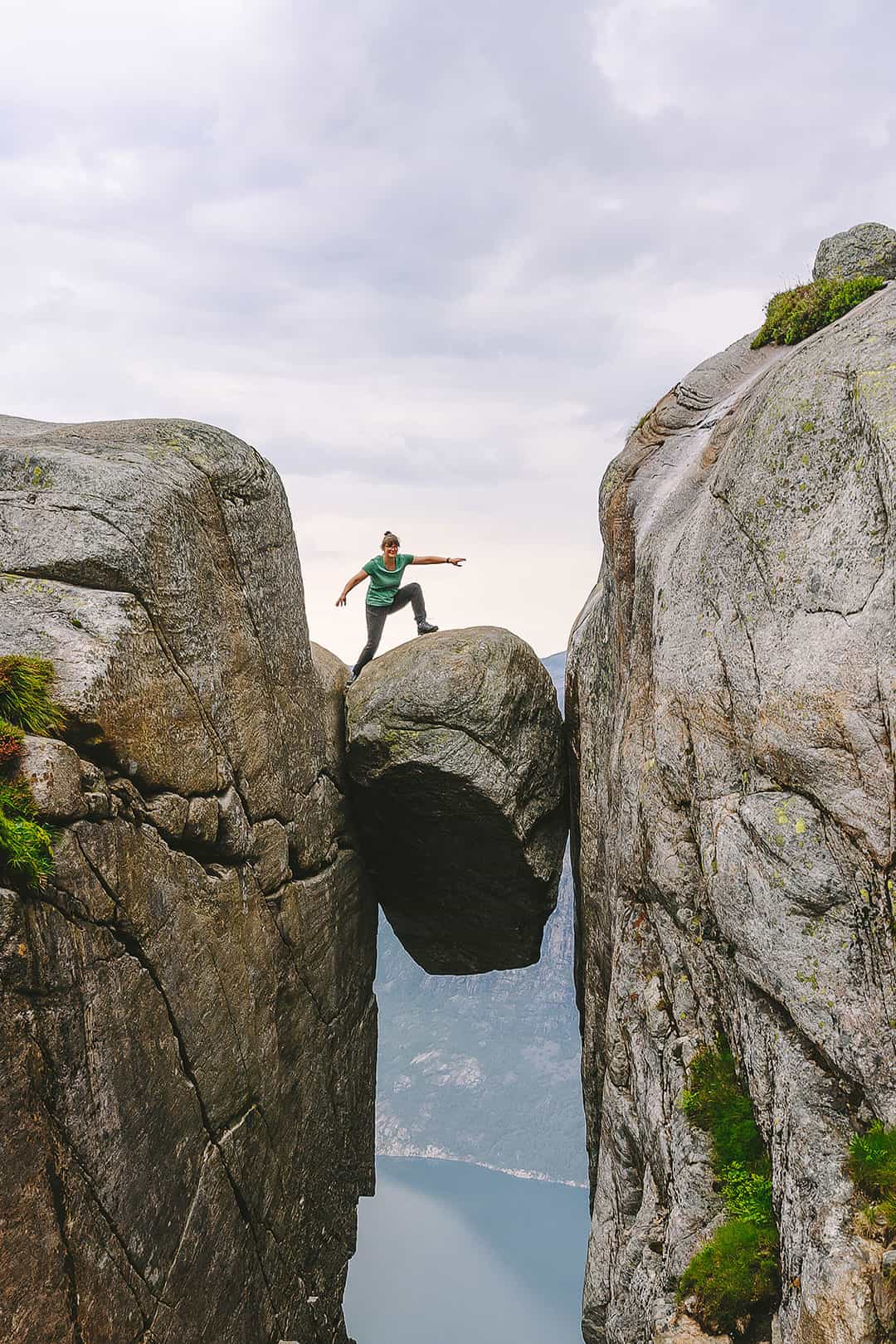 4. Huayna Picchu, Peru
Time: 2-3 Hours
Best Time to Go: May to September
Although the Inca Trail hike is strenuous and one of the hardest hikes we've done, the danger begins just past the hike to the city of Huayna Picchu. Slippery stones, knee-buckling heights, and crumbling rock earn this hike the nickname "Hike of Death". It's too bad we couldn't push past our fear when we were here a few years ago!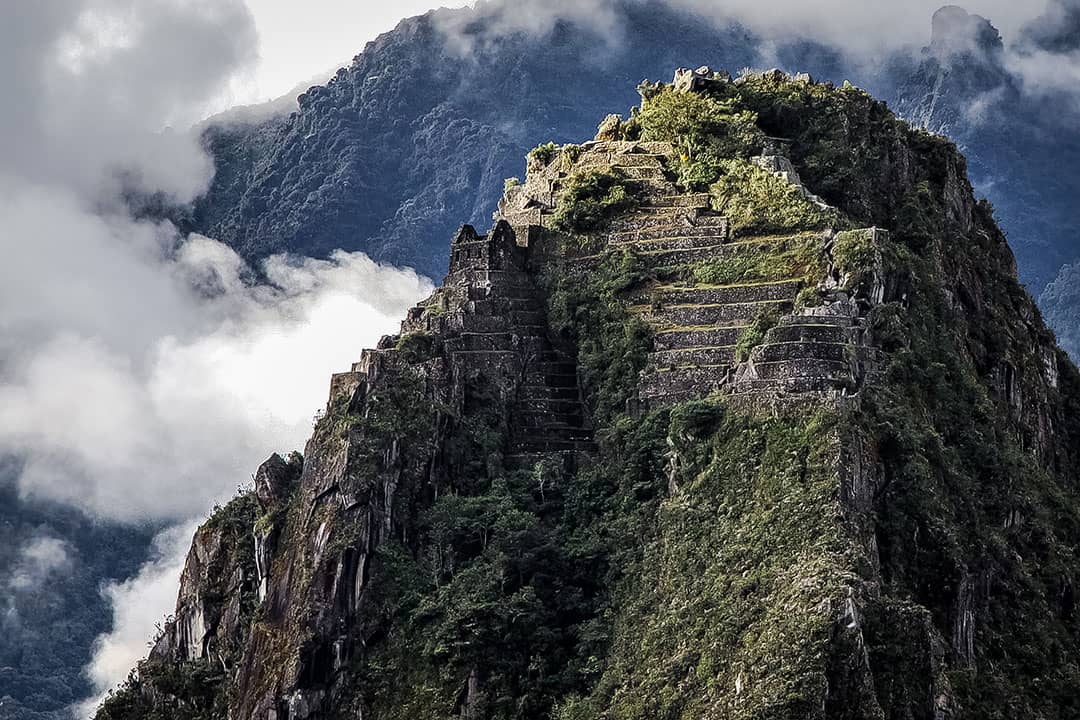 5. Via Ferrata, Italy, and Austria
Distance: Varies
Time: Varies
Best Time to Go: Year-Round
Via Ferrata, or iron roads, are a system of metal ladders and cables. A lot of them were created during World War I. Clip in and swallow that fear as you conquer these heights. The only via Ferratas we've done so far were in Squamish and Kanab Utah, and we loved it.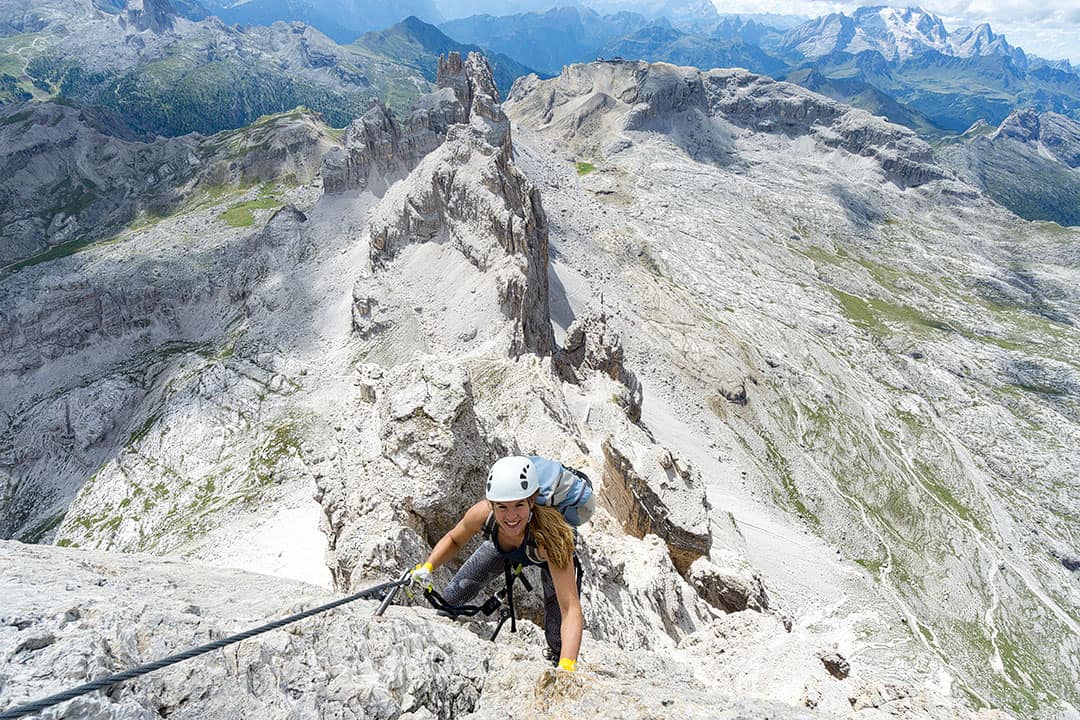 Time: 2-3 Days
Best Time to Go: April to September
This is the highest hike of its kind, giving you spectacular views at the highest summit in Malaysia but requiring you to access it via Ferrata.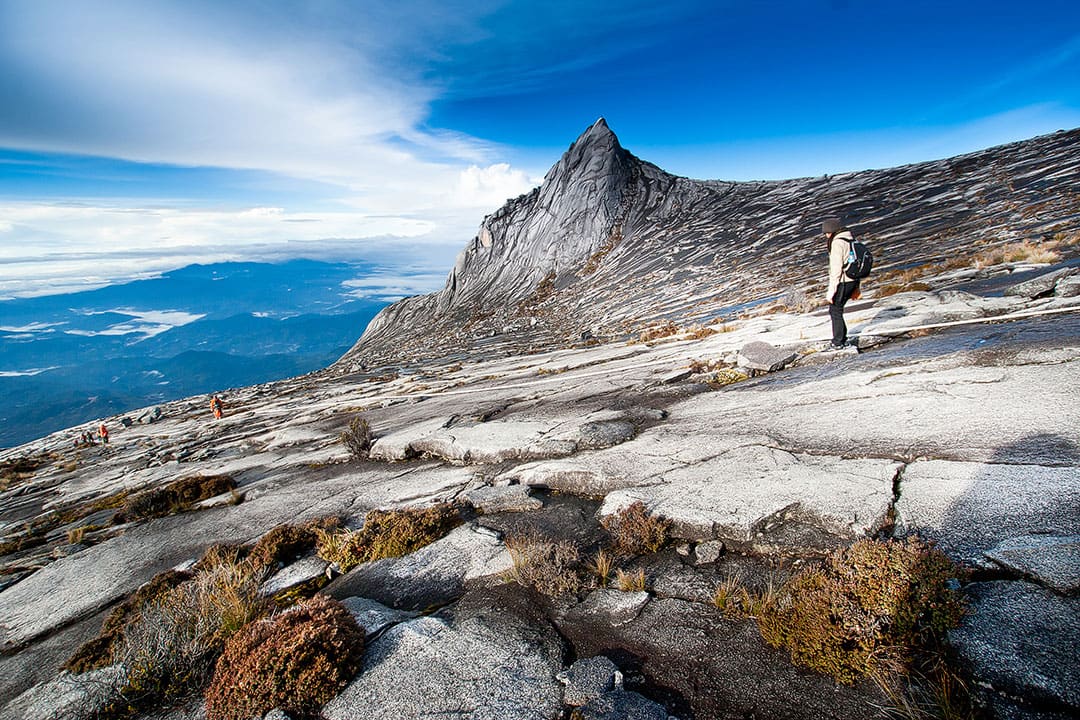 Distance: 16 Miles
Time: All Day
Best Time to Go: April to October
This round-trip hike takes you to the top of Yosemite's famous granite dome. You get amazing views of Vernal and Nevada Falls and Yosemite Valley. The most iconic portion of the hike is the final 400 feet to the summit where you climb up using two metal cables and is quite the doozy. After doing the hike, it's one of the scariest hikes in the world in my book. If you've conquered your fear, you can even climb the face of Half Dome!
8. Aonach Eagach Ridge, Glen Coe, Scotland
Distance: 5.75 Miles
Time: 6-9 Hours
Best Time to Go: Year Round
This hike takes you through sections where there are endless drop-offs on both sides. No rope is required, but there are some scary ridge walks, shimmies up chimneys, and crawls down ledges.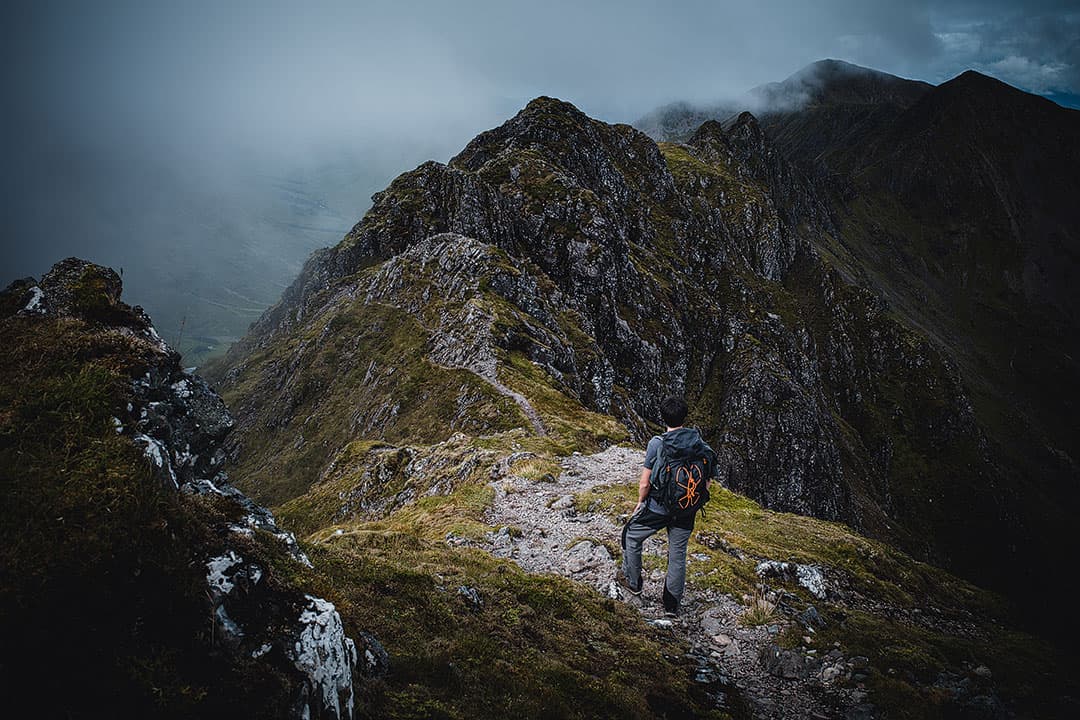 9. Trolltunga, Odda, Hordaland, Norway
Time: 8 Hours
Best Time to Go: June to September
Probably one of the most famous landmarks in Norway, this rock jutting horizontally out of a mountain will make anyone dizzy.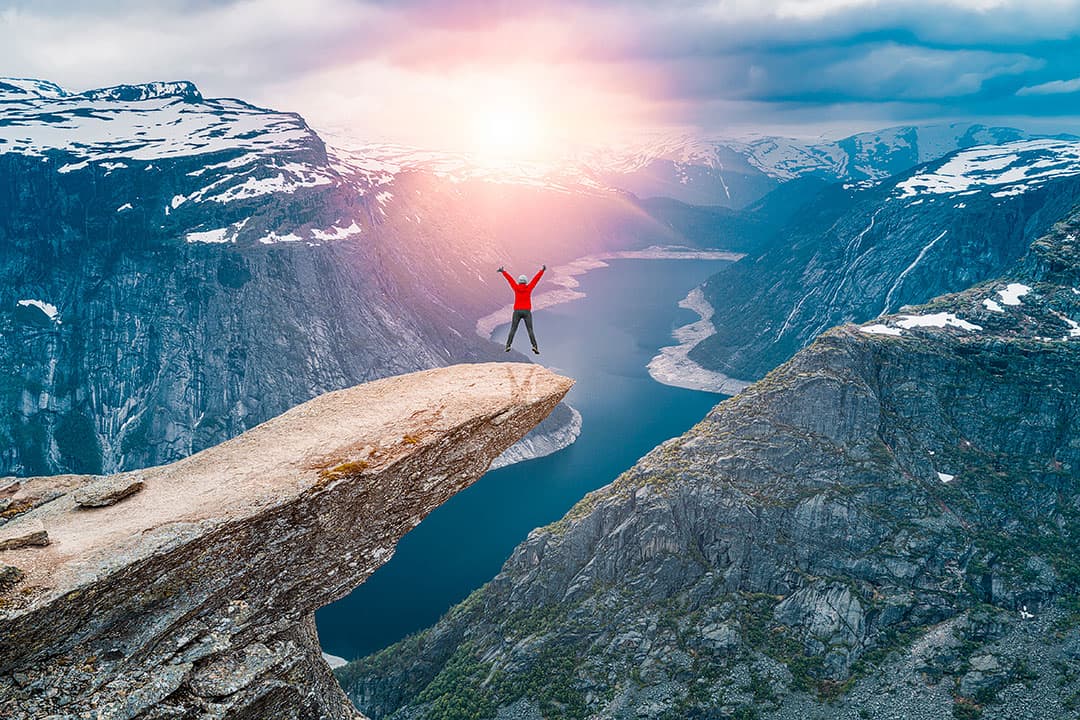 10. Drakensberg Traverse, South Africa
Distance: Up to 135 Miles
Time: Up to 12 Days
Best Time to Go: March to May
This hike definitely earns its spot as one of the scariest hikes in the world with two rickety chain ladders take hikers to the top of a ridge with amazing views!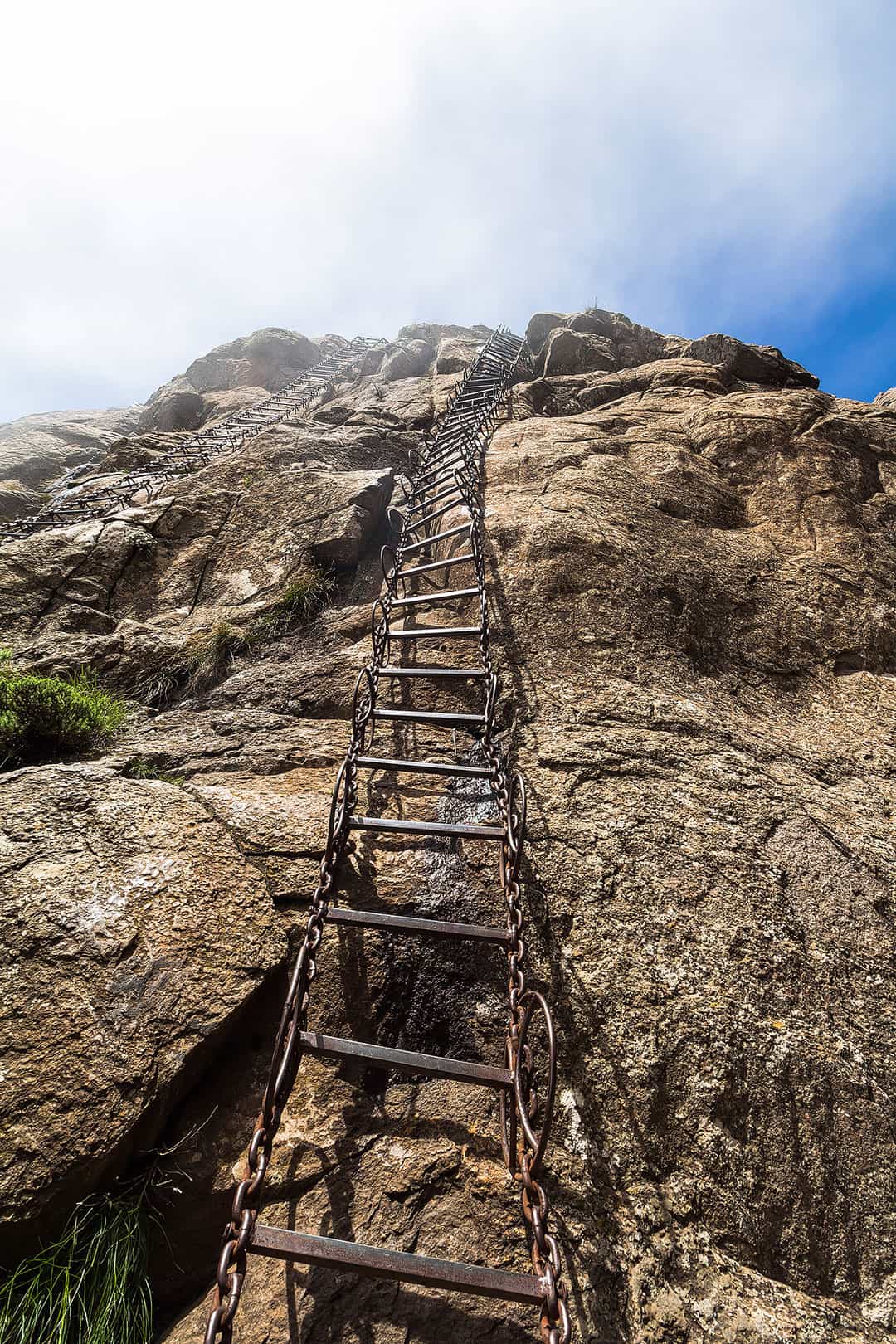 11. Pulpit Rock, Forsand, Ryfylke, Norway
Distance: 4.5 Miles
Time: 4 Hours
Best Time to Go: April to October
Norway has some of the most spectacular views for those who can conquer their fear of heights. Pulpit Rock, or Preacher's Pulpit, is just one of these. Although the 2-hour hike itself with an elevation change of 1082 ft is not terrifying, the destination is a cliff 604 m (1982 ft) tall.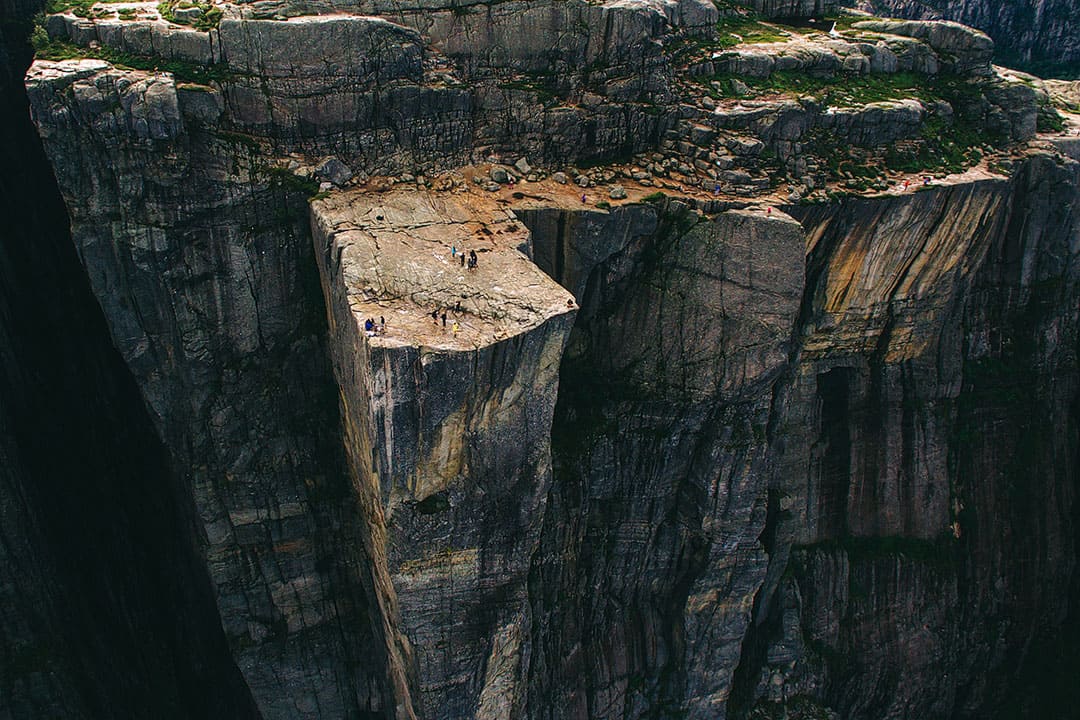 12. Crypt Lake Trail, Waterton Lakes National Park, Alberta, Canada
Distance: 11 Miles
Time: 6 Hours
With amazing waterfalls and stunning views, this hike requires you to scramble, cling, and crawl through isolated spots in the Canadian Rockies.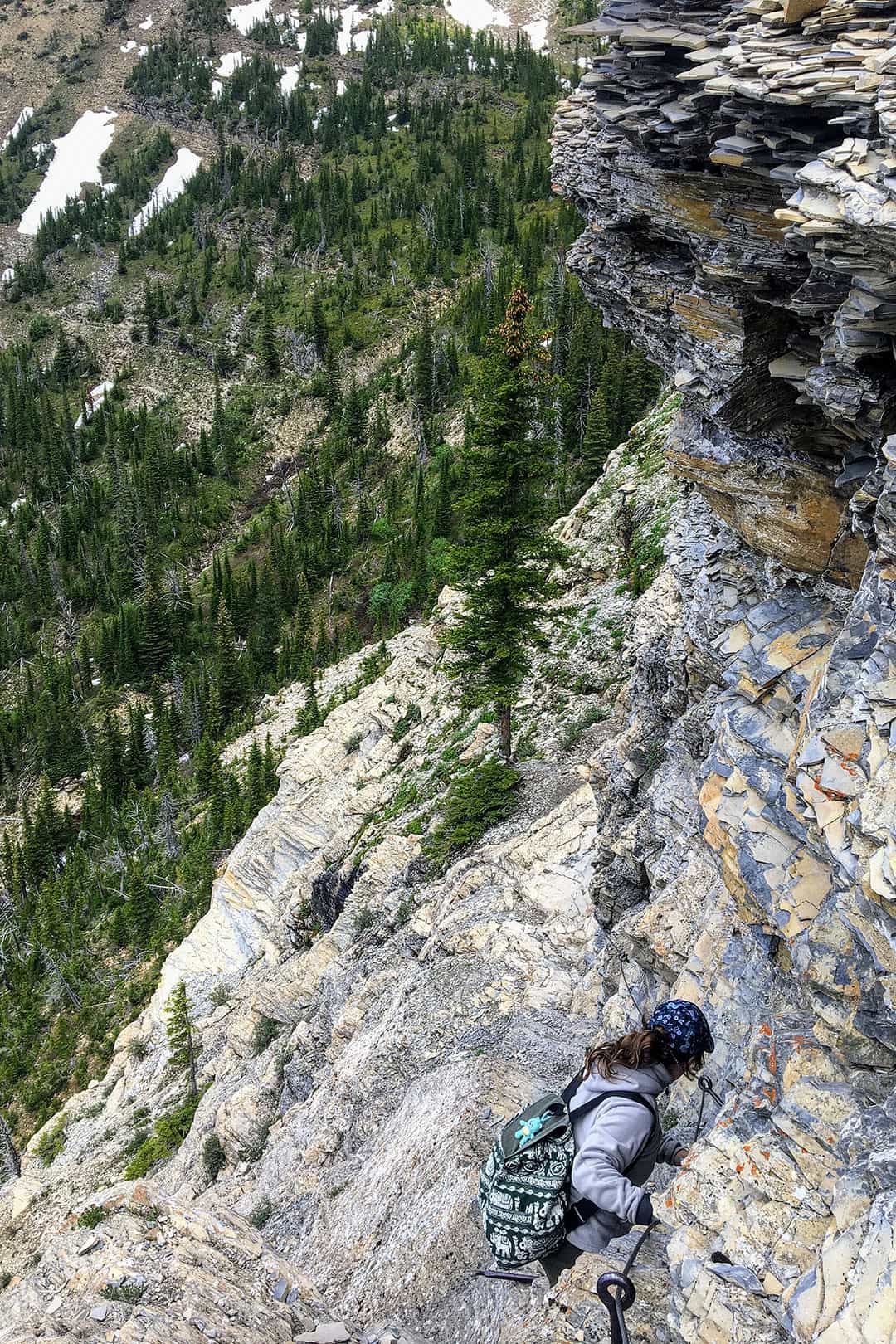 13. Devil's Path, New York, USA
Distance: 24.2 Miles
Time: 2-3 Days
Best Time to Go: March to October
This hike takes you in a straight line rather than through switchbacks. The result is a gut-wrenching hike over loose rock, vertical scrambles, and sheer drops. You are rewarded with multiple peaks and viewpoints.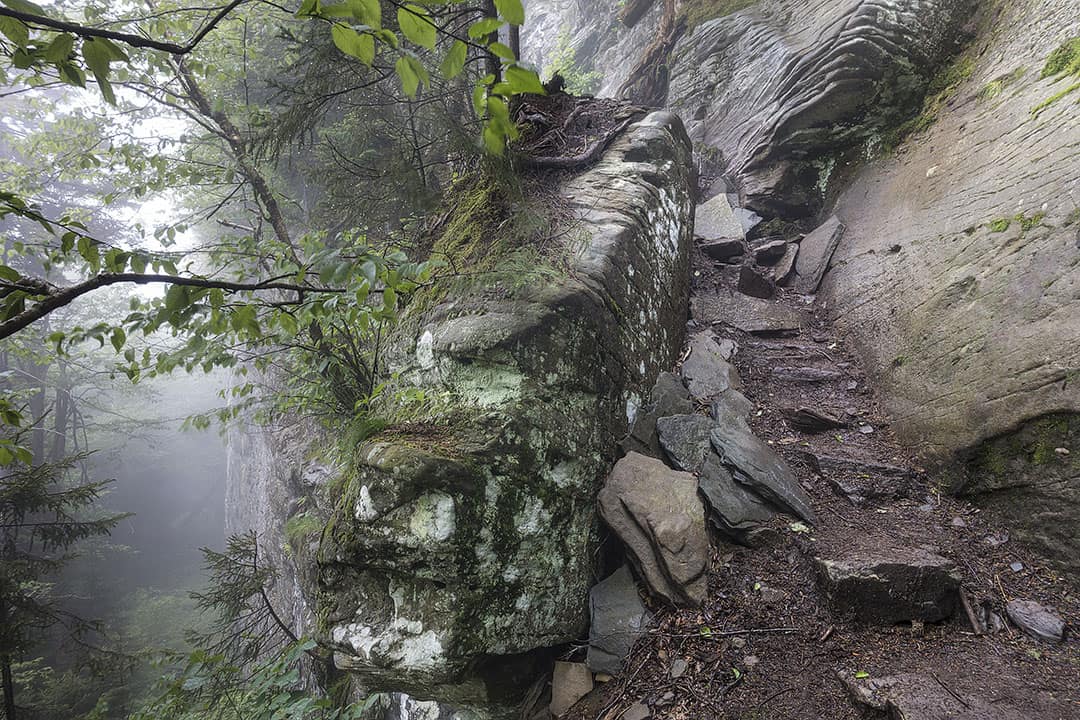 14. Kalalau Trail, Kauai, Hawaii, USA
Distance: 11 Miles
Time: Full Day
Best Time to Go: Year-Round
This hike offers beautiful views of the coastline but also evokes sheer terror. Portions of the trail have you facing a rocky ocean below as you edge along a 300-foot cliff.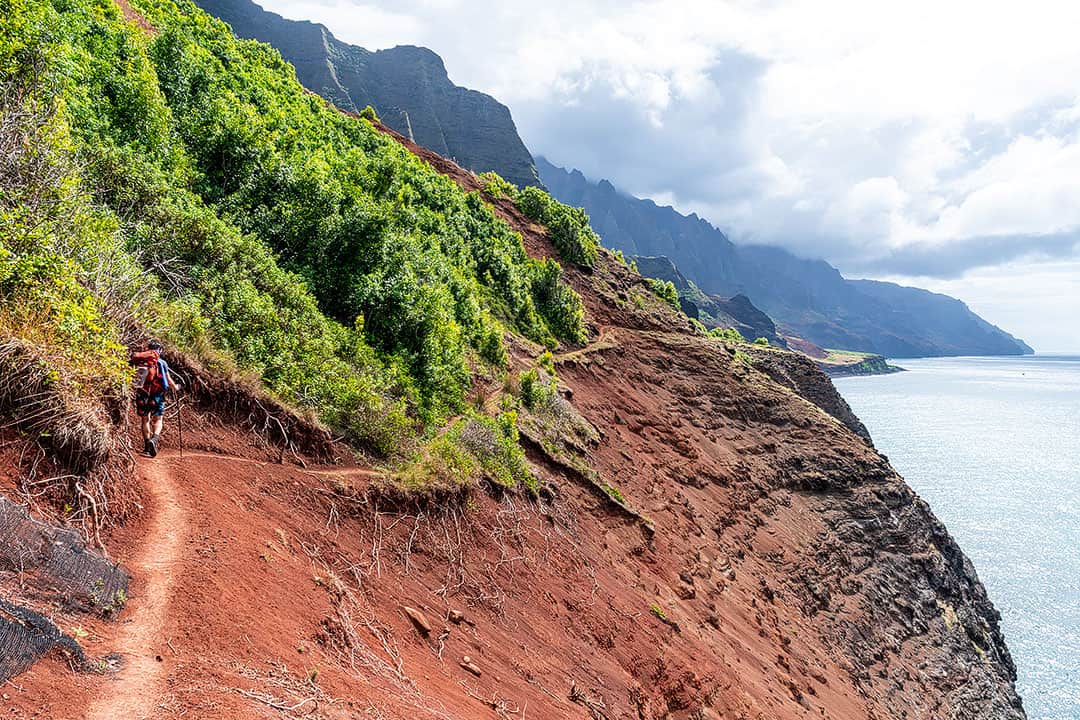 Distance: 5 Miles
Time: 3-5 Hours
Best Time to Go: March to October
One of the iconic hikes in Zion National Park, Angels Landing is not for the faint of heart. Since 2004, there have been 6 deaths from falling off the side of the mountain on this trail. There are even portions of the trail that offer chains to help steady yourself while there are thousand foot drop-offs on both sides. However, once you're at the top, the views are truly incredible! (full post here)
Last week, we did Angel's Landing, and we're already ready for our next challenge. Which one will it be?
Can you think of any others we missed that should be on our list of scariest hikes in the world? Do you consider via Ferrata more climbing or hiking or its own category outside of both? Are there any fears you are trying to overcome?