Can you believe that it's already a week into 2016? That means there are only 52 more weeks to accomplish my 16 in 2016 goals. Every year, we want to exercise more and be healthier, and every year, we do the bare minimum or fail. This year, we decided to find an activity that would go hand in hand with our love for the outdoors and one that didn't feel too much like exercise!
We've always talked about getting into rock climbing but for whatever reason never pulled the trigger. One day, our neighbors two doors down invited us out to climb, and we went! I didn't fall in love at first (I'll explain later), but we were up for the challenge (at least Jacob was).
I'll let you in on a little secret. I hate being bad at things! Only Jacob sees this side of me, but it usually results in me being in a pissy mood or quitting. Well, funny enough, climbing is something that doesn't come easy for me. I am improving in small increments, but it has been testing my patience every day. Cheers to growing physically, mentally, emotionally, and spiritually this year! :P
This is me:
These are our friends / neighbors:
Right now we're members at the Grotto, one of San Diego's newest indoor bouldering, climbing, and yoga gyms. There are over 130 climbs with a wide range of difficulties. They are constantly updating the walls with new climbs, so there is always something new. In addition to the 7,000 sq. feet of textured climbing surface, there is a yoga studio, showers, social areas, and a gym to help you train. We are loving the community there so far. Everyone has been really friendly and encouraging.
To make our goal more specific and tangible, Jacob would like to be able to comfortably climb V3s, and I'd like to climb V2s by the end of the year.
Even though we just started, we've already learned some lessons from the staff and other climbers that will hopefully help you if you're a newbie like us!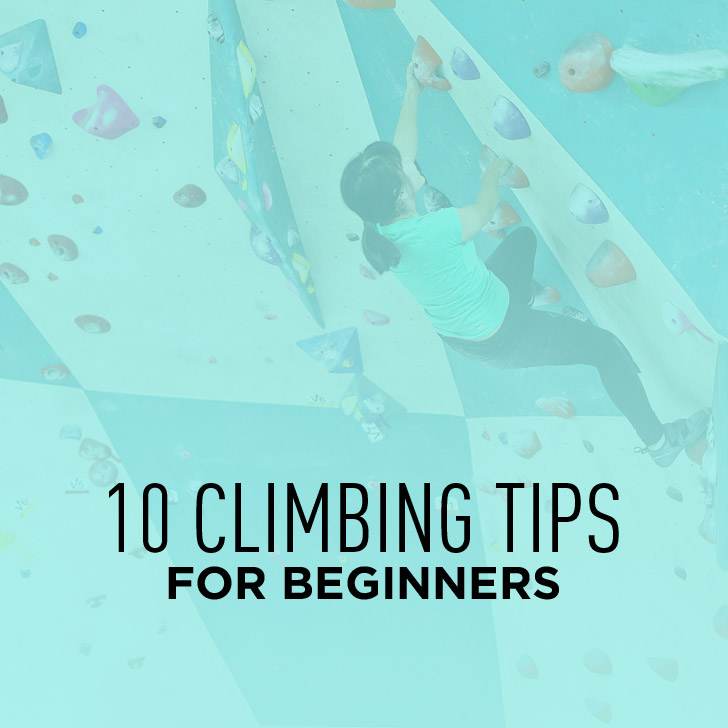 10 CLIMBING TIPS FOR BEGINNERS
1. Use Lots of Chalk
Not only does climbing chalk help you hang on better, but it also keeps your hands dry to avoid blistering.
2. Don't Use Lotion After
No one wants old looking hands, so I usually am in the habit of using lotion! When you're climbing, though, you want to keep your hands as dry as possible. Moisture causes more blistering.
3. Buy Athletic Tape
You want your hands to build up calluses, but you don't want to be so blistered that you can't climb anymore. It's handy to have athletic tape to wrap up any sensitive areas. The Grotto has some available to use at the front desk.
4. Remember You're Not Falling From As High As You Think
We are both afraid of heights so when we start to reach the top of the wall, we get nervous. Sometimes it's easy to forget that your head is much higher than your feet.
5. Don't Be Afraid to Try Harder Climbs
At first, I thought I needed to conquer all climbs of a specific level before moving on, but that isn't true at all. Sometimes a climb will be harder or easier for you depending on who set it. At the very least, you can start practicing different maneuvers and grips.
6. Watch Others
Bouldering / climbing is a lot like solving puzzles. Sometimes you just need to figure out the right moves and maneuvers to get up the walls. When you're resting, watch other climbers and pay attention to how they tackle a route. You can learn a lot of different techniques and ways people use to climb the same route.
7. Take Breaks
Both of us are really impatient so we're always trying to constantly climb to improve as quickly as possible. Breaks are essential for your muscles. If you watch seasoned climbers, they take quite a bit of time to sit and plan out their routes. They also use this time to recharge their muscles. It's recommended to take at least a 5-minute break between climbs so that you don't wear yourself out too quickly.
8. Don't Forget to Train
If you're serious about getting better, it's not just about using all your time to climb. When you get too fatigued to climb, hit the gym portion. There are some great exercises that focus on your core, grip strength, back, and balance.
9. Don't Be Afraid to Ask for Tips
Sometimes there isn't anyone around to watch climbing the routes you're working on. All of the climbers that we've met so far have been really friendly and willing to help us out.
10. Buy Gear at REI
Whenever you decide to pick up shoes, be sure to try them on and shop at REI. Why? Their return policy! Even if they are comfortable when you try them on, you may find out otherwise once you start climbing. REI has a no-questions-asked return policy for up to one year after your purchase. Don't forget to check out their outlet store too for deals!
BONUS. Have Fun
I know it sounds cliche, but it's important to remember. The first couple of times I went, I felt like wasn't getting any better. If you're anything like me, my mind is constantly beating me down telling me how much I suck mid-climb (not exactly the kind of encouraging climbing partner I'd want). I try to remind myself that it's not all about the destination. It's about the journey and having fun along the way. Another cliche! :D
We're excited to improve, and if you're in the San Diego area, come join us!
The Grotto Climbing
4460 Alvarado Canyon Rd
San Diego, CA 92120
619.283.2105
info@grottoclimbing.com
What fitness goals are you setting for yourself this year? If you're a climber, any other tips you'd give us newbs?