Every year, one of our goals is to have a healthier lifestyle, but often times we end up doing the bare minimum or completely failing. This year, we decided to find an activity that would go hand in hand with our love for the outdoors and one that didn't feel too much like exercise! We've always talked about getting into rock climbing but for whatever reason never pulled the trigger. One day, our neighbors two doors down in San Diego invited us out to climb, and we went! I didn't fall in love at first (I'll explain later), but we were up for the challenge.
Even though we just started, we've already learned some lessons from the staff and other climbers that will hopefully help you if you're a newbie like us!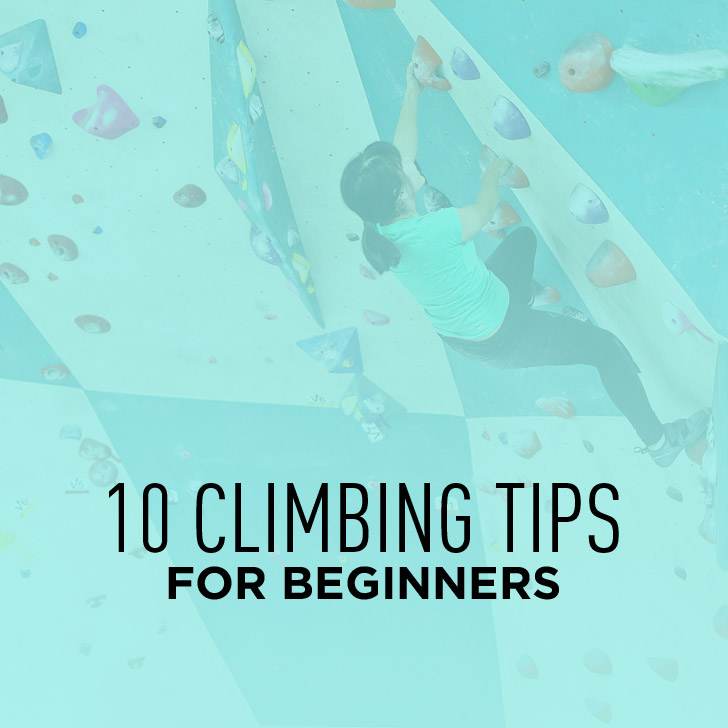 Pin
10 CLIMBING TIPS FOR BEGINNERS
1. Use Lots of Chalk & Don't Use Lotion
Not only does climbing chalk help you hang on better, but it also keeps your hands dry to avoid blistering. After you're done climbing, don't use lotion on your hands. No one wants old looking hands, so I usually am in the habit of using lotion! When you're climbing, though, you want to keep your hands as dry as possible. Moisture causes more blistering.
2. Climbing Terms
When you start spending time in the gym, it will sometimes feel like people are speaking a different language. There are a ton of terms that climbers use, but here are some of the basic ones that you'll hear most often when bouldering.
Equipment:
Rock Climbing Shoes – pretty self-explanatory, but they are tight shoes necessary for climbing.
Crash Pad/Mat – that soft cushion that you will fall on over and over again.
Chalk Bag/Bucket – the fabric container that will hold all the chalk for you.
General Terms:
Problem – a bouldering route.
Beta – info passed on from climber to climber on how to finish a climb.
Send – successfully climbing a problem.
Crux – the hardest part of the climb/problem.
Flash – finishing a climb on your first try with some prior knowledge or beta.
On Sight – finishing a climb on your first try without a beta.
Project – a climb/problem that you are working on.
Top Out – getting over the top of a problem so that you can stand up (not all gyms have top out problems).
Holds, Grips, & Walls:
Bucket or Jug – large, deep holds that are easy to hold.
Crimp – a small edge help onto by the tips of your fingers.
Pinch – holds that you have to hold between your thumb and fingers.
Sidepull – a vertical hold facing away from the body.
Slopers – rounded or slopping hold.
Undercling – downward-facing hold that you grab from the underside.
Slab – a less vertical wall.
Overhung – a wall that is steeper than vertical.
Volume – large triangular or rounded hold that other holds can be mounted onto (usually can be used during any problem).
Moves:
Campus – climbing without using your feet.
Dyno – dynamic move where all four limbs leave the wall for a moment before grabbing the next hold.
Deadpoint – semi-dynamic move where the climber grabs the hold at the end of the movement arc.
Flag – sticking your leg(s) out to help with balance.
Hell/Toe Hook – using your toe or heel to hook a hold.
Mantel – same movement as you would use getting out of the swimming pool.
Match – putting both hands side by side on a hold.
Layback – using your feet to push against the wall or hold to get more leverage for your arms, essentially laying back.
Stemming – usually used in corners, pressing your legs or arms away from each other to hold the body in place.
Rockover – placing a foot on a high hold and standing up on it by pushing up on your legs and pulling with your arms.
Traverse – climbing primarily sideways.
3. Buy Athletic Tape
You want your hands to build up calluses, but you don't want to be so blistered that you can't climb anymore. It's handy to have athletic tape to wrap up any sensitive areas. The Grotto has some available to use at the front desk.
4. Remember You're Not Falling From As High As You Think
We are both afraid of heights so when we start to reach the top of the wall, we get nervous. Sometimes it's easy to forget that your head is much higher than your feet.
5. Don't Be Afraid to Try Harder Climbs
Don't let the numbers hinder you. Sometimes we get fixated on numbers thinking, "I can only climb V2, so I'm not even going to try a V4." The ratings are there as a guide but you'll quickly find that you may like a certain style of climb or prefer the climbs of a certain setter. It's a great way to work on some new skills even if you can only do the first few moves. Note: if there is a group of people obviously projecting that problem, you may want to let them do it first and come back when it's not so busy.
6. Watch Others
Bouldering / climbing is a lot like solving puzzles. Sometimes you just need to figure out the right moves and maneuvers to get up the walls. When you're resting, watch other climbers and pay attention to how they tackle a route. You can learn a lot of different techniques and ways people use to climb the same route.
7. Take Breaks
Both of us are really impatient so we're always trying to constantly climb to improve as quickly as possible. Breaks are essential for your muscles. If you watch seasoned climbers, they take quite a bit of time to sit and plan out their routes. They also use this time to recharge their muscles. It's recommended to take at least a 5-minute break between climbs so that you don't wear yourself out too quickly.
8. Don't Forget to Train
If you're serious about getting better, it's not just about using all your time to climb. When you get too fatigued to climb, hit the gym portion. There are some great exercises that focus on your core, grip strength, back, and balance.
MORE: Easy Portable Hangboard DIY
9. Don't Be Afraid to Ask for Tips
One of the best ways to get better is climbing with people who are better than you. You can learn a lot from watching them climb and they can suggest new techniques and movements you may have never thought about. If you're shy, you can start by watching people who are climbing around you at the gym. So far all the climbers we've asked for tips were all really friendly and helpful.
10. Buy Gear at REI
Whenever you decide to pick up shoes, be sure to try them on and shop at REI. Why? Their return policy! Even if they are comfortable when you try them on, you may find out otherwise once you start climbing. REI has a no-questions-asked return policy for up to one year after your purchase. Don't forget to check out their outlet store too for deals.
BONUS. Have Fun
I know it sounds cliche, but it's important to remember. The first couple of times I went, I felt like wasn't getting any better. If you're anything like me, my mind is constantly beating me down telling me how much I suck mid-climb (not exactly the kind of encouraging climbing partner I'd want). I try to remind myself that it's not all about the destination. It's about the journey and having fun along the way. Another cliche!
Pin
Pin

Pin
Pin
I'll let you in on a little secret. I hate being bad at things! Only Jacob sees this side of me, but it usually results in me quitting or getting mad. This is me.
Pin
These are our friends / neighbors:
Pin

Pin
Pin
Pin
Pin
Pin
To make our goal more specific and tangible, Jacob would like to be able to comfortably climb V3s, and I'd like to climb V2s by the end of the year.
Pin
We're excited to improve, and if you're in the San Diego area, come join us!
Right now we're members at the Grotto, one of San Diego's newest indoor bouldering, climbing, and yoga gyms. There are over 130 climbs with a wide range of difficulties. They are constantly updating the walls with new climbs, so there is always something new. In addition to the 7,000 sq. feet of textured climbing surface, there is a yoga studio, showers, social areas, and a gym to help you train. We are loving the community there so far. Everyone has been really friendly and encouraging.
The Grotto Climbing
4460 Alvarado Canyon Rd
San Diego, CA 92120
619.283.2105
[email protected]
What fitness goals are you setting for yourself this year? If you're a climber, any other tips you'd give us newbs?