Last month we had an amazing time kayaking at the Channel Islands National Park.
To get over to the islands, we rode a ferry with Island Packers, who provides transportation to the Channel Islands and also provides Whales & Wildlife tours. What we didn't expect on our 1 hour ferry ride to the islands is the chance to see the whales ourselves!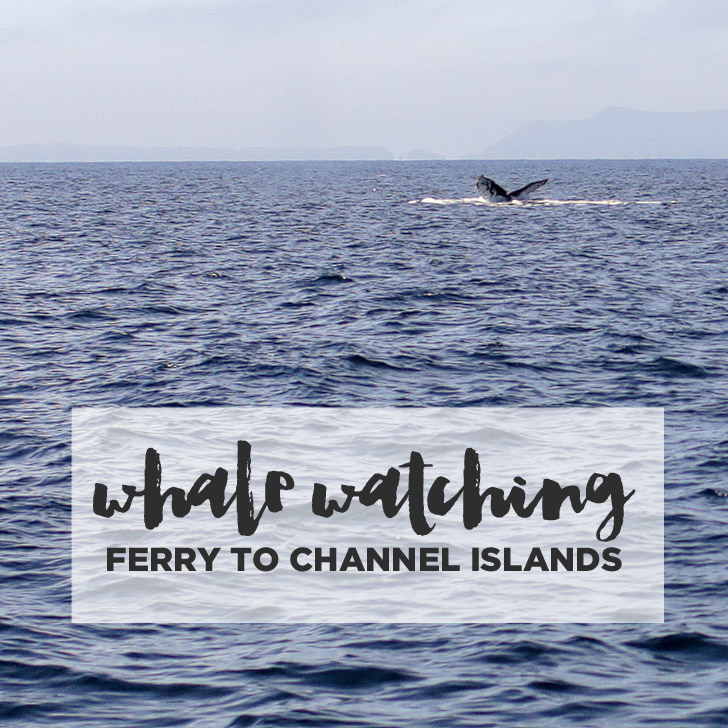 Pin

Pin
Pin

Pin

Pin
Pin

Pin

Pin
Unfortunately, because we were only prepped for our kayaking trip, we didn't have the right lens to capture the whales, but it was an amazing sight to see!
Pin
So many whale tails (flukes)!! We saw humpback whales, blue whales, and fin whales! We spent about 20 minutes stopped each way to get a glimpse at these majestic animals!
Pin

Pin
Pin
There were also some playful dolphins that would swim really close to the ferry.
Pin

Pin

Pin
Pin

Pin

Pin
Pin
All suited up for our kayaking adventure!
Pin
Wildlife is unpredictable. Sometimes you might not see anything on an 8 hour tour, and other times can will see tons of whales and dolphins on even a one hour ferry ride! We'll definitely have to head back to this area to do some whale watching at some point.
If you want to see more whales and dolphins, check out our whale watching experience in San Diego. We can't wait to back to explore more of Santa Cruz Island and some of the other Channel Islands!
Pro Tips for Your Ferry Ride with Island Packers:
Bring layers. We usually bring our Patagonia Capilene 2 layers, they are super versatile, and our Patagonia nanopuff jackets that are warm and pack away small. Even if it's a hot day in the city, it can get chilly on the ferry and out in the water. We sat in the back of the boat where it's uncovered, because I'm prone to get seasick. It's extra chilly back there.
Seasickness: If you're worried about getting seasick at all, don't forget to take Dramamine at least one hour before so that it's fully in your system. I took it the night before. You can also sit in the back of the boat where there is less movement and you get fresh air. Also, stare out in the horizon. It really helps!
Photography: If you're planning on shooting photos, bring the longest lens you have! We didn't bring it on this trip, but on most our trips where we know we'll see wildlife, we bring this telephoto zoom lens.
Island Packers Ventura Harbor
1691 Spinnaker Drive #105B
Ventura CA 93001
Have you been whale watching? If so, where?
Do you get seasick? What has helped you?
Thank you Island Packers for hosting our trip. All images, text, and opinions are our own.
Thank you for supporting the brands that make Local Adventurer possible.