Today, we've put together a list of the best free things to do in Charleston SC to help you stay on budget for your next trip.
Aside from our hometown Atlanta, Charleston is my next favorite city in the South! We try to visit at least once a year since there's always something new for us to see, do, and learn.
The city is overflowing with history and the best part is many attractions are free to experience.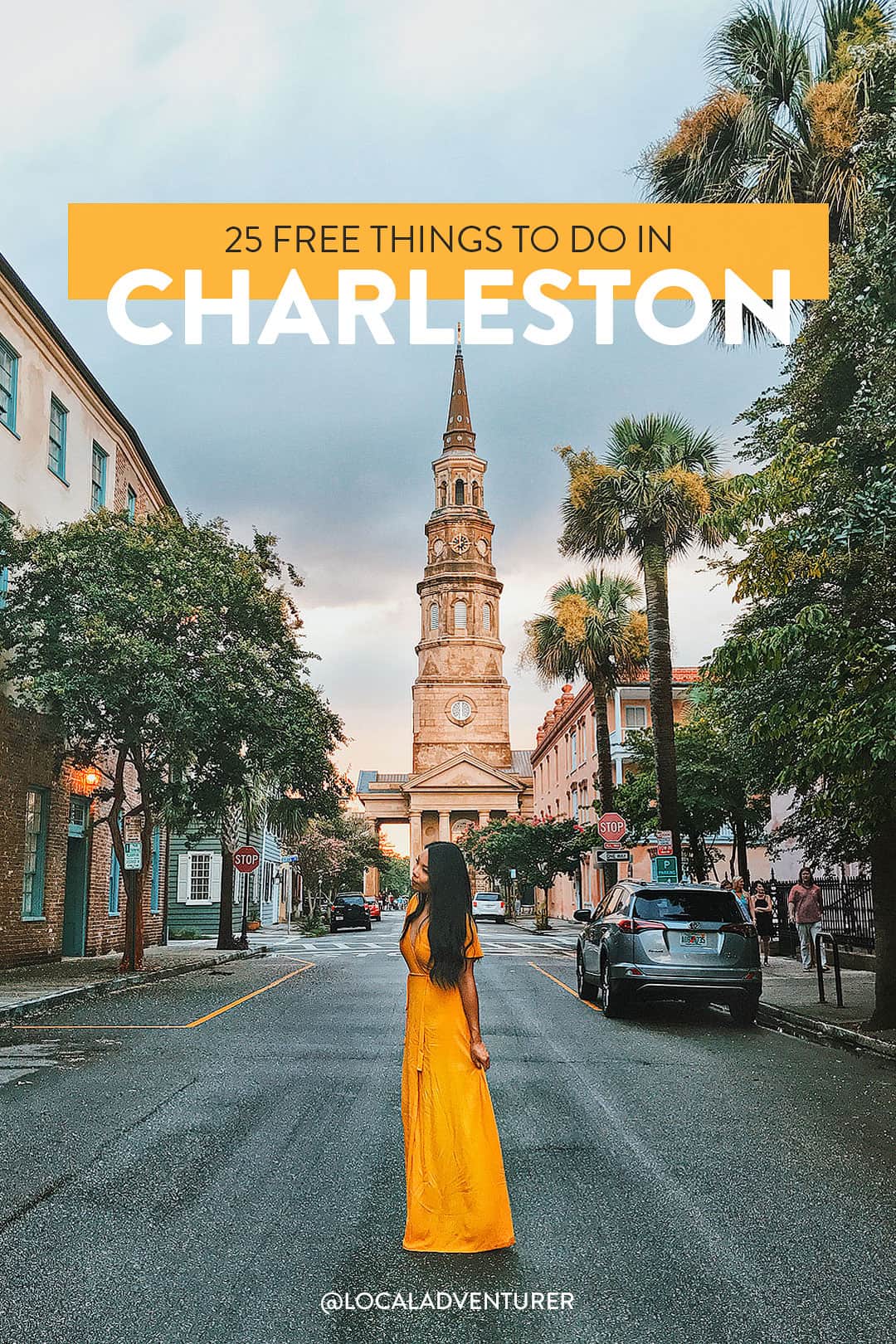 This post may contain affiliate links, where we receive a small commission on sales of the products that are linked at no additional cost to you. All opinions are always our own. Read our full disclosure for more info. Thank you for supporting the brands that make Local Adventurer possible.
Last Updated: May 14, 2020
25 Free Things to Do in Charleston SC
Rainbow Row, near the Battery, is a delightful cluster of 14 historic, pastel-colored homes. This is the main Instagram photo when you're in Charleston.
My personal favorite home is Number 87. A fire destroyed it and the owners rebuilt it in 1792. The house was then purchased in the 1920s and is now a home painted a sunny yellow. It's the most notable house of Rainbow Row.
Photo Tip: There are cars parked along the facade at all times during the day, making it difficult for great photos. Sunrise will be your best chance.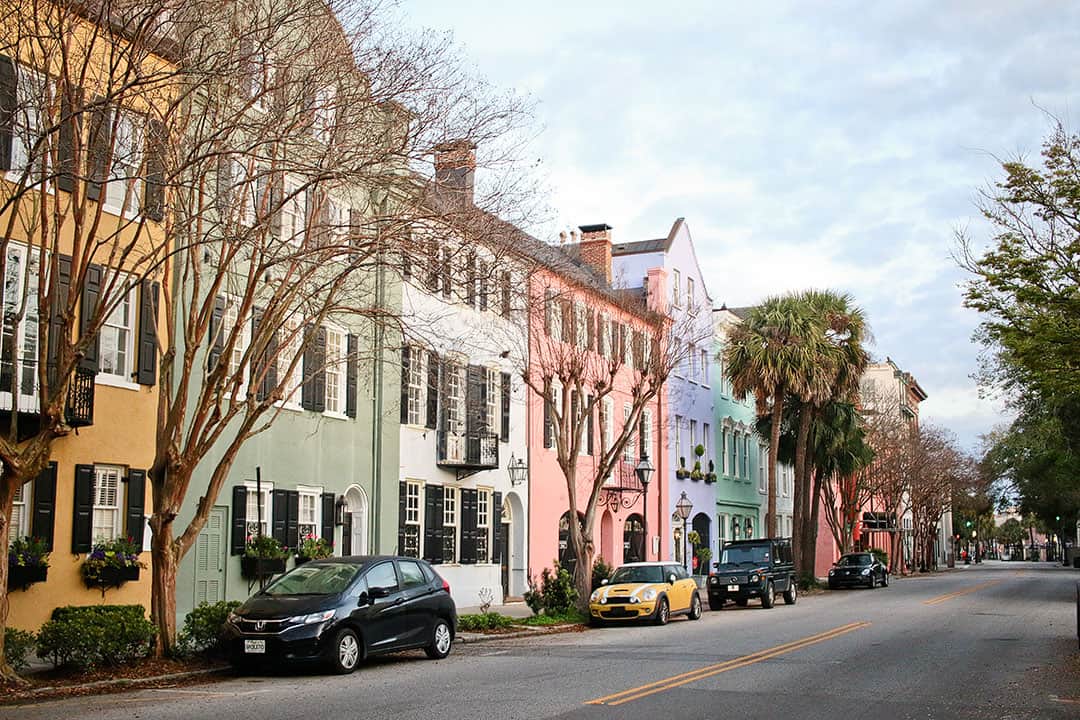 The Battery was first built as a defensive seawall, but today, it's famous for the beautiful antebellum homes lined along the peninsula.
I love strolling through the neighborhood and reading plaques on the homes. These plaques provide a brief historical description of the house and allow you to imagine what Antebellum living was like.
Take a walk by the seawall while admiring the sunset, and you can even spot dolphins!
Pro Tip: There are no public bathrooms in this area, so make sure you make a pit stop before heading over.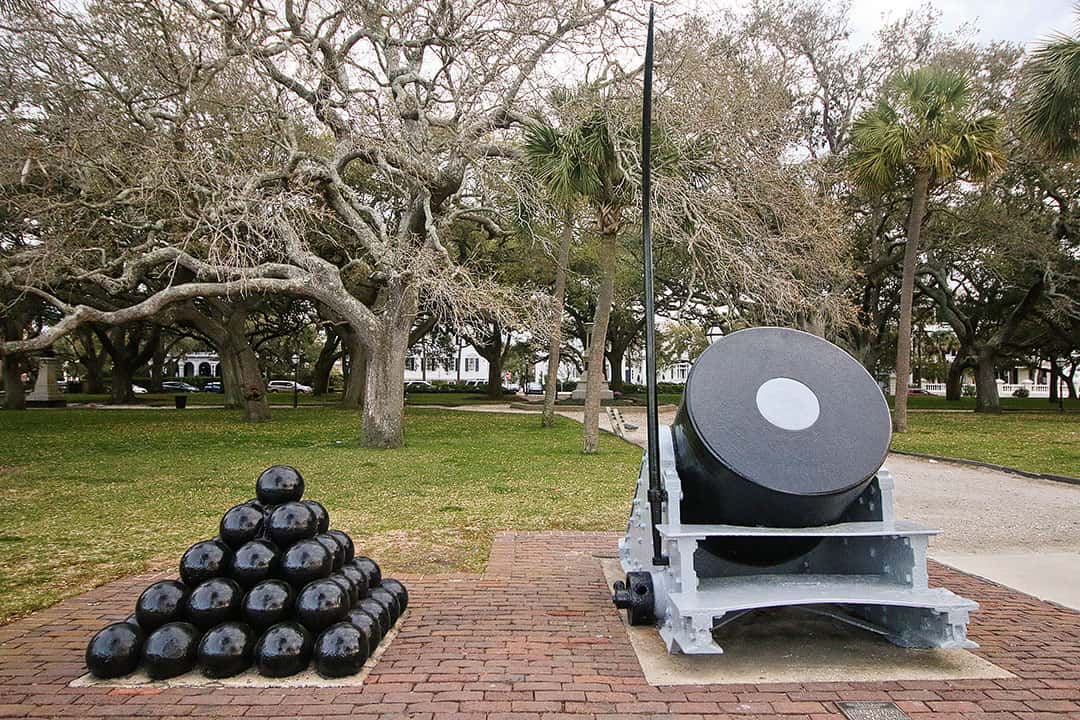 This beautiful park is located right by The Battery. You can marvel at several Civil War canons and monuments throughout the park.
Look for the Pirate Monument, my favorite structure in White Point Garden (and a local favorite too). It tells a really interesting story about the Confederate Pirates.
Local Tip: There's free street parking along the park and are most available in the afternoon.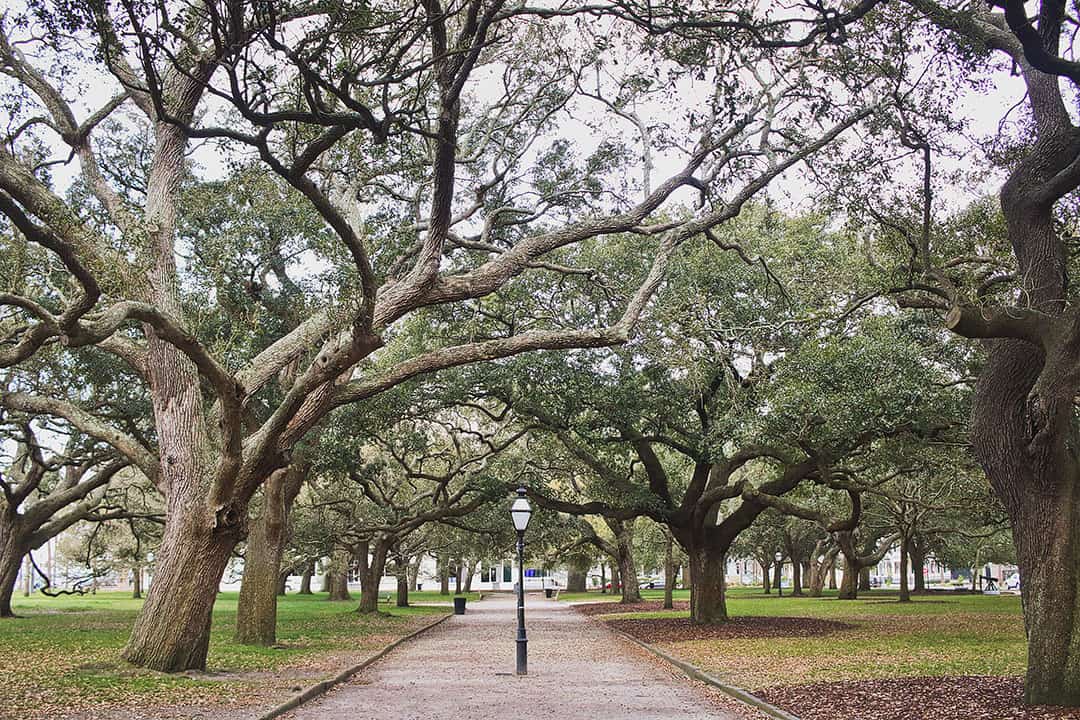 Angel Oak is a live oak tree believed to be over 400 years old. It's worth the drive to Johns Island. It stands at an impressive 66.5 ft tall and measures 28 ft in circumference.
Because it survived through many wars and hurricanes, locals call it a spiritual treasure. The park grounds surrounding the tree are also free to visit.
Pro Tip: Pack a picnic lunch and enjoy the views. That's what we did!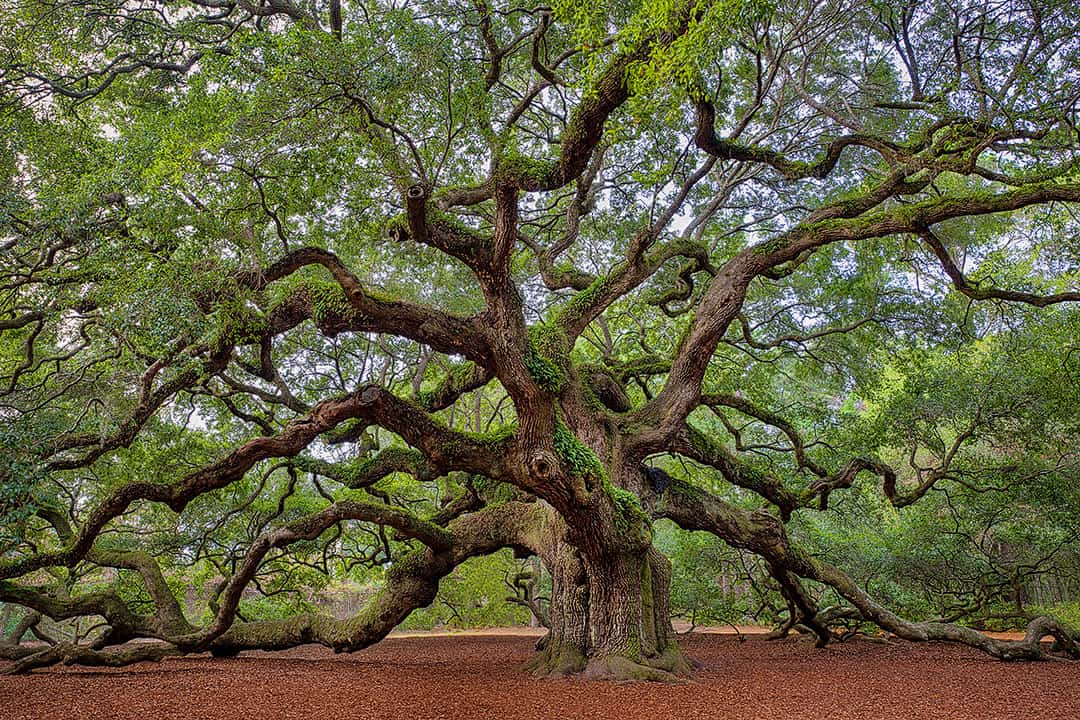 We always stop at the Old City Market to pick up gifts for our friends and family. The market stretches over four city blocks and is filled with goodies from handmade sweetgrass baskets to country grits.
Even if you're not buying anything, it's a cool spot to check out for its history.
Local Tip: There are public restrooms located in the middle section of the market by the Food Hall.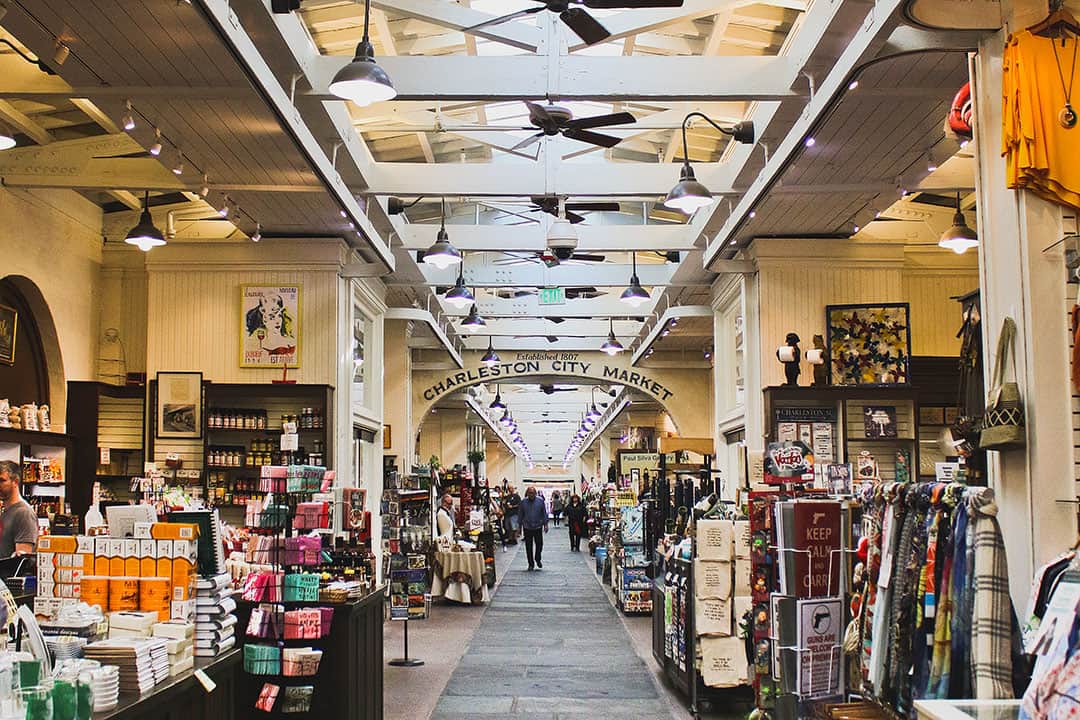 6. Pineapple Fountain and Waterfront Park
Located along the Cooper River, Waterfront Park boasts a wooden pier and covered swings. Stop by to enjoy some live music or take a photo at the famous Pineapple Fountain, an Instagram favorite!
Local Tip: The parking spots on the street are metered but are free before 9 AM, after 6 PM, and all day Sunday.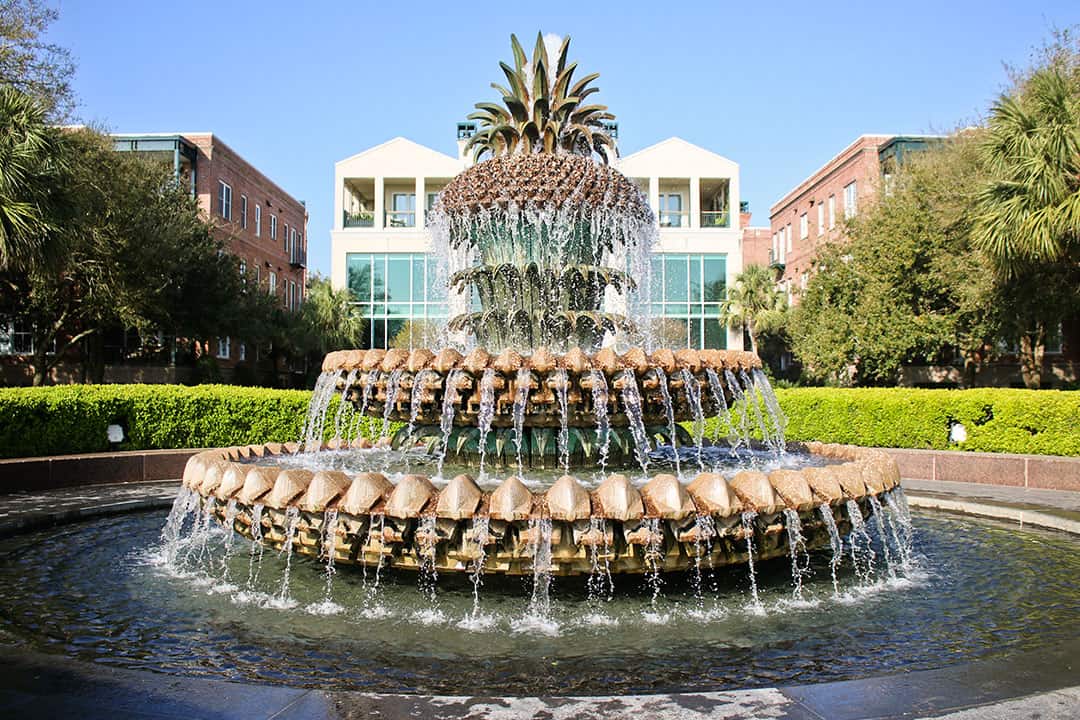 7. Charles Pinckney National Historic Site
This is one of our favorite hidden gems located right outside of Charleston.
See how Charles Pinckney helped shaped the United States, discover the importance of Mount Pleasant and Charleston during the 1700s, and hear stories of enslaved African Americans in South Carolina. You can tour the house and watch an informative video for free.
8. Battery Carriage House Inn
Locals dubbed this as Charleston's Most Haunted Inn. There have been a ton of ghost sightings, which you can read about here. The public is welcome to walk the grounds and gardens for free.
Local Tip: Make sure you catch the plaque at the entrance that marks the water level and flood damage made by Hurricane Hugo in 1989.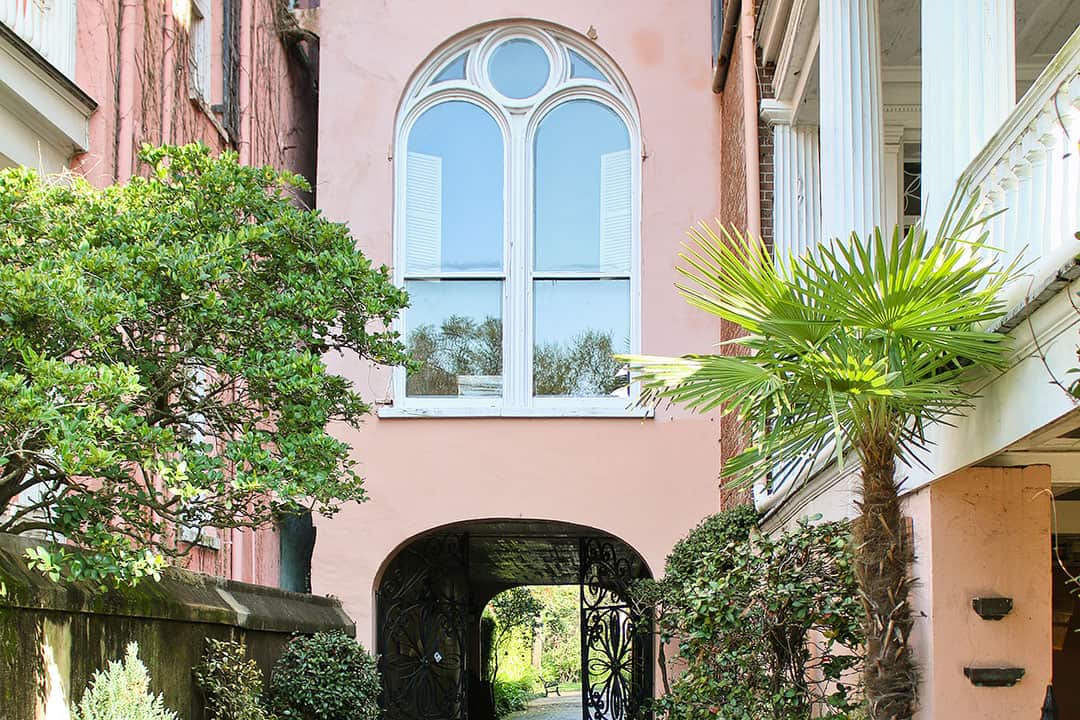 King Street is more than 300 years old and is the second most significant street in downtown Charleston. You can peruse through its long path of designer brand retailers as well as antique stores and local shops.
Note: The street is broken into the following: Lower King Street Antiques District, Middle King Street Fashion District, and Upper King Street Design and Dining District.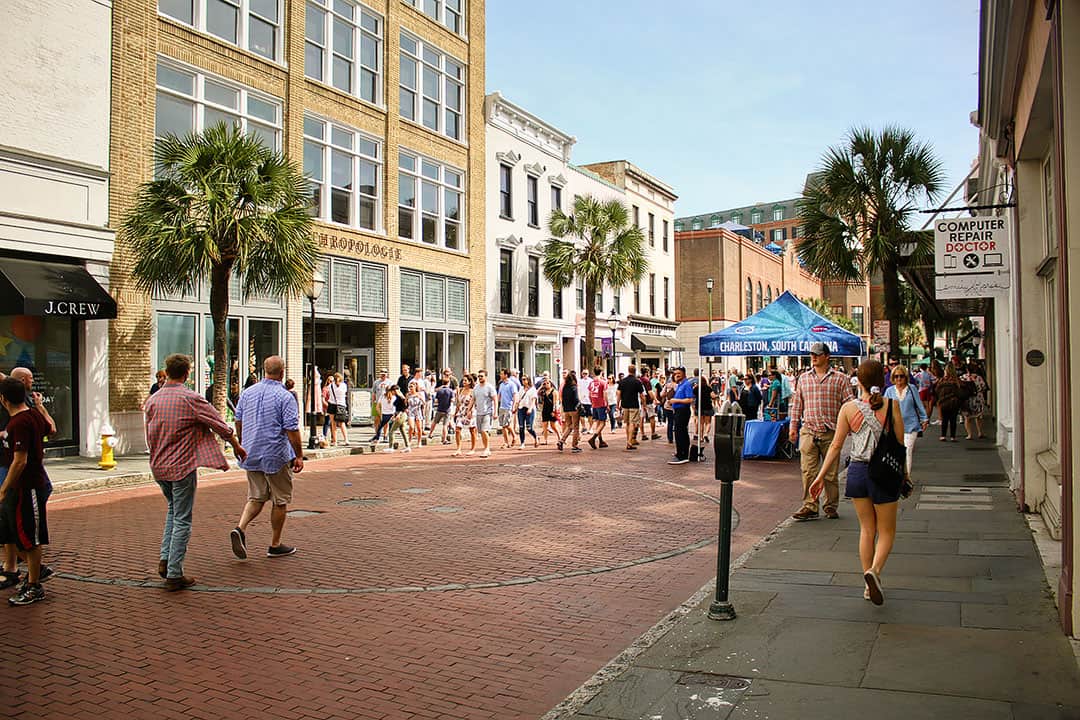 Magnolia Cemetery is one of America's most beautiful and historic cemeteries and is most famous for the graves of the Hunley crew. These men operated the world's first submarine, H.L. Hunley, which served in the American Civil War and was the first combat submarine to sink a warship.
If you enjoy visiting cemeteries for their historical purposes, Magnolia Cemetery is one of the top free things to do in Charleston.
Local Tip: Keep an eye out for alligators.
11. Circular Church Graveyard
This graveyard is one of the oldest English burial ground in existence in Charleston. Visitors can stroll through the grounds for free and take a look at the 500+ remaining gravestones that attest to cultural past.
Stop by the largest burial monument, the Hutson-Peronneau vault, which is believed to contain 18 people.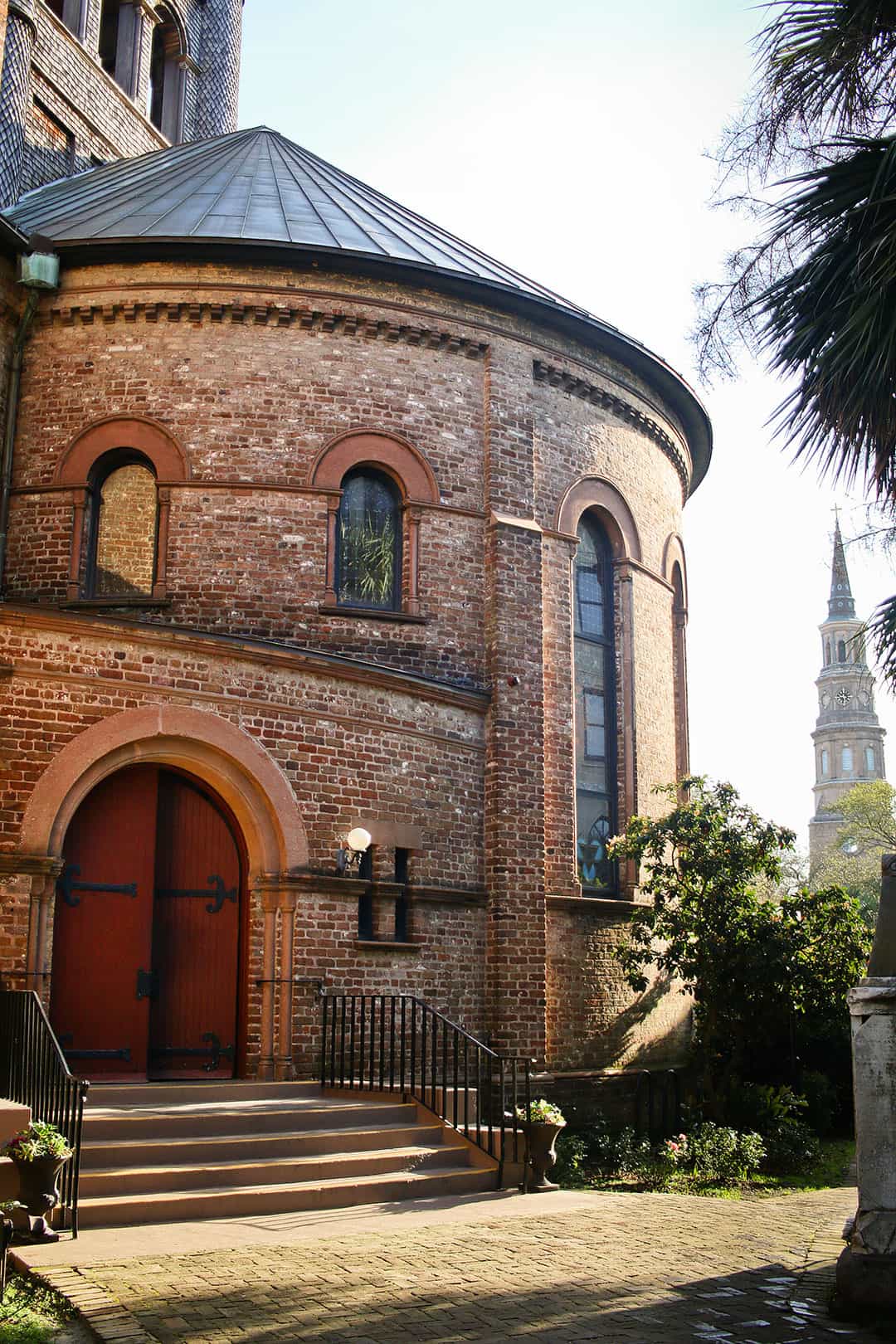 A free, leisurely walk through gardens and graveyards in the city, starting at Archdale Street. We grabbed a map from our hotel concierge, but you can also find it here.
It's a great way to see landscaped gardens and hidden architecture between city blocks.
Pro Tip: Some parts are overgrown with shrubbery, so be sure to wear closed-toe shoes. 
13. WALKING TOUR OF CHARLESTON
Most tours in Charleston cost money, but Free Tours by Foot is a name-your-own-price (or free) concept. Take a Civil War day tour or a ghost tour in the evening, all of which are free. Licensed and professional tour guides lead the tours.
Pro Tip: If you're on a trip with a larger group, we recommend booking a private tour (not free).
14. Charleston Tea Plantation
Did you know that Charleston is home to America's only tea factory? You can visit the grounds and take a complimentary factory tour. 
Pro Tip: Go on a weekday when the factory is running.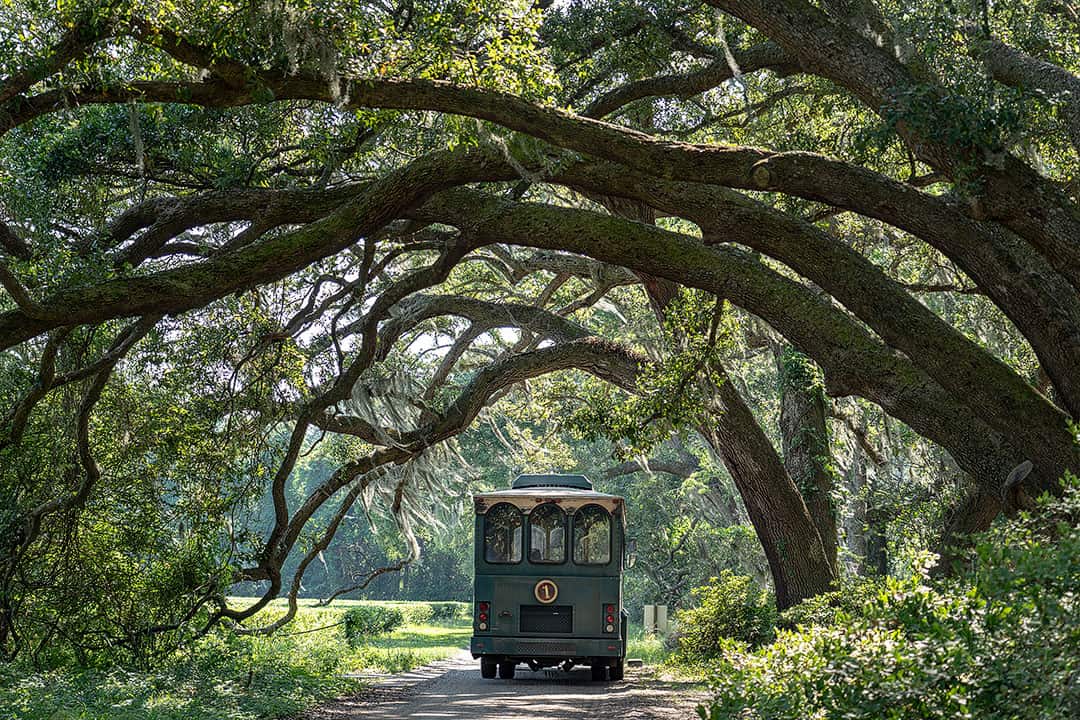 15. Best Friend of Charleston
The Best Friend is the first locomotive built entirely in the United States for the South Carolina Canal and Rail Road Company. You can check out the replica at the museum for free. It's a great stop for kids and train buffs!
Local Tip: It's located behind the Visitor Center and has accessible parking adjacent to the building. 
Folly Beach is a great beach year-round to walk along the pier and relax by the waves. There are also several eateries and shopping within the community. 
The beach is free, but parking is not. There are some cash parking locations, where you can use the parking app to pay.
Pro Tip: Parking is a bit pricey, hovering around $15, and it's not always easily accessible. If you're staying near the beach, we recommend grabbing a Lyft or Uber.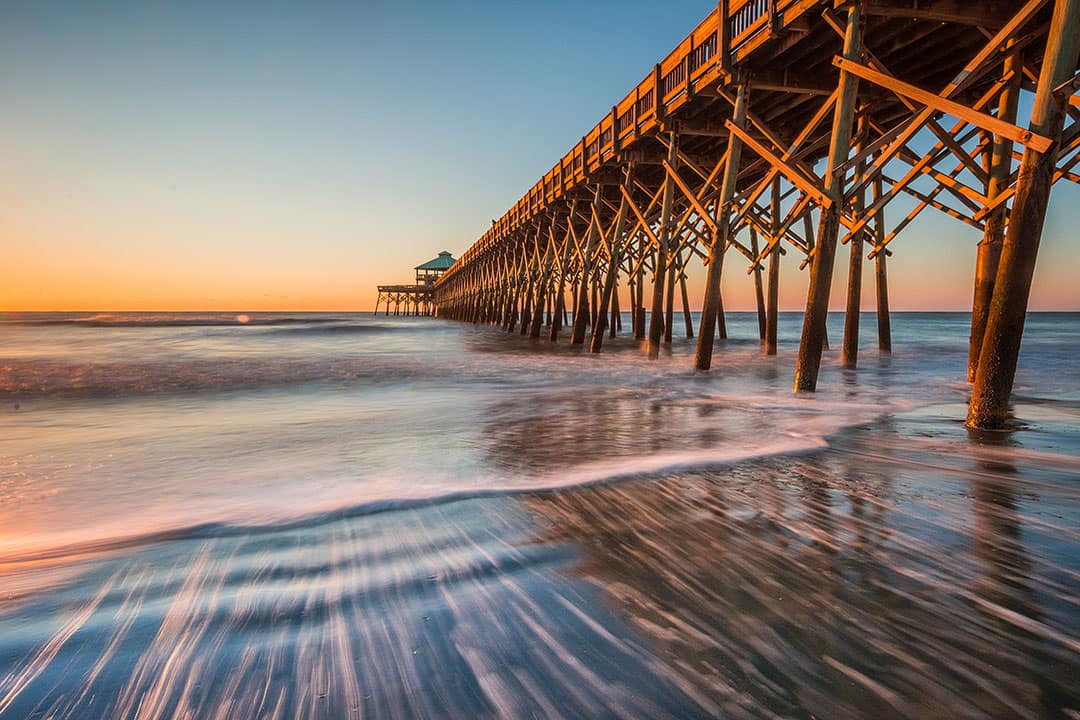 Hampton Park is the largest public park on the peninsula and a great place for a run with your dog or a bike ride. We recommend packing a picnic and enjoying it on the green lawns near the fountain and ponds.
Note: There are tons of geese and ducks year-round, so watch your step.
The building itself is already impressive, but the amazing portrait of President George Washington, c. 1791 makes stopping at City Hall even more worthwhile. There's a guide on-site to answer any questions.
Pro Tip: The restrooms here are the closest ones to the Battery.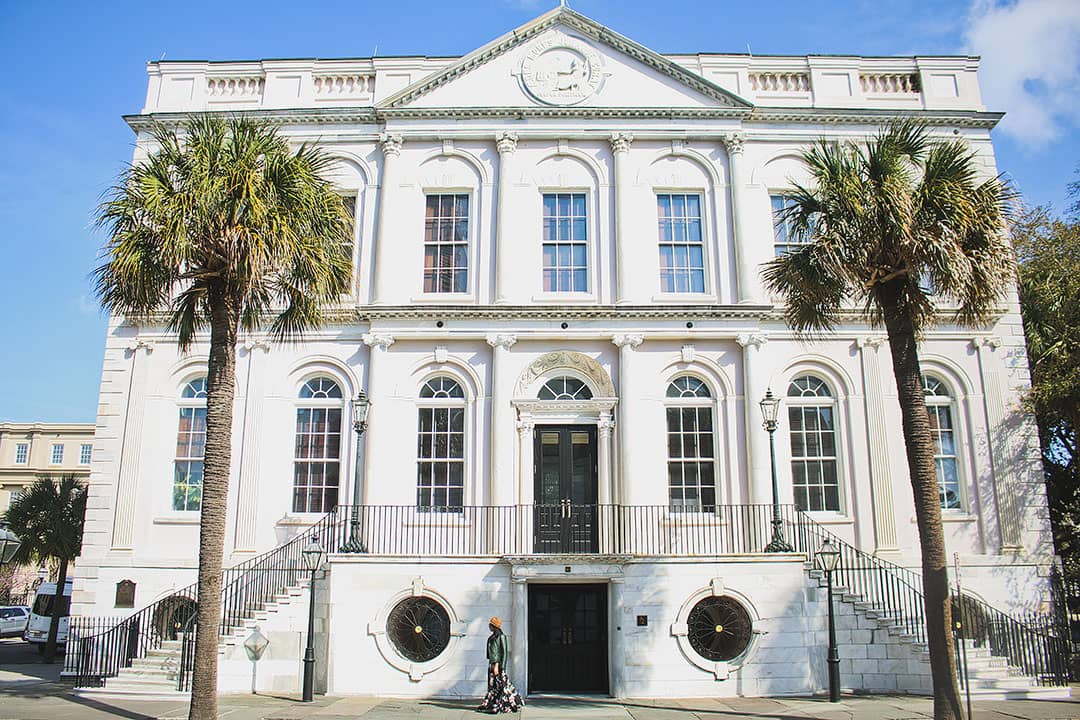 Head to the historic military college of South Carolina to see the beautiful architecture and explore the grounds for free. You can also catch a Citadel Dress Parade led by the cadets on Fridays. See the parade schedule here.
Pro Tip: We called ahead and scheduled a free tour of the campus led by a cadet.
20. Arthur Ravenel Bridge
The Arthur Ravenel Bridge is hard to miss. Whether you drive on it or take the walking path, this 2.5-mile-long bridge offers a beautiful view of the water and the city.
Watch the ships pass under and catch the sunset. There's also a children's park with a large free parking area, conveniently shaded by the bridge and located right by the pier.
Photo Tip: One of the best spots to photograph the bridge is from Patriot's Point on Sullivan's Island.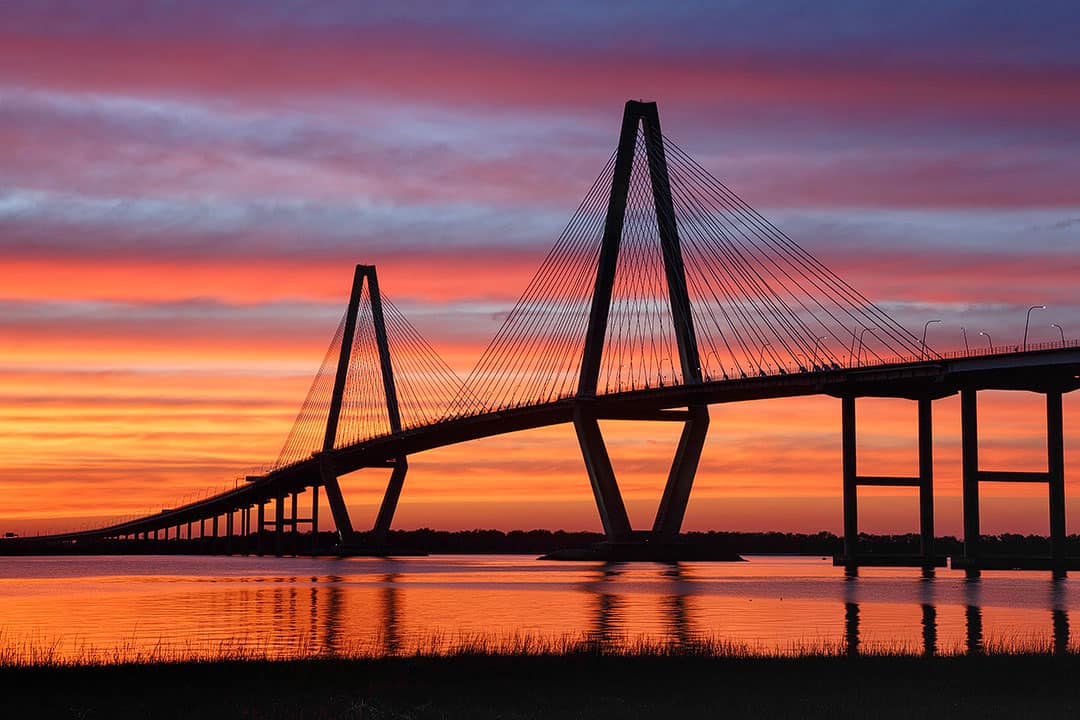 We loved kayaking through the Charleston Harbor and catching the sunset from the bridge.
The Pitt Street Bridge has deep roots in Mount Pleasant's Old Village. The original trolley bridge was built in 1898 and linked Old Village to Sullivan's Island.
Pro Tip: Bring your fishing gear. It's a popular spot for fishing and catching blue crabs.
22. Morris Island Lighthouse
This 1876 lighthouse is no longer functional and is closed to the public, but you can get a great view of it from the beach. It's a local favorite spot for a photo op.
Pro Tip: We loved our view from the end of Ashley Ave on Folly Beach.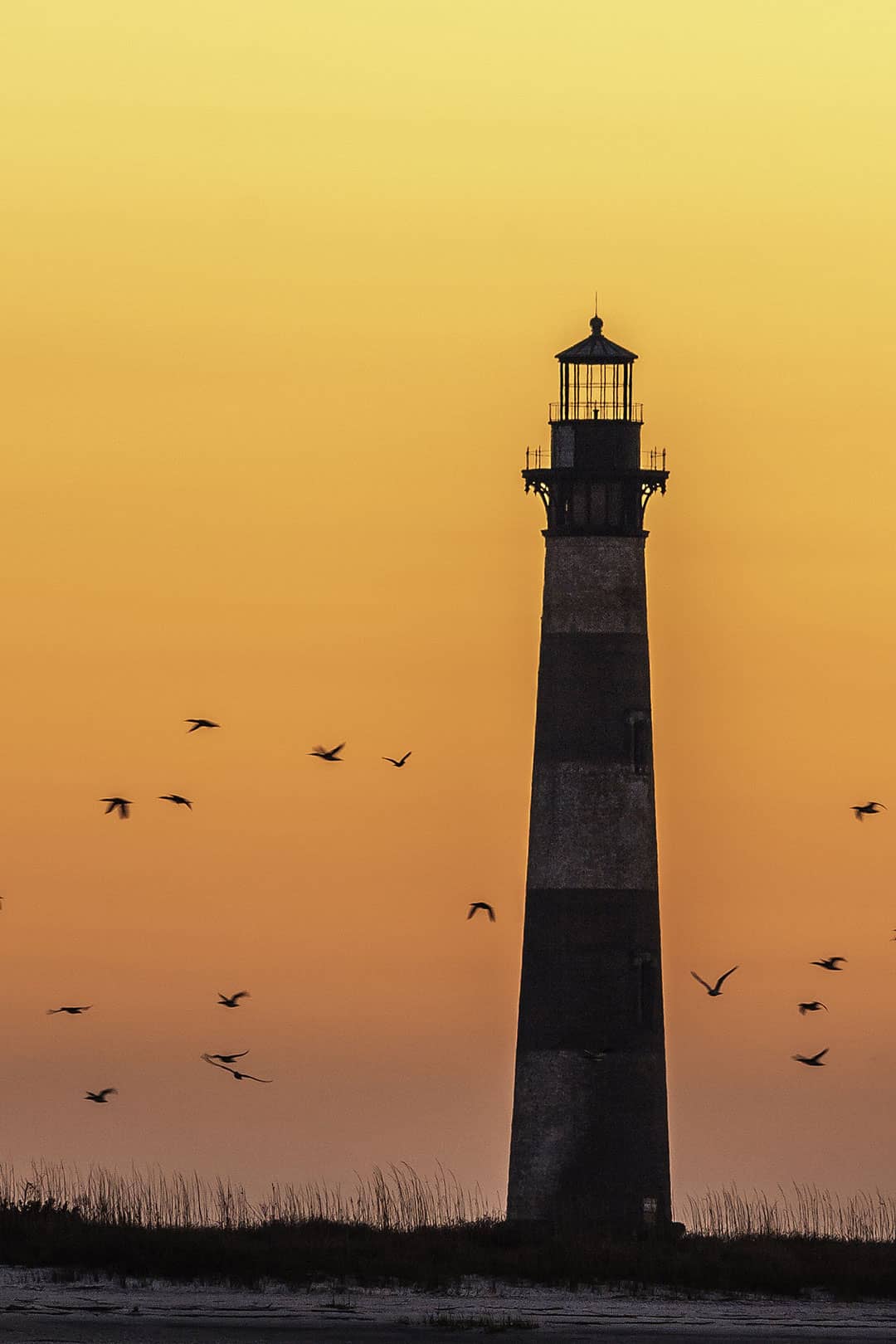 23. Charleston Carriage Ride Barns
The carriage rides aren't free, but we highly recommend stopping by the barn where you can see the horses and mules. Kids will love it, and if you ask nicely, they might let you pet one.
Pro Tip: We toured with the Old South Carriage Company, and they offer a free barn tour after your carriage ride.
We stopped at Marion Square to rest our feet after visiting Rainbow Row and the Battery. It's a large green space where you can enjoy the fountain and historic monuments.
Pro Tip: There is a Farmers Market on Saturday mornings with lots of artisanal food, local fruits, vegetables, and arts and crafts.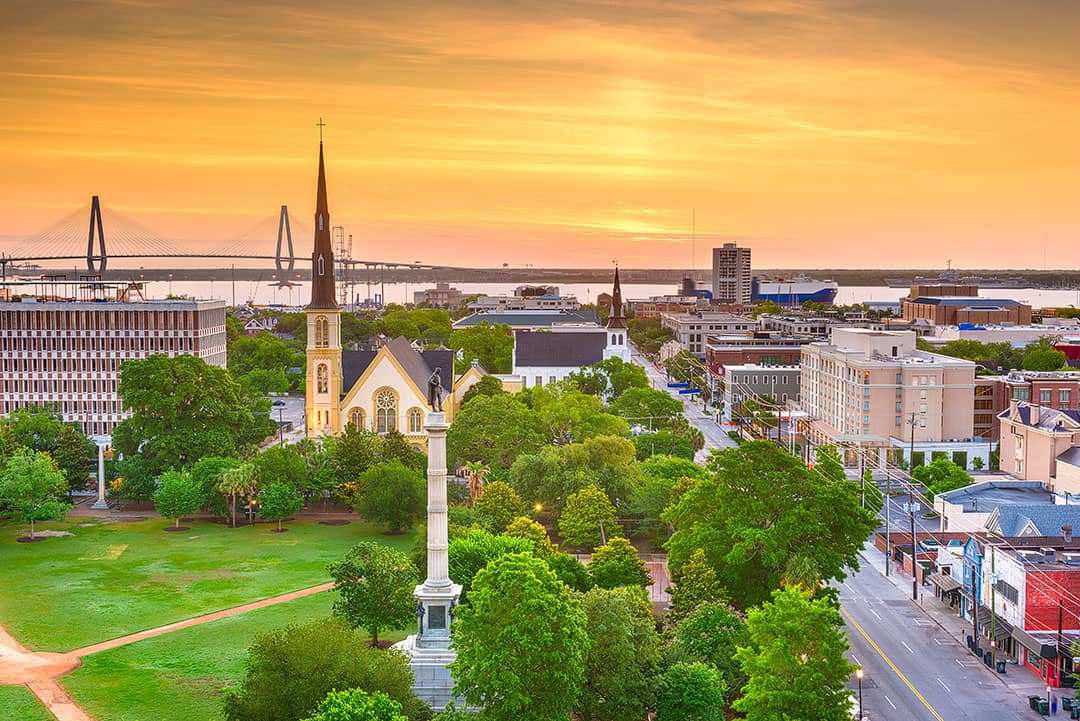 Charleston is also known as the "Holy City" and has several church steeples towering over the skyline.
St. Philip's steeple is one of the most recognizable and is the oldest European-American religious congregation in South Carolina. Tour the church and the cemetery grounds for free. Donations are appreciated.
Pro Tip: Be sure to stop by Charles Pinckney's grave in St. Philip's cemetery.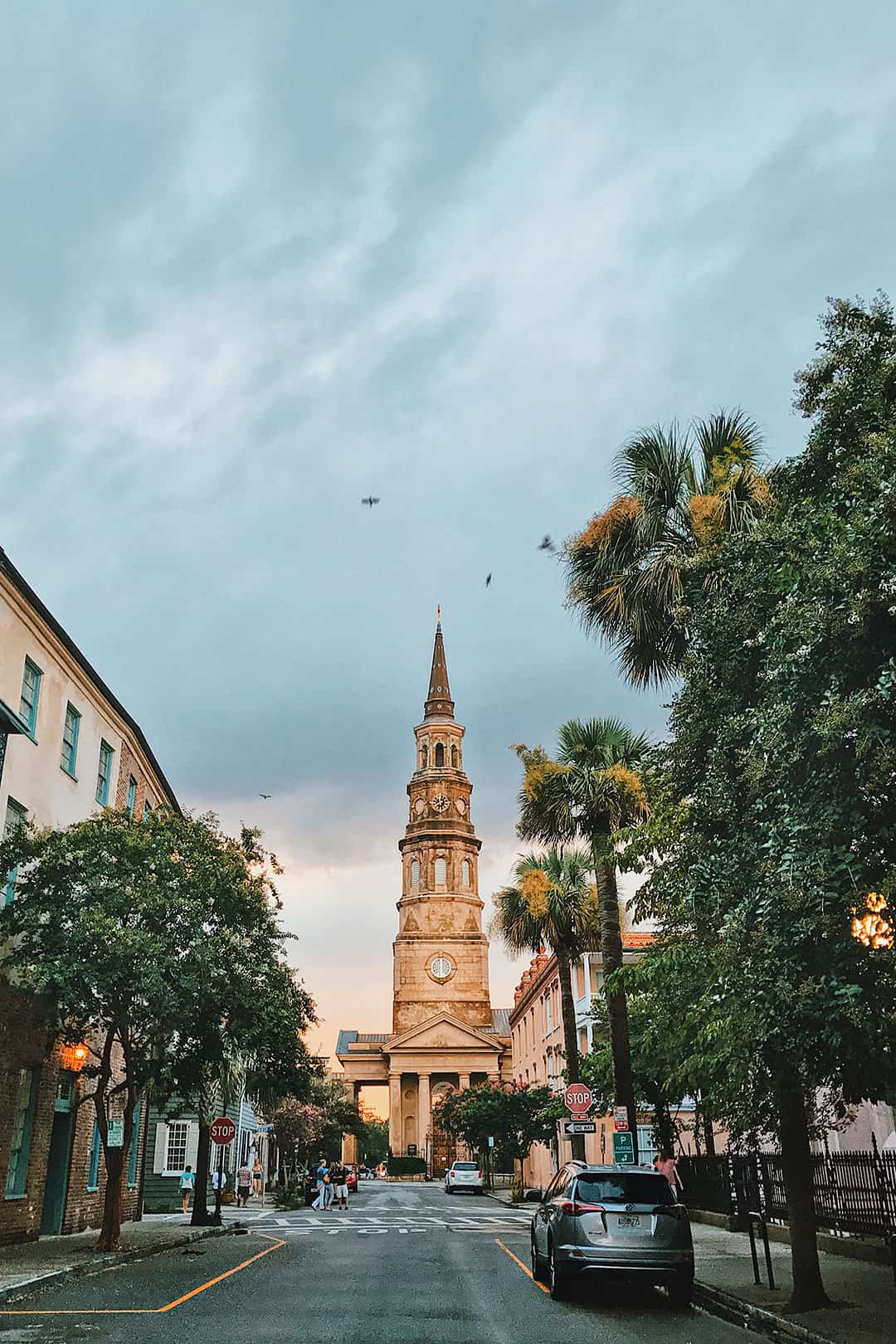 Map of Free Things to Do in Charleston SC
More Free Things to Do in Charleston SC
2nd Sunday on King Street – Lots of sales, great food, and sometimes freebies on the closed-off street for pedestrians
4th of July Festival at North Charleston Riverfront Park – Free live music, activities, fireworks show
The Charleston Museum – Free for kids under 2
Fort Moultrie – Free for kids under 15
Fort Sumter – Free on MLK Day, First Day of Nat'l Park Week, Nat'l Public Lands Day, and Veteran's Day.
Holiday Market at Marion Square – Holiday lights in December, free stroll through the park
Magnolia Plantation – Free for kids under 6
McLeod Plantation Historic Site – free for kids under 2, free entry for 4 guests with a Gold Pass membership.
Patriots Point – Free for veterans on Veteran's Day weekend
Washington Light Infantry – Free admission, visitation by appointment only.
Best Budget Friendly Hotels in Charleston + Rental Cars
All accommodations listed below have Tripadvisor's Certificate of Excellence
Can you think of any other fun free things to do in Charleston South Carolina? How many have you done?
Did you enjoy this post? Pin it for later
SEE MORE FREE THINGS TO DO
"Discovery consists not of seeking new lands but in seeing with new eyes" – M. Proust