These are the best things to do in Santa Monica.
"Now, we're going to add crunches," our instructor shouted. Our eyes widened as we were both pedaling as hard as our legs could handle. This was our very first cycling class, and it was far more intense than we could imagine. 
I wiped the sweat from my brow and stared out at the pink and orange glow on the beach. What a perfect way to end the day, cycling right on the beach during the sunset.
We escaped the Vegas heat to enjoy a weekend getaway in Santa Monica. Even though we lived in LA for a year, we only visited a couple of times. We were excited to explore beyond the pier and beach.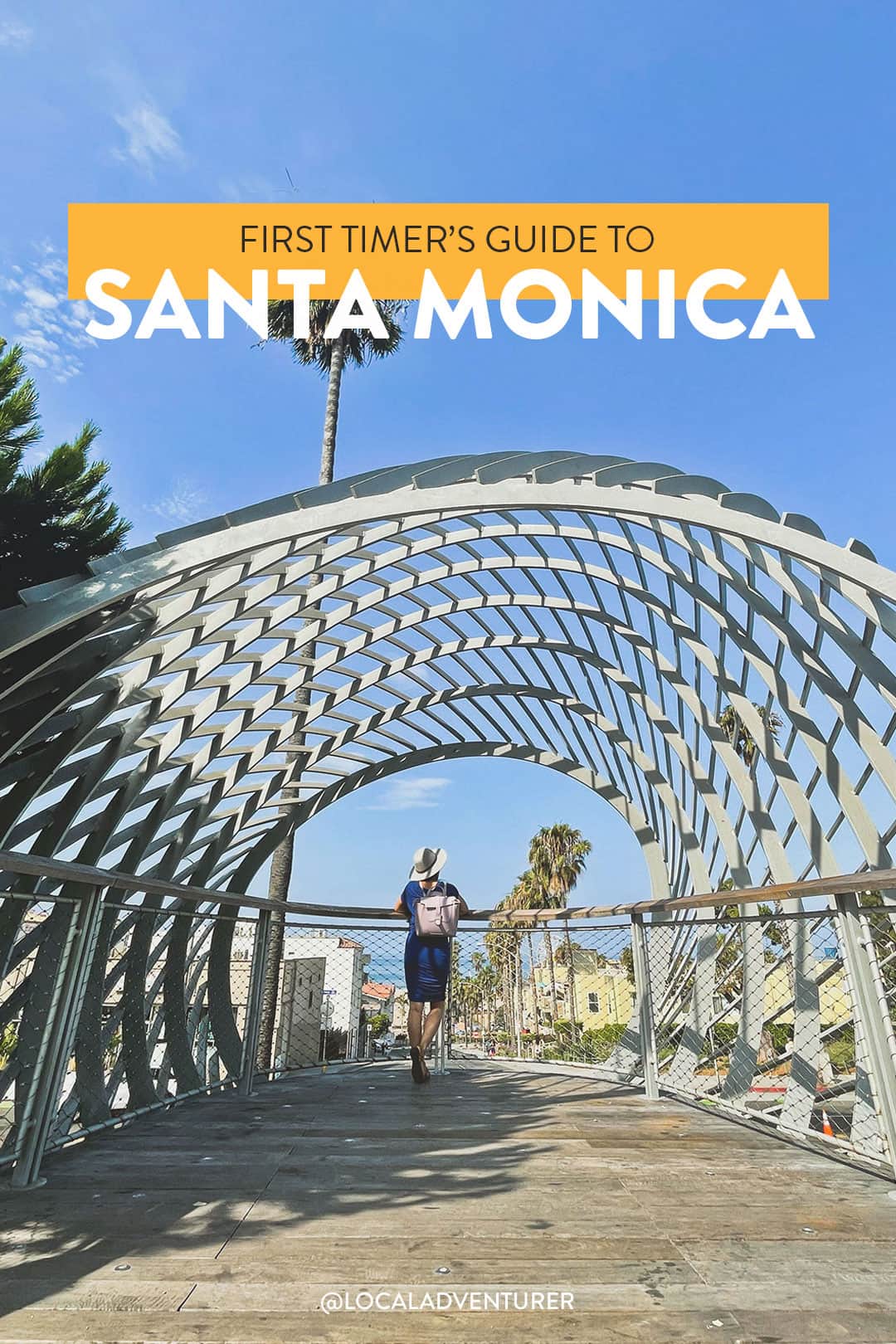 Thank you, See Santa Monica, for hosting our trip. All opinions are always our own. This post may contain affiliate links, where we receive a small commission on sales of products linked at no additional cost to you. Read our full disclosure to learn more. Thank you for supporting the brands that make Local Adventurer possible.
Last Updated: August 19, 2021
Santa Monica Neighborhoods
Some people mistake Santa Monica for being a neighborhood in LA, but it is its own city. It is best known for its pier and beach but also has eight different neighborhoods.
Downtown / Third Street Promenade has two of the largest shopping areas in Santa Monica with a high concentration of shops, restaurants, and hotels. The farmers market is on Wednesday and Saturday.
Main Street is the artsy side of Santa Monica with surfer vibes. Main St has galleries, boutique shops, and the highest concentration of coffee shops in the city. There's also a weekly farmers market on Sunday.
Mid-City: The furthest inland neighborhood is an arts and entertainment hub. You'll find contemporary art collections here as well.
Montana Ave: High-end and local boutique shops. You'll find 150+ boutique shops and restaurants.
Ocean Park Boulevard / Santa Monica Airport Area: Independent coffee shops, boutique stores, and art galleries. The airport is for private jet owners and the Museum of Flying.
Pico Boulevard: The most ethnically diverse neighborhood and home to Santa Monica College. Small local farmers market on Saturday.
Santa Monica Pier / Ocean Avenue: The most popular area with the famous pier and beach and open-air restaurants and bars.
Wilshire Boulevard: Where Douglas Park is located with playing fields and reflecting pools. A bunch of food options including a concentration of Mexican restaurants.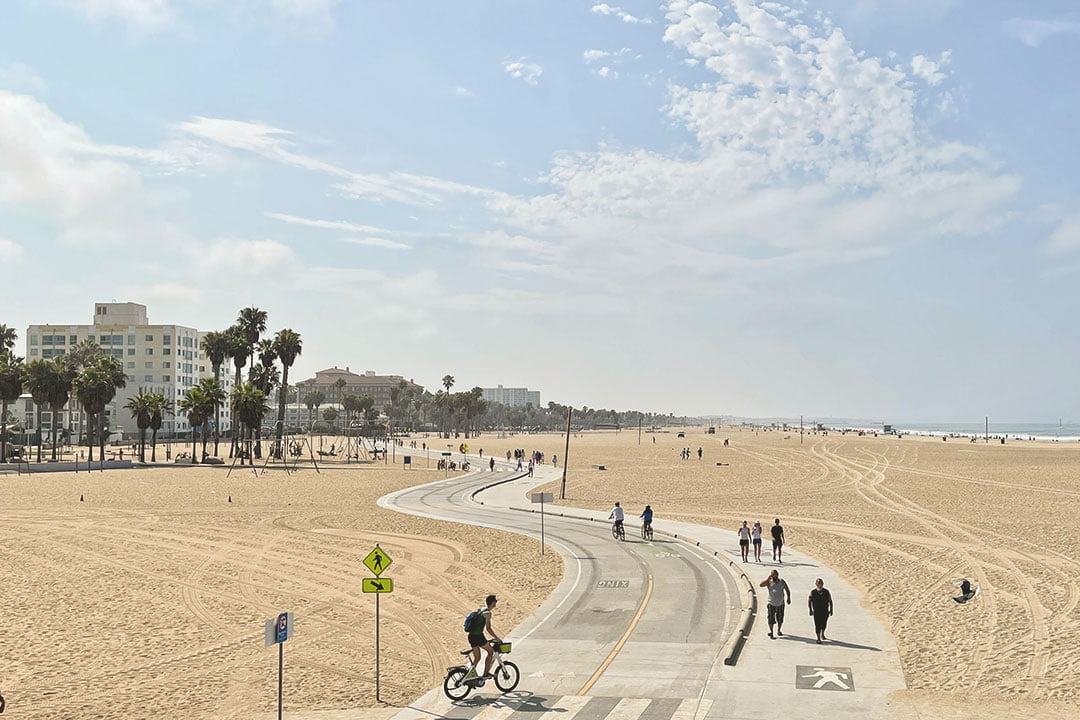 7 Things to Do in Santa Monica California
200 Santa Monica Pier, 90401, map
The Santa Monica Pier is probably the most recognizable landmark in the city and worth visiting at least once. Whether you want to hop on rides at Pacific Park, ride the historic Merry-Go-Round, or watch the street performers, there's plenty to keep you busy. 
If you read about the Looff Hippodrome, that is actually the carousel. It was built in 1916 when it was called the Looff Pleasure Pier.
Fun Fact: It's also the end of Route 66, and you can find an end of the trail sign on the pier.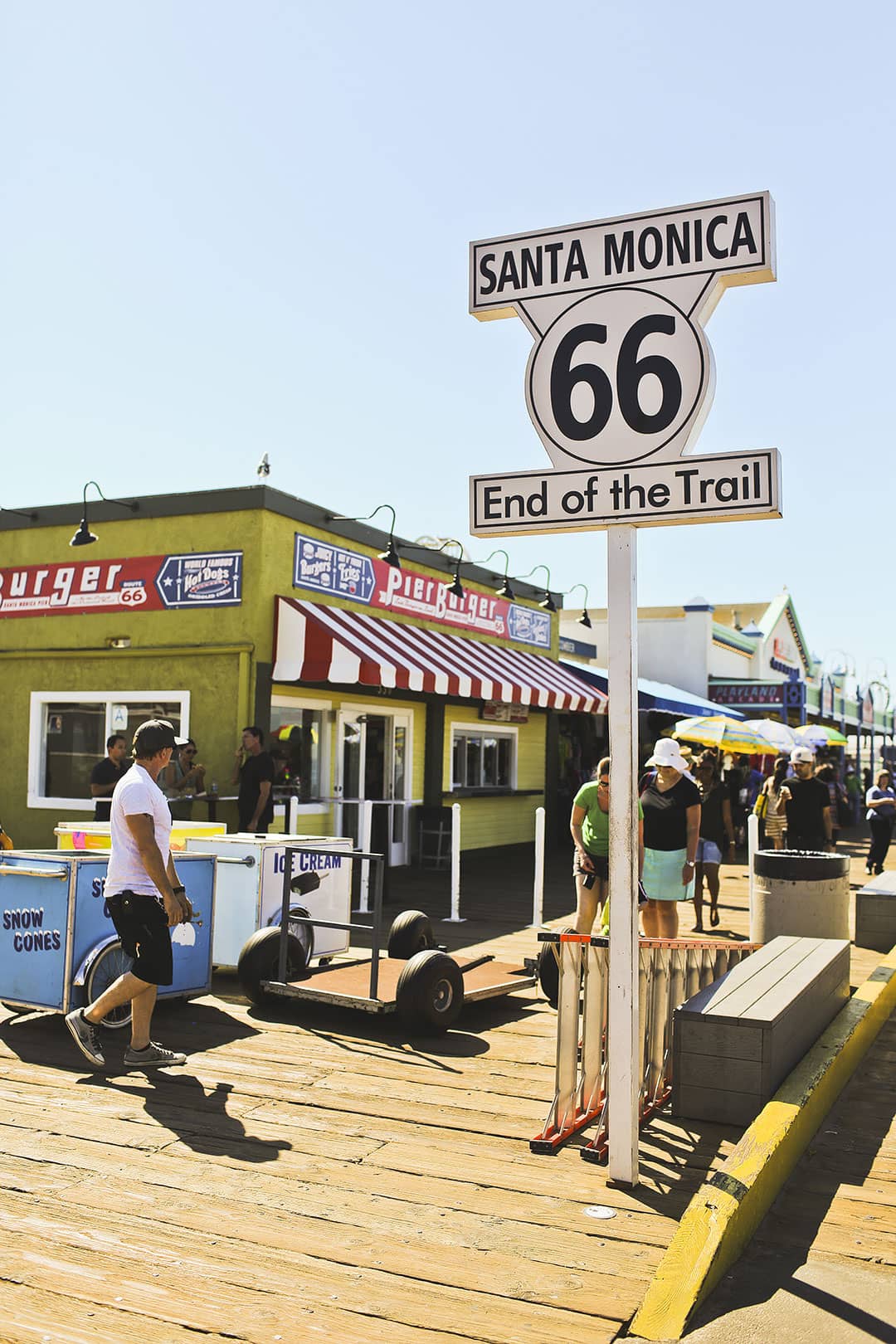 34.0107301,-118.5176966, map
Since I live in a landlocked state and always miss the beach, we spent most of our time South of the Pier.
Since the beach is so large, running 3.5 miles in length, it's easiest to break it up into two sections.
The Annenberg Community Beach House and North Beach Playground (great for kids) is North of the pier.
Unique Santa Monica Beach Activities:
Original Muscle Beach – Did you know that the Original Muscle Beach is actually at Santa Monica State Beach, not Venice? It's just south of the pier. 
Bike along the Marvin Braude Bike Trail – It was a nice way to sightsee, but we primarily used it for transportation.
Beach Cycling – we did the class during sunset.
Then you have the typical beach activities like beach volleyball, swimming, etc.
Local Tip: Lyft has bike rentals that you can get right on the app. There is a small unlock fee, and then you pay by the minute. You'll find plenty of them along the paved pathway on the beach. If you want to ride all day, it's cheaper to get a rental from one of the local shops.
3. Santa Monica Farmer's Market
155-199 Arizona Ave, 90401, map
The Santa Monica Farmers Market is a great spot to pick up pastries, produce, flowers, and more. It was one of our favorites when we lived in LA.
Wed/Sat: Arizona Ave (between 4th and Ocean) 8 AM – 1 PM
Sat: Pico Blvd & Cloverfield Blvd 8 AM – 1 PM
Sun: 2640 Main St 8:30 AM – 1:30 PM
Local Tip: Some vendors only take cash but there should be an ATM on site.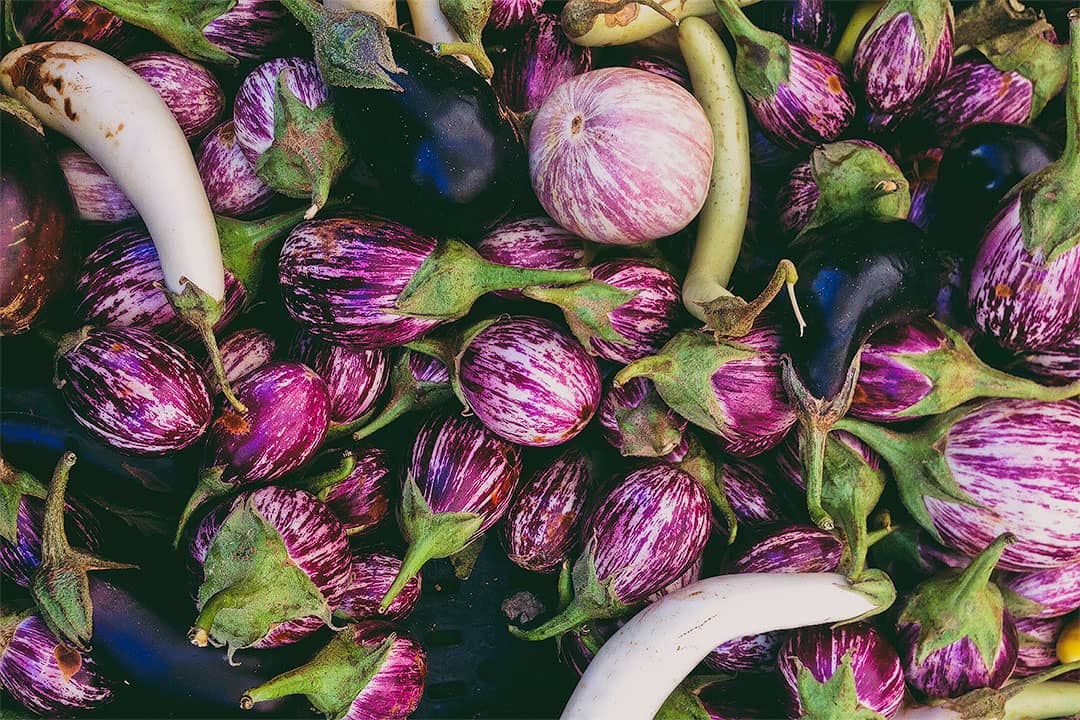 1413 Montana Ave, 90403, map
Montana Ave had my favorite boutique shops. It covers roughly 10 blocks and has over 150 distinct shops and cafes. Our favorites were: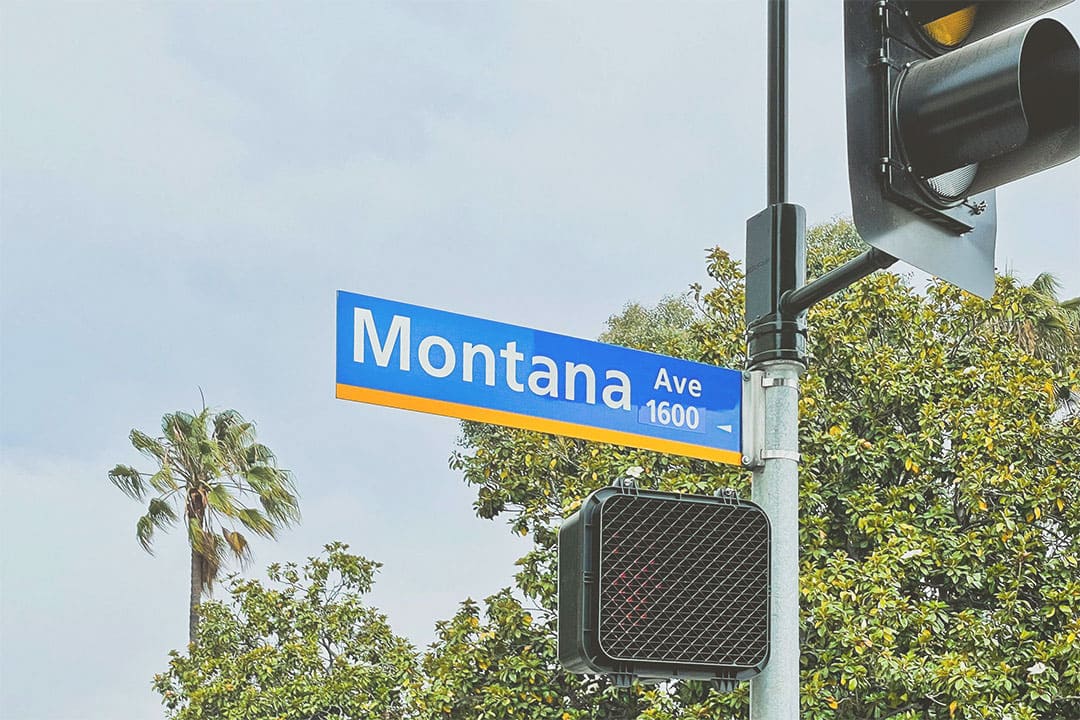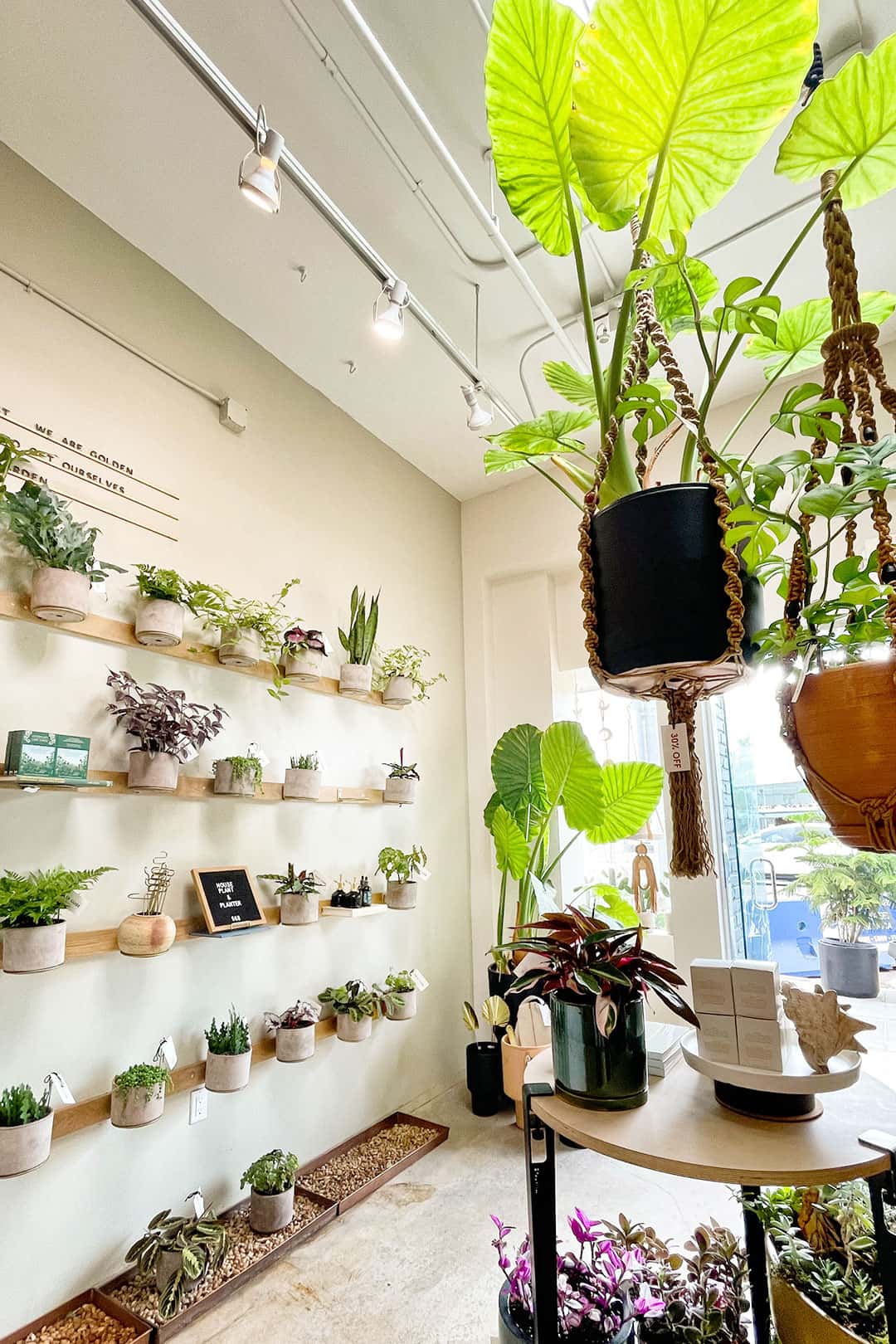 1450 Ocean Ave, 90402, map
If you don't love sand but still want to enjoy ocean views, go to Palisades Park. It overlooks the ocean and you can see all the tourist action down below. 
The park is 1.6 miles long and has plenty of grassy areas to hang out on. There's also a paved pathway where you can bike, run, or skate along.
Besides that, you'll find public art, a rose garden, historic structures, and Camera Obscura, which houses artists-in-residence and the historic Camera Obscura mechanism (one of the earliest optical inventions).
Local Tip: If you want to avoid the tourist crowds, stay near the northern part of the park. The closer you get to the pier, the more people you'll see.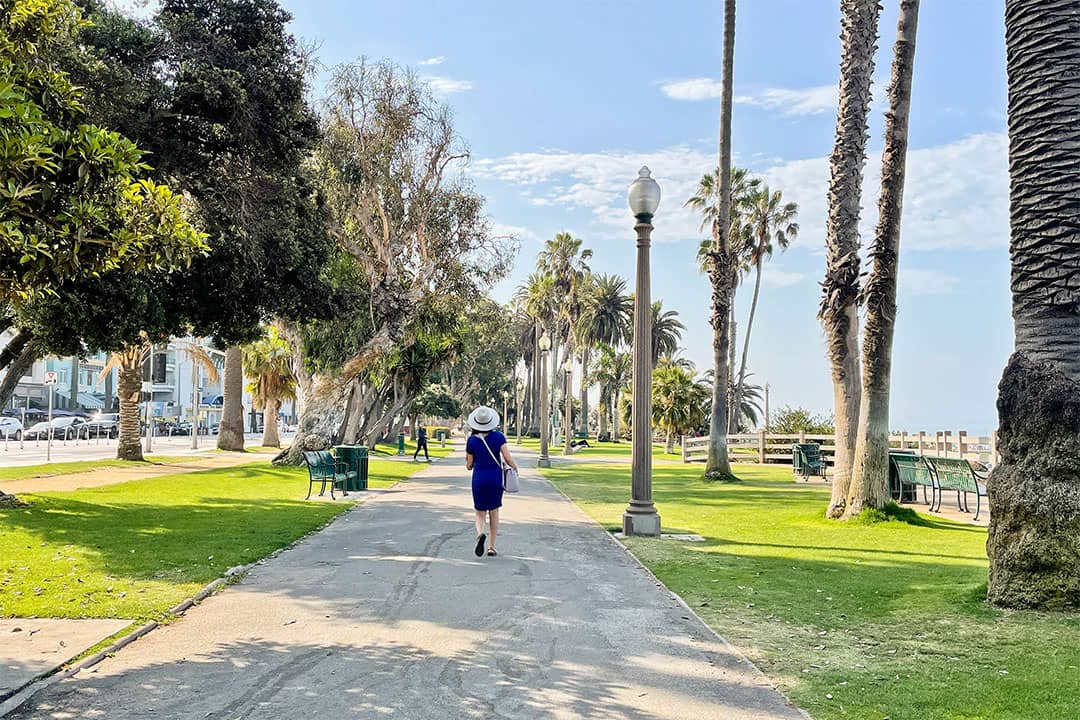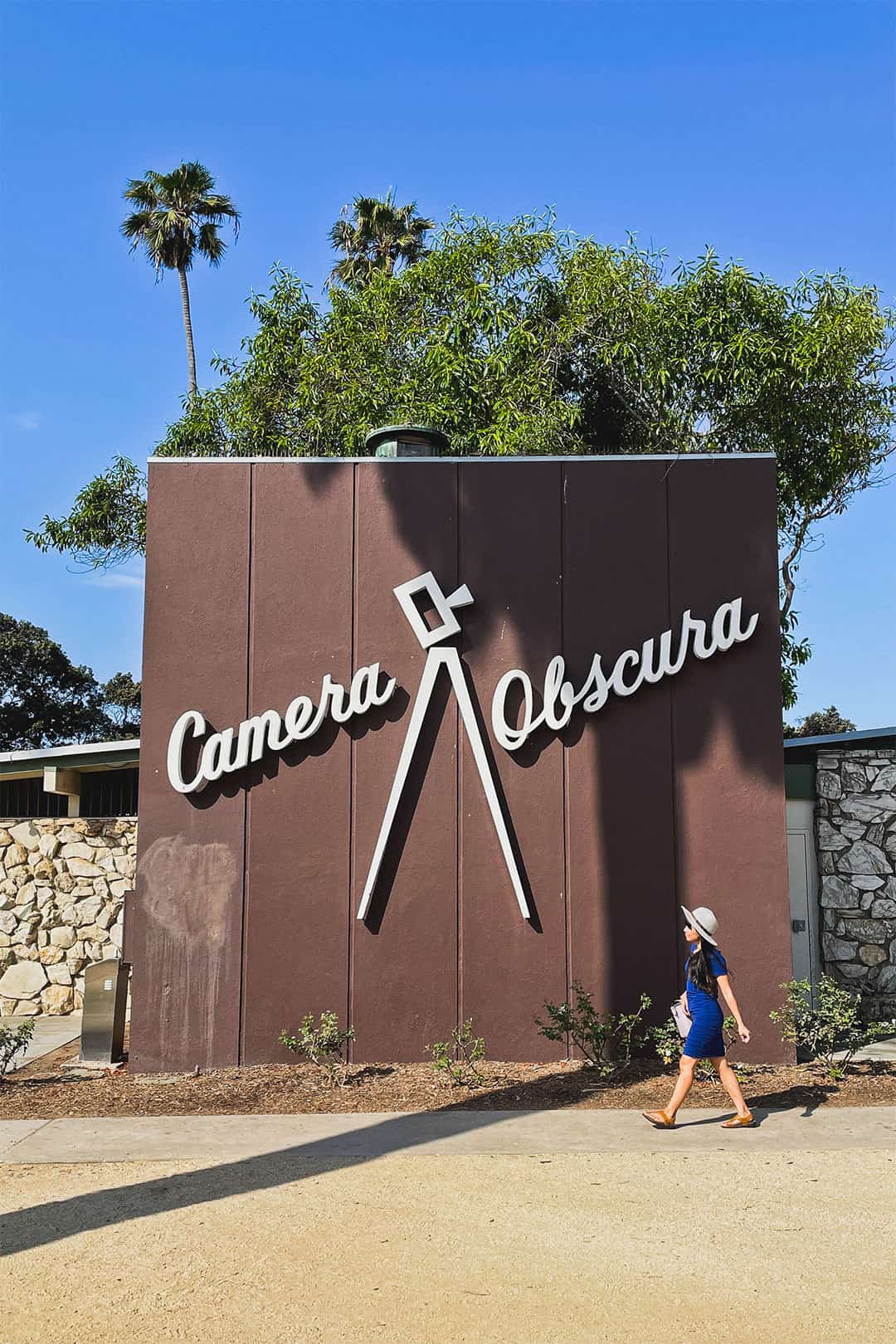 26876 Mulholland Hwy, Calabasas, CA 91302, map
It always surprises me when you can find nature in the middle of a city. The Santa Monica Mountains is a great spot to get away from all the city noise. It has over 500 miles of trails, historical and cultural sites, old movie ranches, and more. 
Local Tip: If you're not sure where you want to start, stop by their Visitor Center first. Check out their website for any closures.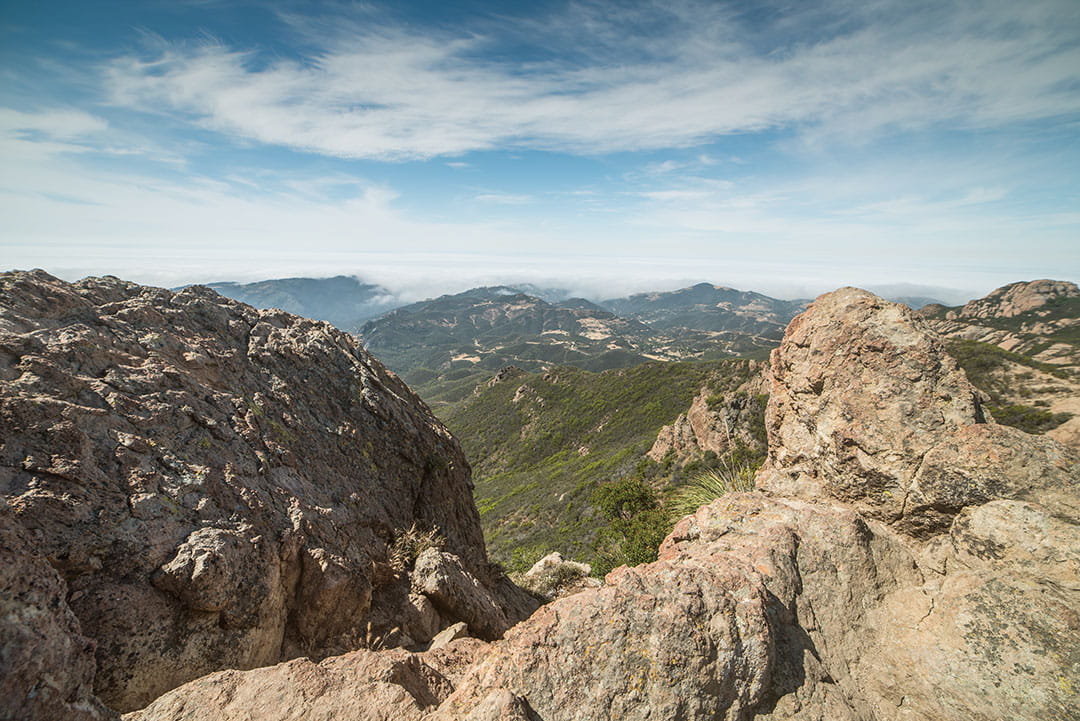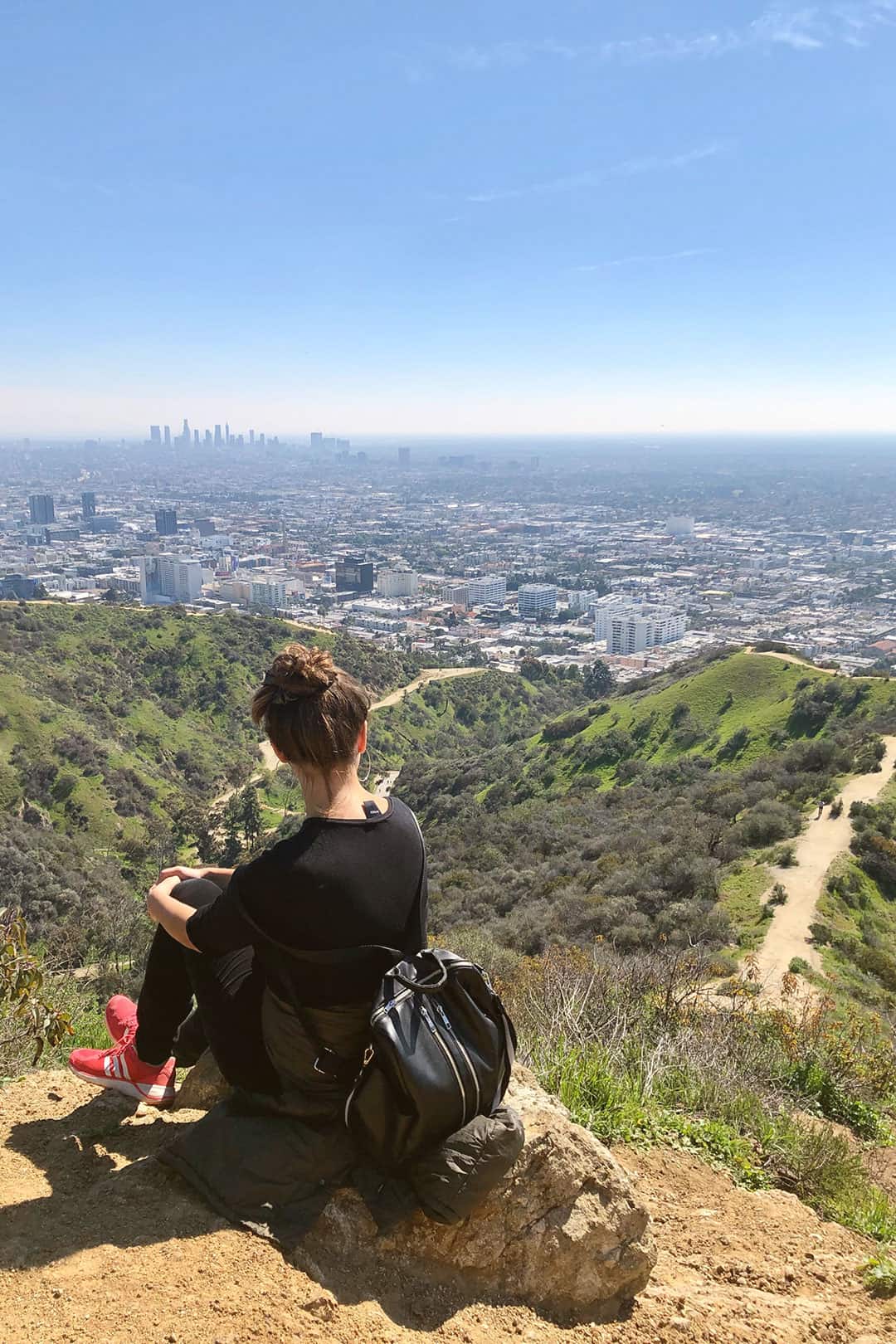 1615 Ocean Ave, 90401, map
Since Tongva Park is right near the pier, we stopped by to see the popular photo spot that frames the beach and pier.
The park is divided into 4 main sections: Observation Hill, Discovery Hill, Garden Hill, and Gathering Hill.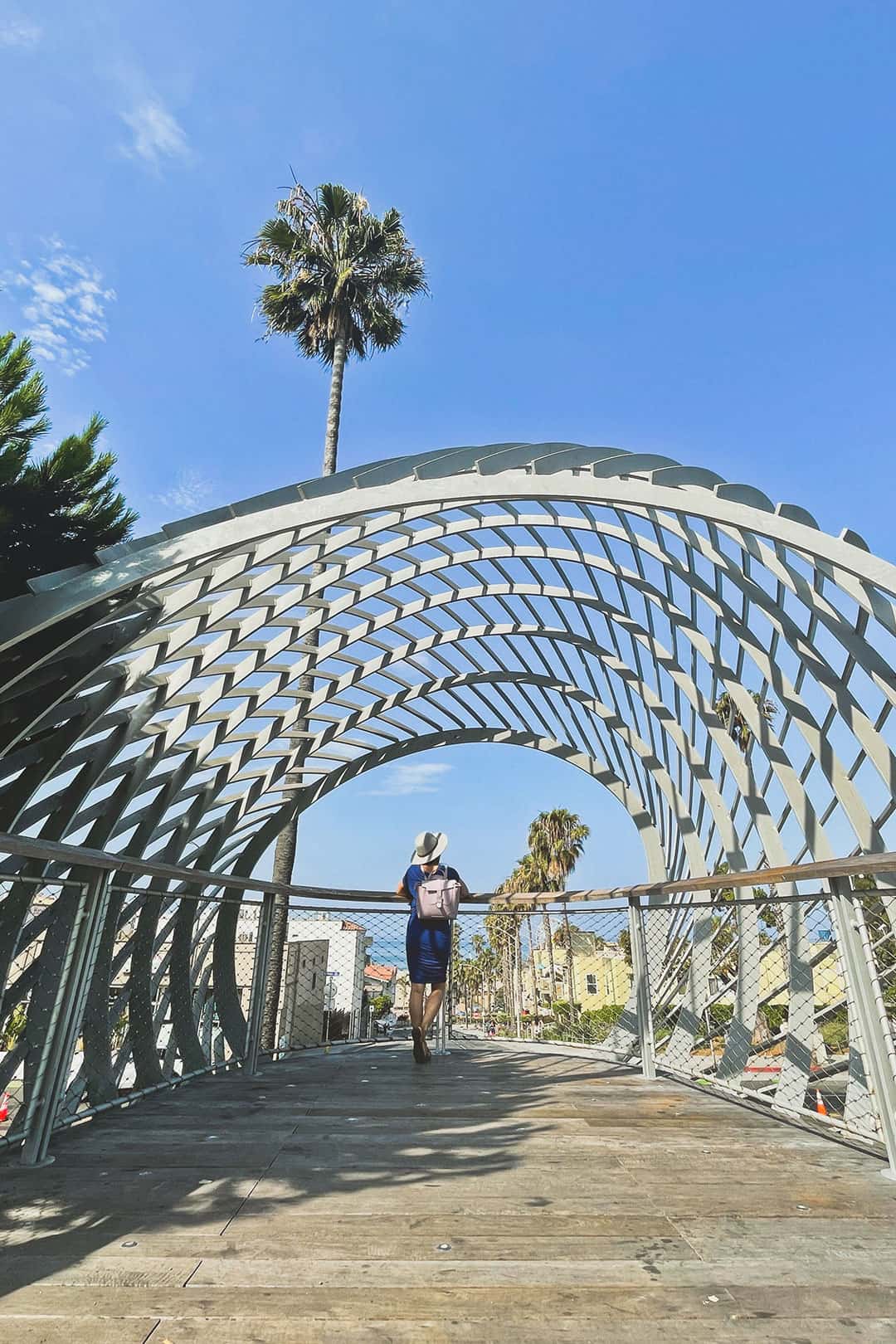 Map of the Best Things to Do in Santa Monica CA
More Things to Do in Santa Monica
Malibu Discovery Wine Tour – The company is based in Santa Monica, and they pick you up from your hotel.
Surf Lessons – there are several options.
Santa Monica Stairs (map) – if you want to squeeze in another workout.
Monuments + Museums in Santa Monica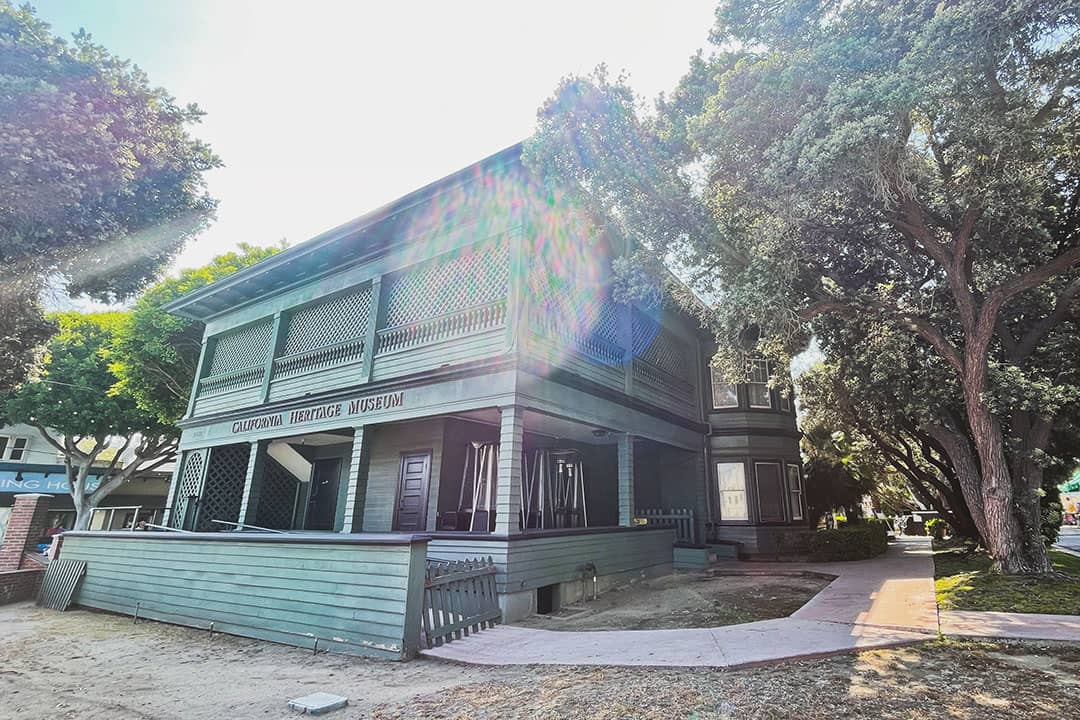 Our favorite place to shop in Santa Monica is Montana Ave, but here are some other notable areas.
3rd Street Promenade – touristy area with big box stores and buskers
Erewhon Market – if you think Whole Foods is "whole paycheck", this is Whole Foods on steroids.
jAdis – prop shop + antique store
Santa Monica Place – free outdoor shopping mall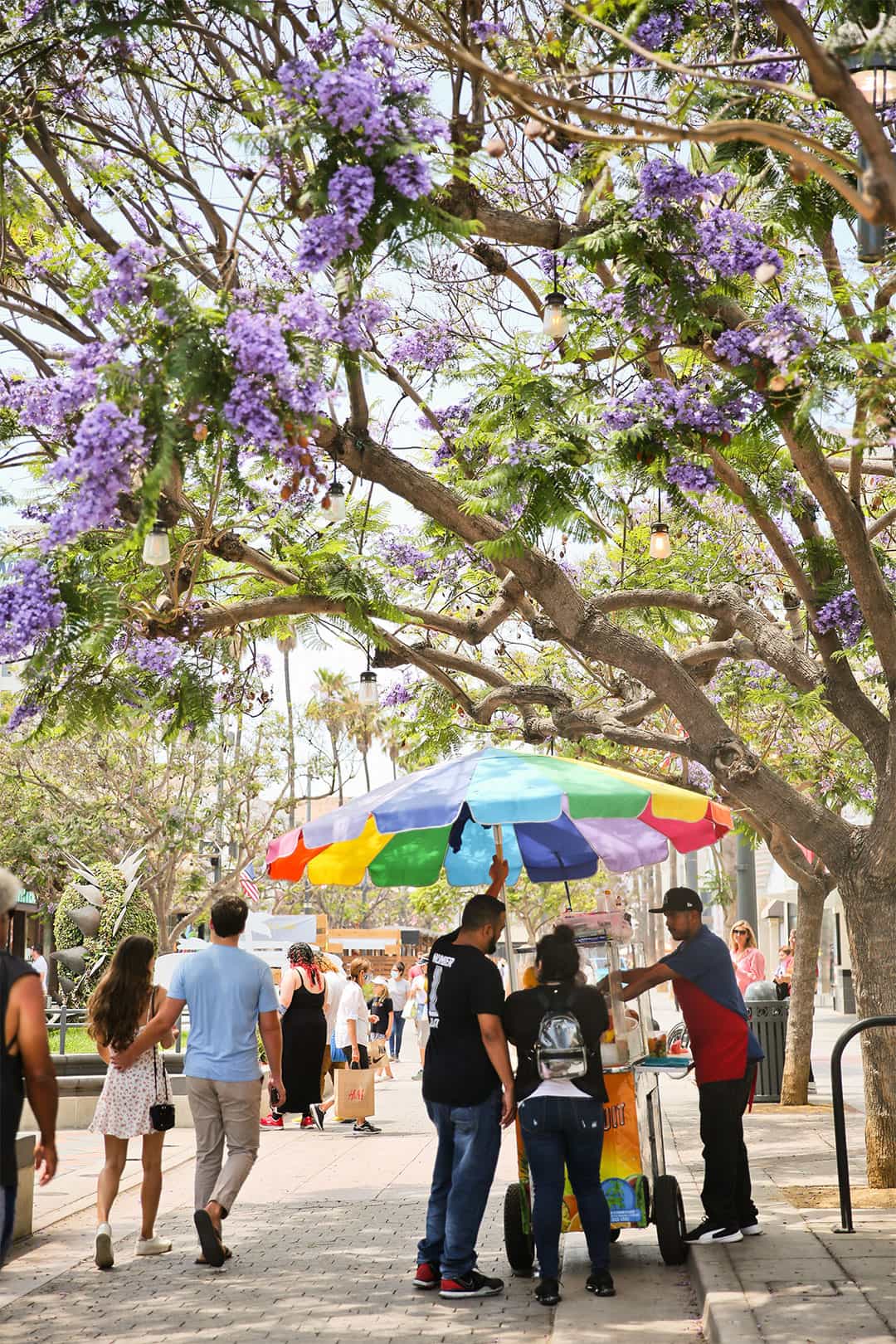 Where to Eat in Santa Monica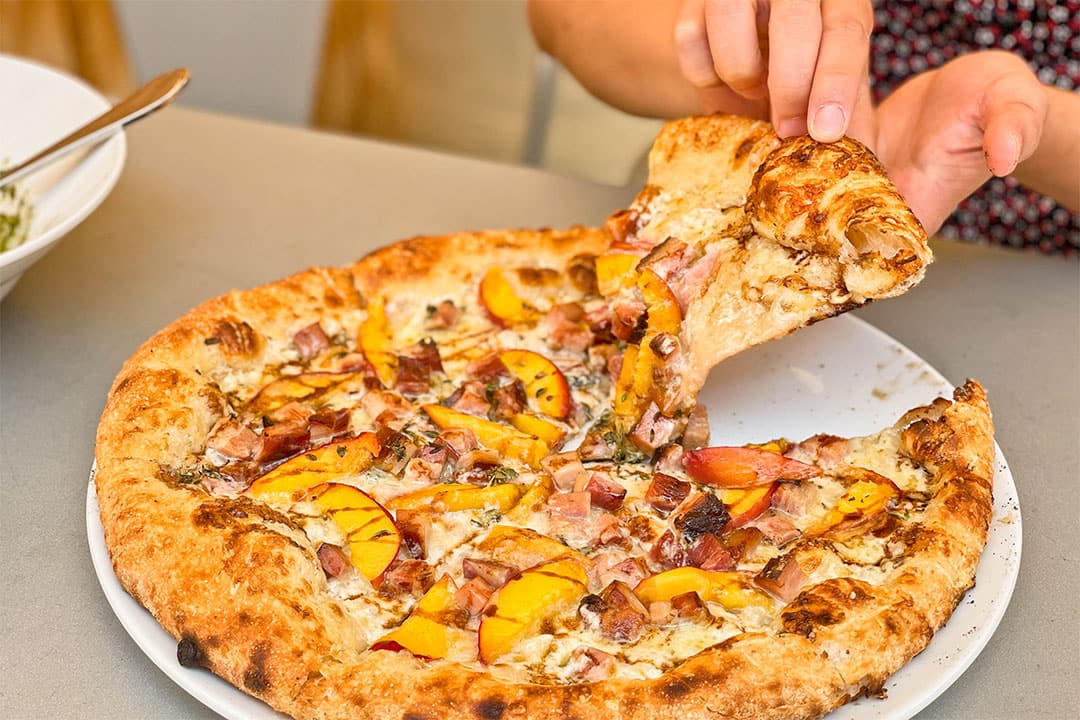 The Best Time to Visit: Because of its moderate climate year-round, it's a popular spot to visit any time. Summer is the busiest time with the fewest deals. Nov – February is best to avoid crowds (besides the holidays).
Weather: The highs in Santa Monica range from the mid-60s in the winter to the low 70s in the summer. The lows are in the low 50s in the winter and low 60s in the summer.
Go Car-less: Santa Monica is very walking-friendly. There are a few public parking spots along the beach and in decks, which costs anywhere from $7-18. Otherwise, we recommend walking, biking, and rideshare to get around.
Bikes and Scooters: This was our favorite way to get around. You'll find a ton of bikes and scooters for rent all over town. Just download the appropriate app. Keep in mind that both should be ridden on the road and not the sidewalk.
Pack Layers: It is warm in the afternoons but gets cool in the morning and evenings. We always had a light jacket on us.
Pack Walking Shoes: Since you'll be doing a lot of walking, pack comfortable walking shoes. Lately, we love these for travel. See all our favorite travel shoes here.
Want to know what to wear to the airport? These are our ideal airport outfits.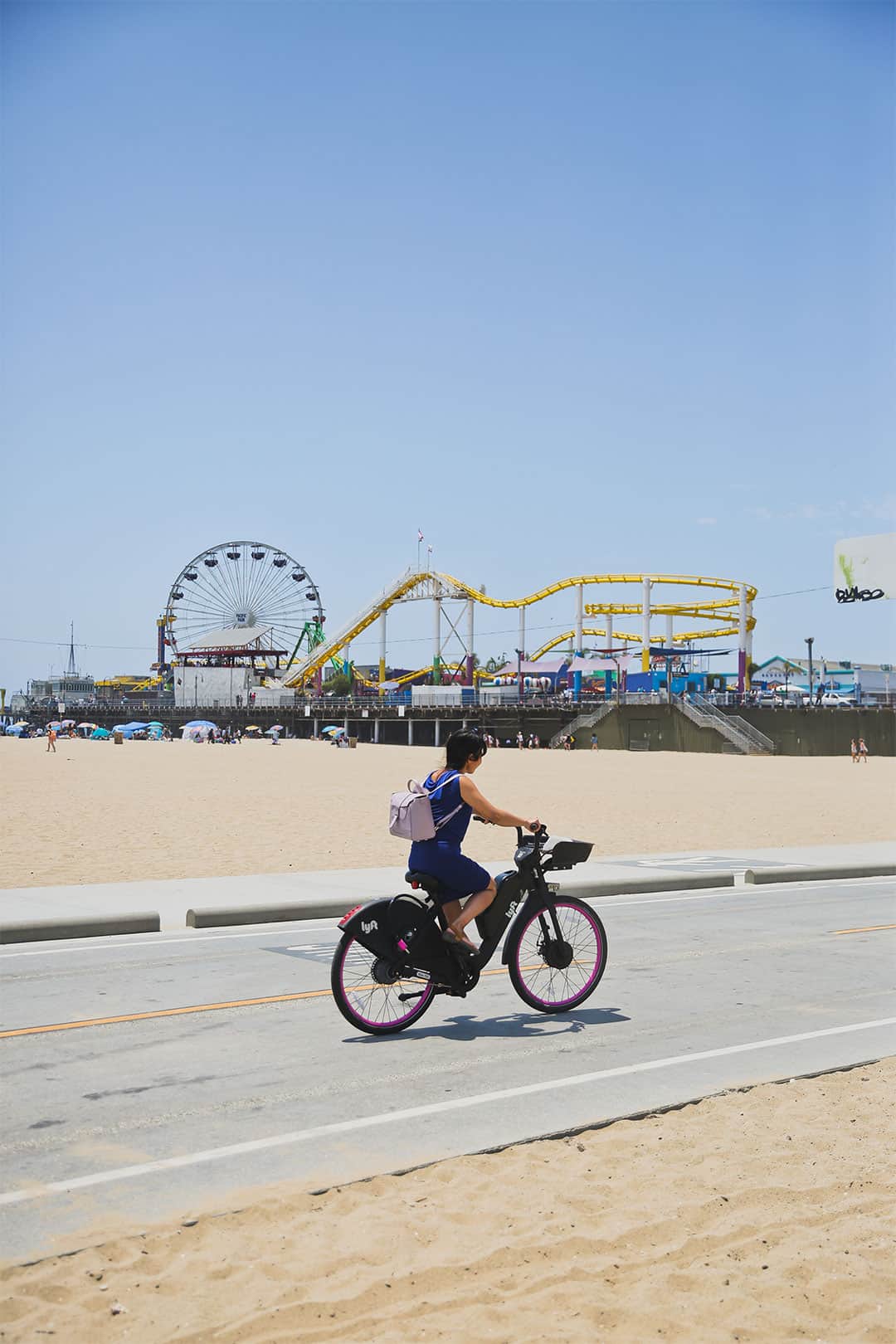 Best Places to Stay in Santa Monica
How to Get to Santa Monica
By Plane: These are the airports you can fly into.

Los Angeles International Airport (LAX) 8 miles away
Hollywood Burbank Airport (BUR) 23 miles away
John Wayne Airport (SNA) 52 miles away
Long Beach Airport (LGB) 32 miles away
Ontario International Airport (ONT) 56 miles away

By Car (map): LA is a huge area so there are several roads that will take you to here. From:

Downtown LA: 1-10
Anaheim/San Diego: I-5
Santa Barbara or Malibu: US-1
Any other things to do in Santa Monica that we need to check out next? Which of these have you done?
Did you enjoy this post? Pin it for later
See More FIrst-Timer City Guides
"Discovery consists not of seeking new lands but in seeing with new eyes" – M. Proust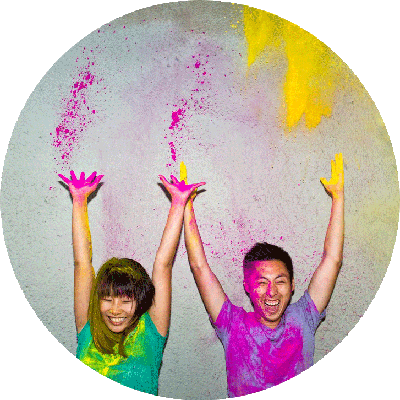 Esther and Jacob are the founders of Local Adventurer, which is one of the top 5 travel blogs in the US. They believe that adventure can be found both near and far and hope to inspire others to explore locally. They explore a new city in depth every year and currently base themselves in Las Vegas.