With only 36 hours in Portland, Maine, I knew exactly what I wanted to do: eat lobster and see lighthouses. Over 10 years ago, I road tripped with two of my girlfriends up New England. When we were in Portland, the most memorable part was seeing the beautiful Portland Head Light.
A visit to Portland isn't complete without seeing one or all of its five lighthouses. We're also working on a post on best things to do in Portland ME, so keep a lookout for it in the coming weeks.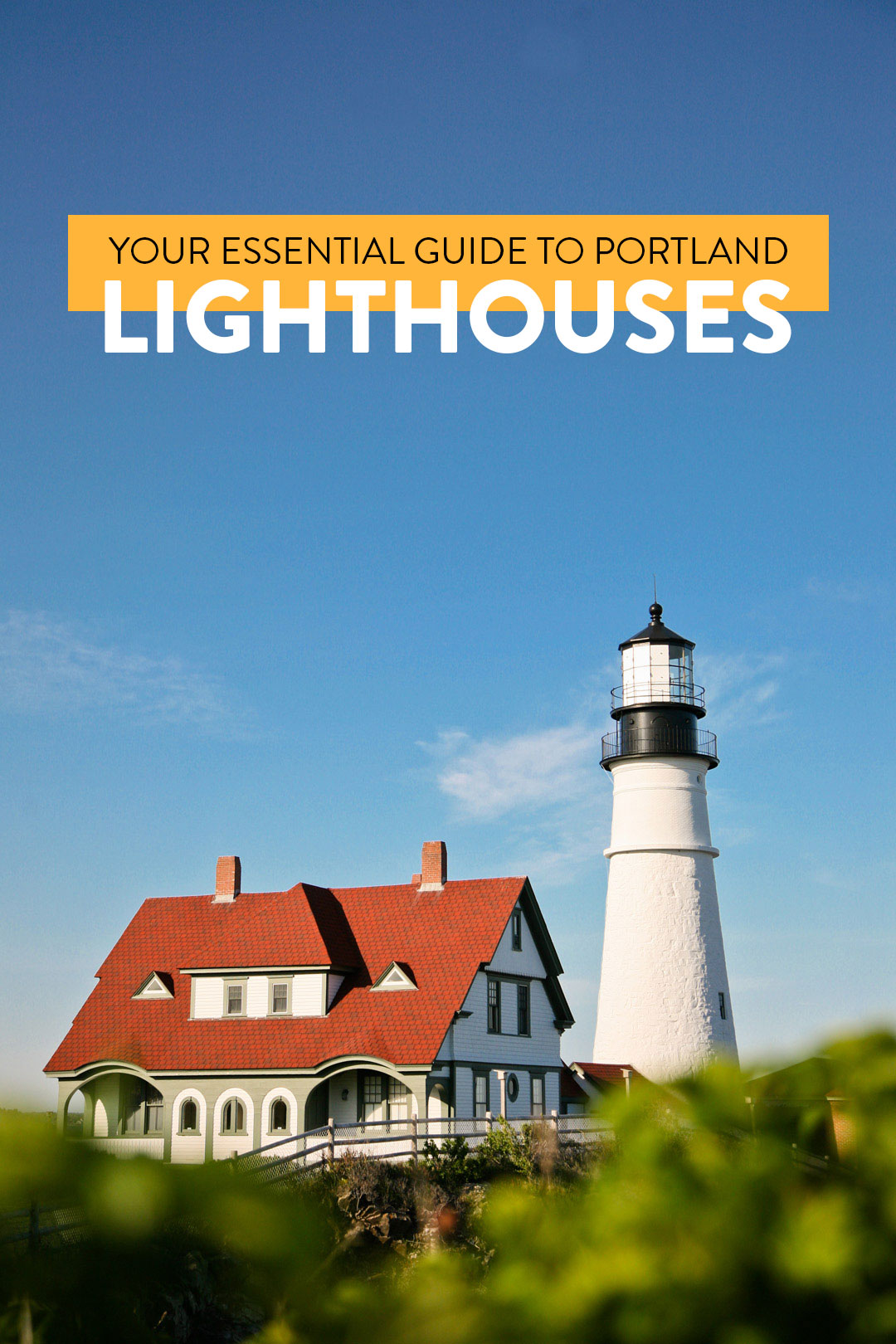 A big thank you to Visit Maine for hosting our visit. All opinions are always our own. This post may contain affiliate links, where we receive a small commission on sales of the products that are linked at no additional cost to you. Read our full disclosure for more info. Thank you for supporting the brands that make Local Adventurer possible.
Last Updated: Jan 17, 2019
5 Beautiful Lighthouses in Portland ME You Need To See
How many lighthouses are in Portland Maine?
There are 6 lighthouses near Portland within 20 miles. Two of them are twin lighthouses, so you will be visiting 5 different locations.
1000 Shore Road, Cape Elizabeth, ME 04107, map
This is the most famous lighthouse near Portland and is located in Fort Williams Park. It's easily the most photogenic and is one of the most photographed lighthouses in all of America. The jagged rocks, crashing waves, and beautiful shape of the shore make it perfect for photos.
Since most of the lighthouses are still used to this day, you can't climb the towers except for Maine's Open Lighthouse Day. In 2019, it will be on September 14 and you can find more details here. The Portland Head Lighthouse will only have roughly 280 tickets available on a first-come-first-served basis.
Besides the lighthouse, you can check out a museum inside the keeper's quarters, which is open from late April to December.
Pro Tip: If you're hoping to capture the most dramatic photos, visit at high tide on a windy day.
2. Ram Island Ledge Light
12 Captain Strout Cir, Cape Elizabeth, ME 04107, map
While you enjoy the stunning Portland Head Light, look towards the waters of the Casco Bay to spot the Ram Island Ledge Light. It lives on a tiny rock island and is made of gray granite blocks.
Note: It has a near twin in Boston called the Graves Light Station.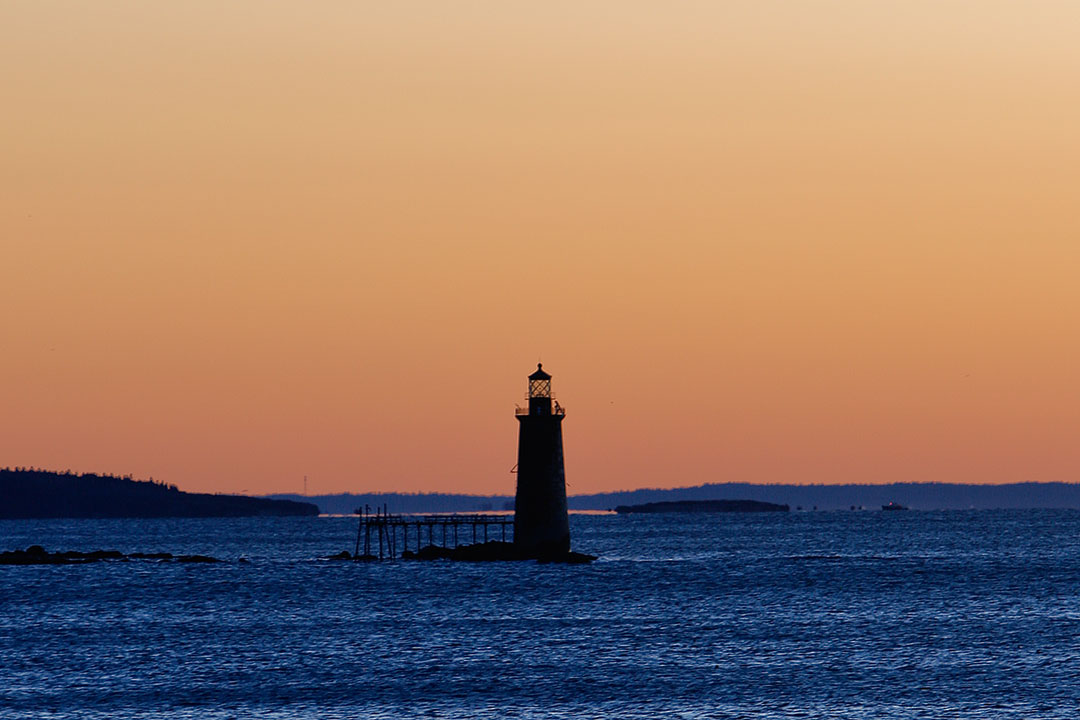 3. Cape Elizabeth Light (Two Lights State Park)
15 2 Lights Terrace, Cape Elizabeth, ME 04107, map
This was one of my favorite areas to explore. The lighthouses weren't so easy to find especially if you mapped to the park. Instead, map to the Lobster Shack at Two Lights (225 Two Lights Rd, Cape Elizabeth, ME 04107) you'll find a small parking lot next to the restaurant where you'll get views of the lighthouse. We also walked out to Dyer Point to take photos out there and get a different vantage point.
There are two lighthouses here, but we had trouble finding the second one. Both are on private property, so you can only see them from Two Lights State Park. It's open during the Maine Open Lighthouse Day with roughly 280 tickets available first-come-first-serve.
Local Tip: On warm days, you can head to Crescent Beach State Park which has one of Portland's best sandy beaches.
4. Portland Breakwater Lighthouse (Bug Light)
S Portland Greenbelt Pathway, South Portland, ME 04106, map
You can walk right up to this tiny lighthouse in Bug Light Park. It's a one-of-a-kind lighthouse that is shaped like a 4th-century Greek monument. This area is also popular for fishing and you can stop by the South Portland Historical Society Museum closely. You can step inside the lighthouse on Maine's Open Lighthouse Day.
Pro Tip: There is parking lot at the park that makes it easy to stop by.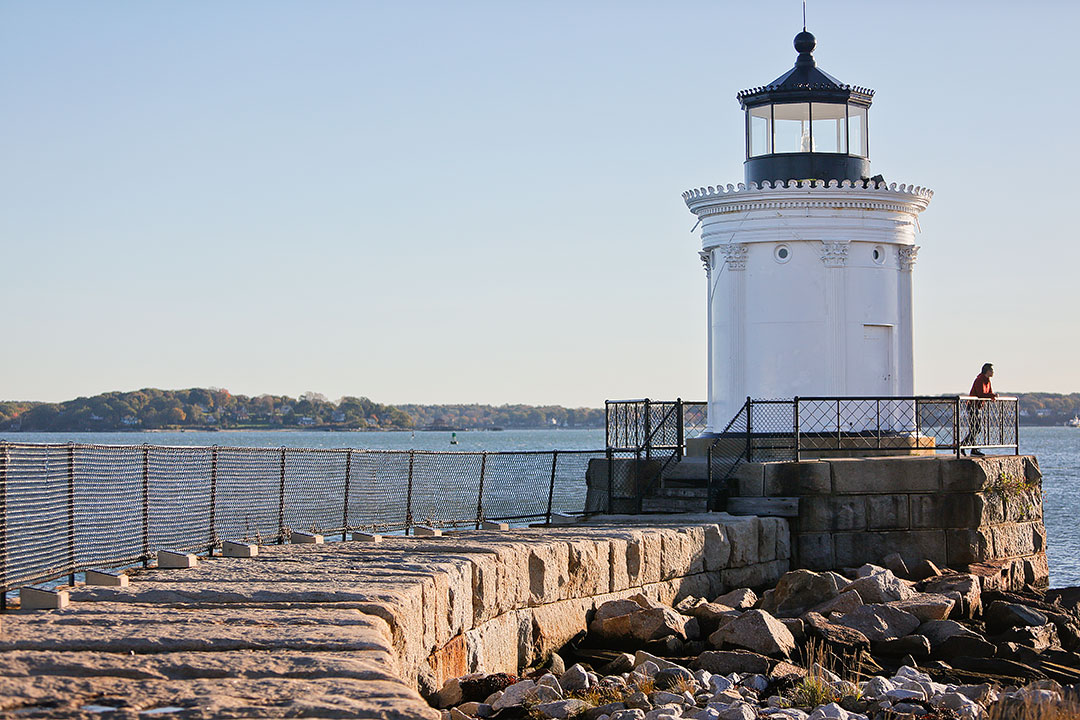 5. Spring Point Ledge Lighthouse
2 Fort Rd, South Portland, ME 04106, map
This lighthouse lives at the end of a long breakwater on the campus of Southern Maine Community College. This is the only Portland-area lighthouse that you can step inside on a regular basis. Volunteers lead tours on most Saturdays, Sundays, and Tuesdays from Memorial Day to Labor Day. Also, don't forget to take in the Portland skyline across the water.
Pro Tip: Be careful walking on the large stones if it's wet, icy, or windy. When we were there there were powerful wind gusts and Esther felt like the wind was blowing her away.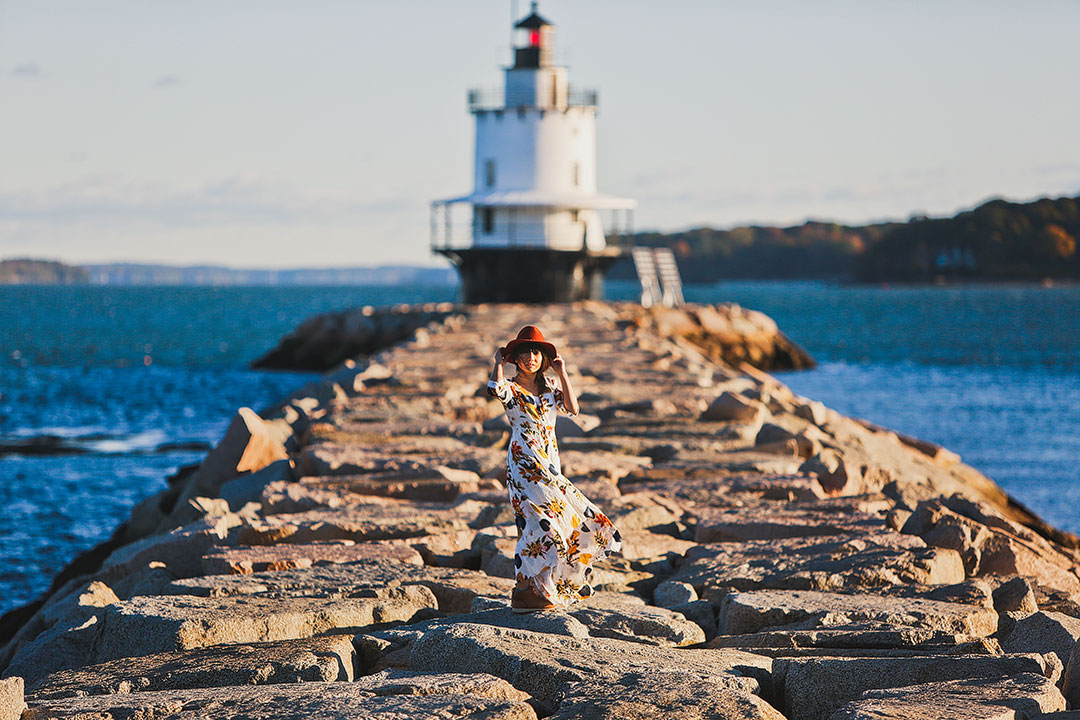 Lighthouses in Portland Maine Map
The best time to visit for photos is at sunrise. You will find several other photographers with tripods ready for that shot.
Bring a tripod, if you're visiting during sunrise or sunset. It helps with getting multiple exposures that you can later blend in photoshop.
Bring a wide and long lens to get varying shots. Most of ours was shot with a 35mm/1.2L lens on a Canon Mark IV body.
Maine's Open Lighthouse Day brings in 15-18k visitors. If you want to go to one of the more popular lighthouses, be sure to arrive as early as possible.
What to Pack for Your Portland ME Trip

Have you visited a lighthouse? What has been your favorite?
Did you enjoy this post? Pin it for later
SEE MORE CITY BUCKET LISTS
"Discovery consists not of seeking new lands but in seeing with new eyes" – M. Proust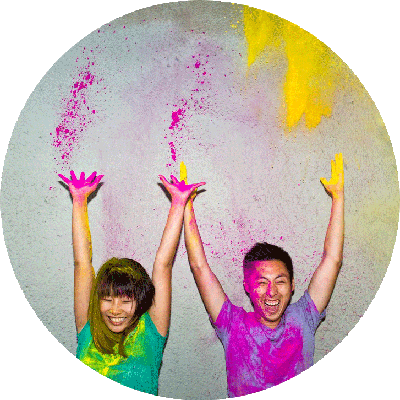 Esther and Jacob are the founders of Local Adventurer, which is one of the top 5 travel blogs in the US. They believe that adventure can be found both near and far and hope to inspire others to explore locally. They explore a new city in depth every year and currently base themselves in NYC.