This was the first trip we've taken by plane in over a year, so we were a little anxious, but in hindsight, we're so glad we did the trip. Most of the activities were outside and felt completely safe, and we learned the more you plan ahead, the safer it is.
We've been to Jackson Hole in the summer and fall, but this time we wanted to see the winter wonderland the locals kept talking about.
After spending three days knee-deep in snow, we absolutely love it and can't wait to be back. Grand Teton National Park felt so much quieter and we saw more wildlife than all our previous trips combined.
If you plan on traveling here this season, we put together a guide of the best things to do in Jackson Hole Wyoming in the winter.
A big thank you to Visit Jackson Hole for sponsoring this post. All opinions are always our own. This post may contain affiliate links, where we receive a small commission on sales of the products that are linked at no additional cost to you. Read our full disclosure for more info. Thank you for supporting the brands that make Local Adventurer possible.
Last Updated: November 1, 2022
15 Amazing Things to do in Jackson Hole in the Winter
You can't visit the Jackson Hole area without seeing Grand Teton National Park. If you fly in, you actually land inside the park! Because of the weather during our visit, we weren't able to see the mountain peaks, but there are plenty of activities to do and the park is completely transformed in the winter. If you're really lucky, you'll get both the snowy landscape and the Tetons.
Pro Tip: Roads and pull-outs are limited in the winter so be sure you know what your options are before heading in.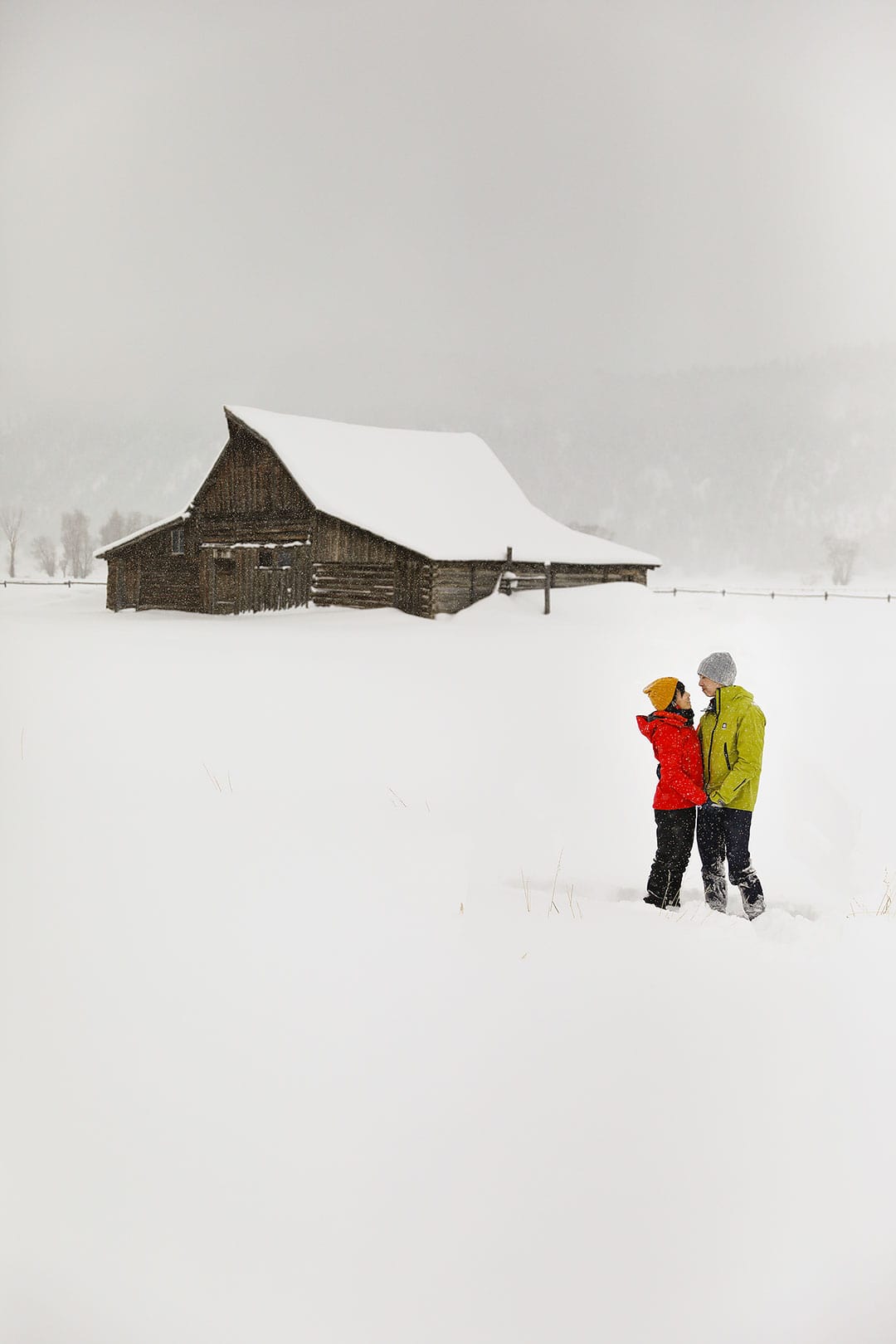 Yellowstone National Park is also close by, but if you want to visit, you will need to do some planning ahead of time. They close the closest park entrances to vehicles during the winter so you will only be able to see the park through tours.
Since our time was limited and we weren't familiar with the terrain in snow, we decided to take a tour with Jackson Hole Wildlife Safaris (JHWS) to increase our chances to see wildlife.
We've done a fair share of wildlife viewing over the years, which can always be hit or miss. On this trip, we saw moose, bison, bighorn sheep, bald eagles, and elk on our half-day safari. Either we were really lucky, or our tour guides know their wildlife (probably both).
JHWS is the only tour company that completely focuses on wildlife, although there are other companies that offer similar wildlife and other scenic tours in Jackson Hole. And because they have a network of guides and are spending time in the park every day, they are able to share info with each other and know the pattern of how the animals move. It's amazing how they can spot animals from such long distances when they look like ambiguous dots to us.
In between looking for wildlife, our guide taught us a lot about the history of the area and its relationship to the animals. He knew the area intimately since he was a naturalist in Yellowstone National Park for many years too.
On top of that, the groups are small, they pick you up from your hotel, and provide snacks, binoculars, and spotting scopes.
Pro Tip: If you plan on photographing the wildlife, be sure you have long lenses. We brought a Canon 100-400mm lens and a Sigma 150-600mm lens. It also helps if you have a cropped sensor, but our full-frame cameras worked okay too. If you're newer to photography, you can book their photo tours where they have photographers guiding you. 
Photography Tip: Batteries die faster in cold weather so it's a good idea to have extra batteries. You can also store them close to your body so your body heat helps them last longer.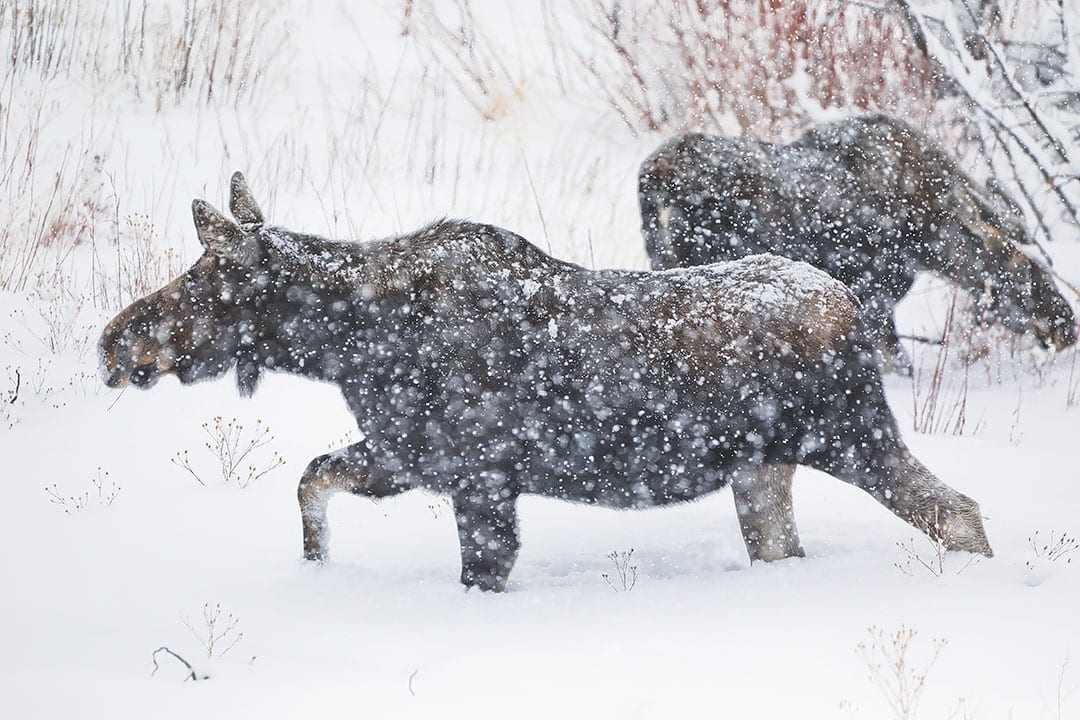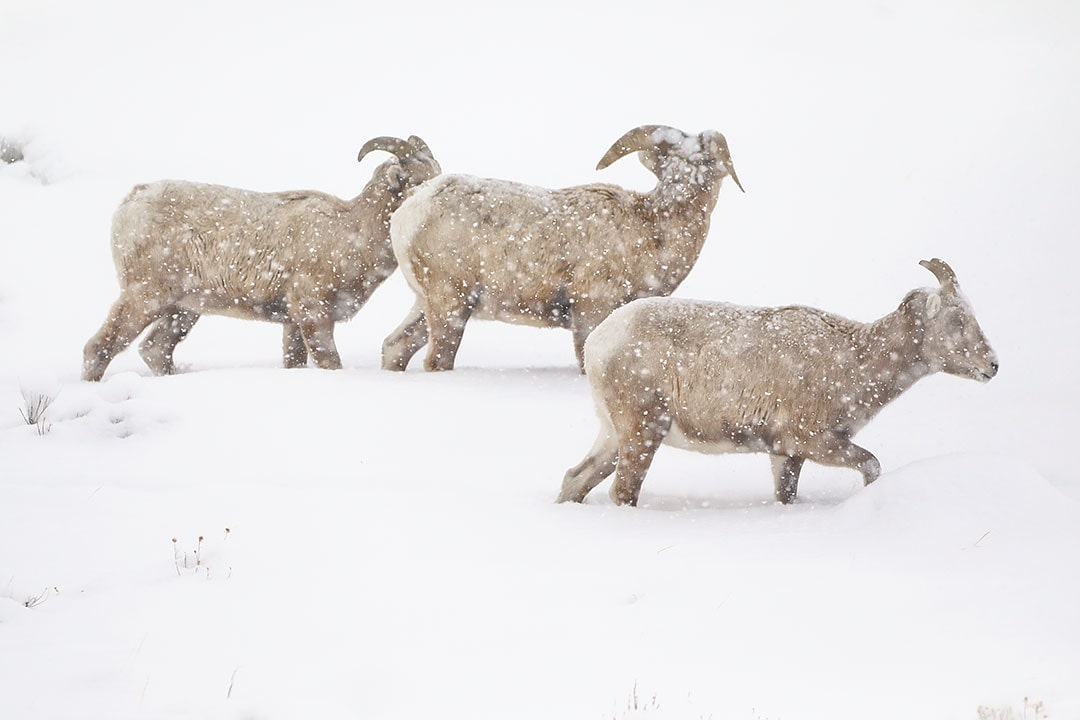 4. Snowshoeing or Nordic Skiing
Since hiking is tough in the snow, one of the best ways to get around is snowshoeing or Nordic skiing. If you're new to these activities, go for a guided tour. Otherwise, there are plenty of places in town to rent your own gear and explore on your own.
We went to Hoback Sports, which was around the corner from where we were staying to rent snowshoes and made our way out to Mormon Row. There was no one else out there so we had the whole place to ourselves.
Some popular trails to check out:
Bradley and Taggart Lakes
Cache Creek
Mormon Row
Pro Tip: Be sure to account for the weight of any gear you plan on carrying to ensure you get the correct snowshoes. Jacob was carrying all our camera gear which added 10+ lbs so he should have sized up.
Special thanks to 66ºNorth for sending us new gear to keep us warm. Read more about how to dress warm below.
On our first trip to Jackson, we learned the best time to visit the National Elk Refuge is during the winter. In the summer, it wasn't as exciting seeing the open fields and a handful of birds. In the winter, thousands of elk make the refuge their home.
We picked up our tickets next to the visitor center then they shuttled us over to the refuge. During the sleigh ride, your guide tells you more about the elk and you may even get lucky enough to spot some other animals. We saw a coyote running around looking for food, but apparently the week before two wolves came down very close to the sleigh.
Pro Tip: The elk make their way to the refuge as the weather gets colder and there's more snow on the ground. The cows and calves come down to the refuge first, followed by the bulls later. While we were there, we only spotted a few bulls, but after the snowfall over the weekend, they expected that more would arrive.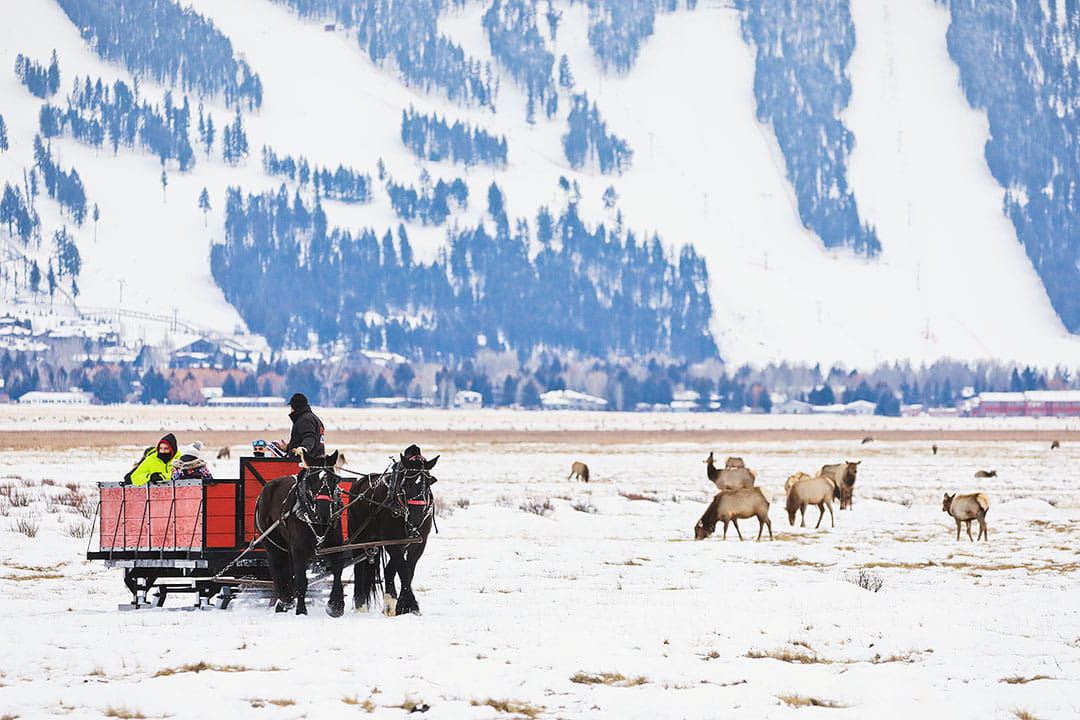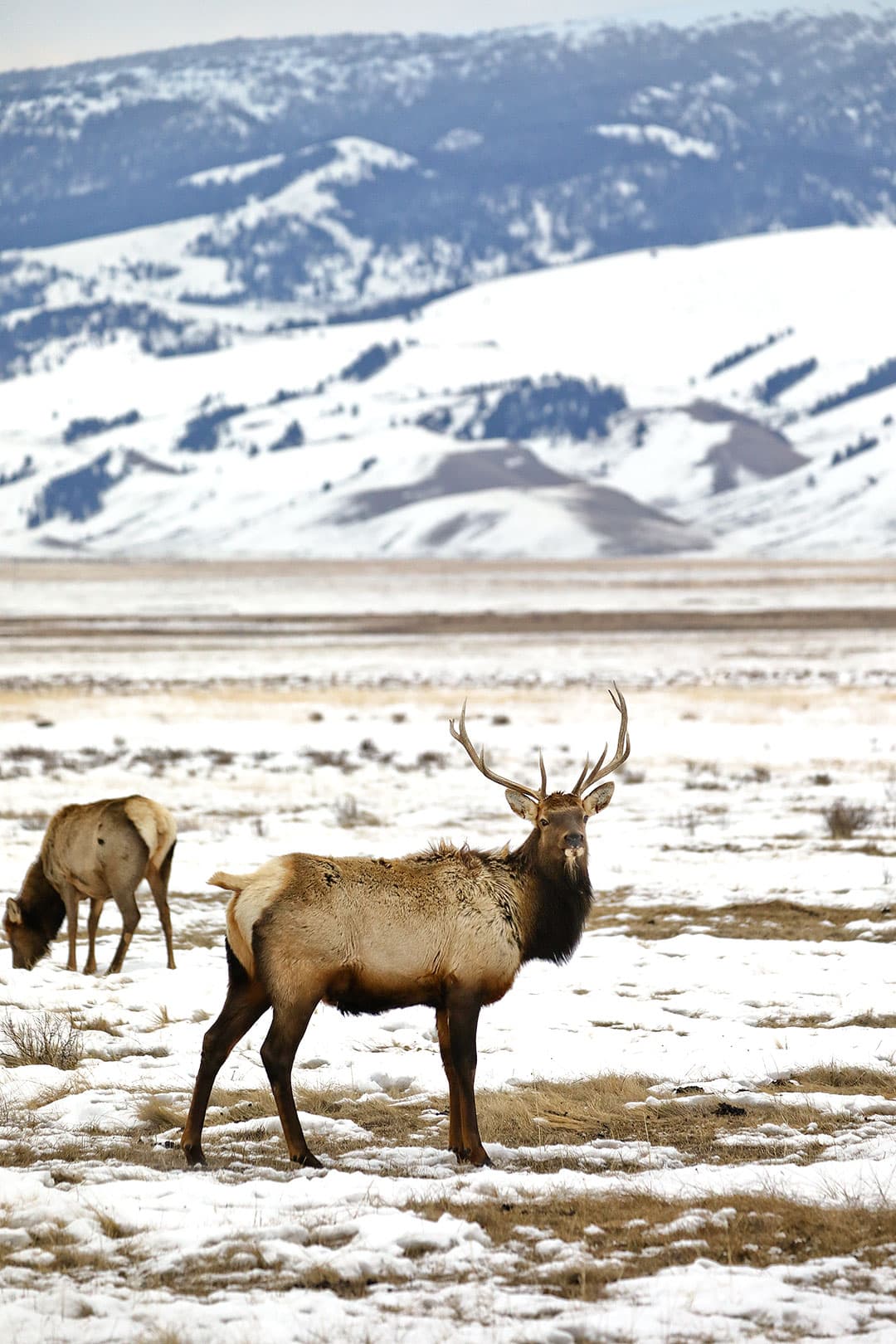 This has been on our bucket list for a while. We didn't get a chance to dog sled while in Jackson Hole since it's so popular. It was booked months in advance. On top of that, the Pedigree State Stop sled dog race was in town during our visit, so they were even busier.
Pro Tip:
If this is high on your list, book through one of the
dog sled companies
as soon as you know you're visiting.
This is another adventure that is on our bucket list. Since most of Yellowstone National Park is closed off to vehicles, one of the best ways to see the park is via snowmobile. If you own your own snowmobile or want to rent one to explore on your own, you can try your luck at the coveted snowmobile permit lottery. Otherwise, there are a few outfitters in town that do guided tours into the park, on Togwotee pass, and to Granite Hot Springs.
8. Alpine Skiing and Snowboarding
This is one of the biggest draws to the Jackson Hole area. During our visit, most of the visitors were in town to hit the slopes. Since Esther is still recovering from two surgeries, we decided that it was too intense for this trip since she tends to fall a lot, but it was sooo tempting during the fresh powder days.
Pro Tip: If this is your main activity, book a stay at one of the hotels near the slopes or ensure that your hotel provides a shuttle since parking fills up fast especially on fresh powder days.
Fat tire biking is one of the newest activities that is getting popular in Jackson Hole. These bikes are built for off-roading, but unlike mountain bikes, the oversized tires help you fly down snow-packed trails. Cache Creek is one of the most popular trail systems but you can talk to the rental companies to find out the best trail for you. 
10. Aerial Tram / Gondola
Hop on this iconic Aerial Tram as it takes you up over 4,100 vertical feet. Once at the top, you'll have beautiful 360-degree views of the Tetons and Jackson Hole valley.
Since it was white out snowing, we figured we would save this for a future visit when we can actually see beyond 10 ft.
Pro Tip: Due to capacity limits, they are only allowing skiers and snowboarders to use the tram right now.
Don't miss out on the amazing shopping and dining that Jackson Hole has to offer. We stayed only a few blocks from Jackson Town Square, which was the perfect location to explore the shops and restaurants. Whether you're looking for souvenirs, local products, or gear for your adventures, you're bound to find a store to meet your needs.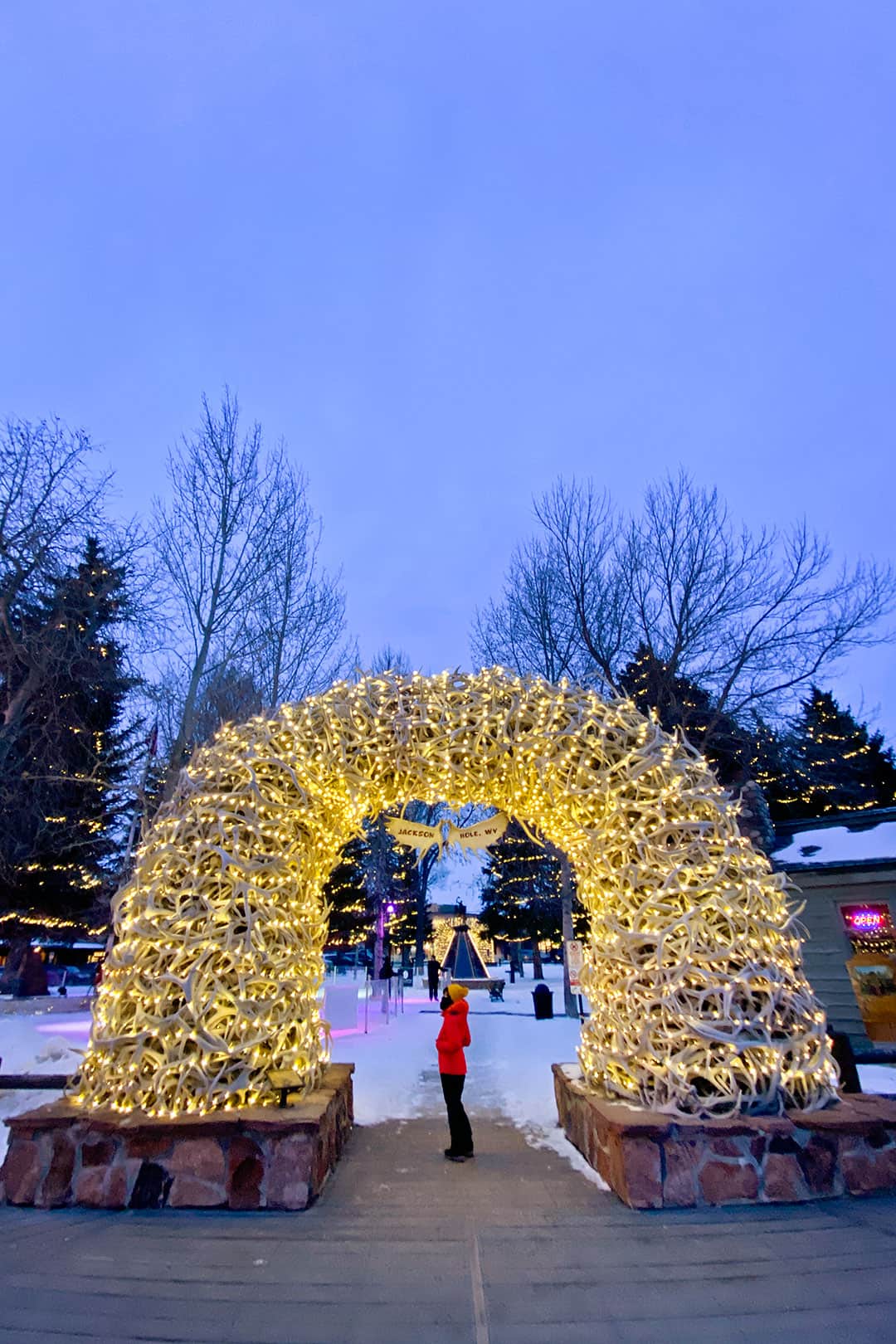 More Things to Do in Jackson Hole Wyoming in Winter
Cowboy Coaster – check if they are open since they can't run when there is too much snow. 
Fly Fishing
Ice Skate – There's a small rink right in the heart of downtown
Museums – National Museum of Wildlife Art, 20+ Art Galleries in Town, Jackson Hole Historical Society
Snow Tubing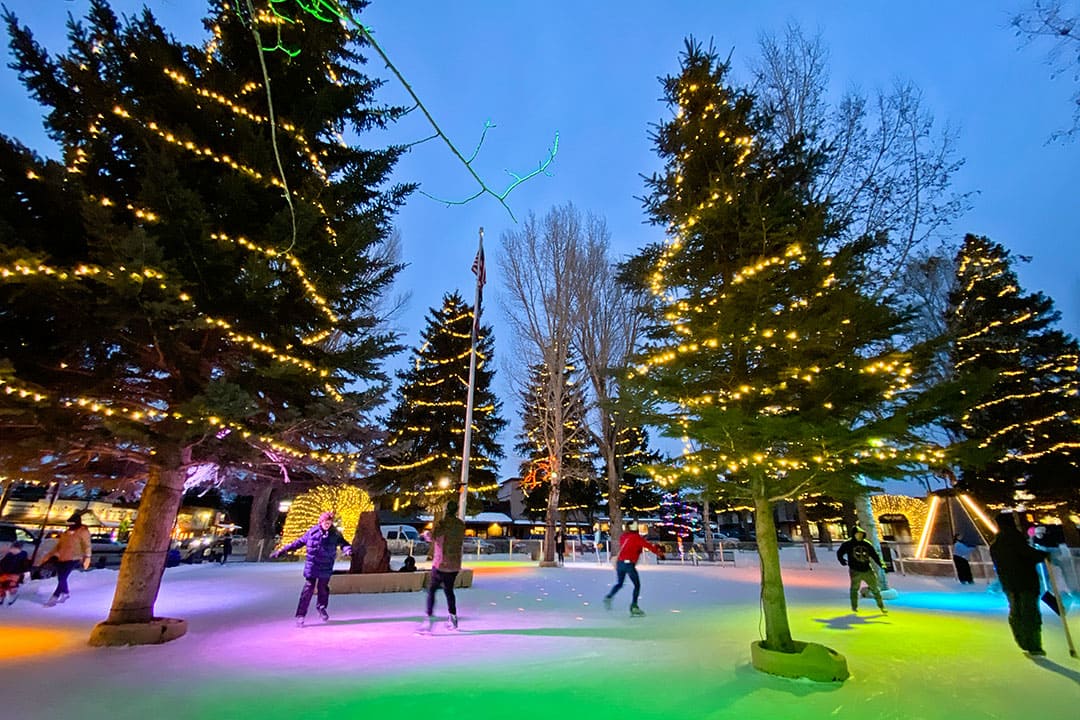 Free Things to Do in Jackson Hole in the Winter
Double check each location before heading there to ensure programs are still running.
National Fish Hatchery Tours
Free Music – on normal years there are often free concerts in and around town
Ice Skate – if you have your own skates! If not, you can still rent them there.
See a Free Film at Teton Gravity Research
Where to Eat in Jackson Hole
For small town, Jackson has a lot of food options. To minimize contact, we decided to do all of our food take out or delivery and eat in our room. If you do want to dine-in, make a reservation prior to your stay. All bar and restaurants close at 10 pm, so plan accordingly.
Here are the spots we tried and what we loved about them.
Planning Your Trip: Because there's limited capacity right now, tours and activities can book up quickly. Make reservations early. For more resources, check out Visit Jackson Hole's website.
Flights: When booking your flights, give yourself plenty of time on your outgoing flight if you have a connection. We ended up delayed because we had to wait for our plane to be de-iced so we missed our connecting flight and had to get rerouted.
Rental Car: Depending on what you want to do, you don't necessarily need a rental car. If you're staying in downtown Jackson, you have plenty of accessible shops and restaurants. A lot of hotels offer shuttles to the slopes and if you're doing tours, they often times offer pick-ups or meeting points nearby. If you do decide to get a car like us, get one with AWD and take it slow. They do a good job at grooming the streets but you'll still be driving on snow.
Stay Safe: This was the first trip we've taken in over a year. Overall, we were impressed with how well the community prioritizes safety. To travel responsibly, follow their 3C's guidelines:

Clean – wash your hands regularly
Careful – wear a mask and practice social distancing
Connected – stay connected and use JHcovid.com for the most updated information

Hotel + Accommodations: Book your stay early to help local spots stay compliant with capacity regulations and prepare for your stay.
Pack: Pack a (or many) mask and dress appropriately. It's cold but when you're doing something active, you'll want to shed layers. We go over our packing list below.
Timing: A lot of activities are snow dependent. We were initially going to visit early December but realized that we wouldn't be able to do most of the activities we wanted to do. Even during our visit in late January, we experienced the first big snowfall of the season which was changing what we could and could not do.
Be Flexible: It's good to have some flexibility in your plans in case weather throws a wrench in your schedule. Also, double check current hours and restrictions before heading anywhere.
What to Pack + How to Dress
When we glanced at the weather in Jackson Hole and saw lows in the single digits and highs in the mid-20s, we were a bit nervous. Although we got used to cold weather living in NYC and even hiked Patagonia in the winter, we are not naturally cold weather people. But we've learned that with the right gear, cold weather is nothing to be scared of. Below is a list of everything we packed with us and a few items we wished we had brought.
Masks: Masks are required everywhere in Jackson Hole, so it's a good idea to have a couple masks with you on the trip just in case you misplace yours or lose them. Sometimes it's nice to have extra ones in case you need to wash them too.
Rain Shell: This is our outermost layer and important if you're spending a lot of time in the snow. Jacob loved his new Snaefell from 66ºNorth and primarily used it when we spent prolonged time outside. I brought my Arc'teryx Rain Shell that I've been using for the past few years.
Down Jacket: Next up is our down layer. This is our main source of warmth. Jacob rocked his new 66ºNorth Ok jacket and it's his favorite now. The warm down combined with the stretch panels makes for a great fit with plenty of movement. I brought my Arc'teryx Cerium Down Hoodie since they ran out of my size.
Mid-layer: I used my Arc'teryx Delta LT Jacket as my mid layer since I like to have the option to unzip. Jacob prefers his half zip fleece.
Base Layers: I'm all about the omni heat base layers for my top and bottom!
Pants: We put our brand new DUER All Weather Denims (His + Hers) to the test on this trip and were really happy with the results. Jacob even wore them snowshoeing and despite being in a ton of snow, it was only a bit wet at the bottom cuffs.
Boots: We got some insulated Danner Mountain 600s which worked out great. It would have been nice to have some gaiters as well, especially when we were trekking in snow.
Hat and/or Balaclava: Both of us wore these windproof knit caps during the trip which worked out well. I also brought my balaclava for days I needed some extra warmth.
Socks: We tested our new waterproof socks out and they came in handy since the snow was so deep it would get in our shoes from time to time. We've tried other waterproof socks in the past that were not comfortable, but we were impressed with these.
Gloves: Jacob had the best pair of gloves on the trip since they were thin and waterproof making it easy to shoot. I switched between this touchscreen pair for shooting but switched to thicker winter gloves when if my gloves got wet.
Rechargeable Hand Warmers: Having a rechargeable hand warmer is nice to give you the option for some extra warmth when you need it!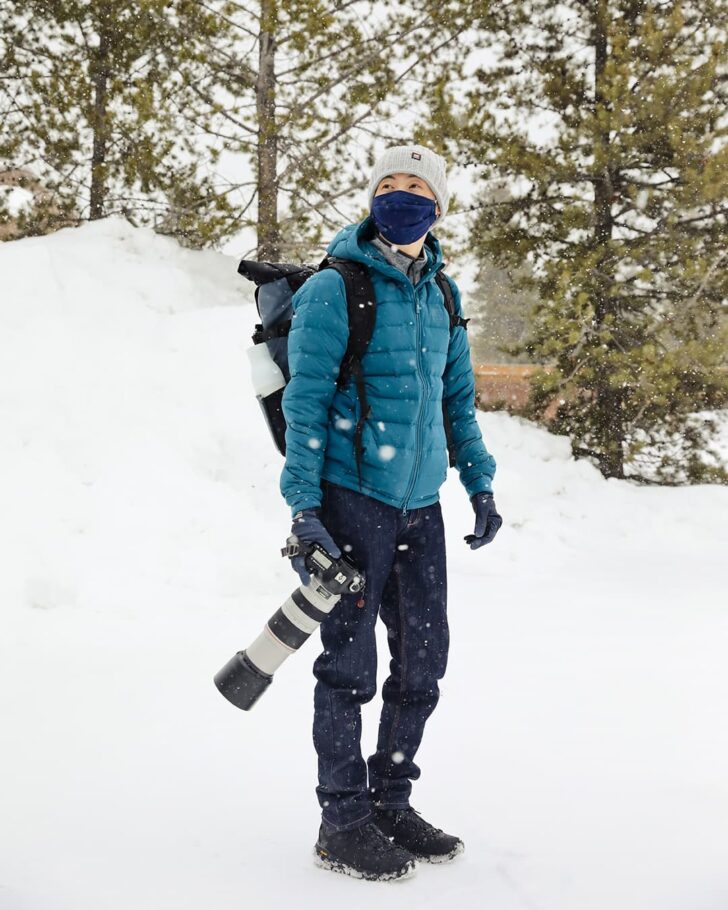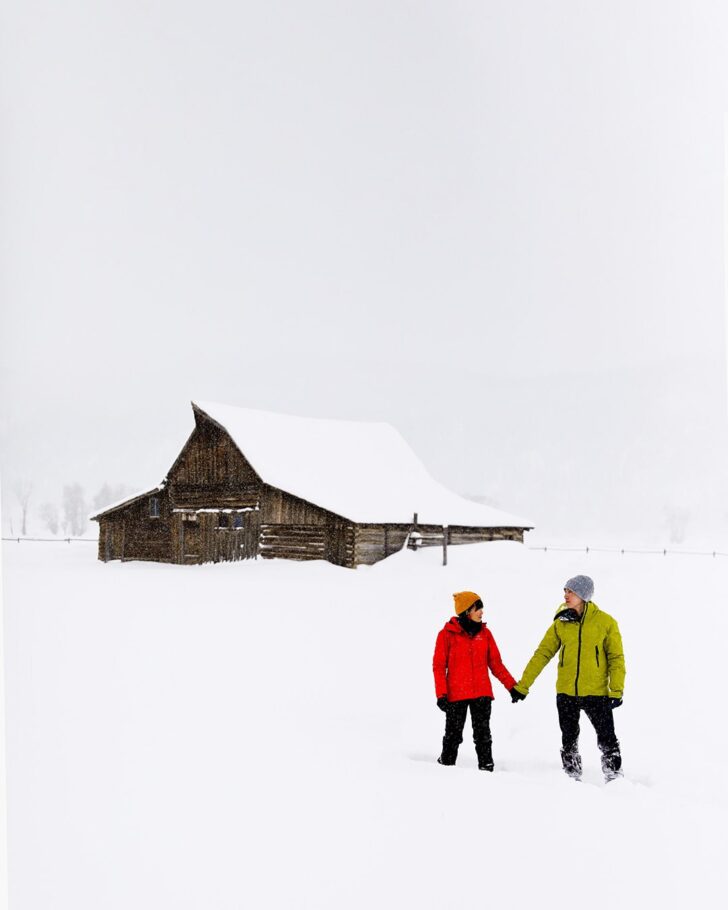 During our visit, we were hosted by Mountain Modern Motel. Located just a few blocks from downtown, it was a convenient location and the perfect home base for our adventures. The room was comfortable, and clean, and had plenty of space for organizing our gear (there was even a dedicated space for outdoor gear).
Grand Teton National Park (4.9 mi / 7 min)
Yellowstone National Park (57.5 mi / 1 hr 15 min)
Grizzly & Wolf Discovery Center (128 mi / 2 hr 32 min)
Fossil Butte National Monument (154 mi / 2 hr 45 min)
Crater of the Moon National Monument and Preserve (218 mi / 4 hr 30 min)
Are there any other Jackson Hole winter activities that we missed?
Did you enjoy this post? Pin it for later
See More National Park Guides
"Discovery consists not of seeking new lands but in seeing with new eyes" – M. Proust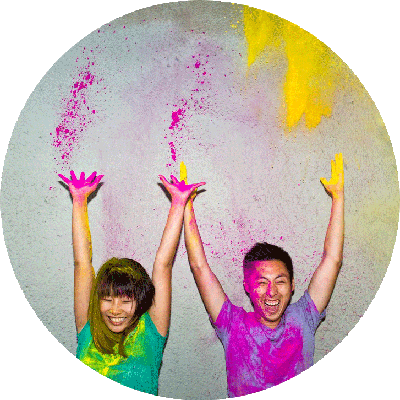 Esther and Jacob are the founders of Local Adventurer, which is one of the top 5 travel blogs in the US. They believe that adventure can be found both near and far and hope to inspire others to explore locally. They explore a new city in depth every year and currently base themselves in Las Vegas.