After visiting our very first natural hot springs here in Vegas, we had such a great time that we wanted to see what else is around us or is just a road trip away. We put together a bucket list of hot springs and a map to help us navigate through another cross country road trip. Some of these require a hike, and some of them have become resorts after being discovered, but all the water comes naturally from the earth.
25 AMAZING HOT SPRINGS IN THE US YOU MUST SOAK IN
1. Chena Hot Springs, Fairbanks, Alaska
Address: 56.5 Chena Hot Springs Road Fairbanks AK 99711
Soak in the toasty waters and gaze and at the spectacular views around you, but the highlight is getting a glimpse of the aurora borealis, or northern lights, dance across the sky as you soak. The best times to see the northern lights are from September to March.

Photo: bullets95 / creative commons
2. Dunton Hot Springs, Dolores, Colorado
Address: 52068 Co Rd 38 Dolores CO 81323
This restored ghost town gives you six ways to soak in their water, from being right under the stars to a king-bedded cabin for two. Can't wait to visit this place soon!

Photo: Dunton Hot Springs
3. Conundrum Hot Springs, Aspen, Colorado
Address: 806 W Hallam St Aspen CO 81611
This 17-mile round trip hike takes you through beautiful woods and meadows. At the end of the trail, there is a cabin and hot springs where you can soak and take in all that surrounds you.

Photo: Mike C Cross / creative commons
4. Umpqua Hot Springs, Glide, Oregon
Address: Umpqua National Forest OR
The geothermal spring on the North Umpqua River is a great place to soak and relax. It is a "clothing optional" hot spring so be prepared to make friends with under-clothed strangers.

Photo: Joana Breidenbach / creative commons
5. Weir Creek Hot Springs, Lowell, Idaho
Address: Nez Perce-Clearwater National Forest ID
This hot spring can be a bit tricky to get to but is worth the trek. There is a dedicated following and the pool fits about 7-10 people.

Photo: Ed Wrzesien / creative commons
6. Olympic Hot Springs, Port Angeles, Washington
Address: Olympic National Park WA 98363
These hot spring pools are the remains of a torn down resort. It's fairly remote and not frequented as often, but they are supposedly amazing.

Photo: Ben Amstutz / creative commons
7. Granite Falls Hot Springs, Jackson, Wyoming
Address: Bridger-Teton National Forest WY
You have to ski or snowmobile to the location in the winter, but the waters are warmest and most enjoyable at this time. There is also a deck maintained by the US Forest Service.

Photo: pychap / creative commons
8. McCredie Hot Springs, Willamette National Forest, Oregon
Address: Willamette National Forest OR
This series of pools make its home beside a river in the Willamette National Forest. The further you go down, the cooler the water gets, so you can pick the one that is just right for you.
9. Mystic Hot Springs, Monroe, Utah
Address: 475 E 100 N Monroe UT 84754
The waters at these hot springs get up to 168 degrees and are set to a beautiful desert backdrop. Be sure to enjoy the sunset and take in all the beauty.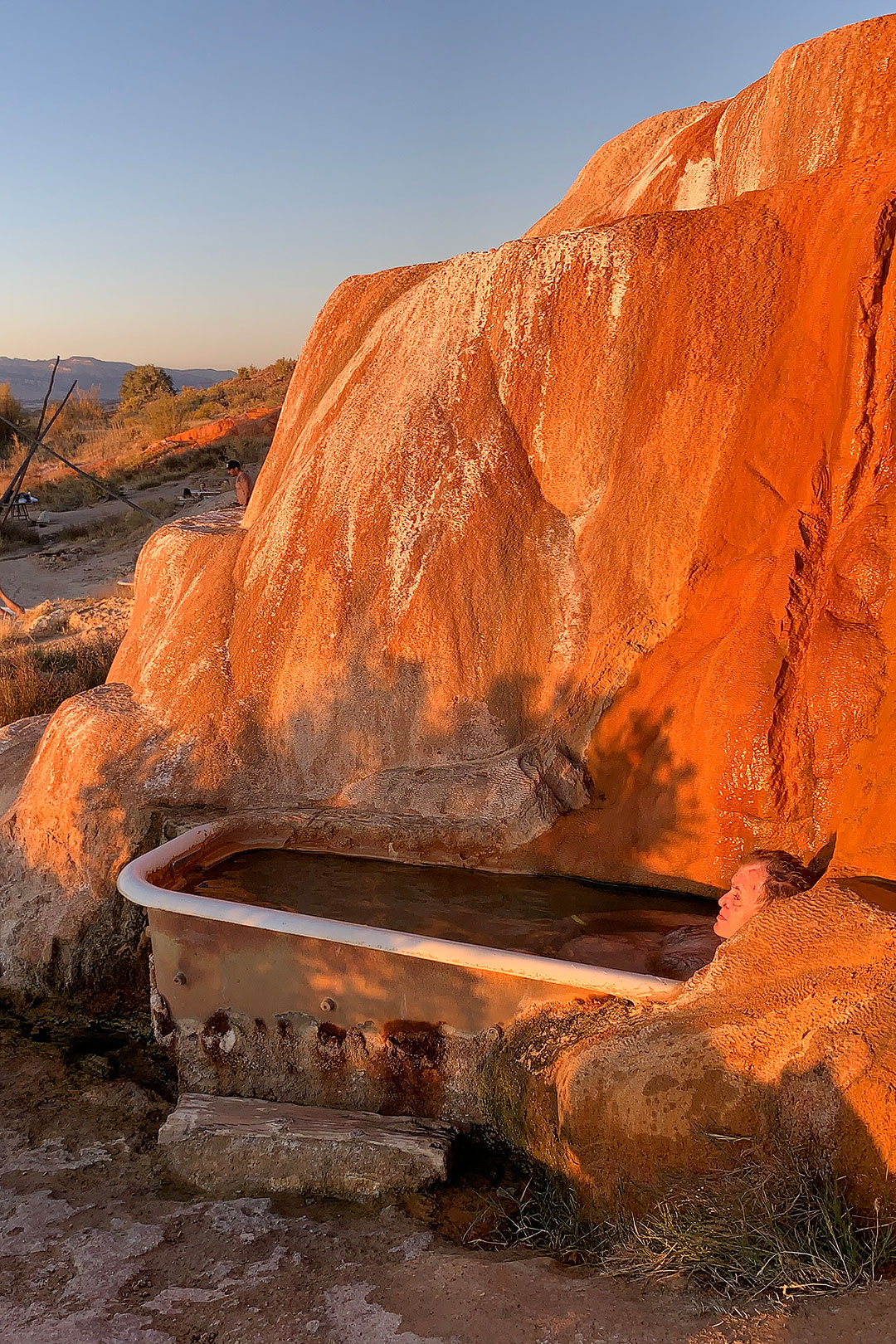 Photo: Mystic Hot Springs
10. Marin Tidal / Steep Ravine Hot Springs, Stinson Beach, California
Address: Golden Gate National Recreation Area CA
Hidden behind a boulder, these springs are only accessible during low tide, but it's worth the trouble.
11. Travertine Hot Springs, Bridgeport, CA
Address: Half Mile South of Bridgeport on Route 395 Bridgeport CA 93517
This scenery, warm mineral water, and soft sediment bottoms makes for a heavenly experience.

Photo: John Fowler / creative commons
12. Goldmyer Hot Springs, North Bend, Washington
Address: Snoqualmie National Forest WA 98045
These hot springs require you to hike 5 miles in to enjoy them, but it's such a rewarding hike.

Photo: hundertmorgen_ / creative commons
13. Calistoga Hot Springs, Calistoga, California
Address: 1006 Washington St Calistoga CA 94515
Have a glass of Napa Valley wine and enjoy a dip in the geothermal pools and volcanic ash mud pits.

Photo: Ty Walker / creative commons
14. Hot Springs National Park, Hot Springs, Arkansas
Address: Hot Springs National Park AR
The name says it all. Hot Springs National Park is nicknamed "The American Spa."

Photo: Ken Lund / creative commons
15. Carson Mineral Hot Springs, Carson, Washington
Address: 372 St Martins Springs Rd Carson WA 98610
This Victorian-styled resort is a great getaway. The bathhouse is fed by water from the Wind River.
16. Verde Hot Spring, Strawberry, Arizona
Address: 68 E Forest Road Camp Verde AZ 86322

Photo: Craig Yoas/ creative commons
A few pools are the remains of what was once a thriving resort. A couple of them are near the cliffside with a view overlooking the Verde River.
17. Bagby Hot Springs, Estacada, Oregon
Address: Mt Hood National Forest OR
Take a 3-mile stroll through the forest to find these amazing springs.

Photo: MrPants / creative commons
Address: Great Basin Hwy, Boulder City, NV 89005
This hike takes you through a canyon wash, over boulders, and down ropes to find a couple natural hot spring pools to enjoy. You can also reach the Colorado River at the end of the hike before you turn back to your car. Read our post for more info on the hike & watch our vlog:
19. Rainbow Hot Springs, Pagosa Springs, Colorado
Address: San Juan National Forest CO
These secluded hot springs takes you 9 miles in-and-out. Enjoy the fresh air, trees all around, and if you dare, take a dip in the cold river too.
20. South Canyon Hot Springs, Glenwood Springs, Colorado
Address: South Canyon Hot Springs Glenwood Springs CO 81601
These underdeveloped pools reward you with a great view if you're willing to find them.

Photo: iris / creative commons
21. Valley View Hot Springs, Villa Grove, Colorado
Address: 64393 E County Road Gg Villa Grove CO 81155
This clothing-optional retreat takes you to a simpler time. Focused on enjoying the springs and less on amenities, the springs are surrounded with Colorado's beauty.
22. Deep Creek Hot Springs, Hesperia, California
Address: 6221 Bowen Ranch Road Apple Valley CA 92308
A 12 mile out-and-back hike takes you to a group natural hot springs located in a canyon. You can also take a shorter 4-mile route that is much steeper.

Photo: Wood at Night / creative commons
23. Mount Princeton Hot Springs, Nathrop, Colorado
Address: 15870 Co Rd 162 Nathrop CO 81236
This is a family-friendly lodge that offers pools, creek side soaking, and water slide. It is surrounded with beautiful peaks and scenery.
24. Sykes Hot Spring, Los Padres National Forest, California
Address: Los Padres National Forest CA
These hot spring pools make their home amongst a popular backpacking campground and make for the perfect spot to stop during your 20-mile round trip hike.

Photo: Mountains of Moss / creative commons
25. San Antonio Hot Springs, Jemez Springs, New Mexico
Address: San Antonio Hot Springs Jemez Springs NM 87025
Several pools are at the end of this 5-mile hike through the Santa Fe National Forest. While soaking, you can gaze upon the surrounding valley, creek, and forest.

Photo: Paul Gibson / creative commons
If you're on a cross country road trip, here's a map of all 25 Amazing Hot Springs in the US to soak in:
P.S. If you're visiting any of these, watch out for brain-eating bacteria! They enter through the nose, so we just make sure we don't dunk our heads in.
Have you been to a natural hot spring? If so, where?
Any others that shouldn't be missed – US or Worldwide?
Which of these are you hoping to visit next?