Visiting Gilcrease Orchard? This is everything you need to know.
Gilcrease Orchard is a favorite spot for locals to pick up fresh produce throughout the year, but the most popular time to visit the farm is during pumpkin season. Not only do we get to pick pumpkins, but we go for their apple cider and apple cider donuts.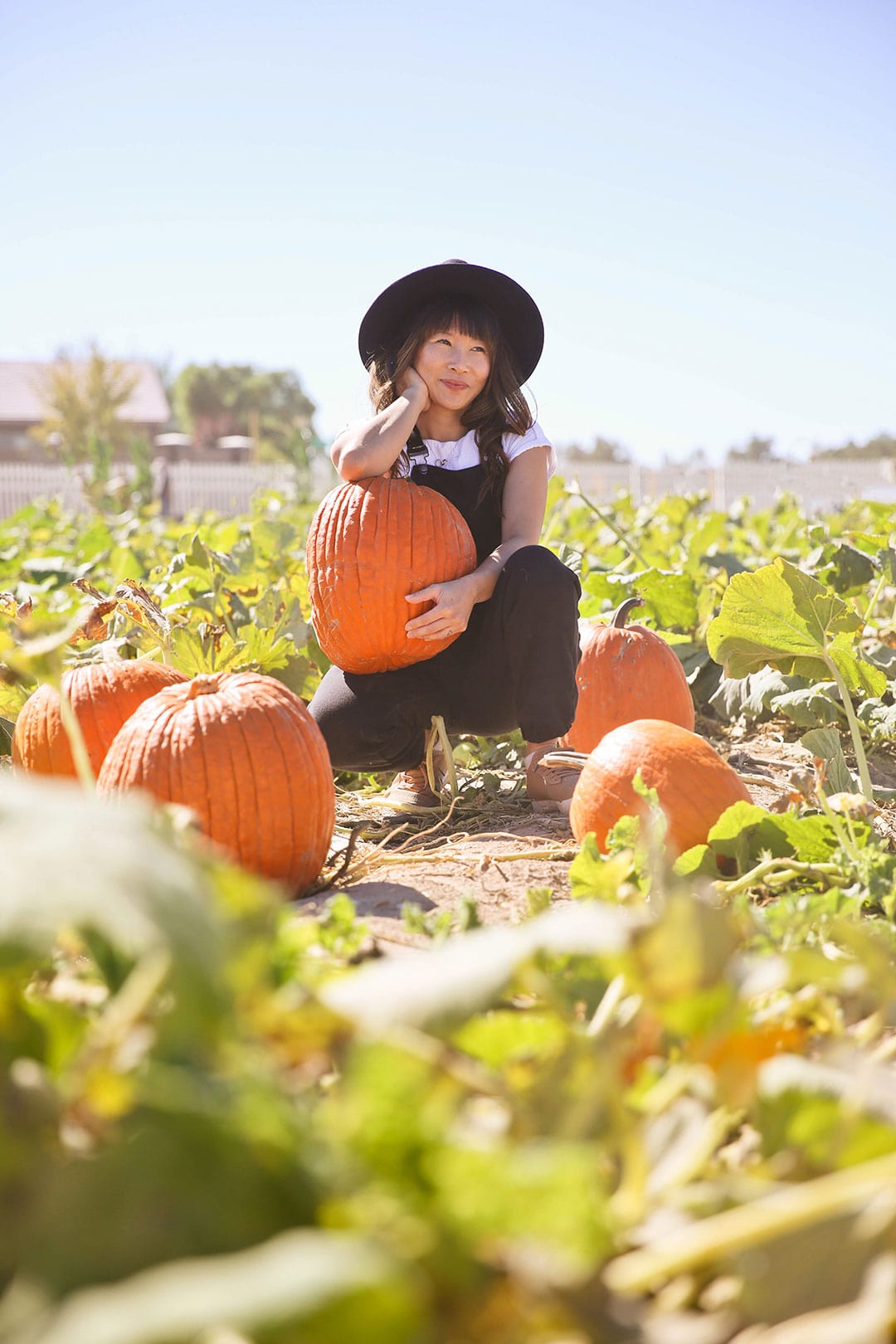 This post may contain affiliate links, where we receive a small commission on sales of the products that are linked at no additional cost to you. All opinions are always our own. Read our full disclosure for more info. Thank you for supporting the brands that make Local Adventurer possible.
Last Updated: September 19, 2023
About Gilcrease Orchard
Gilcrease Orchard started in 1920 when the family purchased 900 acres in the Las Vegas Valley for crops and livestock. It wasn't an easy life for the family, but Elda and her two boys continued to serve the local areas and eventually grew to over 1,500 acres of land. Eventually, the family had to sell off most of their land. However, the brothers started the Gilcrease Orchard Foundation to carry out their family's legacy. The current 60-acre plot is what was left, where they built the Orchard with the idea that families could bring their kids and enjoy a bit of the life the brothers grew up with.
Throughout the year, they open up the Orchard to the public, so you can take photos and pick your own produce.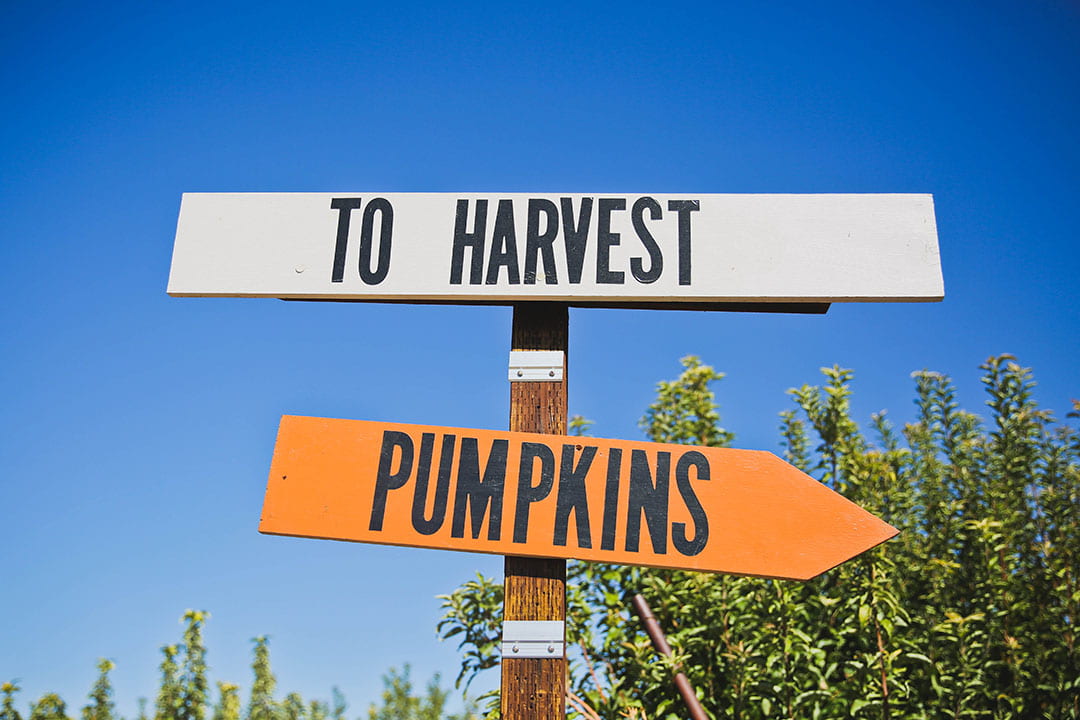 Gilcrease Orchard
Address & Hours
Gilcrease Orchard is located on the north side of town. The address is:
7800 N Tenaya Way
Las Vegas, NV 89131 (map)
Hours change throughout the year:
SUMMER HOURS: Tuesday, Thursday, & Saturday, 7 AM to 10 AM
FALL HOURS: Tuesday, Thursday, Saturday, & Sunday, 7 AM to 2 PM
Times will change as the temperature cools. We highly recommend checking their Instagram or website for current hours. They will also be closed on November 5th for the Happy Hippie Harvest Run.
Gilcrease Orchard
Pumpkin Patch
The Gilcrease Orchard Pumpkin Patch is one of the best in town, especially since it's free to get in. They typically open in late September.
Dates – September 23 – October 31, 2023
Hours – Tues, Thurs, Sat, Sun, 7 AM-2 PM
Cost – $5 online, $8 walk-in for Saturdays and Sundays. Weekdays are free.
During this fall season, here are some activities for your visit.
Pumpkin Patch – Pick your pumpkins to take home. If you want multiple, don't forget to grab a wheelbarrow. They usually have some other U-pick produce.
Food – This is why we go. They have multiple stands to enjoy their famous apple cider donuts and apple cider. They also sell candied apples and kettle corn, and they have a vendor that usually sells other food.
Straw Maze – A free maze for you to get lost in.
Bee Exhibit – Learn more about bees and their importance to our crops.
Photo Ops – There are plenty of photo ops as you walk around the orchards.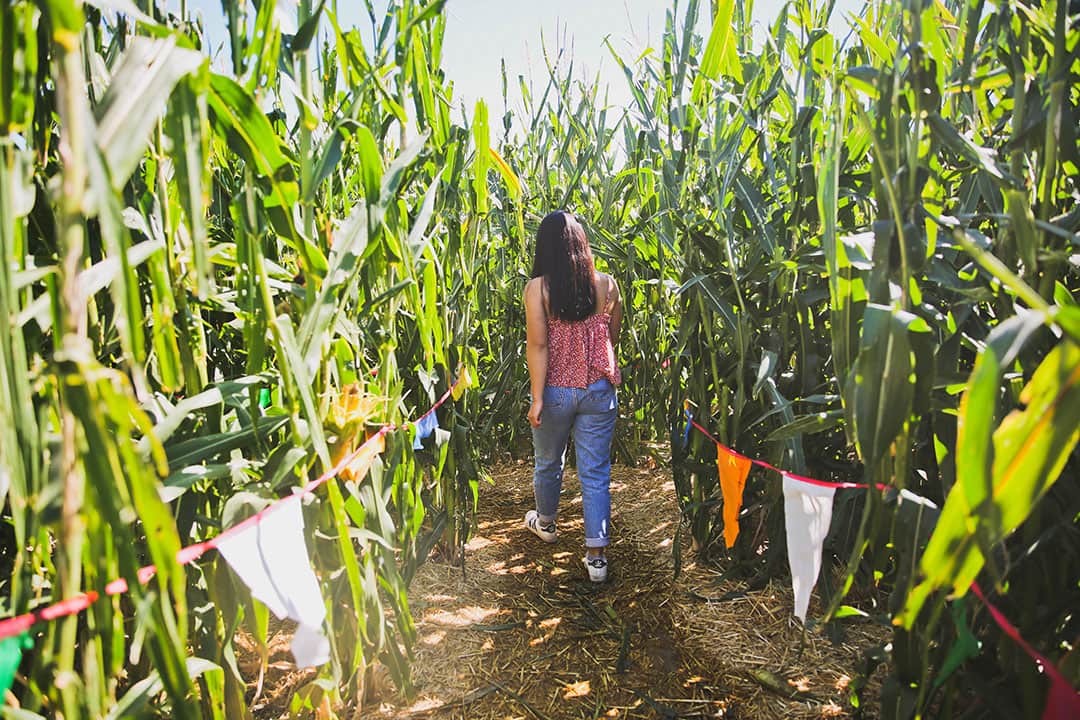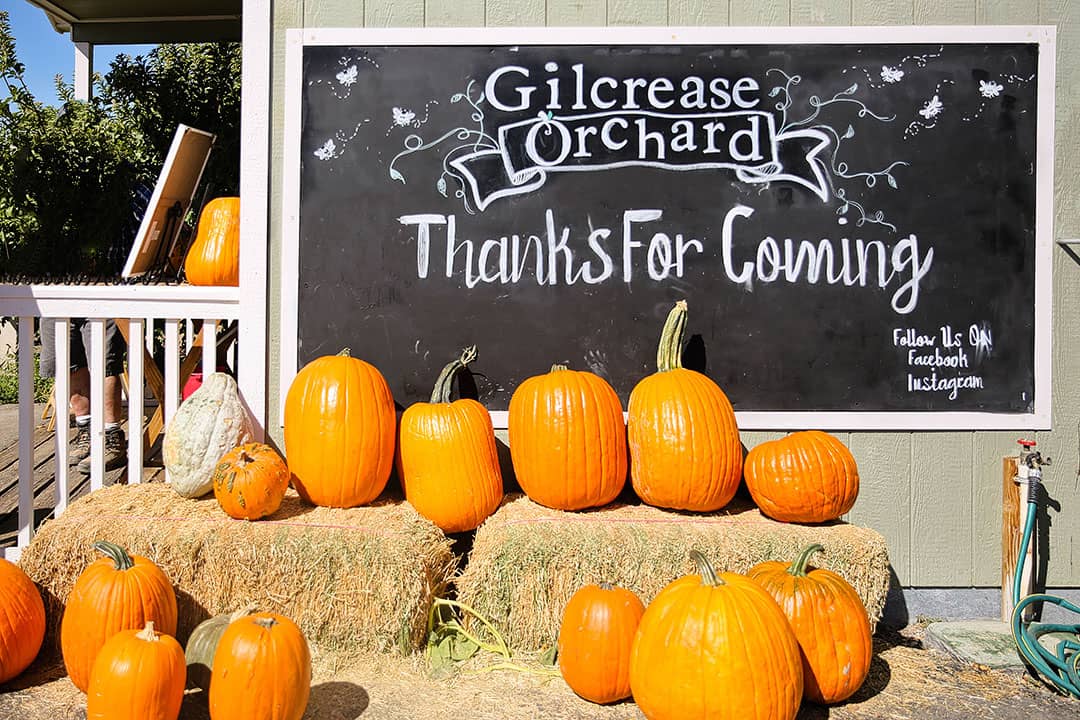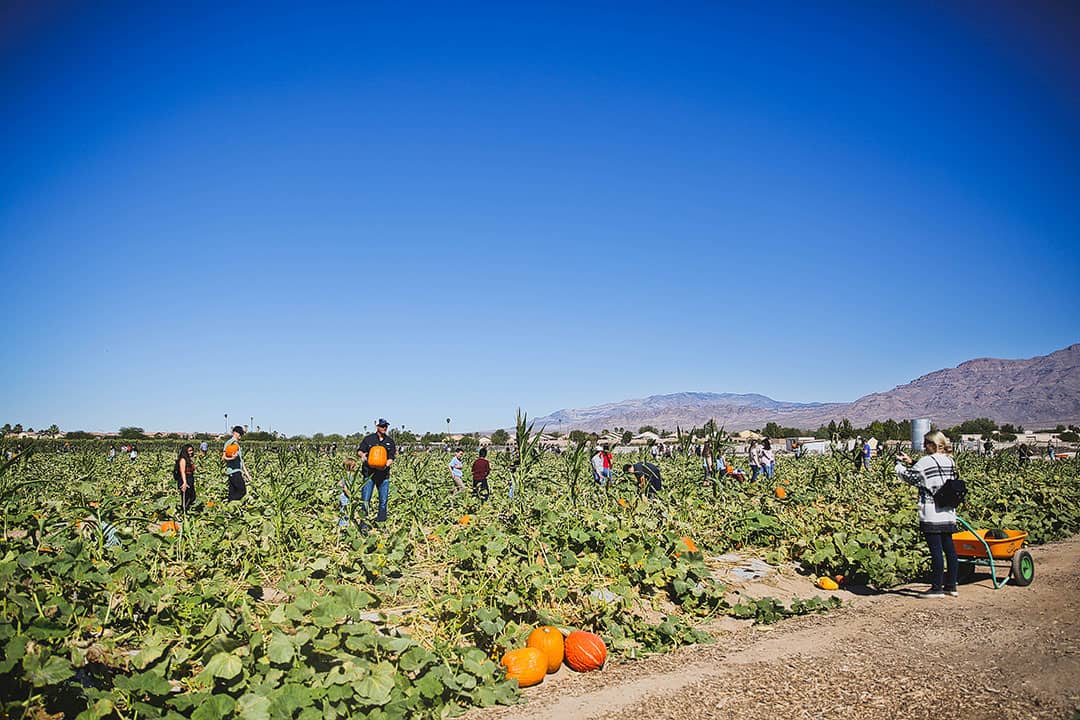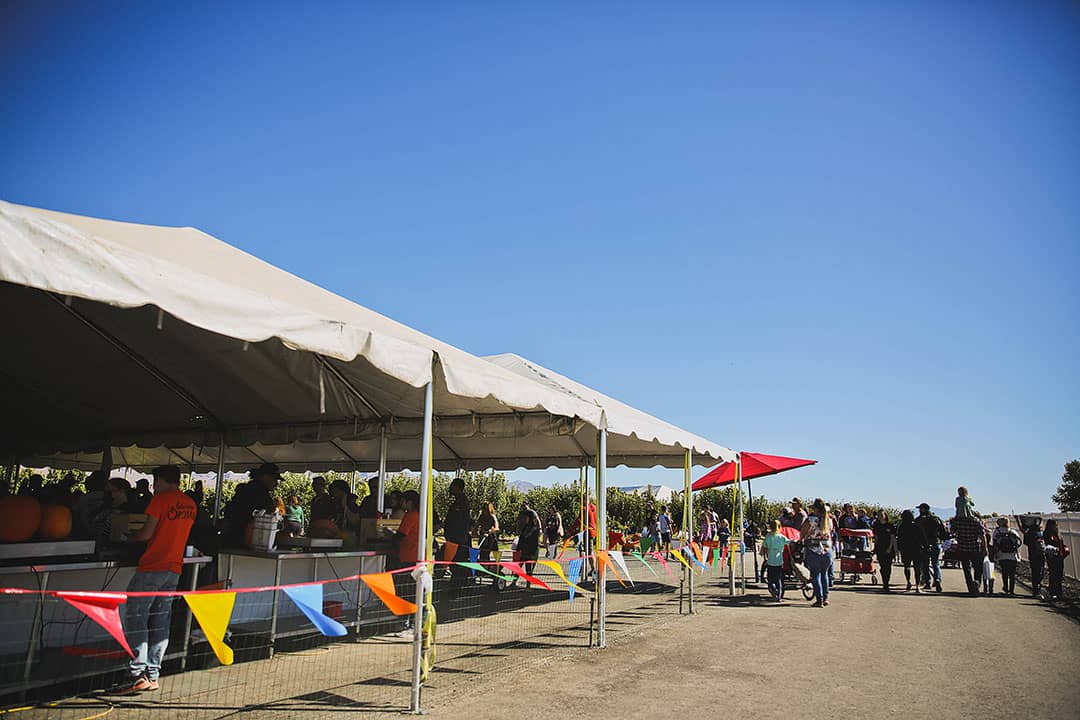 Gilcrease Orchard Sunflowers
🌻 Sunflower Days are here! Did you know there is a sunflower field in Las Vegas?
Dates – Aug 24-Sep 16
Hours – Tues, Thurs, Sat 7-10 am
Cost – $4 online, $6 walk-in, $2 a sunflower
Local TIPS FOR YOUR VISIT
Buy tickets online to make sure they have enough space. We went on a Thursday at 7 AM, and it wasn't too crowded.
They provide sheers for you to pick your sunflowers, or you can buy ones they have already picked.
7 a.m. is the best light for photography during their open hours, but it is still not ideal for portraits.
Visit their website to get access to shoot portraits when they're closed (sunset for the best light since sunflowers face the sun). Costs $75 (photographer not included).
Bring water and sun protection.
If you're scared of bugs, there are lots of bees and giant beetles I've never seen before.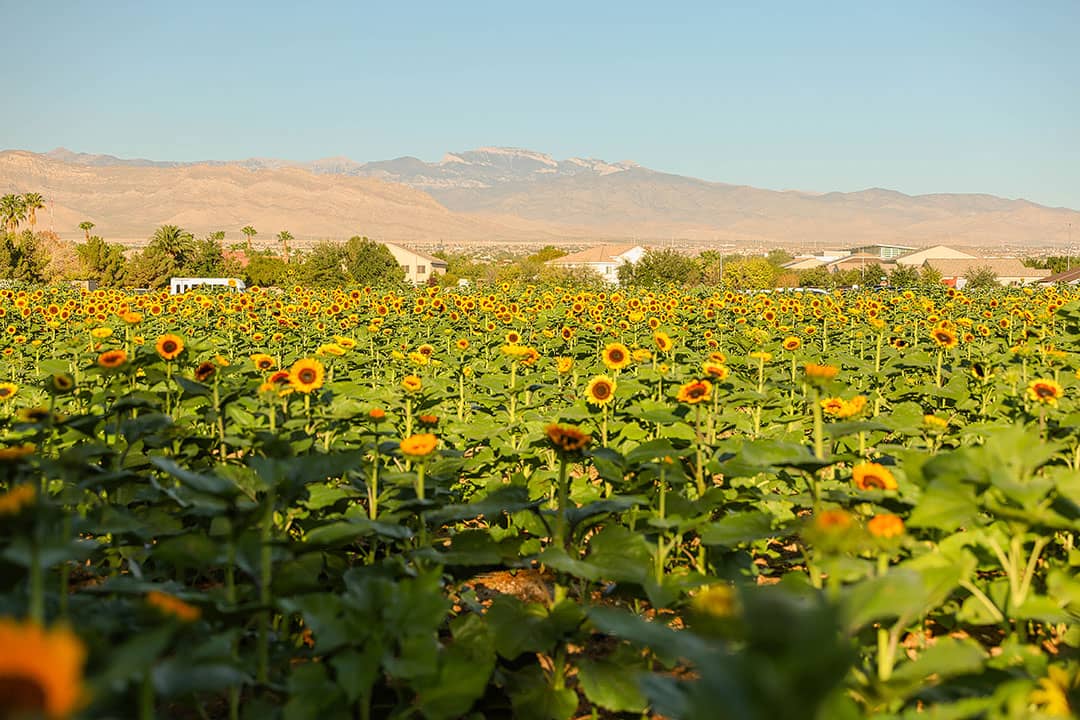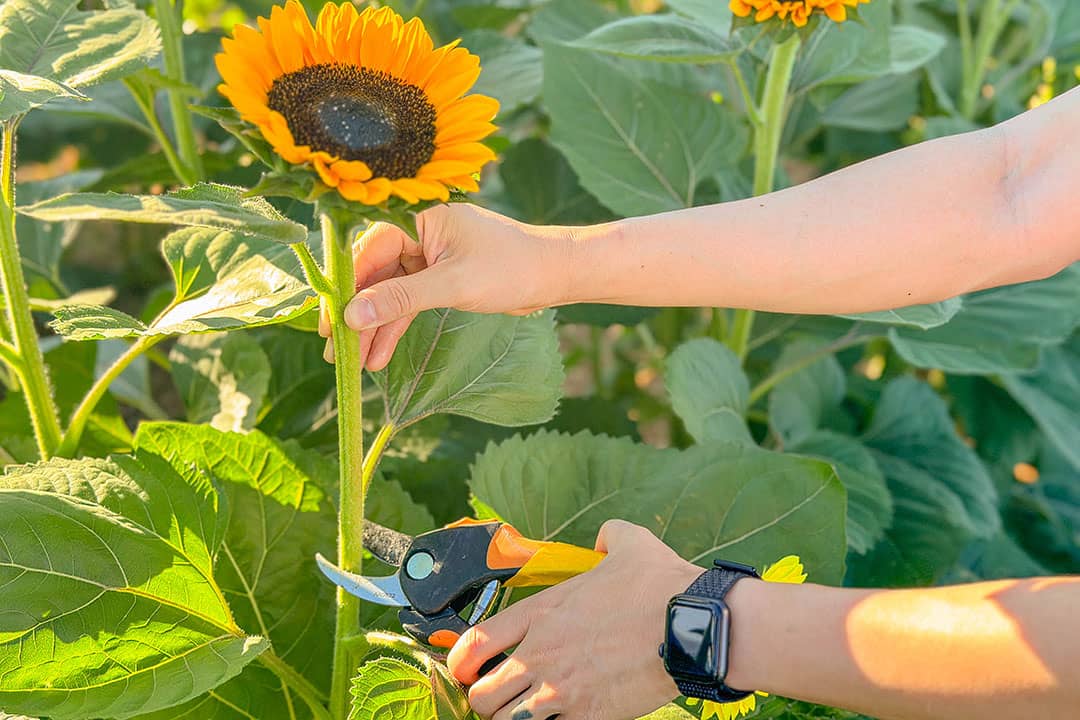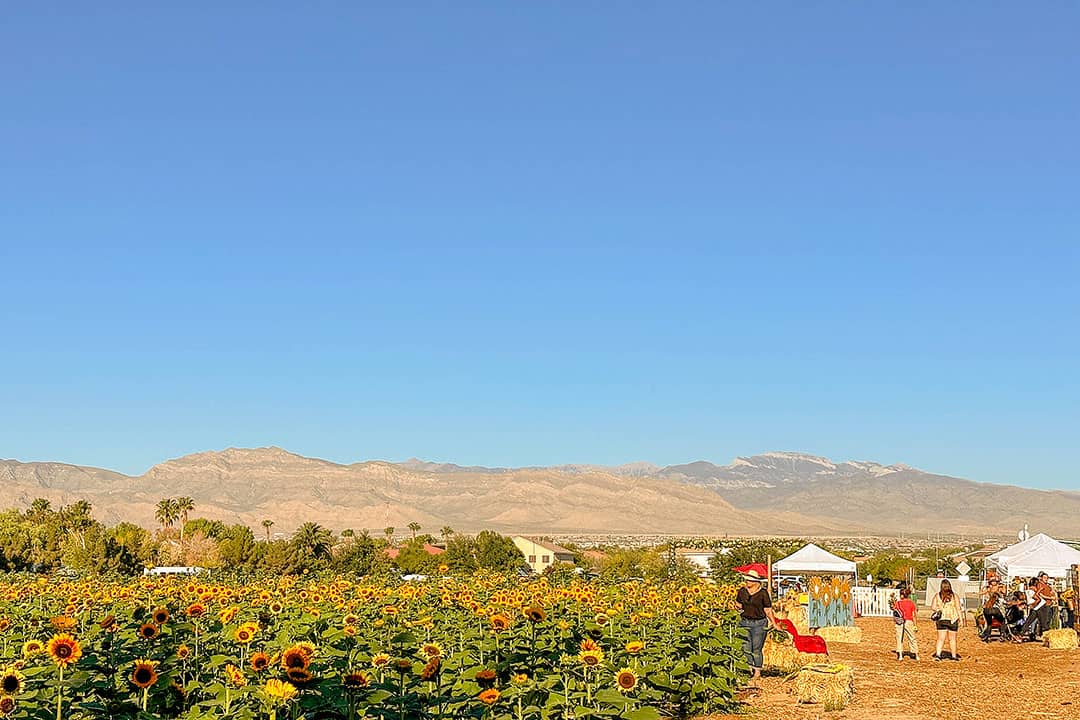 Currently in Season
Throughout the year, you pick a variety of fruits and vegetables. Double-checking their website to see what is currently available is always a good idea. Here's a quick look at what is available in the fall.
Ready to Pick
Pumpkins $0.75 per lb
Armenian Cucumbers $1.50 per lb
Pickling Cucumbers $1.50 per lb
Radishes $1.50 per lb
Green Beans $1.50 per lb
At Concessions
Apple Cider Donuts $6
Apple Cider Pint $3
Cold-brew Canned Coffee $3
At Pre-Picked Farm Stand
Apple Cider 1/2 Gallon $7
Apricot Freezer Jam $6
Peppers $2 or $4 per container
Kettle Corn $4 each
Caramel Apples $4 each
Peanut Butter $6 each
Here is a calendar of produce they usually have available.
March: Asparagus, Lettuce, Kale, Spinach, Bok Choi, Arugula
April: Asparagus, Lettuce, Kale, Spinach, Bok Choi, Arugula, Beets, Carrots, Onions, Green Garlic, Peas
May: Kale, Spinach, Apricots, Tomatoes, Summer Squash, Zucchini, Onions, Garlic, Beets, Carrots, New Potatoes, Cucumbers, Green Beans
June: Peaches, Tomatoes, Summer Squash, Zucchini, Eggplant, Onions, Garlic, Beets, Carrots, Cucumbers, New Potatoes, Vegetable Amaranth, Watermelon, Cantaloupe
July: Peaches, Tomatoes, Summer Squash, Zucchini, Eggplant, Onions, Garlic, Gala Apples, Watermelon, Cucumbers, Cantaloupe, Vegetable Amaranth, Spaghetti Squash, Butternut Squash, Okra
August: Pears, Watermelon, Summer Squash, Zucchini, Eggplant, Okra, Garlic, Spaghetti Squash, Butternut Squash, Cucumbers, Cantaloupe
September: Zucchini, Summer Squash, Eggplant, Okra, Garlic, Sweet Potatoes, Cucumbers, Butternut Squash, Spaghetti Squash
October: Kale, Spinach, Vegetable Amaranth, Eggplant, Cucumbers, Sweet Potatoes, Butternut Squash, Spaghetti Squash, Zucchini, Summer Squash, Pumpkins, Carrots, Beets, Okra, Green Tomatoes, Green Beans
They also sell shaved ice, breakfast burritos, quesadillas, peanut butter, kettle corn, olive oil, and honey during the summer.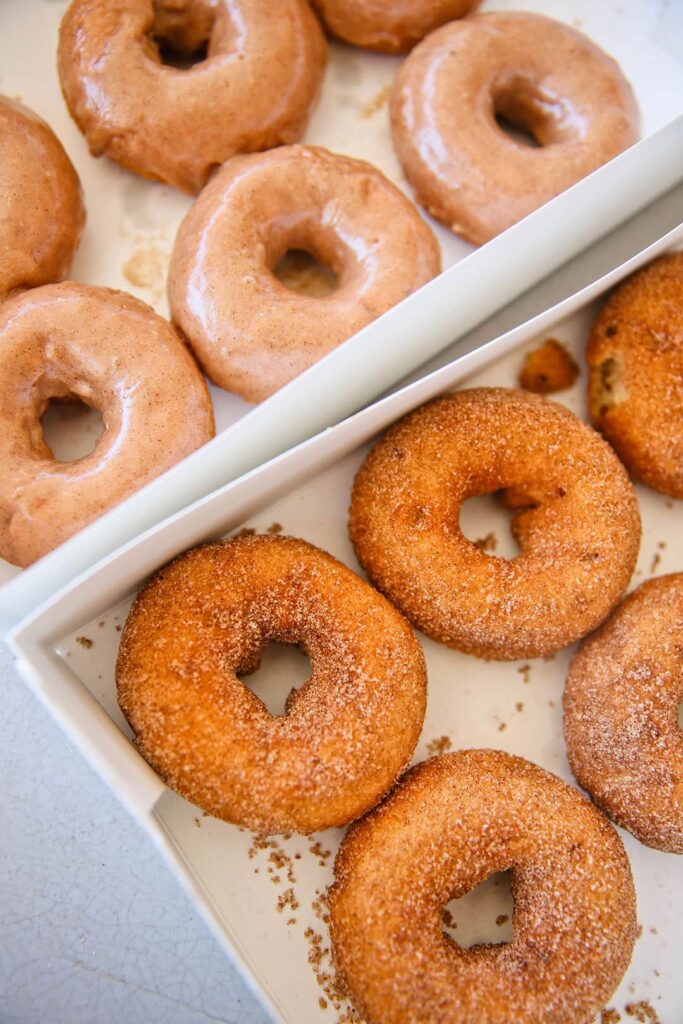 Photography in Gilcrease Orchard
If you're like us, you're probably wondering what the photography policy is at the Orchard. Fortunately, it's lenient! Photography is welcome and is free anytime the orchard is open to the public. They ask that you be respectful of other guests.
If you're interested in shooting when the Orchard is closed to the public, you can book a session at $75 per hour. It allows you and your photographer/clients to drive in and around the property for your allotted time. If you're a photographer looking to book multiple families or mini-sessions, you must book at least 2 hours.
Essential Tips for First-Time Visitors
Don't forget to apply plenty of sunblock.
Bring your reusable water bottle (these are our favorites) – we live in the desert, so it's good to stay hydrated.
Wear comfortable shoes you don't mind getting dirty. The ground can be uneven, and though it's rare, sometimes muddy.
As much as we want it to be sweater weather, it's usually still hot during the day in October in Las Vegas. Even in the 70s, you can comfortably wear shorts and a tee.
Good pumpkins get picked up fast. We visited on October 10 last year, and the selection wasn't great. Go as soon as they open for the season to pick up the best pumpkins.
Bring reusable bags with you to carry out all your goodies.
Visit early in the day for cooler weather and fewer crowds. It tends to get busier as the day goes on.
They have an app you can download that tells you where you are relative to the produce you're looking to pick.
Frequently Asked Questions
HOW MUCH DOES IT COST TO GET INTO GILCREASE ORCHARD FARMS?
When they are open to the public, it is free to get in!
WHY IS THE APPLE CIDER AT GILCREASE ORCHARD FARMS SO GOOD?
Their apple cider is made with their gala, yellow gala, an early red varietal, and nothing else. They do not add sugar, corn syrup, or preservatives. In addition to that, they do not spray the fruit with pesticides, and the apples are not waxed.
HOW LONG IS THE APPLE CIDER GOOD FOR?
After the apples are pressed, the cider is bottled and frozen. Once they thaw, they are good for up to two weeks in the refrigerator.
WHAT'S THE DIFFERENCE BETWEEN CIDER AND JUICE?
Cider is unfiltered and contains solids from the fruit, hence its cloudy nature.
WHEN IS Gilcrease ORCHARD OPEN?
The orchard is open to the public at various times of the year. It's best to check their website for the most up-to-date hours.
WHAT CAN I CURRENTLY PICK AT GILCREASE ORCHARD?
ARE DOGS ALLOWED AT GILCREASE ORCHARD?
Pets are not allowed at the orchard unless they are ADA-approved service animals.
Have you picked your own produce? What's your favorite season to go to u-pick farms?
SEE MORE LAS VEGAS GUIDES
⟡⟡⟡⟡⟡
"Discovery consists not of seeking new lands but in seeing with new eyes" – M. Proust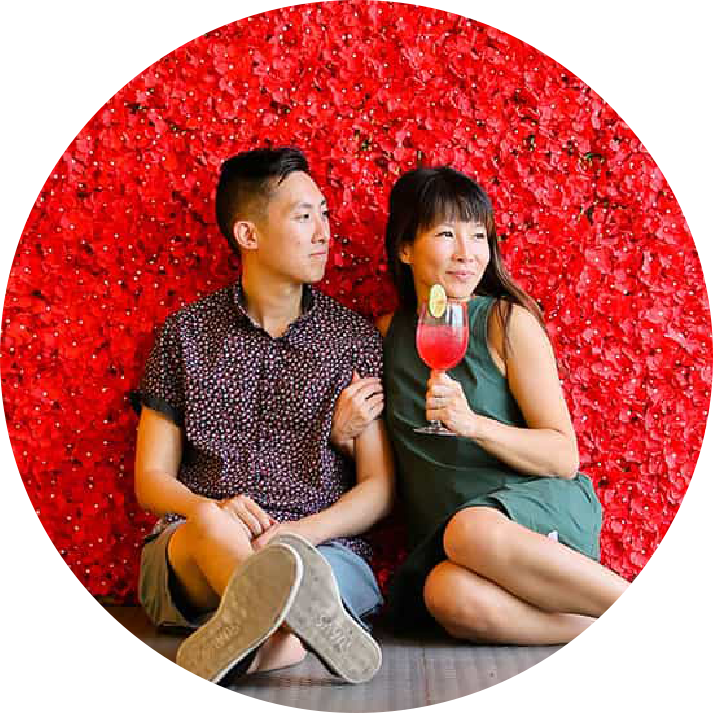 Esther + Jacob
Esther and Jacob are the founders of Local Adventurer, one of the top 5 travel blogs in the US. They believe that adventure can be found near and far and hope to inspire others to explore locally. They explore a new city in depth every year and currently base themselves in Las Vegas.
Follow on Instagram (E + J), YouTube, TikTok, and Pinterest.