Havasupai is popular spot in Arizona with a unique mix of outdoors enthusiasts, tourists, and what we like to call the "Spring Break" crowd. The campsites are 10 miles from the Hualapai Hilltop parking lot, and there are multiple ways to get there. You can backpack, hire porters, or helicopter in. Because of this, some people will bring giant 12 person tents and full stove tops, while others will bring all backpacking gear.
If you're getting a helicopter or porter, you can pack whatever you want, and they'll take care of it for you. If you're backpacking in like us, though, you're going to want everything to be as light as possible (every pound counts) and absolutely necessary. Whether it's your first time backpacking, or your 100th time, we've put together a packing list to help you plan for your trip.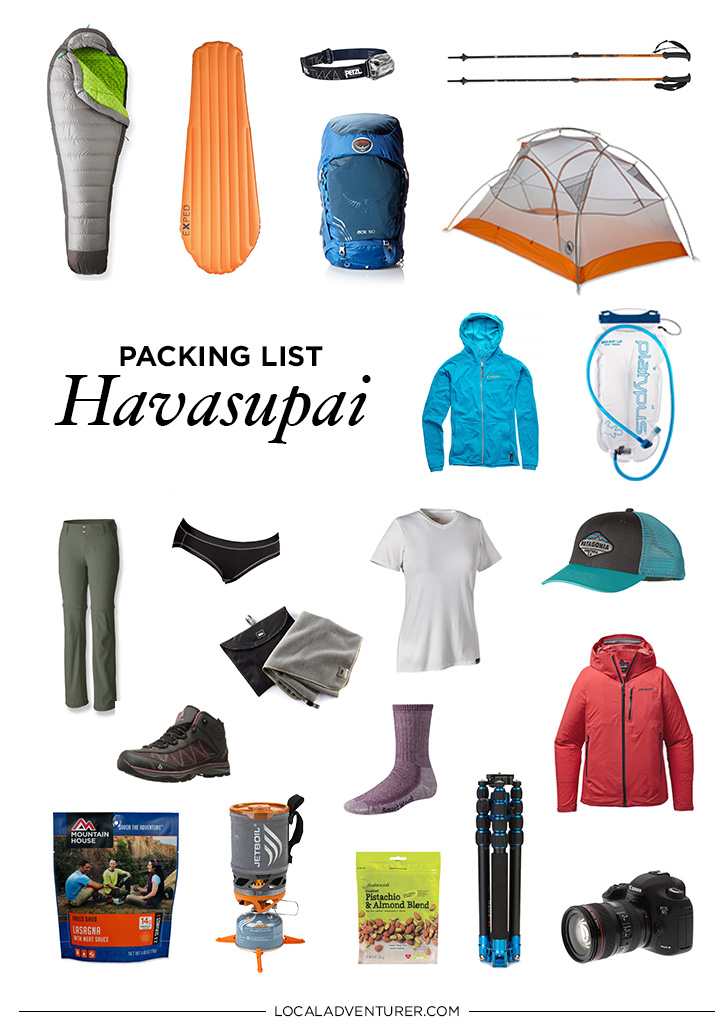 ULTIMATE HAVASUPAI PACKING LIST – BACKPACKING TO SUPAI ARIZONA
Backpack – preferably lightweight and comfortable when you're carrying heavy loads. We've tried a lot of packs and Osprey has the best ones. Here's the updated version of my youth backpack and here's Jacob's. Jacob carried the tent and most of our camera gear, but if you're carrying everything on your own, a 60L should be sufficient.
Backpack Rain Cover – Mine came with a rain cover, but if yours doesn't you should get one for this trip. Rather than bringing giant dry sacks, when it's raining, you can put the cover on and lay your backpack cover side down under your rainfly to keep your contents dry.
Backpacking Tent (+ Footprint) – Our backpacking tent is one of the best and packs down to 5.5 x 17.5 inches (14 x 44.5 cm) and weighs 3 lbs 2 oz. Whichever tent you decide on, it's really important that it's light and compact as possible.
Sleeping Bag – We both have REI Sub Kilo +15 sleeping bags (2 lbs / 0.9 kg and 7.5 x 15 inches / 10 L) . This is no longer available, but check out REI's newer versions. For us, it got down to the 40s at night. Pay attention to the temperature rating, weight, and compressed volume. Generally, you want warmer, lighter, and smaller.
Sleeping Pad – These are the ones we currently use, and we love them! So much more lightweight than our REI ones we've used for 5 years and also way more comfortable. I even like them better than our air mattress. Be sure to pay attention to the R ratings.
3L+ Water Bladder – We only needed 1L on the way down and 2L on the way up. The temps were cooler and we hiked at night to beat the heat, but if you're hiking in the day bring 3L.
Hiking Poles – Jacob has had bad knees since middle school, but even if they are in great shape, hiking poles help so much when you're carrying a heavy load (especially going down those switchbacks).
Hiking Shoes (his + hers) + Insoles – These are our newest hiking shoes and we really like the grip, support, and fit.
Water Shoes – The ground is rocky in the pools below the falls. Also, if you're hiking to Beaver Falls, you will hike through water. I use these and Jacob uses these.
Flip Flops (optional) – I brought some flip flops too because I like having them for ease at the campground when my water shoes are wet. Jacob just used his hiking shoes at the campground.
Bathing Suit
Cheap Sunglasses
Leggings (only Esther)
Fleece Hoodie (this one's Jacob's)
Raincoat / Poncho – Havasupai has unpredictable weather, and it was forecasted to be rainy for us. Even without rain, though, the waterfalls are really misty and can be cold when you're not swimming.
Base Layer / Long Underwear for sleeping
Hammock (optional) – We saw a lot of people hanging out in hammocks along Havasu creek. We would have loved to bring ours, but we didn't want to carry the extra weight. Some people can sleep in hammocks, but I'm not one of those people.
Camping Meals – We had Soylent for lunch during our hike (it's easy and has all the nutrients of a meal without the excess crap. Then for the rest of our meals we had Mountain House. Dehydrated meals can be gross, but out of all the dehydrated meals we've tried, we love Mountain House's Lasagna and Chicken and Rice. I'll take them over any other camping food.
Jetboil + Fuel – Pro-Tip: Coleman sells fuel that fits the Jetboil and is much cheaper.
Snacks – We brought beef jerky, pistachio + almond snack mix, and fruit bars.
Camping Fork / Spoon (we got this from our Camp Box)
First Aid Kit
Cash
Trashbag – You need to carry out all your trash. If you want to keep the place beautiful, there's a lot of trash along the trail, so you can also pick some up on the way out.
Large Ziplock Bags x2 – they always come in handy
Lip Balm
Toothbrush + Toothpaste
Toilet Paper – The Hualapai Hilltop parking lot and your campground will have primitive bathrooms. They sometimes run out of TP, so it's good to have some on hand. There are regular toilets in Supai village (yay!).
Wet Wipes
Feminine Hygiene Products (optional, but mine seems to change its schedule to sabotage me every time!!)
Wide Lens (wider than 35mm on full frame)
ND Filter for shooting waterfalls
*We spent 2 nights there, so you can adjust the amount of food and clothes accordingly.

Have you ever backpacked? What's your most memorable experience? Would you backpack in, get a porter, or take the helicopter?