Havasupai is popular spot in Arizona with a unique mix of outdoors enthusiasts, tourists, and what we like to call the "Spring Break" crowd. The campsites are 10 miles from the Hualapai Hilltop parking lot, and there are multiple ways to get there. You can backpack, hire porters, or helicopter in. Because of this, some people will bring giant 12 person tents and full stove tops, while others will bring all backpacking gear.
If you're getting a helicopter or porter, you can pack whatever you want, and they'll take care of it for you. If you're backpacking in like us, though, you're going to want everything to be as light as possible (every pound counts) and absolutely necessary. Whether it's your first time backpacking, or your 100th time, we've put together a packing list to help you plan for your trip.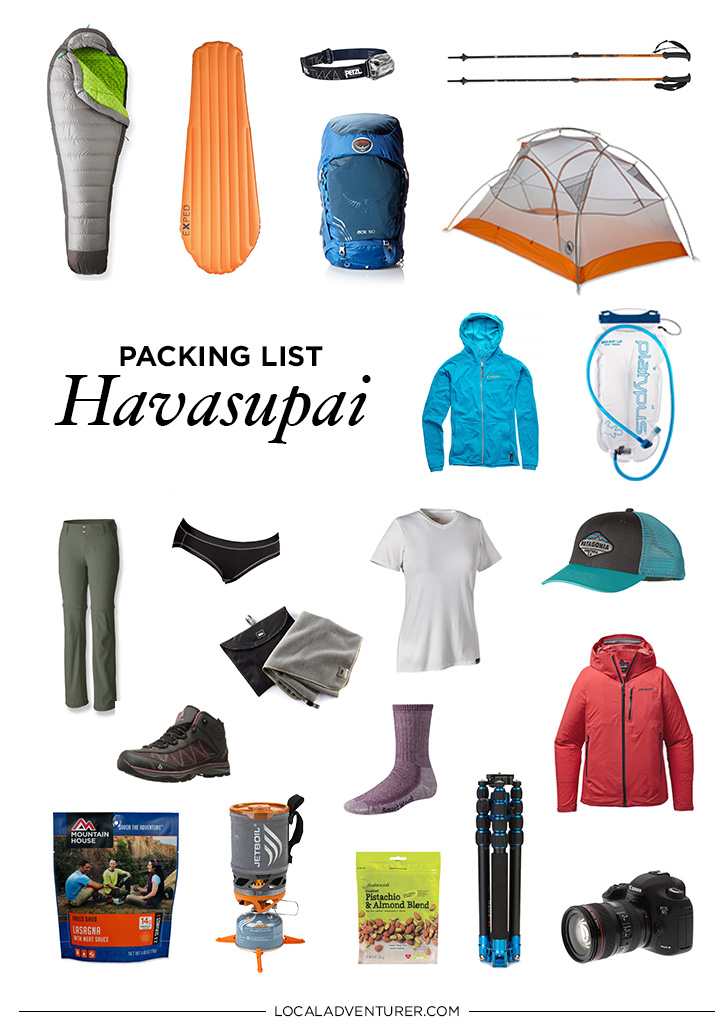 Pin
ULTIMATE HAVASUPAI PACKING LIST - BACKPACKING TO SUPAI ARIZONA
2x Large Ziplock Bags: They always come in handy.
Sunscreen: Don't get sunburnt – it'll ruin your trip.
Toothbrush + Toothpaste
Toilet Paper: The Hualapai  Hilltop parking lot and your campground will have primitive bathrooms. They sometimes run out of TP, so it's good to have some on hand. There are regular toilets in Supai village (yay!).
Wet Wipes: I usually wipe down a bit before bed.
Feminine Hygiene Products: (optional, but mine seems to change its schedule to sabotage me every time!!)
First Aid Kit: It's always good to have one on hand just in case.
Trashbag: You need to carry out all your trash. If you want to keep the place beautiful, there's a lot of trash along the trail, so you can also pick some up on the way out.
OPTIONAL ITEMS IN THE HAVASUPAI PACKING LIST
Camera + Batteries: These were heavy but it was definitely worth it since it's so picturesque.
Wide Lens: A must since the falls are so tall.
Battery Bank: In case you want to keep your phone charged too. We love this one since it can fully charge our phones a few times each.
Travel Tripod: For long exposure shots.
ND Filter: We've been using these with step up rings to adjust for each lens.
Cash: To buy snacks at the store.
Flip Flops: I brought some flip flops too because I like having them for ease at the campground when my water shoes are wet. Jacob just used his hiking shoes at the campground.
Hammock: We saw a lot of people hanging out in hammocks along Havasu creek. We would have loved to bring ours, but we didn't want to carry the extra weight. Some people can sleep in hammocks, but I'm not one of those people.
Have you ever backpacked? What's your most memorable experience? Would you backpack in, get a porter, or take the helicopter?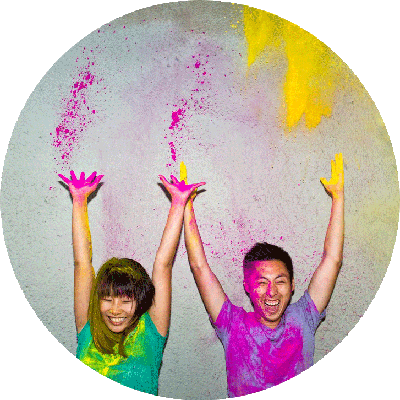 Esther and Jacob are the founders of Local Adventurer, which is one of the top 5 travel blogs in the US. They believe that adventure can be found both near and far and hope to inspire others to explore locally. They explore a new city in depth every year and currently base themselves in Las Vegas.