We live on the edge of Normal Heights and North Park, so naturally it was the next neighborhood we started exploring. Although there's still plenty for us to try, we had the chance to taste a lot of the restaurants during the Taste of Adams Avenue. Here are 10 spots worth checking out!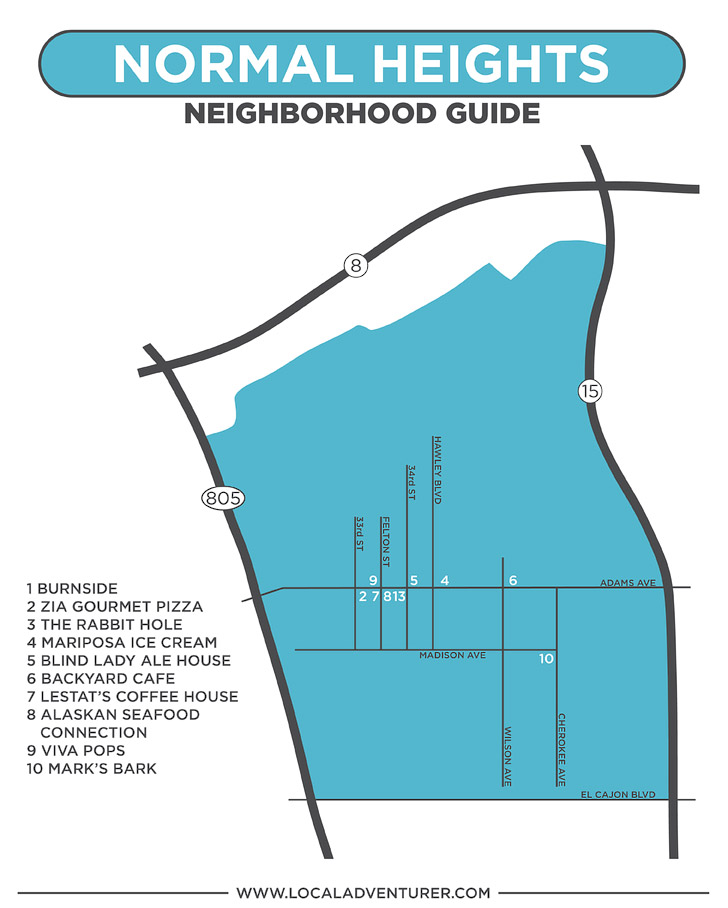 Pin
SAN DIEGO NEIGHBORHOOD GUIDE: NORMAL HEIGHTS
1. BURNSIDE
3375 Adams Ave
San Diego, CA 92116
(619) 501-7715
Burnside has delicious sandwiches, perfectly cooked tots, and a great beer selection. The open-air restaurant has plenty of seating and we love the décor and vibe.
Pin
2. ZIA GOURMET PIZZA
3311 Adams Ave
San Diego, CA 92116
(619) 284-4320
If you're looking for out of the ordinary pizza, this is your place. Each pie is a piece of art and you can get anything from a slice to a large pie.
3. THE RABBIT HOLE
3377 Adams Ave
San Diego, CA 92116
(619) 255-4653
This neighborhood sports bar and pub offer plenty of options for drinks, from specialty cocktails to an extensive list of drafts. They aren't just focused on drinks. They offer inventive dishes that are better than your typical bar food.
Pin
Pin
4. MARIPOSA ICE CREAM
3450 Adams Ave
San Diego, CA 92116
(619) 284-5197
Although donuts are our choice of sweets, we can't resist a scoop of delicious ice cream on a warm day. This mom and pop shop has been around for 15 years and has won numerous awards for the best ice cream in San Diego.
5. BLIND LADY ALE HOUSE
3416 Adams Ave
San Diego, CA 92116
(619) 255-2491
Yummy crafts pizzas and a great selection of beers make this a favorite in the neighborhood. Be sure to check out the can collection too! It's actually someone's personal collection.
Pin
6. BACKYARD CAFE
3562 Adams Ave
San Diego, CA 92116
(619) 496-4343
Freshly made banana bread (and other baked goods), fresh and delicious paninis, and the great coffee are keeping the locals coming back. There are two outdoor areas you can grab seats at and also tables inside.
7. LESTAT'S COFFEE HOUSE
3343 Adams Ave
San Diego, CA 92116
(619) 282-0437
This coffee house offers sandwiches, salads, and tasty hot and cold brews. Check out their music and event's calendar too to see what local artists will be performing (or show off your skills at their open mic).
Pin
Pin
8. ALASKAN SEAFOOD CONNECTION
3355 Adams Ave
San Diego, CA 92116
(619) 281-3089
Any seafood lover needs to stop by here. This deli counter that shares a space with a liquor store serves up delicious crab and lobster rolls and a salmon burger that is worth the trip. You can purchase fresh seafood to bring home as well.
9. VIVA POPS
3330 Adams Ave
San Diego, CA 92116
(619) 795-1080
We haven't found very many popsicle places in San Diego. This one provides inventive pops using local and organic fruits and herbs. A perfect summertime treat!
Pin
Pin
10. MARK'S BARK
3641 Madison Ave
San Diego, CA 92116
(619) 285-9578
We have yet to make it over to Mark's Bark, but it has gotten a lot of buzz. Normally providing food for their catering company, Mark's Bark is only open on Sunday from 12-6 offering smoked brisket and pork shoulder.
When's the last time you visited a city long enough to get to know the neighborhoods? What's your favorite city to explore? If you've been to Normal Heights, any others we should add to this list?