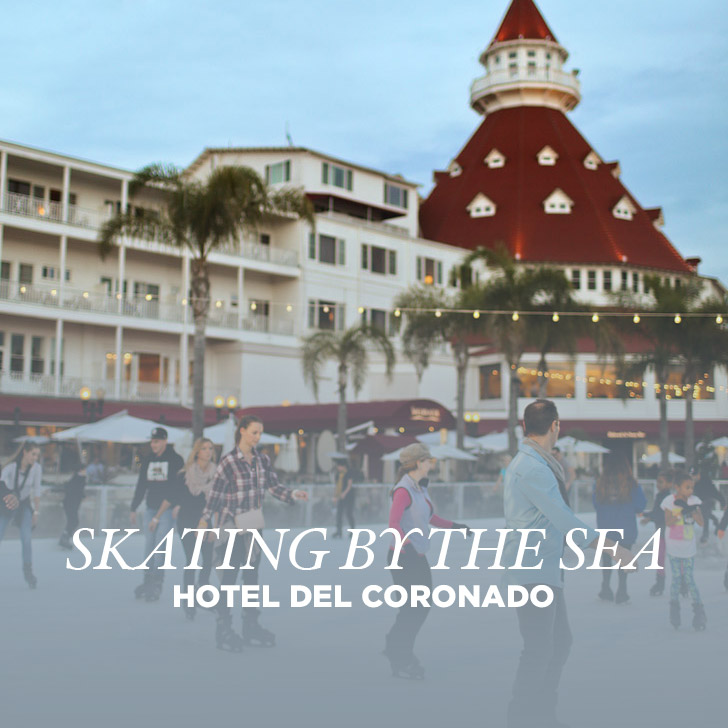 Hotel del Coronado is an iconic landmark in San Diego. We've visited the beach a few times and always loved photographing the historic Victorian building against the clear blue skies.
Since 1888, the hotel has been celebrating the holidays in a grand way. Did you know that America's first electrically lit outdoor Christmas tree was presented here in 1904? This year, they are celebrating with the new DELights experience in the Garden Patio, beachfront ice skating, festive décor, and thousands of white lights covering the building and grounds.
Skating by the Sea is a really unique experience. The ice rink is set up right by the ocean so you get a great view and can watch the sunset. As much as we love the mild weather in San Diego, sometimes we feel like we're missing out on the seasons. Being able to ice skate right on the beach was magical and brought us a little more Christmas spirit. While skating, we also got to watch what turned out to be one of the most epic sunsets we've seen since moving to San Diego. I can't imagine any better way to be spending a winter evening not just in San Diego.. but anywhere!
After skating for a little over an hour, we decided to grab dinner at ENO Pizzeria & Wine Bar. It had good food, great atmosphere, and was the perfect way to end the evening. Try the fig & pancetta pizza! :) We loved that each of the outside tables shared a fire pit, and there were plenty of heaters to keep you warm. Yes, we're weak sauce, but contrary to popular belief, it is not 70 degrees every day of the year! Brr. We're hurting at 50 deg.
Check out our vlog:
HOTEL DEL CORONADO ICE SKATING BY THE SEA PRO TIPS
Skating by the Sea runs from November 26 through January 7
Check their website for the full schedule, but they generally close between 8 and 10 PM.
Skating is $25 per person and includes skates.
Self-parking starts at $25. You can also look for metered street parking in the area and walk.
Learn more about their holiday events here and get tickets here.
Where's your favorite place to visit or thing to do during the holiday season?