Until moving to San Diego, we had no idea what tide pooling was. We knew about the tide pools, but what does it mean to tide pool? It's basically exploring the area that is exposed when the tide goes out and looking for small creatures, seaweed, and plant life that live there or got left behind.
For our first tide pooling experience, we headed out to the Cabrillo National Monument tide pools.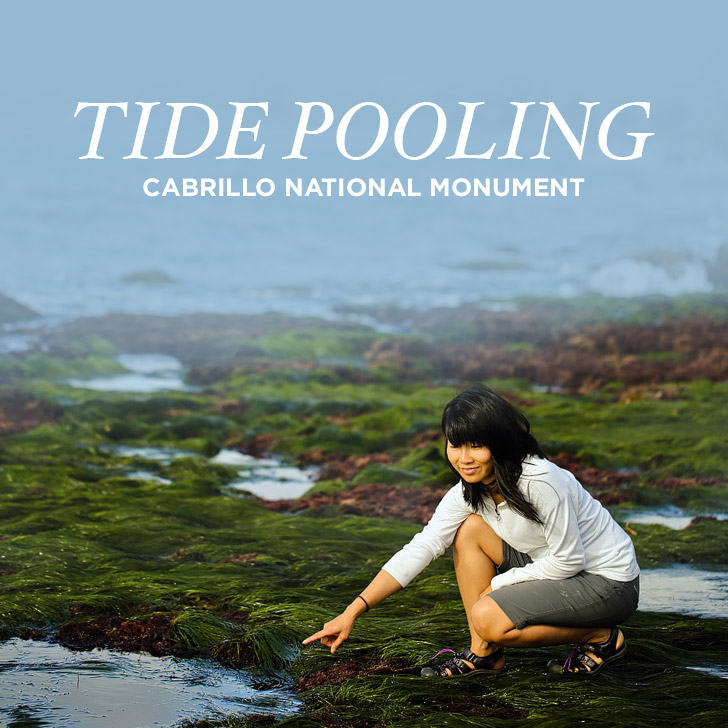 Pin
It's a really popular area to tidepool and draws a big crowd during the king tide when the tide is at its lowest. We thought this was crowded, but we were told it can get even more packed.
Pin
Pin

Pin
Pin

Pin
During our visit here, there were plenty of volunteers ready to help you identify species and to make sure we were respecting the environment. After all, we are in their homes and we want to do our best to leave the place, the way we found it.
Pin
Pin
Pin

Pin
Pin

Pin

Pin

Pin
Pin

Pin

Pin

Pin
At first, we didn't see much of anything; a small fish here, a little crab there. But after walking around a bit and listening in on others, we ended up meeting an octopus (well, an octopus' tentacle) that tried to steal a guy's iPhone, a sea slug, and a starfish. We also saw a couple of dead lobsters, which some prey got to before the tide went out. Guess they are the yummiest ones.
Pin

Pin
Pin

Pin
You can't take anything home with you, but it's a lot of fun to walk around and see what you can find! We noticed a lot of families were there, and it's a really fun and interactive way to teach kids about sea life. If you're up for an adventure, there's also a secret sea cave in the area too.
PRO TIPS FOR YOUR VISIT TO THE CABRILLO NATIONAL MONUMENT TIDE POOLS:
Tide times change daily. You can use this calendar to get a rough idea of what it should be but call in the day of to double check the times.
Look for a .7 low tide or lower (negative tides are the best). When we went, it was a king tide (the highest and lowest tide) of -1.2. The tides are typically the lowest from October to April.
Arrive at least an hour before low tide for best exposure, since the water begins to rise again right after low tide.
If you're hoping to take photos, bring a macro lens. Many of these sea creatures are quite small. We shot most of our close up shots with a 100 mm macro and our wide shots with a 35mm (on a full frame camera).
It helps to have a drysac with you just in case you slip or get splashed on. We really love using this one for water activities. You can see Jacob wearing it in the photos. :) It's not the prettiest bag, but it definitely gets the job done. We always feel secure that our stuff will stay dry. I haven't completely submerged the entire thing in the water, but I've definitely jumped into the ocean with it on, and everything inside stayed 100% dry.
Even at low tide you'll be getting wet. It helps to have water shoes. These are mine (I have purple sparkly kid's water shoes! haha), and this is Jacob's.
Have you been tide pooling? What sea creatures would you be looking for?