As fun as it is to explore your town on your own, sometimes it is much nicer not having to worry about getting from one place to the next. That was exactly what we were thinking when we decided to go on some brewery tours with Adventures in San Diego.
You have the option to book a 3 Stop Tour (3 Hrs) or to Build Your Own (5 Hrs). Since we've been to a lot of the popular breweries in town, Pete, Mariah, Jacob, and I decided to go on a 3-hour tour with two locations so that we could really enjoy each spot.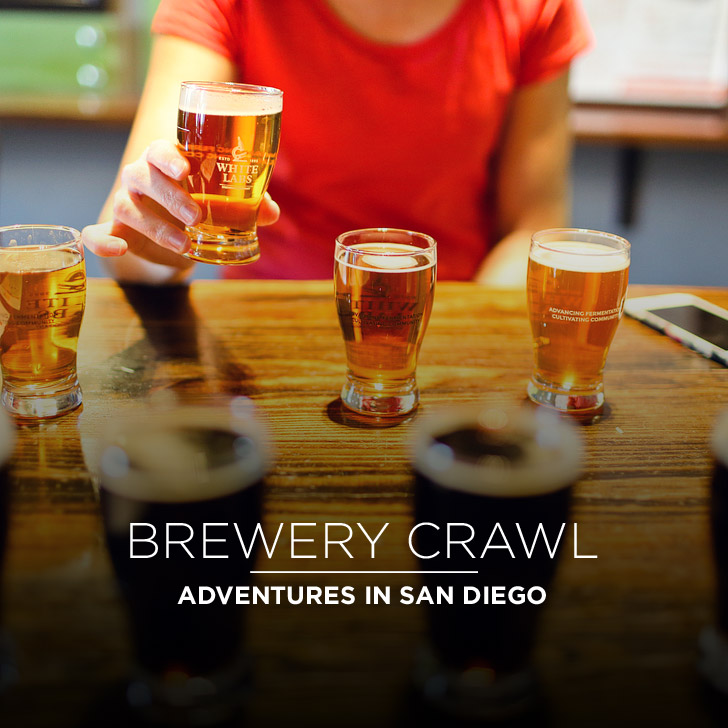 Pin
Pin
On the day of the tour, Bridgette pulled up in a red VW Eurovan and before we hopped in, we had the chance to grab water and snacks. Plus, if you can't wait till you get to the brewery, you can start off with a beer for the ride, since they have a license so you can drink in the car.
Pin
Pin
After a short ride to White Labs, we hopped out and headed inside. Everything was already set up for us. We picked what flight of beers we wanted to try and headed to tour the facilities.
We've both been on plenty of brewery tours, but this one was really unique. They started off producing yeast years ago and have grown to be one of the leading producers in the nation. As they continued to grow, they started brewing their own beer for their tasting rooms. After the tour, we had our flights waiting for us, and we got to compare how different yeast strains can dramatically change the taste of the same beer!
Pin
Once we were done, we headed over to Ballast Point, which is the second largest brewery in San Diego County. We picked out our beers at the bar and then met the tour guide. This was much more of a traditional brewery tour that walks you through the steps of making beer.
Pin
Pin
Whether you are visiting or you're local, you definitely need to check out this experience. The door-to-door service, friendly guide, and having everything set up for you makes for a great experience! And in case you're wondering, it does include a round of drinks at each location.
Pin
Check out our vlog:
Pro Tips for your Brewery Tours with Adventures in San Diego:
Don't worry about bringing water or snacks. They have their van fully stocked for you.
If you haven't been to White Labs or Ballast Point, these are two that they recommended and now we highly recommend them too!
Most brewery tours are the same, but White Labs was unique since it focuses on how they make yeast.
You can let them know ahead of time if there are breweries you've already been to or one that you specifically want to check out, but let them help you put together the best itinerary that makes the most of your time. You don't want to spend the majority of your time sitting in the van going from one place to the next.
Don't forget to tip your guide.
If brews aren't your thing, they also offer Segway Tours and Sightseeing Tours.
Adventures in San Diego
619.431.0120
Do you like beer? If so, what is your favorite beer? What breweries have you visited?