I love seeing how things are made, especially things I use myself. While we were on our big cross-country road trip, I knew we had to stop at the Taylor Guitars Factory Tour once we hit the west coast. Whether you're a serious musician or just love listening to music, the factory tour really helps you appreciate the art behind the instruments.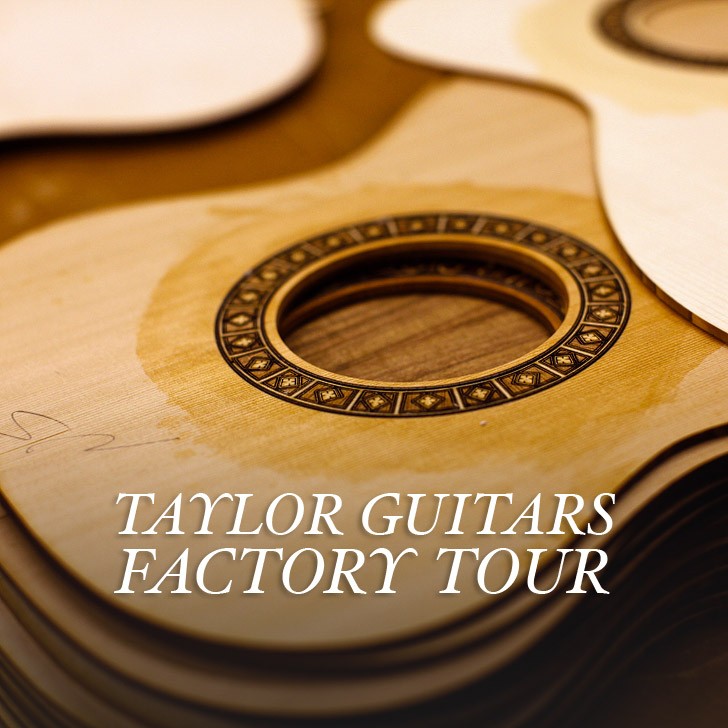 Taylor Guitars is one of the most popular guitar makers out there. Everyone from Jason Mraz to Taylor Swift plays them. The free tour takes you through the steps of building a guitar. You see how they select wood, the different construction phases, and final assembly. As you walk through the live factory, you listen to your guide through headsets they give you to tune out all the noise.
None of us remember what was happening here. Perhaps interpretive dance?
After the tour, you can pick up some goodies at the TaylorWare store, where they carry apparel, souvenirs, and guitar parts. They even have a room where you can bring a guitar in to try out. We spent a good while here and were tempted to pick up a new guitar. In the end, we were on a budget so we settled with these free wooden circles with the Taylor logo burned into them. They're made out of the holes cut from a guitar and we use them as coasters!
Pro Tips for Your Taylor Guitars Factory Tour:
The tour lasts roughly 1 hours and 15 minutes.
Tours are limited to 60 people. If you have a group of 10 or more, reservations are highly recommended.
It's not a physically demanding tour, but there is a lot of walking and couple flights of stairs.
Since you're going through a live factory, this tour is not recommended for young kids.
Need a (cheap / free) souvenir to take back home? They have free coasters!
Taylor Guitars Factory
1980 Gillespie Way
El Cajon, CA 92020
Tours Every Monday to Friday at 1PM (except holidays)
If you're looking for other free things to do in San Diego, you can check out our list here.
Do you play the guitar? Even if you don't, would you be interested in seeing how they are made?