A wave barreled towards me and propelled my board forward as my brain recalled all the wipeouts. But something felt different this time.
The excitement started to swell as I placed my palms down and brought my legs up from under. In a swift movement, I stood up, arms out to keep my balance when I realized, I'm riding the wave!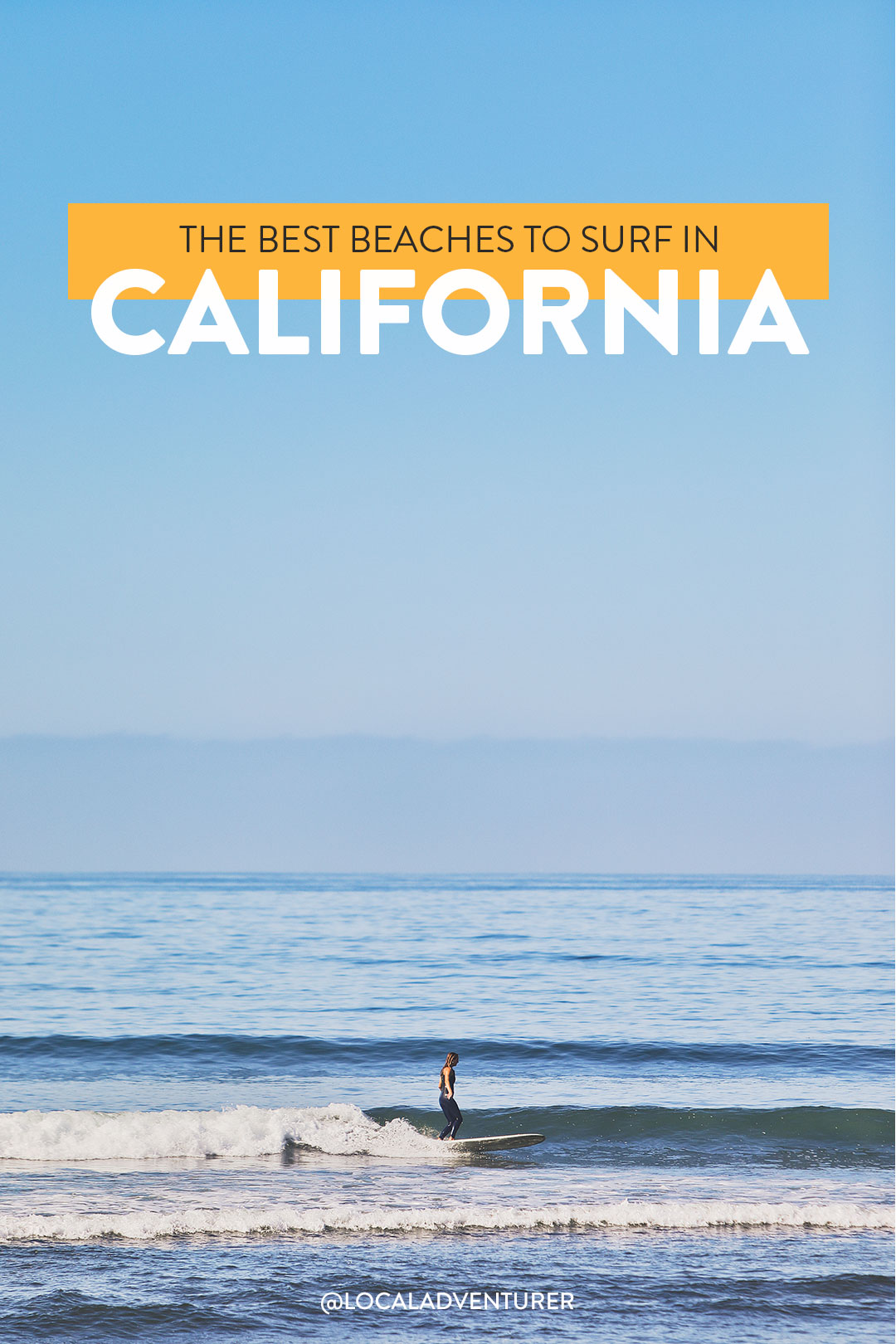 A big thank you to Visit California for sponsoring this post. All opinions are always our own. This post may contain affiliate links, where we receive a small commission on sales of the products that are linked at no additional cost to you. Read our full disclosure for more info. Thank you for supporting the brands that make Local Adventurer possible.
Last Updated: September 17, 2019
15 Best Surfing Beaches in California
Surfing has been a huge part of California's culture that the California Legislature officially declared September 20 as California Surfing Day.
We spent days making our way up the coast learning about the history of surfing, exploring popular surfing beaches in California, and attempting to ride waves ourselves.
Whether you plan on celebrating with everyone by surfing on September 20th or just want to hit the waves on your next visit to California, here is a guide on the best surf spots.
Don't just take our word for it, we met up with some badass surfers who showed us the waves and gave us more insight about their favorite spots.
Skill Level: Beginner, Intermediate, Advanced
North County, San Diego has many beaches to explore, and Cardiff Reef is one of the most popular surfing spots in California bringing surfers to the beach since the 1940s. The long, smooth waves make it great for any skill level.
2. San Onofre State Beach
Skill Level: Beginner, Intermediate, Advanced
San Onofre Beach aka SanO has been a part of California surf and beach culture for decades. It's a favorite amongst longboarders.
Before heading over to the beach, we were warned that there might be a line up to get in. Fortunately, we were able to snag a parking spot as some surfers left for work. By the time we left at 10 am, they had a sign up that said the lot was full. Note that there is a $15 fee to park and they only take cash.
We headed to the south side of the beach where the waves were mushier and better for beginners. The beach is rocky and full of softball-sized stones. They go all the way out to deeper water and it can be hard to walk on them, which just meant more paddling for us.
From a beginners standpoint, this made it harder to catch waves since we weren't proficient in paddling and turning our boards.
I really enjoyed watching other surfers catch waves and all the lifers and their morning routines. It's amazing the systems they have set up in the back of their cars to wash their gear and get cleaned up before work.
Where to Rent Gear: We got ours boards and wetsuits from Killer Dana Surf Shop. They have a friendly and knowledgeable staff who can help you
Local Tip: Visit the Surfing Heritage and Culture Center after to learn more about surfing history. They have the largest collection of surf artifacts, and at the back of the museum, there is a huge photo of SanO from back in the day.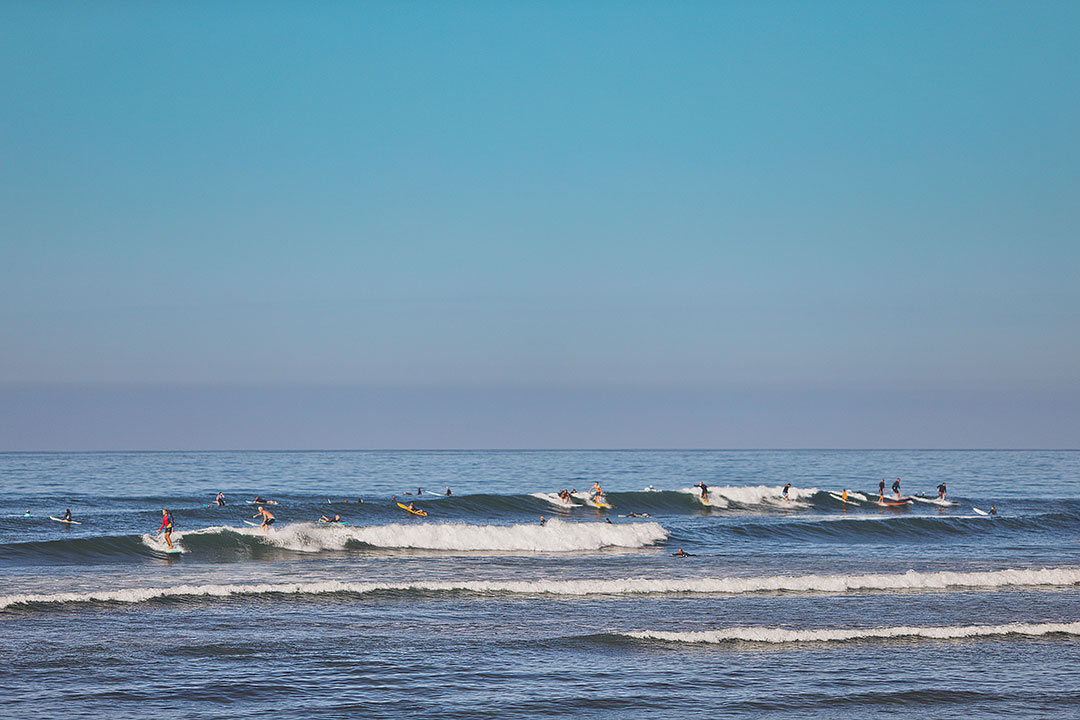 Skill Level: Beginner, Intermediate
Doheny is good place to take the kids for a day of surfing. The wave here is relatively forgiving (not very powerful) and slow-moving, which can be great for beginners, groms or the occasional longboarder who prefers smaller, slower waves (*raises hand).
It's also protected by the nearby harbor jetty and will filter larger swell into something smaller and more playful. This makes it somewhat of a refuge during big south swells that tend to hit Southern California in the Summertime.
For pre- or post-surf activities, there is a broad beach to spread out a towel and chill, as well as barbecue pits, picnic areas and a shaded grassy zone ideal for long hangs with groups or young ones.
I would consider Doheny to be one of the better-maintained state parks complete with bathroom facilities (nothing fancy though), showers with board racks, a paved boardwalk and even a snack bar down the way. All around, a fun place to get some smaller waves and enjoy some sun afterward. – Cori
Skill Level: Beginner, Intermediate, Advanced
Located in the heart of Orange County, you can find waves for all skill levels on most days. On top of that, most of the surf industry is located in the OC making it a surf central of sorts.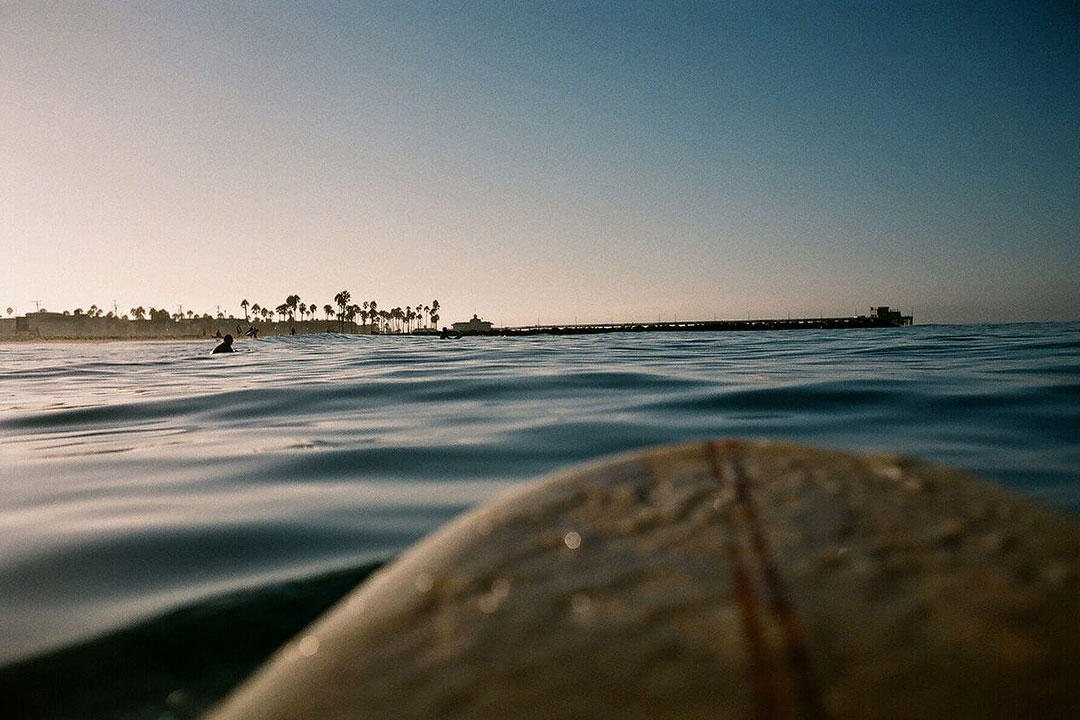 Skill Level: Beginner, Intermediate, Advanced
The long coastline of Surf City USA has brought in beginners, pros and everyone in between for years. Shortboards are popular here, but there are plenty of spots to longboard as well. If you need a break from surfing, join in on one of the volleyball games on the beach.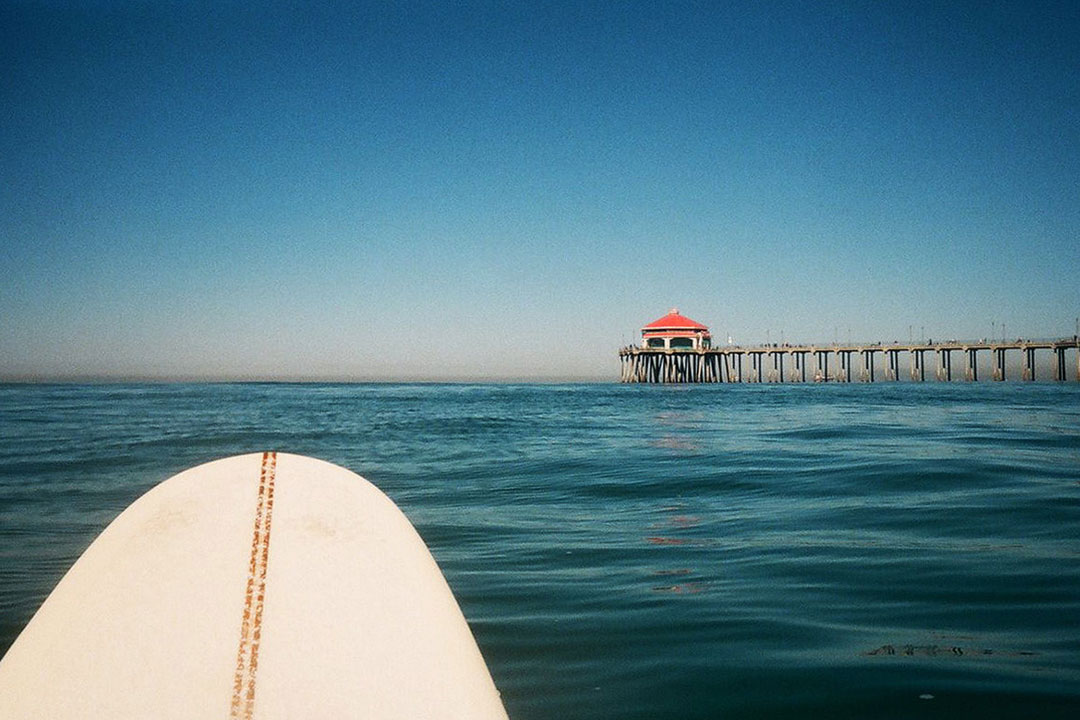 Skill Level: Intermediate, Advanced
This is yet another of California's most well-known and touted right point waves (I'm regular-footed if you can't already tell by my choice of surf spots). I joke that I have a love-hate relationship with this place, due to the direct relationship of wave quality to crowd density. 
There seems to be a forcefield around this spot that renders all surf etiquette null, but if you can deal with the chaos and avoid getting run over, you might just get a wave that will make your day. – Cori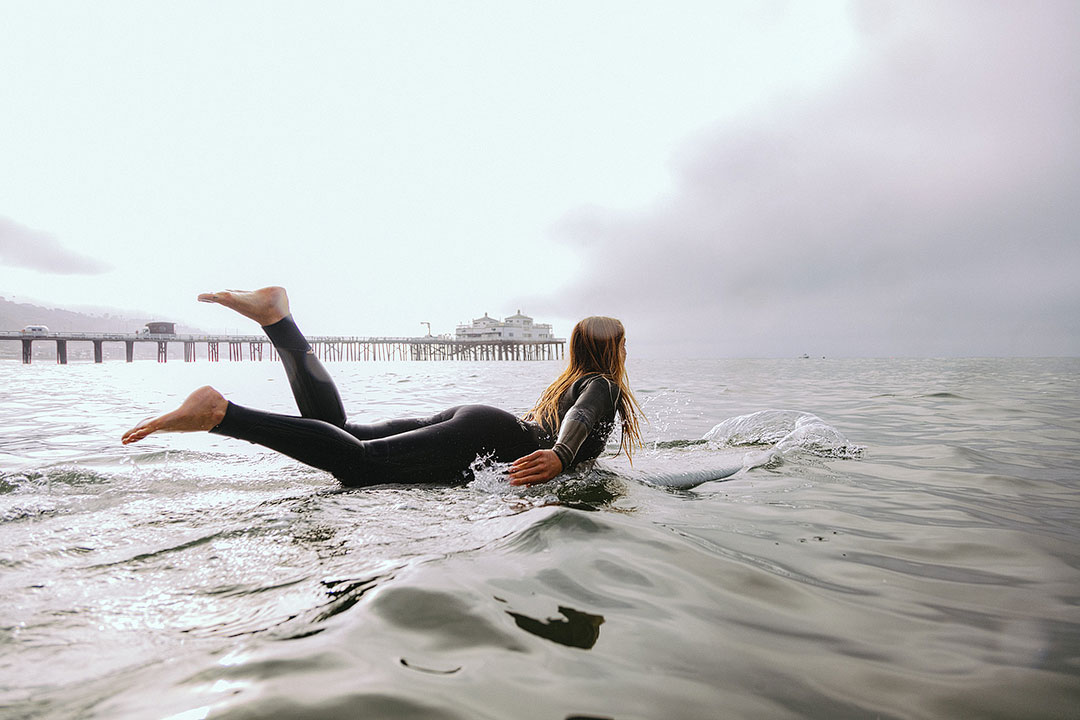 Skill Level: Beginner
The mellow waves at Farias Beach make it a perfect place for beginners to start. Bring your soft-top board out with you, and when you need a break, just float and splash in the ocean!
Skill Level: Beginner, Intermediate, Advanced
Formerly known as California Street, C Street is a popular stretch between Ventura Pier and Seaside Wilderness State Park. There are multiple take-off points, which allows large crowds to spread out a bit more, although it can still get crowded when there is a good swell.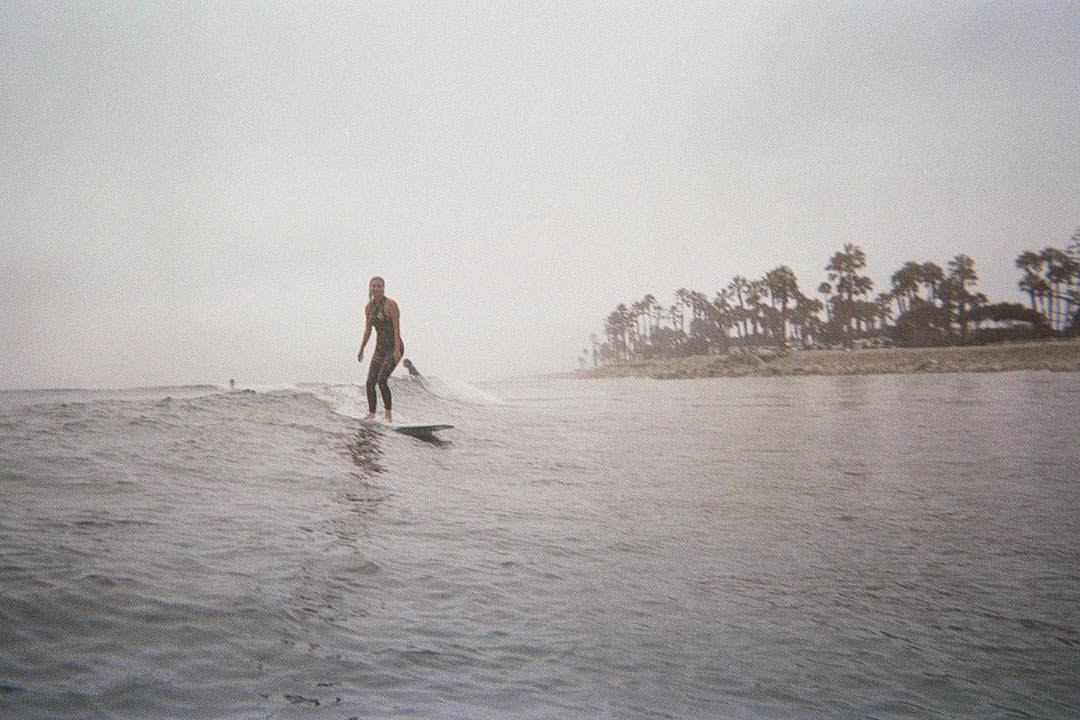 Skill Level: Intermediate, Advanced
Rincon is well known along the California Coast, for its long right-running waves and iconic location along one of the coast's main highways. Often referred to as the 'Queen of the Coast', this right point has earned its title by the way it lights up like a gem with early-, mid- and late-winter Northerly swells. 
This is definitely more of an intermediate/advanced surfer's spot, especially on any day with sizeable swell.
Another thing to consider is, due to the high number of skilled surfers that live in the area and frequent this wave, it's a must to employ one's most well-intentioned surf etiquette and don't hold a high expectation for your wave count. – Cori
Skill Level: Beginner, Intermediate, Advanced
This beach is known as a beginners surfing beach, and is located right next to the University of California Santa Barbara campus. With that said, conditions can result in barrels from time to time.
Local Tip: We didn't get a chance to surf in Santa Barbara but still enjoyed watching surfers and learning about local surfing history. Santa Barbara Maritime Museum is a fun and interactive museum with a permanent exhibit on surfing and maritime culture. You can also go on a relaxing sunset sail with the Santa Barbara Sailing Center where you can watch surfers from the water.
Skill Level: Beginner, Intermediate, Advanced
Pismo Beach isn't known for its incredible wave qualify but has a lively surf scene nonetheless. The beach has swells year-round even though they may not be the largest. Plus the beach and ocean floor is soft sand, which makes it easy for learning. It was such a relief after the rocky shores in SanO.
We picked up our boards and wetsuits from Pismo Beach Surf Shop and met Cori on a foggy morning near the pier, where there were still plenty of surfers on the water catching waves. 
This time we stayed in the baby waves, and stood up much easier. The time flew by, and after this round, we couldn't wait to check out other surfing beaches in California.
As we got to know Cori, she told us how she spent her childhood on this beach. She still remembers when she fell in love with surfing and would spend countless hours here after school. Hearing her passion for the sport definitely got us excited about it too.
Where to Rent Gear: Head to Pismo Beach Surf Shop to pick up anything you need for the beach. Their main shop is a few blocks away from the beach but worth the visit. There is a super eclectic collection of items and two local cats. They also have a shop right next to the pier and a 3rd shop opening soon.
Local Tip: Stop by Splash Cafe after surfing to fuel up on some of the best clam chowder and seafood we've ever had.
Skill Level: Beginner, Intermediate, Advanced
We stopped by Morrow Rock on the way up the coast and definitely wished we had time to surf here. The iconic Morro Rock is a beautiful backdrop to the waves. Depending on the time of year, the waves can be small and easy to catch, and other times, massive and dangerous.
The wave itself is slightly slope-y on the takeoff but can form into something hollower if it hits a sandbar just right and can reform on the inside to make for a fairly long and fun ride. – Cori
Local Tip: When we walked the beach, there were a ton of sand dollars washed ashore.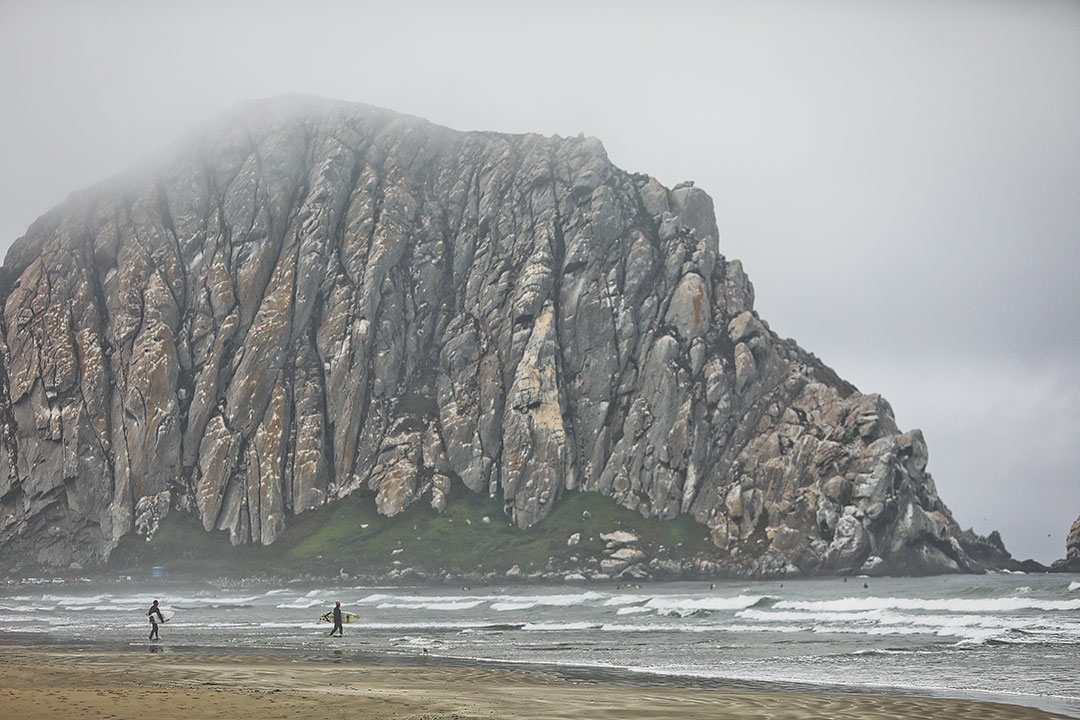 Skill Level: Beginner, Intermediate, Advanced
Santa Cruz is one of California's most iconic surf cities, and the surfing history is seen in the city through artwork and the Santa Cruz Surfing Museum.
Local Tip: Beginners should head down the way to Jack's, named after the wetsuit pioneer Jack O'Neil. The waves are mellow and easy to catch and learn on.
Skill Level: Beginner, Intermediate, Advanced
Pacifica is a beautiful beach town with a great vibe and is located only about half an hour away from SF. You'll find people getting away from the city filling the beaches and catching waves.
Local Tip: It also has arguably the fanciest Taco Bell in the world. There is a walk-up window, beach views, and outdoor patio to enjoy your tacos on the beach.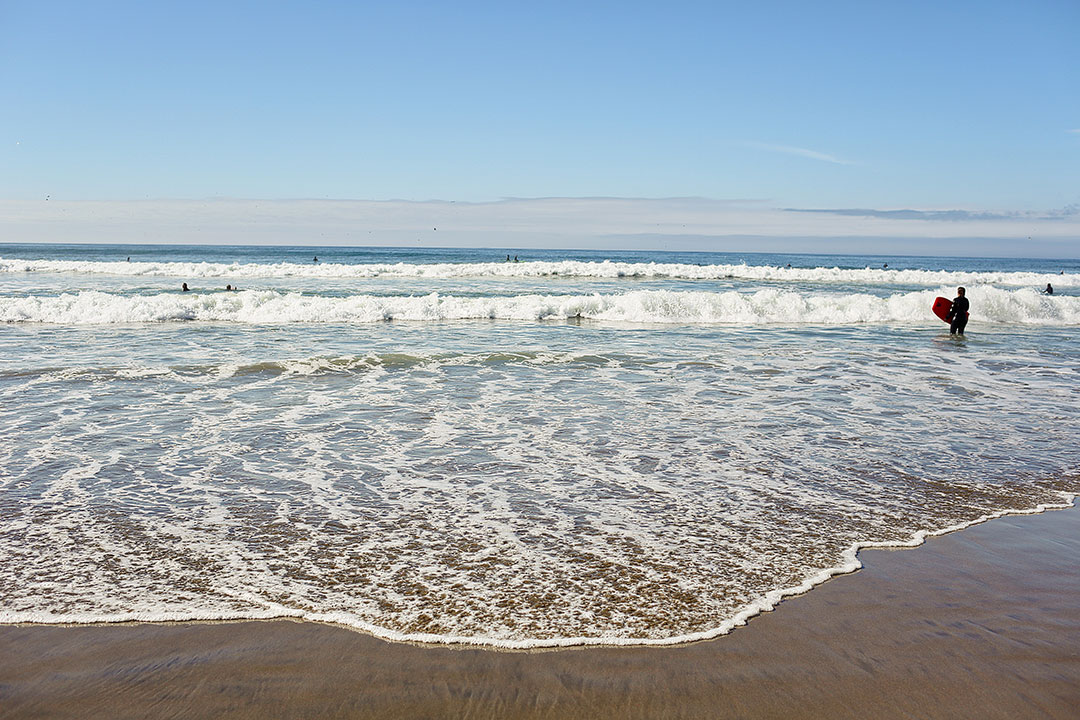 Skill Level: Intermediate, Advanced
This makes the list simply so you can say that you've surfed in San Francisco. It's not the best place for beginners, but the beach is a popular spot for fire pits if you just want to watch the seasoned surfers catching waves.
Map of Best Surfing Beaches in California
More Notable Surfing Beaches in California
Blacks Beach, San Diego (advanced)
El Porto, LA (beginners)
Hermosa Beach, LA (all levels)
Laguna Beach, OC (all levels)
Lower Trestles, San Clemente (intermediate, advanced)
Mavericks, Half Moon Bay (advanced)
Oceanside Pier, Oceanside (intermediate, advanced)
Scripps Beach, San Diego (all levels)
Steamer Lane, Santa Cruz (all levels)
Topanga, LA (intermediate, advanced)
Venice Beach, LA (intermediate, advanced)
Zuma Beach, LA (intermediate, advanced)
What You Need to Know Before You Surf
Don't Surf By Yourself. No matter how easy it may look, surfing is tough! Take lessons or go with someone experienced to get some coaching. It helped us a lot.
Start with a Big Surfboard. It's easier to catch waves and balance on a larger board.
Get a Soft-Top Board. We tried both soft-tops and hard-tops, and it was easier with soft-tops. Plus, it's safer for everyone. Hard-tops are more photogenic, but not so much if you can't even get up.
Look for Beginner Waves. As much as you want to jump into epic waves, start on small, steady waves. Cori called them mushy waves that seem to go on and on forever.
Stay Clear of People.

In the beginning, you're not really in control of what you're doing so it's safest for everyone to stay on those mushy waves and away from experienced surfers.

One Rider Per Wave. If someone else is riding the wave, don't go for it. The general rule is that whoever is closest to the 'peak' (where the wave is breaking from) gets the wave. In a perfect world, the lineup would work in a rotational form, where everyone waits their turn for waves. This isn't strictly the case but is a good rule of thumb to abide by. Be patient, wait your turn and when a wave comes to you, it's the ocean's way of sending a little reward your way.
Essential Surfing Tips for Beginners
Start on the Beach. Get the motions down on the beach first to understand the movements before getting in the water.
Practice Sitting on the Board. Who knew sitting on the board would be so hard.
Bend Your Knees. Bending your knees when you're on the water helps you keep your balance.
Paddle with Both Hands. I paddled like I was swimming but had a hard time battling the waves. As I watched other surfers, I realized they would paddle with both arms at the same time.
Find the Sweet Spot. When paddling, plant yourself in the right spot on the board. Being too far back on the board will slow you down, and if you're too far up, the nose of your board will dip into the water.
Stay Perpendicular to the Waves. Staying perpendicular to the waves will help ensure you don't get knocked off your board.
Accept That You'll Wipe Out. Unlike other activities we've tried, surfing has a steep learning curve at the beginning. You might get shut down starting out and some days might be better than others. There are so many factors affecting surf quality. It's important to have a good learning attitude.
Watch Your Board. Never put your board in between yourself and a wave. The force of any wave (large or small) can turn a surfboard into a large weapon headed straight for your face (just ask Esther). Try to keep the board to your side even in shallow water.
Safety Comes First. Be aware of the conditions and your surroundings at all times. Are the waves big? Is the lineup crowded? Is there a strong current? These are all things to consider before getting your feet wet.
Ask The Lifeguard on Duty. Don't be embarrassed to inquire about any hazards that day; their information could be enlightening and save you from a potentially dangerous situation.
Have Fun. Billy, the owner of Pismo Beach Surf Shop said it best: Any day surfing is a good day.
On our journey up the coast, we started in Dana Point and made our way up to SLO. Here are the places we stayed at and highly recommend.
Laguna Cliffs Marriott Resort & Spa, Dana Point
Laguna Cliffs was the perfect home base for exploring Dana Point and the surrounding area. We loved our suite and enjoyed relaxing at the pool after a long day out.
This beautiful coastal retreat is located on a dramatic bluff overlooking the Pacific Ocean, and it just finished a multi-million-dollar renovation. With 378 rooms, 2 pools, multiple restaurants, a spa, and more, you can easily spend your entire getaway on property. They even yoga in the park and newly made pickleball courts (which I was happy to see).
Compare prices on booking and hotels.com, and see tripadvisor reviews.
This was a cute inn that was recently taken over by new owners. The rooms had great aesthetics and featured pieces from local artists. It's also just steps away from East Beach and within walking distance to Stearns Wharf and the Funk Zone. Over the next 18 months, they are planning to refresh the property to make it even better.
Compare prices on booking and hotels.com, and see tripadvisor reviews.
The Cliff's Hotel & Spa, Pismo Beach
We loved our room so much, the entire day we couldn't wait to get back to enjoy the ocean views from our balcony. The hotel is perched right along the coast. Even if you don't have a room that has ocean views, there is a pool, restaurant, and plenty of outdoor place that overlooks the coast.
Compare prices on booking and hotels.com, and see tripadvisor reviews.
Corina Rose (aka Cori) is a surfer, photographer, and artist from California's central coast. Her roots lay in rural areas that are rich with open expanses of land and bordered by deep, unruly seas. It is these places from which she draws much of her artistic and personal inspiration, and which play an intrinsic role in her aesthetic approach.
Although her work has evolved over time, Cori's vision remains the same – to convey the beauty she finds in nature's finest details. Her 35mm film images have been featured across multiple media platforms and in gallery spaces around the world, as well as in her home state of California. These days, apart from taking up-close photos of plants and waves, you can find Cori surfing, doing yoga, cheating on crossword puzzles and spending time with her boyfriend, Austin. Follow her on Instagram.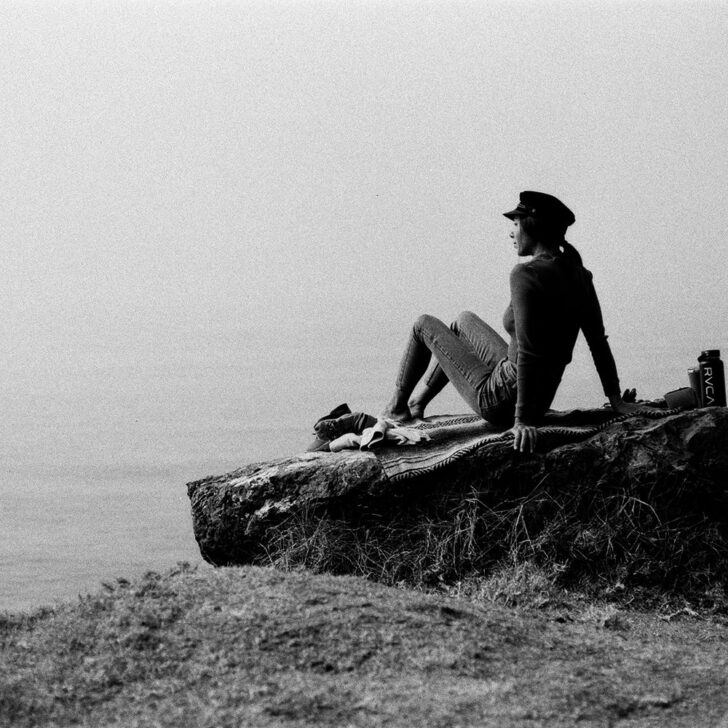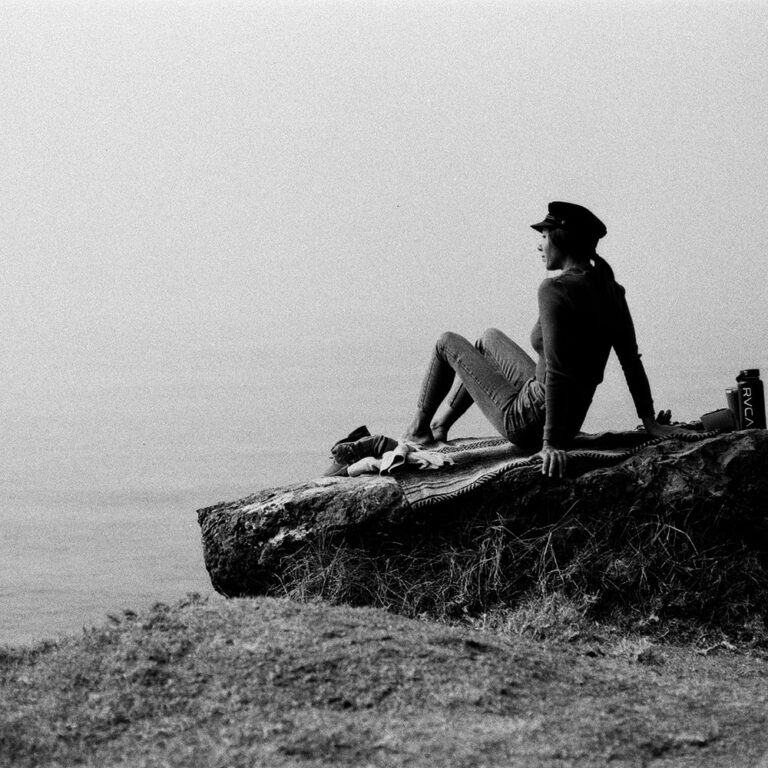 Have you been to any of these surfing beaches in California? Which ones? Have you tried surfing? How did you like it?
Did you enjoy this post? Pin it for later
SEE MORE CITY BUCKET LISTS
"Discovery consists not of seeking new lands but in seeing with new eyes" – M. Proust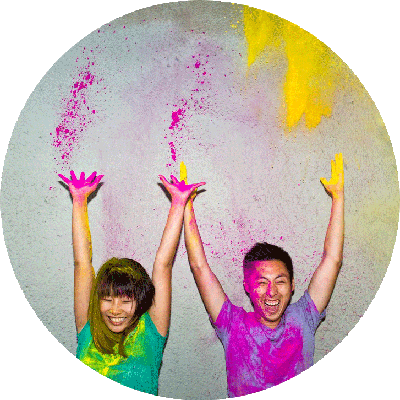 Esther and Jacob are the founders of Local Adventurer, which is one of the top 5 travel blogs in the US. They believe that adventure can be found both near and far and hope to inspire others to explore locally. They explore a new city in depth every year and currently base themselves in Las Vegas.