Portland is a quirky, artsy town that you could spend all day taking photos. Even while we were putting this list together, we found so many random spots we loved on the way to certain murals. Keep in mind many of the murals are constantly changing and since Portland is a rapidly growing city, we've seen new buildings develop right in front of them. We'll try to update them as we see them come and go, but if you notice something that's changed, let us know! If you're looking for fun spots to take photos, we've narrowed down our favorites to the top 25.
P.S. The words "ig spots" or "popular" probably makes most Portlanders cringe.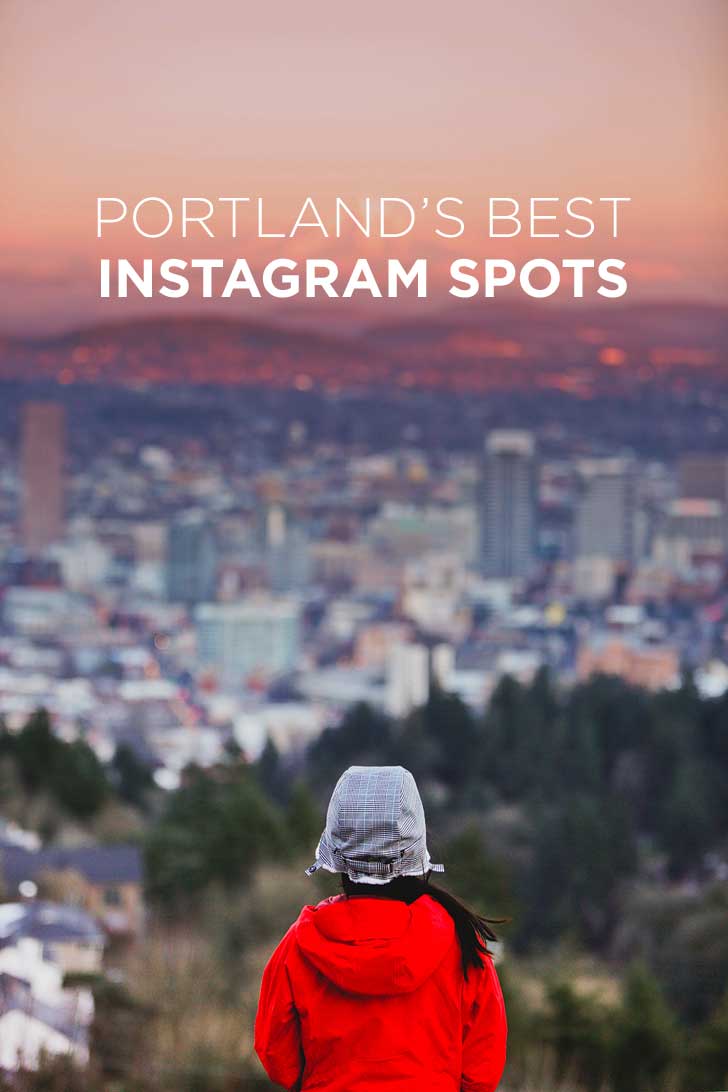 This post may contain affiliate links, where we receive a small commission on sales of the products that are linked at no additional cost to you. All opinions are always our own. Read our full disclosure for more info. Thank you for supporting the brands that make Local Adventurer possible.
Last Updated: August 10, 2019
25 MOST POPULAR INSTAGRAM SPOTS IN PORTLAND OR
One of our friends introduced us to this banana mural down the street from her house, which was once illegal graffiti and Portland's oldest mural dating back to 1984. Today it's a beloved landmark!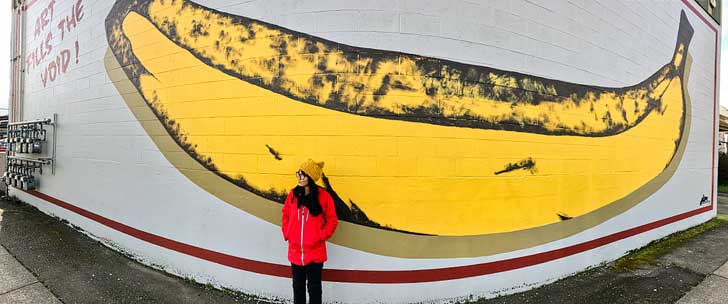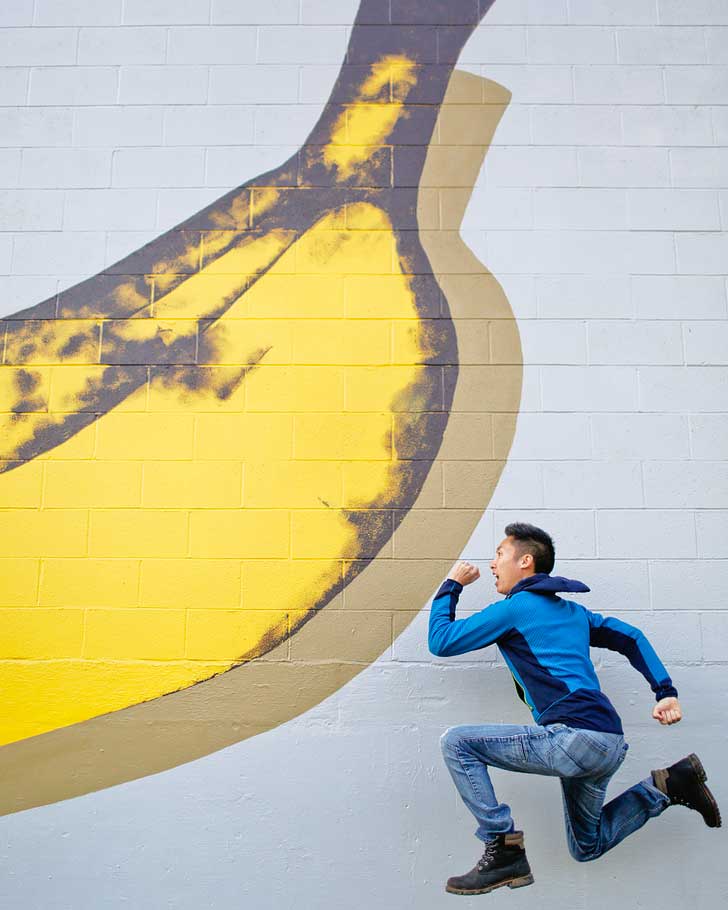 This is hands down our favorite view in Portland.

I'm not sure who exactly does the gardening and takes care of this park, but it has seen a lot of changes over time. Sometimes you'll find different trees or little figurines.
A good spot for photos but not so much for the donuts. Trust us, we used to live in the apartment next door to this one. 
9. Historic Portland White Stag Sign
15. Ira Keller Fountain Park
22. Flamingos at Pie Spot
This one was a fun mural we stumbled upon while looking for the mural across the parking lot. I ended up liking this one way more. Plus, it wasn't obstructed with trash bins.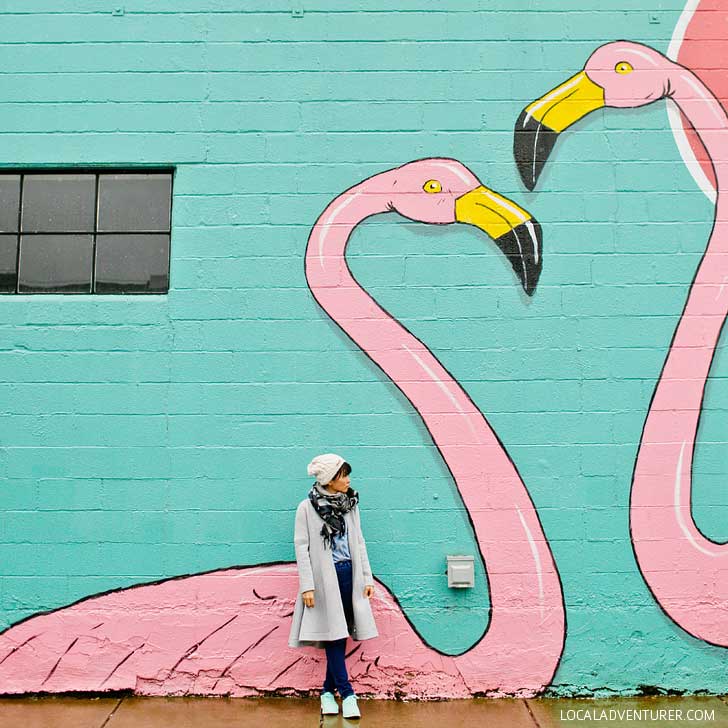 If you're going to visit Rose City, you should take the time to smell the roses. The peak season is generally in June.
25 MOST INSTAGRAMMABLE PLACES IN PORTLAND OR
More Instagram SPots in Portland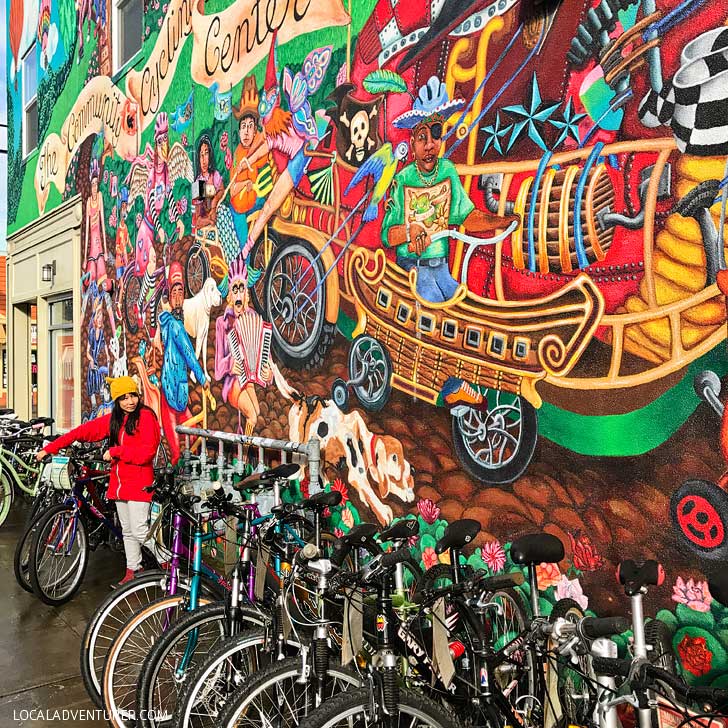 Tron Trees and Colorful Creatures – Brendan Monroe and Souther Salazar – building developed right in front.
World Naked Bike Ride Mural by BMD (SE 8th and Division Place along the Tilikum bike trail) – the mural is still there but the building is being sold and there is a fence that goes around it that makes it hard to take photos.
Archangel by Kamea Hadar and MEGGS (1340 SE 12th Ave, Portland, OR 97214) – there's a fence that cuts through a third of it.
What to Pack for Portland Oregon
Best Places to Stay in Portland
All the accommodations below have Tripadvisor's Certificate of Excellence
Anything we missed? Where are your favorite spots to take photos in Portland?
SEE MORE PHOTOGRAPHY SPOTS
"Discovery consists not of seeking new lands but in seeing with new eyes" – M. Proust
Esther and Jacob are the founders of Local Adventurer, which is one of the top 5 travel blogs in the US. They believe that adventure can be found both near and far and hope to inspire others to explore locally. They explore a new city in depth every year and currently base themselves in Portland Oregon.