Every time we move to a new city, we often have to make compromises. We can eat out at nice restaurants as long as we are frugal in other areas. As far as activities go here, it's all about the outdoors. We recommend saving your money for food and beer, and checking out some of these fun free things to do in Portland.
This post may contain affiliate links, where we receive a small commission on sales of the products that are linked at no additional cost to you. All opinions are always our own. Read our full disclosure for more info. Thank you for supporting the brands that make Local Adventurer possible.
Last Updated: September 8, 2022
Jacob is always looking for a bargain. If it's free, that's even better! Before, we got into all sorts of arguments about spending, but now I realize we give each other a good balance. He helps us keep money in our pockets, while I push him to live a little.
Not sure if you've heard this saying before, but I first heard it in college. "Chinese people have cheap wallets with loads of cash inside, while Koreans will buy an expensive wallet and have no money inside." I know it's a generalization, but if it's between just the two of us, it's very true.
25 FREE THINGS TO DO IN PORTLAND OREGON
This tiny park is worth stopping by if you're in the area. The park has interesting history, and it's constantly changing with new contributions. I heard news at one point someone stole the tree, but there's one there now! It's also right by the waterfront, so you can enjoy the views afterward.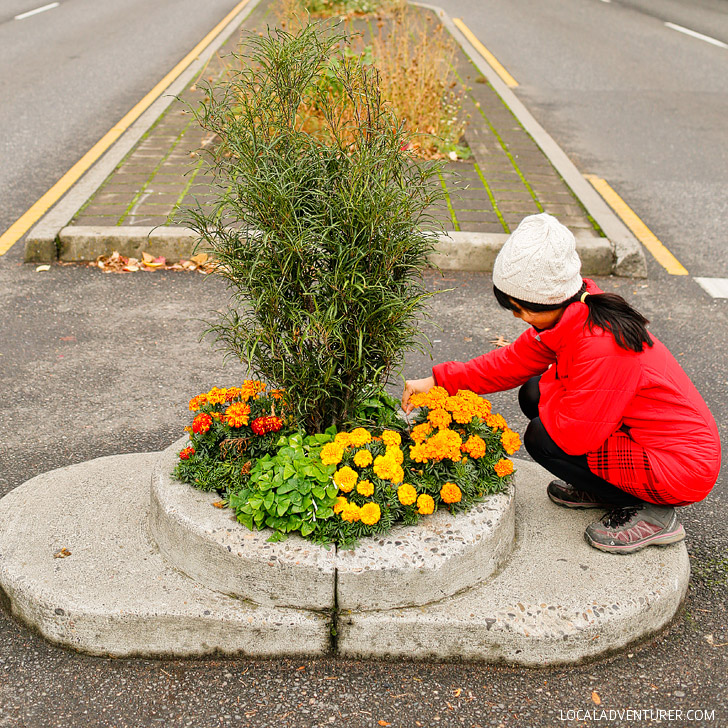 This may only be a hallway in the back of a Stark's vacuum shop, but if you can channel your inner Monica, you can appreciate the vintage vacuums that date all the way back to 1905. If you're not into vacuums, you can just appreciate the weirdness of it all.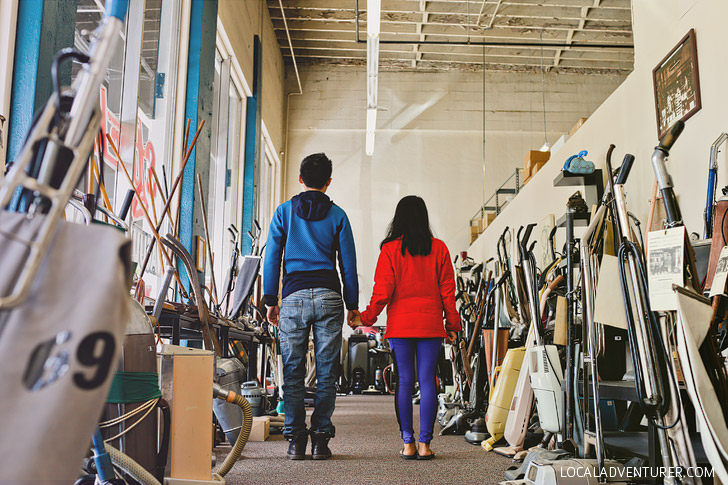 3. Portland Farmer's Market
There are two main markets that happen every weekend in Portland. The Farmer's Market is a great place to browse fresh produce. We did some grocery shopping here the first week we were in town, and we will probably pick up our veggies and kimchi here in the future.
Update: We just heard some very sad news that Matt, the guy we used to buy our kimchi from, was murdered. Here's their gofundme for his funeral expenses.
4. Portland Saturday Market
I heard someone describe the Portland Saturday Market as the place to go to buy your Che Guevara shirts made in China. Though I didn't find anything I would purchase here, I thought it was nice because they had live music, and you could hang out by the waterfront. If we went back, we would probably grab an ice cream and just people watch.
Although the upper-level garden requires admission, you can still visit the lower garden, grotto, chapel, visitor center, and gift shop for free.
Local Tip: It's decorated especially nicely during the holidays, but you pay an admission.
6. Powell's City of Books
Powell's is the largest independent bookstore and a cornerstone of Portland. Any book lover needs to stop by. The hard part making this a free experience is having to resist buying more books.
7. Portland Central Library
I love it when libraries are housed in beautiful buildings. Enjoy the architecture then go in and browse the books.
9. Visit the Witch's Castle
You can take a short hike to Witches Castle in Forest Park. Rumor has it that it's haunted. It definitely made us hesitant to go inside, but we didn't stick around long enough to find out if it's true or not.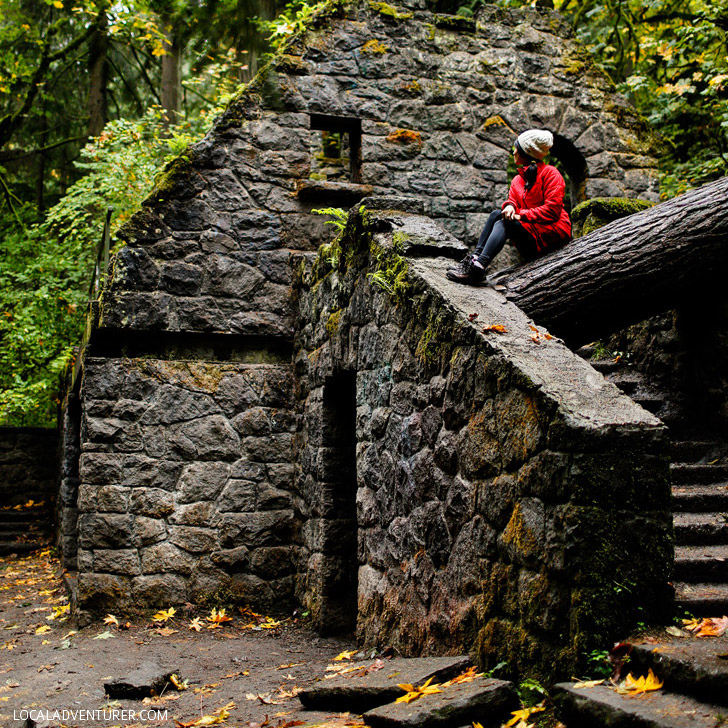 10. Urban Waterfall at Ira Keller Forecourt Fountain Park
Gotta be honest. I didn't think much of it, when I heard about the Ira Keller fountain in downtown Portland, but it was really beautiful seeing it in person.
11. Oregon Rail Heritage Center
See the rich history of the locomotives and railroad industry in Oregon. You can get a guided tour of the big engines or even hop aboard the Oregon Pacific Railroad for a short trip.
12. Oregon Historical Society
If you're a history buff, you can check out the history of Portland and Oregon to get a better understanding of the city.
It's no secret that Portland is a beer town. Though not every brewery in Portland has free brewery tours, we found a couple that did: Ecliptic Brewery and Ground Breaker Brewing. Any others you can think of that we need to add to the list?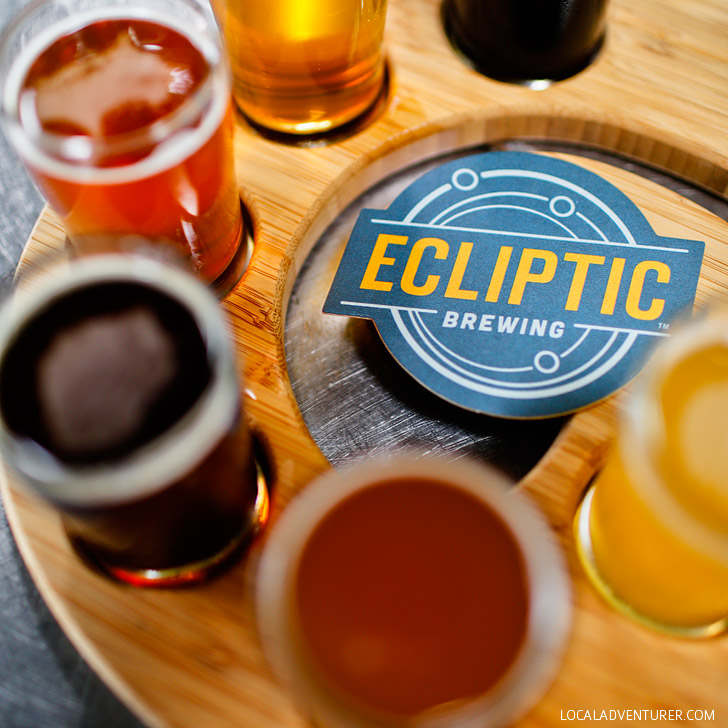 We've enjoyed getting to know whiskies the past couple of years, but have only done one distillery tour. We're excited to check out the local ones and hopefully find a new go-to beverage.
They meet at different locations every weekday of the week, but find one that's convenient for you and get your namaste on (did I use that correctly? :P). Most free yoga classes recommend donations.
If you love wildlife photography or you just enjoy viewing wildlife, there are a few different options around Portland. There's great birding at Oak's Bottom Wildlife Refuge and Sauvie Island. You can also go feed fish at the Bonneville Lock and Dam.
If you're looking to shoot photos, don't forget to bring the longest lens you have!
Everyone in Portland bikes as a mean for transportation, but there are also some great recreational rides too. Some popular spots include Springwater Corridor, which connects a lot of the parks and runs along the waterfront. We ended up borrowing some bikes from Jacob's cousin, but if you don't have access to a bike, it's still a beautiful walk.
And although not free, you can bike to pick up lunch at one of the many food carts or food trucks and take it to the park for a picnic.
Classic arcades are hard to find nowadays, but Portland is home to one that has all your favorites. It's free unless it's a special event and you must be 21 or over after 4:30 PM.
19. Frank Kidd Toy Museum
We all loved toys at some point (and some of us still do). You can visit the Frank Kidd Toy Museum for some nostalgic moments. Unfortunately, it looks like the museum may have closed but we're going to leave it here until that's confirmed. Finnegan's Toy Store is also a local favorite (map it).
20. Historic Belmont Firehouse
Recently celebrating its 100th anniversary, the Belmont Firehouse is a beloved landmark to locals. You can learn about the history of the firehouse, get your photo sliding down a fire pole, and kids can spray water out of a fire hose.
When you think of the PNW, you often think lumberjacks. Take a photo with the biggest of them all!
22. Visit the Simpsons Streets
NW Portland – NW 2nd to NW 24th St
Did you know that Matt Groening is from Portland? It's something we learned after we moved here! He named some of the Simpsons characters after the streets, like Flanders, Lovejoy, Quimby, & Kearney. This is one of the street signs in the Pearl District, where someone wrote in a D after NE for Ned Flanders.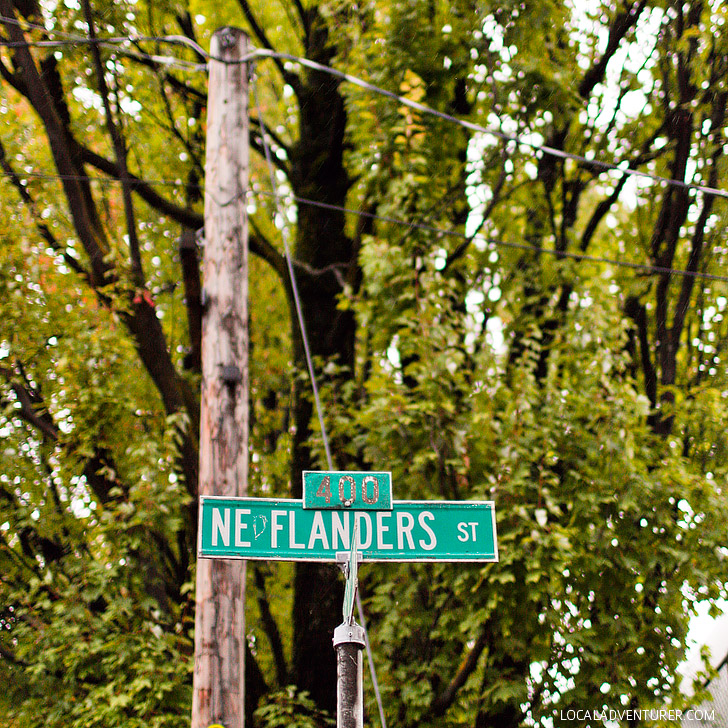 23. See Ramona Quimby's Portland
If you were a fan of Beverly Cleary, then you probably are familiar with Ramona Quimby. Although the characters are fictional, the streets and landmarks are real.
There are over 2000 species of trees and plants at the Hoyt Arboretum inside Washington Park and tons of trails to walk. The Maple trail is especially beautiful in the fall.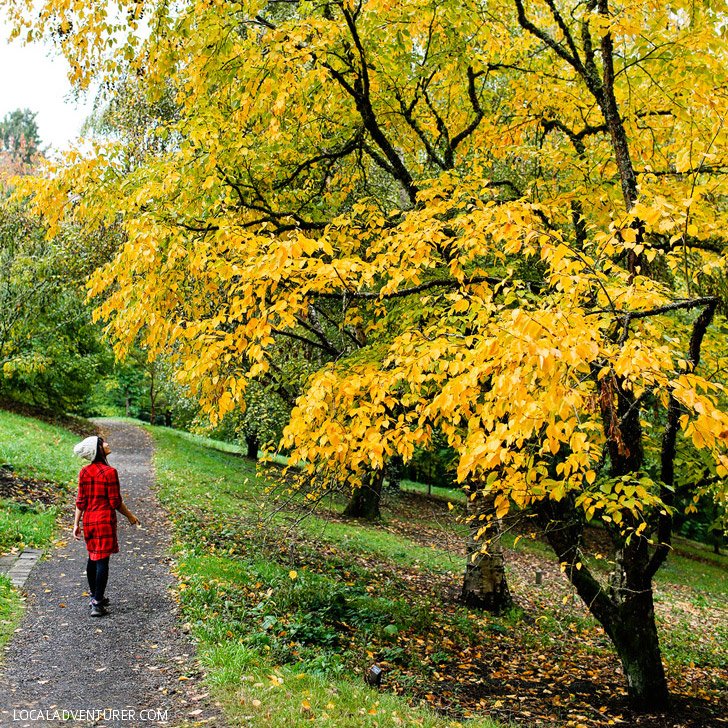 It's one of our favorites in the city and walking the grounds is completely free (there is a fee to enter the mansion). Try to visit in the summer to increase your chances of having a clear sky to see Mount Hood looming over the city.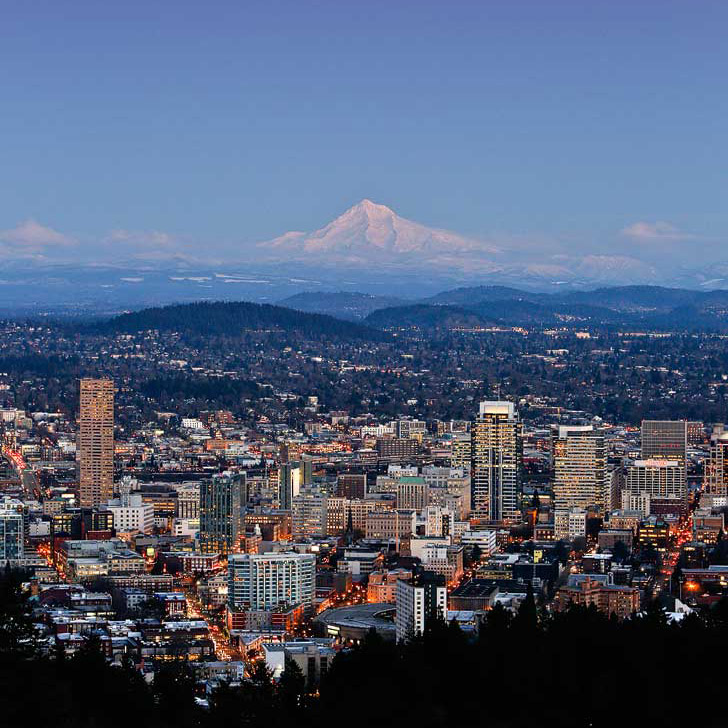 The waterfalls are technically outside the city, but the Historic Columbia River Highway isn't too far (some are only half an hour away) and you'll find a ton of waterfall hikes there. Multnomah Falls is a popular stop, and you practically park right next to it. If you're willing to drive out a little farther, here's a list of more waterfalls to check out in Oregon.
Some of our favorite easy waterfall hikes include Wahclella Falls, Latourell Falls, and Elowah Falls.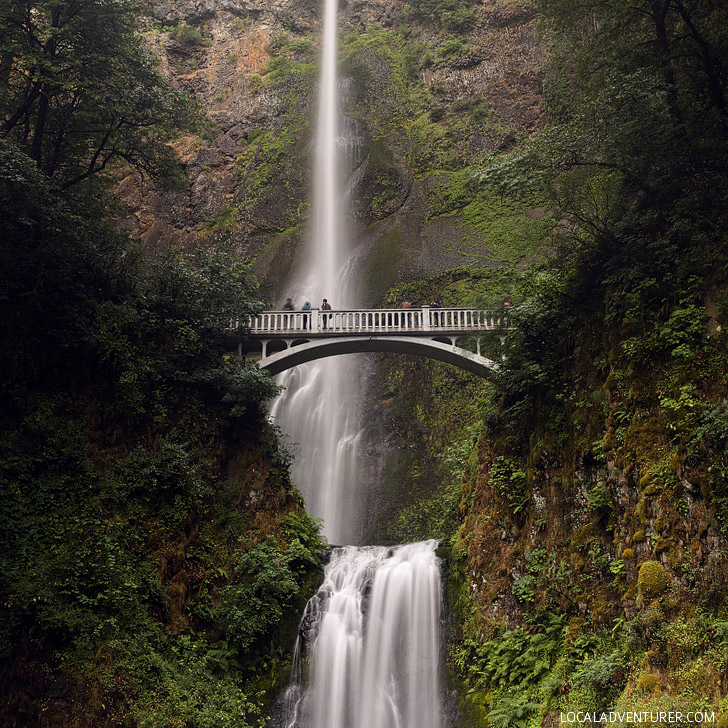 Map of Free Things to Do in Portland OR
More Things to Do in Portland for Free (Seasonal / Conditional)
What to Pack for Portland OR
Do any of these free things to do in PDX look interesting to you? Can you think of any other free things in the city that's worth a visit?
Did you enjoy this post? Pin it for later
SEE MORE Free Things to Do in
"Discovery consists not of seeking new lands but in seeing with new eyes" – M. Proust
Esther and Jacob are the founders of Local Adventurer, which is one of the top 5 travel blogs in the US. They believe that adventure can be found both near and far and hope to inspire others to explore locally. They explore a new city in depth every year and currently base themselves in Portland Oregon.