Latourell Falls is the first waterfall you'll come across as you enter the Columbia Gorge from Portland. It's less than 30 miles from the city and only takes about half an hour to get there.
Latourell Falls Hike
Distance: 2.4 miles Loop
Elevation Gain: 520 feet
Difficulty: Easy
Season: Year Round (except during winter storms)
Trailhead Coordinates: 45.5387355, -122.2202396
It's made up of two waterfalls (Latourell and Upper Latourell) on a loop hike, and it's a great introduction to what you'll find throughout the gorge. These were our #18 and #19th waterfall out of the 250+ waterfalls in Oregon.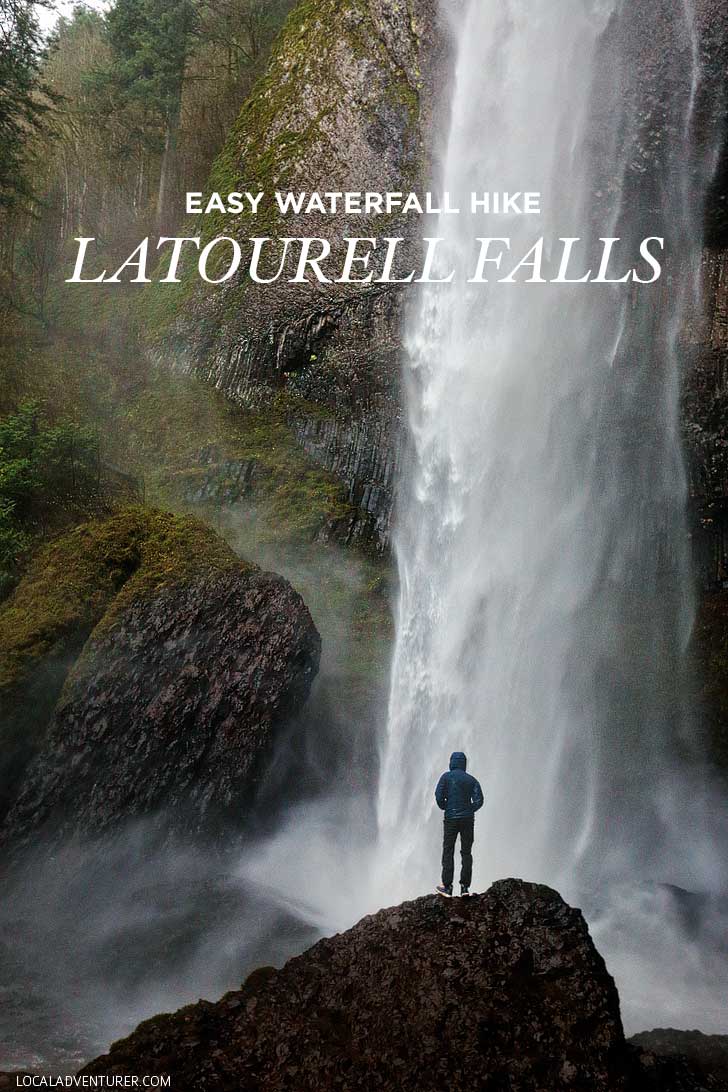 DIRECTIONS
Once you park, you'll find two options. A path that leads you up towards the left and a path to the right that takes you to the base of the falls. If you're limited on time, you can take the short hike down to the right to see the falls up close. Otherwise, we'd recommend doing the whole loop!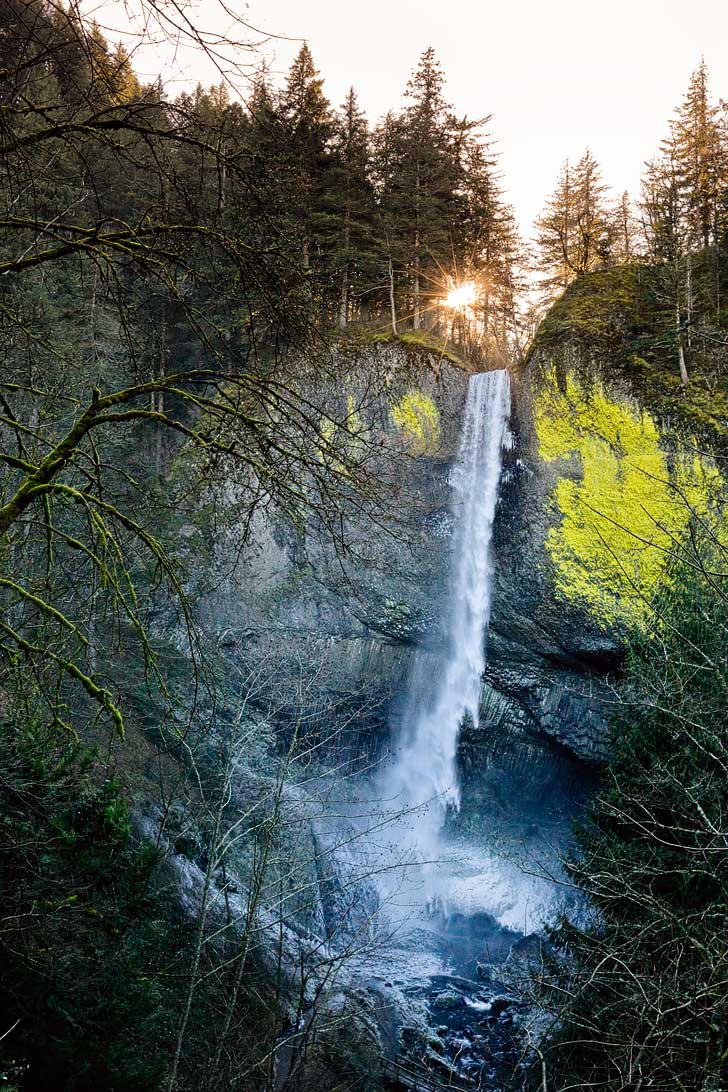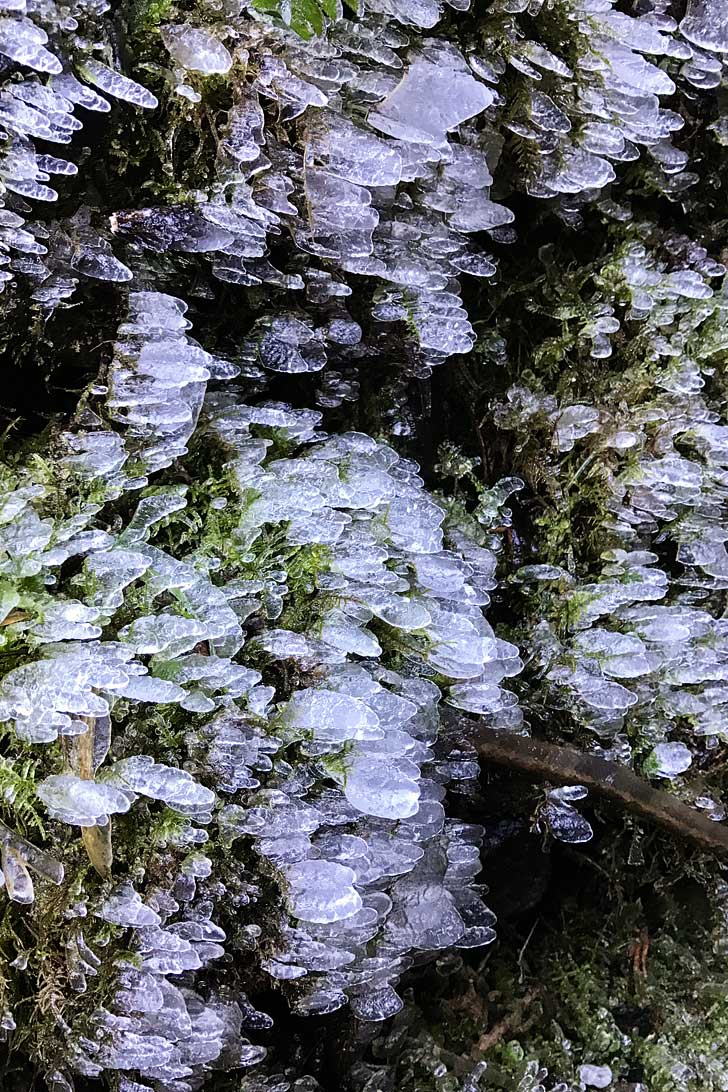 The full hike is easy to follow and gives you different vantage points of Latourell Falls and also brings you right by Upper Latourell Falls. Start by hiking the trail on the left. After a short walk, you'll find an overlook of the falls giving you the first look. As you continue along, you'll come around towards the top of the falls and a bench to take a break. During the fall and winter, you get some amazing views to your right.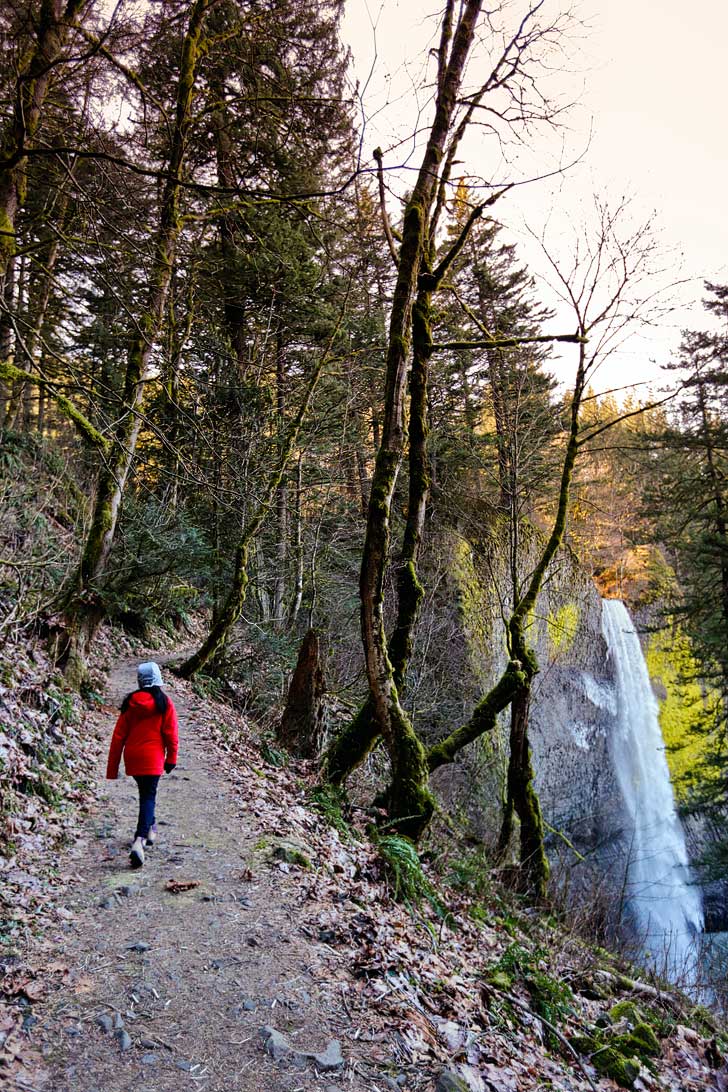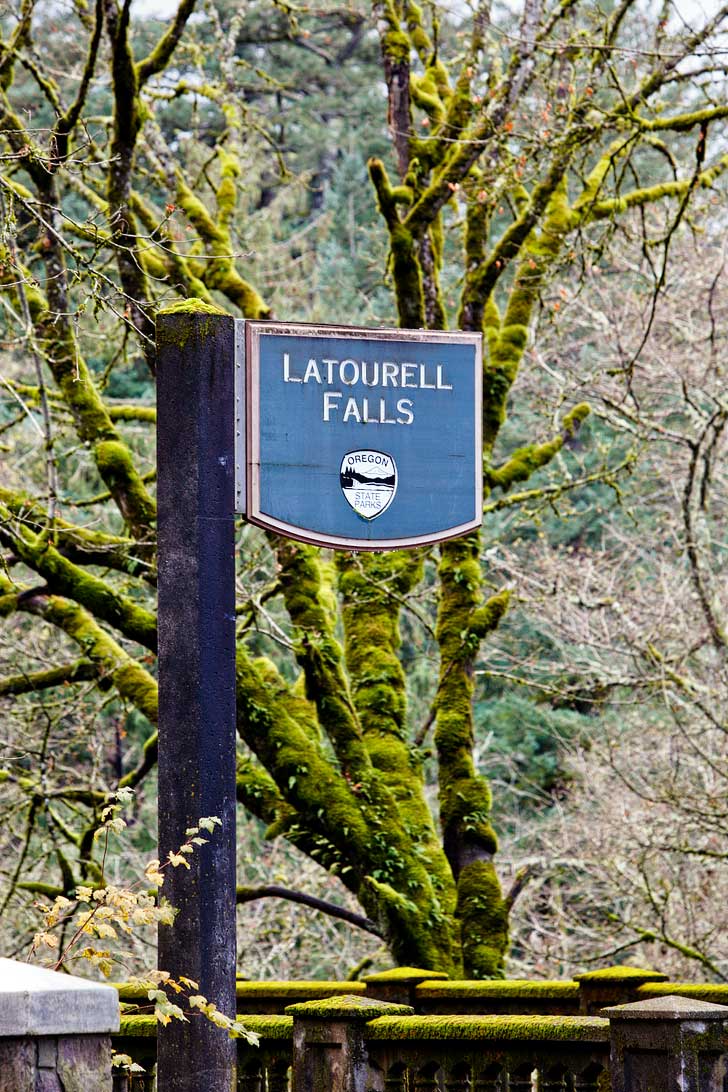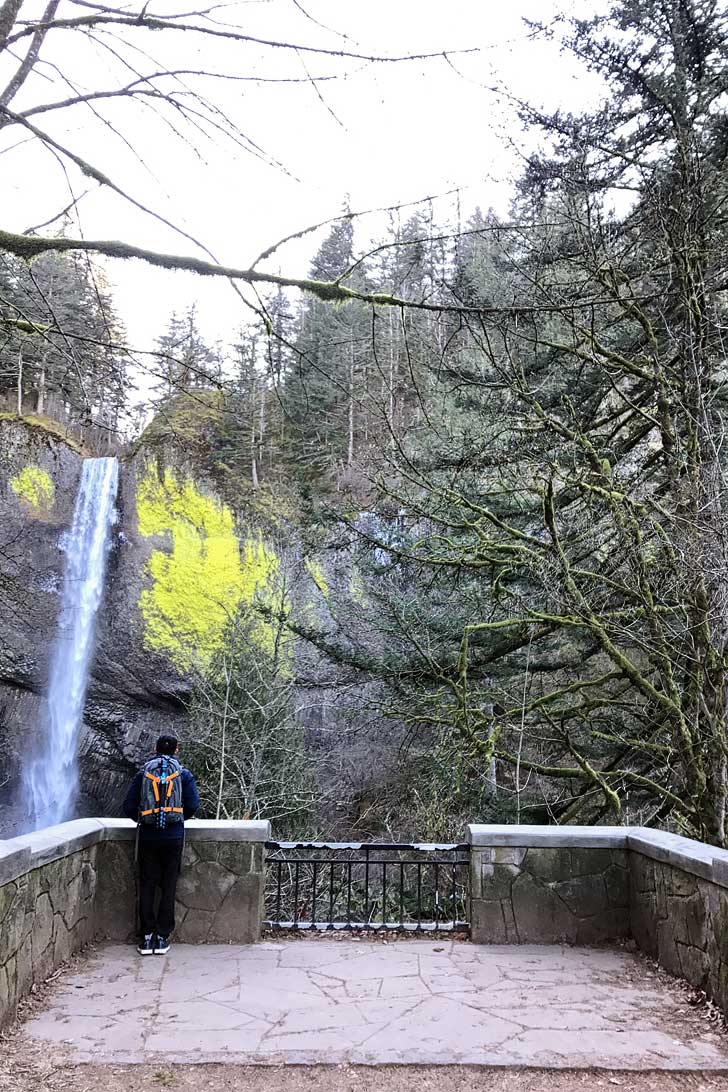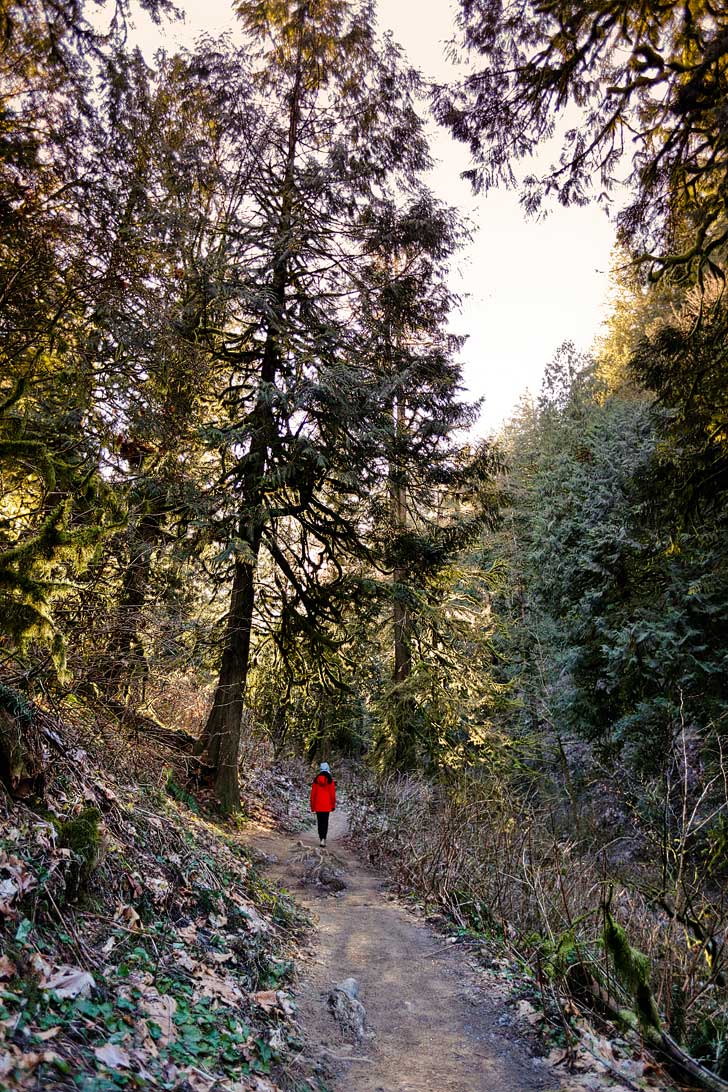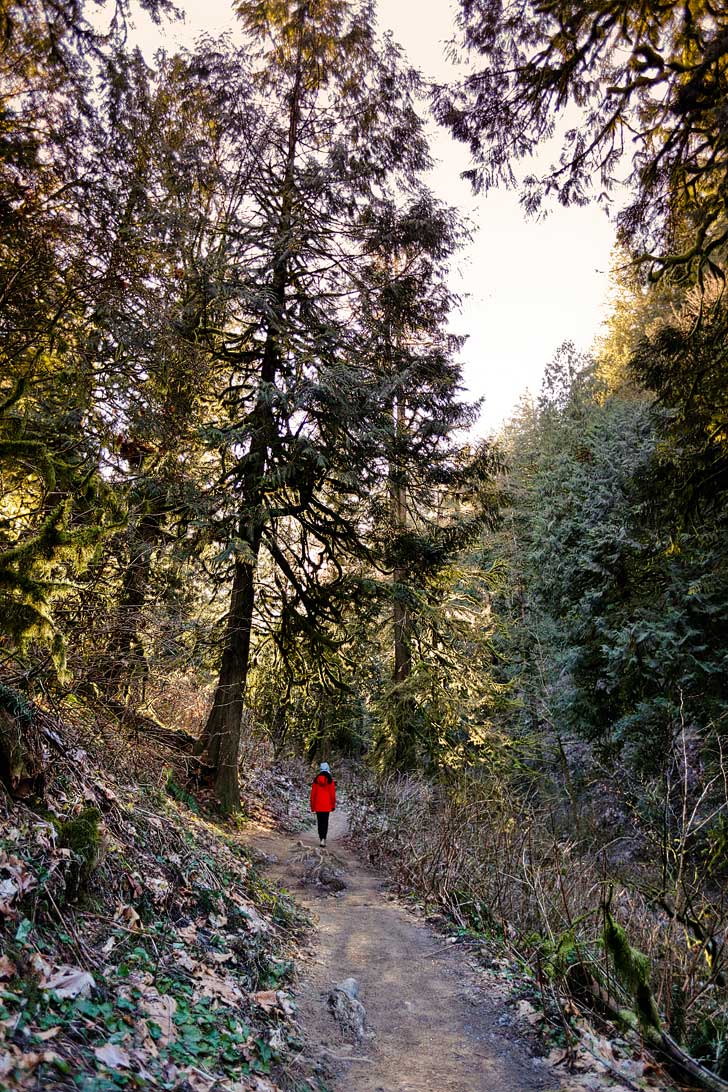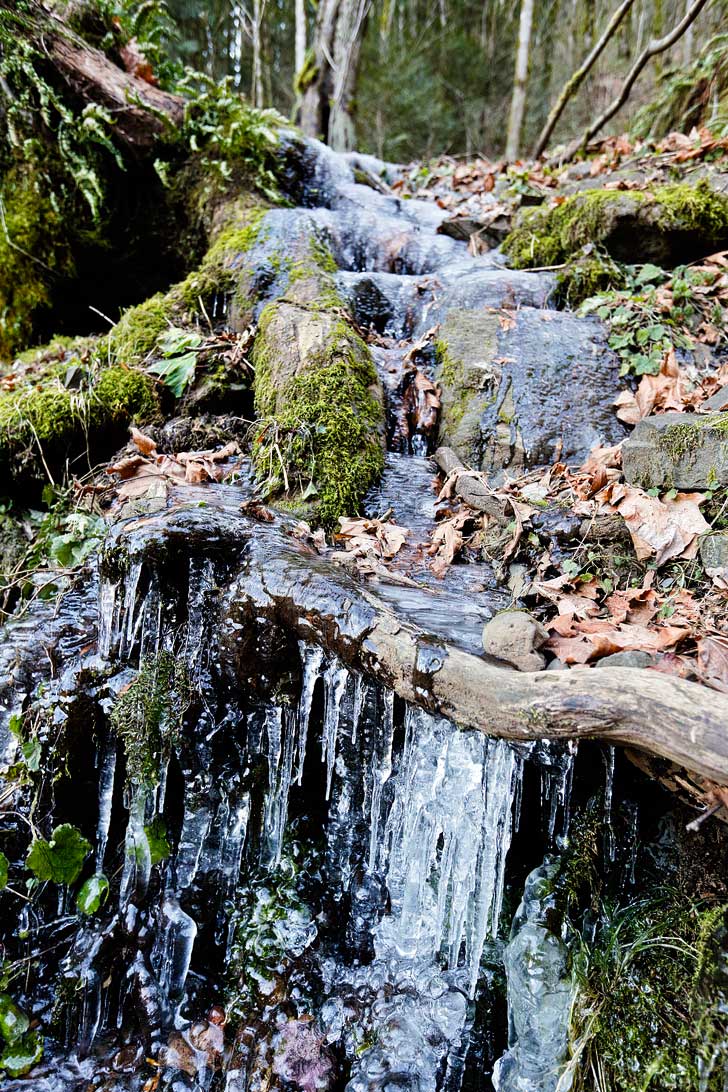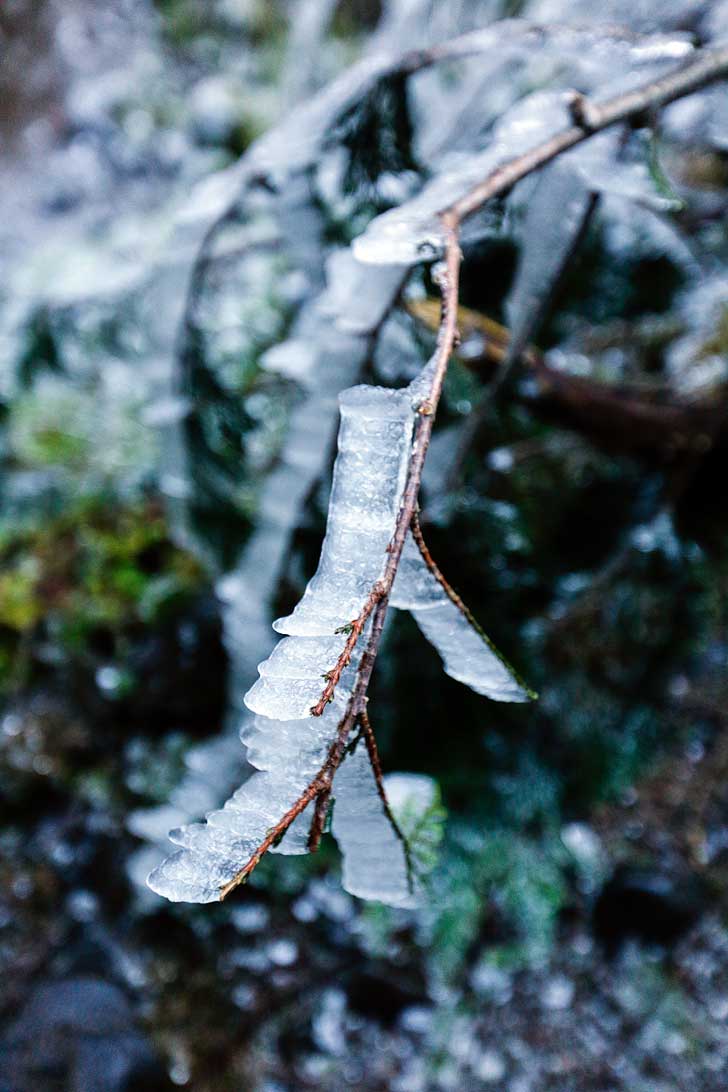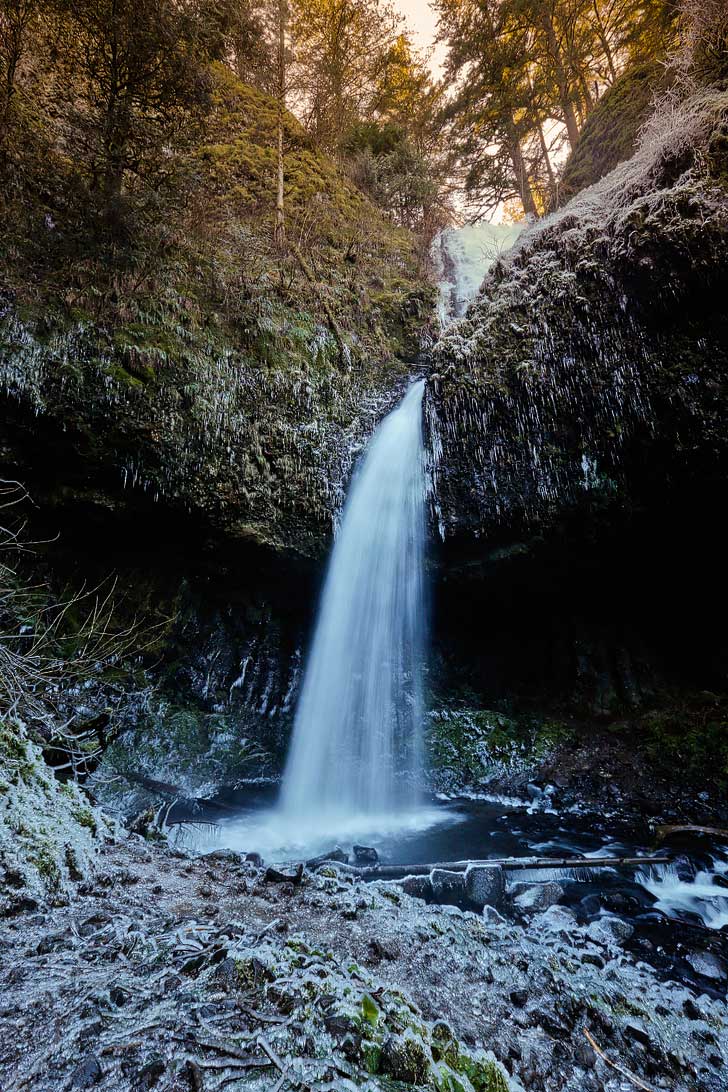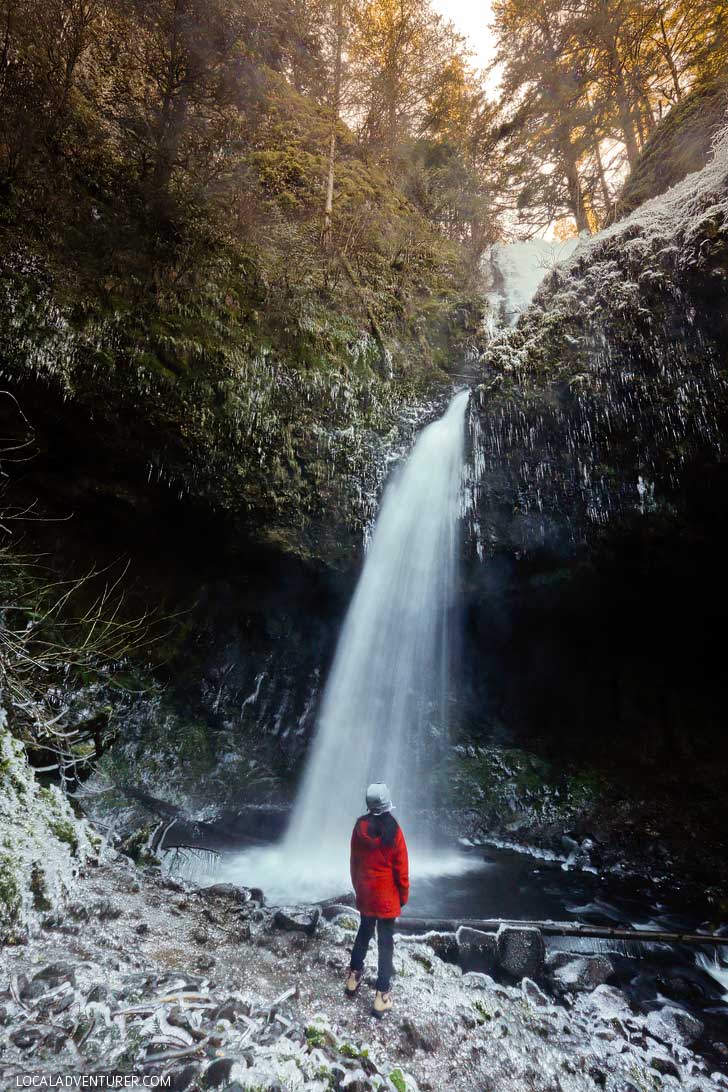 You'll cross a few small wooden bridges with streams going under them. Follow along Latourell Creek until you come to Upper Latourell Falls. This fall is two tiered and the upper tier is mostly hidden from view. Afterward, you cross another bridge and start heading back on the other side of the creek. You'll come across another bench overlooking a rock point.
Keep following the trail until you reach the highway. If you're tired, you can hike across the bridge back to the parking lot, but the actual trail continues across the road. Stairs will take you down into Guy Talbot Park (Guy Talbot is the man who owned Latourell Falls). You'll see a parking area, picnic tables, and another paved trail heading back under the highway bridge. This will take you to the base of Latourell where you can stare up and take in its 249-foot plunge. Once you're done, cross the bridge and head back up to the parking lot where you started.
SUMMER VERSUS WINTER
During the summer, the water flow is very low. It's still beautiful to explore, but don't expect the falls to be gushing. On the flip side, winter will bring down tons of water. The first time we visited, you would get sprayed by mist as soon as you got anywhere close to the base of the falls. As the temperature starts to drop, everything around the base freezes over. After a huge snowstorm in 2017, there was almost 30 ft of snow piled up and turned into the shape of a volcano.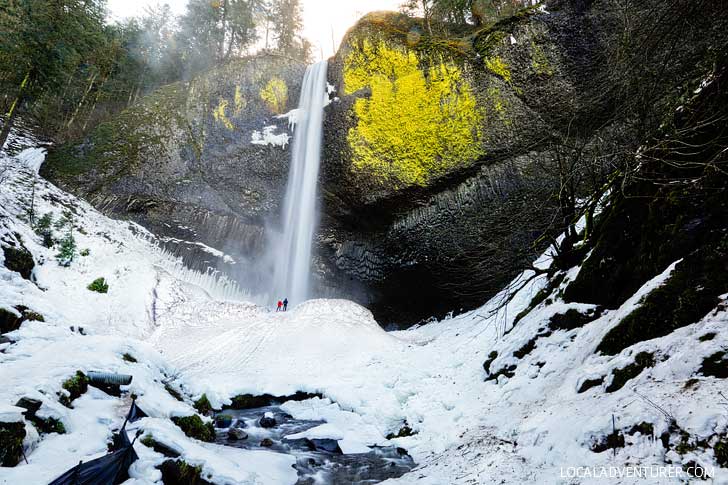 WHAT TO PACK
If you want to get near the falls, be prepared with a rain jacket with a hood (HIS + HERS) and comfortable hiking shoes (HIS + HERS). It rains a lot in this area, but the waterfall is also very misty. On cold days, it helps to have extra layers, plus a hat, scarf, and gloves. Our hands were freezing as we were trying to shoot. If you want to get close the falls in the winter, you may want crampons. It's really slippery and icy near the base of both falls, and we saw a lot of people sliding around.
For Photographers: We always love to take slow shutter shots at waterfalls, which requires a tripod or something that will keep it still and stable. We didn't see many rocks or places you could set it down. It also helps to have a large or multiple lens cloth and a rain cover (depending on how weather proof your gear is or how long you prefer your gear lasting). We had to constantly wipe down our lens in between shots. It also helps to have a backpack that you can easily access your gear. We love our LowePro Whistler Bag, which gives you access to your gear without having to put it down since everything is wet and sometimes muddy. Below you can see that it's buckled at Jacob's waist, and all he has to do is take the shoulder straps off and rotate it to the front.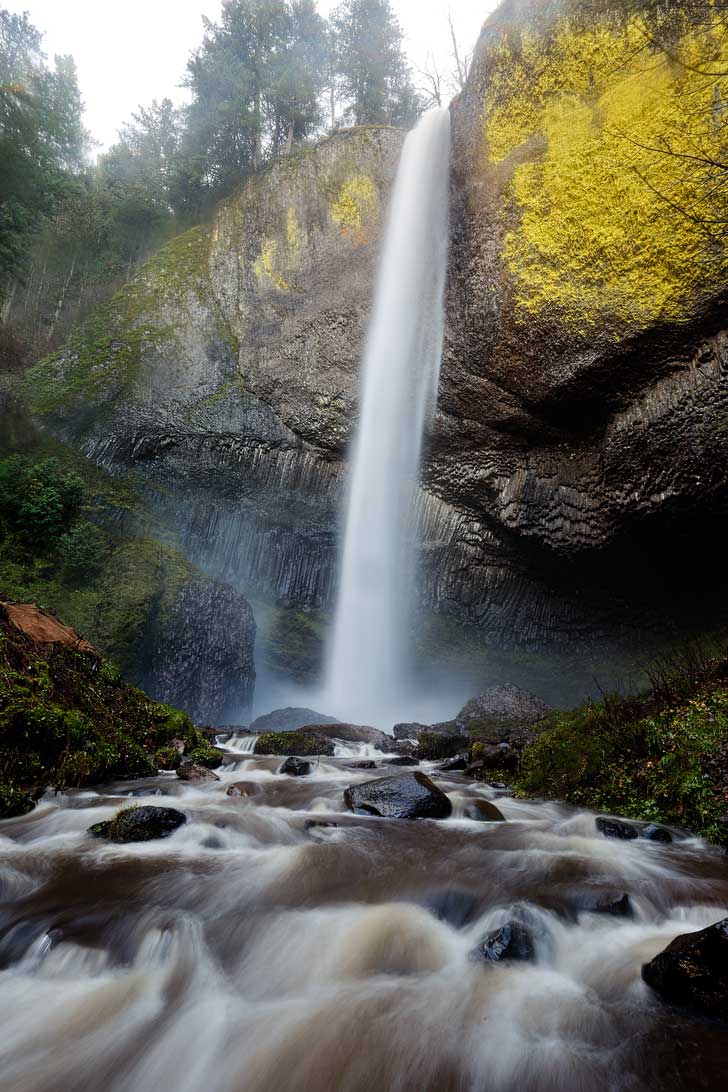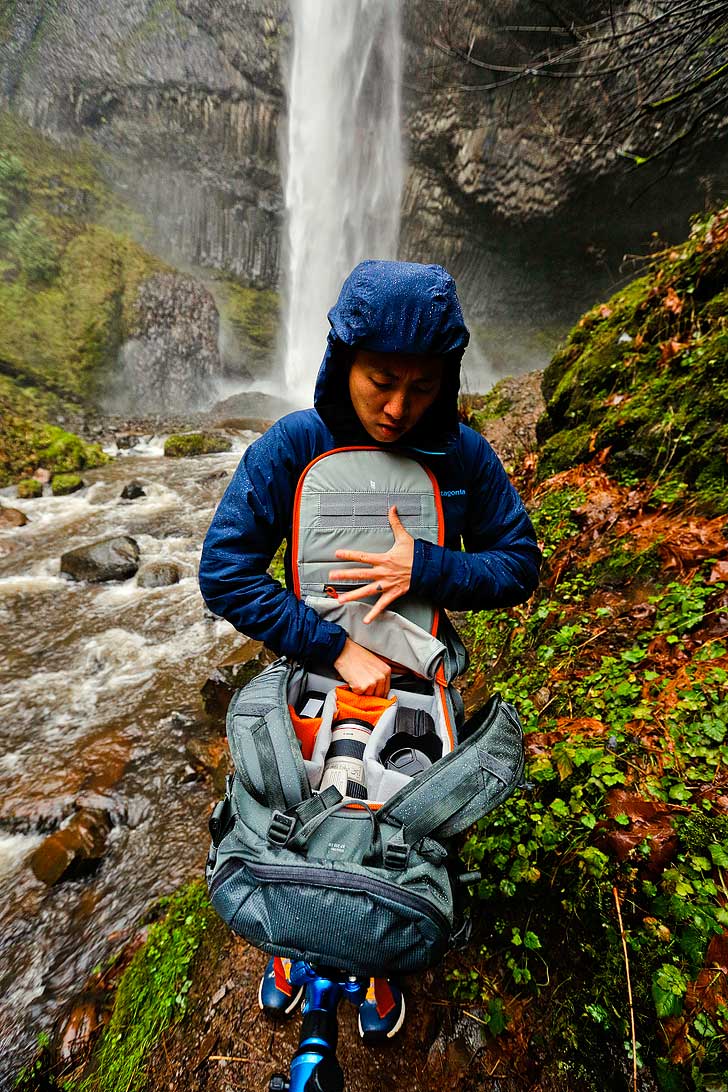 WHAT WE'RE WEARING
Jacob: Nano Storm Jacket / Waterproof Alpine Pants / Danner Hiking Shoes / LowePro Whistler Bag
Esther: Nano Storm Jacket / Heattech Legging Pants / Vasque Skywalk Hiking Boots (I got soaked and needed the waterproof layer).