I felt like a kid in a candy store running up and down aisles lined with every shape and size of RV you can imagine. Big ones, small ones, red ones, blue ones. There were RVs that looked exactly like how I pictured them to be, and others that looked like they were created for astronauts.
A big thank you to Go RVing for IZEA Worldwide for sponsoring this post. All opinions are always our own. This post may contain affiliate links, where we receive a small commission on sales of the products that are linked at no additional cost to you. Read our full disclosure for more info. Thank you for supporting the brands that make Local Adventurer possible.
Last Updated: March 26, 2019
The Best RVs of 2019 Revealed at RVX
Last week, we had a chance to attend RVX: The RV Experience with Go RVing's Kickoff to Camping Season. As a trade-only event, we got an exclusive look into the RV industry and all the exciting innovations that are happening. If you only started following us recently, we lived in an Airstream for three months. I still vividly remember the first time I got behind the wheel. It was equally exciting and intimidating, but after a few moments on the road, the excitement overcame all my other emotions. There were definitely new aspects to living on the road that we had to learn, but it was a lot easier than we thought it would be and we absolutely loved how free it felt to go and live anywhere.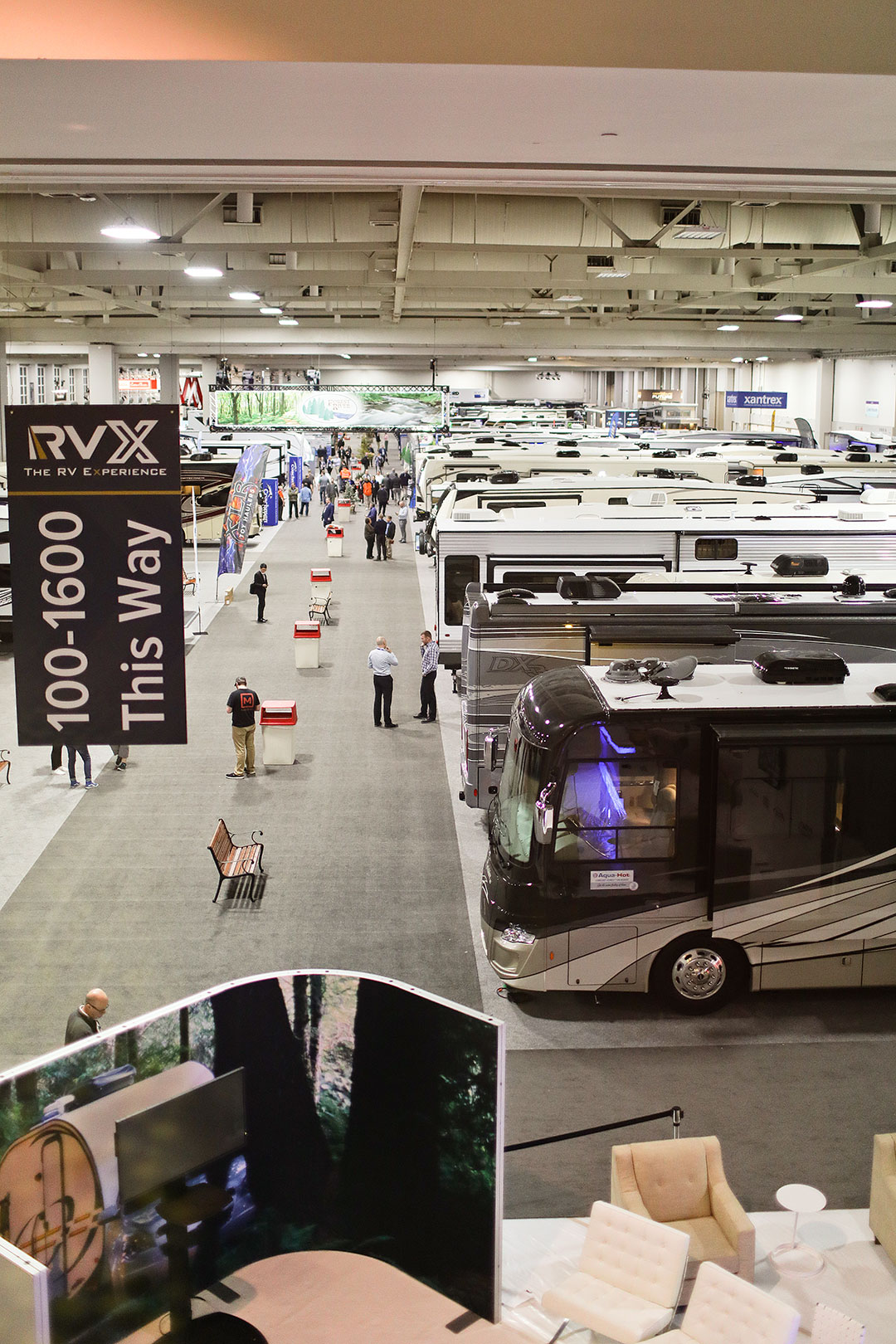 What We Look for in an RV
Since leaving our Airstream, we still talk about getting back into an RV. We recently bought a car (we'll be sharing more about that in a future post), and one of our must-haves was the ability to tow at least 5,000 lbs. Our current plan is to eventually get an RV that we can live on the road with 2-3 months at a time out of the year. Being at RVX reignited the excitement about that.
Even though we're pretty familiar with the RV world, there were still so many types of RVs we had never seen. There really is something for every budget and lifestyle. Want to go all out with a patio, garage, spacious bathroom, reclining chairs, and washer/dryer? You'll find plenty of luxury options. Prefer something eco-friendly and sustainable? They have an all-electric RV. Looking for something that's easy to get around in since you'll be spending a lot of time outdoors? Plus, there's everything in between.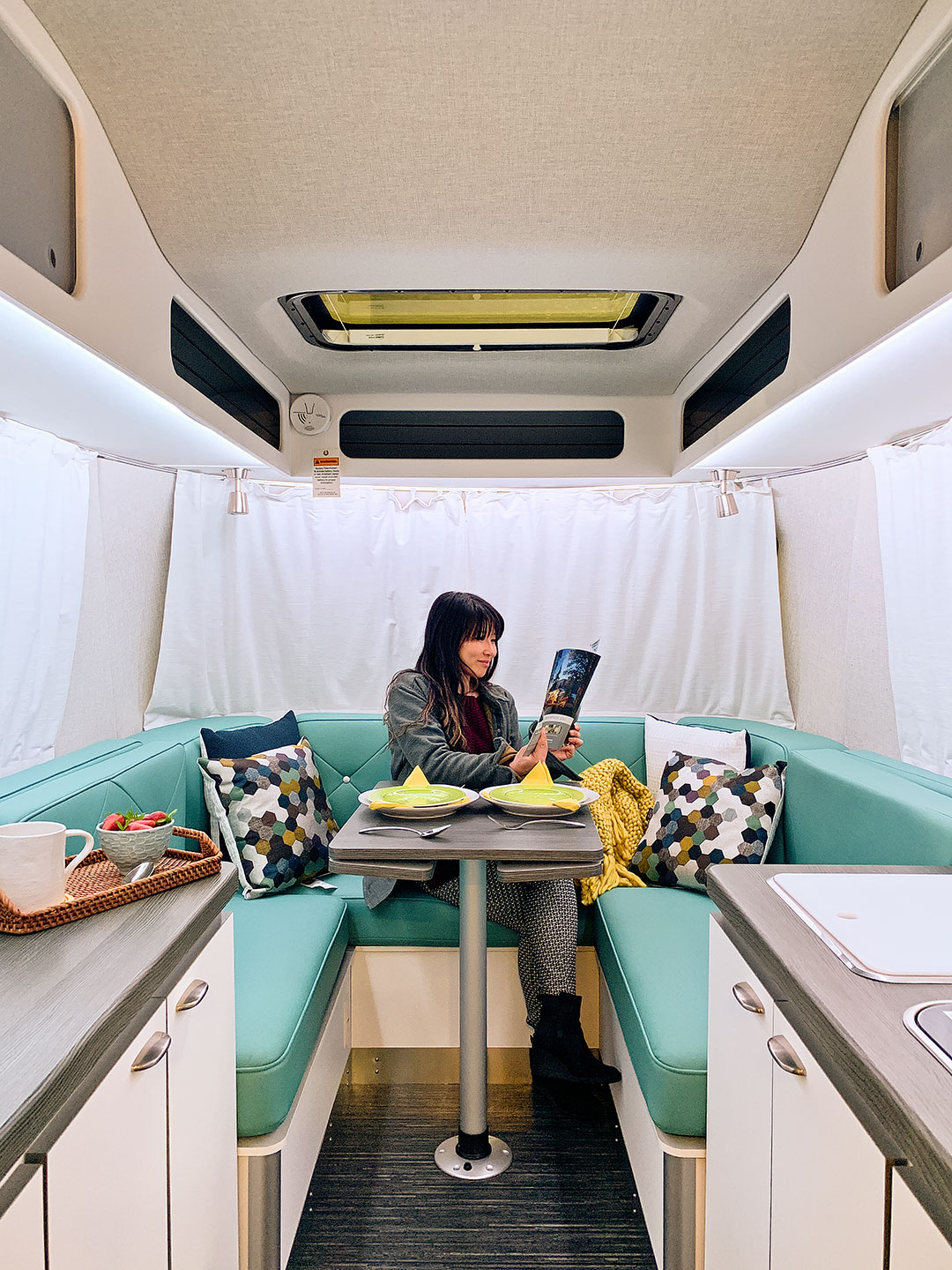 We prefer a mix of luxury and convenience, and of course something photogenic. The huge RVs are luxurious. The amount of comfort and amenities that they have always wow us. We spent a lot of time during the show hanging out inside these RVs. We still want the luxury of an RV, but in something more compact so we can move easily. The trailer set up is also interesting, since it lets us leave our home base and still take our car out for micro adventures in the area.
One of the most exciting moments at the conference was The Reveal, where they highlighted the industry's best new products. They had nine different categories and a panel of consumer media and social media experts selected their faves. It really shows you how wide of a selection there is within the RV world.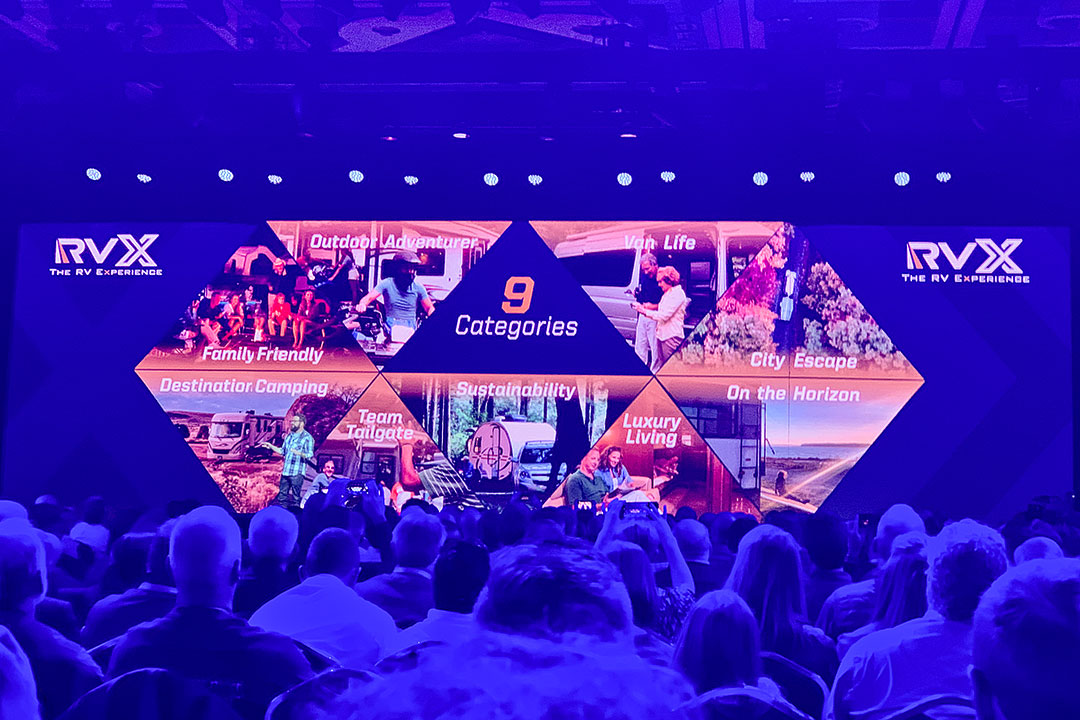 The Best RV for the Outdoor Adventurer
Category Spotlight: SylvanSport VAST
The VAST from SylvanSport is designed for adventure travelers and campers who want to bring all their toys of the trade, without sacrificing comfort. It features breakthrough simplicity for gear hauling, two "true" queen- sized beds, a patented indoor/outdoor kitchen and a full bath with shower.
Judge's Choices: Airstream Basecamp, Forest River No Boundaries, Taxa Tiger Moth, Taxa Cricket, Lance 855 Rule Maker
Category Spotlight: Jayco Eagle HT 264 BHOK
Jayco's new bunkhouse unit sleeps 6 comfortably and features convertible furniture and pass-through exterior storage. Customizable upgrades include a fireplace and more residential-type woodwork, fabrics, lighting and fixtures, an outside kitchen, hybrid grill and rear cargo door with flip up bunk for easy bike or kayak storage.
Judge's Choices: Forest River Vengeance 385 FK Touring Edition, Forest River Sabre Fifth Wheel, Forest River R-Pod, Winnebago Outlook, Coachmen Catalina 39 RLTS
Category Spotlight: ModVans CV1 Camper Van
A cargo van positioned to become the everyday minivan, pickup truck or SUV, replacing the need to own a separate vehicle for work, life or play. The CV1 features removable, modular components that adjust the layout. Based on a Ford Transit chassis, the CV1 is affordable, easy to drive and serviceable by any Ford dealer.
Judge's Choices: Winnebago Revel, Winnebago Travato Pure 3, Leisure Vans 2019 Wonder Rear Twin Bed, Coachmen Galleria 24
Category Spotlight: Leisure Travel's 2020 Unity Rear Lounge
The 2020 Unity Rear Lounge represents a decade of product improvements, setting the stage for a new era of Unity's. Built on the all-new Mercedes-Benz Sprinter 3500 chassis, the Unity features a spacious "rear lounge" with residential-like sectional sofa and the first RV to feature the all-new Domestic IoT "Smart RV" system.
Judge's Choices: Airstream Interstate Nineteen, Forest River Flagstaff Hard Side SE Camping Trailer, Venture Sonic, Winnebago Boldt
For the Destination Camper
Category Spotlight: Forest River – Riverstone Luxury 39 RBFL
An RV geared towards the luxury/extended customer featuring separated garages to 1 and ½ bath concepts. The redesigned front cap sports a large windshield, tri-sofa front living, rear bathroom with dual vanity sink, half bath off the kitchen with a washer dryer and still has room for a king bed.
Judge's Choices: KZ-RV Durango, Winnebago Horizon, Forest River Cedar Creek Cottage, Forest River Wildwood Grand Lodge 42DL
Category Spotlight: Winnebago All Electric/Zero Emission
A Class A RV in either 33' or 38' lengths and utilizes Motiv Power Systems' Ford F53 based EPIC all-electric chassis. Not yet designed for general consumer use, the vehicle is best suited for short-range commercial applications like bloodmobiles, clinics, classrooms and outreach vehicles. The vehicle houses either six or eight batteries and delivers an expected range of 85 to 125 miles on a full charge.
Judge's Choices: Taxa 2019 Mantis, Forest River Rockwood Geo Pro, Attitude F35GSG by Eclipse, Forest River Work and Play
Category Spotlight: Newmar 2020 Super Star
The 2020 Super Star will debut at the inaugural RVX event in March. This product is a luxury Super C class product with several innovations not offered in the market today.
Judge's Choices: Stratus SR261 VRK by Venture, Entegra Coach Cornerstone, Crossroads Redwood RV, Forest River Cardinal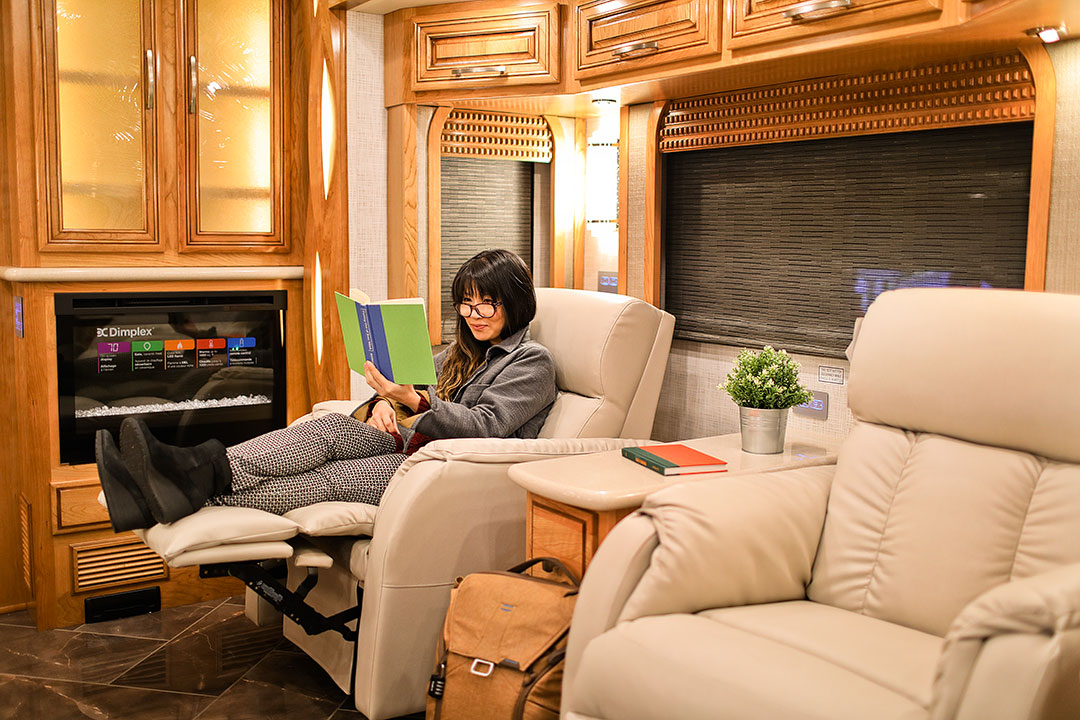 Category Spotlight: Heartland's Cyclone Ultimate Tailgate RV
Featuring the first ever side patio that sets up with the touch of a button, featuring an outside bar, built in kegerator and multiple TVs. The interior hosts multiple 55" TVs, a sound system with 8 subwoofers and 18 amplified speakers. The 'garage' holds a portable hot tub that can be moved outdoors. Outside, the full-body paint job is complemented by matching underground lighting system.
Judge's Choices: Coachmen Sportscoach 366BH, Venture RV's Sport Trek Touring, KZ-RV Venom V Series, Lance 1975 Ultra Light Travel Trailer
Category Spotlight: Airstream Classic Smart RV
The Airstream Classic Smart RV with all-new Smart Control Technology, you can control and monitor your RV's most important features and amenities from anywhere — and stay connected to the comforts of home, even when you're far from it. That means a more comfortable camping experience every time, everywhere.
Judge's Choices: Keystone Fuzion 427 FW w/Onboarding Weighting system, Keystone Raptor 356 w/pneumatic suspension, Winnebago All Electric Zero Emission, Winnebago Micro Mini Fifth Wheel 2405 RG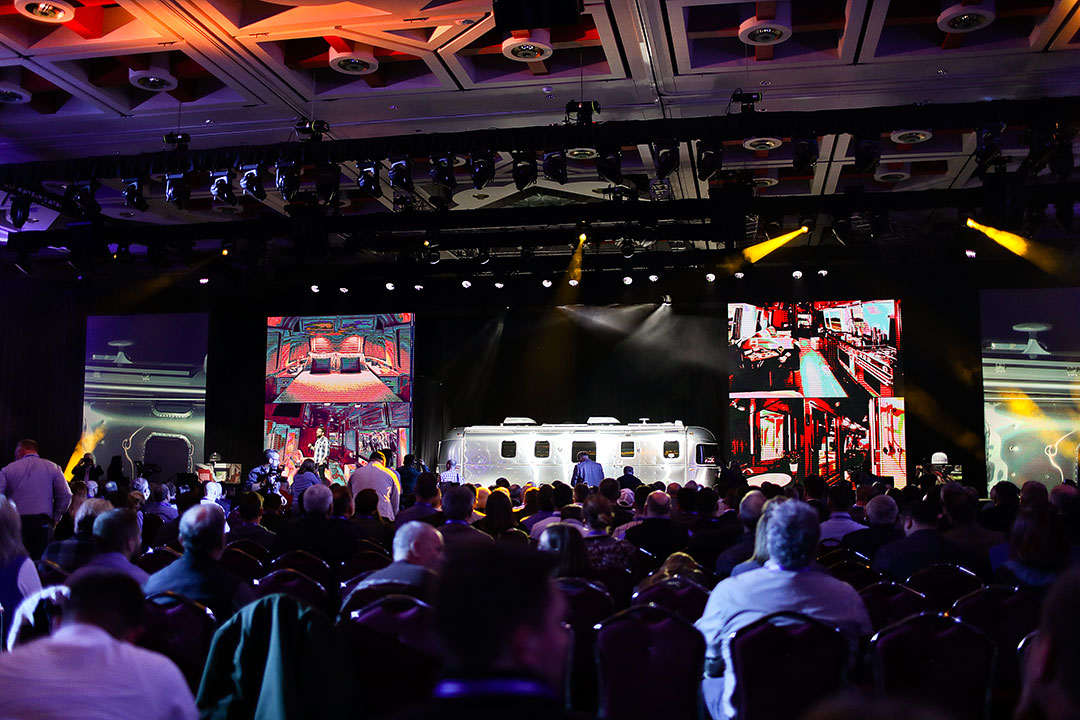 We can't wait to get an RV for ourselves. After leaving RVX, we've been looking up different RVs to see what would be best for us. In the meantime, we may need to do an RV trip soon. If you're now as excited as we are to get into an RV, you can find the nearest dealership or rental company to you!
Have you tried RVing or staying in an RV? What would you look for in an RV?
"Discovery consists not of seeking new lands but in seeing with new eyes" – M. Proust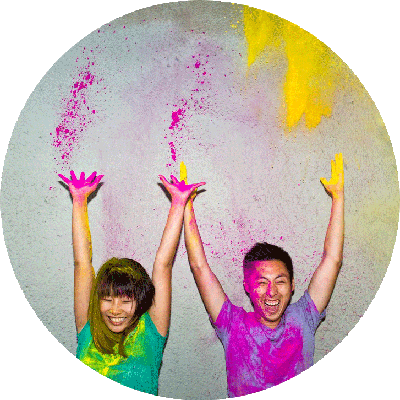 Esther and Jacob are the founders of Local Adventurer, which is one of the top 5 travel blogs in the US. They believe that adventure can be found both near and far and hope to inspire others to explore locally. They explore a new city in depth every year and currently base themselves in NYC.
All articles loaded
No more articles to load