Want to visit the Wave? Here is everything you need to know to get a permit.
The Wave has been on both our bucket lists ever since we met. Jacob has tried to sign up online on and off for the past 5 years with no luck (it was harder than reservations at the French Laundry).
Since we've been getting a lot of questions on how to get permits and how the lottery works, we decided to pull all the info together here for you.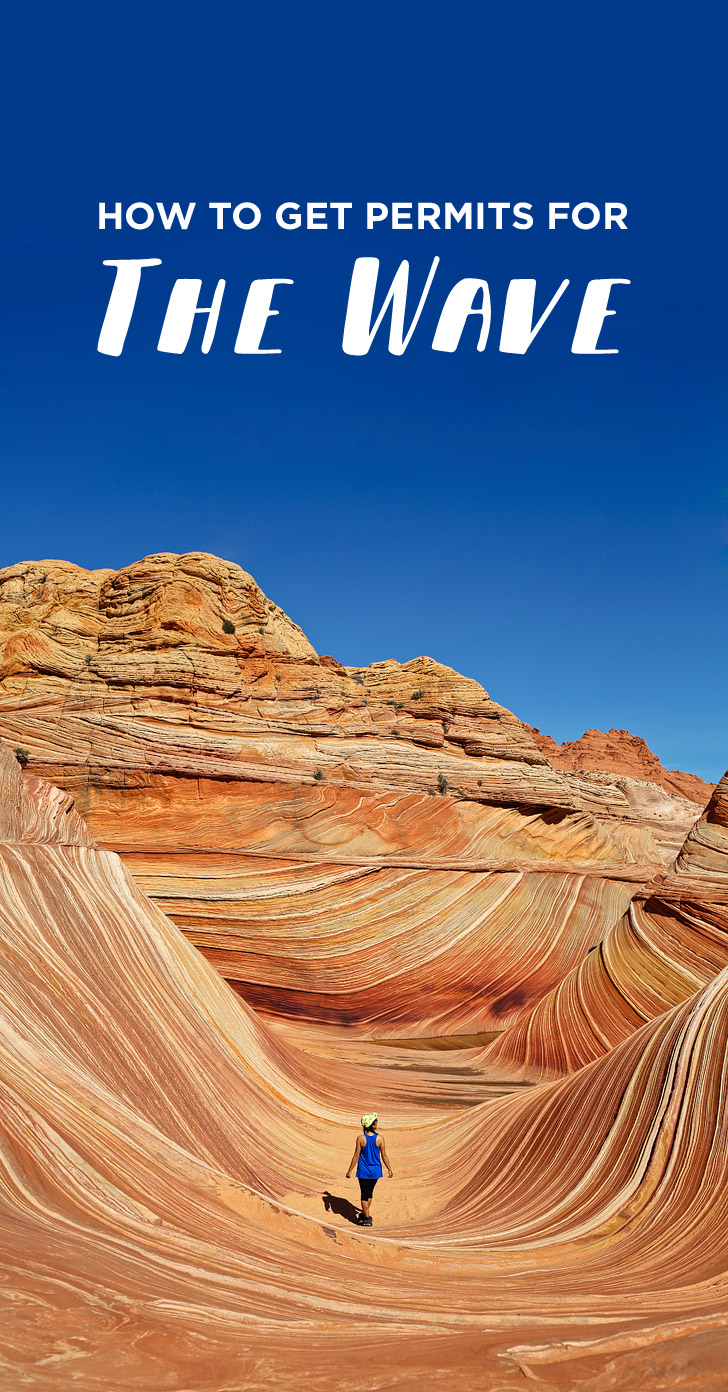 This post may contain affiliate links, where we receive a small commission on sales of the products that are linked at no additional cost to you. All opinions are always our own. Read our full disclosure for more info. Thank you for supporting the brands that make Local Adventurer possible.
Last Updated: March 25, 2023
How to Get the Wave Permit in Arizona
Now that we're living in the Airstream, we thought this was going to be our best chance. We decided to stay in Kanab and glamp out for several days, which is where the in-person lottery is held.
Our plan was to go in every morning and enter the lottery. If we didn't get in, there is so much to explore in the area anyways. Luckily, on the second day, we heard our number called, but we went in with zero expectations.
What is the Wave?
The Wave Rock Formation is located in Coyote Buttes North, which is part of the Vermilion Cliffs National Monument in Arizona. The trailhead is located in Utah, and you hike over the border where you'll arrive into the permitted area.
How to Get the Wave Permit
This is the big question! There are 64 people allowed onto the Wave per day. 48 people (or 12 groups) are awarded permits online and 16 (or four groups) are awarded at a walk-in lottery. You submit one permit per group, and any duplicate applications will forfeit your chances, so you can't apply with all your friends at the same time. Once you win, there is a $7 fee per person or dog for the permit.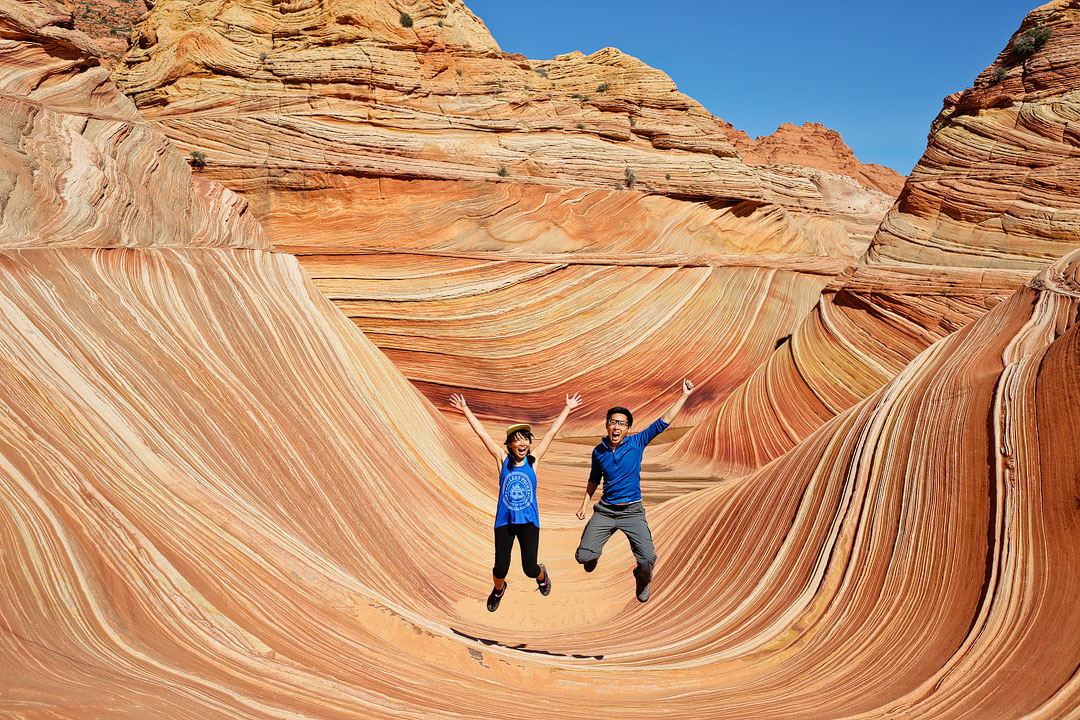 The Wave Permit Lottery Online versus Walk-in / GeoFence Lottery
If you're interested in trying for the online lottery, you can find out more info here. The chances are much slimmer because you are competing with everyone in the world who wants to go. You can apply up to four months in advance (apply in Jan for May, Feb for June, etc) and have an entire month to apply. There is a $9 application fee, and you can choose up to three entry dates per application but can only win one trip.
Starting March 15, 2022, the in-person lottery is changing to an in-the-area lottery. The new mobile-based geofence system will allow people to be close by on their mobile devices to enter the lottery. On the plus side, you don't need to wait around to see if you get chosen, but on the negative, there is now a fee to apply.
After downloading the Recreation.gov app and creating an account, you can apply two days prior to the desired hike between 6am-6pm. At 7:15pm that day, winners will be chosen and have until 8am to log in to claim permits. If you're lucky enough to get them, you will still need to do an in-person safety briefing at 8:30am the next day for a hike the following day. There will now be a $9 application fee as well.
It's hard to tell how this will affect how many people will enter, but it gives you the freedom to plan your days without having to spend time at the offices.
The Old in-person Lottery
Previously, on average there are 200 people in the walk-in lottery. There are no longer off seasons. Due to the recent bad weather, we were lucky to have only 120 in the room with us.
This is what the in-person lottery looked like when we were there:


The lottery happens at the Grand Staircase-Escalante National Monument Visitor Center in Kanab, Utah. To sign up, the doors open to the group leader at 8 AM and you need your own pen or pencil to complete the application. Between 8:30-9 AM, the lottery briefings begin and the staff accepts applications.
At 9 AM, the ranger assigns everyone a number then the excitement starts. He proceeds to pick out numbers until all 16 spots (or four groups) are filled. Each morning the permits given out are for the next day. There is no cost for the walk-in lottery.
Grand Staircase-Escalante National Monument Visitor Center
745 E. Highway 89 in Kanab Utah (map)
(across from Wendy's and Walkers Gas Station)
Additional Tips for Walk In / GeoFence Permits for the Wave
There are a few parking spots large enough for an RV.
To increase your chances, stay in Kanab and try for the pass every day. There is plenty to explore if you don't get it (Zion NP, White Pocket, Antelope Canyon, Horseshoe Bend etc).
Keep in mind if you stay in Page, AZ instead of Kanab, that they do not observe daylight savings time. Keep that in mind if you win the lottery and need to make it to the briefing in time.
If you win, you need to claim your permits on the app.
"High Season" is April-June and September-November, but because of increasing popularity, it's busy all year long.
They prefer you bring exact change for the permits.
Unfortunately, there are no special tricks to increase your chances. Just keep trying.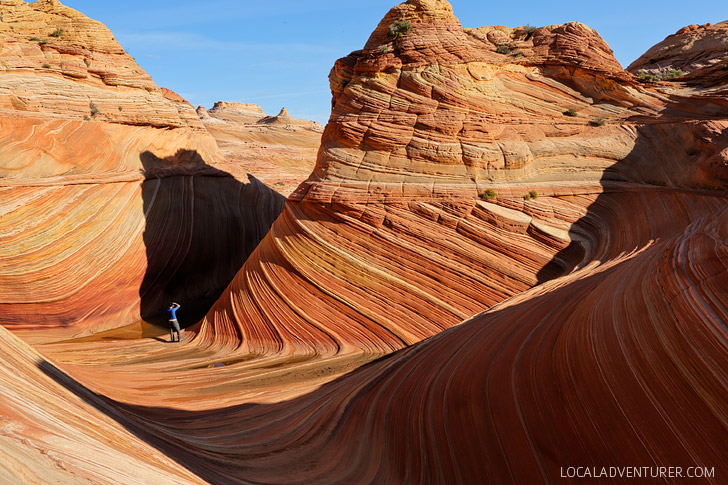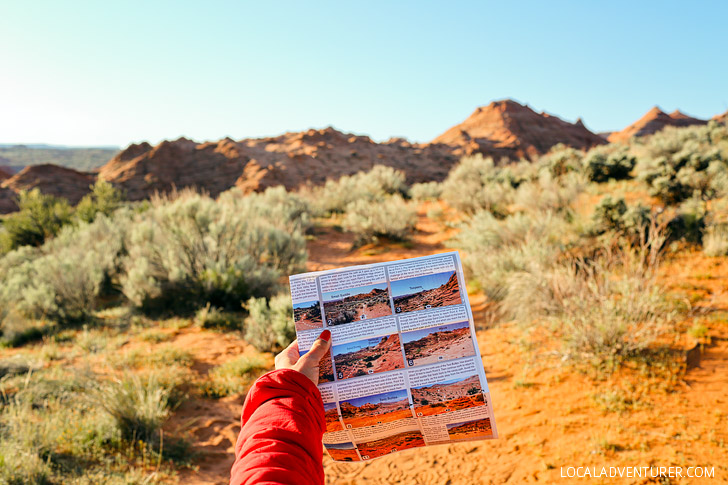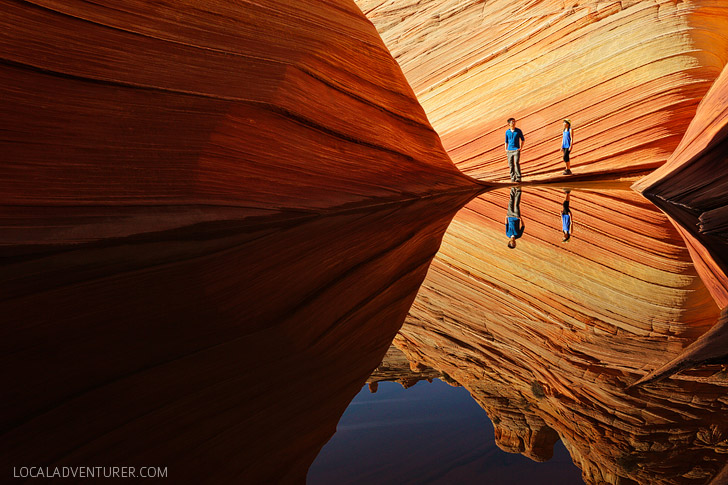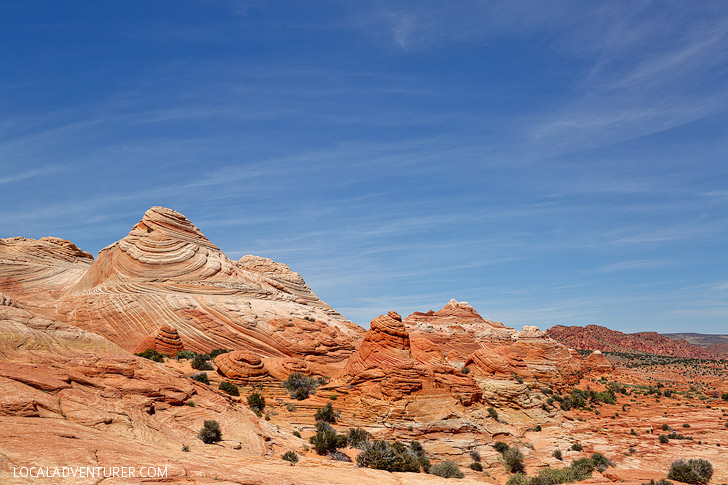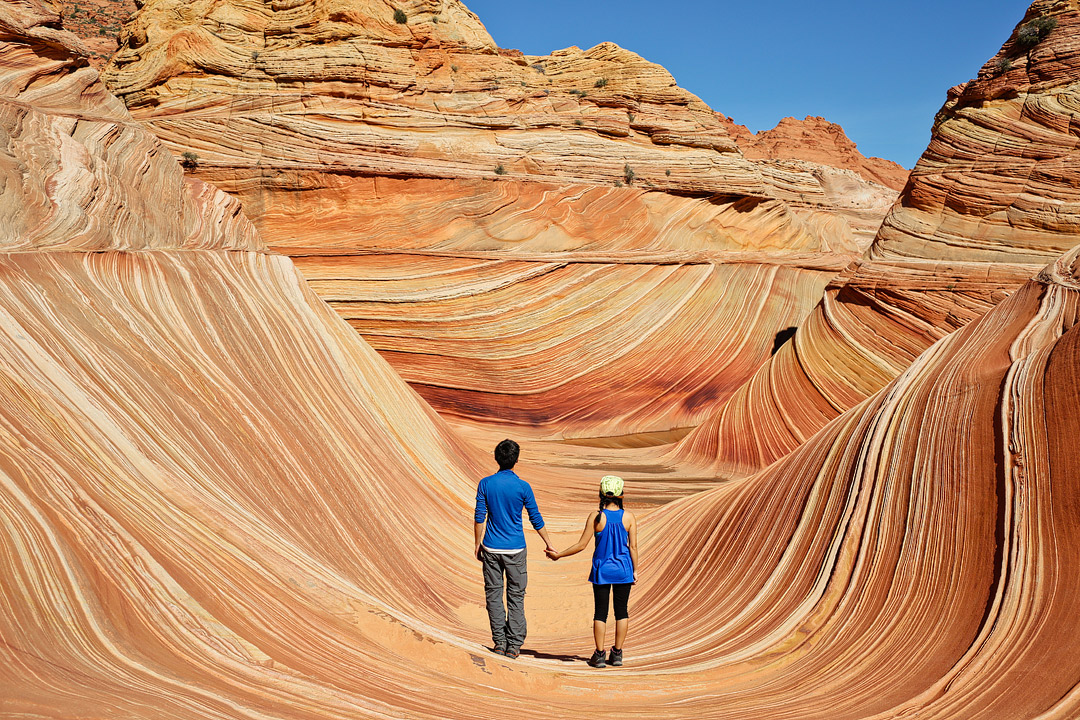 Tips for Driving and Hiking to the Wave
The trailhead is roughly 45 min-1 hr away from Kanab. After leaving the highway, there is an 8-mile dirt road that you will have to drive down. Depending on the current conditions you may need a 4-wheel drive and high clearance or worst case is it could be impassable. Check with the visitors center for the most recent info.
If you get stuck in the mud, towing out is at least $1000, and you'll lose your chance to go.
If you're afraid of getting lost on the hike or the drive is too intimidating, you can always hire a guide. They don't need permits, but you will. We previously used and recommend Dreamland Tours.
The hike is exposed and can get very hot. Bring appropriate attire, plenty of water (our favorite travel water bottles), snacks, and sunblock – see below for our packing guide.
People get lost all the time, but they give you a pamphlet of directions with photos. We got a little lost, but overall, we had no problems getting in and out.
There are a few markers, but for the most part is is an unmarked trail. Rangers even knock down cairns to keep it natural.
There is a lot more to see in the Coyote Buttes North area. Don't just hike in, see the wave, and leave. We used this site to get directions to the other landmarks.
The permit is good from 12:00 AM to 11:59 PM. If we were to do it again, we would hike at night to be there at sunrise or stay after sunset. If it's your first time, it's best to hike with daylight, otherwise, it's easy to get lost. They told us someone accidentally walked off a cliff and died recently.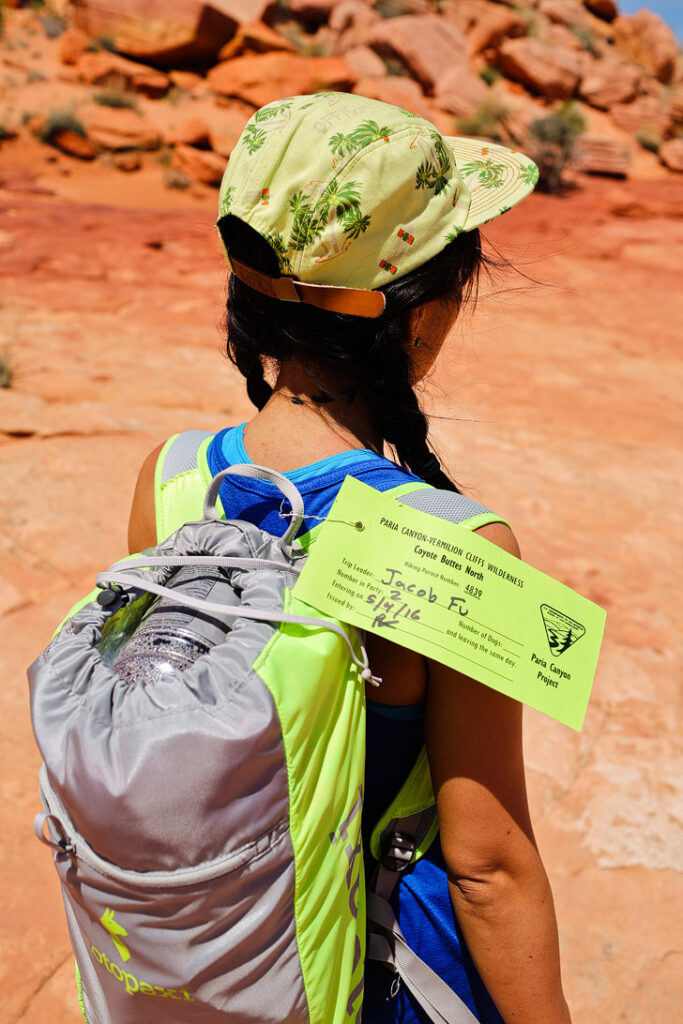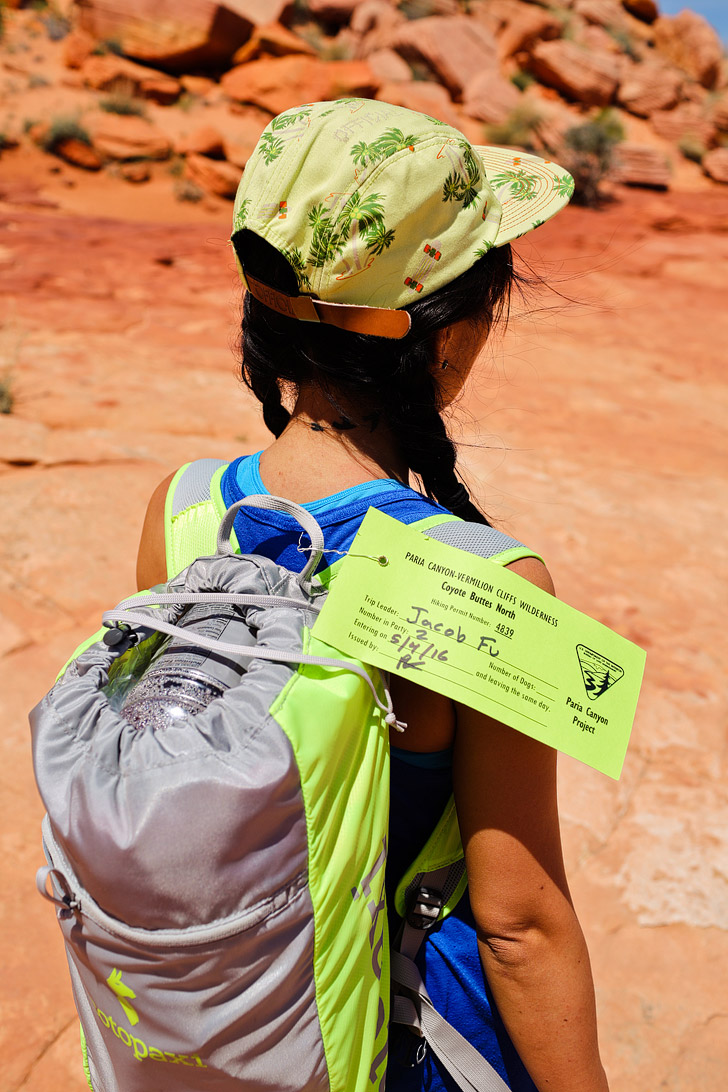 You can also find dinosaur tracks, which you can read more about here.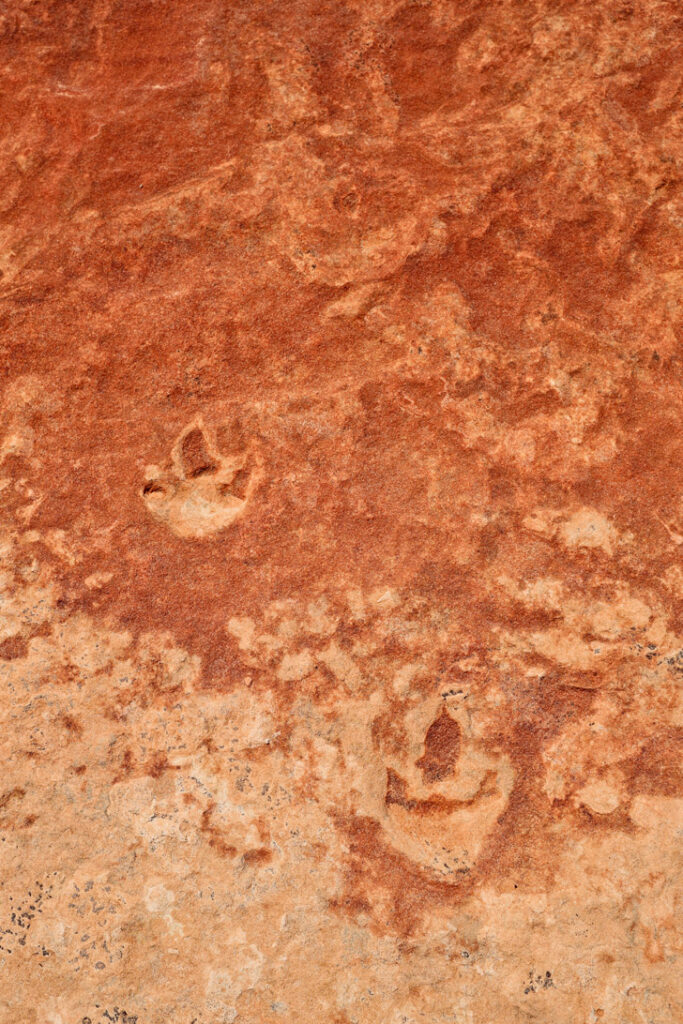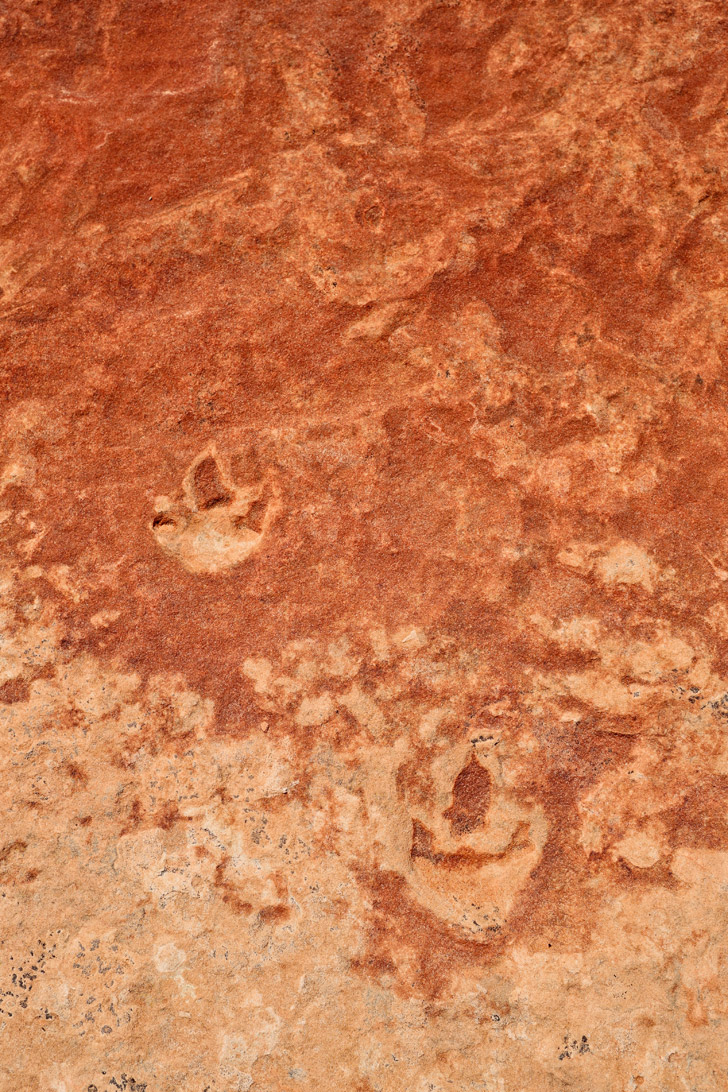 This is Fatali's Boneyard, which was made popular by a photographer named Michael Fatali. He's also known as the photographer who burned Delicate Arch in Arches National Park. Did anyone ever hear what happened?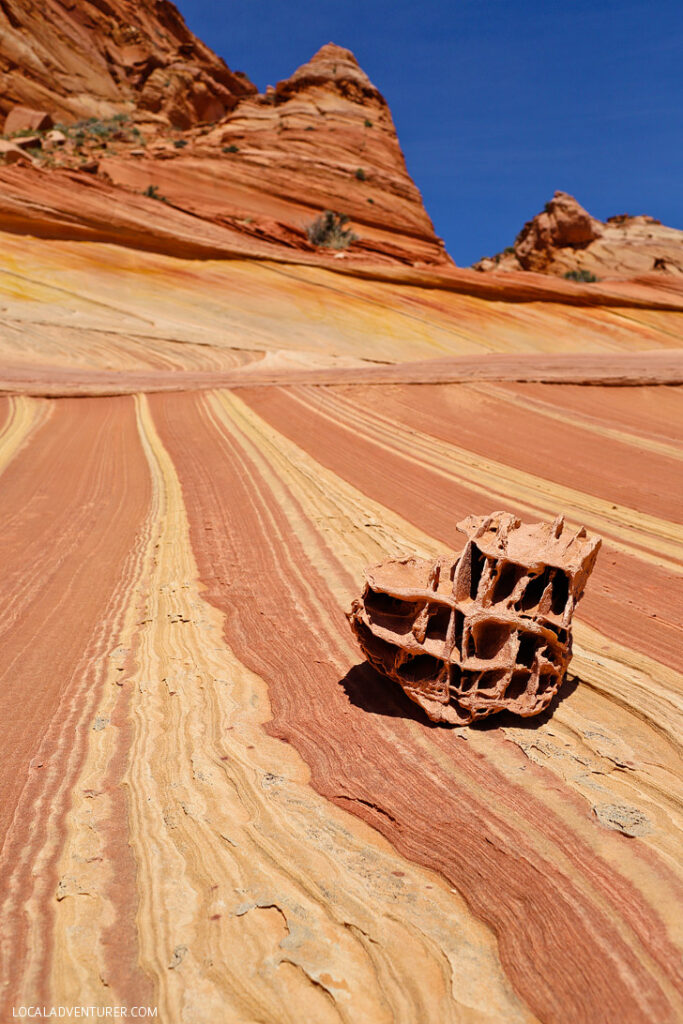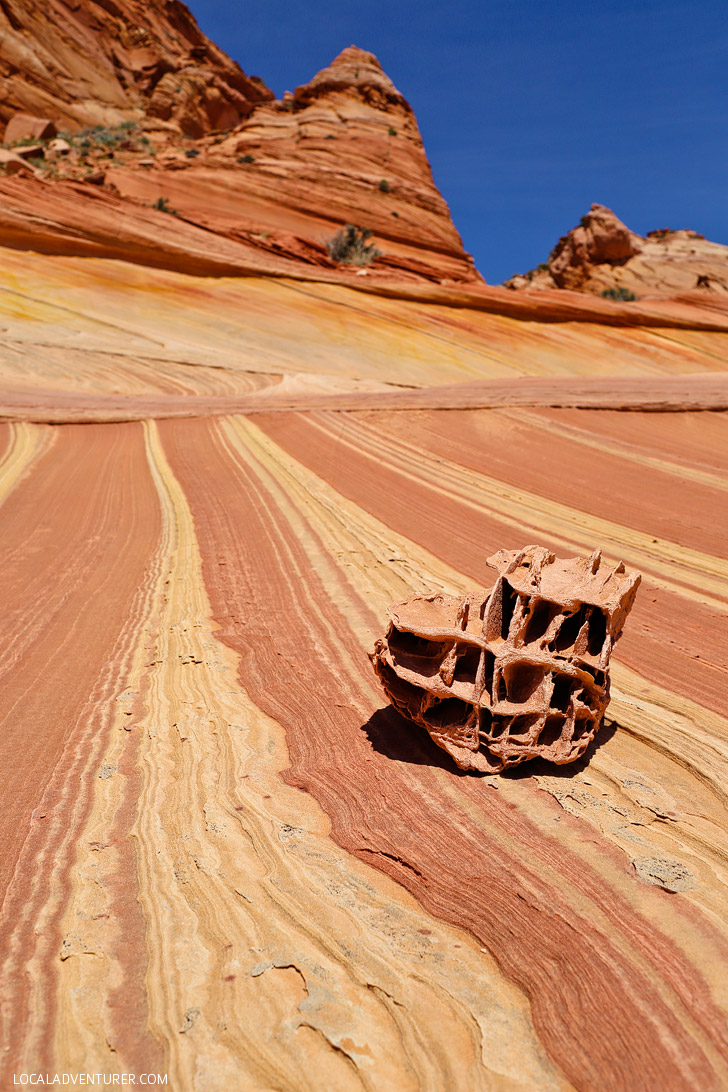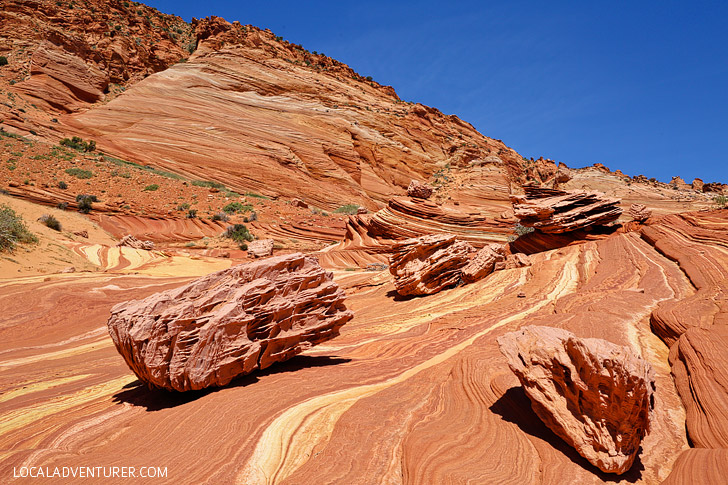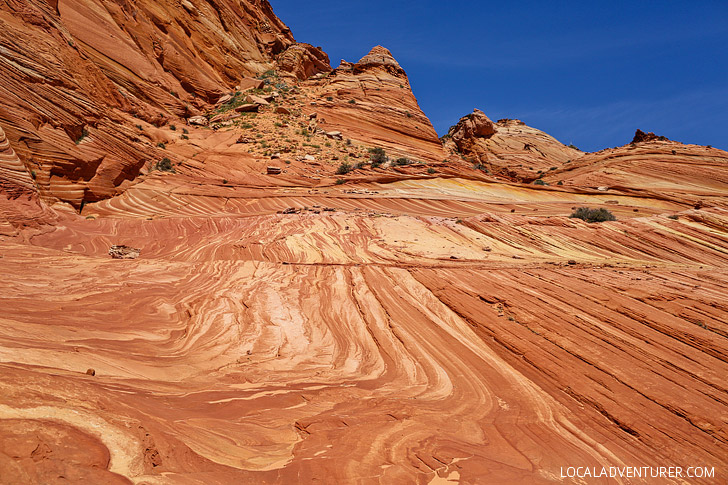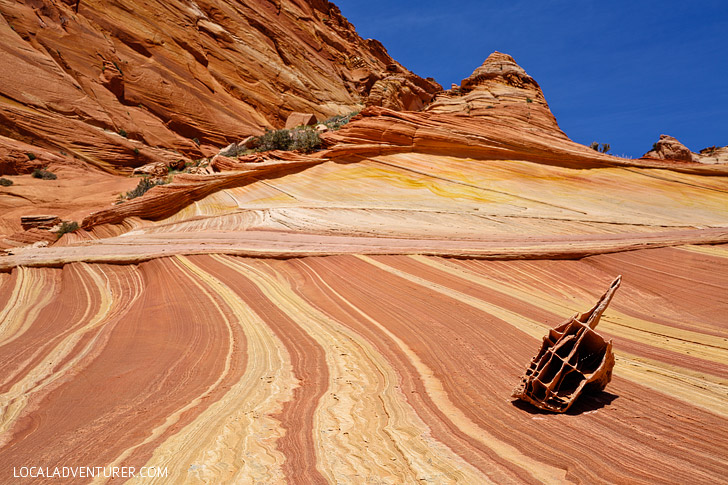 Other Features Near the Wave
The Wave area is actually quite small but Coyote Buttes North has so much more to explore. You can go on to see the Second Wave (right) and Third Wave or Sand Cove (left).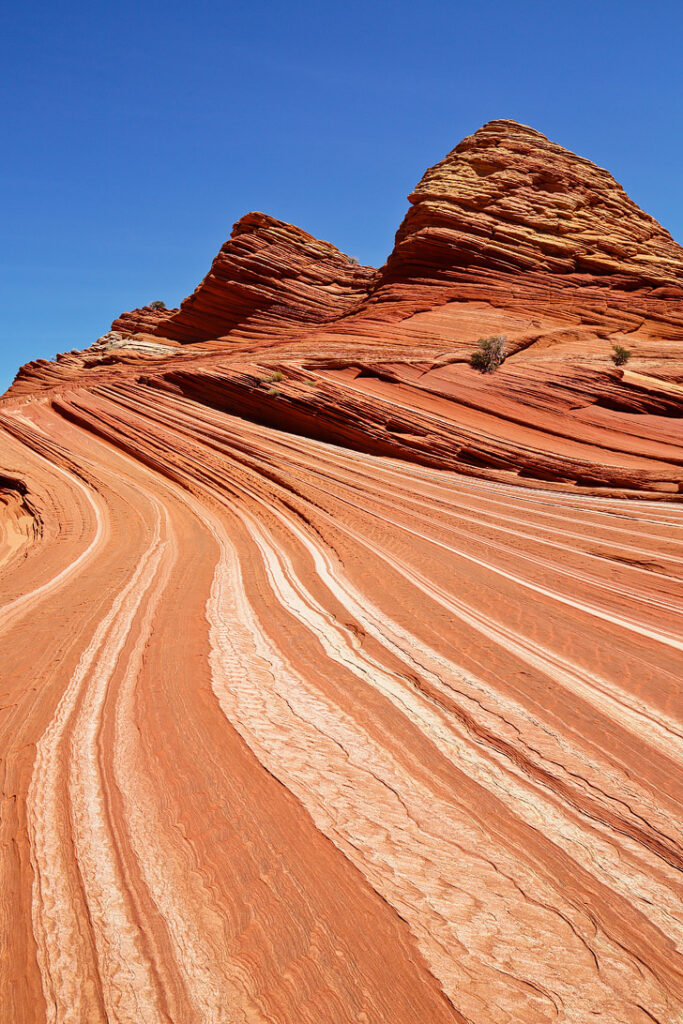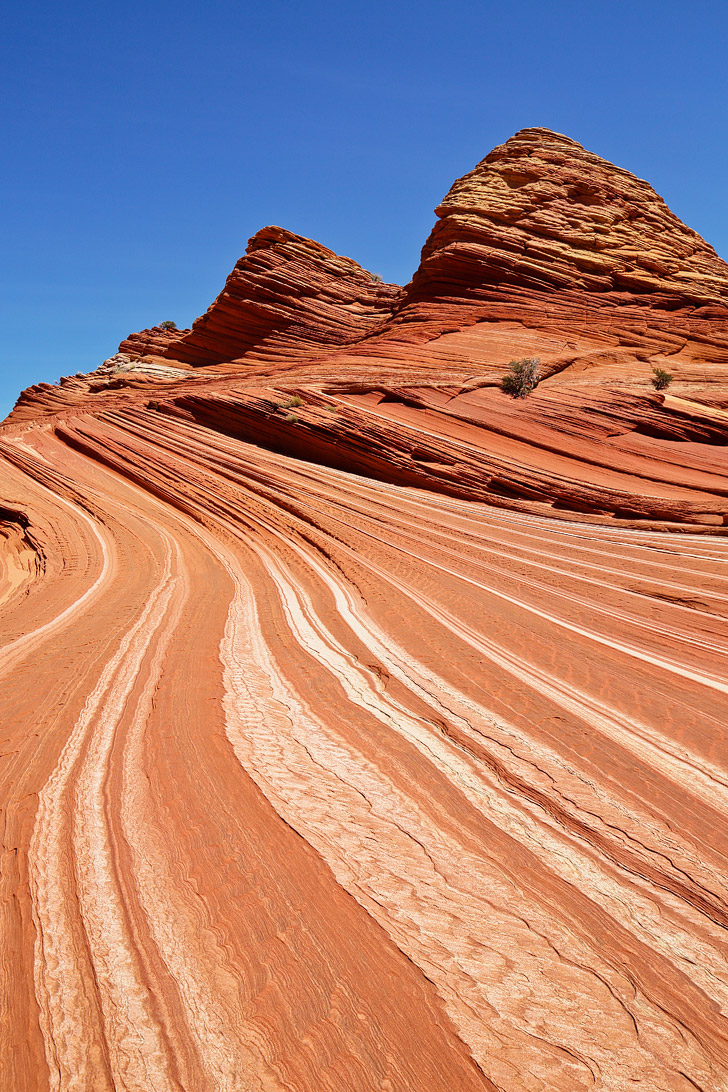 Photography Tips
We started our hike at sunrise and when we arrived, the wave had mixed lighting. The Wave is in a depression, so the sunlight does not fully light up the Wave until approximately an hour and a half after (depending on the time of year).
For the best photos, you can hike in before sunrise or stay after sunset, but since it was our first time, we didn't want to get lost.
If it rained recently, look for puddles to shoot reflections!
We left Kanab 30 minutes before sunrise and were the first ones to arrive at the wave. We had roughly one hour before anyone else arrived.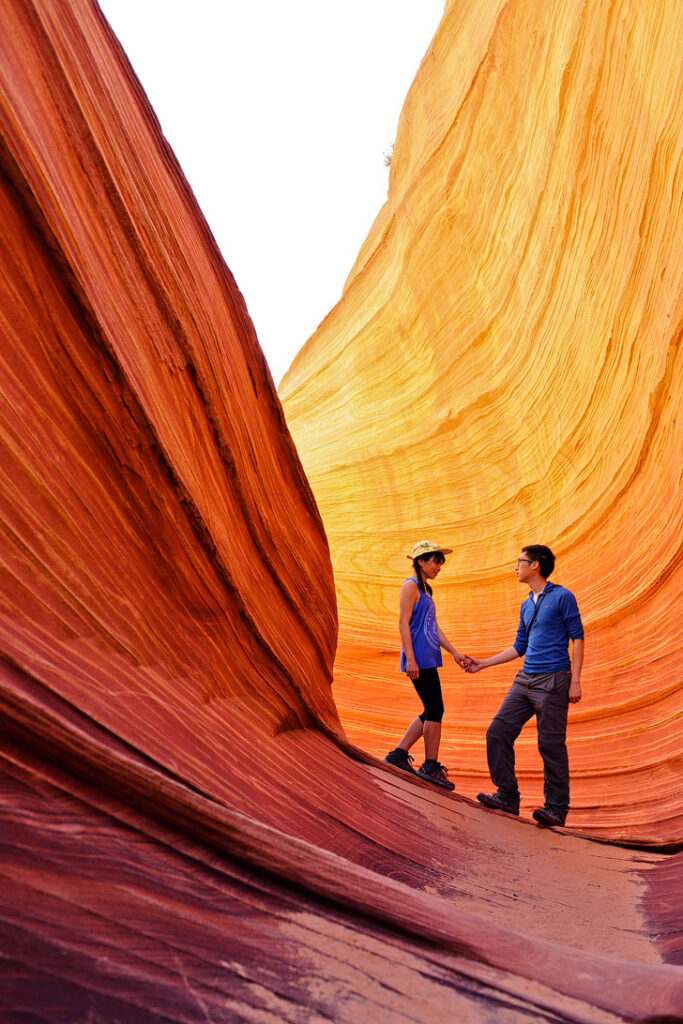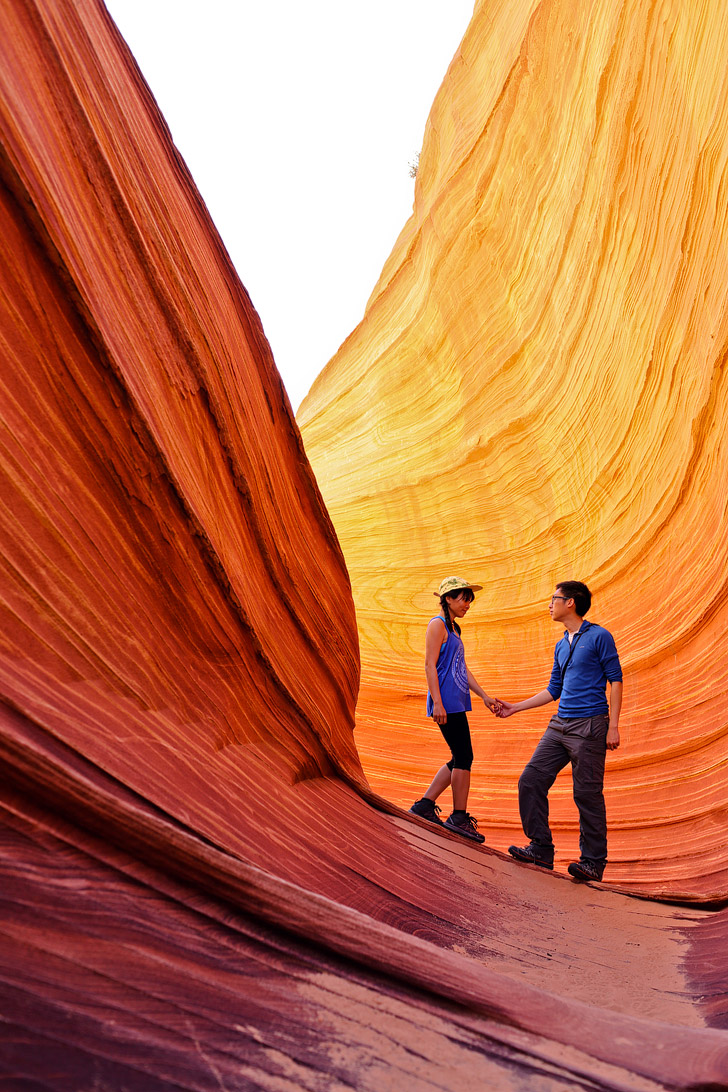 What to Pack for the Wave
Planning Checklist
Have you tried getting permits to The Wave?
Did you enjoy this post? Pin it for later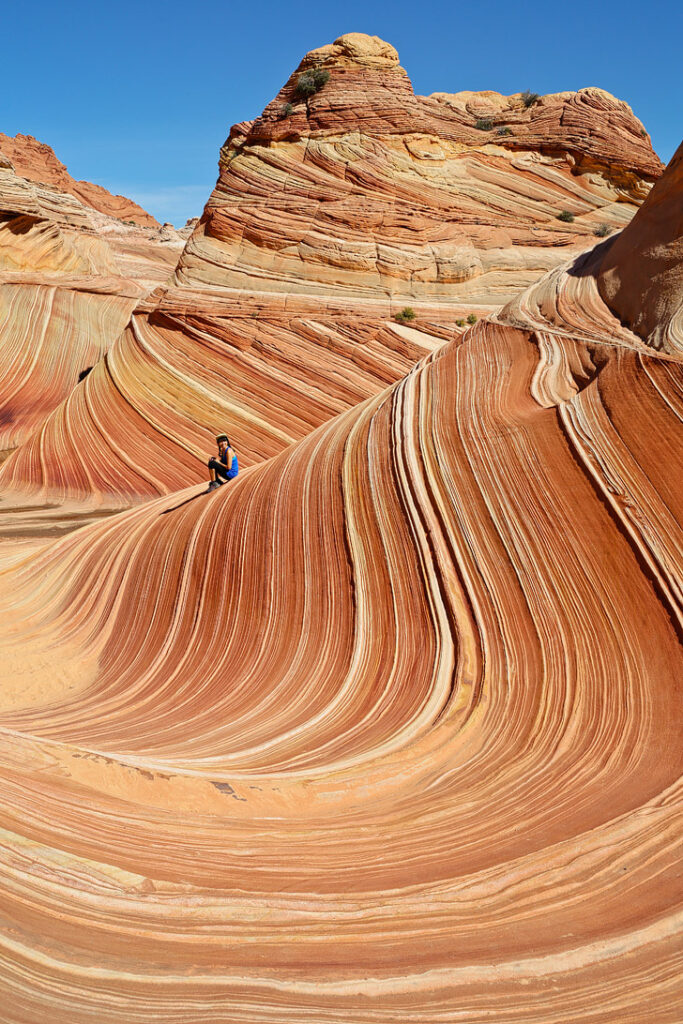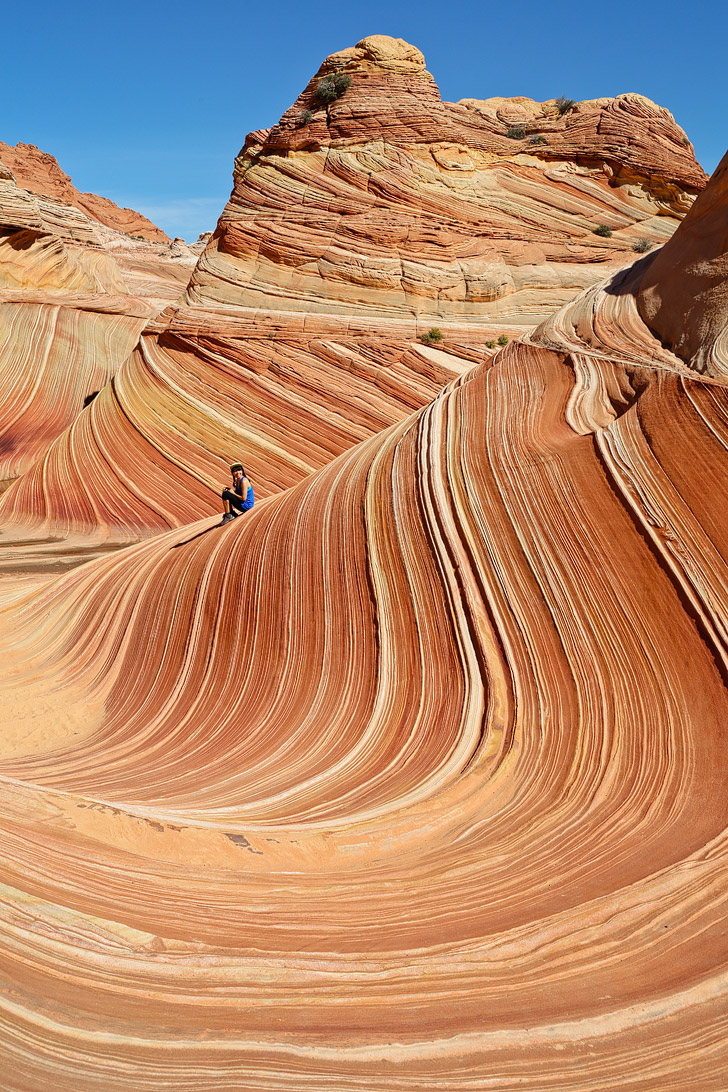 SEE More From the Area
⟡⟡⟡⟡⟡
"Discovery consists not of seeking new lands but in seeing with new eyes" – M. Proust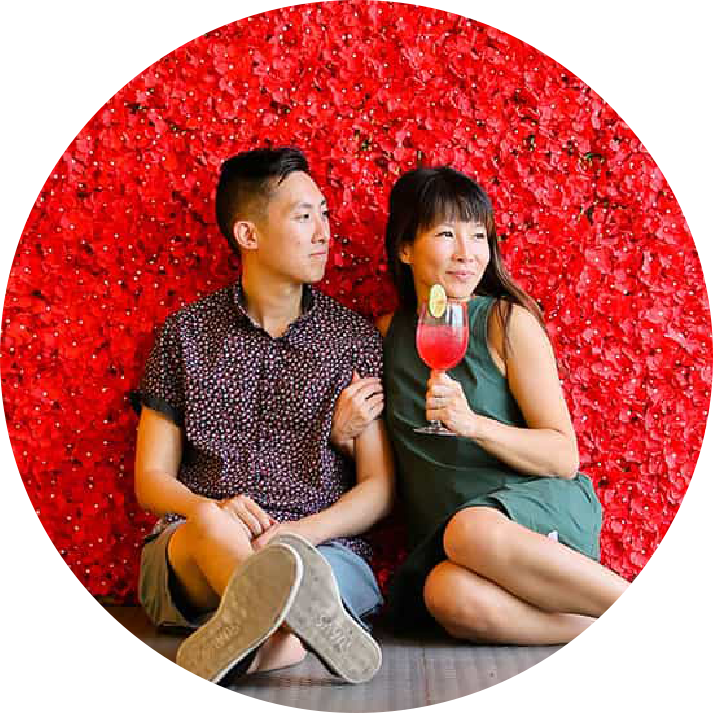 Esther + Jacob
Esther and Jacob are the founders of Local Adventurer, one of the top 5 travel blogs in the US. They believe that adventure can be found near and far and hope to inspire others to explore locally. They explore a new city in depth every year and currently base themselves in Las Vegas.
Follow on Instagram (E + J), YouTube, TikTok, and Pinterest.