My eyes take a few seconds to adjust to the darkness as I threw on my jacket hood for protection. Are the bats going to start swooping down on us? Just seconds ago, I was standing in the warm sunlight, but now I'm surrounded by alien-like formations and complete stillness other than the sounds of water dripping in the distance. This was my first time in a cave like this.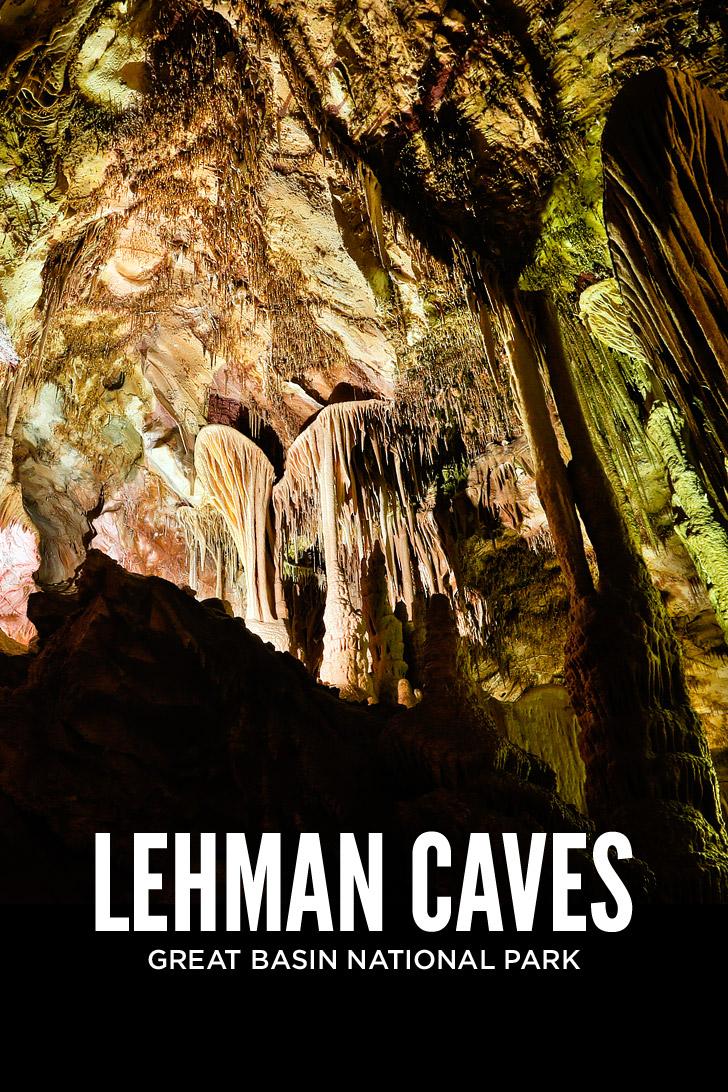 Pin
YOUR GUIDE TO THE LEHMAN CAVES TOURS
WHAT WE COVER [ CLICK LINKS TO SKIP AHEAD ]
THE LEHMAN CAVES TOURS
The Lehman Caves are the biggest attraction at Great Basin National Park. Cave tours are Ranger-led and offered daily and year-round, except for Thanksgiving Day, Christmas Day, and New Year's Day. You can try your luck and book upon arrival, but you really should book your tour online especially for the busy season. The spots fill up fast. They suggest you book 3-4 weeks in advance for a weekend in the summer and 1-2 weeks in advance for a weekday in the summer.
Lodge Room Tour (0.4 miles) – This 60-minute tour highlights the Gothic Palace, Music Room, and Lodge Room. It's ideal for families with young children and is limited to 20 visitors.
Grand Palace Tour (0.6 miles) – This tour last roughly 90 minutes and takes you through the Gothic Palace, Music Room, Lodge Room, Inscription Room, and the Grand Palace. You'll also see the famous "Parachute Shield" formation. Tours are limited to 20 visitors.
Private Tour – If you're hoping to get more time to shoot or even bring a tripod in, contact the park about a private / permitted tour. There is an application fee and if you're approved, an additional fee depending on what you need, but it's the best way to get the opportunity to shoot with your camera gear.
See current prices of tours here. The schedule changes each year so check the site for the most up-to-date info. In general, they offer 5 of each tour a day during the summer, 2 of each in the Fall and spring, and 1 daily tour in the Winter.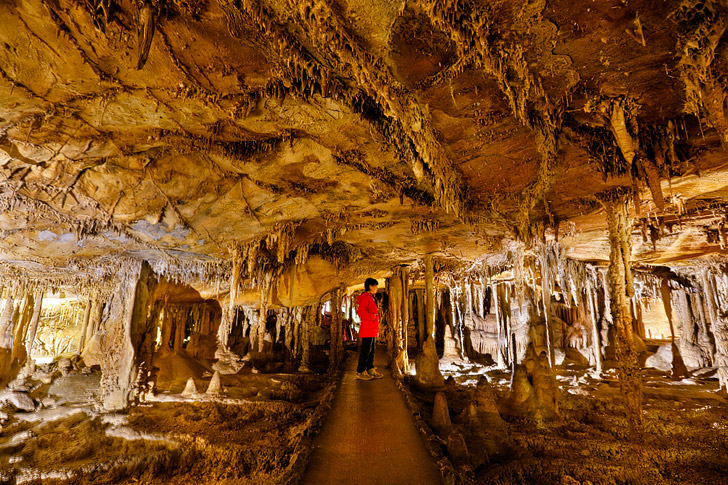 Pin
BEST TIME TO VISIT
You can visit the caves year round. The temperatures stay a moderate 50 degrees F with 90% humidity no matter the outside temperatures.
Summer and Fall give you the easiest access to the park and will also give you the chance to explore more areas of GBNP that are typically closed in the winter. You also have more options for tours during the summer since they offer the most daily tours.
DIRECTIONS
You will meet at the Lehman Caves Visitor Center, where there is a large parking lot.
Address: 5500 NV-488, Baker, NV 89311
Coordinates: 39.0056166, -114.2220647
HOW WERE THE LEHMAN CAVES FORMED?
Water has sculpted the Lehman Caves over millions of years. Geologists traced the beginning of the caves to roughly 600 million years ago when the area was covered by a shallow sea. As the mountain ranges formed and pushed up into the sky, cracks and fractures eventually created the limestone caves. Acidic ground water shaped the spaces, and eventually, when the water level dropped again, you could see the caves.
Water continues to seep through the bedrock, which results in all the amazing formations on the floors, ceilings, and walls. I love that it's constantly changing, and the next time we're back the caves will be slightly different.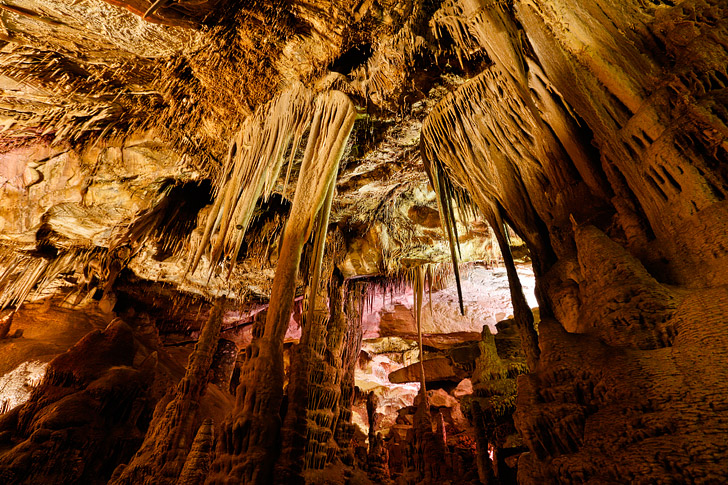 Pin
FEATURES: TYPES OF CAVE FORMATIONS
Speleothems (cave formations) cover the ceilings, walls, and floors of Lehman Caves. You'll see a lot of the common formations, like stalactites, stalagmites, and columns, but also more rare formations, like shields.
Here are few common structures to help you get started. Don't miss the cave bacon!
Dripstone – created from water dripping
Stalactites – formations hanging from the ceiling

Soda Straws – very thin but long stalactites with more of a cylindrical shape
Helictites – stalactites that seem to defy gravity (they don't just grow down)
Chandeliers – complex clusters of ceiling decor
Ribbons – stalactites that form to look like ribbons

Stalagmites – formations that come up from the ground

Broomstick – very tall and thin
Totem Pole – tall and shaped like totem poles
Fried Egg – small stalagmites that are wider than they are tall
Flowstone – sheet like formations found on floors and walls
Draperies/Curtains – thin and wavy sheets

Bacon – variously colored bands within the sheets

Stone Waterfall – looks like a frozen cascade
Others
Pillars – when stalactites and stalagmites meet to form one structure
Cave Popcorn – small knobby clusters (pictured below on the left)
Shield – two round or oval parallel plates with a thin medial crack between them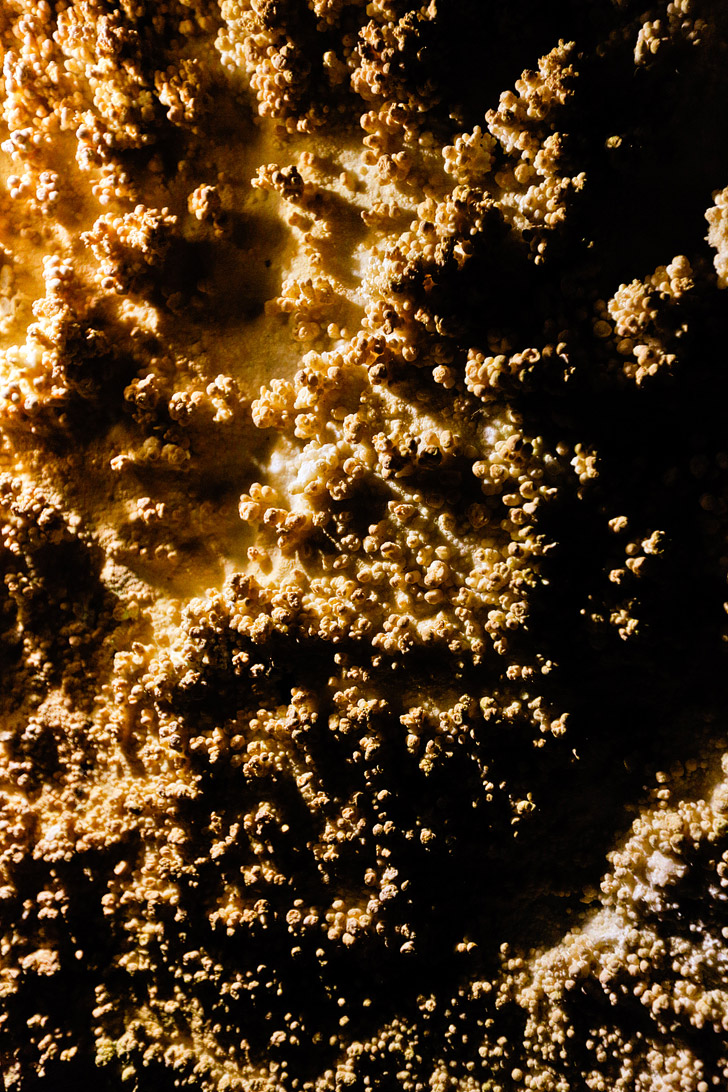 Pin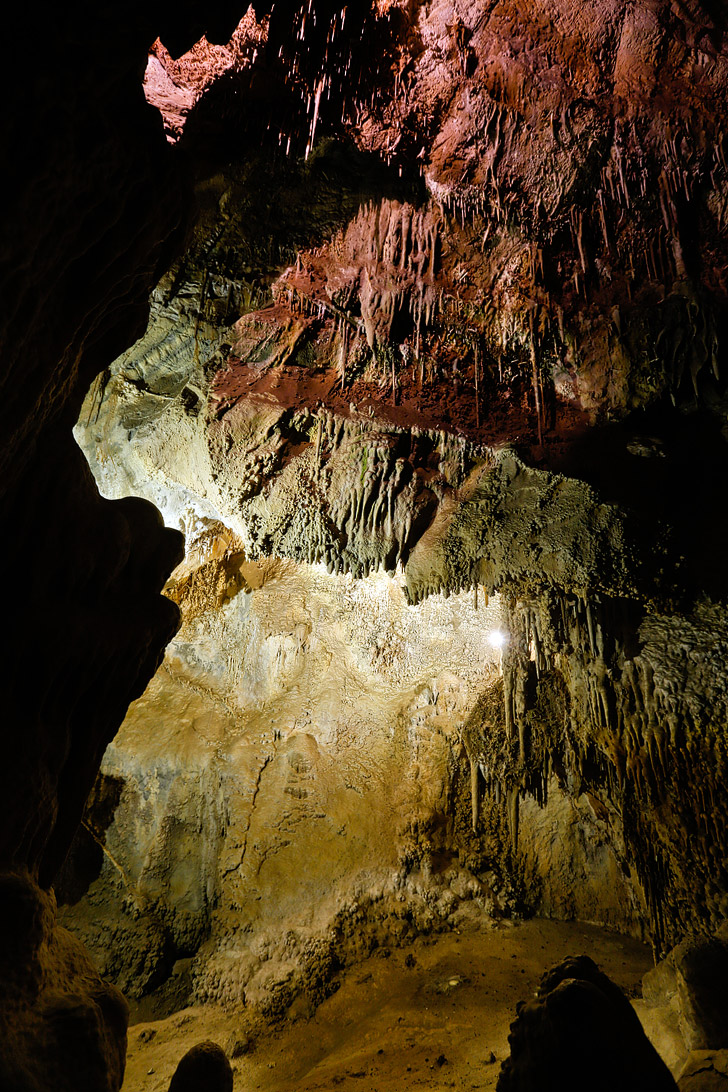 Pin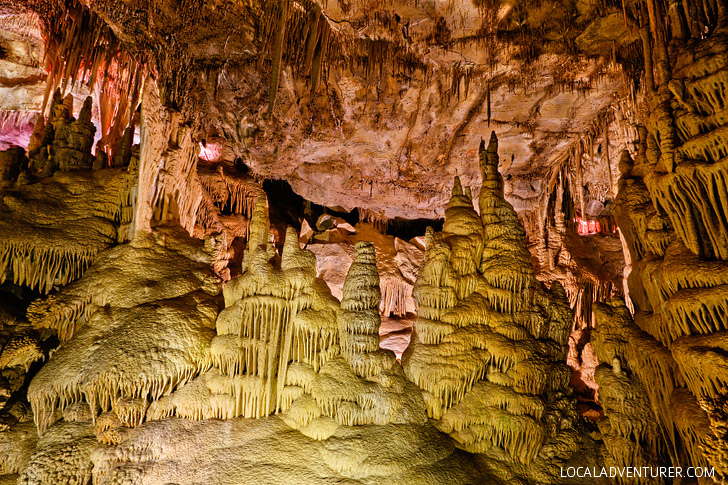 Pin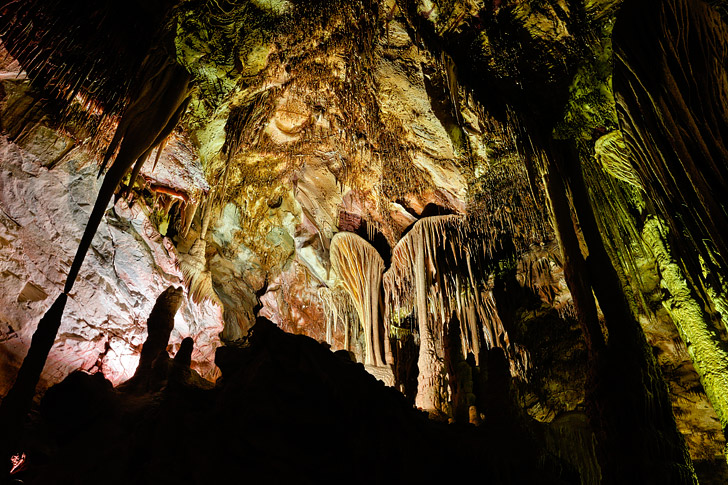 Pin
WHO IS ABSALOM LEHMAN?
Although the local Native Americans previously used the caves, Absalom Lehman was the first to bring tourists to the area. The first extensive Lehman Caves tour was in 1885, and he was the guide.
Absalom Lehman was born on January 6, 1827 in Chambersburg, Pennsylvania. Over his lifetime, he lived in Ohio, California, Nevada, and Australia, where he met his wife. He held a number of jobs, including mining for gold, owning a few wool stores, and ranching. It is believed that Absalom discovered the caves during his second stint in Nevada.
PHOTOGRAPHY TIPS
If you join a regular tour, you are only allowed to bring a camera (no tripods or bags). If photos are a priority, contact the visitor center and see if you can get a permit to do a private tour.
On a regular tour, you can still get decent photos. Make sure you set a high ISO and shoot with the lowest F-stop. Typically you'll want to be shooting at a shutter speed of 100 or more unless your hands are really steady. You can also underexpose the photos around one stop so that the photos are the correct exposure.
Fixed lights light up the main formations. You can bring a headlamp or flashlight on the tour which you can use to light any features that may not have enough light.
If you are on a private tour, you can go at your own pace. The first few rooms are small and narrow, while the back rooms are much larger and expansive. If we had known that, we would have spent less time in the first couple of rooms.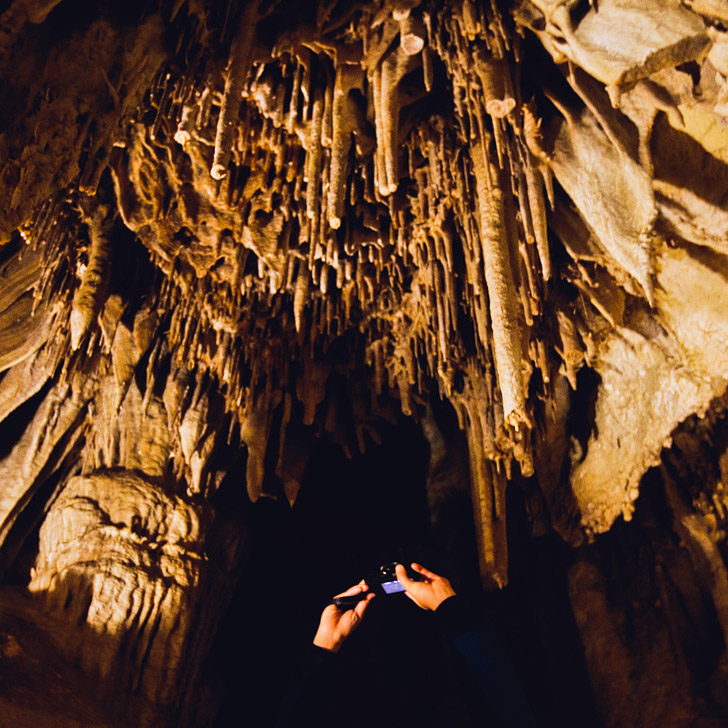 Pin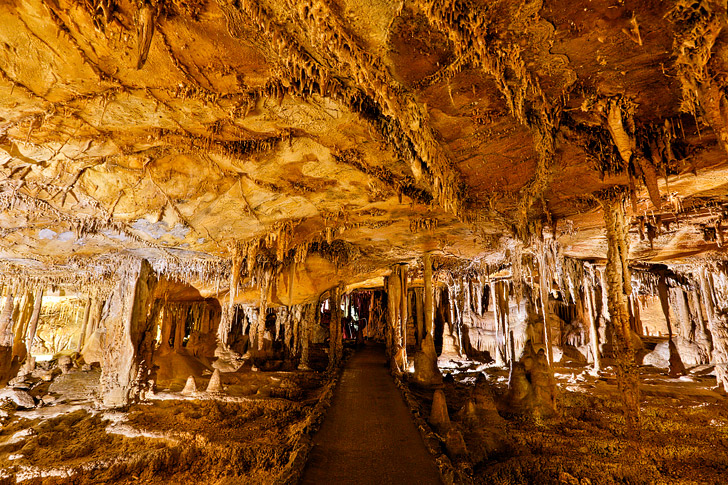 Pin
ESSENTIAL TIPS FOR YOUR LEHMAN CAVES TOUR
Show up early to get a briefing.
Book your tour as soon as you know your travel dates. It fills up and you don't want to show up just to find out you can't see the caves.
To protect the bats from white-nose syndrome, you are not allowed to bring any footwear, clothes, or gear that has been in another cave.
Please respect the rules and help preserve this sensitive ecosystem. You can already see areas where the formations were broken off by carelessness.
The trail can be slippery and wet, wear shoes with good treads.
You are only allowed to bring a camera, jacket, flashlight, keys, wallet, and phone into the caves. Bags, purses, and tripods are not allowed in the caves on regular tours.
You don't have to crawl, but there are points where there are low ceilings.
If you have children, the Lodge Room tour is ideal. Children under 5 may not join the Grand Palace tour except during the winter.
WHAT TO PACK
Bring a light jacket, no matter what time of year, the cave is about 50F (10C).
Camera (5D Mark III) + Lenses (35mm)
Flashlight or Headlamp
Tripod (if you are doing a private tour)
OUTFIT (HERS)
Nano Storm Jacket // Mid Layer // Waterproof Alpine Simul Pants // Hiking Boots
OUTFIT (HIS)
Jacket // Mid Layer // Capilene Daily Tee // Stretch Twill Pants // Hiking Boots // Adventure Photographer's Backpack
WHAT'S NEARBY
MORE RESOURCES
DID YOU ENJOY THE POST? PIN IT FOR LATER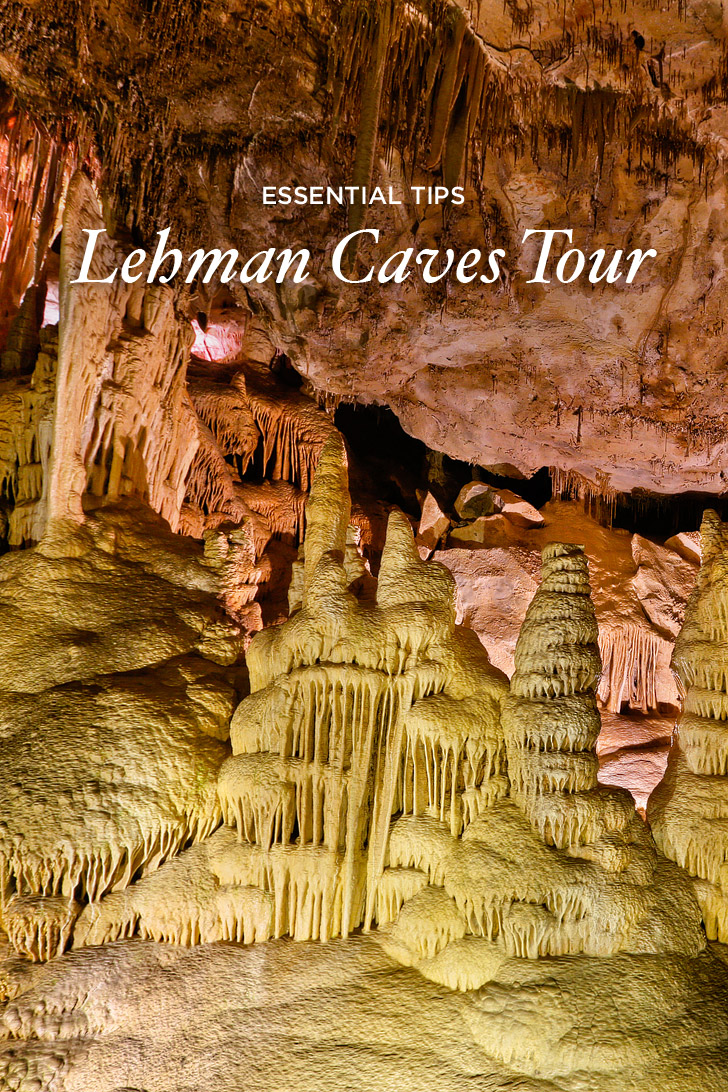 Pin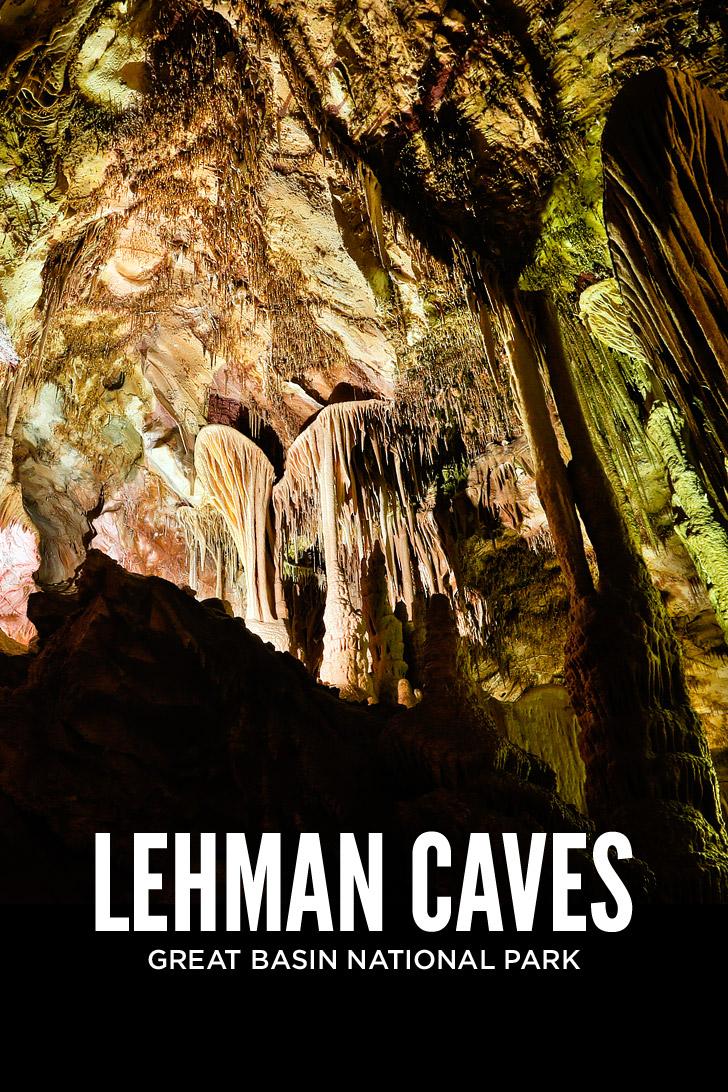 Pin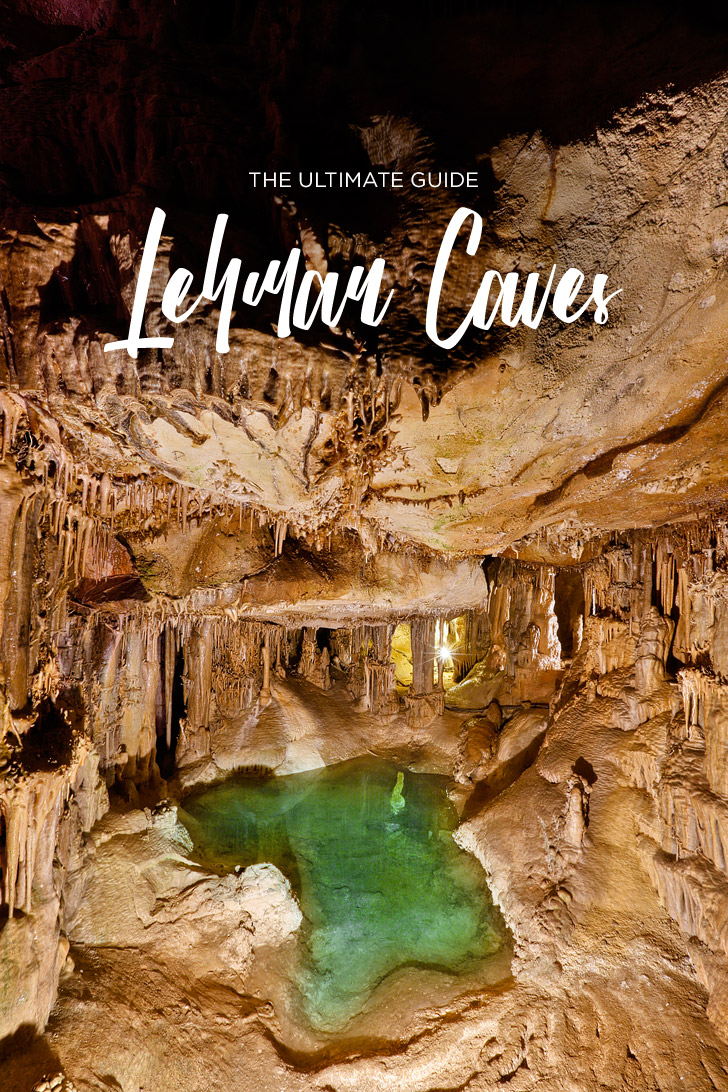 Pin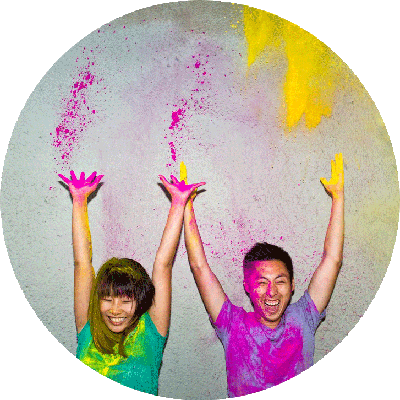 Pin
ESTHER + JACOB
Esther and Jacob are the founders of Local Adventurer, which is one of the top 50 travel blogs in the world. They believe that adventure can be found both near and far and hope to inspire others to explore locally. They move to a new city every year and currently live in Portland, Oregon.