Planning your next diving trip? These are the best dive sites in the world.
In the past, I had zero interest in getting scuba-certified. I never considered myself a strong enough swimmer. I always felt out of control underwater and anxious around strange and unfamiliar sea creatures. However, we've been trying to push ourselves outside of our comfort zones lately. After all, we can't call ourselves adventurers if we weren't down to try it at least once! You never know if something is for you until you try it, right?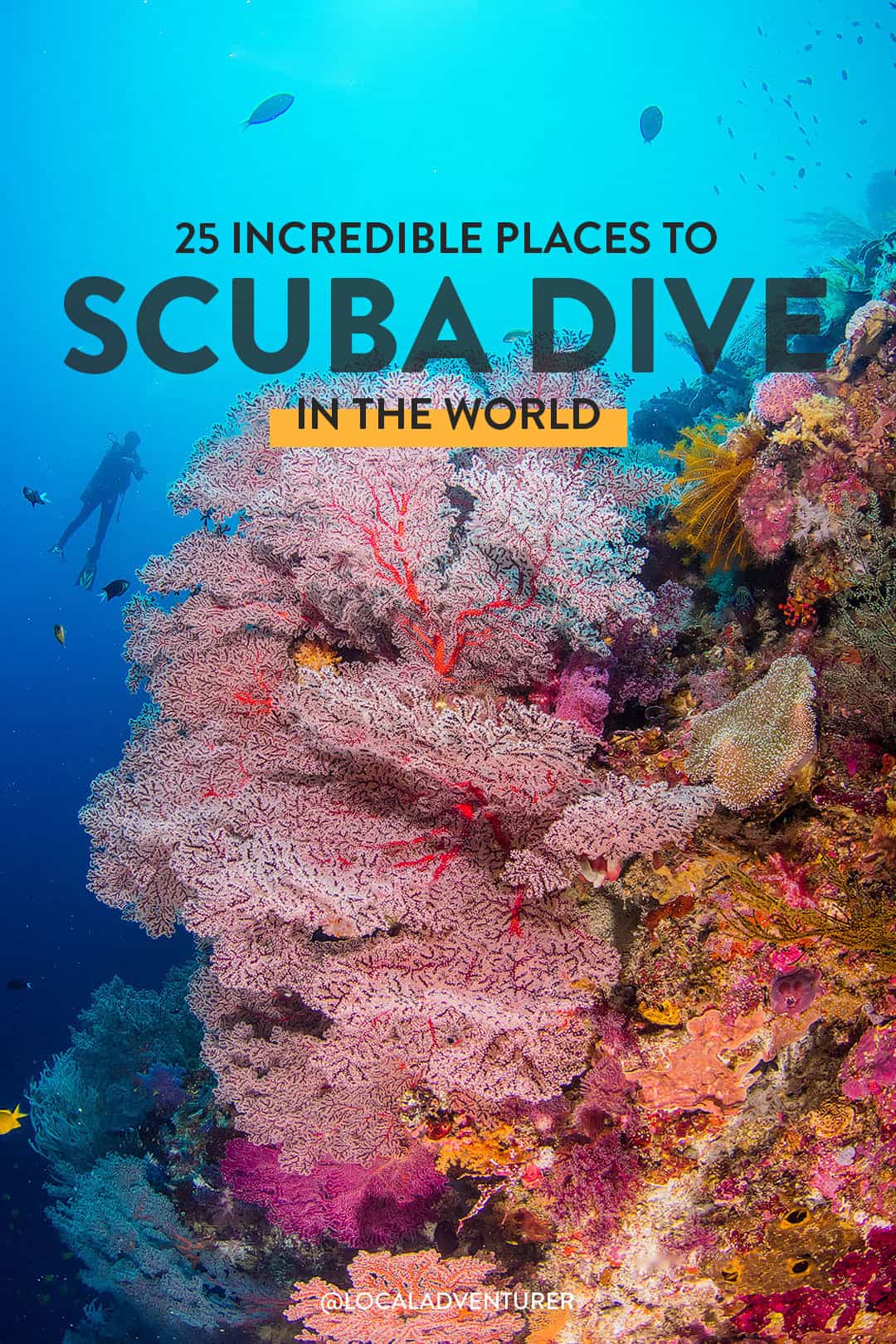 This post may contain affiliate links, where we receive a small commission on sales of the products that are linked at no additional cost to you. All opinions are always our own. Read our full disclosure for more info. Thank you for supporting the brands that make Local Adventurer possible.
Last Updated: September 15, 2023
25 Best Dive Sites in the World to Put on Your Bucket List
The more we explored underwater landscapes, the more we became fascinated. We've completely fallen in love with underwater photography, too! After our introductory scuba class, we decided it was time to get certified. As you all know, we love making lists, so we've also decided to compile a bucket list for scuba diving. We can't wait to get to them all!
Special thanks to our friends at Divein, made up of instructors, dive pros, and enthusiasts, who helped us make this list.
1. Taveuni, Fiji
Dive Site: Great White Wall
Depth: Up to 45 meters
Visibility: Up to 40 meters
The locals have done a great job in protecting the local reefs. As a result, you'll see thousands of species of coral and marine life. At the Great White Wall, you'll start off by swimming through a cave then see a hill of what seemingly looks white with coral descending into the depths. Also, keep your eye out for batfish and barracuda that frequent the area. The large variety of marine life and impressive coral structures on this dive will have you awestruck for days.
Other Dive Sites: There are tons of diving options in Fiji. Check out Beqa Lagoon, Side Streets, Nisici Rocks, and Caesar's Rocks.
See More: Easy Guide to Getting Dive Certified in San Diego California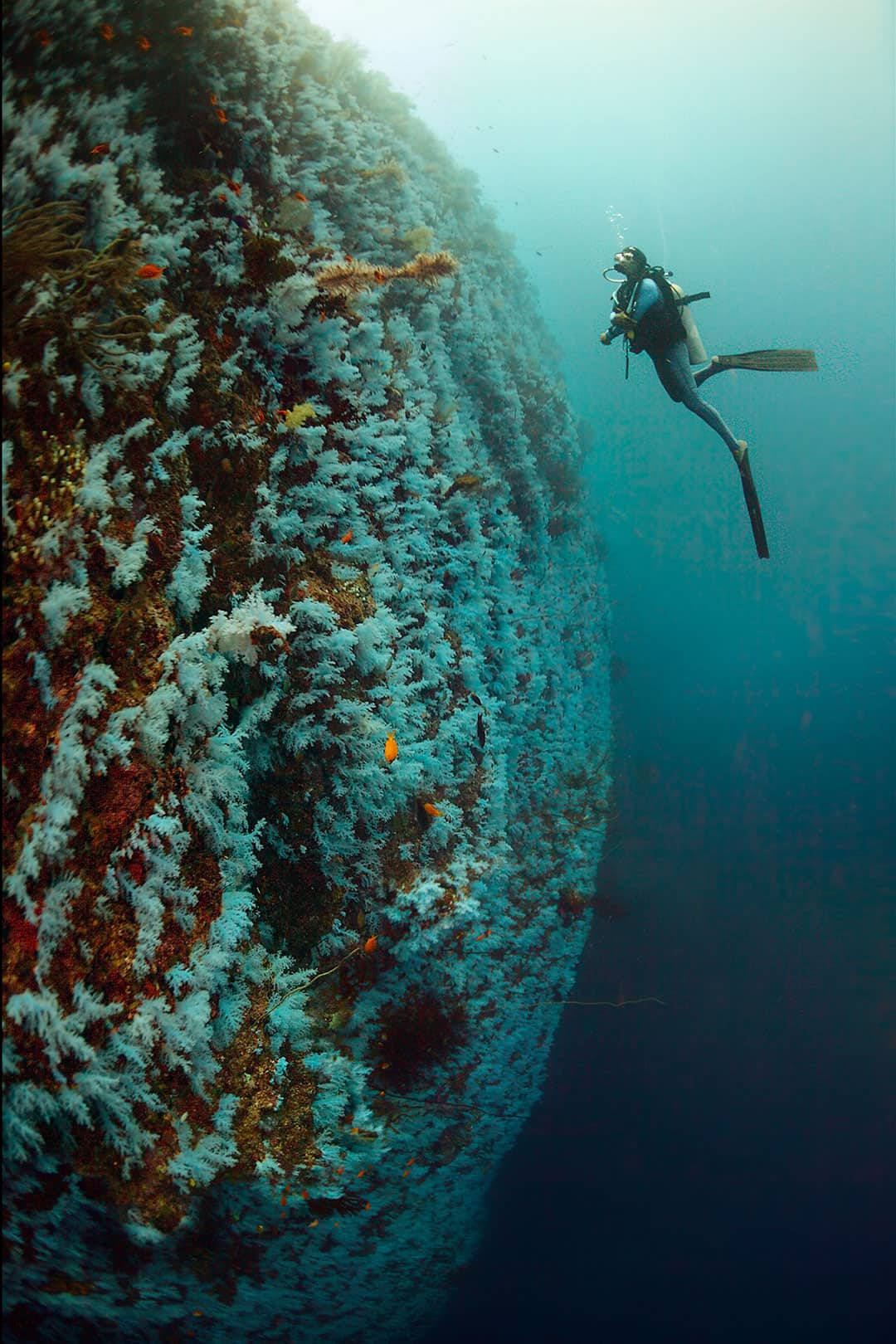 2. Red Sea, Egypt
Dive Site: SS Thistlegorm
Depth: Up to 30 meters
Visibility: Up to 30 meters
The SS Thistlegorm is the most popular wreck dive in the world. This British transport ship was sunk in 1941 and is 128 meters long. There are rifles, motorbikes, trucks, armored cars, and more! Check out all the wreckage and the marine life that it attracts.
Other Dive Sites: The Red Sea is full of great spots. Check out Yolanda Reef, Ras Mohammed, Big Brother, and Shark Reef.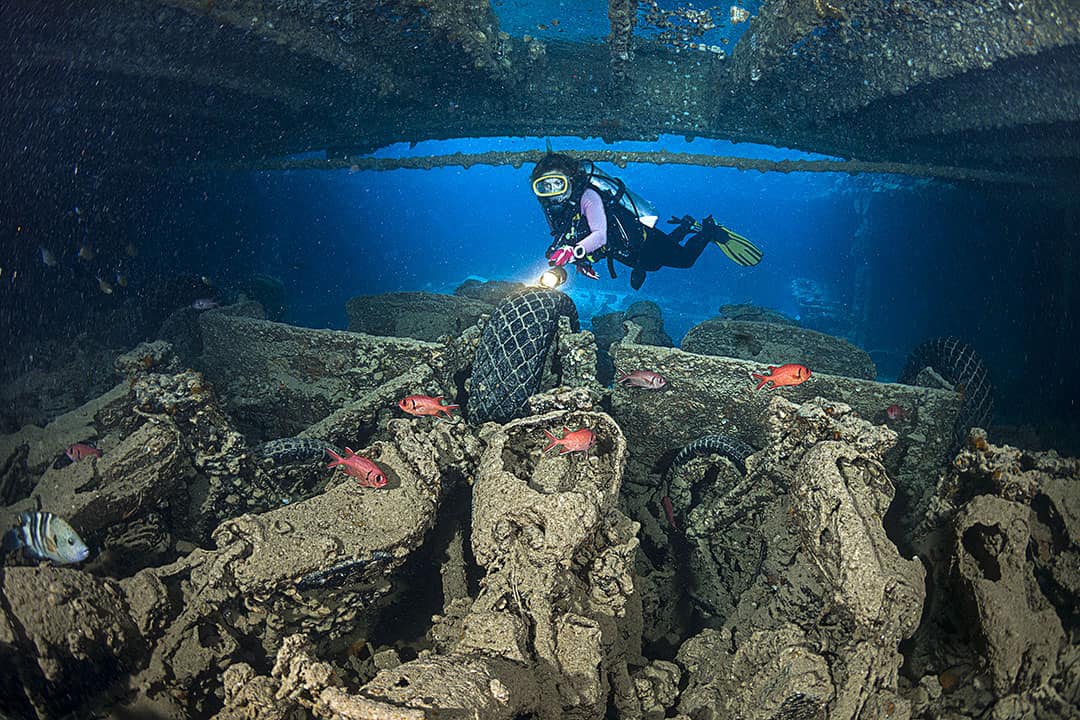 3. Cancun, Mexico
Dive Site: Manchones Reef
Depth: Up to 10 meters
Visibility: Up to 30 meters
Mexico definitely offers a wide range of diving options but the Manchones Reef in Cancun is a unique spot with over 60 underwater sculptures that form an artificial reef, including 400 life-sized figures. This dive site is renowned around the world as more of an underwater art exhibition. It has some impressive underwater sculptures, like the world-famous " the man on fire". They make for a truly eerie experience. You'll find lobsters, moray eels, barracuda, and more making their home in the reef.
Other Dive Sites: La Paz, Playa del Carmen, and Cozumel also offer amazing diving.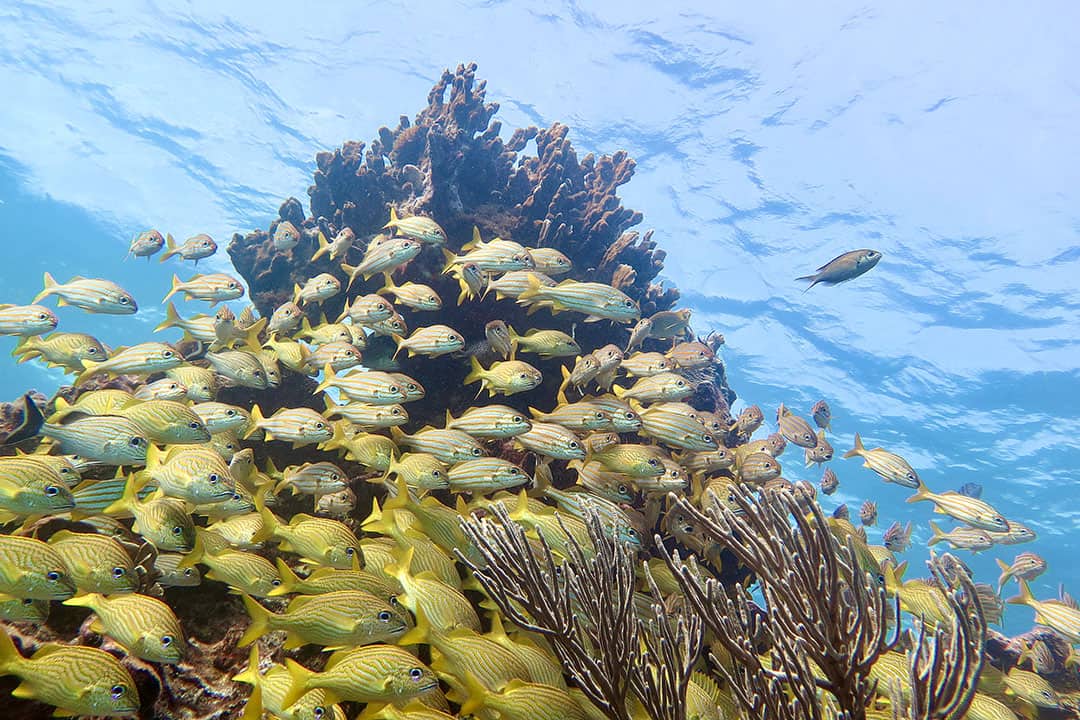 4. Palau, Micronesia
Dive Site: Blue Corner Wall
Depth: Up to 30 meters
Visibility: Up to 40 meters
Blue Corner Wall is known as one of the best dive sites in the world, thanks to the incredible abundance of marine life in the area. Diving here will feel like you're in the middle of a Planet Earth episode. Reef sharks, bigeye jacks, eagle rays, tuna, snapper, soft coral, and green turtles are just a few of the things you'll see. And be sure to pay attention to the walls and corals to catch morays, nudibranchs, and mantis shrimp.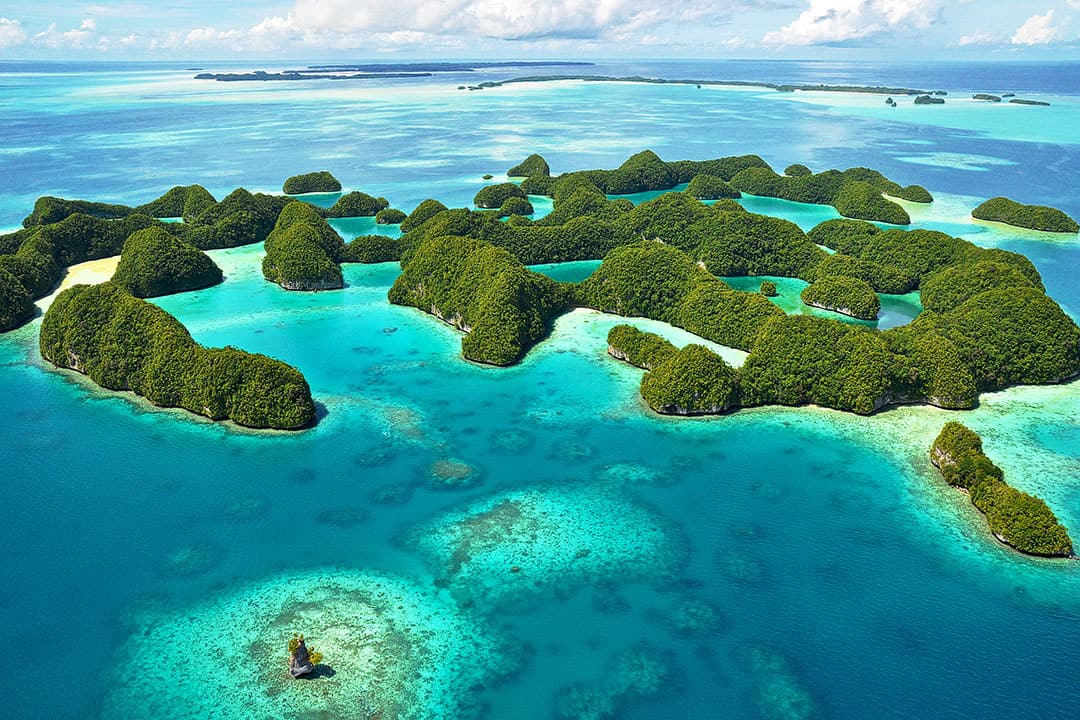 5. Bali, Indonesia
Dive Site: Liberty
Depth: Up to 25 meters
Visibility: Up to 20 meters
Indonesia is filled with tons of diving spots. One of the most popular is the Liberty wreck, which is just 30 meters from the beach. Another one of the greatest dive wrecks that can be penetrated, the Liberty is a sight to behold and offers an extremely rewarding adventure for advanced divers. Sunken into black sand, you'll find angelfish, surgeonfish, and glowing flashlight fish as just a couple of the over 400 specifies of fish that can be spotted here.
Other Dive Sites: There are so many! Wakatobi, Raja Ampat, Gili Islands (The 'Turtle Capital of the World')
See More: Swimming with Whale Sharks at Derawan Island Indonesia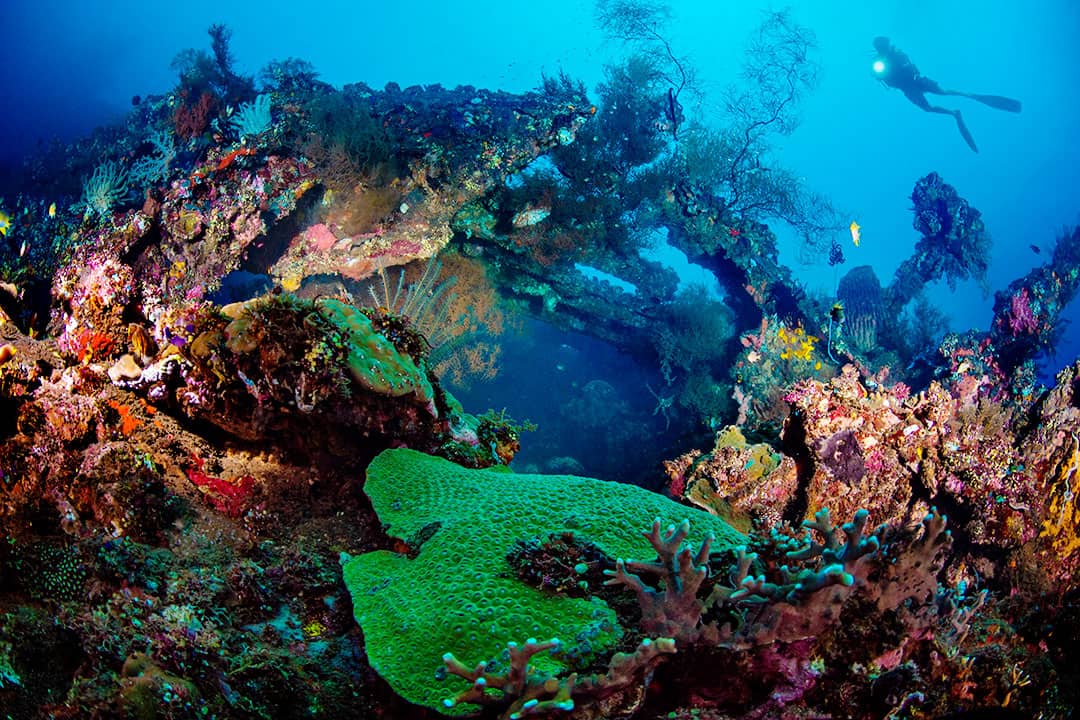 6. Cocos Island, Costa Rica
Dive Site: Bajo Alcyone
Depth: Up to 30 meters
Visibility: Up to 30 meters
This island offers some of the most pristine diving in the Pacific Ocean. If you've seen Jurassic Park, then you've seen Cocos Island. And as the movie portrayed it, nature is still wild here. Bajo Alcyone offers you the chance to come face-to-face with hundreds of scalloped hammerhead sharks and huge schools of fish.
Other Dive Sites: Add Punta Gord, Murcielagos, and the islands of the Catalinas to your list.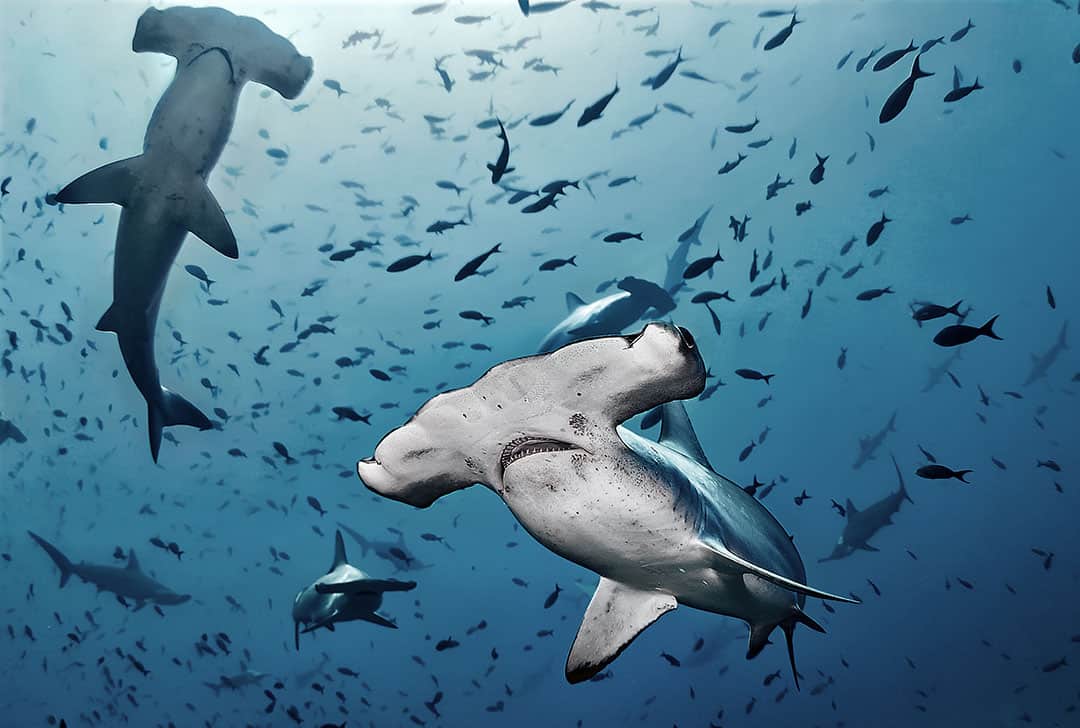 7. The Galapagos Islands, Ecuador
Dive Site: Gordon Rocks
Depth: Up to 40 meters
Visibility: Up to 18 meters
We've been snorkeling in the Galapagos and can see why it's such a popular diving spot. If you are lucky, you'll even get to see the famous Galapagos Shark. At the Gordon Rocks, the current can be strong, but you'll find yourself surrounded by sea lions, hammerhead sharks, manta rays, moray eels, and tons of tropical fish. Lots of the diving here comes in the form of drift dives, which means less swimming!
Other Dive Sites: There are plenty of dive spots here! You can even catch whale sharks during their migration season (May to October) from the islands of Wolf and Darwin.
See More: 13 Things to Do in the Galapagos Islands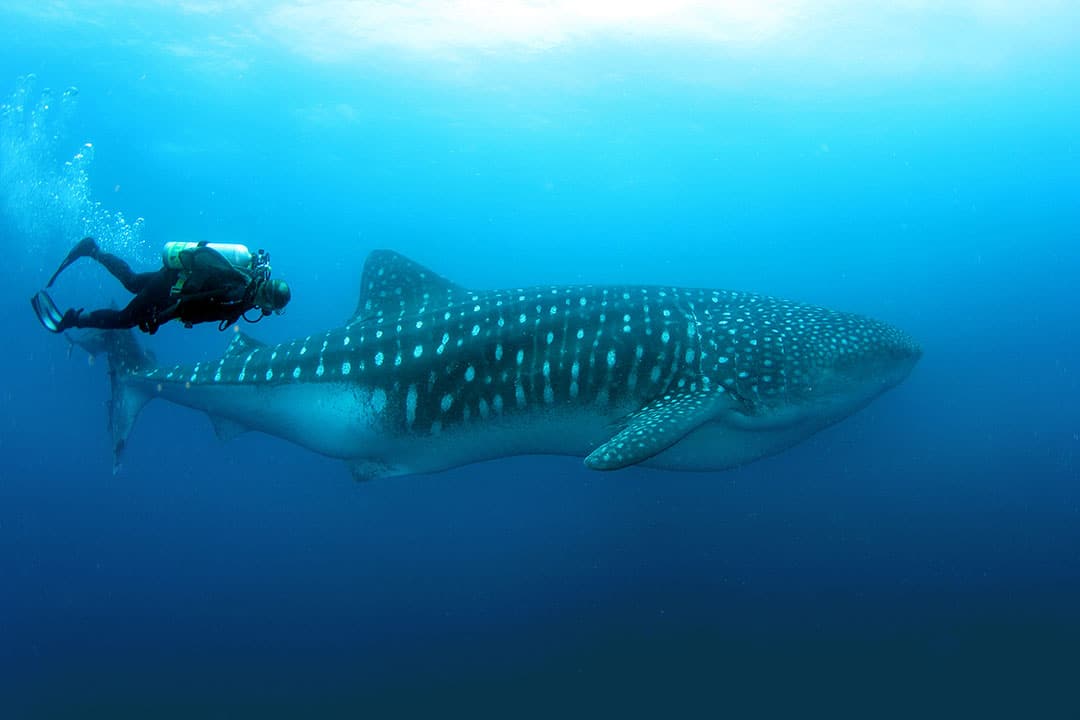 8. Rangiroa, French Polynesia
Dive Site: Tiputa Pass
Depth: Up to 45 meters
Visibility: Up to 50 meters
The island of Rangiroa is part of the Tuamotu Archipelago, and it's located in the area of the Society Islands. This atoll is popular for divers because it has so many dive sites to offer. The dive sites are suitable for all levels of divers, meaning that even beginners can dive here. Some places are great for snorkeling as well.
The waters around Rangiroa are very clear, which makes it possible for divers to see a lot of marine life on their dives. See playful dolphins, turtles, manta rays, leopard rays, and whales (between July and August) at this dive site. You can even explore Shark Cave and swim through a narrow channel.
Other Dive Sites: Mostly known as a honeymoon spot, Bora Bora also offers great diving. It has earned the name "Shark Capital of the Pacific."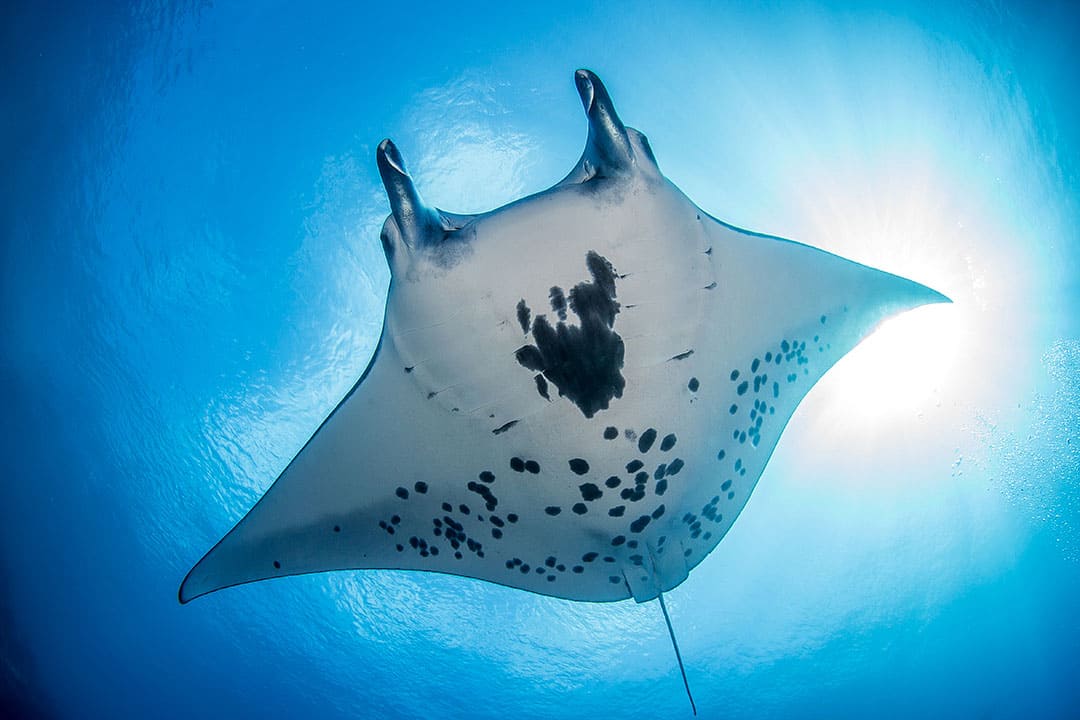 9. Australia
Dive Site: The Yongala
Depth: Up to 30 meters
Visibility: Up to 15 meters
As expected, Australia offers amazing diving. The Yongala is one of the best sites to dive in Australia because of the high visibility, incredible coral, and variety of marine life. The only problem is that you have to take a boat out to it, which makes it a little more challenging than other sites.
The Yongala is considered one of the best wreck dives in the world. Besides the rich history, the wreck is home to giant groupers (like 2 meters big), manta rays, sea snakes, octopuses, and a bunch of sharks, including the bull, tiger, and leopard. During the winter, you can catch minke and humpback whales.
Other Dive Sites: Everyone knows the Great Barrier Reef, but you should also check out Navy Pier.
See More: 25 Things to Do in Melbourne Australia for First Timers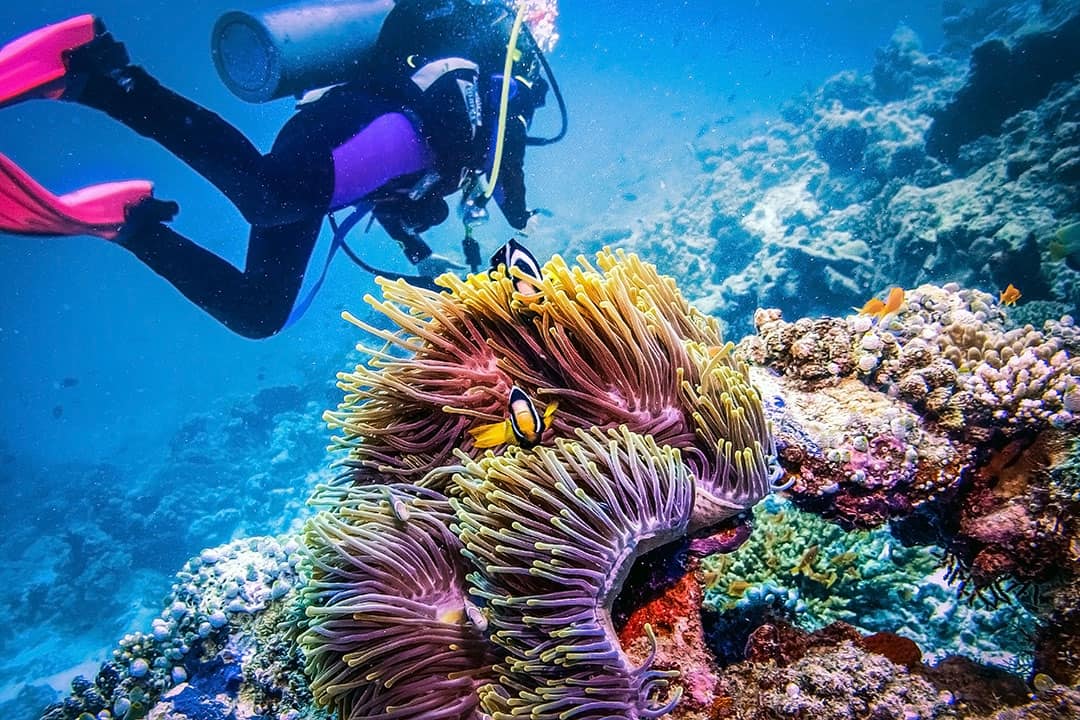 10. Sipadan Island, Malaysia
Dive Site: Barracuda Point
Depth: Up to 40 meters
Visibility: Up to 30 meters
Sipadan Island is one of the best dive sites in the world. It is located off the east coast of Sabah, Malaysia, and is renowned for its amazing marine diversity and incredible visibility. It has an area of approximately 4 square kilometers, and due to its location on a coral reef that rises abruptly from deep water, it has an astonishing variety of marine life that visits or lives on the island.
If you're hoping to see large marine life, this is the place to be. You'll find yourself surrounded by sharks (hammerhead, white tip, leopard) and barracuda. Besides that, sea turtles, jacks, and parrotfish also make their home here.
11. Belize
Dive Site: Great Blue Hole
Depth: Up to 124 meters
Visibility: Up to 30 meters
Discovered by Jacques Cousteau, the Great Blue Hole is a 98-foot, perfectly circular sinkhole with a clear water column that descends to 130 feet below the surface of the Caribbean Sea. Though blue holes are found worldwide, this one is popular because of its great depth and proximity to a major tourist destination.
This massive sinkhole is becoming a big tourist attraction, but divers get a unique look at this marine ecosystem. Schools of giant groupers, sharks, and colossal tuna are making their home here. The underwater caves, stalactites, and stalagmites are also amazing to explore. The feeling of diving here is the closest you'll get to being in space and is a once-in-a-lifetime experience.
Other Dive Sites: Also check out Half Moon Caye in Belize.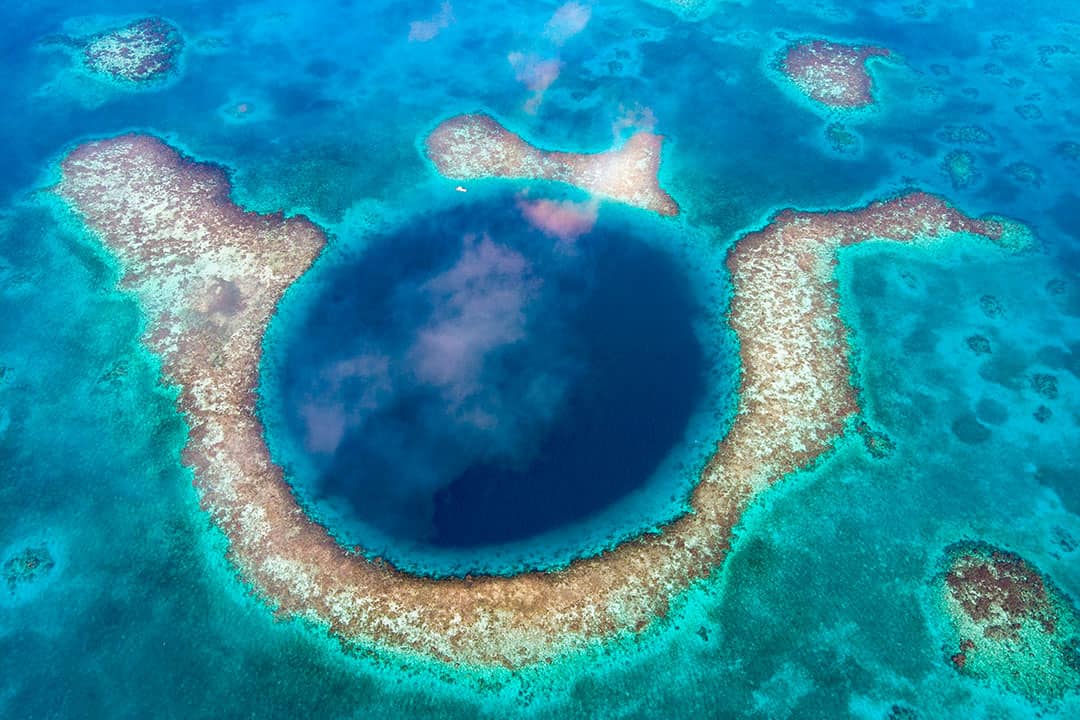 12. Kona, Hawaii, United States
Dive Site: Kailua-Kona
Depth: Up to 6 meters
Visibility: Up to 10 meters
The Kona Island Dive Site is the best dive site in Hawaii. This dive site is located off the coast of Kona in Hawaii. The dive site is known for its underwater coral formations and it is popular among underwater photographers. The dive site is also known for abundant marine life and a strong current that flows along the coastline.
This spot offers you a unique chance to see Manta Rays at night. Using high-powered flashlights, you see these graceful creatures feed on phytoplankton. Some Manta Ray can be up to 20-feet wide and 3,000 pounds!
13. Vanuatu
Dive Site: SS President Coolidge
Depth: Up to 30 meters
Visibility: Up to 25 meters
After hitting a minefield, this ship sunk decked out with cannons, chandeliers, jeeps, and more. Originally an ocean liner, it was transformed into a troop carrier during World War II. The ship is still mostly intact and offers a variety of diving routes. The shallowest part of the wreck is at 30 feet (9 meters) below the surface, but divers can go deeper depending on their skill level. And of course, you'll see plenty of marine life that live here.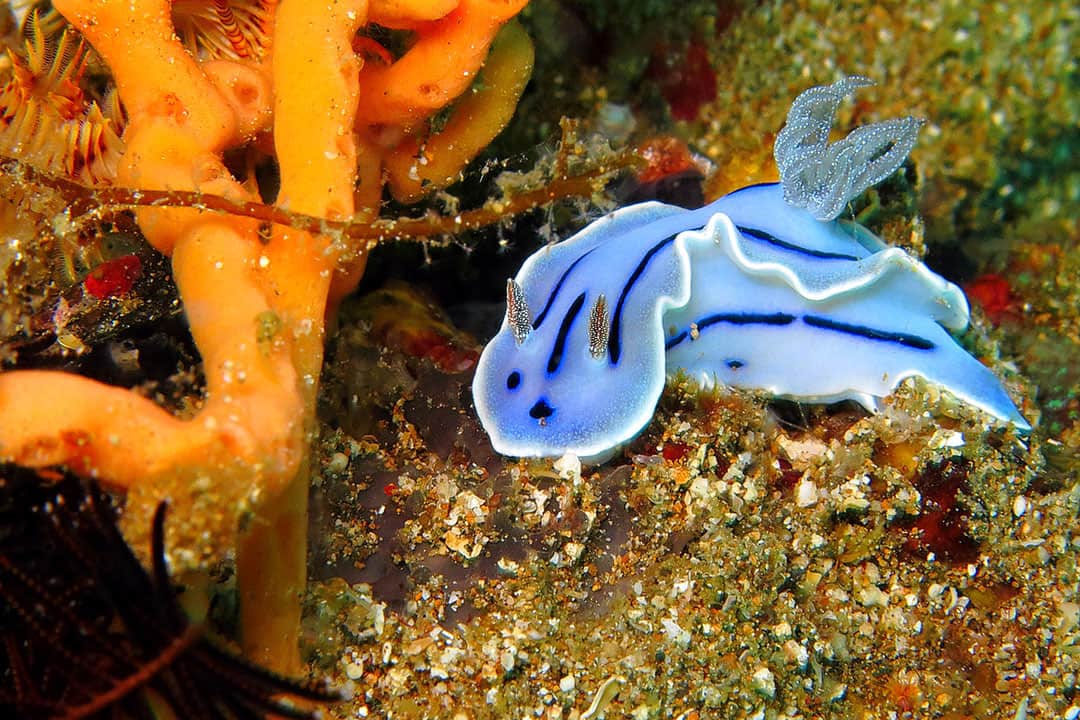 14. Maldives
Dive Site: Maaya Thila
Depth: Up to 30 meters
Visibility: Up to 40 meters
Maaya Thila is one of the favorite diving spots in the Maldives. It's often called the 'white tip reef shark capital of the Maldives' and is home to many tropical fish, including the beautiful Moorish idol (Gill from Finding Nemo). This dive site features an atoll reef, so the water is shallow and crystal clear.
The site has a house reef all around the island and even includes a 200m long swim through a tunnel. Maaya Thila has great hard corals and lots of fish, and we saw manta rays, turtles, and even a whale shark. There are many different sites here with various marine life. You will want to make multiple dives to see everything!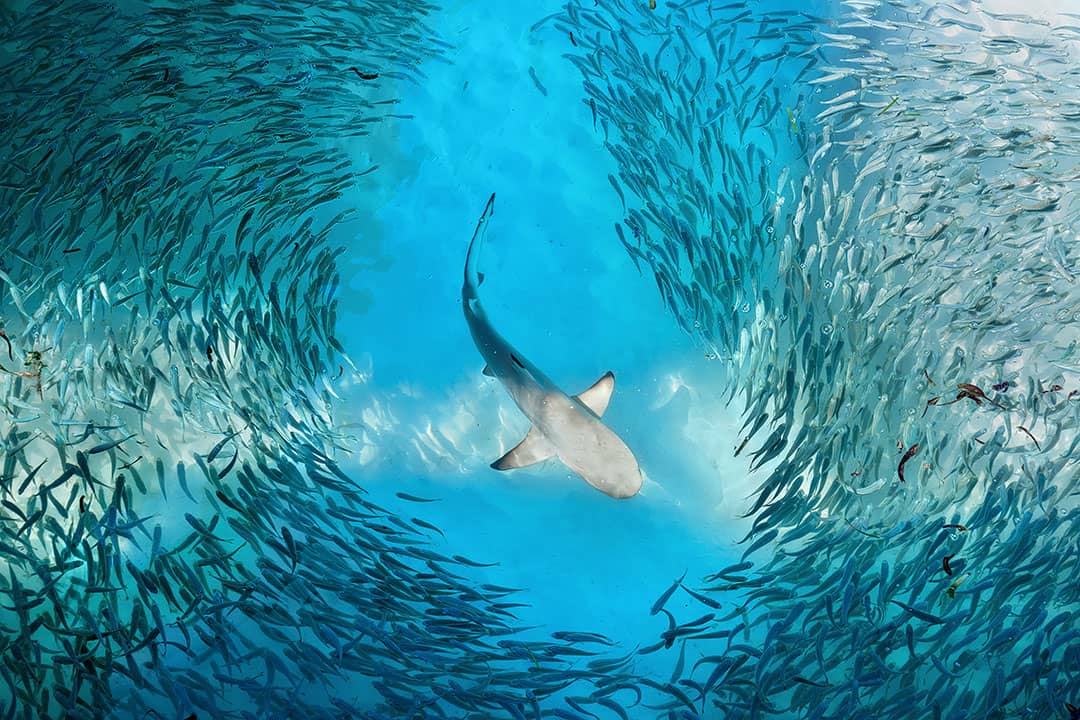 15. Palawan, Philippines
Dive Site: Tubbataha
Depth: Up to 60 meters
Visibility: Up to 45 meters
Tubbataha is one of the best dive sites in Southeast Asia and one of the most accessible places to get scuba dive certified in the Philippines. This site is perfect for first-time divers because it's not very deep and has no currents. Experienced divers will also enjoy diving here because you can find a lot of rare and unusual animals on this reef, including sea turtles, eagle rays, manta rays, dolphins, barracudas, and even hammerhead sharks.
Tubbataha is the land of the giants and has exceptionally clean water that helps all marine life live longer. There are over 300 types of coral and more than 375 fish species. You'll find everything from colorful tropical fish, blue-spotted lagoon rays, unicorns, nurse sharks, and more.
Other Dive Sites: The Philippines has thousands of islands with thousands of dive spots. Puerto Galera is also an excellent spot for marine life and colorful coral.
16. Surin Islands, Thailand
Dive Site: Richelieu Rock
Depth: Up to 25 meters
Visibility: Up to 30 meters
Richelieu Rock is one of the most popular dive sites in Thailand. It is home to a wide variety of marine life and is just a short boat ride from the mainland of Surin islands. With depths ranging from 5 to 40 meters (16 to 131 feet), Richelieu Rock has something for both beginners and experienced divers.
The site is also home to soft corals and sponges, making it an ideal place for underwater photographers. Whale sharks are regularly spotted here, so naturally, divers flock here. But even if you can't spot one, there is still a ton of other marine life and huge schools of fish, including giant trevallies and dogtooth tuna.
Other Dive Sites: Thailand offers some great diving spots. Check out Koh Tao Island and Phuket, too.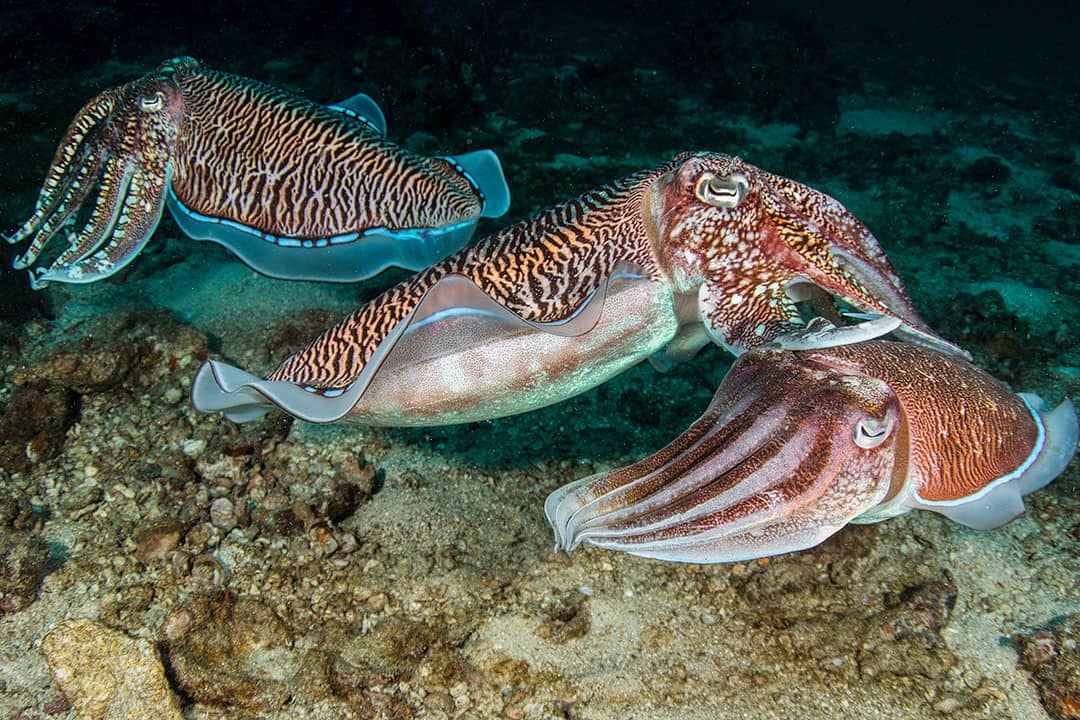 17. Bonaire, Netherlands Antilles
Dive Site: La Dania's Leap to Karpata,
Depth: Up to 40 meters
Visibility: Up to 30 meters
This marine park has over 100 diving spots that are protected and untouched. When checking out the underwater view of La Dania's Leap, you can see the vertical drop-off, which is around 90 ft and 180 ft deep. When looking into the water, there are beautiful soft corals, hard corals, sponges, and many other tropical fish. You'll find snapper, goatfish, butterflyfish, nurse sharks, sea turtles, and more. Visit between September and December when the sea is the calmest.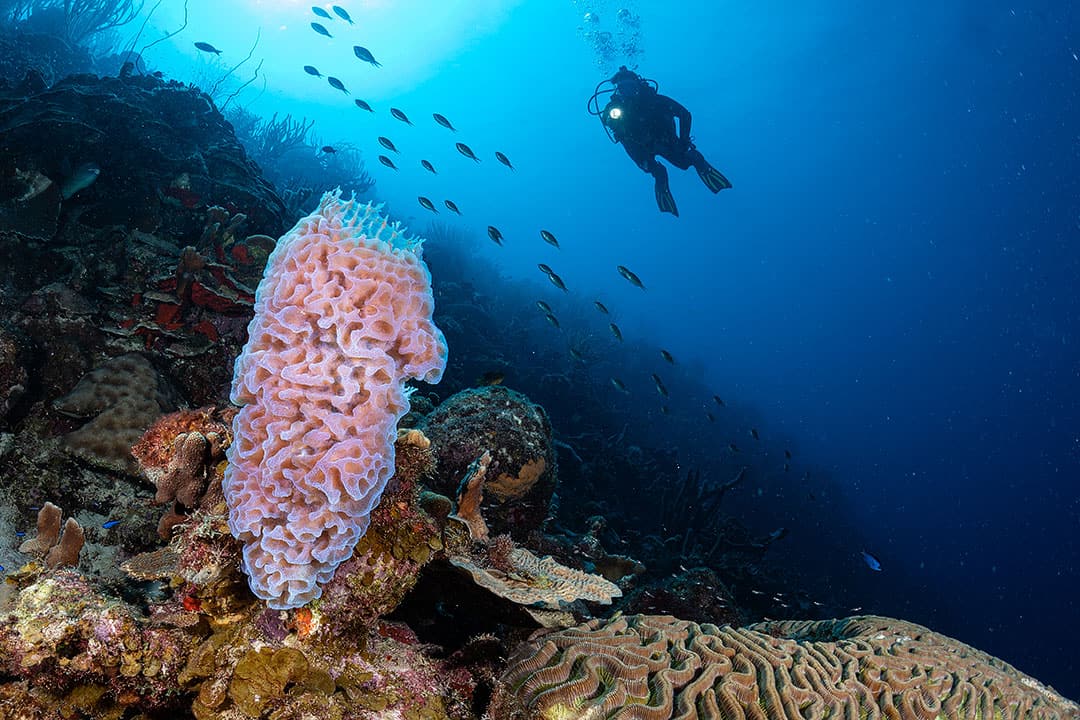 Dive Site: Silfra Fissure
Depth: Up to 45 meters
Visibility: Up to 90 meters
Silfra Fissure has crystal clear water but almost no marine life. It is located in Þingvellir National Park, Iceland. Two tectonic plates pulled apart at the Mid-Atlantic Rift formed the fissure. The water flows between the North American and Eurasian Plates, making it an extraordinarily unique dive spot. The exceptional visibility can be up to 100 meters (328 feet).
Dive into this lake and swim between two continents (North America and Europe). The chasm between the two tectonic plates leads to a massive cave with amazing visibility and jaw-dropping views. Just remember that the water is really cold here because of the melting glaciers about 20 miles away.
Local Tip: Book a tour of the Silfra Fissure here.
See More: Silfra Snorkeling Experience in Iceland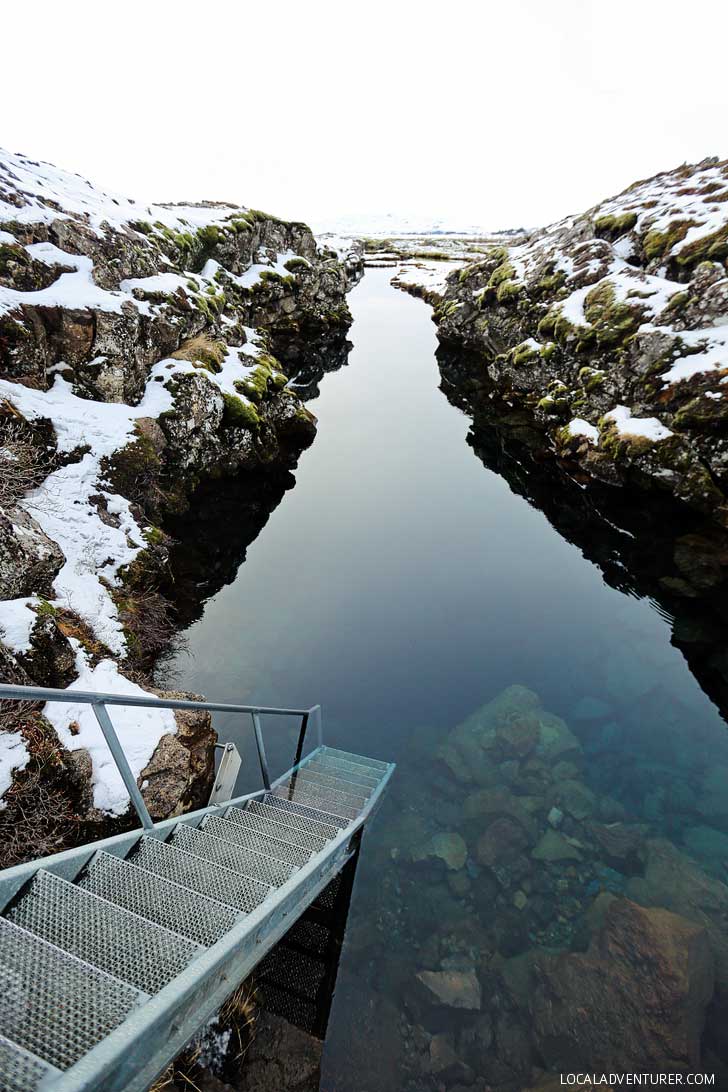 19. Poor Knights Islands, New Zealand
Dive Site: Middle Arch
Depth: Up to 40 meters
Visibility: Up to 40 meters
Middle Arch is one of the top dive sites on Poor Knight's Island, a small island located in the Hauraki Gulf. Middle Arch is known to have a significant marine life population and is often visited by smaller marine creatures. The area also has a large variety of sea rocks and corals that attract many marine life.
Middle Arch can be easily recognized as there is an archway with pinnacles behind it. This underwater garden is home to nudibranchs, coralfish, and scorpionfish if you can spot them. Due to the depth, visibility, and marine life, this dive site attracts beginner and advanced divers alike. It's some of the best sub-tropical diving you can do.
Other Dive Sites: Check out Northern Arch, Bernies Cave, Landing Bay Pinnacle, and Blue Maomao Arch, too.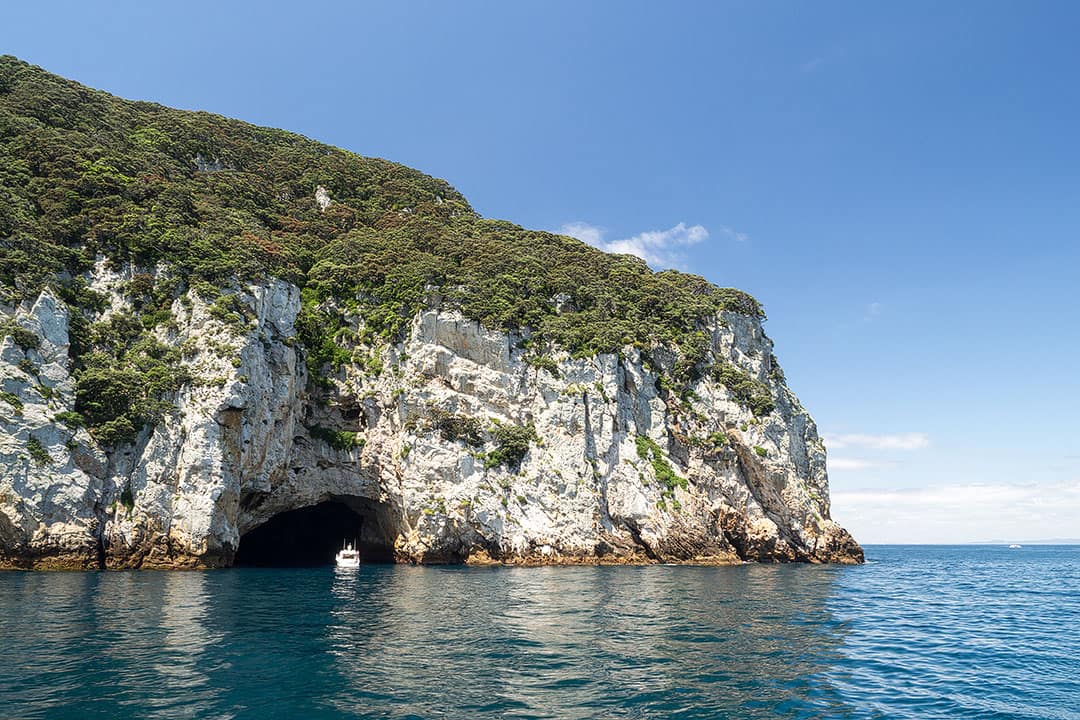 20. Little Cayman, Cayman Islands
Dive Site: Bloody Bay Wall
Depth: Up to 1000 meters
Visibility: Up to 45 meters
Bloody Bay Wall is one of the best dive sites in Little Cayman. It is a wall dive with an amazing array of marine life, including schools of barracuda, snapper, jacks, and queen angels. The coral reef at this location is one of the most spectacular in the Caribbean. Shallow reefs, drop-offs from 10 to 50 feet, and walls from 50 to 100 feet give divers an unusual opportunity to observe various marine life.
Turtles frequently rest on the bottom or swim lazily along the reef crest. Moray eels have been known to "play" with divers who swim by them. Barracuda are often spotted hovering over the reef looking for their next meal, while angelfish dart around them looking for shelter. This seemingly endless wall has 13 stop-offs that give you plenty of options. The bright tube sponges, small caves, and tropical fish give you plenty to explore and appreciate. Don't forget to glance up to the surface and down towards the abyss to remind yourself how small we all are.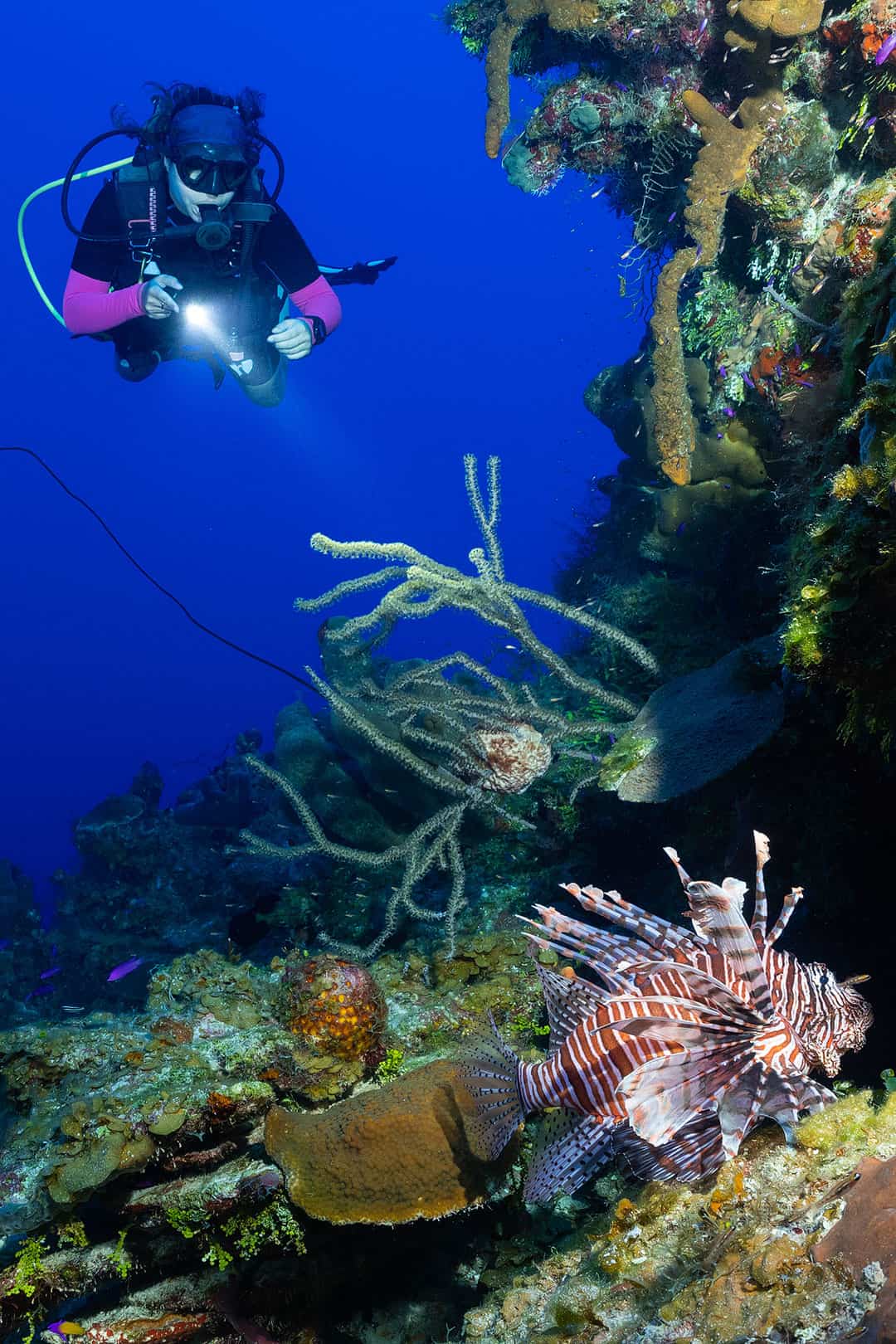 21. Borneo, Malaysia
Dive Site: Layang Layang
Depth: Up to 50 meters
Visibility: Up to 40 meters
Layang Layang is an atoll just off the coast of Malaysia's Sabah state in Borneo. The atoll is home to a nature reserve and marine park, but the diving and snorkeling around it make it unique. The coral reef around Layang Layang Island, also known as Pulau Kapas, is in pristine condition, said diver Andrew Davies, who has made multiple trips to the site.
The dive sites range from shallow reefs with overhangs and caves to deeper drop-offs with large schools of fish. This exclusive dive resort is worth the trip! Secluded waters and plenty of dive sites allow you to see schools of hammerheads, whale sharks, and surgeonfish. The Gorgonian Forest, Wreck Point, and D'Wall are some of the best dives.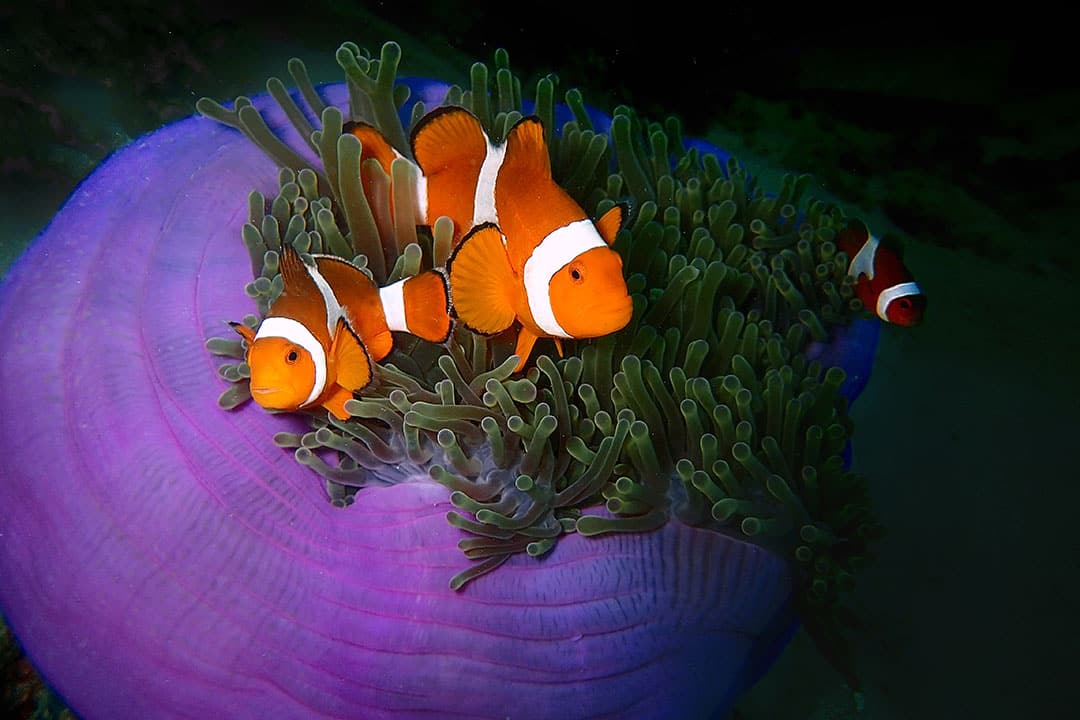 22. Tofo, Mozambique
Dive Site: Manta Reef
Depth: Up to 28 meters
Visibility: Up to 30 meters
Manta Reef in Tofo, Mozambique is one of the best dive sites in the world. While it is also a beautiful fishing village, the unique marine animals are the main draw to Manta Reef. Named for the humungous mantas that you'll see, this is a truly unique experience. Swim with these giants that reach up to six meters across and watch for the smaller fish that attach themselves to feed on parasites. There are large schools of fish, massive shoals of tuna, and many different types of sharks.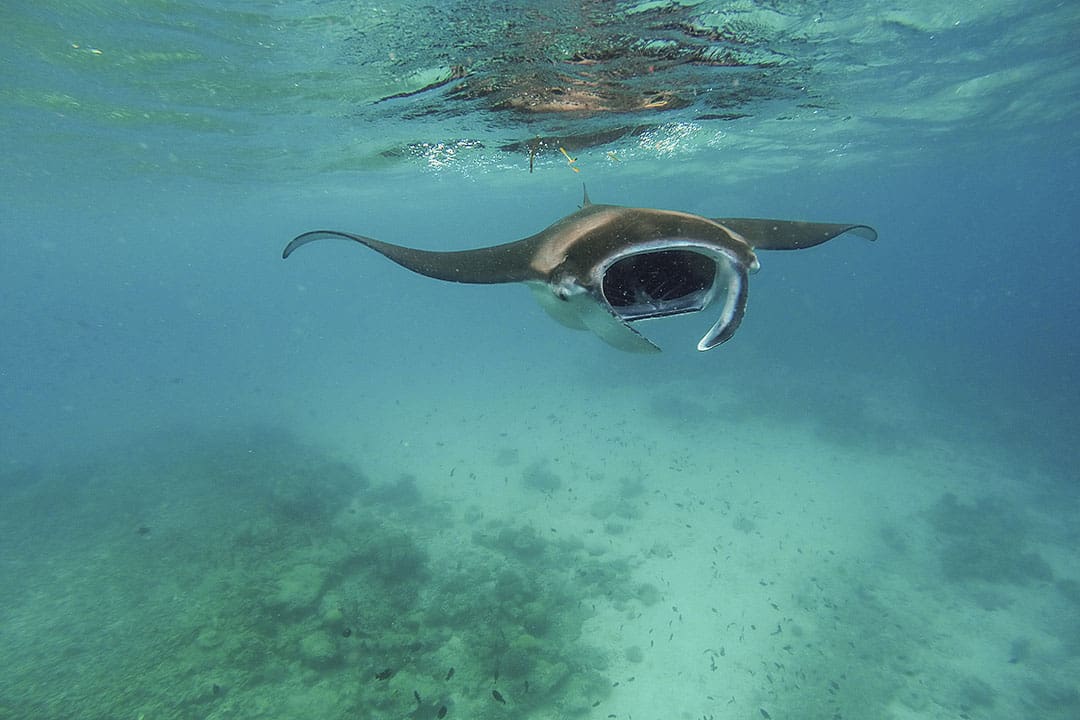 23. GOzo, Malta
Dive Site: Blue Hole
Depth: Up to 45 meters
Visibility: Up to 30 meters
Blue Hole is one of the most popular dive sites in Gozo, Malta. It features two lakes and several tunnels. The site is excellent for all levels, from beginners to experienced ones. It is a unique dive site with several tunnels.
The Blue Hole is about six meters deep and about 10 meters wide. The Blue Hole is one of the best diving spots in Malta and Gozo. This dive spot focuses more on the caves and scenery than the marine life. The limestone walls house sea urchins and starfish, making a beautiful backdrop to the bright blue waters.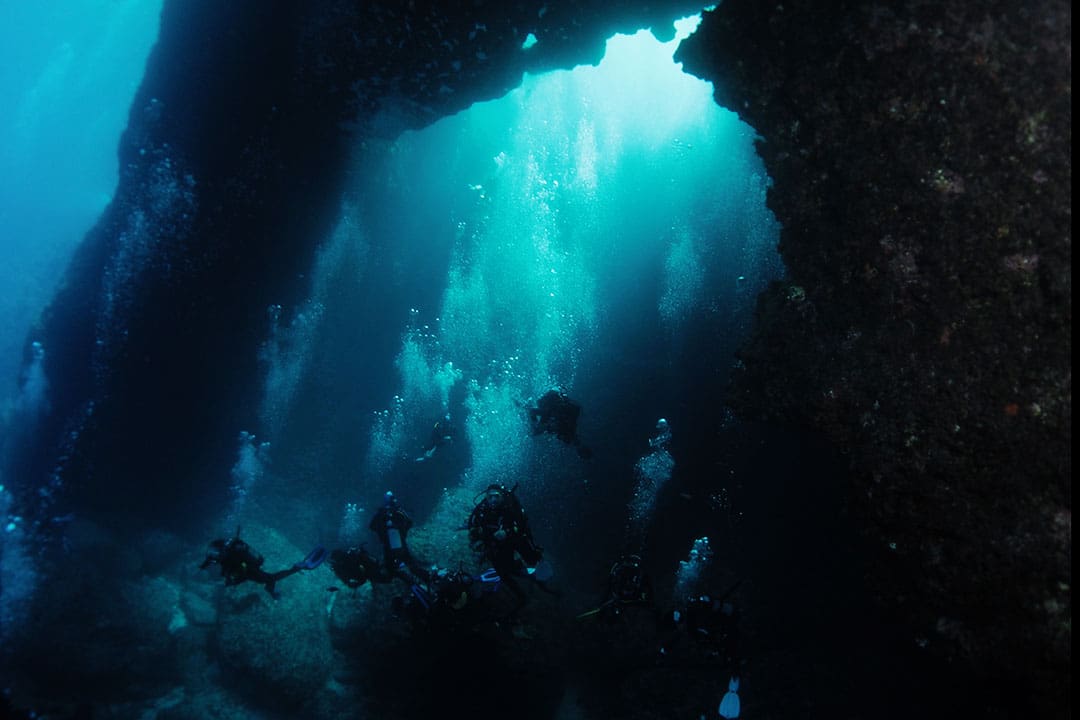 Dive Site: West Caicos Walls
Depth: Up to 6000 feet
Visibility: Up to 45 meters
Turks and Caicos has plenty of diving spots, but the most unique is the 6000-foot drop-off only a mile and a half from shore. West Caicos Wall Dive Site offers an amazing experience for divers looking for a new place to explore.
It's a good spot for snorkelers and divers since shallow parts near the shore will let you enjoy all the beauty without getting too deep. You'll find corals, sponges, tropical fish, sharks, sea turtles, and more. The government also makes a considerable effort to protect the waters and marine life.
See More: 15 Best Things to Do in Turks and Caicos
25. Gizo, Solomon Islands
Dive Site: Grand Central Station
Depth: Up to 50 meters
Visibility: Up to 30 meters
Grand Central Station is part of the greater Gizo Reef, with many spectacular dive sites. The site gets its name from the large amount of fish that gather under the two small pinnacles at the site, which look like the headlights of a train heading into a station.
The drop-off here is steep, with large boulders and coral formations that create an immense biodiversity of marine life. You'll have to learn to go with the flow at this dive spot. With a current strong enough to knock your mask off, you need to relax and enjoy the show. You'll see some of the highest concentrations of fish on the planet and a mix of all sizes and shapes.
Map of the Best Dive Sites in the World
Which of these dive sites in the world are at the top of your travel wish list? What marine life would you want to see most? Any sites that we're missing that are in your top 10?
DID YOU ENJOY THIS POST? PIN IT FOR LATER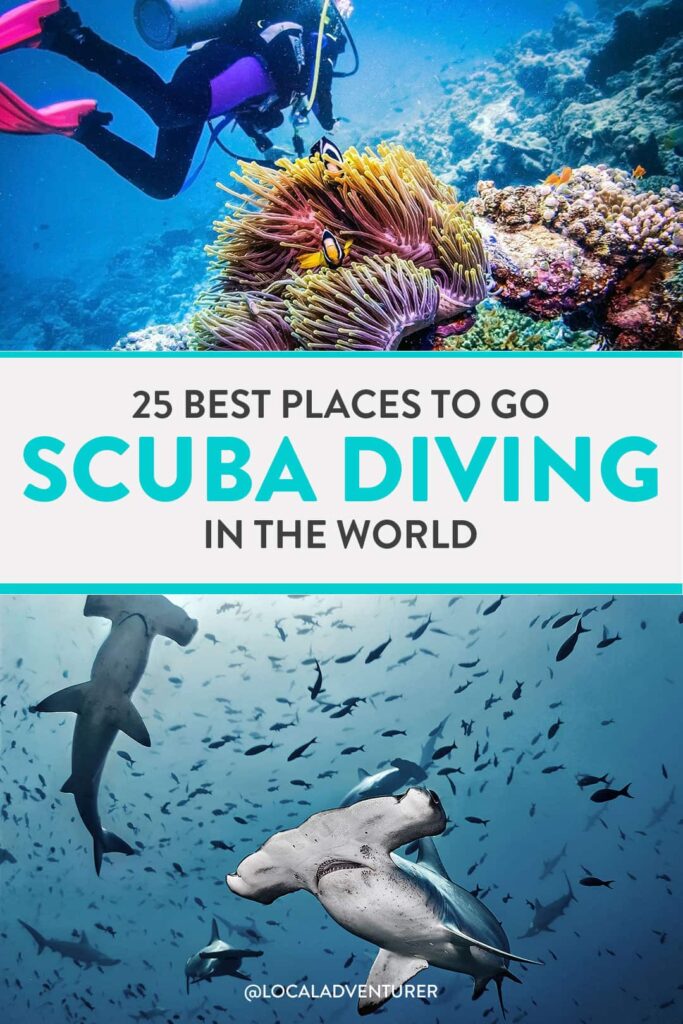 SEE MORE NATIONAL PARK GUIDES
⟡⟡⟡⟡⟡
"Discovery consists not of seeking new lands but in seeing with new eyes" – M. Proust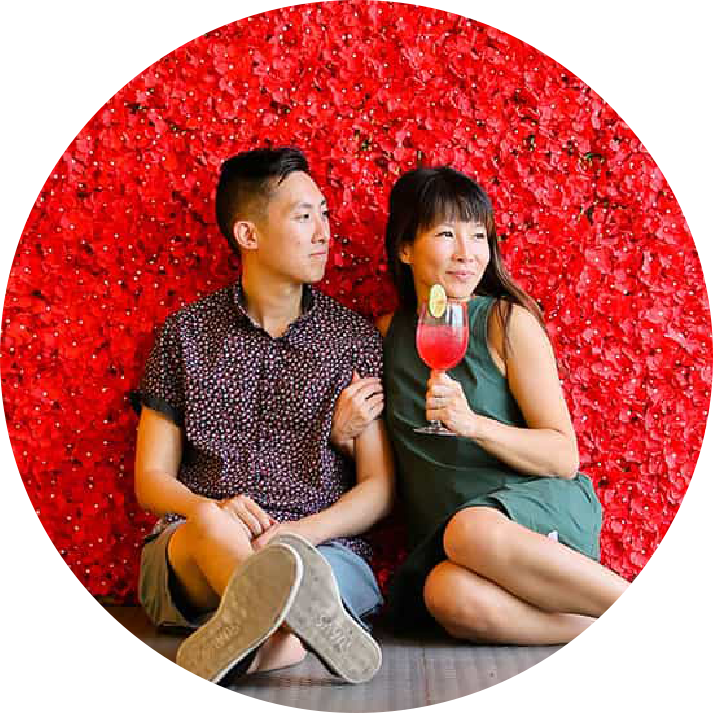 Esther + Jacob
Esther and Jacob are the founders of Local Adventurer, one of the top 5 travel blogs in the US. They believe that adventure can be found near and far and hope to inspire others to explore locally. They explore a new city in depth every year and currently base themselves in Las Vegas.
Follow on Instagram (E + J), YouTube, TikTok, and Pinterest.