Is there something you told yourself you would never do, and years down the line you found yourself doing that exact thing you said you would never do? That happens to me a lot (both good and bad). With diving, I was set on never EVER being trapped underwater at the mercy of all the scary sea life. Forget about the sharks and whales that can swallow you whole… small fish freak me out!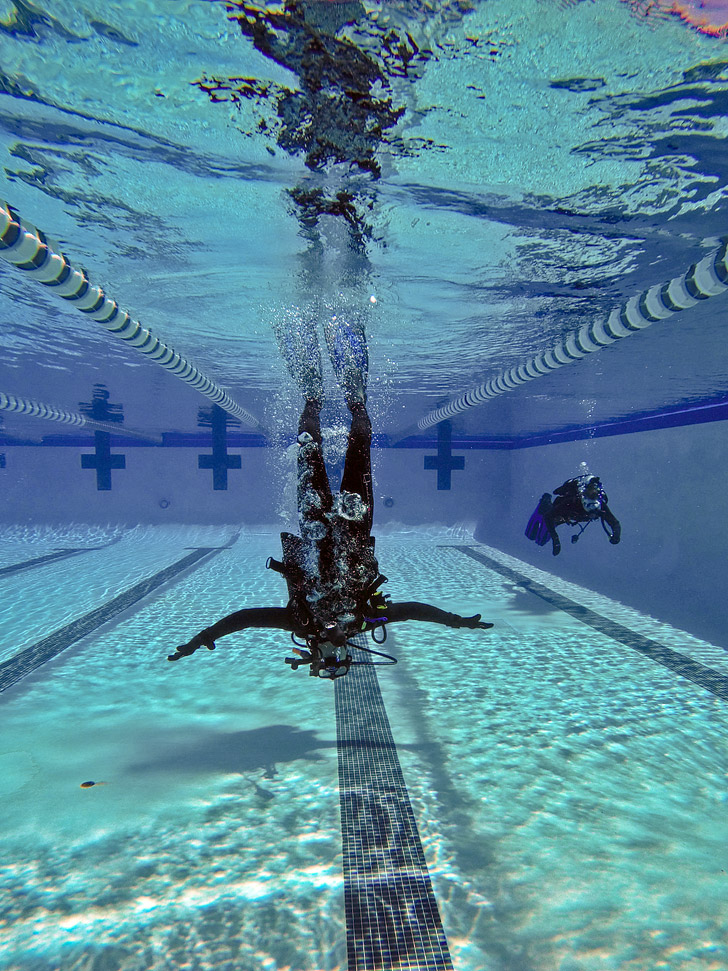 Pin
It was only recently that I started realizing that we had visited all these great diving destinations. We couldn't help but think that we were missing out on a lot of amazing experiences. After all, most of the world is made up of ocean. Before leaving San Diego (and the ocean 😢), we decided it was about time to get dive certified and finally check it off our ridiculously long bucket list! If I can do it, I feel like anyone can.
MORE > 15 BEST PLACES TO SCUBA DIVE IN THE US
THE FIRST THING YOU NEED TO DECIDE
PADI vs SSI. This was the big question for us. SSI seemed to be cheaper everywhere we looked and they had more deals. We have friends who are certified in both and they are both recognized around the world. We were told it's more about the instructor than the course, which we lucked out on. We also heard people say PADI is still more widely recognized and easier to access. We decided, just to be safe, to go with PADI.
WHERE TO GET DIVE CERTIFIED
You can get dive certified at any local dive shop. If you're in the SoCal area, we highly recommend House of Scuba. Otherwise, you can google your area to see what they have available or even use the PADI dive shop locator. If any of you are deal hunters out there, be wary of groupon or living social deals that look really cheap. Sometimes they have hidden fees or charge you for stuff they may have normally included. We stopped by House of Scuba where they walked us through the whole process and got us scheduled for our classes.
Also if you can help it, don't get certified while you're on vacation. We think it's a waste of vacation time. It's better to get certified at home and spend your valuable time exploring the amazing destination you traveled to.
If you're unsure about the whole thing, a lot of shops offer an intro class that gives you a chance to get your feet wet (and the rest of your body 😜). You basically get to play in a pool and see if you even like the scuba diving sensation. Keep in mind that time doesn't count towards your certification!
WHAT YOU NEED
Most of the gear is provided, but they required some personal gear (we linked what we currently use)
You can buy all the other gear, but we recommend you stick with the basics until after the classes. It's a good way to gauge whether you'll be interested in diving after. The basics can also be used to snorkel, so it won't be a total waste if you decide not to dive again.
THE CLASSES
The typical class takes place over two weekends. One weekend, you work in the classroom and pool, and the following weekend you're in open water.
For us, it felt like we were back in school. You have to read the entire dive manual, watch the video, and it helps to take the practice quizzes. You learn how depth affects pressure and air volume. You have quizzes after you review each chapter in the class and a final quiz, where you need a 75% or above to pass. The book isn't exactly a quick read, so don't procrastinate and pull an all-nighter like us (did bring back old memories of our college days though). This stuff is important so you don't get the bends or have your lungs rupture! Reading about all that made me even more paranoid (What? I need to remember all these rules even while these fish are giving me tons of anxiety?)
Don't worry, though. Once you put all that theory into practice, it will become second nature.
Pin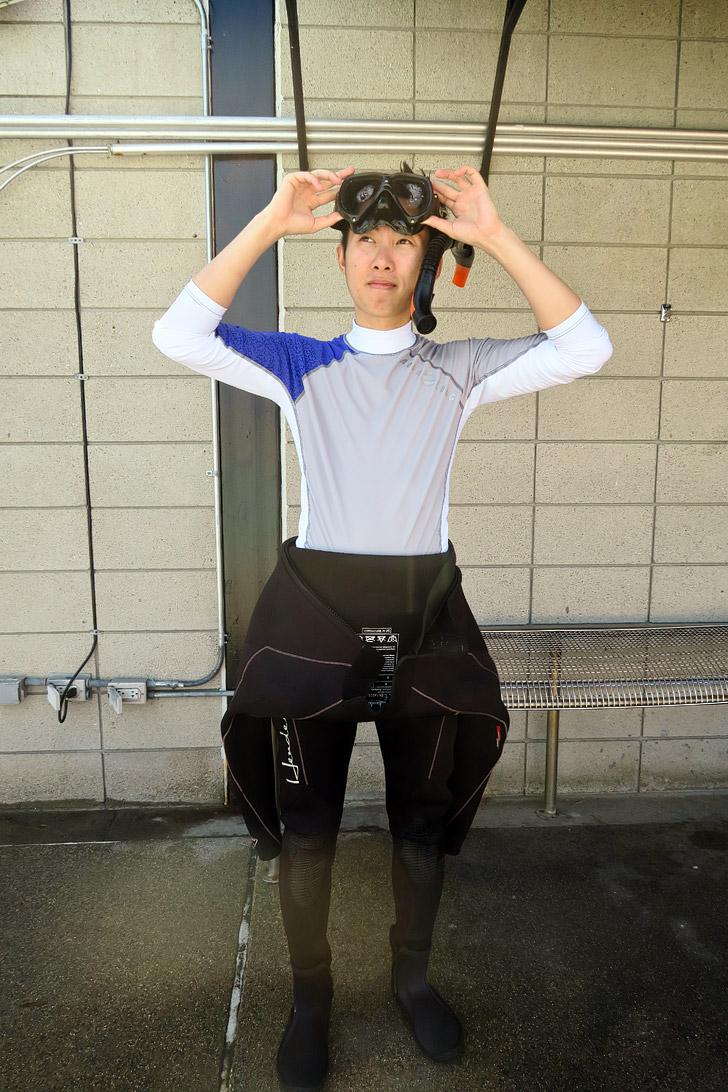 Pin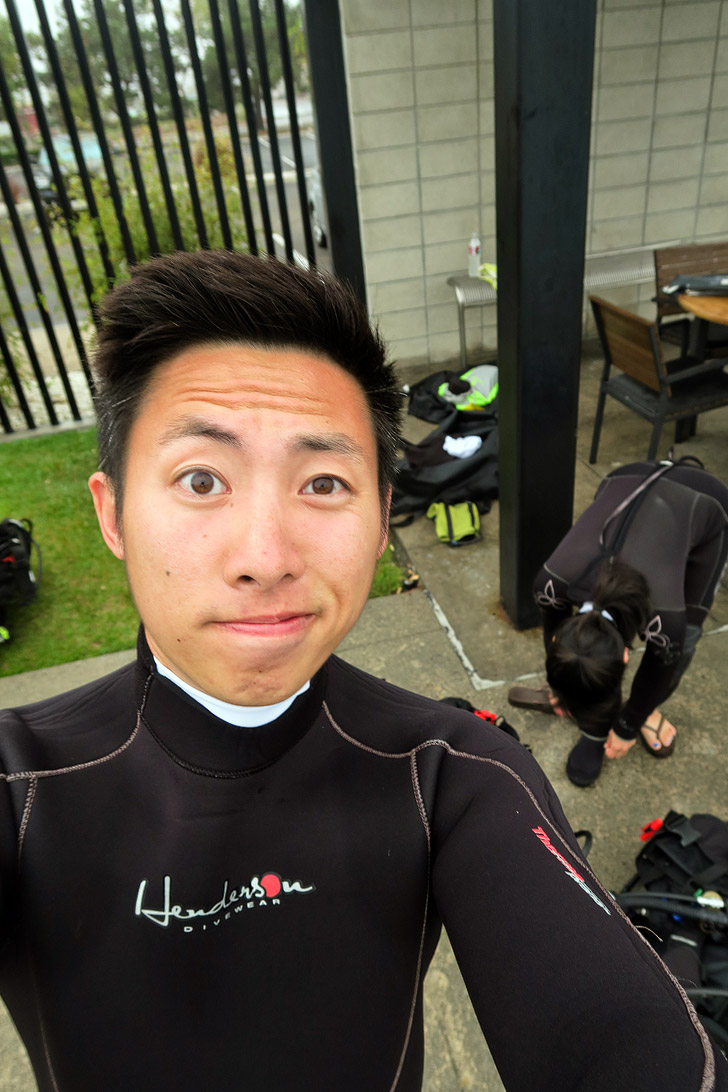 Pin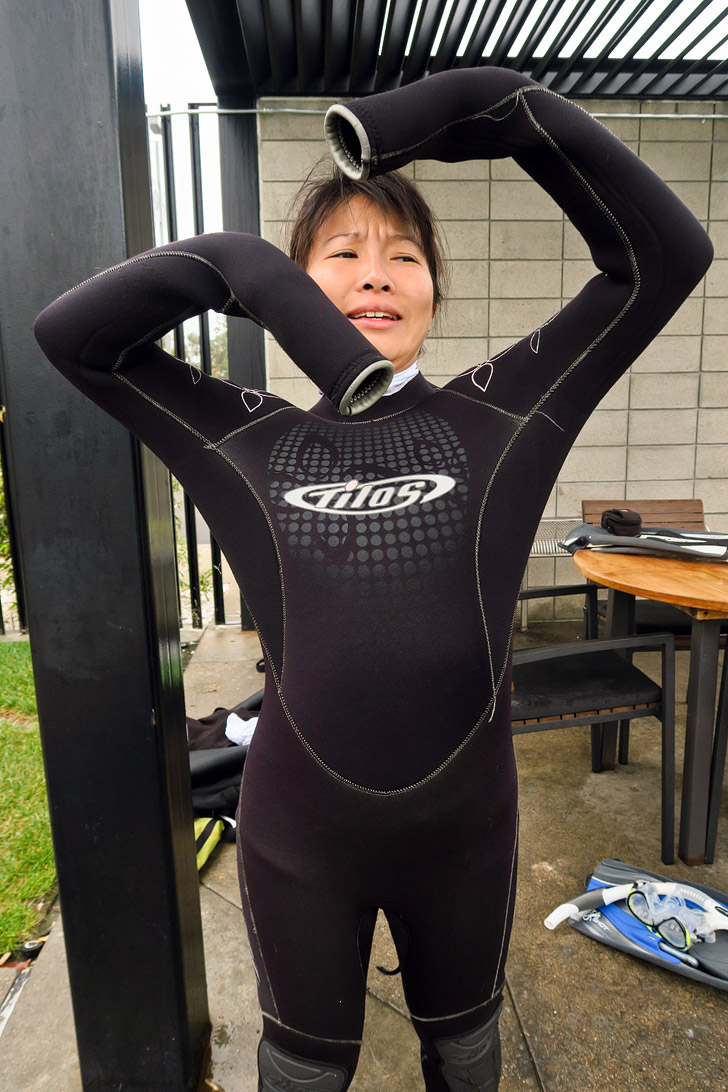 Pin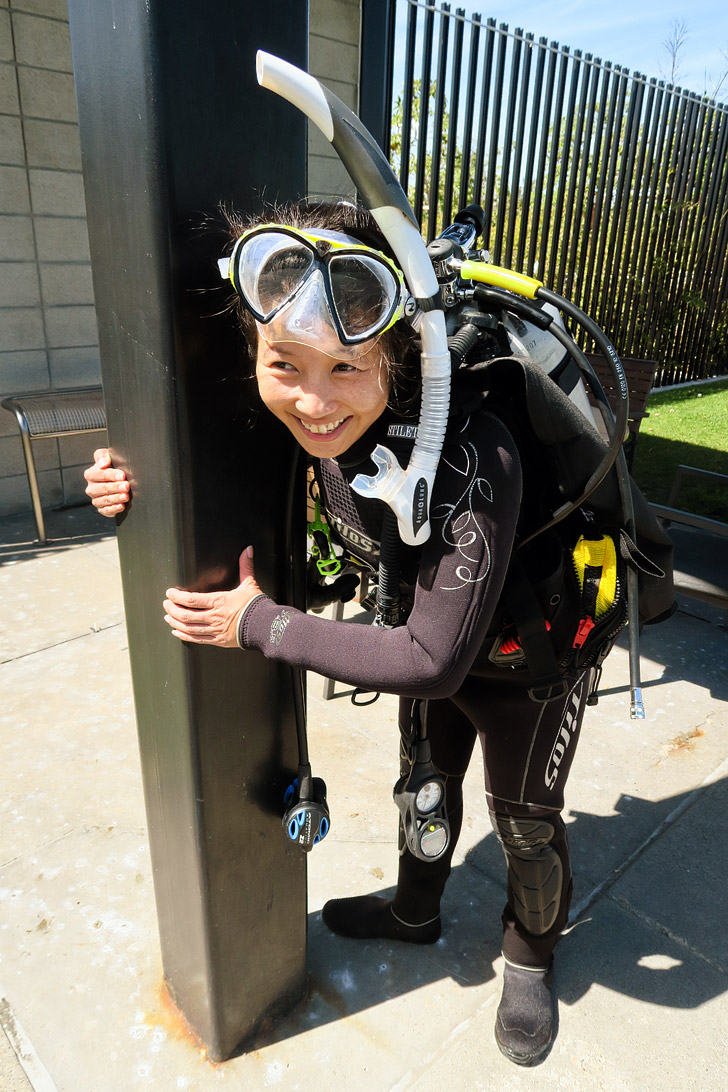 Pin
The hardest part is putting on a wetsuit. Even harder.. putting on a wet wetsuit!
The 200 m swim wasn't exactly easy either. Even though I practically lived in a pool as a kid, I never learned how to properly swim. I do a lot of thrashing around and waste a lot of energy. 😜 They let me take my time and float on my back, which saved me, but maybe it's time to take swimming lessons!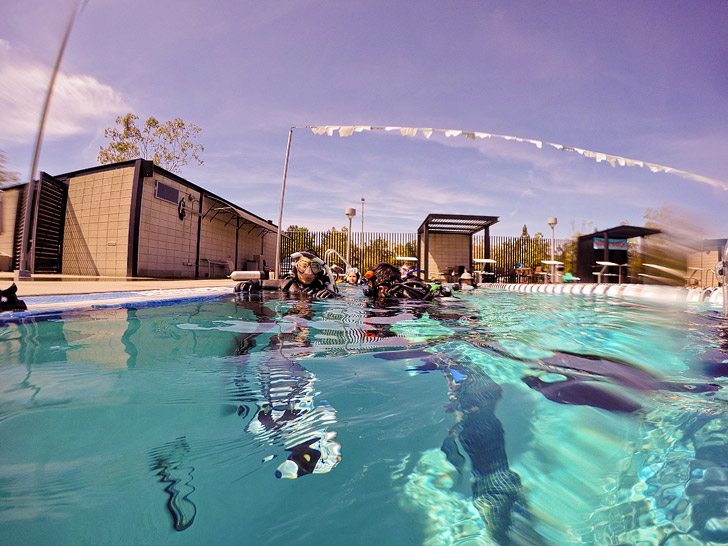 Pin
Even though I was beyond nervous, we had the best teachers! Our instructor, Dan, was really great with helping us get comfortable in the water (he also reminded us of Mike Ehrmantraut from Breaking Bad… a less serious version of him but still very BA, that if something were to go wrong, he got it under control). During the pool weekend, you spend a lot of time working on skills that help you in every worst case scenario. If you need extra assistance, you can decide to take a personal class instead. We had someone in our group do that after day 1 in the pool.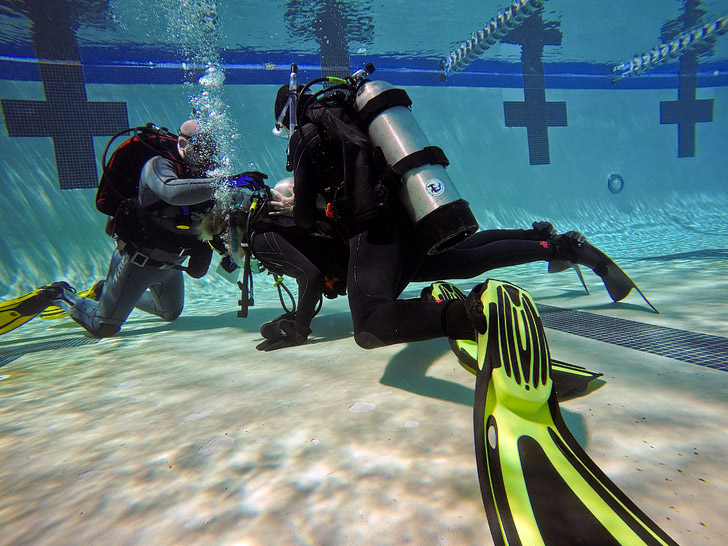 Pin
Pin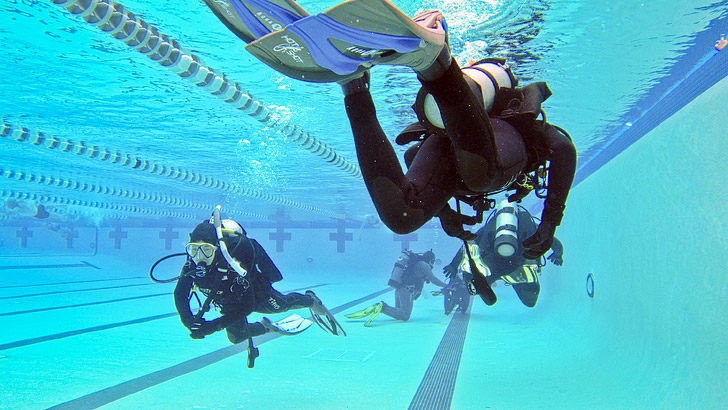 Pin
Pin
After getting comfortable in the pool, you practice those same skills in open water (PS we killed our camera batteries, so no photos 😭). For us, it was the ocean off the coast of San Diego. Our instructor joked that if we can get certified here, anywhere else will be a cakewalk, and he was not over exaggerating! The waves are rough, the water is cold, and the visibility isn't great. I was getting owned by the waves and had the hardest time getting out to the ocean. Every time a wave hit me, I'd be thrown back 10 feet. We almost called off the first day, but we were able to muscle through it and complete one dive. The second day, we did the remaining three and were ecstatic to finally be dive certified!
Cheers! We're whiskey divers!!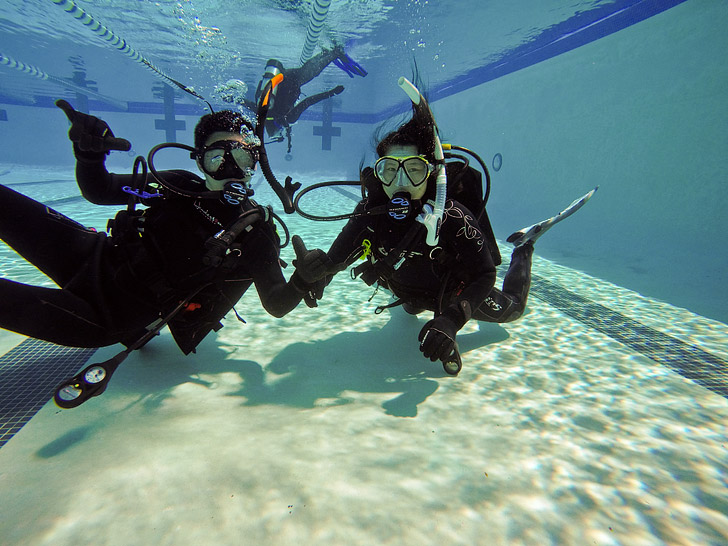 Pin
WANT TO STAY NEARBY? Click Here For Best Prices and Hotel Reviews
Now it's time to schedule some more fun dives! Still gotta master that buoyancy. If you dive, where are your favorite spots? Any of these places interest you? If you don't dive, have you ever considered getting dive certified?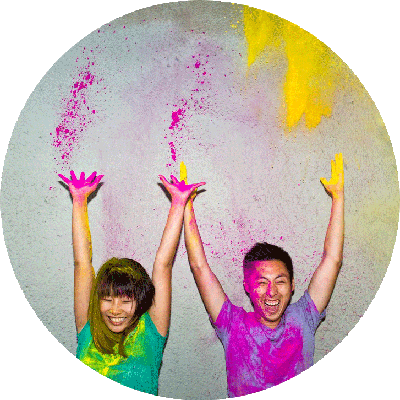 Pin
ESTHER + JACOB
Esther and Jacob are the founders of Local Adventurer, which is one of the top 50 travel blogs in the world. They believe that adventure can be found both near and far and hope to inspire others to explore locally. They move to a new city every year and currently live in Portland, Oregon.