The Silfra fissure is the result of the tectonic drift of the Eurasia and North American plates. Every year, the plates drift about 2 cm apart, and the tension leads to small earthquakes in Þingvellir National Park. Silfra is one of the largest cracks and one of the most popular dive and snorkel sites in the world. It's amazing that you're swimming right in between two continental plates!
The company we went with was Dive.IS which is a PADI 5 star dive center that also offers snorkeling tours.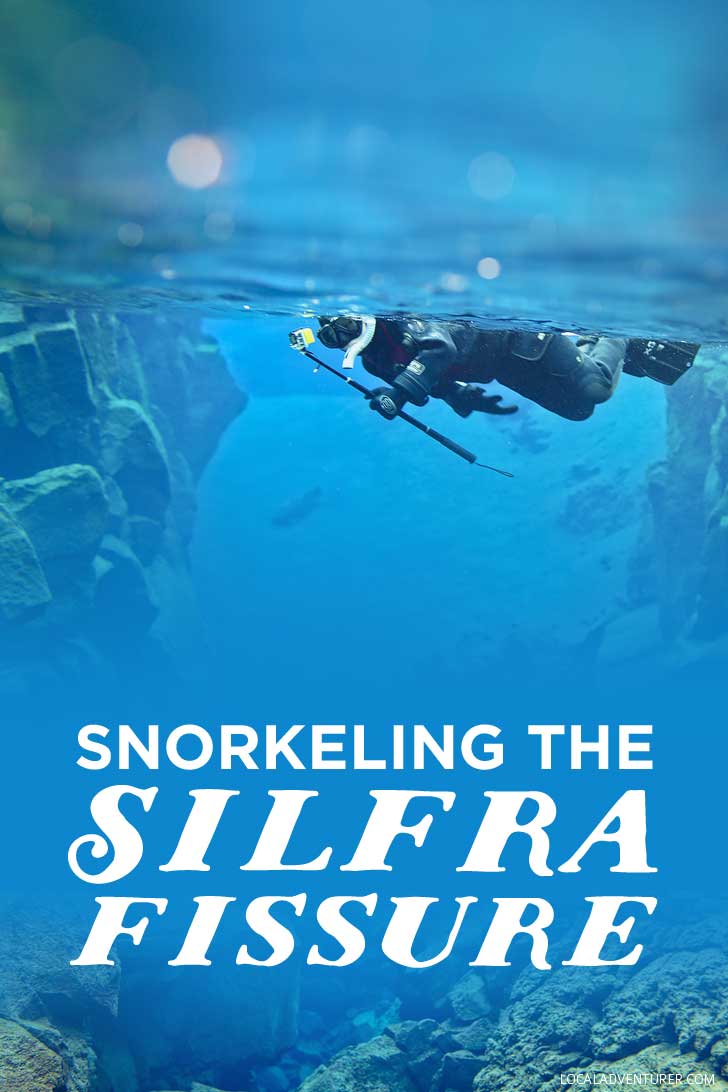 Pin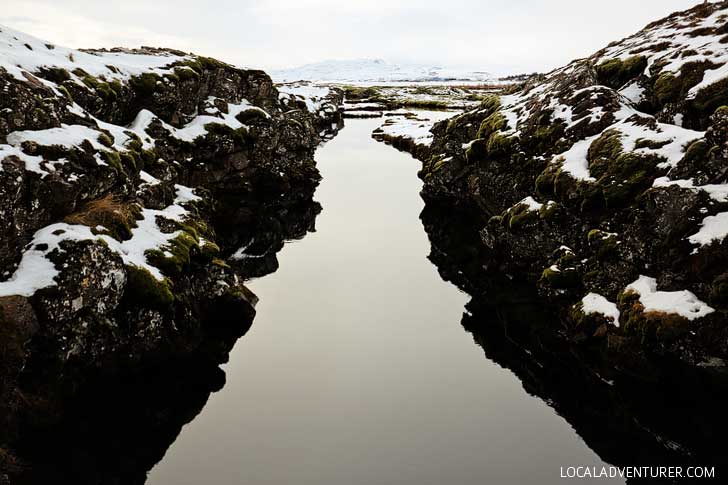 Pin
I was (and still am) recovering from a 3 month cold / flu / whatever it is, so I was scared that swimming in glacial water would exacerbate my symptoms. But I also wasn't sure when I would have another chance to do this again! (Btw, don't follow my example… It's probably best to take care of your health first.)
The water stays approximately 2°C (35.6 °F) year round, so in the winter, you notice the difference in temperature much less. You get outfitted in a thermal jumpsuit onesie, dry suit, and wetsuit gloves and hood that keeps you pretty warm. It's only your face that's freezing, and even then you can take breaks and float on your back! There's also a slow current that allows you to drift the whole way, but near the exit point, you do have to kick a little.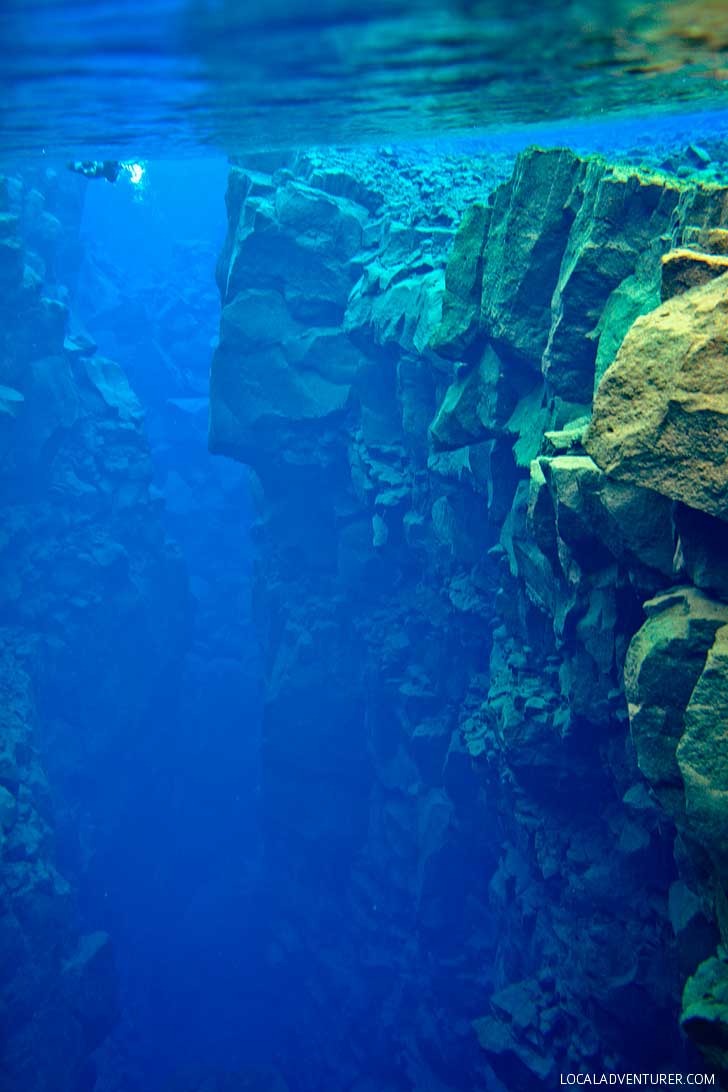 Pin

Pin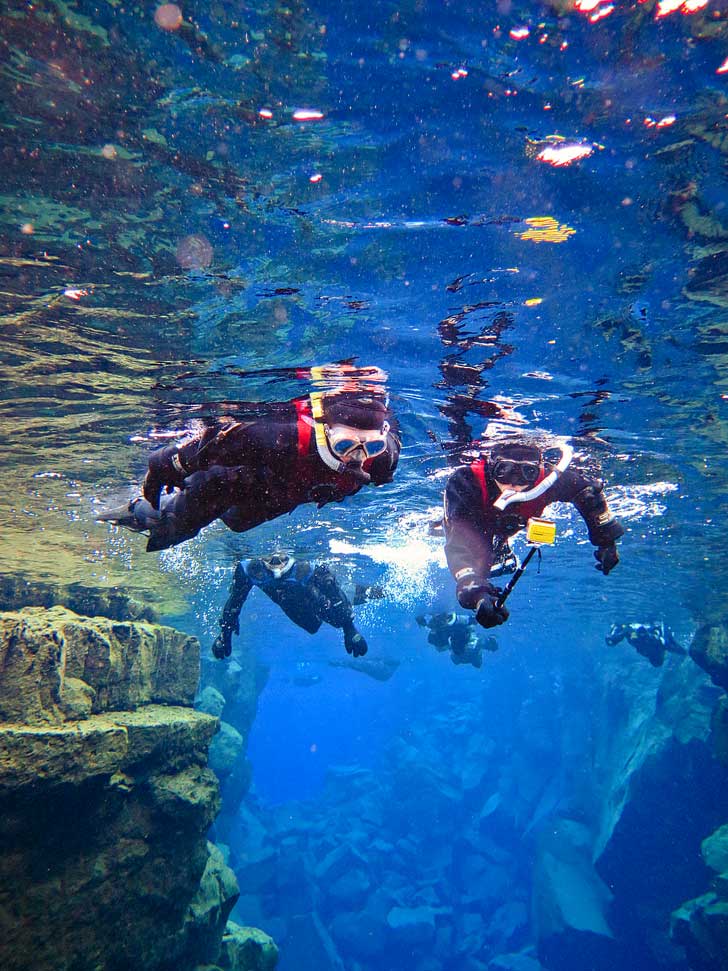 Pin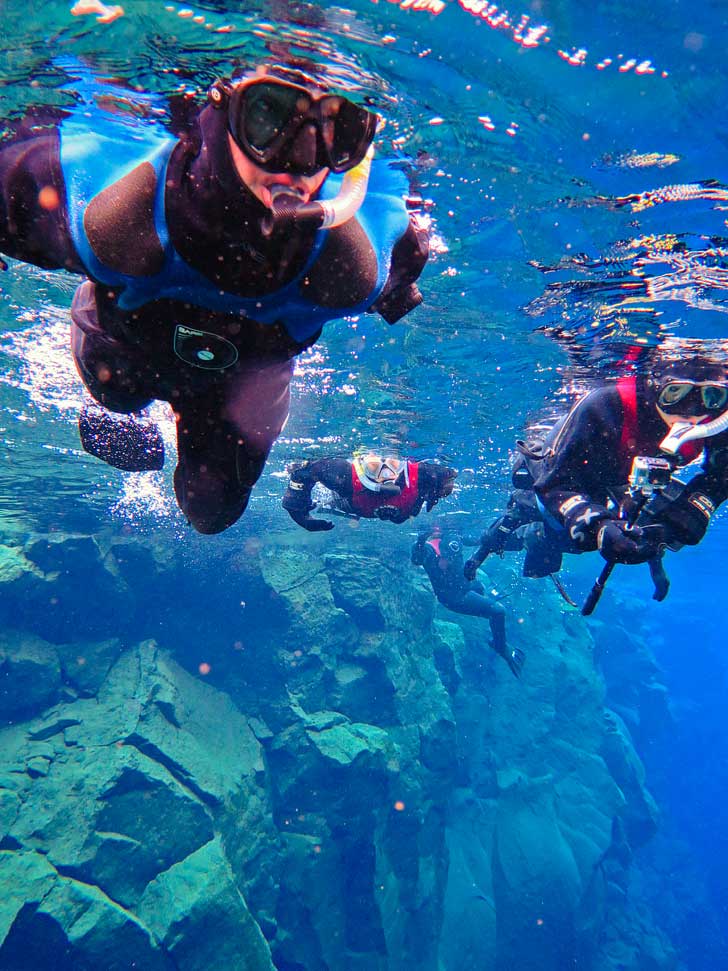 Pin
The water that fills the space is glacial water, so even though you won't find marine life, you can get over 100 meters of visibility (that's just shy of a football field). Plus, if you're feeling a little thirsty, the water is pristine and great for drinking.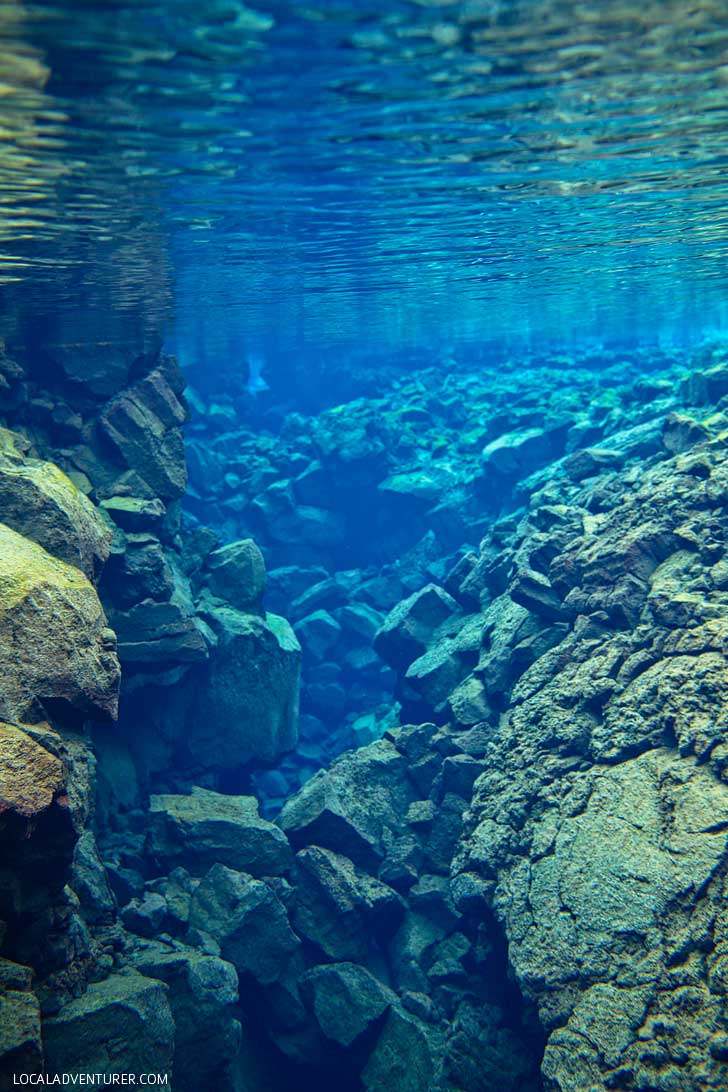 Pin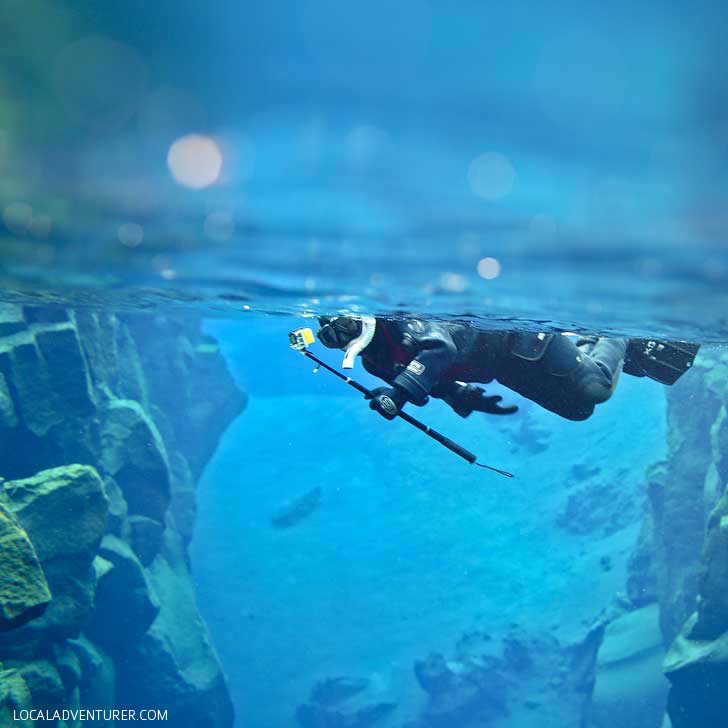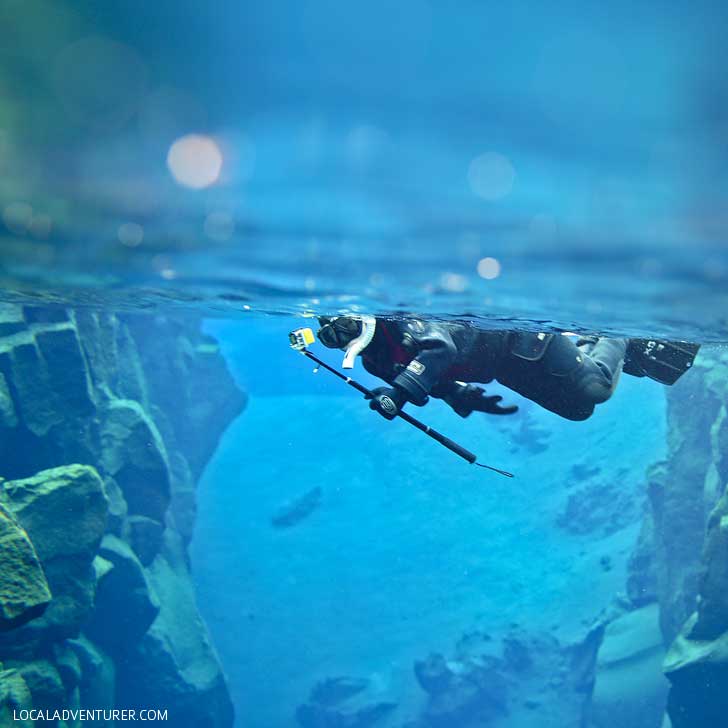 Pin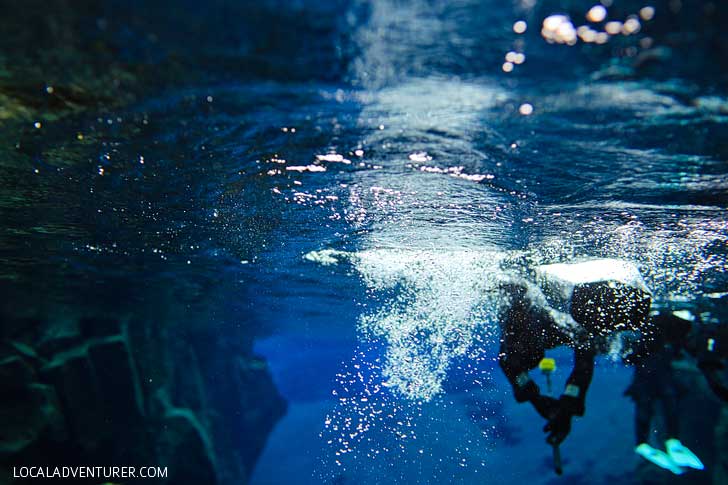 Pin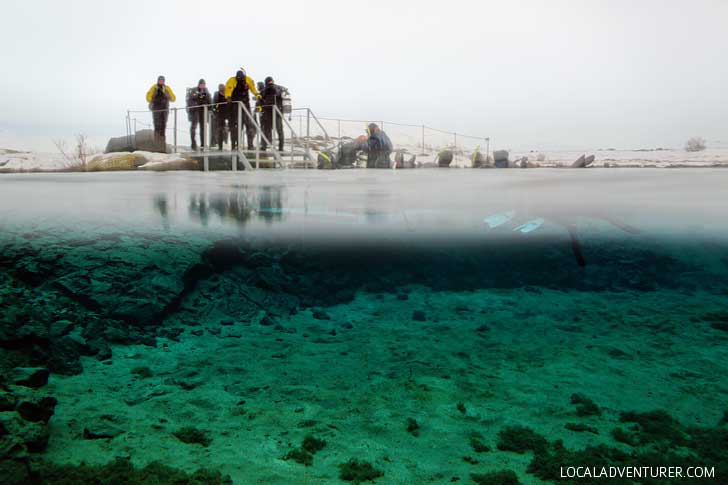 Pin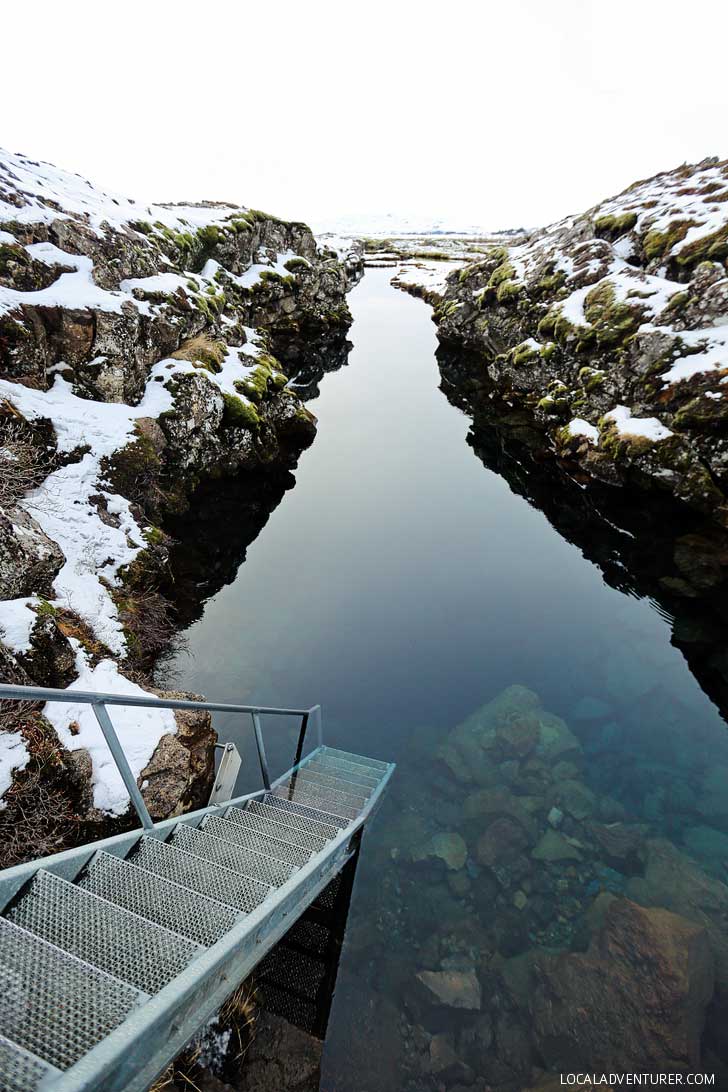 Pin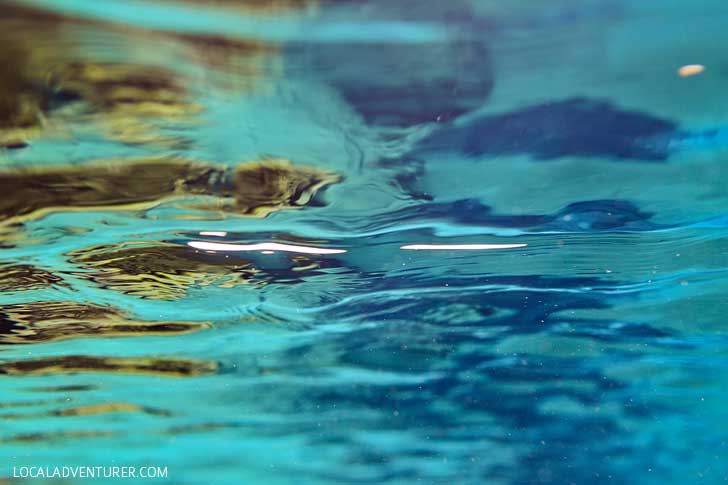 Pin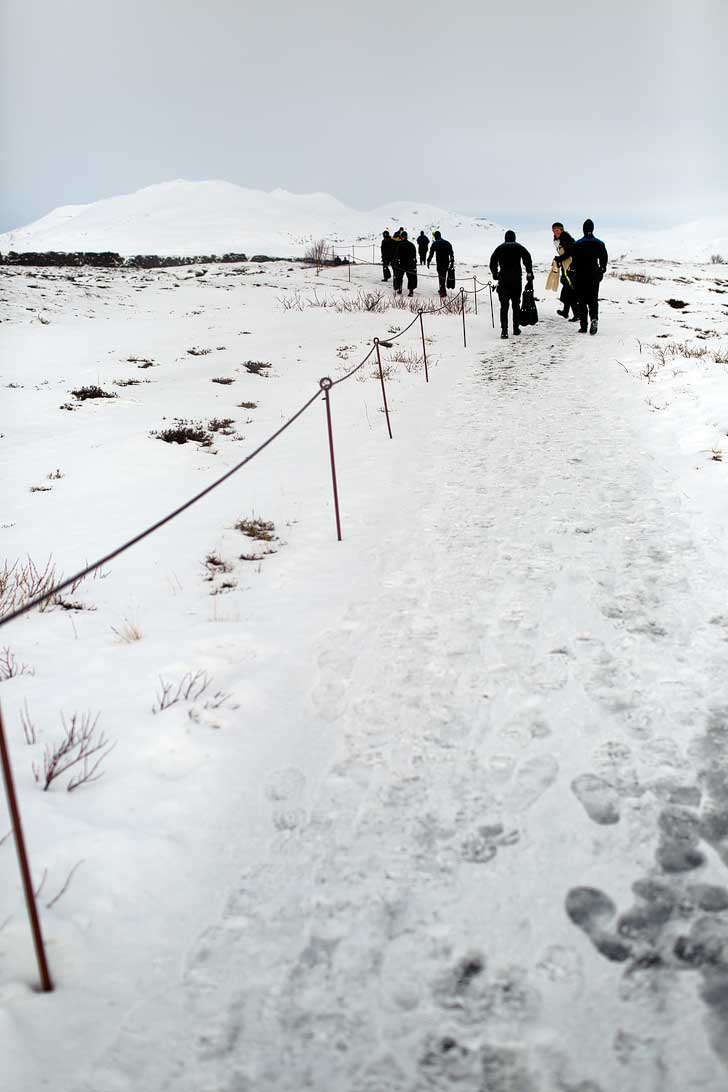 Pin
Pin
They fed us hot chocolate and cookies afterward – a perfect way to end the excursion!
We had a great time and loved our guide, Asgeir or "AJ" (he was a handsome dude and Jacob agrees! 😉). He did a great job making sure we were all comfortable and safe, and now we can say we've snorkeled in glacial water AND in between two continents!
PRO TIPS FOR SILFRA SNORKELING
Parking is about 100 meters from the staging site.
Set aside two and half hours for the excursion. We spent about an hour suiting up and going over safety, 30-45 minutes snorkeling, and 20-30 minutes getting out of the suits. It was enough time to appreciate the fissure and not freeze our faces off.
Surprisingly, it's better to go during the winter (as long as it's not windy). It stays 2°C (35.6 °F) year round. Since the temperature outside is closer to the water temperature, it doesn't seem as cold.
There is a bathroom at the prep site with warm water. Be careful not to burn yourself when you're washing your hands because the water gets scalding hot!
If your face gets cold, take breaks and float on your back.
They put on a choker at the end to make sure no water leaks into your suit. I always have a hard time figuring out what's tight enough or too tight. I was worried about getting wet and cold so I picked too tight and felt like I was getting asphyxiated. Oops! Make sure you don't feel lightheaded but that it's snug. Hopefully, you'll know the right fit. ;)
Try not to clench your hands when you're in the water. As you flex, it creates space on your dry suit for water to leak in.
The gloves and hood are the only parts that aren't made of dry suit material. Your hands and head will get wet and a little cold.
WHAT TO PACK FOR SILFRA SNORKELING:
Wear thermal underwear / long johns and 2 layers of socks (Don't forget 2 layers!). One of our friends decided to try one pair, and his feet were not happy with him.
We don't like sharing snorkels and wanted to make sure our mask fits, so we brought our own masks and snorkels.
Underwater photography gear (optional + see tips below)
PHOTOGRAPHY TIPS:
Photos were shot with a Canon 5D Mark III, 35mm lens, in an Ewa-Marine UB100. We didn't have the adapter for our 16-35, but if you have the option, go wider than 35!
Videos were shot with a GoPro on a selfie stick.
Change your camera to P-Mode (Program Mode or Auto) before putting your suit on. If you think you can control one of the dials, use Aperture priority + Auto ISO + minimum speed of 1/125. However, just know that once your thick wetsuit gloves are on, it's hard to maneuver your fingers.
Make sure you have a fresh battery. The snorkel trip is short but batteries lose charge much quicker in cold temperatures.
Would you snorkel or dive in glacial water? What's a cold snorkeling or dive destination you'd love to go to?