When I started our blog a few years ago, it was initially just an outlet to share photos and our adventures on the west coast. I had closed my wedding and portrait photography business of 8 years, and we moved to LA to pursue Jacob's budding youtube career. While Jacob kept busy with his work responsibilities, I felt like I lost a part of my identity when I stopped shooting, and out of that time of being lost, this blog was born.
After I decided to start blogging more regularly, I began noticing other bloggers that were making it a career. Seriously? I've always loved the idea of making what you love into a business. That's initially why I started our photography business, but blogging felt different and personal, and it took me a while to change my mindset and think of my blog as a business too. Soon enough, I discovered a new world of opportunities and also a community of bloggers working toward the same dream of blogging full-time.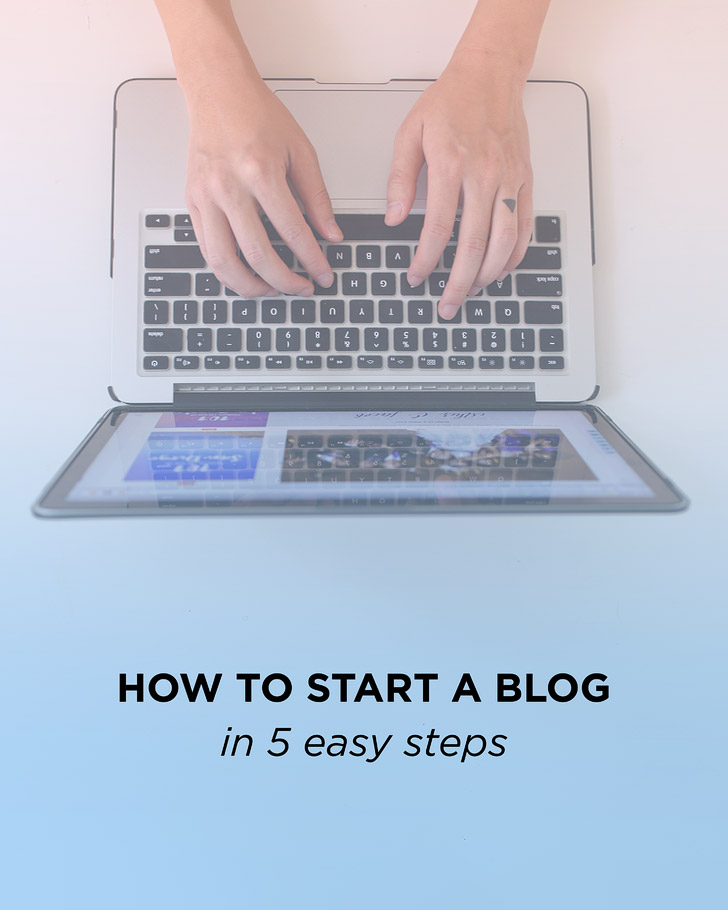 HOW TO START A BLOG IN 5 EASY STEPS
1. Pick a Topic to Blog About
Your blog niche is one of the most important decisions you can make. It will guide you in what type of audience you're talking to and the content you'll be posting. You can make small changes along the way, but once you've grown an audience, you most likely want to avoid making large changes to the type of content you write. I started off writing about a lot of different topics, because I'm a dabbler, and I love trying a little bit of everything.
I know some say you should blog what you want, and your audience will follow you for who you are, but in my experience, I only saw real growth when I started narrowing my focus on travel. If you are trying to grow yourself as an online personality, that's a different story, but if you're growing your blog through content, it's beneficial to have a focus.
PRO TIP: Write down everything you're interested in and see if there are specific categories. Also, consider if you have a unique perspective that you can offer.
2. Choose a Name and Domain
Based on your niche, pick a name for your blog. This is very important, because it's first thing people see. It needs to be memorable, easy to spell, and gives people an idea of what your blog is about. You want to be specific to your niche, but also be careful not to pigeonhole yourself (i.e. If you name your blog TravelingTheSouth, what happens when you want to move to a different part of the world or you want to expand?).
PRO TIP: Do some research on the top names in your particular niche. Don't use any common words with those as it will be harder to stand apart. Double check to see if your potential domain name is available at domize.com.
3. Register Your Domain and Choose Web Hosting
At this point you can go one of two routes: self-hosting or a free alternative. If you're looking to start a blog as a hobby, get a free domain. The unfortunate part of this is that the name does not look as good (i.e. yourblogname.wordpress.com, yourblogname.tumblr.com). In addition to that, you'll have a lot more limitations when you don't own the blog. For those reasons, I highly recommend self-hosting. Now, what does that mean?
There are two components, the domain and hosting. The domain is basically the URL. For example, localadventurer.com is the domain. Hosting is renting space on the internet. You use a company that will store all your information on their hard-drives connected to the internet.
For your domain, you can purchase it at a number of sites. Here are a couple that we've tried:
PRO TIP: Before purchasing your domain, search google to see if they are offering any deals.
There are a lot of options for hosting as well! We personally use DreamHost because of their customer service, and we needed one that could handle our blog size. Anytime we've had any issues, we've been able to chat with someone to help us get it squared away. BlueHost is also a really popular hosting option for a lot of bloggers. They offer cheap plans, easy setup, and technical support. We've also used Gatorhost but wouldn't recommend them.
4. Install WordPress
Although there are other alternatives, WordPress is by far one of the biggest platforms and the one that we use. Besides being huge, it's easy to set up, free to use, and there are tons of themes and layout options. If you are using DreamHost or BlueHost as your hosting, they have easy WordPress set up wizards. Just follow their instructions, and if you have any trouble, they have great customer support. I've used blogger in the past, but ended up sticking with WordPress. WP FTW!
5. Design the Blog
This is the fun part but can also be daunting. There are thousands upon thousands of free WordPress themes out there. As you're starting off, just pick one that you like and start familiarizing yourself with how everything works. They are limited but having less options will make it less confusing as a beginner.
Once you have a better idea of what you need, you can take the next step and find a paid theme. Most of the time, these will give you much more flexibility in your design and customization. Each has its own pros and cons, so be sure to do your research before purchasing anything.
If you can't find a theme out there that meets all your needs, hire someone to design and build you a custom blog. We used a paid theme for a while until we needed more from it, then we hired someone to help build it from the Genesis Framework to meet our needs. If you need a referral, send us a note here!
Favorite Plugins
Yoast – Helps you with SEO to show up better in search engines
WordPress Editorial Calendar – I like to see my scheduled posts in a calendar format.
Disqus – This allows social commenting by letting people log in via Twitter, Facebook and more. People either love it or hate it, and I'm on the love side.
Akismet – Keeps spam under control (if you don't have disqus, which already does a great job filtering spam)
WordPress Related Posts – It shows related posts at the bottom of your post, and you can choose what you want to feature.
What We Use for Social Media
RELATED POSTS
So that's it! This is definitely just the tip of the iceberg, but it's a good start to get your blog up and running. Let us know if you have any questions or what other information you'd like us to share to help you out!
Last but not least, we want to tell you how much we appreciate you reading our posts, commenting, and supporting us via any affiliate links. This blog has been a labor of love, and none of this would have been possible without you.
Have you considered starting a blog? What other information would help you as you start yours?