How often have you told yourself that you wanted to travel more but then followed that up with a list of excuses of why you can't? I know that used to be me before we moved to the west coast.
It can be tricky to coordinate a multi-day trip or an overseas trip, but you still have 52 weekends to go out and explore. With local adventurer, we're constantly conditioning ourselves to see with new eyes instead of seeking new lands, so that we don't take our home for granted like we did while living in Atlanta. There's so much to see that's just a short drive away!
We put together a list of great day trips from San Diego organized from the shortest driving distance to the longest. Anything longer than 2 hour driving distance will be in Part II – Weekend Getaways!
15 POPULAR DAY TRIPS FROM SAN DIEGO:
Travel Time: 30-45 minutes
Beaches, flower fields, LEGOLAND, or food, there is plenty to explore in Carlsbad. The Museum of Making Music is a nice hidden gem, and the short drive gives you plenty of time to explore.
More: Best Places to See Flower Fields in Southern California
2. Julian
Travel Time: 1 hour
Everyone talks about these Julian Pies! I've heard that Julian can feel very touristy, but it's a popular destination for San Diegans. You can visit Julian Pie Company where the pies are made, eat some pie, and then bring some home for later (along with the apple cider, because it's delicious too). We made a pit stop here for gas once when everything was closed, so we'll have to go back when apple picking season starts up again!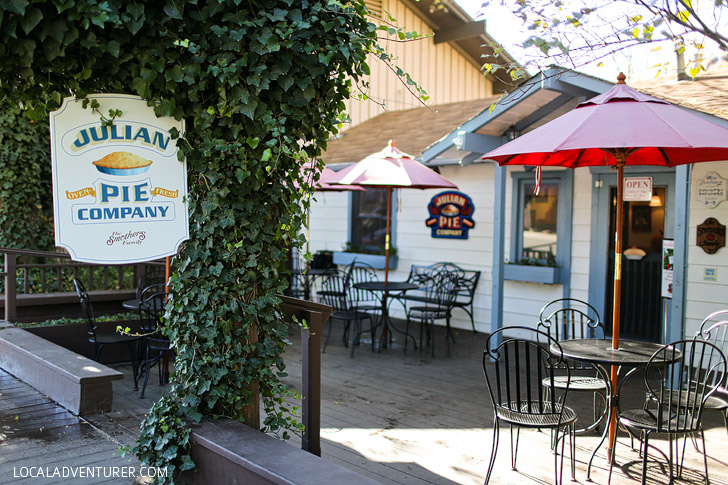 Travel Time: 1 hour
Spend some time outdoors and take in the fresh air. Hike, explore, or take the scenic drive on Sunrise Highway. During the winter, there will be snowfall, which opens up the activities to sledding and cross-country skiing. There is also an observatory there for stargazing.

Photo: Christian Ronnel / creative commons
Travel Time: 1 hour
You can visit the wine country, hit the golf courses, spend the afternoon in old town, or hop on a hot air balloon and see the vineyards from the sky like we did!
More: Photo Guide Hot Air Ballooning in Temecula California
5. San Juan Capistrano
Travel Time: 1 hour
Grounded in a history of Native American culture, the city of San Juan Capistrano offers a lot of rich history. You can visit the historic Mission, hike the surrounding trails, or spend time in their quaint downtown. One of my girlfriends actually got married here, and it's somewhere I've been meaning to revisit and explore on my own.

Photo: Sharon Mollerus / creative commons
Travel Time: 2 hours
This two hour drive will take you to a different world. You will find art sculptures scattered throughout the desert. But if you wait until the sun goes down, it's a designated International Dark Sky Community, so you get amazing star gazing and astrophotography here!
More: Astrophotography in Anza Borrego State Park
Travel Time: 2.5 hours
This is probably the most popular getaway for Southern Californians. Palm Springs offers glamorous pools, hot springs, stylish hotels, golf courses, and spas. It's the perfect playground for adults. I feel like I might be the only one left who doesn't have a photo in Palm Springs lounging in a donut or swan float! Another trip that we're planning for fall, since we've been spoiled by SD weather.
More: 15 Unforgettable Things to Do in Palm Springs
Travel Time: 2 hours
This quaint town has over 50 trails to explore in the San Jacinto Mountains. You can even glamp here if you want to spend the night.
More: Glamping in an A-framed Cabin in Idyllwild
Travel Time: 2 hours
Release your inner child and visit Disneyland! Since San Diego is close enough, we can even pick up an annual pass. If you don't want to drop a lot of $$$, you can still explore Downtown Disney and the Anaheim Packing District (the new it place). If you do make it into the park, here's a guide to 39 foods you need to try at Disneyland!
More: 39 Best Food at Disneyland You Must Try
Travel Time: 2 hours by car
Venice Beach, Silver Lake, and the Griffith Observatory are just a few places to explore and stay during your time in LA. There is plenty to do, see, and eat, and you could probably visit every weekend for the entire year and still have new things to do. We visit at least once a month and have hardly made a dent on our LA list.
More: 101 Things To Do in LA + 49 Best Places to Eat in LA + 25 Best Instagram Spots in LA
Travel Time: 2.5 hours
There is plenty of outdoor activity for any level of fitness at JT. You can hike, rock climb, or just drive through this beautiful national park. It's a great park for car camping or glamping in your airstream if you happen to get one of those rare spots.
More: 11 Amazing Things to Do in Joshua Tree National Park CA
Travel Time: 2.5-3 hours
Can you imagine dedicating your entire life to one art piece? See Leonard Knight's lifelong project to create something that displays "God is Love." Also, visit Salton Sea while you're there. The surface is 234 ft below sea level! Pro-tip: don't go in the summer. It was brutally hot and we had to keep retreating back to the car for some AC. We're so weak!
More: Photo Guide to Salvation Mountain
CROSSING THE BORDER: We're so close to Mexico!
13. Tijuana or TJ
Travel Time: 30 minutes
Cross over the border and visit the largest city in Baja California. Peruse the shops, get some delicious good, or just people watch. I hear mixed opinions about TJ. Some people say it's a scary place, while other people tell me they go every other weekend and those other people are overreacting. We've got some food recommendations, so we're ready to find out for ourselves! :)

Photo: Alejandro Cabrera / creative commons
14. Ensenada
Travel Time: 2 hours
Have some of the most delicious fish tacos in the city where it originated. Then head over to visit the largest blowhole in the world. That pretty much sums up the whole city.
15. Valle de Guadalupe
Travel Time: 2 hours
Valle de Guadalupe is called the Napa Valley of Mexico. They offer a great wine scene for a fraction of the price, and wine tasting is available year round.

Photos: Rebeca Ancondo / creative commons
Most of these places are destinations we've already been to, but we still have a few planned in the near future! Have you been to any of these destinations? If you're not from the socal, start putting a list together for your own city and share it with us in the comments below! :)
Which of these destinations are on your travel bucket list What's your favorite day trip from your city?