We love trying new things, and we've talked about learning to surf for a while. After moving to San Diego, we finally decided to take lessons and found San Diego Surf School.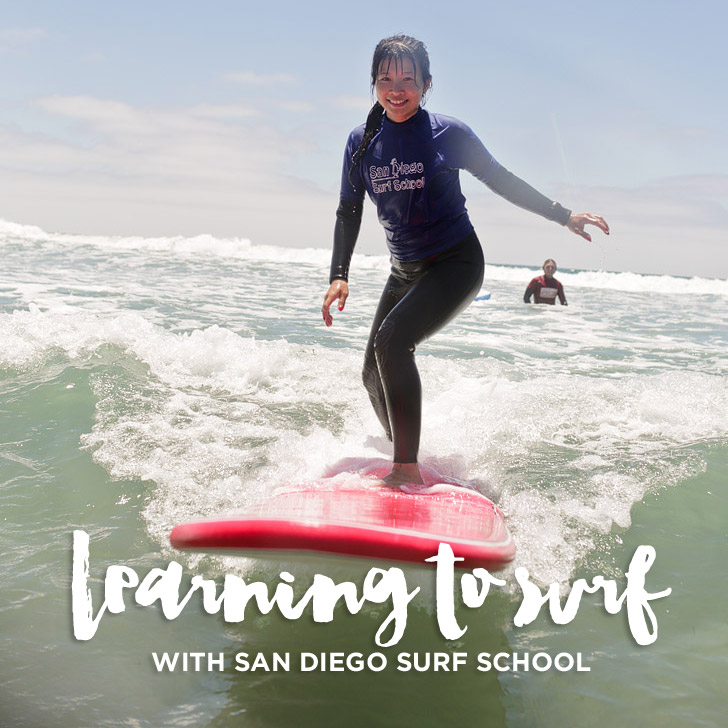 Pin

Pin

Pin
Pin
Our instructor gave us a quick run down of how to stand up on the board. After practicing for about 10 minutes on land, we got into the water to try it out!
Pin

Pin
Pin

Pin

Pin

Pin
Pin

Pin

Pin
We took turns trying to catch the waves and standing on the board. I was really nervous that I would be swallowing a lot of salt water, but I stood on my third try! Jacob on the other hand had a bit more trouble. That made me SO happy since, he's pretty much better at any activity that involves body coordination. I basically can't control any of my limbs.
Pin

Pin

Pin

Pin

Pin
Pin

Pin

Pin
Pin

Pin

Pin
We stayed out in the water for just over an hour and a half and had so much fun! By the end we were both getting the hang of it. Now, we're thinking about getting our own boards so we can keep practicing. We hear that trying to catch the waves on our own is the hardest part – it's all about timing and paddling quick enough.
Any surfers out there have tips on what kind of wetsuit and surfboard to buy?
Pro Tips for Surfing Lessons in San Diego with San Diego Surf School
San Diego Surf School has a lot of different options when it comes to lessons. You can do group lessons, or if you prefer one-on-one instructions, you can get a private lesson.
There are also family surf packages, spring and summer camps, and even after school programs! While we were there, there was a bunch of kids part of a summer camp. They were showing us up!
Bring your beach gear and enjoy the beach after your lessons.
If you want to keep practicing after you lesson, you can keep renting your board to get in the extra time.
There was plenty of free street parking along Law Street.
We recently started carrying all our beach gear in this 25L dry pack to keep things dry.
San Diego Surf School
4850 Cass St
San Diego CA 92109
(858) 247-0165
[email protected]
Have you been surfing before? Is it something you want to try?
When's the last time you tried something new?