Visiting Vegas? These are the Las Vegas events in July you shouldn't miss.
Welcome to Las Vegas in the heat of summer!
Vegas is great to visit any time of year as long as you plan on spending your time inside the casinos, which is why we spend July focusing on exploring the "great indoors". Unless you're hanging by the pool, we highly recommend you stay inside. The sun beats you down, and even when the sun is down, it will feel like a blow dryer on you all night. Heat stroke is a real concern in the summer.
If you happen to be visiting in July, we put together a monthly guide of all the happenings and organized them by date and category. Hope you find this helpful! Stay safe. Wear sunscreen.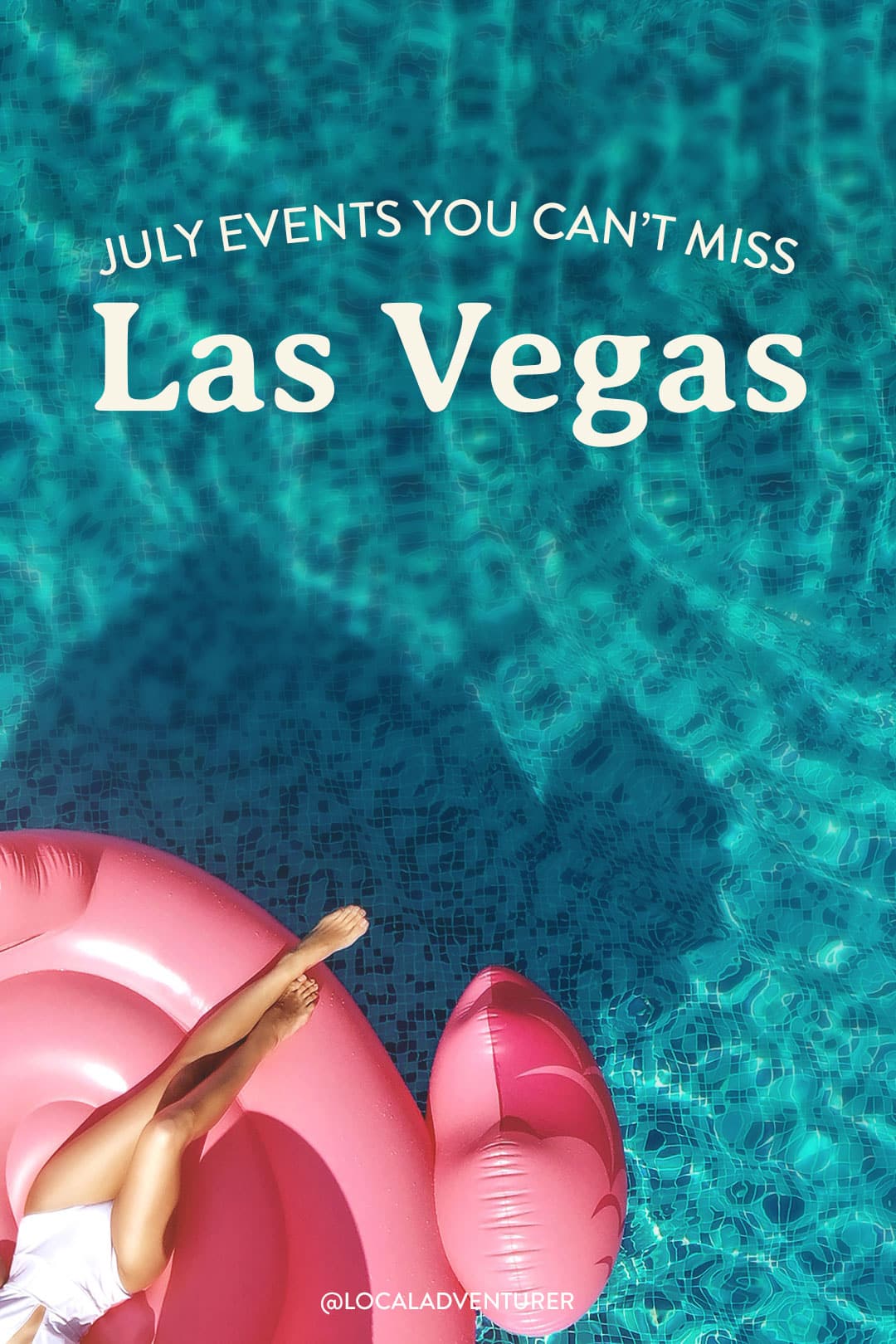 This post may contain affiliate links, where we receive a small commission on sales of the products that are linked at no additional cost to you. All opinions are always our own. Read our full disclosure for more info. Thank you for supporting the brands that make Local Adventurer possible.
Last Updated: June 24, 2022
VEGAS IN Jan | Feb | Mar | Apr | May | Jun | Jul | Aug | Sep | Oct | Nov | Dec
These are all May-only events or limited to a few months, but if you want to see what's available year-round, check out our ultimate Vegas bucket list, bucket list experiences, top Las Vegas shows, and indoor activities.
Weather in Las Vegas in July
Average Temp in Las Vegas in July: high of 107° F, low of 67° F
Rainfall: 0.4 inches
Humidity: 22%
Most evenings will be still hot out. Keep that in mind as you plan your activities.
July 4th Fireworks Las Vegas
Caesars Palace will host a fireworks spectacular on the Las Vegas Strip at 8:30 p.m. on Monday, July 4 from the Julius Tower.
The Plaza Hotel & Casino in downtown Las Vegas will put on a fireworks show at 9:00 p.m. on Monday, July 4.
Station Casinos will light up the skies with a city-wide fireworks spectacular presented. The fireworks will begin at 9:00 PM on Monday, July 4 from Boulder Station Hotel & Casino, Green Valley Ranch Resort Spa & Casino, Palace Station Hotel & Casino, Red Rock Casino Resort & Spa, Santa Fe Station Hotel & Casino, and Sunset Station Hotel & Casino.
The Summerlin Council Patriotic Parade will start at 9:00 a.m. on Monday, July 4, and will feature floats, parade balloons, veteran and military groups, community organizations, performing troupes, and representation from the destination's professional sports teams.
Las Vegas Shows July 2022
July 1: The Grass Roots, Golden Nugget
July 1-9: Morrissey, Caesars Palace
July 2: Sublime With Rome, Mandalay Bay
July 2: Rattle and Hum, Santa Fe Station
July 2-3: Lionel Richie, Wynn
July 2, 9, 16, 23, 30: The Spazmatics, South Point
July 5-7: The Letterman, South Point
July 7: Charley Crockett, House of Blues
July 8: Iration & Atmosphere, Downtown Las Vegas
July 8-10: The King of Las Vegas, Westgate
July 8-10: Ricky Nelson Remembered, South Point
July 10: Streetlight Manifesto, Brooklyn Bowl
July 12: Enanitos Verdes, House of Blues
July 14-17: Las Vegas Tribute Festival, Sam's Town Live!
July 15: Corinne Bailey Rae, Wynn
July 15: Machine Gun Kelly, T-Mobile Arena
July 15: Sal Vulcano, Virgin Hotels
July 15: Hinder, Virgin Hotels
July 15: Josh Stone, Red Rock Casino Resort
July 15: Happy Together Tour: The Turtles, Chuck Negron, Gary Puckett And The Union Gab, The Association, The Vogues, & The Cowslips, The Smith Center
July 15-17: Bohemian Queen, South Point
July 15, 16, 22, 23: Journey With Symphony Orchestra, Resorts World
July 15-30: Usher, Park MGM
July 16: Dude Perfect, MGM Grand
July 16: Tower of Power, Westgate
July 22: Brian McKnight, Wynn
July 22: The Shins, Virgin Hotels
July 22-24: Summer in the Sixties, South Point
July 23: Mike, House of Blues
July 23: Memphis May Fire, Virgin Hotels
July 23: David Gray, Wynn
July 23: Counting Crows, The Cosmopolitan
July 25: Thundercat, Brooklyn Bowl
July 26: The 2022 Gold Ball, House of Blues
July 27, 29, 30: Maxwell, Wynn
July 27: Mon Laferte, House of Blues
July 28: Kaleo, House of Blues
July 29: Leon Bridges, Virgin Hotels
July 29: Jimmie Allen, Sunset Station
July 29-30: The Folk Legacy Trio, South Point
July 29-30: Katy Perry, Resorts World
July 30: James Taylor, T-Mobile Arena
July 30: Amanda Miguel, Virgin Hotels
July 30: The Masked Singer, The Smith Center
July 30-31: Paris By Night, Planet Hollywood
More: 9 Las Vegas Shows You Can't Miss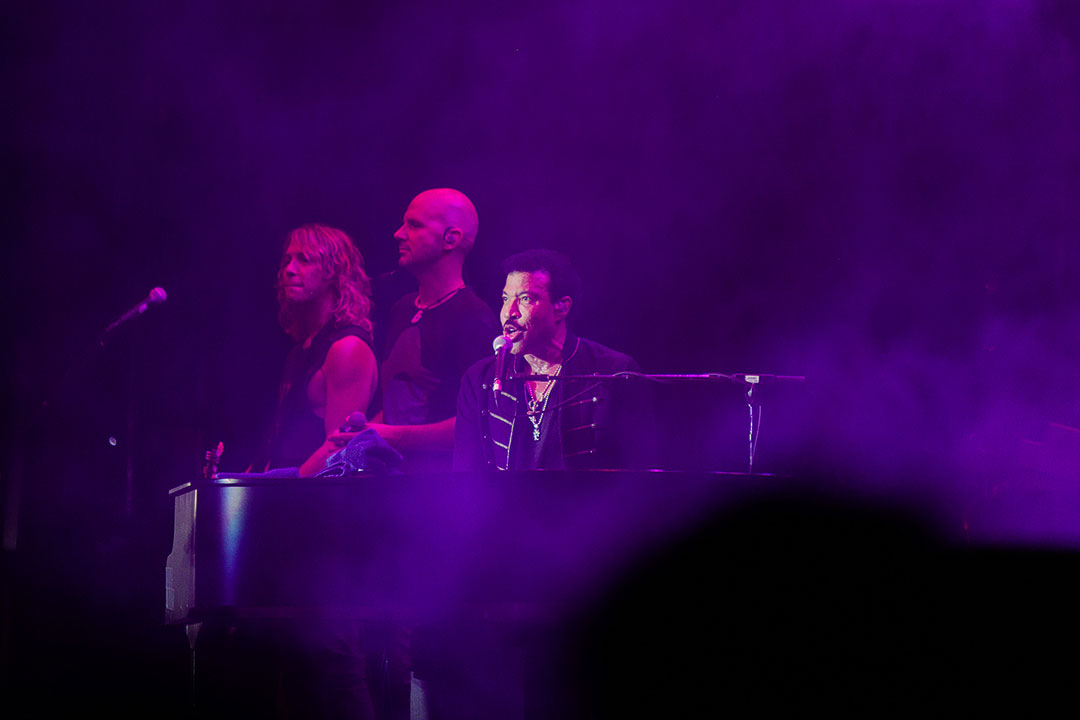 Comed
y & More
More: 101 Things to Do in Las Vegas Bucket List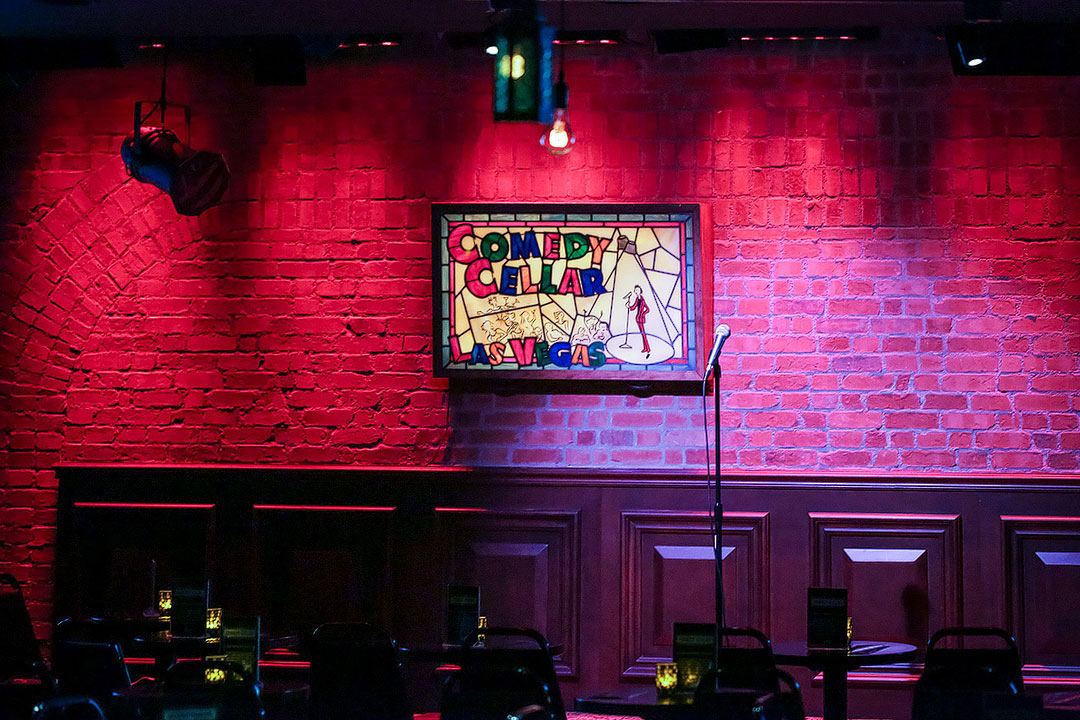 Conventions + Events in Las Vegas in May
June 30 – July 2: Barrett Jackson Auction, Las Vegas Convention Center
June 30 – July 9: American Institute of Floral Designers, Caesars
July 7-10: The Aesthetic Show, Wynn
July 8-10: Metaverse Expo 2022
July 8-15: American Queen Pageant, Golden Nugget
July 9-16: ANGF National Conference, Alexis Park
July 11-15: Staff Development for Educations National Teachers Conference, Caesars
July 17-21: International Association of Coroners & Medical Examiners Training Symposium, Golden Nugget
July 23-24: Christmas in July, Suncoast
July 27-31: ADA National Championship, Palace Station
July 28-30: Contractor Party + Expo, Paris Las Vegas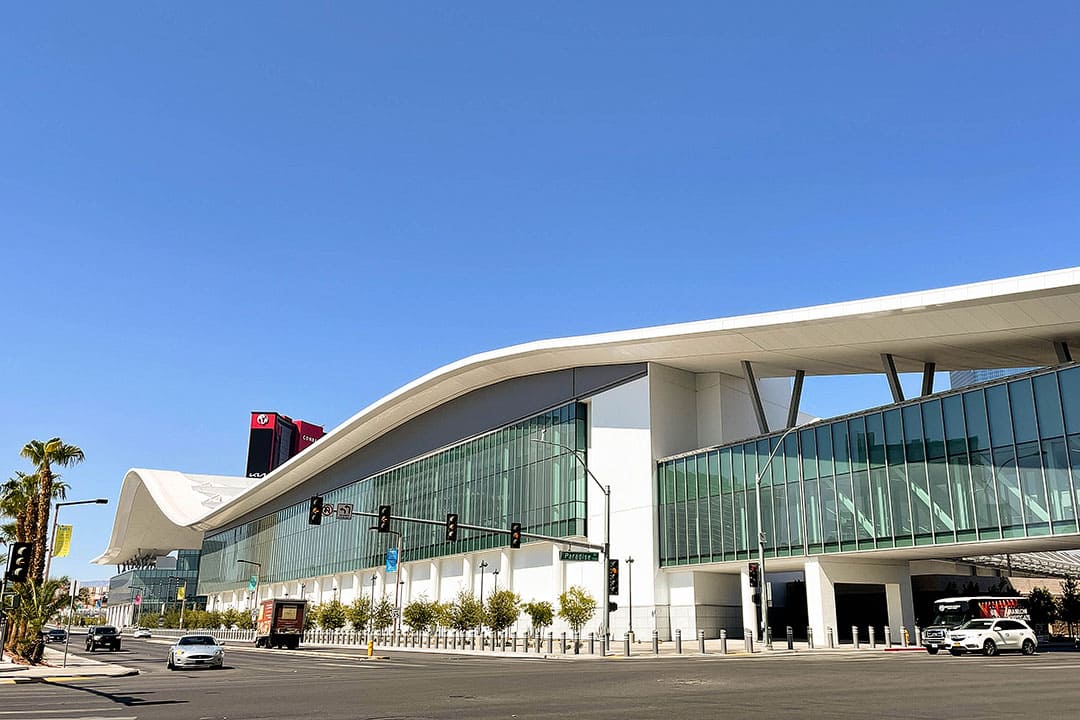 What to Eat in Las Vegas in July
Whether you're looking for fruits and vegetables at the farmer's market or you want to eat farm to table, this is what you will find in season in Las Vegas (zone 9a).
Fruits in Season – Apricots, Blackberries, Cantaloupe, Grapes, Melons, Nectarines, Peaches, Plums, Watermelon
Vegetables in Season – Artichoke, Basil, Celery, Collard Greens, Corn, Cucumber, Eggplant, Garlic, Gourds, Green Beans, Hot Peppers, Okra, Onions, Parsnips, Potatoes, Pumpkins, Salad Greens, Summer Squash, Sweet Corn, Sweet Peppers, Sweet Potato, Swiss Chard, Tomatillos, Winter Squash, Zucchini
More: 49 Best Places to Eat in Las Vegas
The Best Farm to Table Restaurants in Las Vegas
Here are some of the best farm-to-table restaurants in Las Vegas to check out:
Tips for Visiting Las Vegas in JULY
Get tickets as soon as you know what shows you want to see. Popular shows & concerts sell out fast!
Read all the fine print before heading to a show – some have restrictions on what you can bring with you.
Save money on multiple attractions, and get the All-Inclusive or Explorer Pass.
Sunscreen is a must, especially if you're doing outdoor activities.
Plan to arrive early for meals and shows. It takes longer than you think to get from one spot on the strip to another. Give yourself a buffer.
What to Wear in Vegas in JULY
March is warming up, especially during the day, but the AC keeps the casinos cold.
Best Places to Stay in Las Vegas
Is July the Best Time to Visit Las Vegas?
If you're mostly going to be indoors on the Strip, visit any time of the year since the temperature won't matter.
For outdoor activities like hiking and climbing, you should visit between November and March. But if you're here for the pool parties and lake life, this is the time!
In our opinion, we like leaving Vegas during July and August, but you do you!
VEGAS IN Jan | Feb | Mar | Apr | May | Jun | Jul | Aug | Sep | Oct | Nov | Dec
Do any of these things to do in Vegas in July interest you? Let us know if we missed anything! If you're holding an event and would like to be added, please email us at hello [at] localadventurer.com.
DID YOU ENJOY THIS POST? PIN IT FOR LATER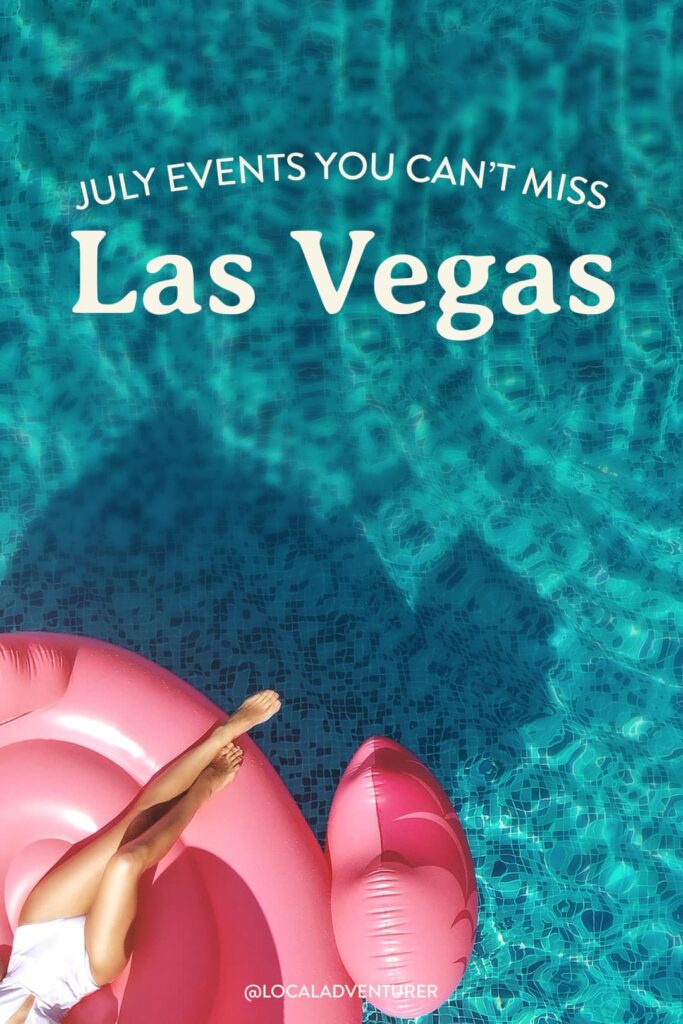 SEE MORE ABOUT LAS VEGAS
⟡⟡⟡⟡⟡
"Discovery consists not of seeking new lands but in seeing with new eyes" – M. Proust