These are the best places to eat in Las Vegas
Dining in Las Vegas has come a long way over the years and is clearly now one of the premier foodie destinations in the world. Cruising up and down The Strip, you're constantly hit with billboards of the who's who of celebrity chefs.
While that's pretty awesome, there's way more to Vegas than just "The Boulevard"! Amazing food can now be found in literally any direction. So whether you're looking to dine like a baller or a pauper and everything in between, one thing is for sure…. you'll never leave this city hungry!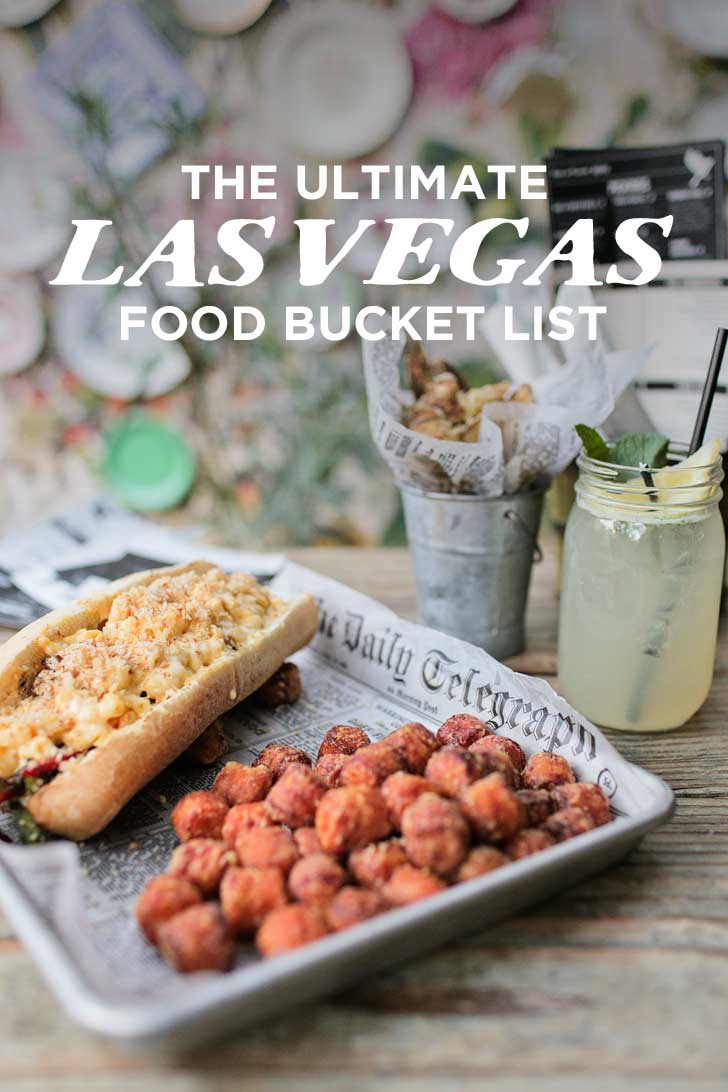 Date Updated: January 1, 2020 Originally Created: Feb 21, 2017
49 BEST PLACES TO EAT IN LAS VEGAS
THE STRIP
Joel Robuchon (MGM Grand, French, $$$$) – Robuchon is the "Chef of the Century" by the guide Gault Millau. His famous 16-course dinner may bust some bank accounts, but it is incredible. The "Le Boeuf" (Beef Châteaubriand and foie gras, "Rossini" style with aged Porto) is decadence defined.
Picasso (Bellagio, French, $$$$) – Chef Julian Serrano brings together an amazing marriage of French and Spanish cuisine. Whether dining inside surrounded by original works of Pablo Picasso or the outdoor patio viewing the Fountains of Bellagio, it's a win-win. I've never tasted a greater scallop than their "Pan Seared U-10 Day Boat Scallop with Potato Maousseline and Jus de Veau".
E by Jose Andres (Cosmopolitan, Spanish, $$$$) – You must request reservations online to this incredible 20+ course dinner, and then they actually send out golden tickets via mail in a wax sealed envelope. That's only where the Willy Wonka comparisons start, because the food is so cutting edge and creative, I expected some oompa loompas to come out and serve dessert! The "foie gras cotton candy empanada" is what dreams are made of!
Sage (Aria, American, $$$$) – The foie gras brulee is divine, but no matter what you have, an excellent gourmet meal is a guarantee.
Rao's (Caesars Palace, Italian, $$$) – Why deal with a two month waiting list for a table at the original location in NYC? This Vegas outpost can fit everyone! Dine in the Christmas room and order the best meatballs ever.
Bazaar Meat (SLS, Steakhouses, $$$$) – Get a group together and order the whole suckling pig. At $540, you must order it a couple of days in advance, and it will feed about 6 people.
Bacchanal Buffet (Caesars Palace, Buffets, $$$) – This is the biggest buffet in buffet history. With over 500 items to choose from, this is a feast of epic proportions. Take a lap around the place before committing to anything.
Harvest by Roy Ellamar (Bellagio, American, $$$) – No butter or lemon necessary for their incredible roasted Maine lobster.
Nobu (Caesars Palace, Japanese, $$$$) – Sure, they're located in most major cities, but this location touts the most expansive menu of any Nobu around. They put miso marinated black cod on the culinary map, and there's a reason why it's still the standard.
Gordon Ramsay Steak (Paris, Steakhouses, $$$$) – The most famous chef on TV backs up his reputation with his beef wellington. Eyeballs will roll back.
Estiatorio Milos (Cosmopolitan, Greek, $$$$) – This gorgeous Greek restaurant offers one of the most delicious prix fixe lunches on the Strip. The charcoal broiled, sashimi quality Mediterranean octopus is a treat that is sublime.
Tacos El Gordo (The Strip, Mexican, $) – Definitely the busiest restaurant in Las Vegas after 2am, and the adobada is what keeps everyone coming back.
Sterling Brunch (Bally's, Buffets, $$$$) – The grandest weekend brunch in all the land! $85 gets you all you can drink Perrier Jouet Champagne, lobster, caviar, king crab, lamb chops and more.
Hakkasan (MGM Grand, Cantonese, $$$$) – One of the fanciest spots for Chinese on the Strip, and their "Roasted Chilean seabass with Chinese honey" is fantastic.
Joe's Seafood Prime Steak and Stone Crab (Caesars Palace, Seafood, $$$) – Why fly to Miami? Stone crab season runs from 10/15-4/15, so get them while they're fresh.
Sushi Roku (Caesars Palace, Japanese, $$$) – While officially no longer on the menu, they will still make their yellowtail foie gras upon request. Thank me later.
Yardbird & Southern Table (Venetian, Southern, $$) – You'll probably never spend more for fried chicken in your life, but you'll know where the money went.
Bouchon (Venetian, French, $$$) – Thomas Keller offers a fantastic brunch and the "Poulet et des Gaufres" (roasted chicken with bacon-chive waffle, maple syrup, Tahitian vanilla bean butter & sauce Chasseur) guarantees that you will have an awesome day.
Wicked Spoon – second best buffet on the Strip.
SPRING VALLEY
DOWNTOWN LAS VEGAS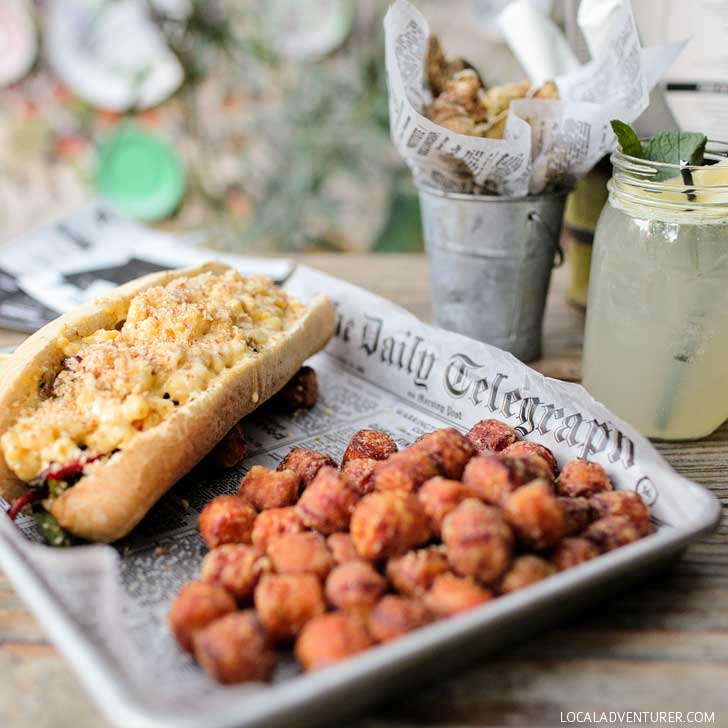 CHINATOWN
WESTSIDE
EASTSIDE
Naked City Pizza (Eastside, Pizza, $$) – Their "Royal Sub" with in-house hot Italian sausage, capicola, mozzarella, iceburg lettuce and tomato is a fat kid's dream come true.
Aloha Kitchen* (University, Hawaiian, $) – Vegas is home to some spectacular Hawaiian food. This was probably our favorite and you definitely need to try the Adobo Fried Rice Omelette. Everything else there is just okay.
SOUTH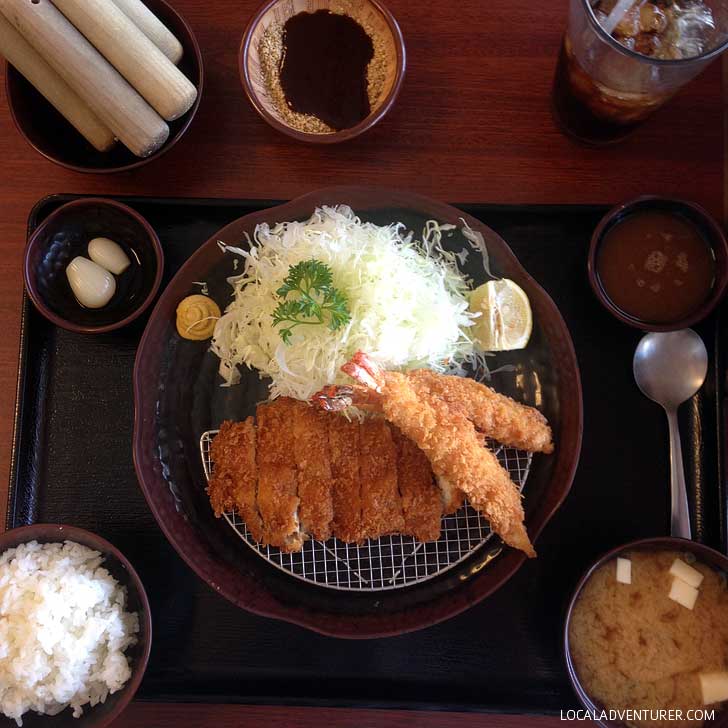 NORTH
Kame (Northeast, Japanese, $$$$) – Chef Eric serves up extremely creative omakase course dinners on the daily. The lobster tail sashimi is a consistent highlight.
Cutting Board Filipino Gastropub (Northwest, Gastropub, $$) – No nation has mastered the art of cooking pork belly better The Philippines and this spot shines with that ingredient across the board. Get the lechon!
CLOSED
More: 25 Free Things to Do in Las Vegas + Your Ultimate Las Vegas Bucket List + Best Weekend Getaways from Las Vegas + Best Day Trips from Las Vegas
MAP TO HELP YOU GET AROUND