We've been in the search for a zero waste refill station in Las Vegas when I stumbled upon Minimal Market. Little did I know it would lead us to our new favorite spot in the city: Fergusons Downtown.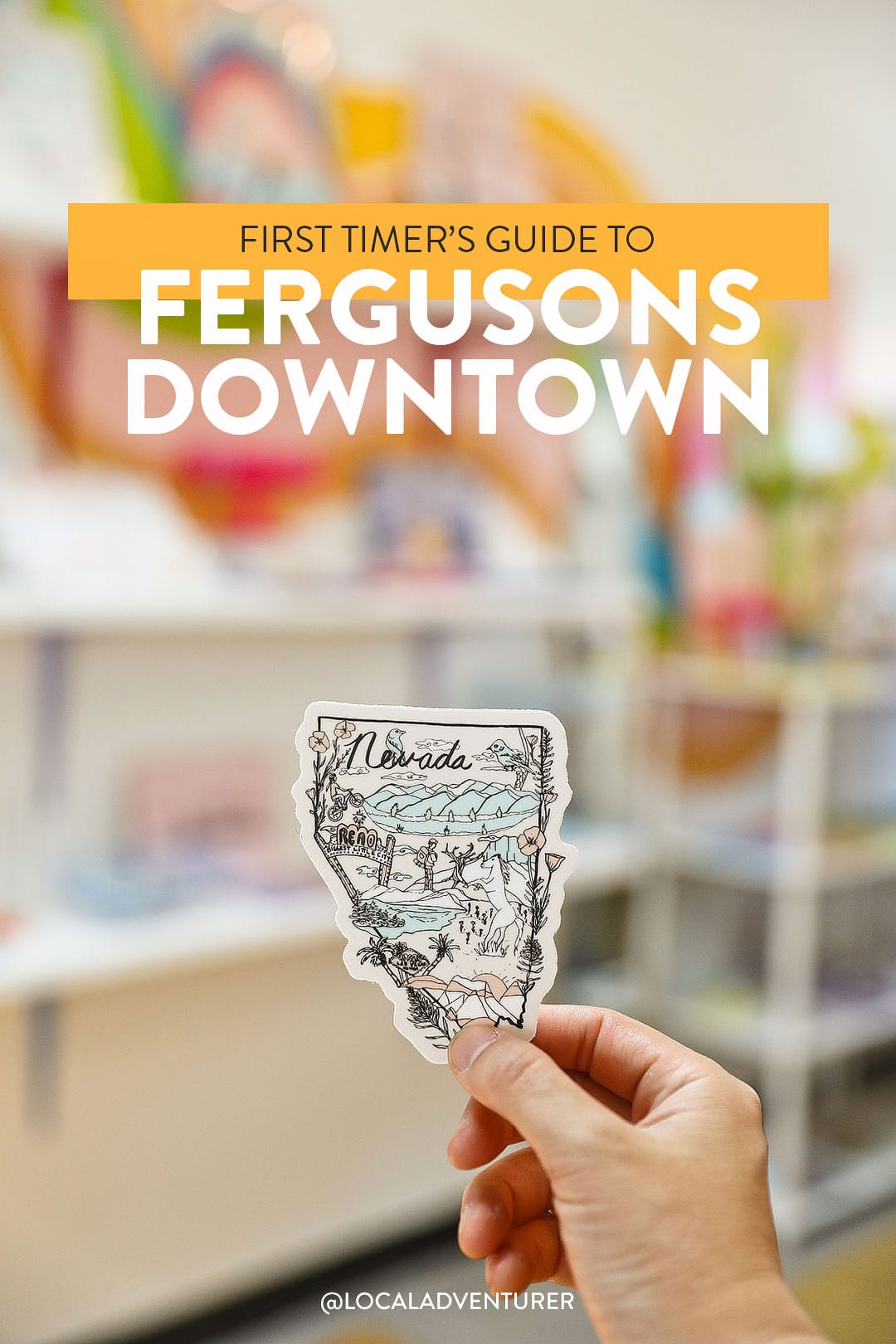 This post may contain affiliate links, where we receive a small commission on sales of the products that are linked at no additional cost to you. All opinions are always our own. Read our full disclosure for more info. Thank you for supporting the brands that make Local Adventurer possible.
Last Updated: September 10, 2021
Fergusons Downtown - Everything You Need to Know
Fergusons Downtown opened in 2019 and is part shopping center, part studio, part event space, and overall a great area to hang out. It currently has 13 shops, 8 micro-studio shops, and 7 local chefs.
We spent a few days checking out different shops and chatting with the owners and loved hearing about everyone's journey and how they ended up here.
Fergusons Downtown Address and Hours
Fergusons Downtown is made up of two main areas. The first is the Shops at Fergusons which is the old Fergusons motel that was converted to this current space. 
Next door is the Vegas Test Kitchen and Gather House where you'll find micro studios.
Fergusons Downtown Address
1028 Fremont Street
Las Vegas, NV 89101 (map)
Fergusons Downtown Hours
Mothership Coffee: 8 AM – 5 PM Daily
Vegas Test Kitchen: Hours Vary Wed to Sun (Check Site)
Shops at Fergusons & Gather House: 11 AM – 5 PM Wed to Sun
The Noise Project: By Appt Only (Text 618.420.9327)
Local Tip: They have misters running throughout the Shops at Fergusons which is perfect on hot summer days.
11 Things You Can't Miss at Fergusons Downtown
We have a full list of shops below but wanted to share our favorites first.
When it comes to sustainability, we've been trying to make small changes in our day-to-day. One of our goals is to stop buying pre-packaged products, and we were excited to discover a zero-waste refill station in Vegas.
They carry cleaning and personal products for the home and plenty of other local, sustainable, and handcrafted goodies too! If you can't stop by for refills, they also have a delivery service (might take advantage of this soon).
Local Tip: Bring in your own containers to get them filled, or buy one of their reusable ones.
After stopping by the Fergusons bathrooms, I couldn't help but notice how amazing the hand soaps smelled and felt. I peeked at the label "Mike's Recovery" and didn't realize until later that Mike had a store inside Fergusons.
When we walked in, we were immediately drawn to the beautiful tub display in the middle of the shop. After talking with Mike, you can tell how much love he pours into his products.
With 10+ years of experience in the massage therapy industry and 8+ years using aromatherapy, he has used all his knowledge to create a line of body and bath products with a focus on athletic recovery and performance.
We left the shop with a handful of products and have loved using them so far. Can't wait to go back to try other formulas!
Local Tip: You can bring back containers to get them refilled to reduce waste here too.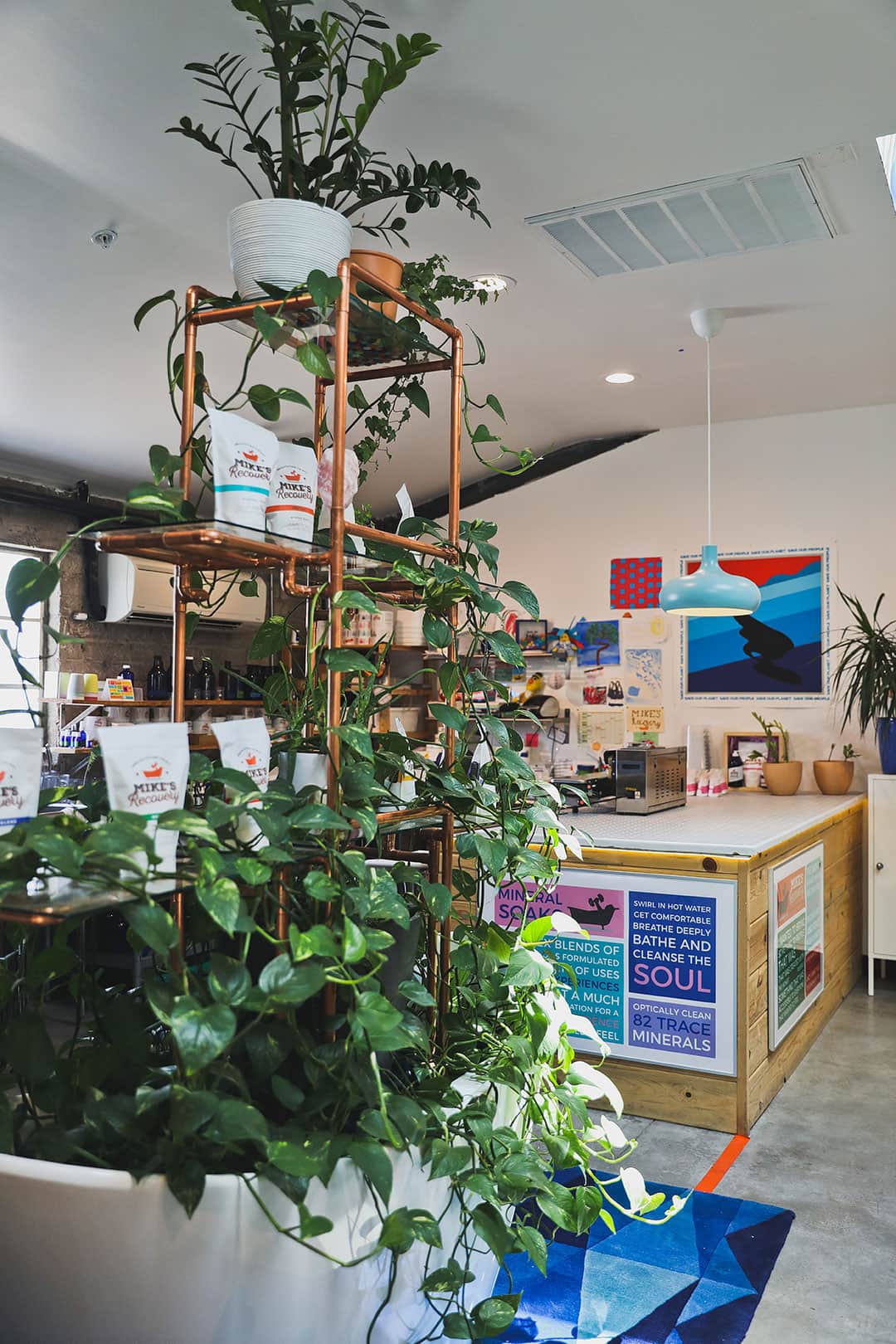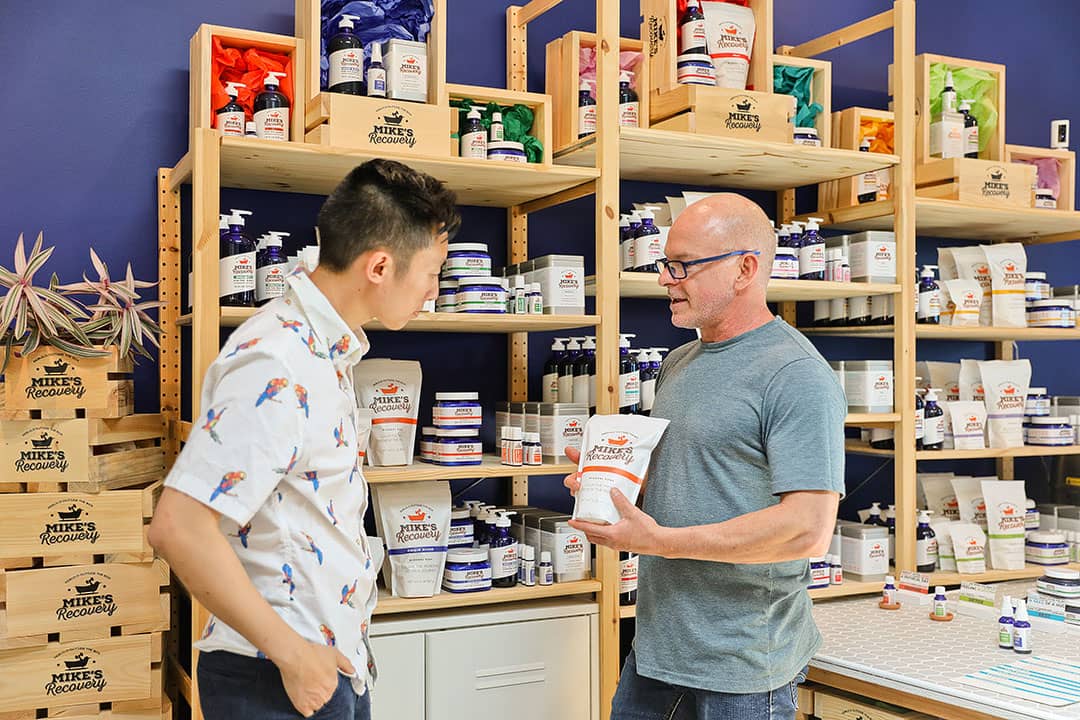 If you're looking for a unique experience (or souvenir from your trip), set up a tintype session with Myron Hensel Photography.
He shoots with a vintage plate camera and develops the photo using a process originating from the 1850s. It's how Abe Lincoln had his portrait made.
Don't forget to ask him to show you the tintype photos he's collected over the years. We had fun watching the process (see below).
Local Tip: Keep in mind textures show up well, red looks black, and blue looks light in the photos.
4. Mothership Coffee Roasters
This is the only spot in Fergusons that is open every day of the week. We actually live near their original location where they roast all their coffee, but this is by far a cuter spot if you want to bring friends or visitors.
Not only are you getting amazing drinks and small bites, but the space is beautiful. They have plenty of seating inside plus an outdoor area to hang out. They even have beer on tap!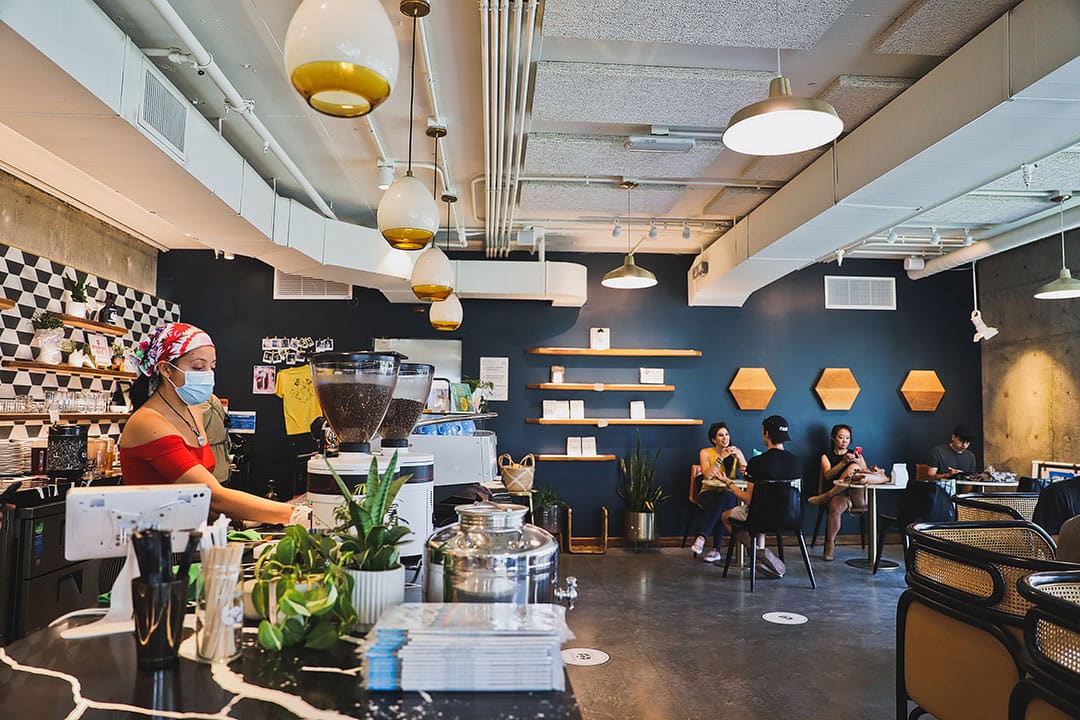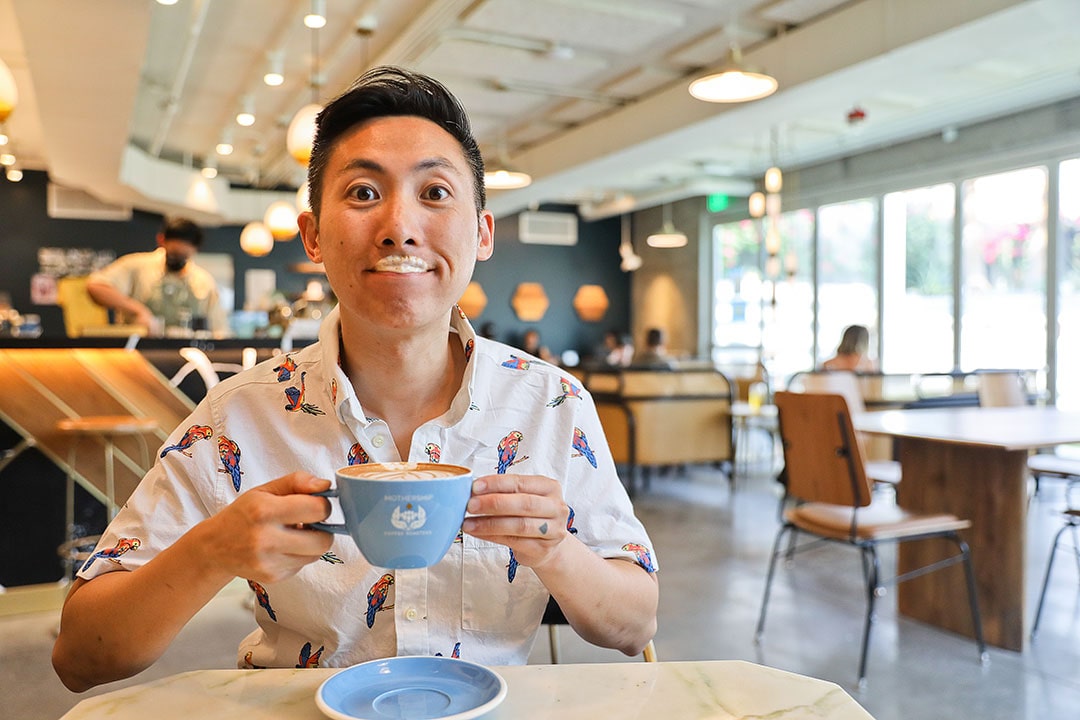 This pop-up kitchen is home to multiple chefs testing new concepts. What you'll find here changes throughout the year, but that's what makes it exciting!
We met Chef Daniel Arias and Isidro Marques of the Black Pearl, who serves up gourmet Baja seafood dishes. They both previously worked at Jose Andres and on their off day, they would get together with their families and experiment with food. 
This eventually led to the Black Pearl. You could see the excitement in their eyes as they shared their passion for food.
You can see the chefs and what's currently on the menu here.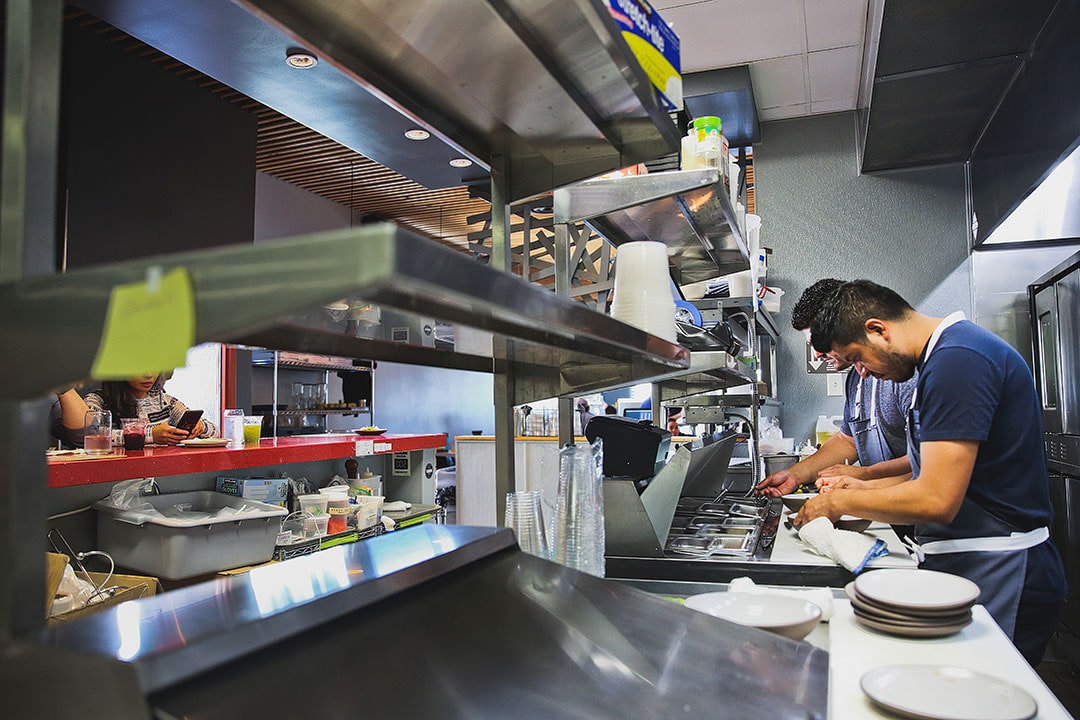 I want all the plants!
Ever since my plant addiction started, I now stop to admire every plant I come across. LV Plant Collective is a beautifully curated plant shop that has a variety of plants and plant goodies.
I had to resist bringing every plant home. I did buy the cutest for my most diva plant and the Kiss of Death treatment to get rid of gnats.
Local Tip: If you don't see the plant you want, they restock weekly (usually on Thursday).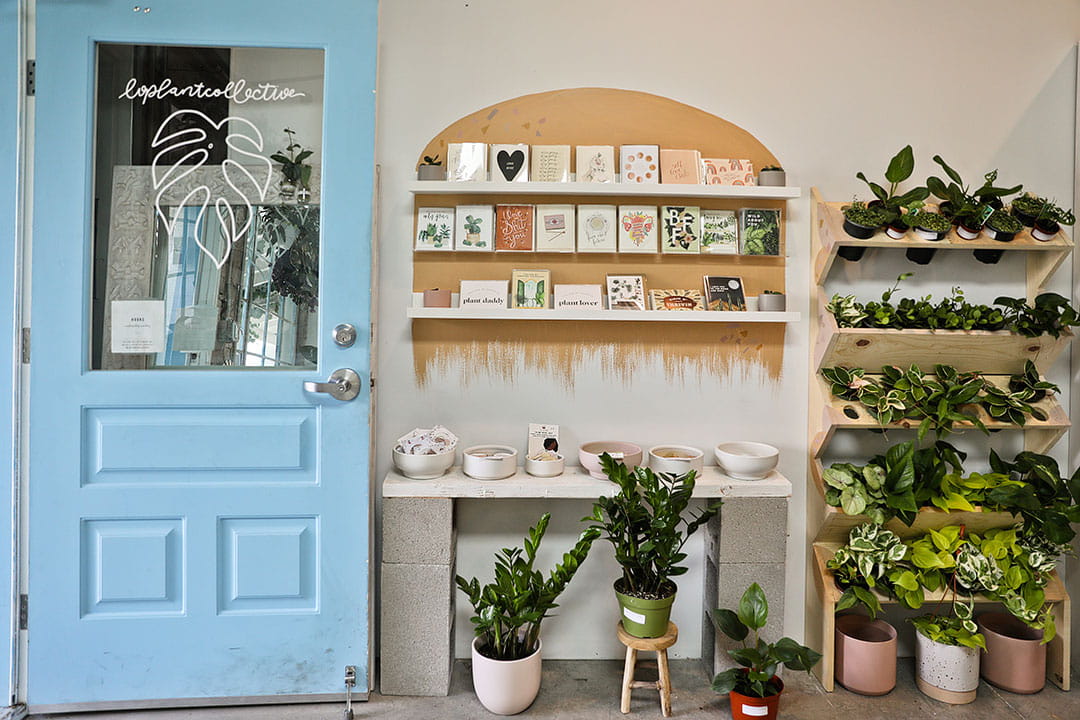 What started as a monthly curated box focused on local creators has now turned into brick and mortar store where they get to feature local makers all the time. 
Each month, they feature three local makers along with their work. They also run workshops to help small businesses get off the ground!
Local Tip: If you want to learn more about the makers they feature, check out their Instagram account.
Market in the Alley, which is currently on break, had local creators selling their work. The Market Shop features over 70 local vendors with everything from clothes to soaps to home decor.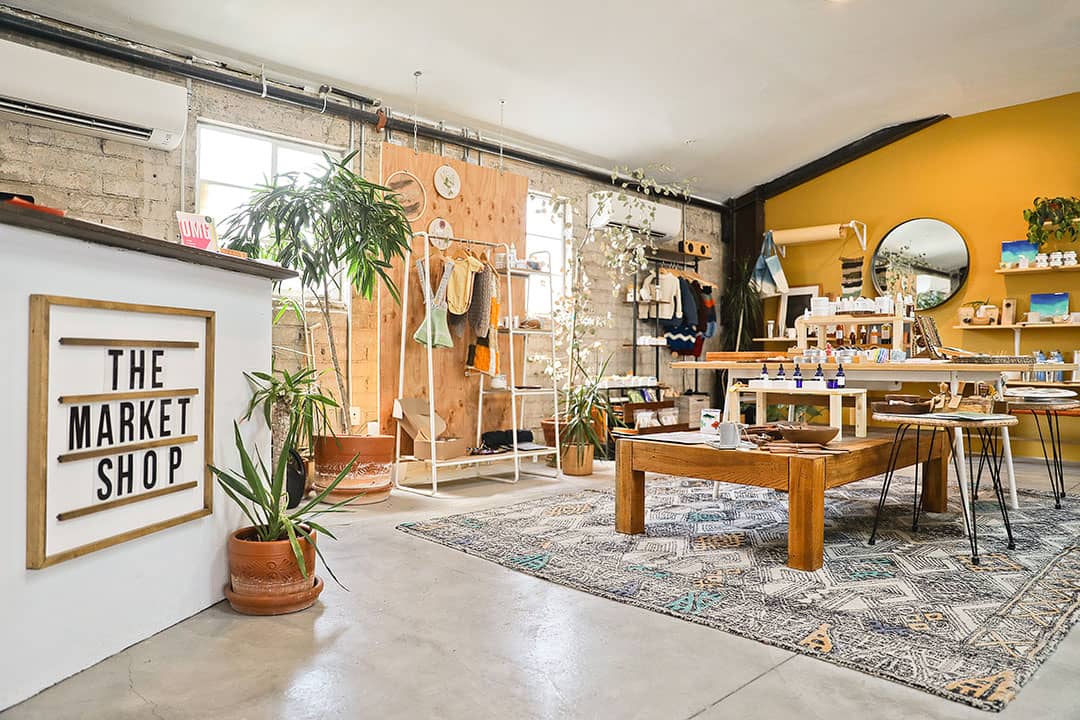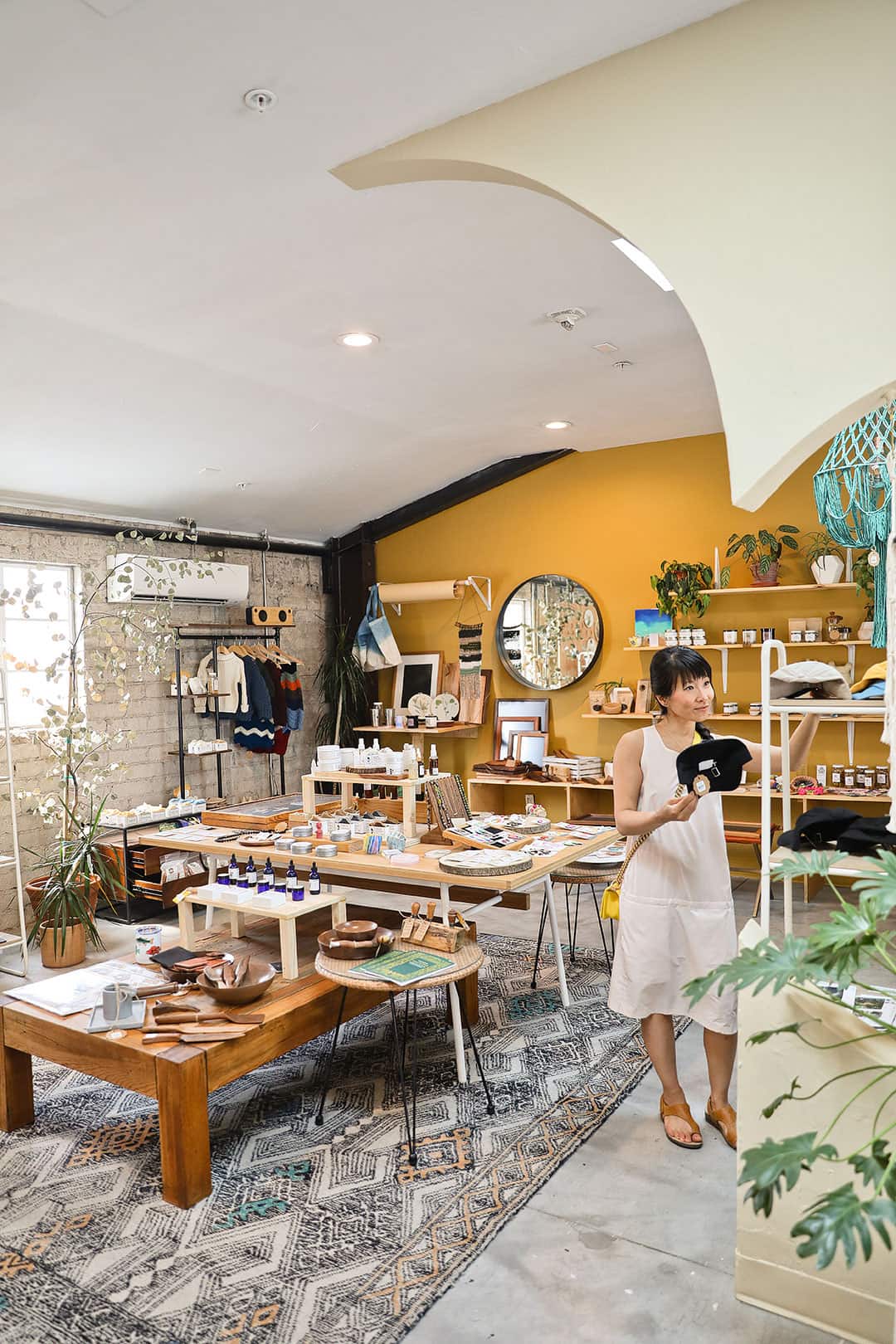 I've always loved puzzles but got even more into them during quarantine (did you see the 18,000 piece puzzle I finished?).
Anthology Puzzles make unique wooden jigsaws. On top of that, they have a monthly subscription if you want to new one sent to you every month and a library program where you can borrow puzzles from their collection.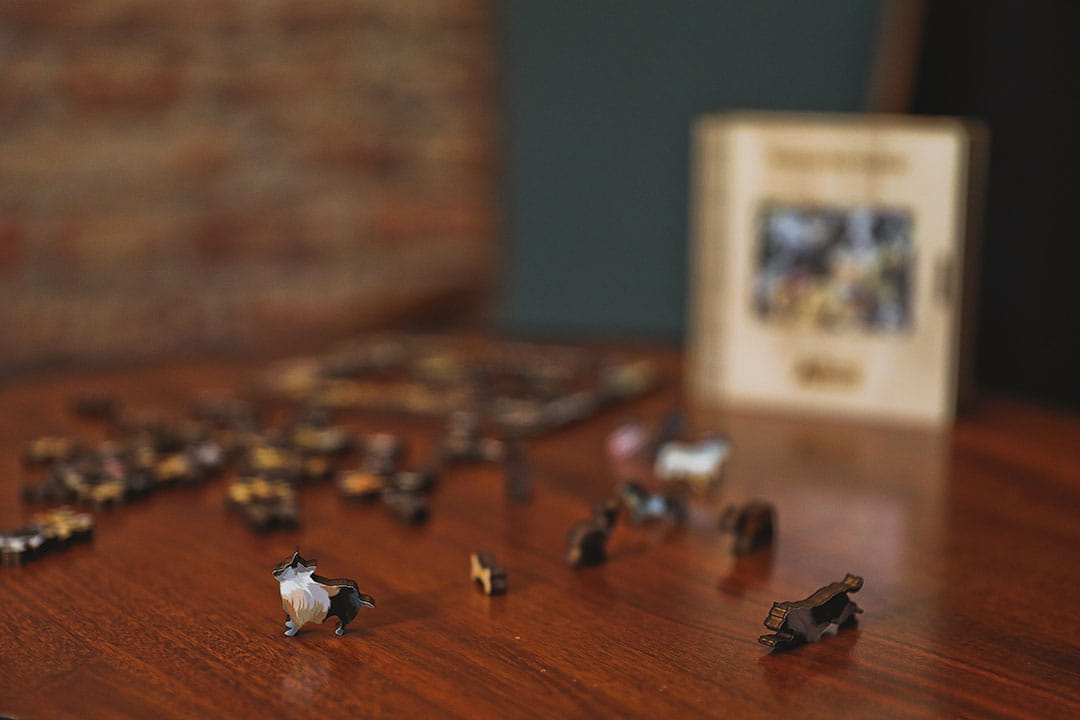 Founded in 2016 by an 8-year-old, Kumei uses her shop to learn about entrepreneurship while making a difference in the community.
When we visited, she was at her booth working on new pieces on her iPad. It's so inspiring to see, and I wish I was as driven as her at her age!
Below, you can see Kumei next to the t-shirt design that started it all.
Check out clothes, art, and trinkets with the purpose of mental health advocacy through their character, Yerman the Depressed Monster. This one hits close to home, and it's cool to see that they donate a portion of proceeds to mental health agencies across the US.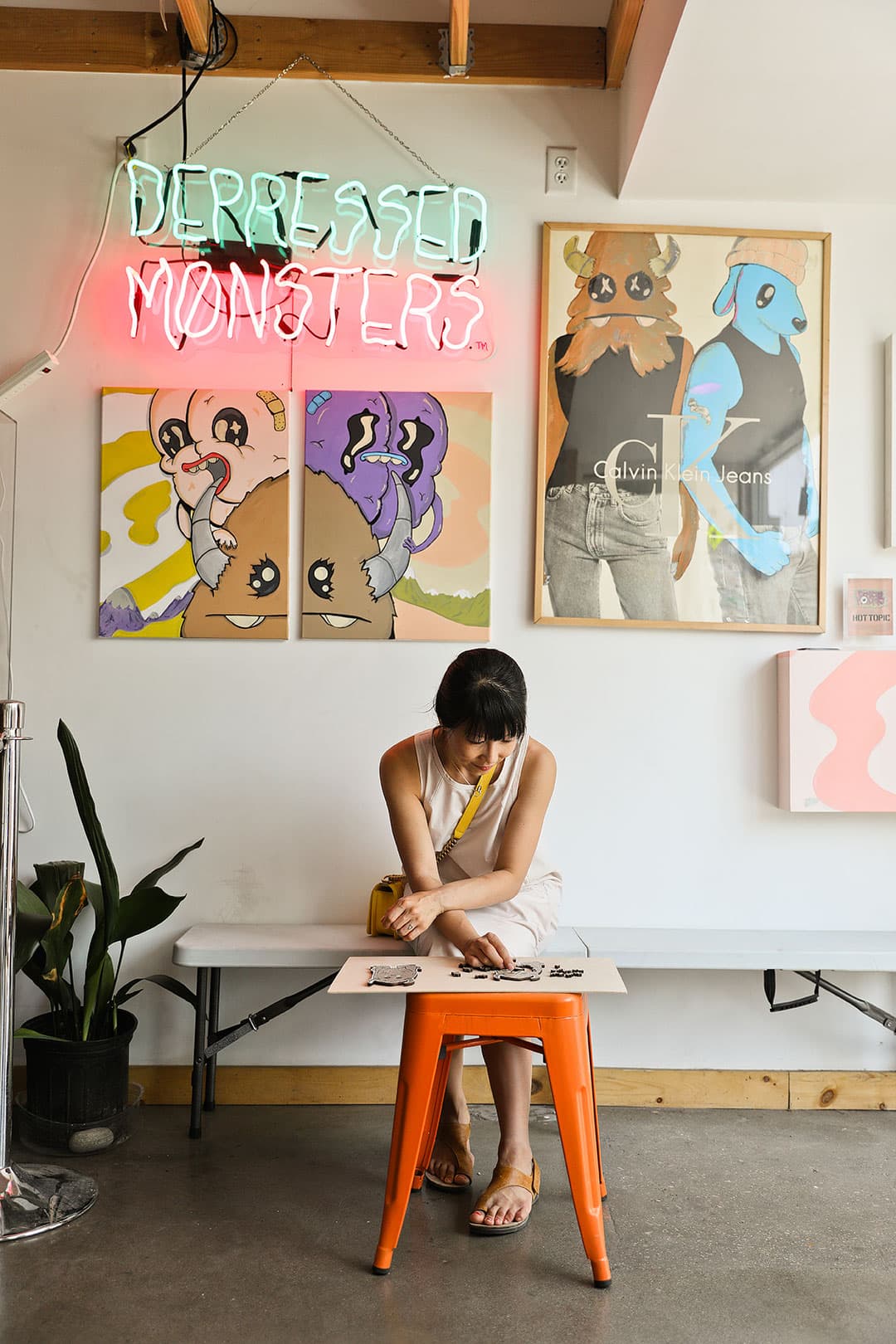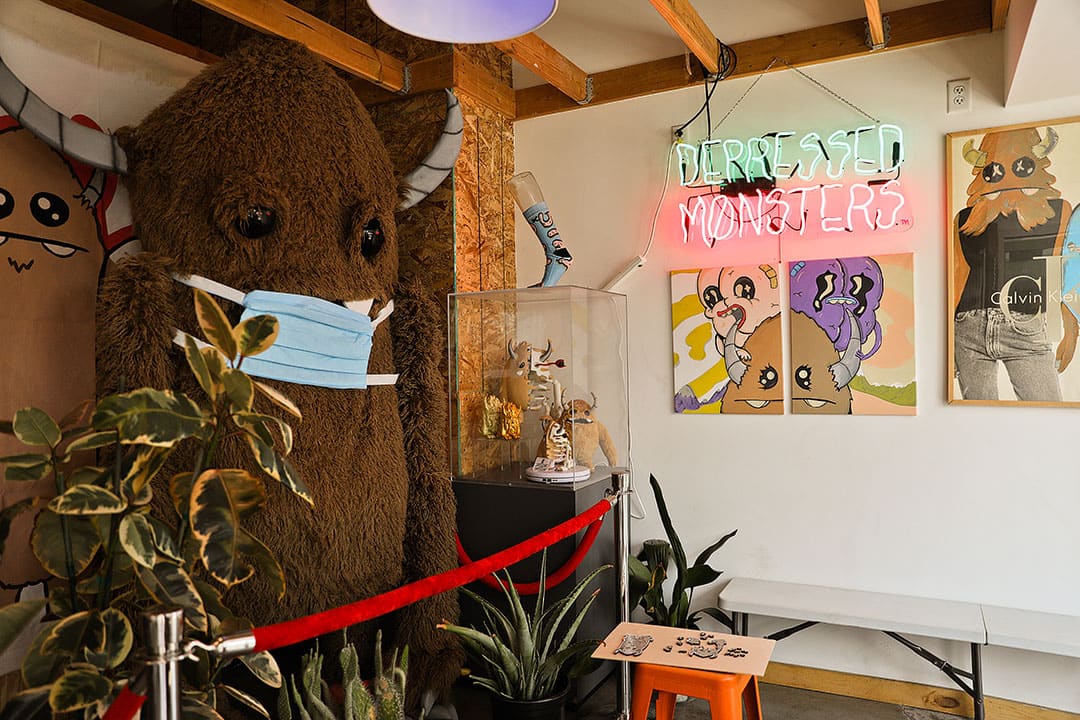 The Shops at Fergusons Downtown - Full List
All for Our Country – Named after Nevada's motto, this shop sells handmade furniture, lamps, and home accessories. They also carry products from other local makers, like bags, wallets, and jewelry.
Future Makers – Community-based workshops, classes, and events aimed at kids with a focus on art, wellness, programming, and STEAM.
Hey Maker & Us – If you love discovering local makers, check out who they feature each month.
Le Pup Cafe – Fresh and minimally processed dog food.
LV Plant Collective – Cute, curated plants shop.
Market Shop – This the brick-and-mortar version of Market in the Alley which came about during the pandemic. It features over 70 vendors.
Mike's Recovery – Handmade body and bath products with a focus on athletic recovery and performance.
Minimal Market – a shop focused on local, sustainable, and handcrafted goods. They also carry a zero-waste refill station where you can get cleaning and personal products for your home.
Mothership Coffee Roasters – Mothership is definitely a local favorite. This is a beautiful location with plenty of outdoor seating.
Myron Hensel Photography – If you love taking unique photos, check out this studio that shoots with a vintage plate camera producing tintype photographs.
Neon Cactus – A vintage shop that focuses on body positivity.
Noise Project – This is an education-driven salon creating a unique and custom experience for every guest. The founder and her team hope to bring mental health awareness and compassion into everything they do.
Rooted Lounge – Classes, events, and gatherings focused on connecting to our roots through movement, music, art, and storytelling.
Tiny Bloom – Locally made floral-inspired goods, flower arrangements, and a stem bar.
Vegas Test Kitchen – Brick and mortar location offering a variety of cuisines from chefs testing new concepts.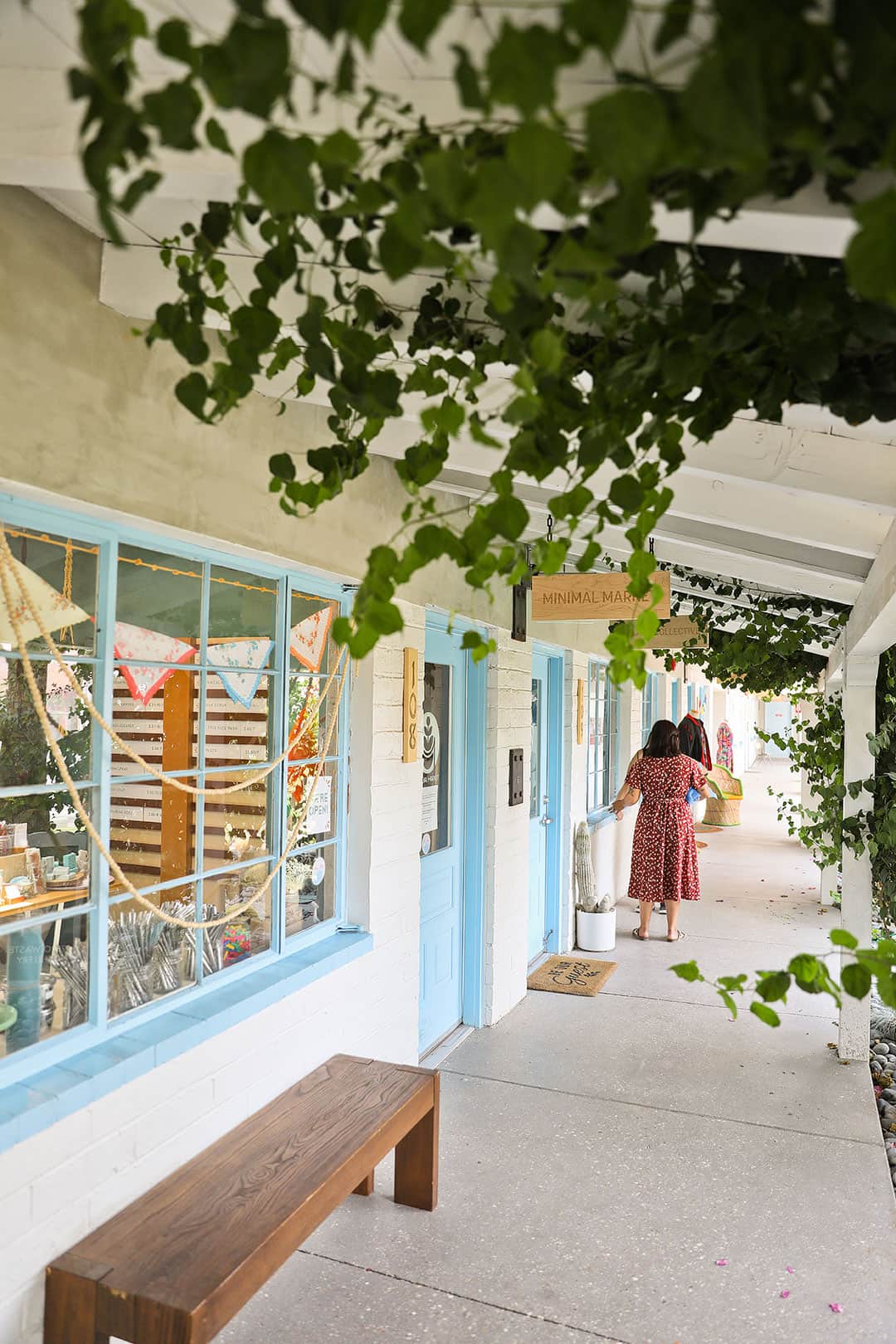 Anthology Puzzles – unique whimsical wooden jigsaws. They have a monthly jigsaw subscription and even a library program where you can borrow puzzles.
Clarice Tara – Currently performing Presence.
Crowded Mouth Emporium – Unique and fun pins and apparel.
Deeply Rooted – Focuses on holistic wellness and sustainable goods made by the community.
Depressed Monsters – Clothes, art, and trinkets with the purpose of mental health advocacy through their character, Yerman.
Love Em Couture – Flipping vintage tees and band tees, tie-dyes, and art.
Sun in Pisces – Crystals and crystal jewelry shop.
Tofu Tees – Founded in 2016 by an 8-year-old, this shop is a live classroom for Kumei, who is learning about entrepreneurship while making a difference in the community.
Friendly Pastel Monsters Mural by Kevin Lyons.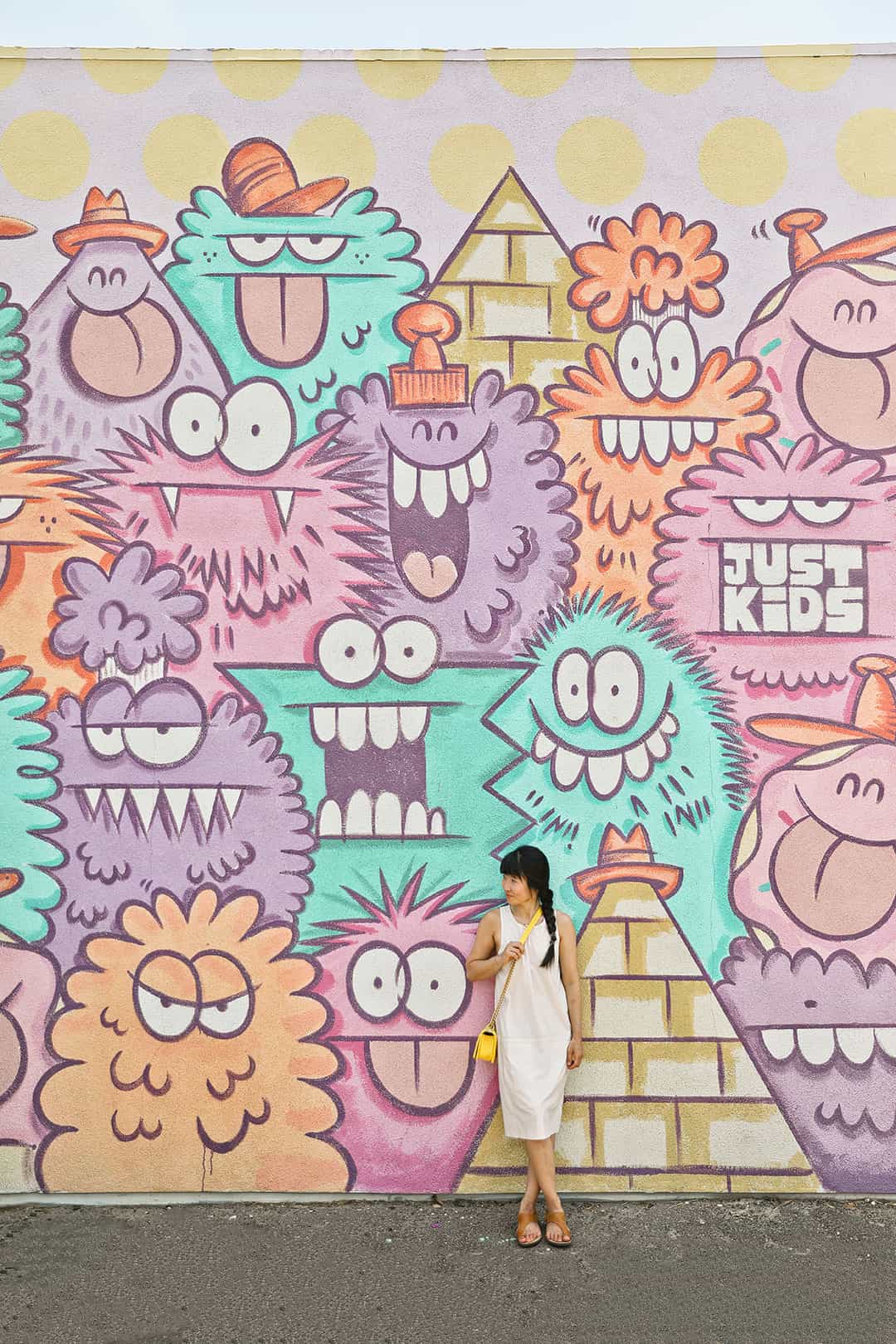 Special Events at Fergusons Downtown
Check their website for the current calendar and to get tickets (which sell fast!). They currently have three recurring events:
Fieldtrip – Outdoor concert series hosting live music every Saturday from 8 pm to Midnight.
Don't Tell Comedy in The Yard – Monthly comedy series with food and drinks.
Market in the Alley – Currently on a break, but they plan on coming back soon.
Tips for Visiting Fergusons Downtown
Free street parking is available but limited. Otherwise, there are paid lots and metered street parking in the area. If it's First Friday, it's nearly impossible to find parking.
It's hot in the summer but the walkway around the stores is in the shade and they have misters running throughout the space.
For the least crowds visit on Wednesday or Thursday.
Bring your own shopping bags. Everyone here is trying to do their part to be sustainable.
There is a welcome table at the front if you ever need help finding something.
Ask the shop owners about their stories! It's cool to hear how they ended up at Fergusons Downtown.
Best Places to Stay Near Fergusons Downtown
Have you been to Fergusons Downtown? What was your favorite store here?
Did you enjoy this post? Pin it for later
SEE MORE LAS VEGAS GUIDES
"Discovery consists not of seeking new lands but in seeing with new eyes" – M. Proust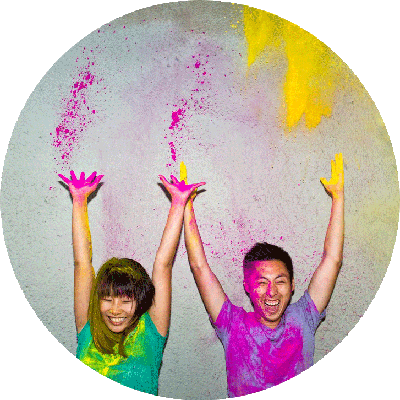 Esther and Jacob are the founders of Local Adventurer, which is one of the top 5 travel blogs in the US. They believe that adventure can be found both near and far and hope to inspire others to explore locally. They explore a new city in depth every year and currently base themselves in Las Vegas.