While living in LA, we visited the beach no more than 5 times the ENTIRE year even though we said we wouldn't take the beach for granted. We immediately regretted it after moving to land-locked Las Vegas.
Traffic was always our number one excuse for staying in, but we know we could have made the effort. Now that we're back on the coast, we're determined to enjoy San Diego's beautiful beaches. We're hoping to explore every beach in the area and make it out to a beach – new or old – once a week. Today, we put together a list of what to bring to the beach to help us and you stay organized.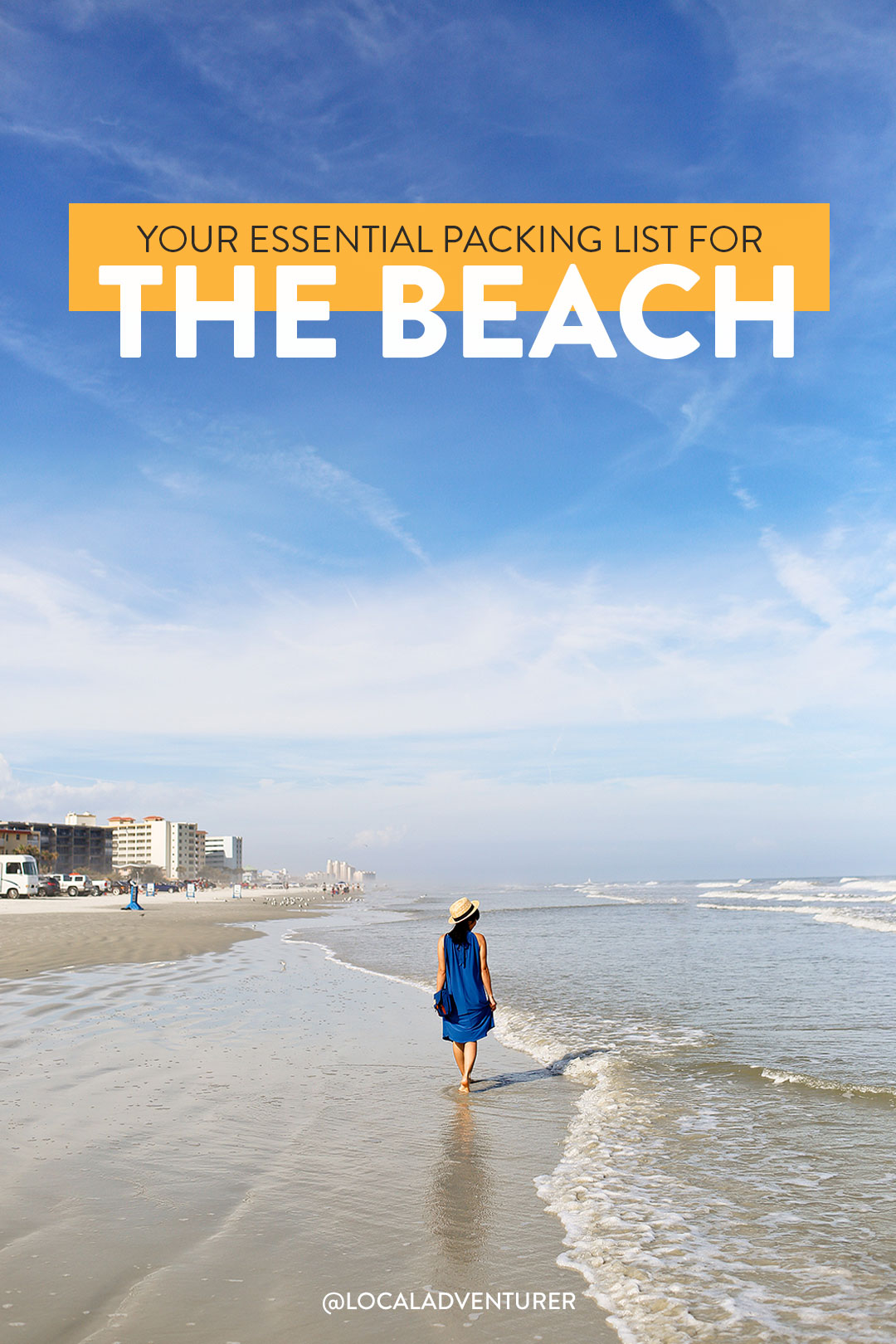 A big thank you to Sparkling ICE for sponsoring this post. All opinions are always our own. This post may contain affiliate links, where we receive a small commission on sales of the products that are linked at no additional cost to you. Read our full disclosure for more info. Thank you for supporting the brands that make Local Adventurer possible.
Last Updated: Jun 7, 2019
What to Bring to the Beach - Our Beach Essentials Packing List
Beach Bag – It's especially good if it's like this one with a zipper or clasps at the top and you can use it as your personal carry on item too.
Dry Backpack or Dry Bag – Jacob likes to carry this backpack to keep our stuff dry.
 Reef Safe Sunscreen – Skin cancer is no joke! We used to love using our Neutrogena Dry Touch, but after reading up on what ingredients go into their sunscreens along with other big brands, we've found some great non-toxic alternatives. Keep in mind sunscreens above SPF 50 only add slightly more protection. If you find oxybenzone, octinoxate, octocrylene, homosalate, or octisalate on the label, it is not reef friendly. Mineral sunscreens with zinc oxide or titanium dioxide are generally safer.
Chapstick with SPF – Jacob's burnt his lips more than once because he forgot about them. This one is SPF 30.
 Cheap Big Sunglasses – I keep my nicer pair in the car, so that they don't get scratched up by the sand. You want big sunglasses to be able to protect all around your eye.
Sunhat – Gotta keep the sun off your face. The one I'm wearing above is from San Diego Hat Company.
 Swimsuit
 Swim Cover Up
Summer Attire – Summer dress, tank top or tee, and shorts.
Beach Towel – This is a cute watermelon one from ban.do.
 Beach Blanket or Portable Beach Mat – Lately, it's been too cold to get in the water, so we like to bring a blanket to relax on. Jacob hates getting sand in everything, so that's the best way to keep the sand away. We got ours a while back at our alma mater.
A Good Book – Nothings better than feeling the breeze, soaking in the sun, and enjoying a good book. We typically bring our Kindles with us so we have multiple options on what to read. I'm currently reading Slaughterhouse Five, and Jacob is currently reading The Giver. What about you?
A Light Jacket – Even though the beach is usually nice, winds can always pick up and make it chilly as the sun sets. Be sure to bring a light jacket to stay warm. We really like our nano puff jackets that pack up small.
Change of Clothes – Always good to have just in case.
 Camera – Whether it's a phone, a point-and-shoot, GoPro, or DSLR, we like to have at least one camera (if not all 4) to capture the moments.
Waterproof Flip Flops x2 or Water Shoes: These flip flops go with me everywhere. They're so thin and light that I can pack them in the side pocket of my backpack and forget about them until I need them. Pack an extra pair in case one breaks. I've had flip flops break on me on trips before, and it's never fun hobbling back to the hotel. You also might want to consider bringing water shoes if you're at a beach with rocky surfaces.
 Baby Powder – It removes moisture from your skin so sand will fall off easily.
Bug Repellent
Kleenex Wet Wipes or Sanitizer – this is the germ removal kind.
Zip Lock Bags in Various Sizes – I actually bring ziplock bags on every trip because they've come in so handy on many occasions. You can use them to protect your phone and personal items from getting wet or pack your wet swimsuits afterward.
 Portable Phone Charger: This Anker charger keeps both our devices charged all day.
First Aid Kit – We don't always pack one, but we know we should.
Snorkel, Mask, Fins – if you can snorkel right off the beach, we prefer to bring our own masks and snorkels since it fits our faces better.
Wetsuit – if you're swimming out in San Diego, you need a thick wetsuit.
 Rash Guard

– for extra protection from the sun.

 Spare Change for Parking Meter



 

Snacks

 – To keep the hanger at bay, we always bring some of our favorite beef jerky or trail mix to appease the monster. It's good to bring nice portable snacks that won't melt in the sun. Great snack options are fruit, nuts, crackers, and power bars.
Reusable Travel Water Bottle

or Growler

 – to keep your drinks cold.
 

Cooler Filled With Water and Beverage of Choice

 – It's always important to stay hydrated. Doctors recommend you drink 8 full glasses of water. I've never liked drinking regular water, so it's been nice having our fridge full of Sparking ICE. They have over 20 sparkling water flavors, and they have no calories. I love the fizziness, and my favorite flavor so far is Peach Nectarine.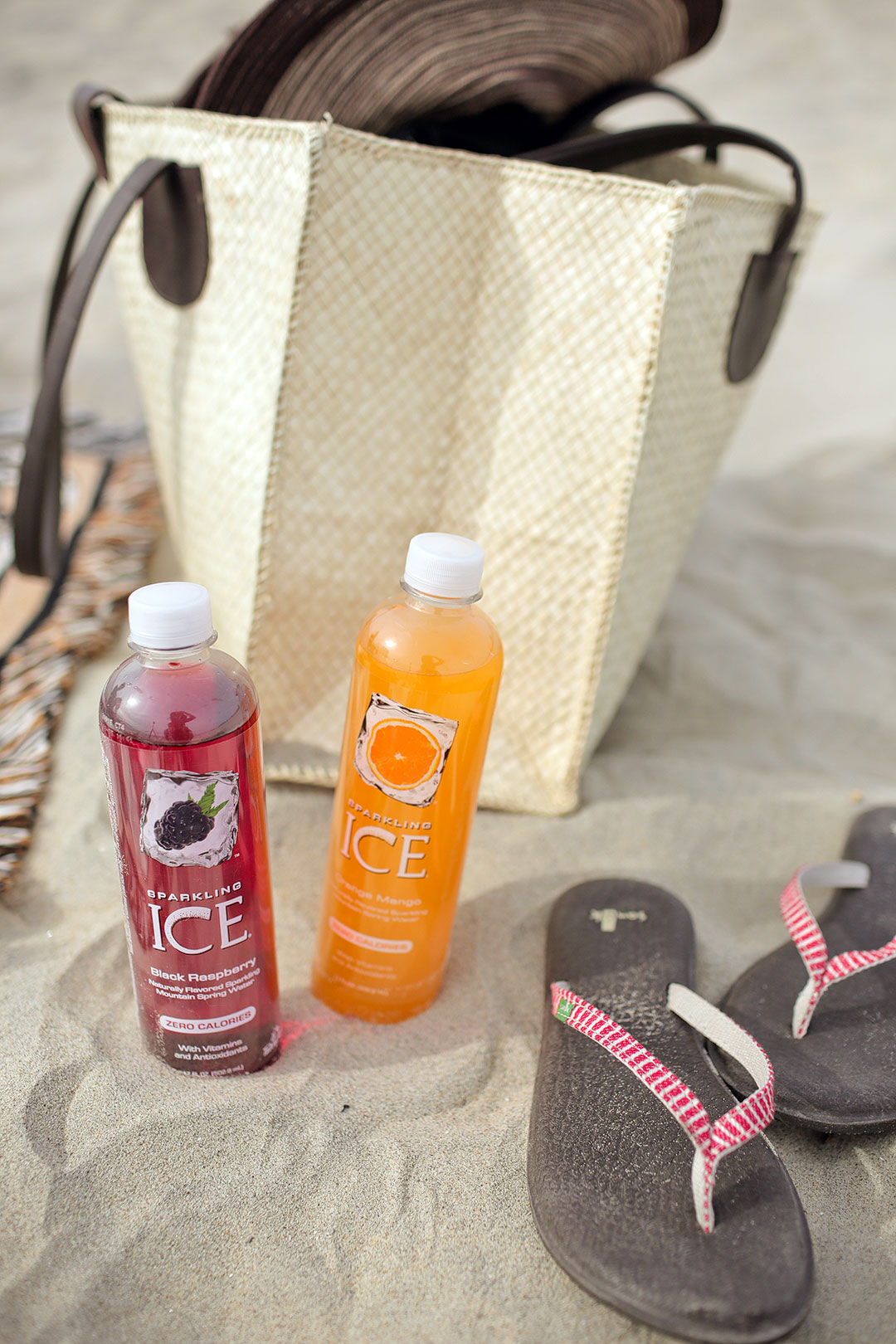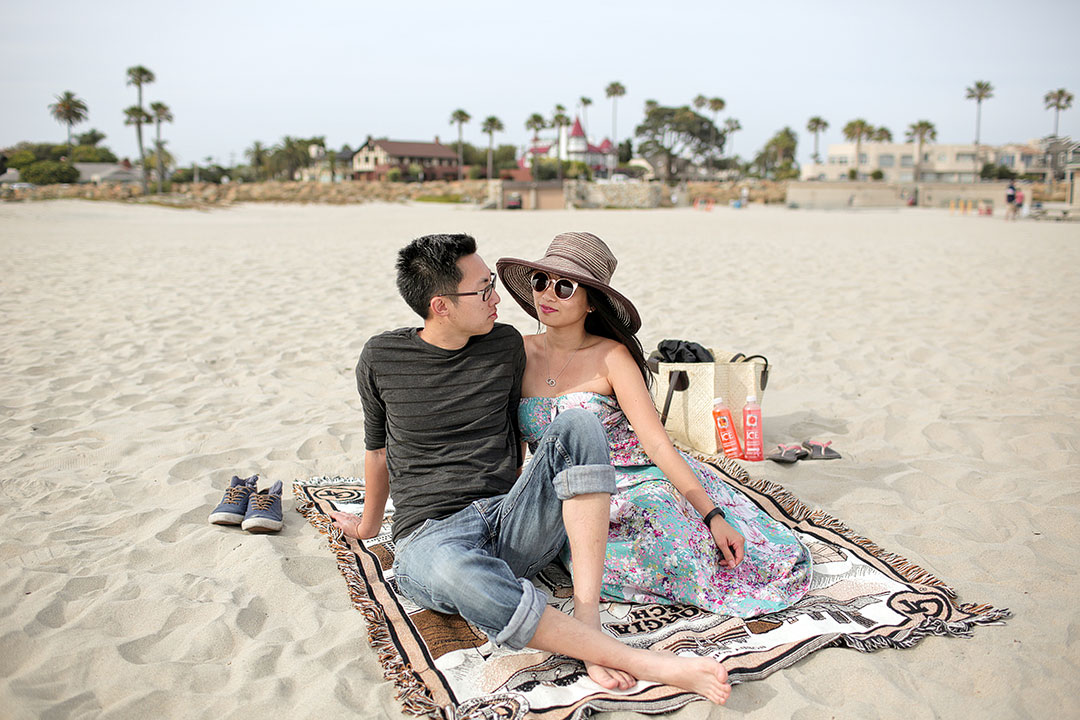 More Things to Bring to the Beach
These aren't necessities but make life easier or more fun.
Beach Umbrella – Sure, you don't need a beach umbrella, but once you use one, it's hard to go back to the old life. This one is very packable and can turn into a sun or rain canopy or try this portable beach tent that's easy to set up.
Camping Chairs – these fold down way smaller than beach chairs.
 Towel Clips – to keep your towel in place
 Sand Coaster – to keep your drink from falling over.
Float Strap – for cameras, phones, and other devices
Entertainment – Frisbee, Football, Volleyball Kite, Card Games, Toys to Play in the Sand, Slackline

 

Whistle

– It's good to have especially when traveling with children.

 Binoculars

– to do some birding or to scout other wildlife.




 

Walkie Talkie

– if there's no service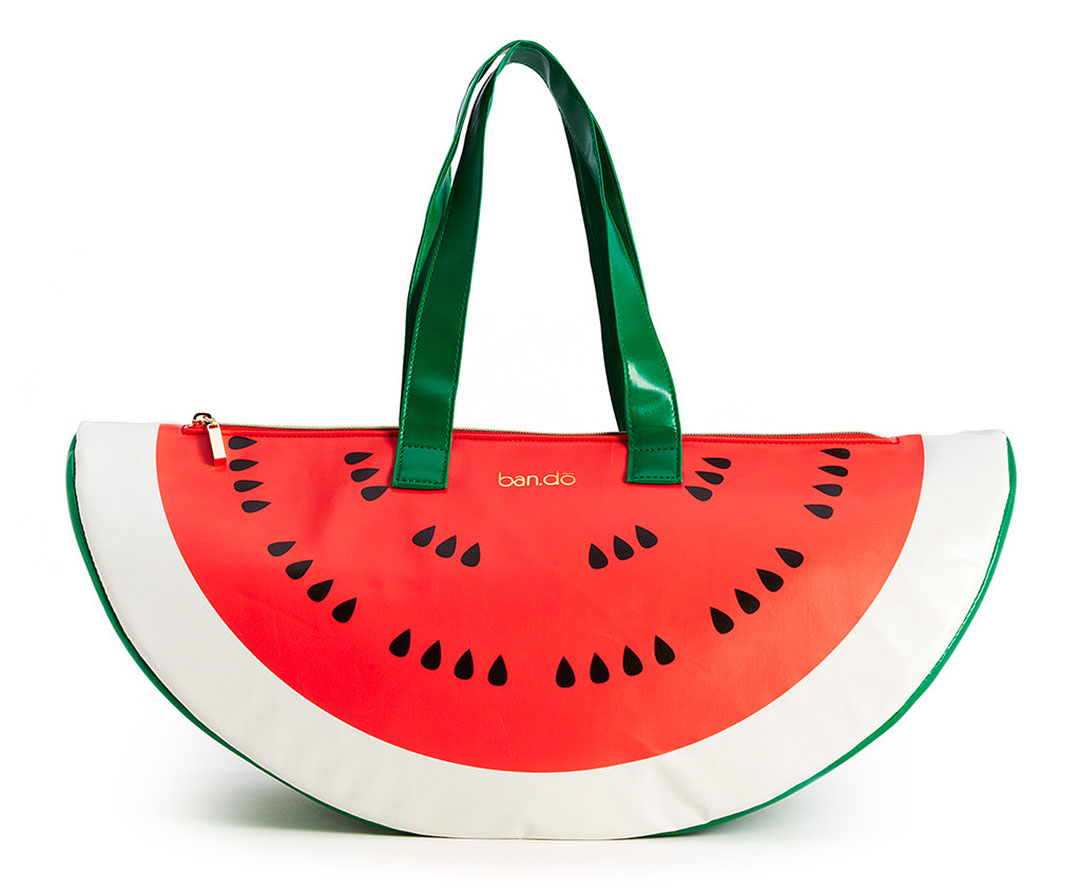 Pick a Beach Bag you don't mind getting dirty. Large totes or medium size backpacks are good. Compartments and pockets help keep things organized and water resistance is always a plus.
Maximize space by using packing cubes and rolling your clothes and beach towels at the bottom of bag.
Leave most of your valuables at home including your nice pair of sunglasses.
Weigh your luggage to make sure they will not go over the allowed weight. 
ID Driver's License or Passport
Credit Cards and Cash
Insurance Cards

 Wallet




 Keys



Car Rental and Hotel Information

 Directions




 Phone + Charger + Portable Charger



Clothes to Bring on Every Trip
PJs
Bras and Underwear
Socks
Nicer Outfit for Dinners
Workout Clothes
Tees + Tops
Shorts, Pants
Sundresses
Dryer Sheets – keep it in your suitcase to keep your clothes smelling fresh.
Shampoo, Conditioner, Soap / Body Wash, Lotion – Most hotels will carry these already. I usually only pack my own conditioner since my hair is so damaged and needs extra love.
Travel Hair Dryer – depending on where we stay, I'll bring my own mini travel hair dryer.
Lotion
Toothbrush
Toothpaste
Floss
Sunblock
Aloe
Hairbrush – love the tangle teezer.
 Hair ties, Bobby Pins, Clips, Spin Pins – I always lose them so I like to bring extras and stash them in each bag.
Hair Product – Hair Cream, Gel, Spray
Shower Cap
Flat Iron or Curling Iron
Eyeglasses
Contacts, Contact Case, Contact Solution
Eye Drops
Makeup Bag + Makeup Listed Below
Pads and Tampons
Jewelry
Nail Clipper
Tweezer
Meds Prescription, Vitamin, Benadryl, Dramamine, Pain Reliever
First Aid Kit
Eye Mask
Ear Plugs – You never know when you will have snoring roomies. 
Garbage Bag
Note: All carry on liquids need to be under 3.4 oz or 100 mL.
Magic Cushion – this works as a great foundation and concealer
Face Setting Spray
Eyeshadow Pencil
Lipstick pencil
Chapstick with SPF
Blush
Eyeliner
Mascara
Makeup Remover – I've been collecting extras from hotels whenever I can, but I also love using these Grapefruit ones.
Eye Cream
Moisturizer
Power Adapter and Converter
Phone

Phone Charger
Portable Phone Charger
E-Reader
Laptop
Laptop Cables
Camera / GoPro

 

Waterproof Case for Cameras and Phone
 Waterproof Outdoor Speakers for music

Checklist - Do This Before You Leave Your House
Stop deliveries – or have a friend or neighbor take packages inside for you.
Mail
Board your pets or hire a petsitter

Housesitter
Take care of any bills
Unplug appliances
Put all valuables in a safe
Empty the fridge
Take out garbage
Set Thermostat
Lock doors and windows
Send your itinerary to a friend or emergency contact just in case.
Set Alarm
What to Bring to the Beach
What do you usually pack for the beach? Any beach essentials we're missing?
Did you enjoy this post? Pin it for later
SEE MORE CITY BUCKET LISTS
"Discovery consists not of seeking new lands but in seeing with new eyes" – M. Proust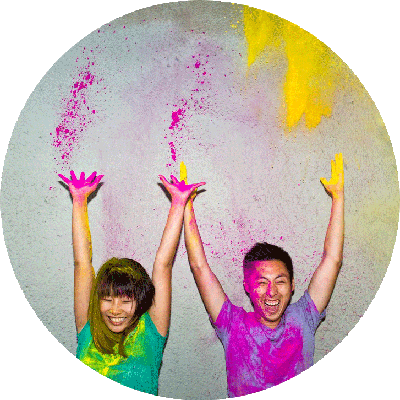 Esther and Jacob are the founders of Local Adventurer, which is one of the top 5 travel blogs in the US. They believe that adventure can be found both near and far and hope to inspire others to explore locally. They explore a new city in depth every year and currently base themselves in Las Vegas.