[ Update: We're spending the year of 2018 exploring NYC. We'd love to hear all your suggestions! ]
We love visiting NYC! When we visit, we spend most our time eating, since the options for food are endless. It wasn't until recently that we realized that we haven't seen much of the city other than the insides of restaurants. With the help of our friends Charlene, Ted, and Caty who've been living here for over 10 years, we were able to put together an NYC bucket list.
We could probably make an entire 101 list for each borough, but we'll start with the city as a whole. This list will continue to change and evolve as we find new things to see, do or eat in NYC so keep checking back. We focused more on experiences than food on this post, but we know how important food can be too, so you can check out our full food bucket list.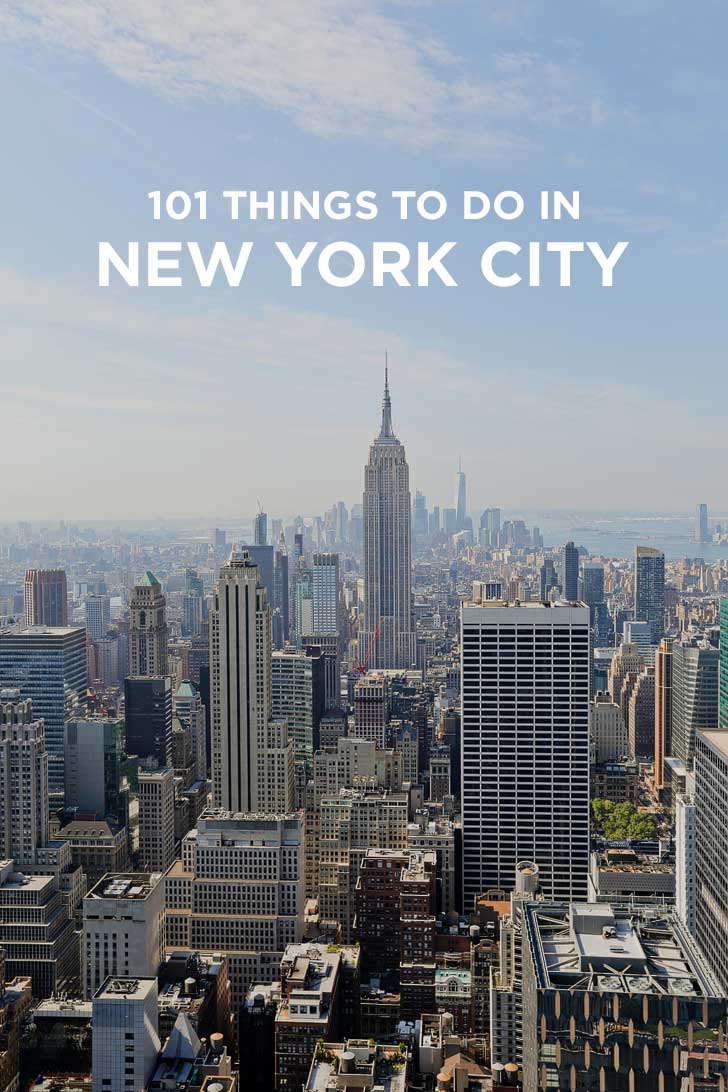 THE ULTIMATE NEW YORK CITY BUCKET LIST (101 Things to Do in NYC)
Last Updated: April 14, 2018      Created: January 30, 2017
TOURIST ATTRACTIONS
☐ Bronx Zoo, Bronx Park
☐ Brooklyn Bridge, BK
☐ Chinatown
☐ Chrysler Building, Midtown
☐ Columbia University, Morningside Heights
☐ Empire State Building, Midtown
☐ Flatiron Building, Flatiron
☐ Grand Central Station / Terminal, Midtown
☐ Greenwich Village / West Village
☐ Hell Gate Bridge, Astoria, Queens (QNS)
☐ Mahayana Buddhist Temple, Chinatown
☐ New York Public Library, Midtown
☐ New York Wheel
☐ The Oculus (World Trade Center Transportation Hub), Financial District
☐ One World Observatory
☐ Rockefeller Center, Midtown
☐ St. Patrick's Cathedral, Midtown
☐ Staten Island Ferry (and drink a Staten Island. Cheers!)
☐ Times Square, Midtown (If you want to stay in the area but have a place to escape to, the Casablanca Hotel is a great spot. Also to avoid the crowds, you will have to go at either 2 am or during a snowstorm.)
Top of the Rock has the best views!
☐ Victorian Gardens Amusement Park
Memorials + Museums + Monuments
☐ African Burial Ground National Monument, Financial District (National Park Unit)
☐ American Museum of Natural History, UWS
☐ Brooklyn Museum, Prospect Heights, BK
☐ Castle Clinton National Monument, Battery Park (National Park Unit)
☐ The Cloisters, the Heights (part of the Met)
☐ Chelsea Galleries (David Zwirner Gallery to see Yayoi Kusama's exhibit)
☐ Ellis Island
☐ Federal Hall National Monument, Financial District (National Park Unit)
☐ Frick Collection, UES
☐ General Grant National Memorial, Morningside Heights (National Park Unit)
☐ Governors Island National Monument (National Park Unit)
☐ The Guggenheim (Solomon R Guggenheim Museum), UES
☐ Hamilton Grange National Memorial (National Park Unit)
☐ Intrepid (Intrepid Sea and Air Museum) – for Stargazing or Movie Nights
☐ Lower East Side Tenement Museum, LES
☐ The Met (Metropolitan Museum of Art), Central Park / UES
☐ MoMa / Museum of Modern Art (Free Fri 4-8PM)
☐ MoMa PS1, LIC, QNS
☐ Morgan Library and Museum, Murray Hill
☐ Museum of Moving Image, Astoria, QNS
☐ National 9/11 Memorial and Museum
☐ New York Transit Museum, BK
☐ The Noguchi Museum, LIC, QNS
☐ Statue of Liberty National Monument (National Park Unit. Want to avoid the lines at Liberty Island? Take a cruise next to it instead.)
☐ Stonewall National Monument, West Village (National Park Unit)
☐ Theodore Roosevelt Birthplace National Historic Site, Flatiron (National Park Unit)
☐ Tibet House, Flatiron
☐ Whitney Museum of American Art, Meatpacking District
Spectate: Shows + Events
☐ Apollo Theater, Harlem
☐ Barclay's Center – Brooklyn Nets
☐ Brooklyn Bowl, Williamsburg, BK
☐ Carnegie Hall, Midtown
☐ Comedy Cellar, Greenwich Village
☐ Film Forum, South Village
☐ Las Chicas Locas for Salsa Dancing
☐ Late night show taping / SNL (how to score free tickets)
☐ Lincoln Center for the Performing Arts, Lincoln Square
☐ Madison Square Garden, Midtown West (See the Knicks)
☐ Metropolitan Opera House, UWS
☐ MetLife Stadium, NJ – New York Giants
☐ National Tennis Center, Flushing, QNS – for the US Open
☐ New York Philharmonic, UWS
☐ Nitehawk Cinema, Williamsburg, BK
☐ The Public Theater, NoHo – an iconic theater and is famous for their logo design. We went and saw the play, Office Hour, which our friend happened to be in.
☐ Radio City Music Hall, Midtown (take the Stage Door Tour to see behind the scenes)
☐ Shakespeare in the Park (Summer only, how to score free tickets)
☐ Yankee Stadium, Bronx
Outdoors + Urban Parks
☐ The Battery Conservancy, Financial District
☐ Brooklyn Botanic Garden, Prospect Park, Brooklyn (BK)
☐ Brooklyn Boulders (we go to the one in LIC)
☐ Brooklyn Bridge Park
☐ Coney Island Boardwalk + Brighton Beach, BK
☐ Bryant Park, Midtown
☐ Central Park
☐ Conservatory Garden, East Harlem
☐ DUMBO view of Manhattan Bridge
☐ Fort Washington Park's Little Red Lighthouse, the Heights
☐ The High Line, Chelsea
☐ New York Botanical Garden, Bronx Park
☐ The New York Chinese Scholar's Garden, Staten Island
☐ Prospect Park, BK
☐ Rockaway Beach, QNS
☐ Socrates Sculpture Park, LIC, QNS
☐ Washington Square Park, Greenwich Village
☐ West 4th Street Courts
Shopping + Food Experiences
☐ Afternoon tea at the Plaza, Midtown West (plus, here are some other great spots)
☐ Arthur Ave, Bronx – the real Little Italy if you want real Italian
☐ B&H – A photographer's heaven. It's gigantic. You can pick up your free gift using this voucher or code: LOCALADVEN
☐ Brooklyn Flea Market, DUMBO
☐ Chelsea Market
☐ Coffee at Birch Coffee, A Little Taste, or Piccolo Cafe
☐ Eataly Market, Flatiron
☐ Fifth Avenue, Midtown – one of the most expensive shopping streets in the world
☐ New York bagel at one of these spots
☐ New York-style pizza at any of these iconic spots
☐ Smorgasburg at East River State Park, Williamsburg, BKBrooklyn – largest open-air food market in the US.
☐ Strand Bookstore, Union Square
☐ Union Square Farmer's Market
Essential Tips for First Time Visitors
We try to make it back once a year because we think NYC has some of the best food in the world, but we can't wait to see more of the city too! Do you have a city that you keep going back to?
101 THINGS TO DO IN NEW YORK MAP
Have you set foot in all five boroughs? Anything on this list you weren't impressed with? Anything you think we missed?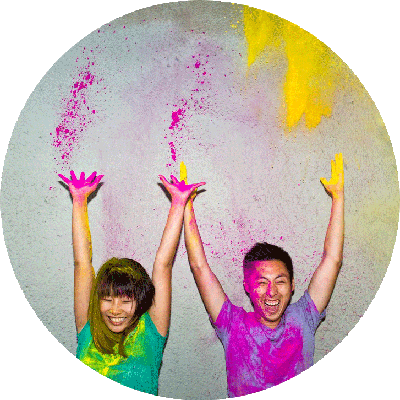 ESTHER + JACOB
Esther and Jacob are the founders of Local Adventurer, which is one of the top 50 travel blogs in the world. They believe that adventure can be found both near and far and hope to inspire others to explore locally. They move to a new city every year and currently live in Portland, Oregon.