Whether you live here or you're visiting for the 10th time, here is the ultimate list of 101 things to do in NYC.
While we had a love-hate relationship when visiting NYC, we absolutely loved the city when living here. We spent most of our visits eating our way through the city, and later realized that we hadn't seen much of the city other than the insides of restaurants.
I've always had an extensive list of things we wanted to do, but with the help of our friends who've been living here for over a decade Charlene, Ted, Caty, and Debbie who was born and raised, we were able to narrow down the options and put together the ultimate NYC bucket list for you.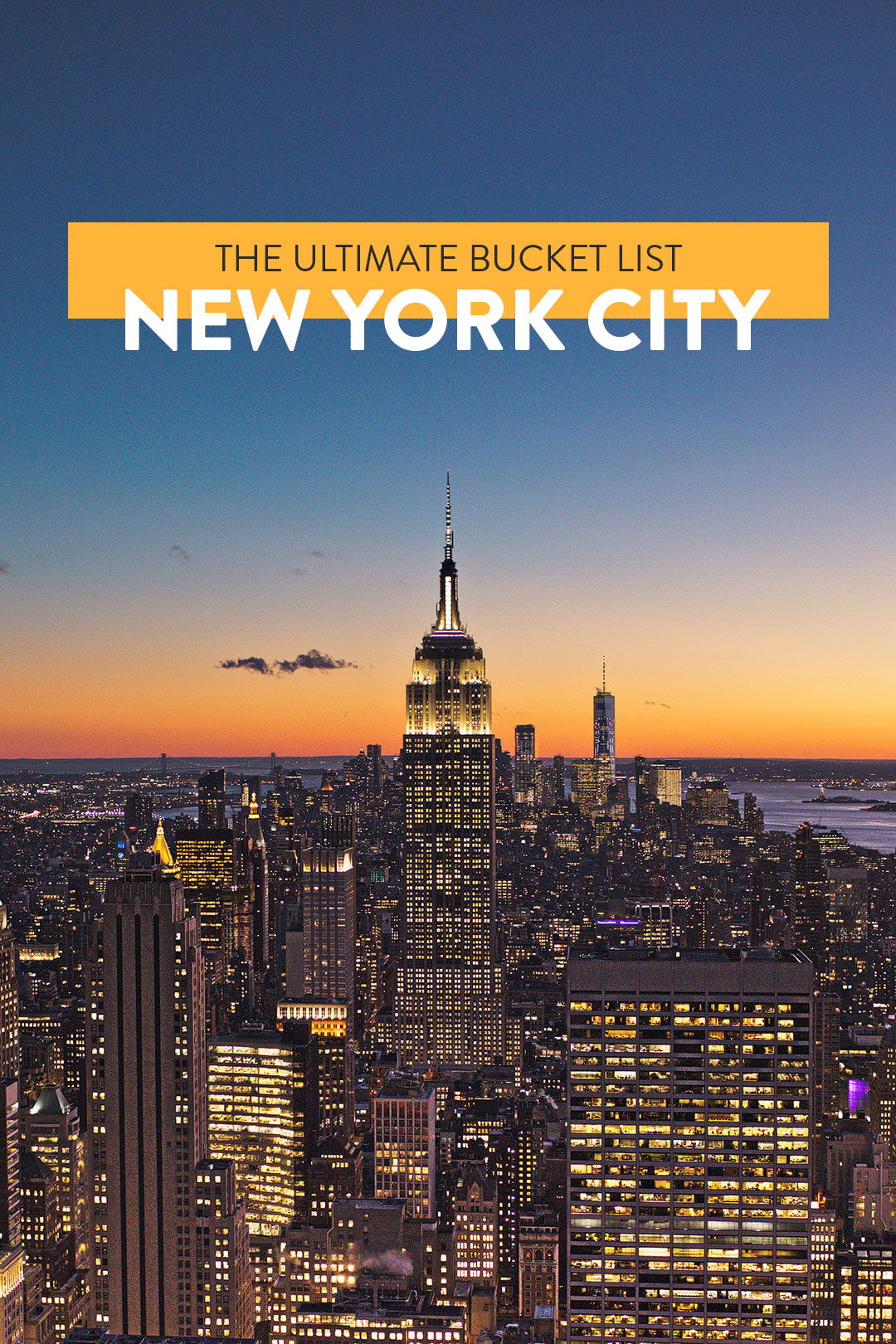 This post may contain affiliate links, where we receive a small commission on sales of the products that are linked at no additional cost to you. All opinions are always our own. Read our full disclosure for more info. Thank you for supporting the brands that make Local Adventurer possible.
Last Updated: November 8, 2022
The Ultimate NYC Bucket List (101 Unique Things to Do in New York City)
It's easy to make an entire 101 list for each borough, but we'll start with the city as a whole.
This list will continue to change and evolve as we find new things to see, do or eat in NYC so keep checking back. We focused more on experiences than food on this post, but we know how important food can be too, so you can check out our full food bucket list.
The largest metropolitan zoo in the US.
Walk across or bike across or take in the views of one of NYC's iconic symbols from Brooklyn Bridge Park.
Pick up some Eggloo waffle ice creams and eat the chicken over rice at Taiwan Pork Chop House.
(Midtown) Art Deco skyscraper that's an iconic part of the skyline.
(Chelsea) Take the sunset cruise to see the Statue of Liberty and views of the NY Skyline from the water.
(Morningside Heights) Alexander Hamilton, Barack Obama, and many other notable alumni.
(Hudson Yards) Great views of the city from the highest outdoor sky deck in the western hemisphere. See your
ticket options here
.
(Midtown) The most photographed building in the world and the tallest of its time until 1970.
(Flatiron District) another iconic and historic landmark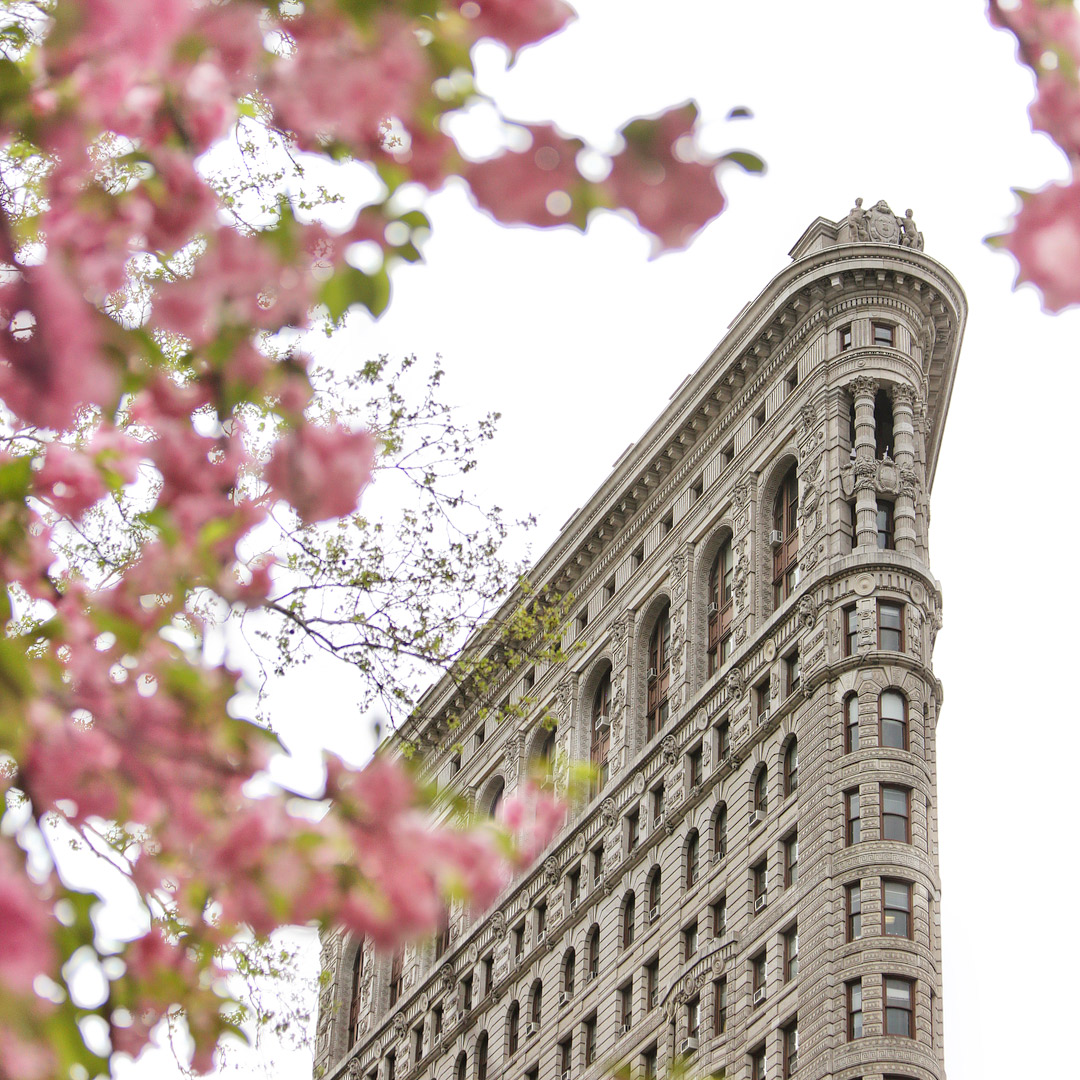 (Midtown) Go upstairs and set up a long exposure shot.
(Chinatown) This temple houses the tallest Buddha in NYC.
(Midtown) No photos are allowed in the main reading room.
(Financial District) The World Trade Center Transportation Hub and popular photography spot.
(Financial District) Not our favorite view but they still have nice views of the city. Also, the reveal is epic.
(Midtown) popular for its Neo-Gothic style architecture
Have you tried a Staten Island? 🥂 The ferry is free.
(Midtown) The 360 views of the city. You can see ESB, Central Park, Chrysler, and more. They also have these instagrammy exhibits, art from Kusama, and a bar.
(Midtown) The crowds are part of the experience and it's worth witnessing once, but for locals this is their least favorite place to be. If you want to take photos without crowds, your best bet is around 3 am or during a snowstorm.
(Hudson Yards) New NYC landmark made of 154 intricately interconnecting flights of stairs. It's currently closed, so you can only see it from the outside.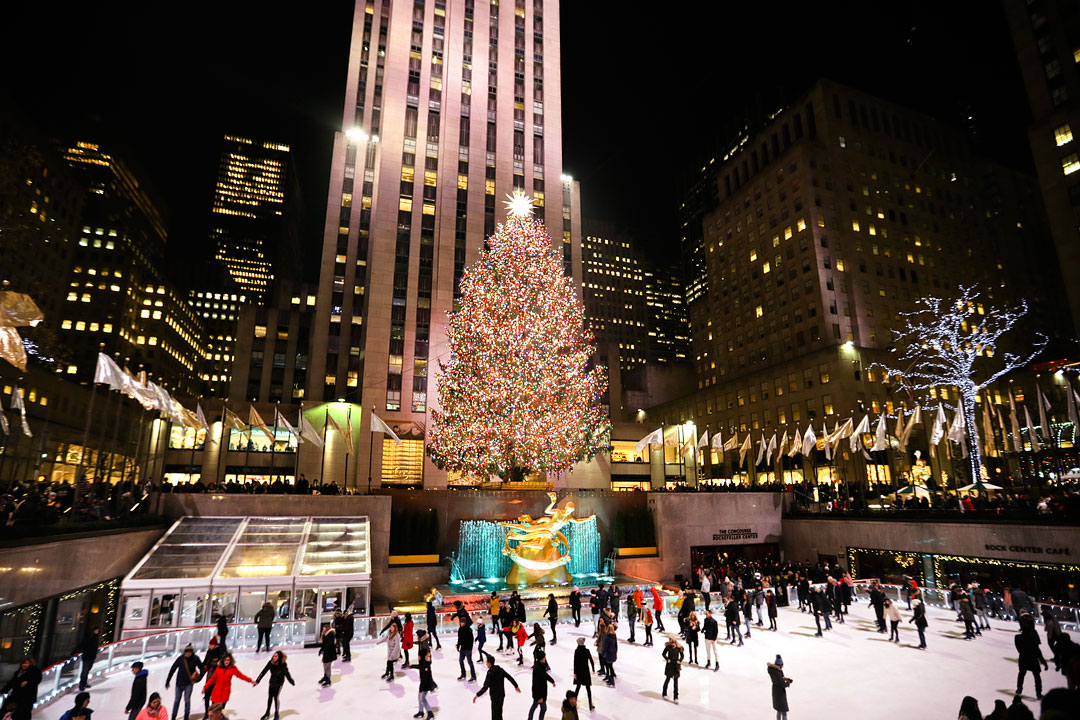 (Harlem) Jacob is actually in an episode he gets boo'd off stage!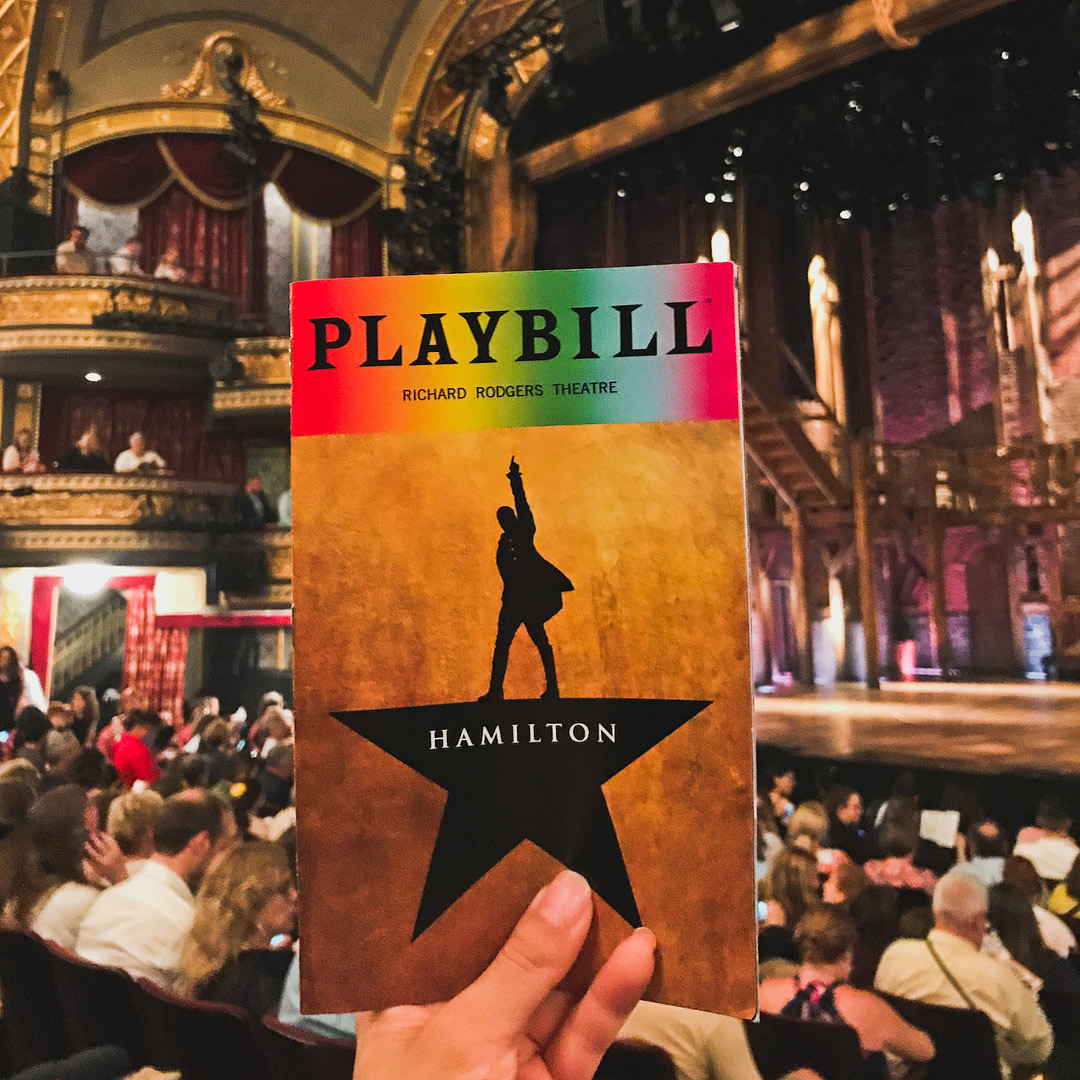 (Williamsburg, BK) High-tech lanes, live music, and good food.
(Midtown) Home to some of the most legendary performers – NY Philharmonic, NBC Symphony Orchestra, The Beatles, Billie Holiday, Simon & Garfunkel – just to name a few.
(Greenwich Village) One of our favorite comedy clubs in the US.
Diverse venue, open late, offers live music, pool, Ping-Pong, board games, art exhibits, and more.
(South Village) An absolute treasure for indie films and other rare, classic movies.
Salsa Dancing, great music, newcomers and beginners friendly.
Lincoln Center for the Performing Arts
(UWS) Includes New York Philharmonic and the Metropolitan Opera.
(Midtown West) We did the All Access Tour, but you can also go see the Knicks.
(NJ) Watch a New York Giants game.
(Flushing, QNS) For the US Open.
(UWS) Amazing environment, concerts with rich histories.
(Williamsburg, BK) dine-in independent movie theater – perfect for date night.
(NoHo) An iconic theater and is famous for their logo design. We went and saw the play, Office Hour, which our friends were in.
(Bronx) Be sure to check out the famous "ball wall" and the museum located inside the stadium.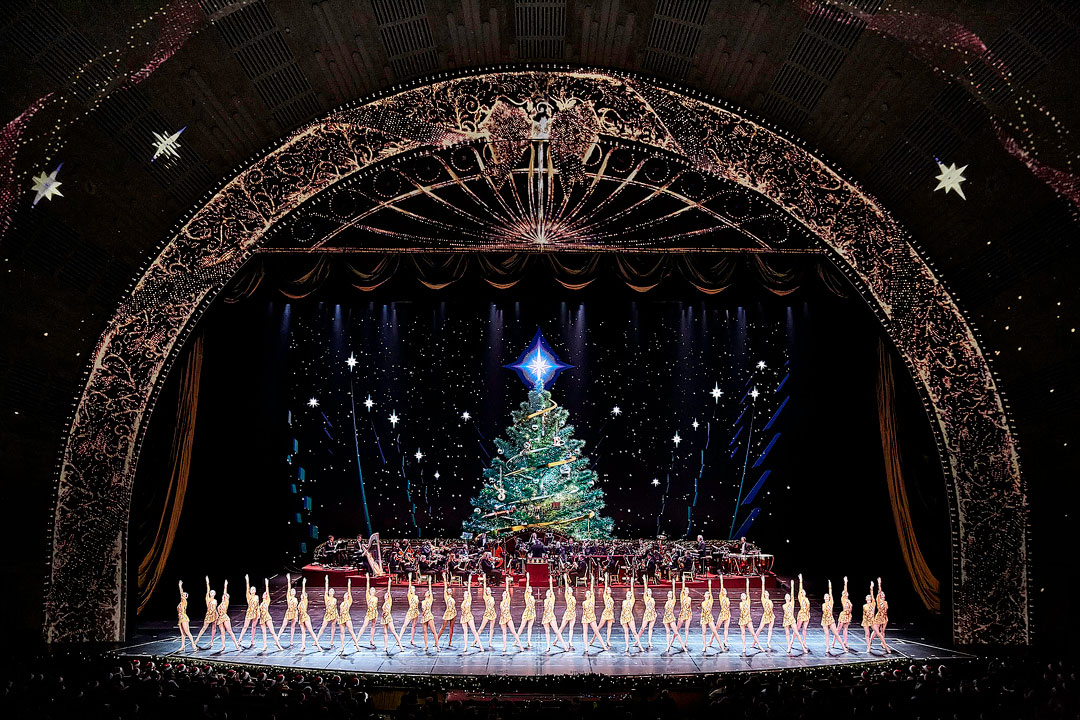 MUSEUMS + MEMORIALS + MONUMENTS
(Financial District) National Park Unit – The largest colonial-era cemetery for people of African descent.
(UWS) One of the largest natural history museums in the world. We loved the planetarium.
(Prospect Heights, Brooklyn) Over 1.5 million works of art to peruse.
(Battery Park) National Park Unit – Free Admission. They're open every day except Thanksgiving Day and Christmas Day.
(The Heights) Part of the Met. Large collection of medieval artworks shown in the architectural settings of French monasteries and abbeys.
David Zwirner Gallery to see Yayoi Kusama's exhibit.
The United States' busiest immigrant inspection station from 1892 to 1954.
(Financial District) National Park Unit – A statue of George Washington marks the approximate site where he was inaugurated as President.
(UES) Children under 10 are not admitted.
(Morningside Heights) National Park Unit – Final resting place of Ulysses S. Grant.
(Governors Island) National Park Unit – Free guided tours, first-come, first served.
(UES) Landmark work of 20th-century architecture designed by Frank Lloyd Wright.
(Harlem) National Park Unit –  Home of a founding father, Alexander Hamilton.
Great museum to see jets, planes, and an aircraft carrier.
(LES) National Park Unit – An estimated 15,000 people, from over 20 nations, lived here between 1863 and 2011.
(Central Park / UES) Fourth most visited art museum in the world.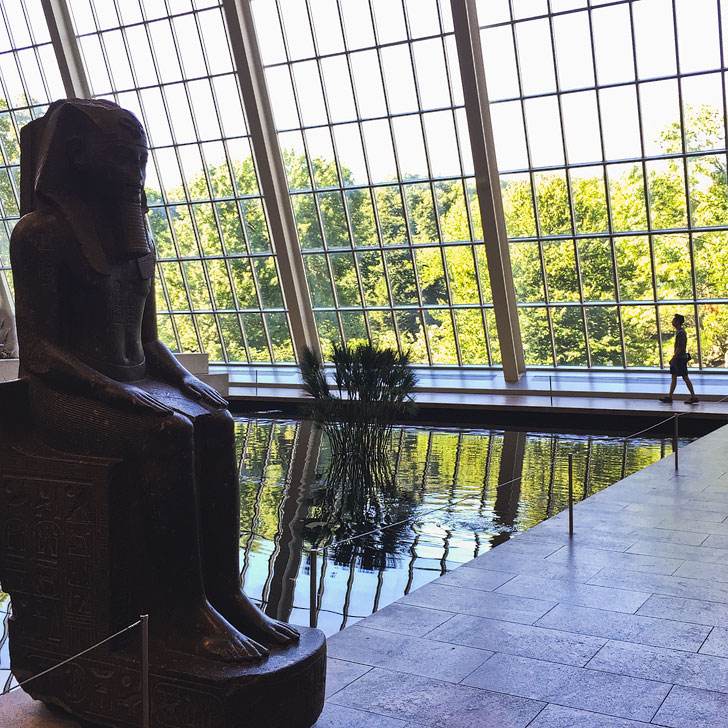 (Free Fri 4-8PM) We recognized so many more pieces of art here than at the Met.
(LIC, QNS) One of the largest art institutions in the United States dedicated solely to contemporary art.
Morgan Library and Museum
(Murray Hill) Short walk from Grand Central and Penn Station.
(Astoria, QNS) We loved how interactive it was. You can learn how to make a. puppet and puppeteer, do a voice over, etc. Kids will love playing the video games.
(Financial District) All tours are intended for adult and teenage visitors. It's really well done but very heavy to see everything.
(BK) We loved the vintage trains and buses on display.
Salsa Dancing, great music, newcomers and beginners friendly.
(Liberty Island) National Park Unit – Tickets can be purchased at Castle Clinton or at the Communipaw Terminal.
(West Village) National Park Unit – The site of the Stonewall riots of June 28, 1969 start of modern LGBT rights movement in the US.
(Flatiron) National Park Unit – Reconstructed home of the 26th President of the United States
(Flatiron) A cultural center founded by H.H. the Dalai Lama.
(Meatpacking District) Every Friday evening from 7pm until 9:30pm, admission is pay-what-you-wish.
(Financial District) Great views of the harbor, skyline, and Statue of Liberty.
(BK) 52-acre garden holds over 14,000 taxa of plants.
Waterfront park with tons of rolling hills, great city views.
Coney Island Boardwalk + Brighton Beach
(BK) Be sure to grab a Nathan's Famous hotdog.
(Midtown) Thousands of free activities throughout the year.
See the Bethesda Fountain, made even more famous by the show, Friends.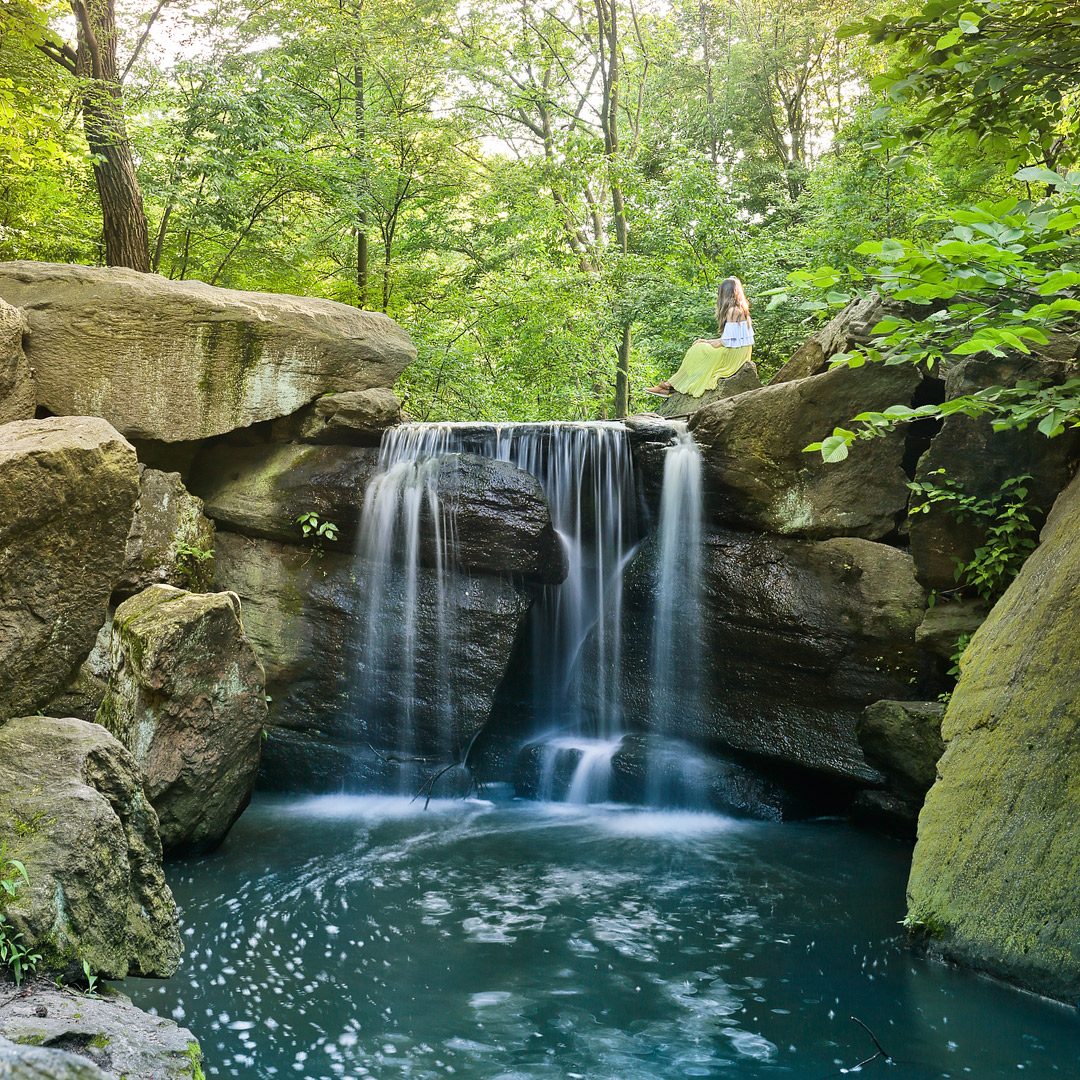 (East Harlem) The only formal garden in Central Park.
DUMBO view of Manhattan Bridge
Best time to go is early morning before the crowds.
(LIC, QNS) Our favorite park with great views and it has more locals than tourists.
(Chelsea) Iconic path that was built on a historic freight rail line elevated above the streets.
(Chelsea) Artificial island park on the Hudson River and is free to visit.
 New York Botanical Garden
(Bronx Park) The historic stone mill is one of our favorite structures in the garden.
The New York Chinese Scholar's Garden
(Staten Island) Especially beautiful and worth seeing in the Spring.
(BK) Degsinated a New York City scenic landmark in 1975, listed on the National Register of Historic Places.
(QNS) Easily accessible by the A train or NYC ferry at Pier 11 Wall Street.
(LIC, QNS) Really cool art exhibits, sculptures, and multi-media installations on display
(Greenwich Village) One of NYC's most iconic public parks. Watch out for hoards of pigeons.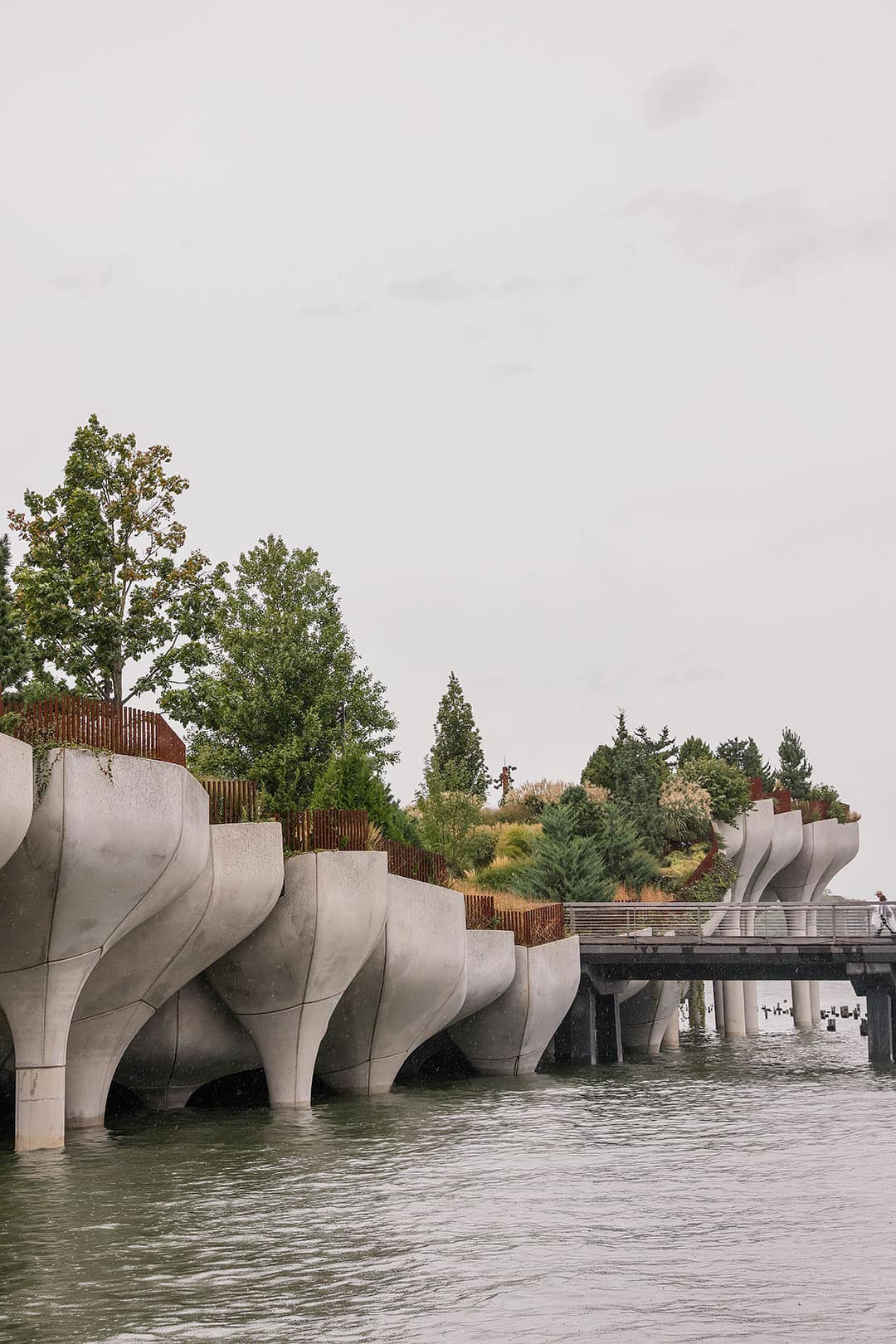 Shopping + Food Experiences
Afternoon Tea at the Plaza
(Bronx) Apparently the real Little Italy if you want real Italian.
This is a photographer's heaven and was high priority on my very first NYC trip. Before you go make sure it isn't a Jewish holiday. There are so many! P.S. You can pick up your free gift using this voucher or online code: LOCALADVEN
(DUMBO) Antiques, repurposed furniture, vintage clothing, collectibles, local crafts, and more.
Housed in the former warehouse of food manufacturer, Nabisco.
Try Birch Coffee, A Little Taste, or Piccolo Cafe.
(Flatiron) Famed Italian market, offering counters, restaurants, and cooking demos.
One of the most expensive shopping streets in the world.
Smorgasburg at East River State Park
(Williamsburg, BK) The largest open-air food market in the US.
(Union Square) Iconic bookstore with tons of rare books and gifts.
Union Square Farmer's Market
The market runs every Saturday, from May 18 – November 23, 9am-1pm.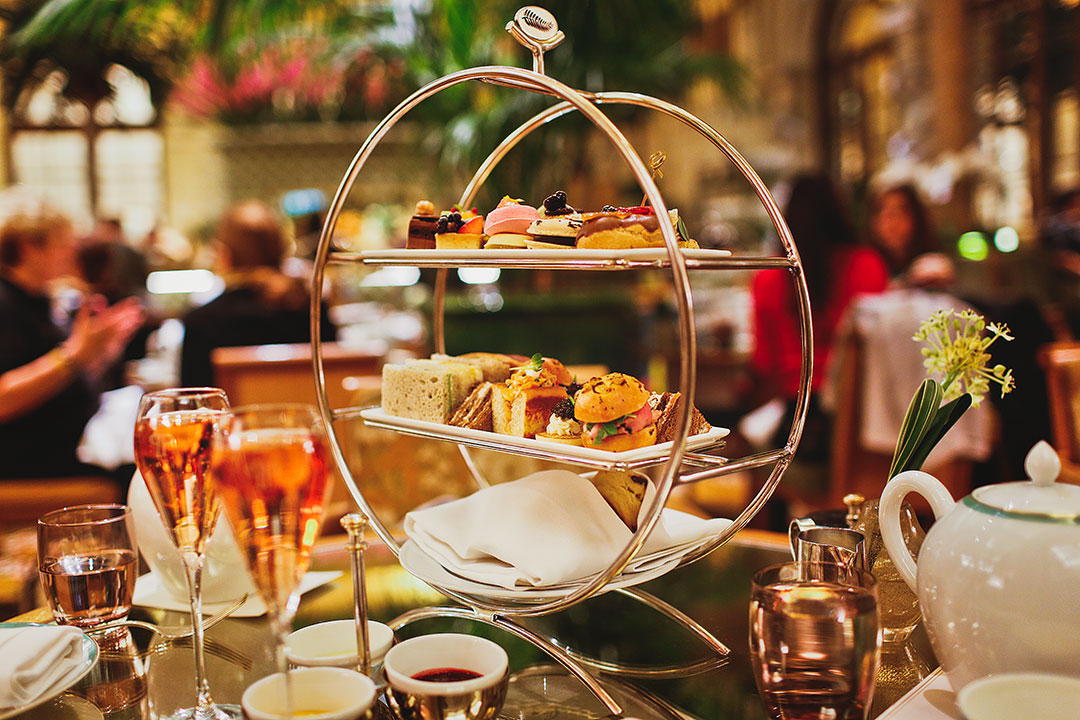 Seasonal or Special Events
(May + July) The sunset perfectly lines up with the east-west streets in Manhattan.
(April) One of the best places to enjoy cherry blossoms.
(June) New York City's official celebration of the past, present, and future of its music scene.
101 THINGS TO DO IN NYC CITY MAP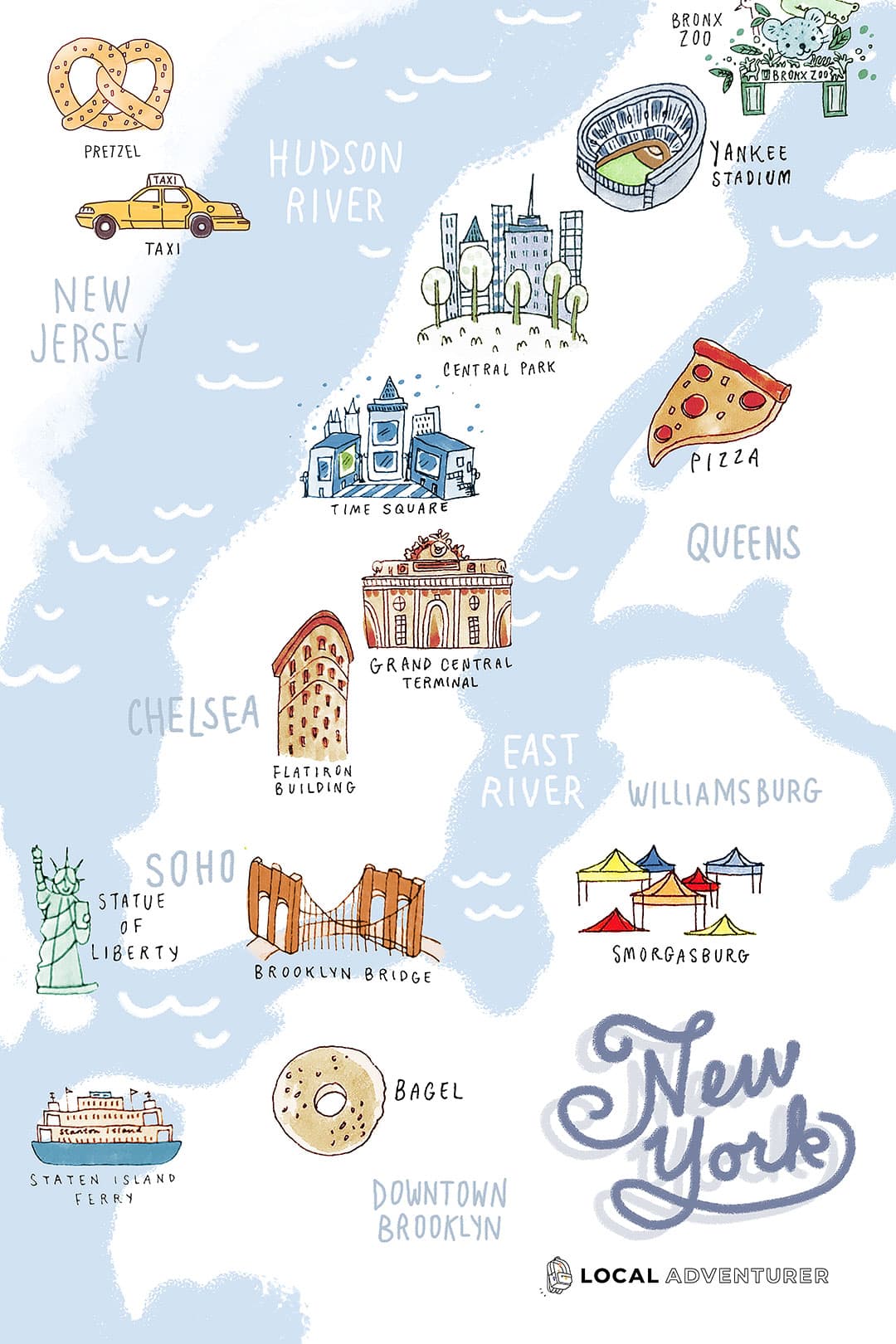 Essential Tips for First Time Visitors to NYC
When to Visit: Fall and Spring are the prettiest times to visit for fall foliage and cherry blossoms. December until New Years is crowded but has all the Christmas decor. January and February are the least crowded seasons but frigid cold. Summer is crowded and hot and humid.
When you're planning your trip, book a rental car at JFK or LGA.
Best Airports: LGA is the easier airport to get in and out of. Unfortunately, there aren't as many direct flights, but we always try to fly here if it's available and the prices are comparable.
Best Way to Get Around? Take the train. NYC hands down has the best public transportation we've seen in the US. If you're planning on taking more than 12 rides then get the unlimited 7-day pass. You can uber, but traffic sucks.
Always pack flip flops and high boots for rainy days. When it's really pouring, the rain has gotten into my waterproof shoes.
If you're planning on visiting a lot of attractions during your visit, pick up a New York Pass. There are multiple-day options and it gives you access to a ton of spots. We did a 2-day pass and visited over 11 spots saving us a lot of money.
If you're a first time visitor, don't forget to read 21 Things You Should Know Before Visiting NYC, and if you're about to move here, check out our Local Tips for Moving to NYC.
If you're visiting in the winter, check out our NYC winter packing and survival guide.
Want to take a day trip from NYC? Here's 21 Best Things to DO in Upstate NY and 15 Incredible Weekend Trips from NYC.
Best Places to Stay in NYC
Library Hotel – our favorite boutique hotel conveniently located in Midtown East near Bryant Park, NY Public Library, Grand Central Terminal, Empire State Building. Stay for a night or have happy hour at their rooftop bar.
Casablanca Hotel – If you want to stay in Times Square but have a place to escape to, this is a great hotel for you. If's perfect for any first time visitor or anyone who wants to see Broadway shows. It feels like a breath of fresh air and it's part of the Library Hotel collection.
Have you set foot in all five boroughs? Anything on this list you weren't impressed with? Anything you think we missed?
Did you enjoy this post? Pin it for later
SEE MORE CITY BUCKET LISTS
"Discovery consists not of seeking new lands but in seeing with new eyes" – M. Proust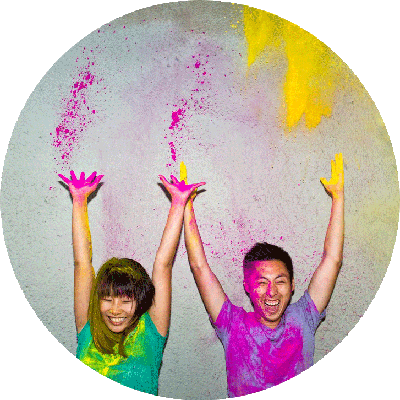 Esther and Jacob are the founders of Local Adventurer, which is one of the top 5 travel blogs in the US. They believe that adventure can be found both near and far and hope to inspire others to explore locally. They explore a new city in depth every year and currently base themselves in NYC.