We're excited to be moving back to the coast and exploring all the beaches in SoCal, but we also can't help but remember all the beautiful beaches we saw (and didn't get to see) in Greece last year. I've never seen such vibrant blue and crystal clear waters before!
Last Updated: June 9, 2023
15 MOST BEAUTIFUL BEACHES IN GREECE YOU MUST VISIT
1. Navagio Beach, Zakynthos
This beach is only accessible by boat, but it is worth the trip! After being greeted by the ruins of a shipwreck, you can bask in the sun between the limestone cliffs.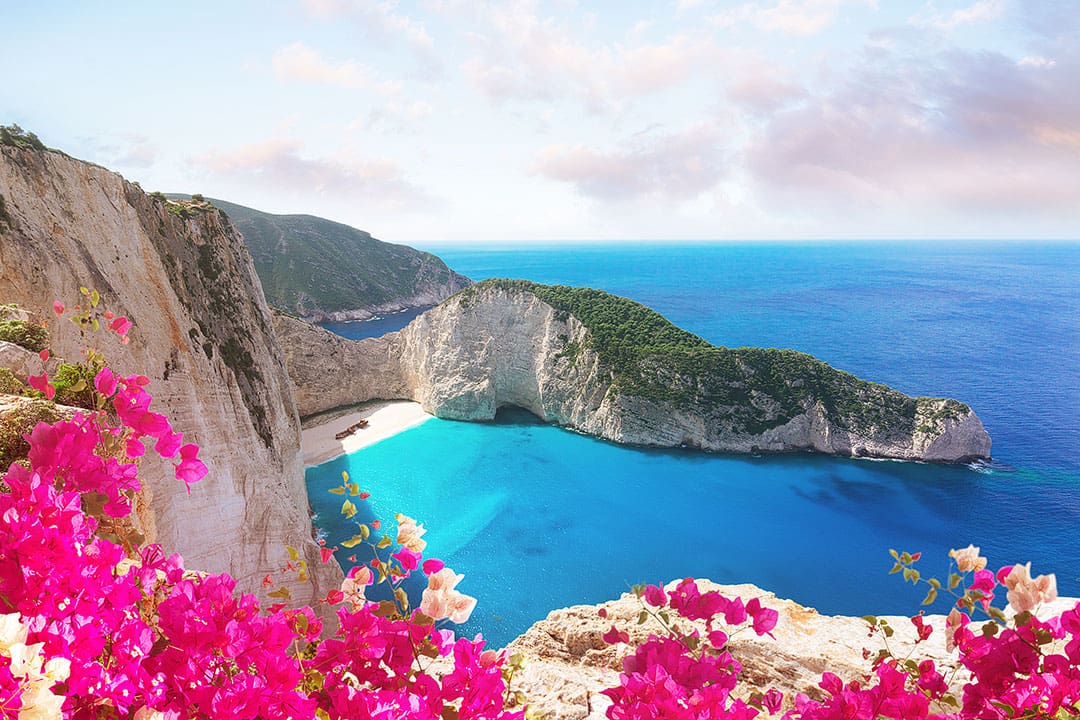 2. Balos Beach, Crete
Located near Kissamos, this secluded beach is accessible via boat or car. This unique beach lies between the small island of Imeri Gramvousa and Crete and is one of Greece's most photographed natural wonders.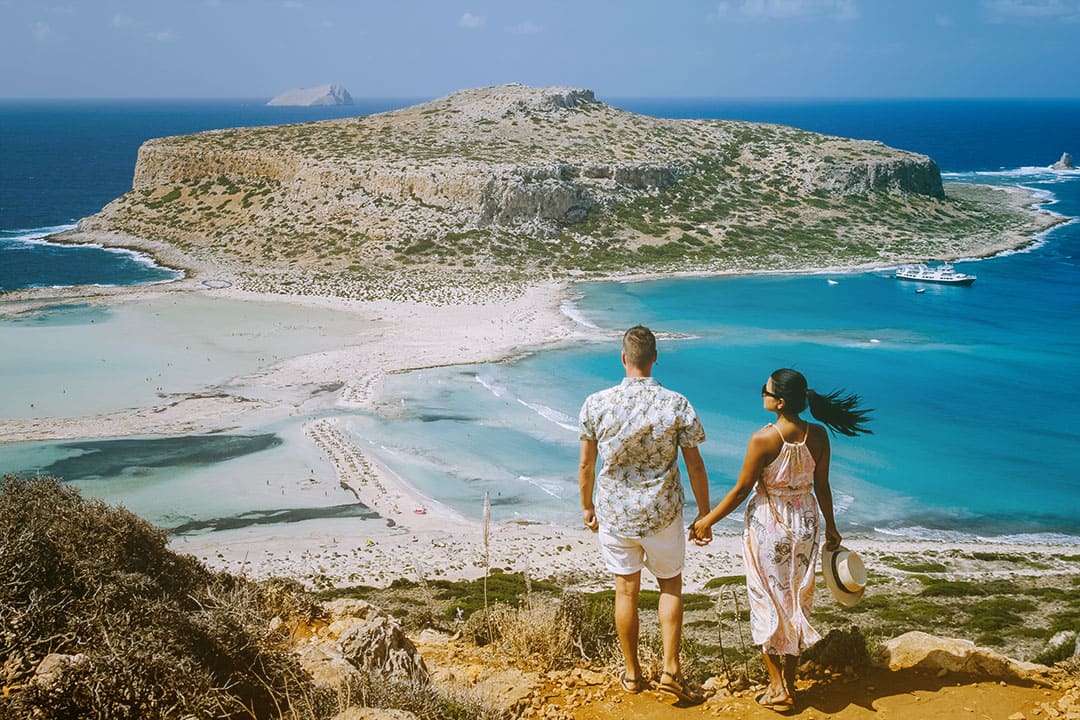 3. Paradise Beach, Mykonos
If you want to party the night away, this beach is for you. With plenty of food and drink options, you'll find excitement here from dusk through dawn. We went in the afternoon, and they were doing chugging contests. You can also check out Super Paradise to keep the party going, but one was enough for us.
4. Porto Katsiki, Lefkada
This beach makes its home beneath a breathtaking grassy cliff. Just one look and you'll immediately understand why it's one of the best beaches in Greece and even Europe. Bring beach chairs and umbrellas.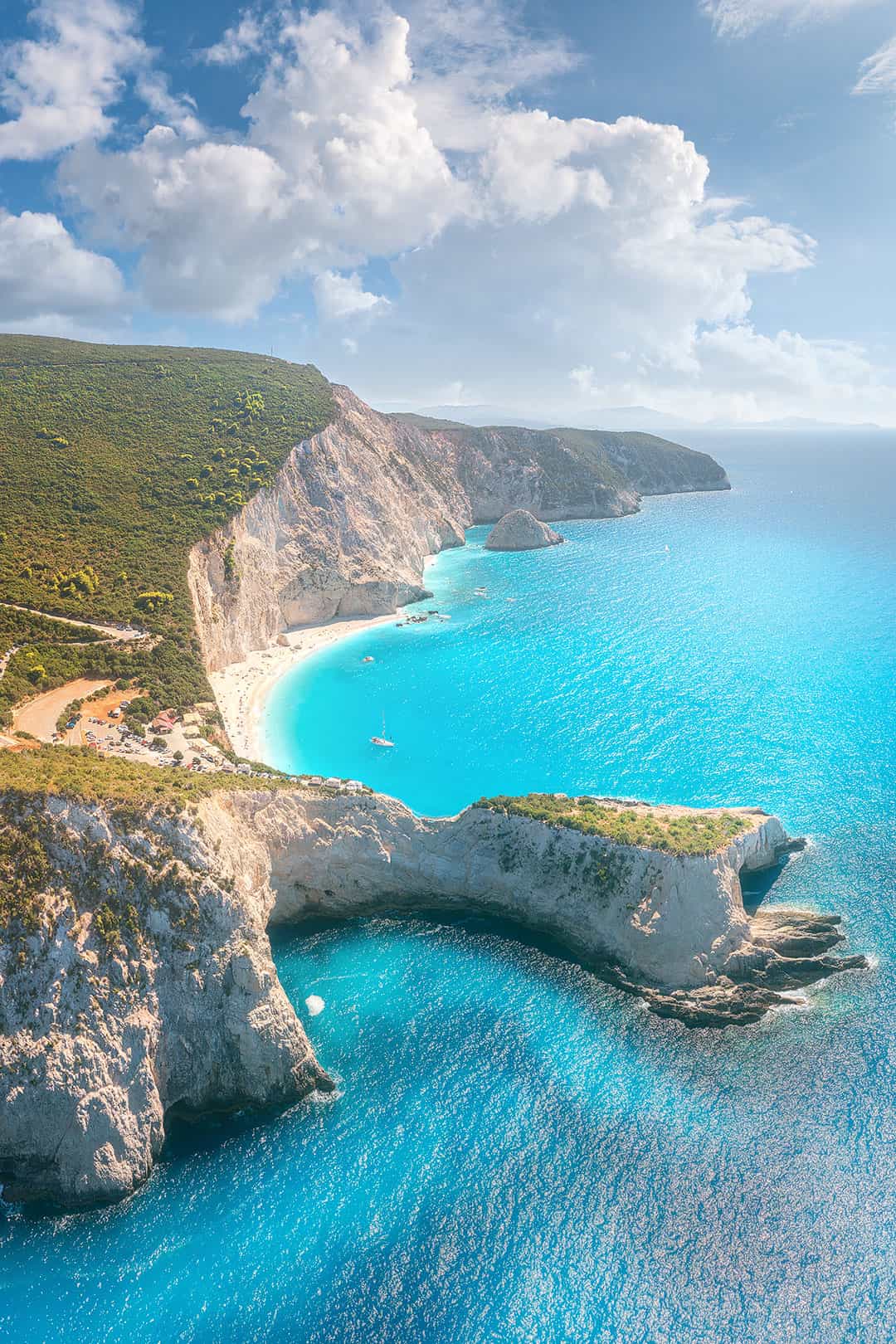 5. Koukounaries, Skiathos
Popular with tourists and locals, the clear water and soft sand make for a perfect beach experience. A stone pine forest creates a cozy atmosphere where you can swim, boat, waterski, or horseback ride.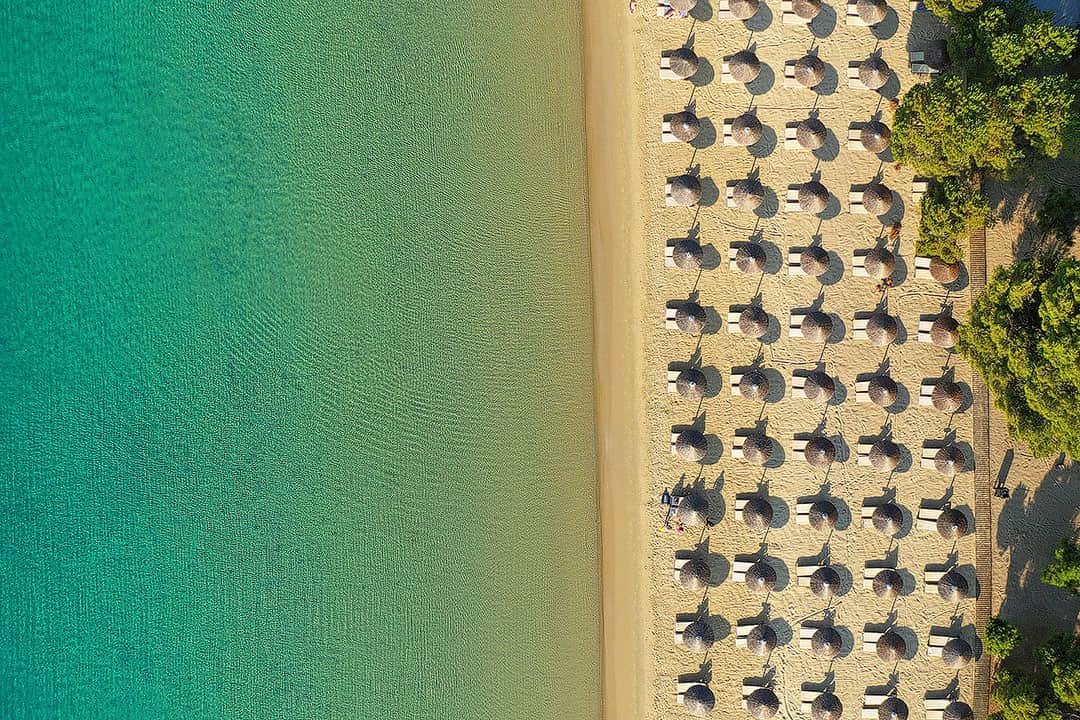 This beach is a bit further out from the resorts. We took a car and ATV to get there, but it was worth it. It's much more secluded than the party beaches but still has the amenities of renting chairs and umbrellas. There's also a restaurant for you to grab food and drinks. Full post here.
7. Myrtos Beach, Kefalonia
This stunning beach is surrounded by steep mountains and towering cliffs and comprises tiny white pebbles. Enjoy the sun, swim in the beautiful water, and take in all your surroundings.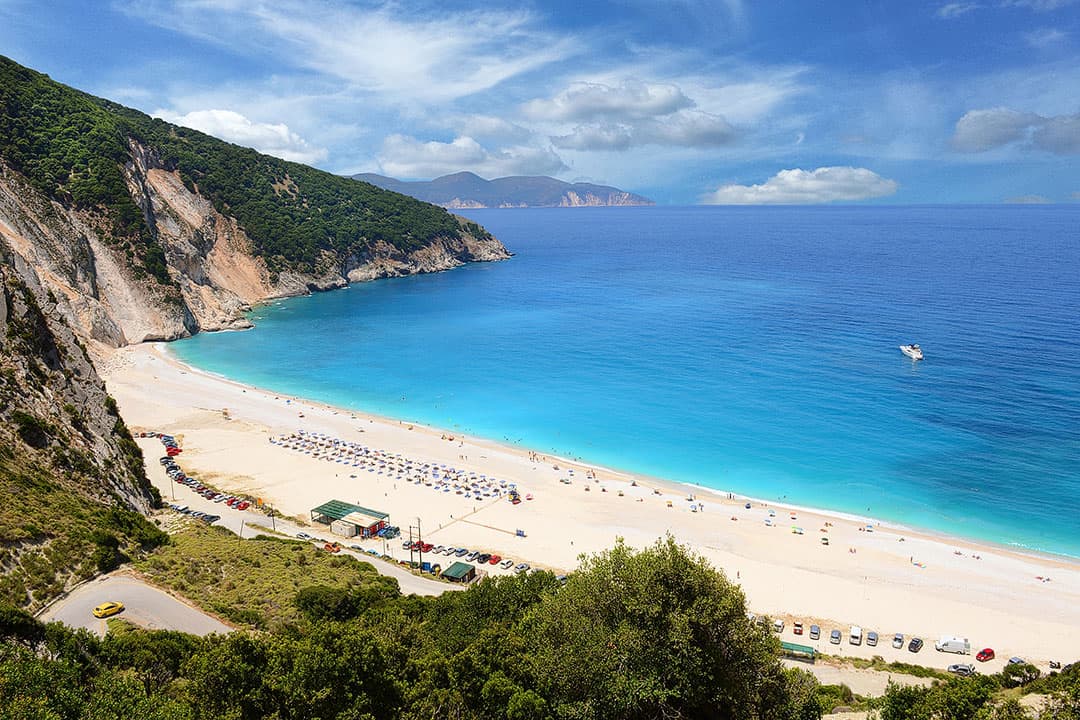 8. Sarakiniko Beach, Milos
This beach gives you an out-of-this-world experience. The unique landscape and warm waters give you the illusion of swimming on another planet.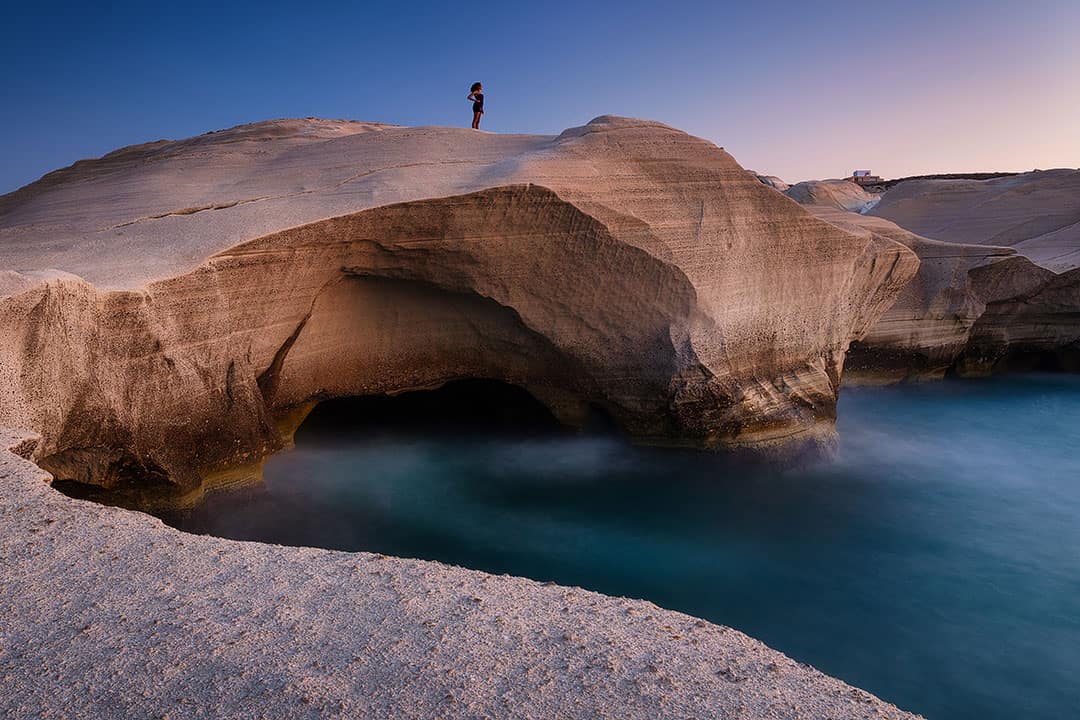 9. Perissa Beach, Santorini
Arguably the nicest beach and sand on Santorini, this black sand beach is perfect for sunbathing and swimming. You can rent chairs and umbrellas or throw down your towel. If you love black sand beaches, check out Waipio Valley's beach in Hawaii.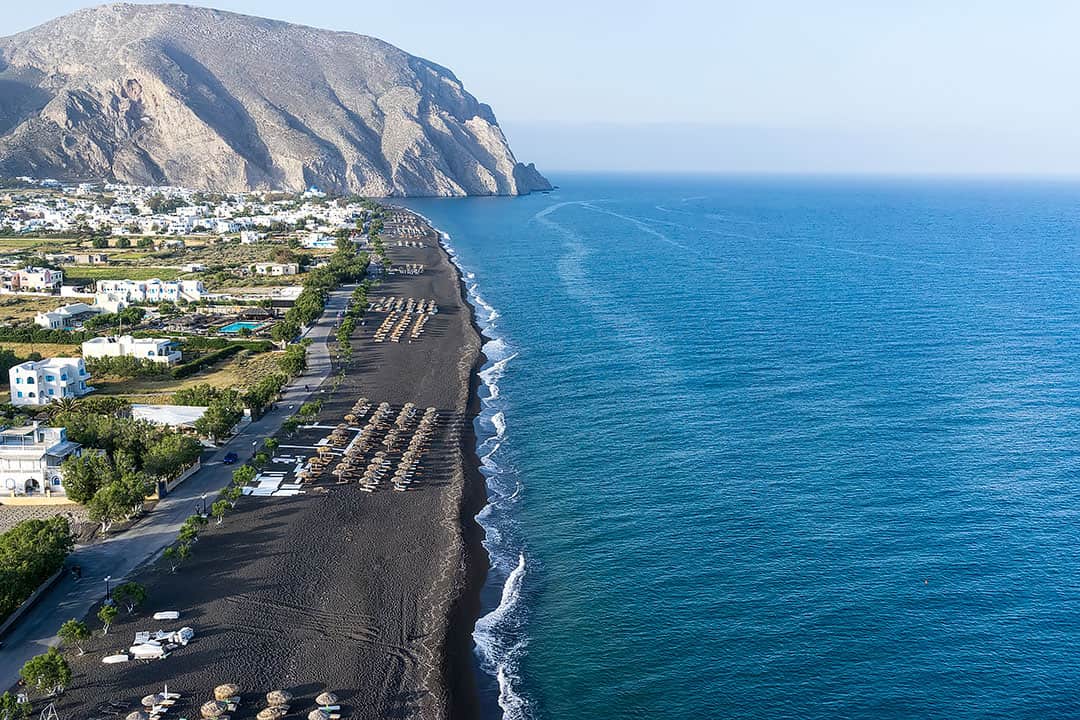 10. Elafonisi Beach, Crete
This beach is perfect for families. Enjoy the pink and white sand and crystal clear water. You can rent an umbrella to keep you cool in the sun.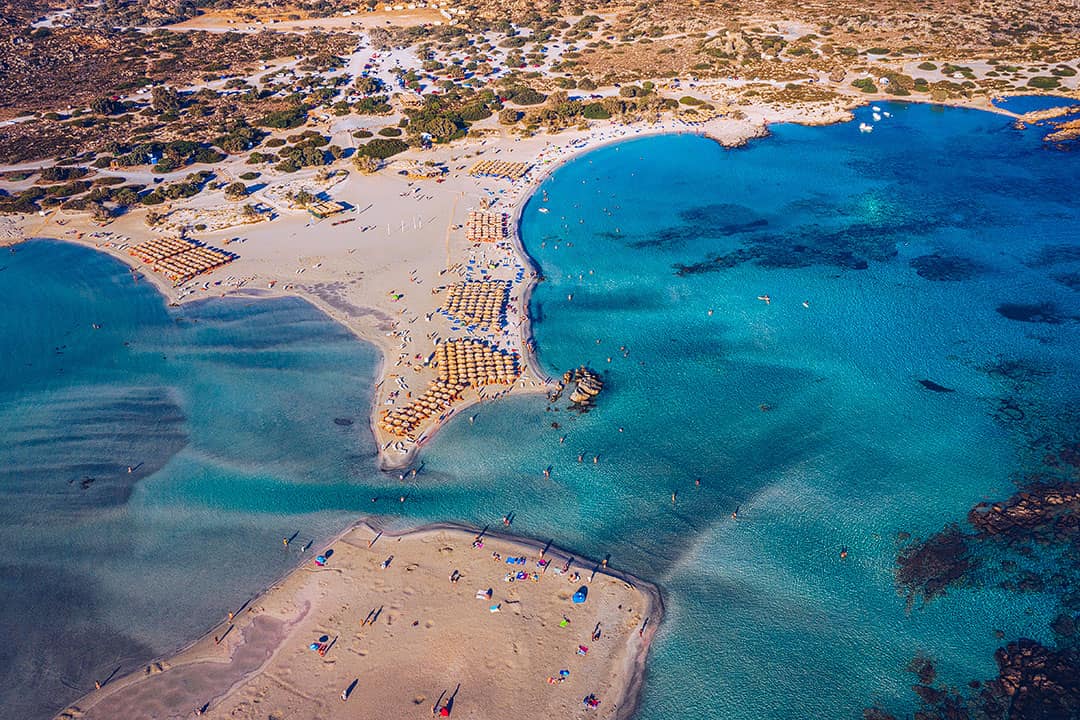 11. Anthony Quinn Bay, Faliraki
The rocky shores and clear water make this a great spot to snorkel and hang with the locals.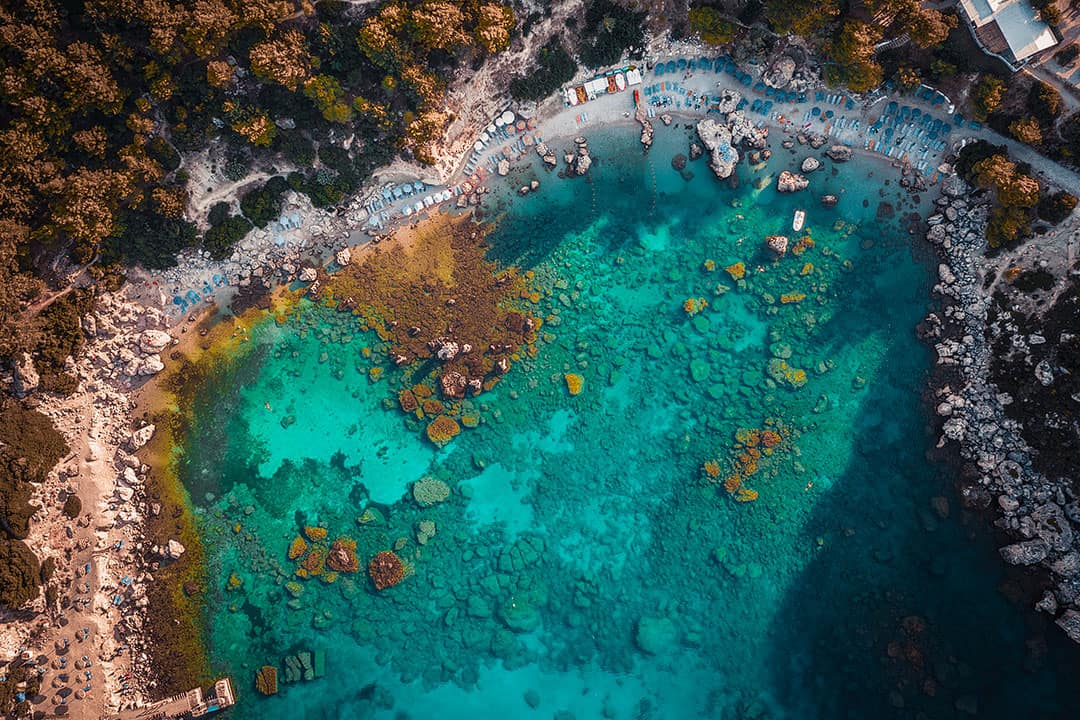 12. Red Beach, Santorini
Made of red volcanic sand, this beach creates a beautiful landscape while you enjoy the sun.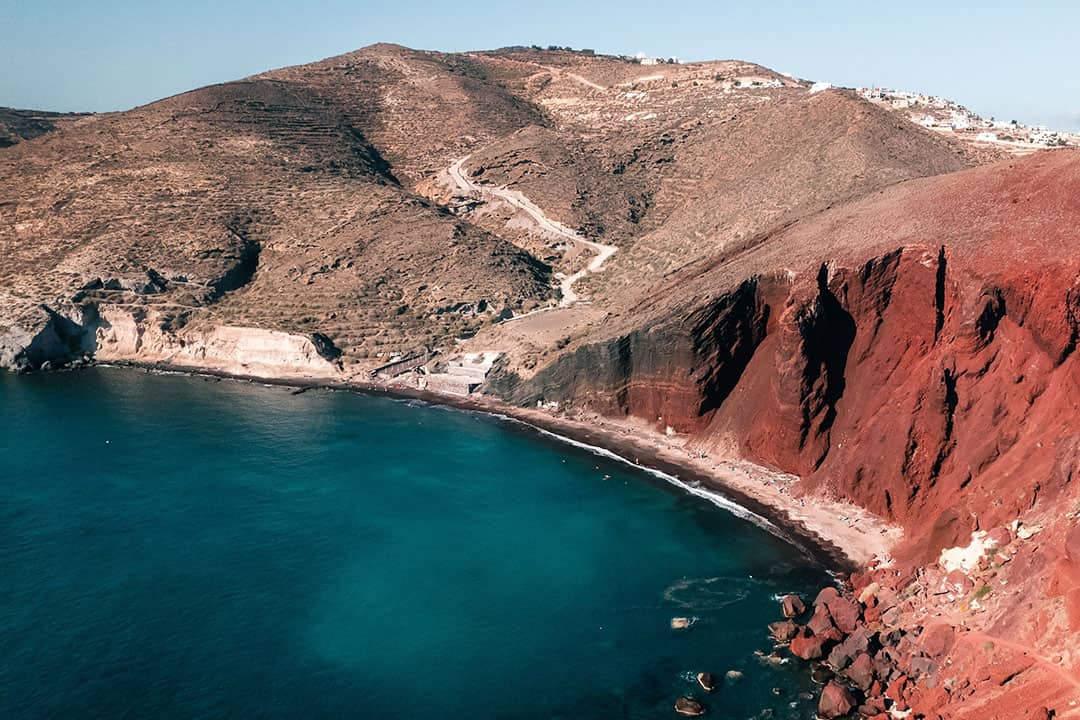 13. Matala Beach, Crete
Located near a great little town, this beach has a cliff at the end full of caves you can explore.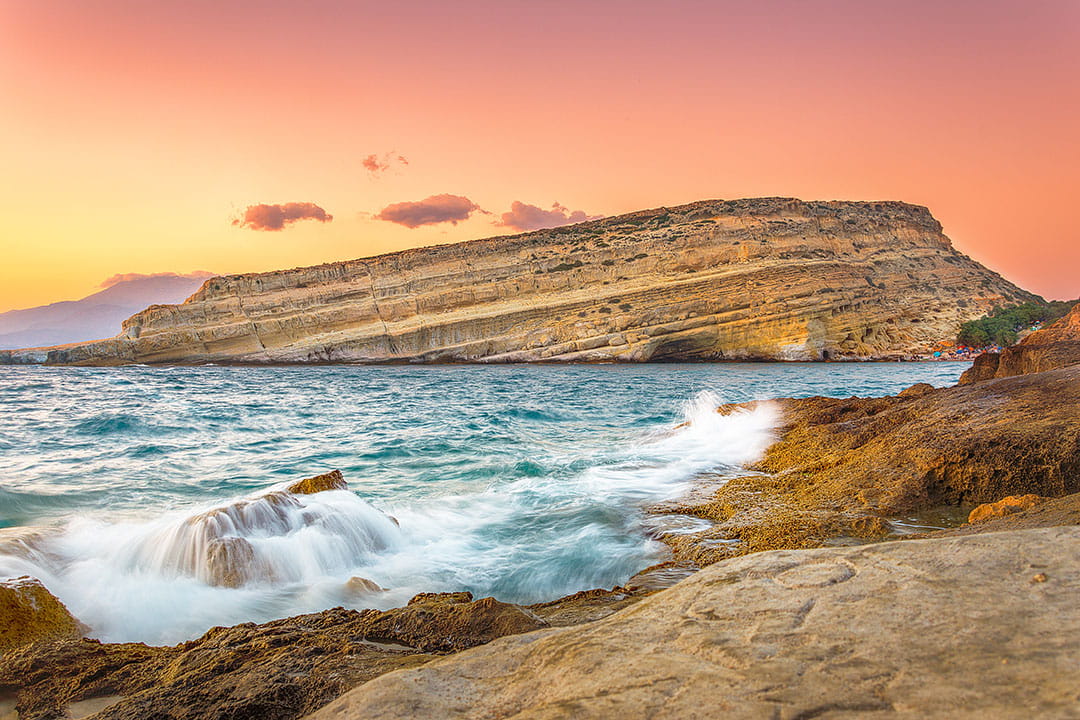 Agios Sostis Beach is one of those places I wish I could keep to myself. This quiet beach is full of locals and tucked away on the island's north side. Enjoy the clear waters and soft sand, and grab a bite at Kiki's Tavern up the hill. You won't regret it. It's the best food we had in Mykonos.
15. Vai Beach, Crete
This beach has beautiful water and sand and is surrounded by a unique palm forest (the only one in Europe). Spend the entire day there and enjoy the beautiful scenery.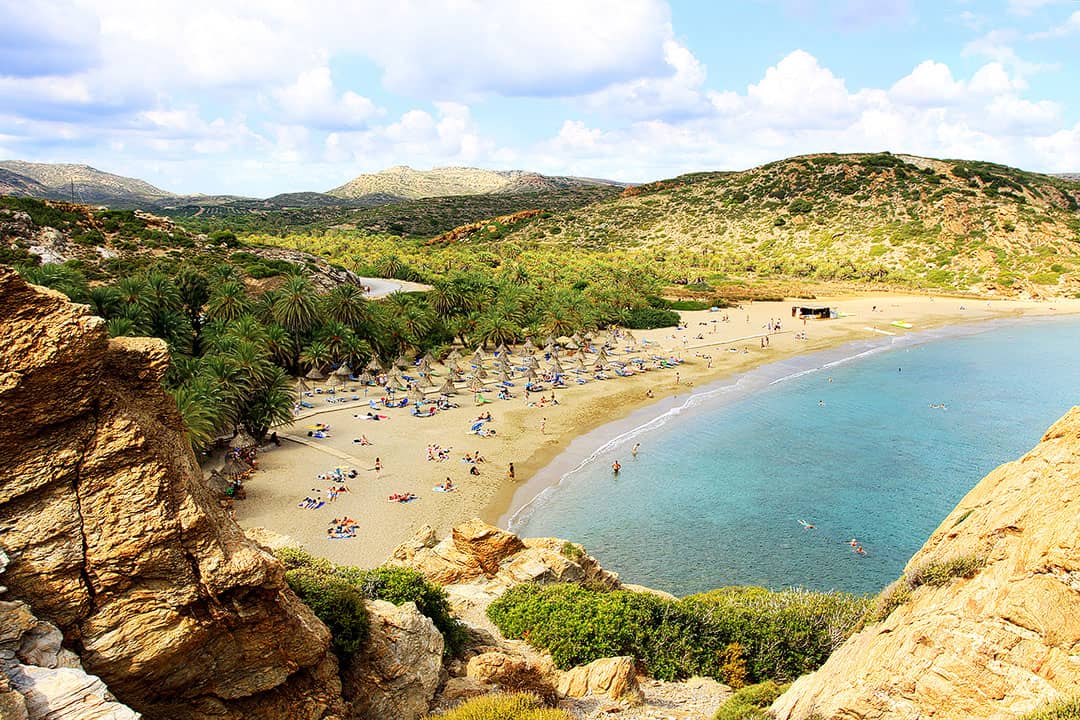 MORE: 15 Remarkable Things to Do in Porto Portugal
If you had to choose one, are you a mountain or beach person?
Which of these would you put next on your bucket list?