With Valentine's just around the corner, it's time to start planning your day especially if you want to get into certain restaurants (I know I want to.. ahem* Jacob?)! Vegas has many of the world renowned chefs making their mark here, but we also know it's not for everyone. We've narrowed down our list of our favorite romantic activities, fine dining, great low-key food spots, plus some recommended by friends. Here's our guide to Valentine's Day in Las Vegas for every budget: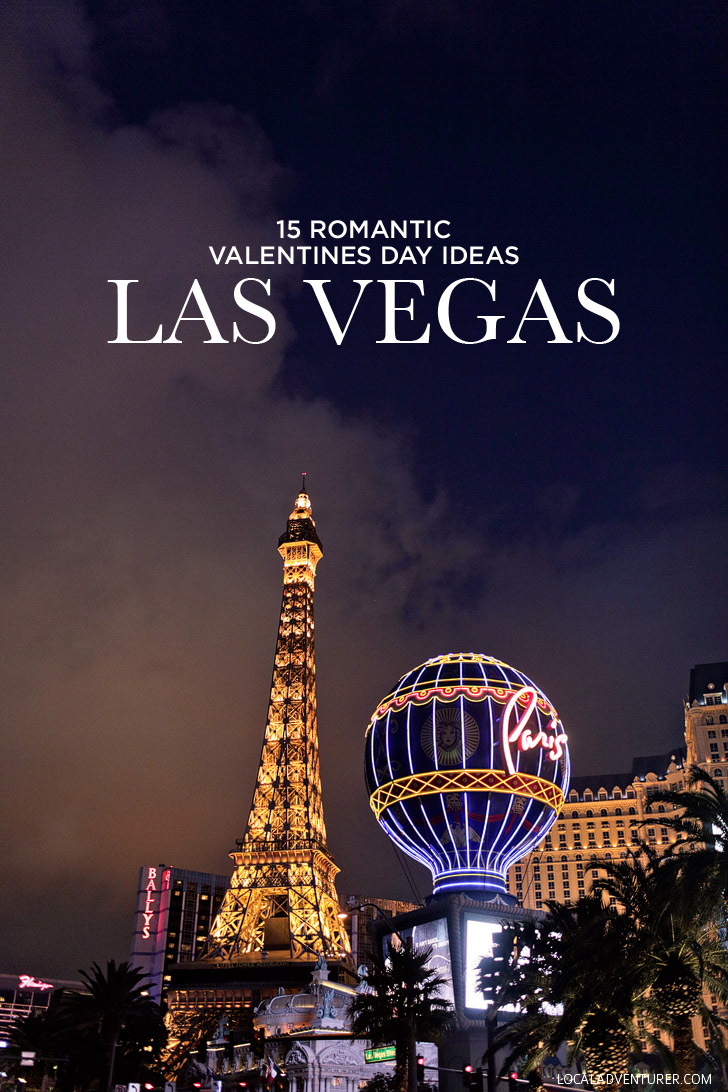 ROMANTIC THINGS TO DO IN LAS VEGAS:
1. Bellagio Fountains
Romantic setting, beautiful music, and water soaring through the air. What more do you need? Plus, this one doesn't cost you anything!
2. Paris Las Vegas Eiffel Tower
Paris is known as the city of love, but if you can't make it to France this year, go up the Eiffel Tower right here in Vegas. Although it's half the size of the real tower, you still get amazing views of the strip from the top. (General Cost: $11.50 for adults; $16.50 from 7:15 p.m. – close)
3. Venetian Gondola Rides
The Venetian hotel has recreated Venice canals complete with gondolas and singing gondoliers. Did you know that gondoliers in Venice never used to sing until after Americans demanded it after seeing the Gondoliers the musical? (Cost: $18.95 per adult on a 4-passenger gondola. $75.80 for a private 2-passenger gondola.)
4. High Roller
This enclosed Ferris wheel gives you views of the strip within an enclosed room. You can even rent out an entire room to yourself (Cost: Starting at 24.95 per adult).
5. Lake Las Vegas Gondola Rides
Just 17 miles from the strip, this hidden gem takes you onto a lake with tons of options for your ride. You can have drinks, an entire meal, and they even have a special message in a bottle service. Don't forget to kiss when passing under the Pontes Vecchio bridge. (Cost: Starting at $135 for two guests).
FINE DINING ON THE LAS VEGAS STRIP:
6. Joel Robuchon, MGM Grand Hotel and Casino
A highly decorated restaurant (past Michelin's Three Star, Forbes Five Star, AAA Five Diamond awards, and Wine Spectator's Grand Award), this has been on our list for a while. Joel Robuchon was also named chef of the century, so you could also check out L'Atelier de Joel Robuchon.
7. Bouchon Bakery
We love Chef Thomas Keller's food and even more so after our visit to the French Laundry.
8. Picasso, Bellagio Las Vegas
With options for indoor or outdoor seating, artwork by Picasso, a large wine cellar, and cuisine inspired by France and Spain, you can't go wrong at Chef Julian Serrano's restaurant.
9. Restaurant Guy Savoy, Caesars Palace
From French Chef Guy Savoy, this restaurant serves classic dishes that have kept them at the top of everyone's list.
10. Le Cirque, Bellagio
Located at the Bellagio, Le Cirque has received a AAA Five Diamond rating 13 consecutive years. You can choose between tasting menus or a la carte items.
OFF-STRIP RESTAURANTS:
11. Raku, Chinatown
For the foodie, this is a must try restaurant. Everyone raves about the food and with tapas style ordering you get a chance to try a bunch of different dishes.
12. Bachi Burger, Southeast
For something different, check out this restaurant for unique burgers with a Japanese twist. The marriage of Japanese and American cuisine is delicious!
13. Park on Fremont, Downtown
For the hipster, The Park on Fremont offers a cool hang out with a good beer list and delicious food like Garbage Fries and the Philly Mac and Cheese Steak.
14. Hofbrauhaus, Eastside
For the beer lovers, this mini replica of the Munich original has communal tables and boasts some of the best beer in Vegas.
15. Tonkatsu Kiyoshi, Southwest
For something comfortable and low key, this tucked away restaurant has a mom-and-pop feel and some of the best katsu we've had.
Want to try something different? Check out all our local adventures in Las Vegas.
Can you think of other romantic ideas for Valentines Day?
What are your plans for V-Day?